Seaside City Councilmember Dave Pacheco listened to Seaside residents—he estimates he visited several thousand homes in the last four months of the campaign season—and then he spoke. And he spoke passionately. 
In last night's Seaside City Council meeting, where City Council considered approval of four items related to Monterey Downs—which after tonight's meeting, is now called "Monument Village"—Pacheco gave a hearfelt speech about why he's not supporting the project. 
The council ultimately voted 3-2 on all four items—Councilmember Jason Campbell also spoke passionately against the project, which was expected—but Pacheco's opposition answered a big question for project opponents, and represents the first time he's gone on record against the project. 
Pacheco's stance means one thing: If there is a referendum on the approval of the project, which opponents have promised is certain, newly-elected council member Kayla Jones—an outspoken opponent of the project—would swing the council 3-2 to shoot it down. 
In other words, Monument Village, formerly known as Monterey Downs, is a dead man walking. 
Karen Araujo, a local activist who was sitting next to Jones in the meeting, says she was practically moved to tears when Pacheco spoke. More on that later. 
After the meeting, "Village" developer Brian Boudreau rushed to introduce himself to Jones. Given what Jones has already said on the record, the idea of her supporting the project is extremely unlikely.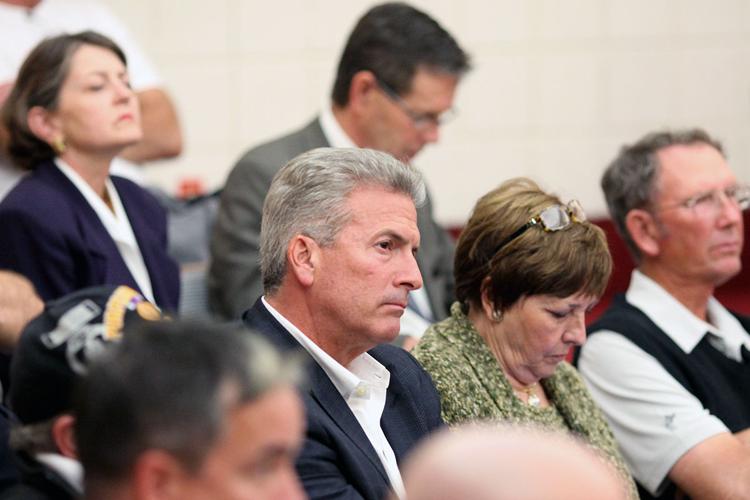 Landwatch Interim Executive Director Michael DeLapa says the signature-collecting process for the referendum will commence "shortly."
It's not yet clear if the 30-day period when the signatures must be gathered starts now, or after the next meeting, where two of tonight's four items—which relate to city code—must be voted on a second time. 
"I still have to do more research," said Landwatch attorney John Farrow, after the meeting. 
"It's more complicated than you'd think," DeLapa added. 
But the referendum seems certain, as does the demise of the project, which has consumed hours and hours of city staff time, and the public's time, for the last six years. 
Tonight's meeting, like many Seaside/Monterey Downs/Monument Village meetings, unfolded in bizarre fashion. 
One surprise was that public commented was limited—Mayor Ralph Rubio asked that it be kept to issues not previously raised, and in large part, the public kept that promise.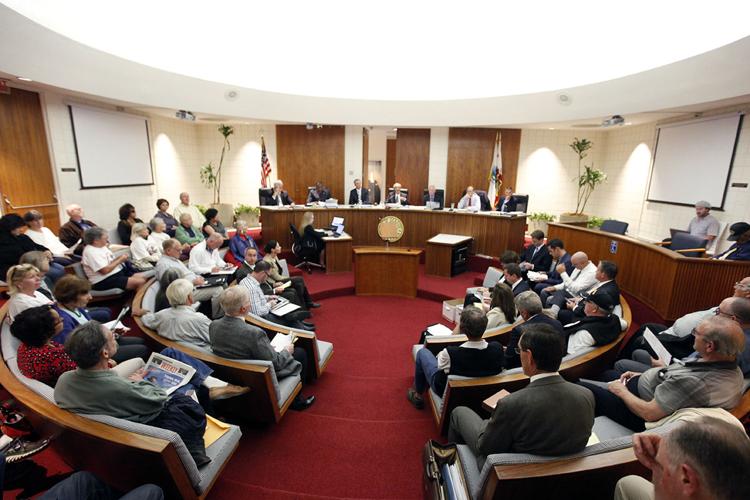 An important preface to the meeting: Land use attorney Molly Erickson, representing anti-Downs group Keep Fort Ord Wild, was sent a script by City Manager Craig Malin that delineated all of Rubio's talking points. (Sidenote: Malin has continually pledged transparency, and he has maintained that promise.)
Erickson had requested all documents provided to the council not yet in the public record, and among them was a "draft process" which outlined the order, and the substance, of what Rubio might say. 
At times tonight one could see Rubio reading from it, even if it was not word for word. What seemed clear was that it was intended to give the city defensibility in case of a lawsuit, and that the city had properly considered the impacts in the project's environmental impact report that could not be mitigated. 
When the council started their discussion after pubic comment, it meant the end of a long wait.
Onlookers have been holding out for months, even years, for some sort of decision—and suddenly, long-held assumptions that Rubio and council members Ian Oglesby and Dennis Alexander would support it were finally proved true. 
But before that happened, there was a surreal five-minute-long wait as all the councilmembers, and the city's hired land use attorney, read a six-page letter from Erickson, KFOW's attorney, that was hand-delivered at the meeting (she said City Clerk Lesley Milton-Rerig advised her to deliver it at the meeting, instead of by email.)
In it, Erickson wrote in great detail about the many ways in which she feels the city has failed in the process to approve the project.
The most interesting piece of the letter was its last paragraph: "Project manager Teri Wissler Adam told me that Mayor Rubio participated in private meetings with the applicant and staff with regard to the city's handling of the application. No other councilmembers were present and as far as I know, no other councilmembers knew these private meetings were taking place. Sadly, it appears that Mayor Rubio has access to information that councilmembers did not, and participated in and influenced the city process in a far more active way than the councilmembers were invited to."
After everyone read the letter, Rita Garcia, who prepared the Downs EIR, told council that the issued it raised are not "new information that merit recirculation [of the EIR]."
Then it was finally time for the council to weigh in. 
Campbell brought up the finer points of the EIR and city-commissioned fiscal impact report on the project. 
"In some ways, this EIR is quite good. It shows an environmental disaster," he says. "It begs the question of why we would want to follow through with this project."
With respect to the revenues the project would create, and the money the city would ultimately get in land sales, he says, "There's not even enough to build that swimming pool that was promised.
"These aren't overriding considerations, these are platitudes," he said. "Many of us are seeing the writing on the wall, the values [of the residents] are clearly changing."
Oglesby tapped his Midwestern roots, and likes how in the Midwest there are preserves for trees, and noted he is "not against trees." But still, he is for the project. "This proposal cures a lot of ills, right?" he asked.
Councilmember Alexander embarked on a strange account of how he, as a reserve Sand City police officer, responded to an incident in Seaside Nov. 9 where four Seaside officers saved a man's life by preventing him from jumping to his death. 
He posited that Monterey Downs, or "Monument Village," as it is now called, would address Seaside's police shortage, a claim not supported by public documents. 
Rubio spoke to the script. In short, he needed to list the reasons why approval was important, and those reasons were written beforehand, and he read a version of each of them—credit to Rubio for going slightly off-script—in just the order they were presented. 
"I do understand the concerns you have," he said, referring to Campbell's testimony, "but I also understand the needs of this community, and the concept of redeveloping land for the benefit of he community." 
Also on script, Rubio made a motion to change the name of the projects specific plan to reflect that Monterey Horse Park would now be named Seaside Horse Park, and Monterey Downs would be called Monument Village. It passed 4-1 (Campbell). 
Many onlookers see the name change—six years after the project was proposed—as a way to confuse voters in the event of a referendum.
Rubio also spoke to the trees being cut down.
"They're dying. You're going to get healthy trees for trees that are already dead," he said. "That's a good trade I think, a very good trade."
Rubio also spoke about Seaside residents he's met who are cowboys and love horses, and how great horses are. Yet these residents, if they exist, are not on the public record, which is what council was directed by legal counsel to base their decision upon.
That left Pacheco, last night's wild card, and he demonstrated that he's done his homework.
He had information city staff did not have—and that was not in the agenda packet—about how few horse events other comparable horse parks in the state host. He said he called other horse parks in the state to see how many events they had, and found they were far less than the projections in the city's fiscal impact report.
(Sidenote: He also disclosed this in the Weekly's endorsement meeting this fall.)
Pacheco stressed that while campaigning to retain his City Council seat—which he did—he visited about 3,000 homes, and most residents were opposed to the project. 
"This is the wrong time and the wrong project," he said. "Four years ago, I would have supported it. But we learn, we listen and we study."
Pacheco was also upset the proposal didn't have a youth sports field, something the city is sorely lacking. Instead, it had a dog park. 
"I personally believe it's shameful and embarrassing that there was no consideration of our youth, and what Seaside received is a dog park for Christmas.
"This project does not meet the expectations of Seaside residents. The numbers are embarrassing to me," he said. "I don't believe this proposal puts Seaside residents first."
As Campbell said, the "writing is on the wall," which is why Boudreau hustled to meet Jones after the meeting.
They both understand the new City Council—with Jones joining Pacheco and Campbell in opposition to the project—can vote on the referendum without sending it to voters. 
So while Monterey Downs/Monument Village was technically approved last night, at the same time, it died.  
---
Editor's Note: This story was updated at 1:30pm to include some contents of Keep Fort Ord Wild attorney Molly Erickson's letter to City Council.