Mary Ellen Carlin had a plane. Alice Diane Emig needed a lift. 
Emig's mother, Monterey resident Sara Myers, says Carlin offered her that ride back to the Sacramento area because Emig, who stopped driving following brain surgery in 2012, wanted to attend a medical procedure her son was to undergo at UC Davis. 
"She generously offered to fly her back for the appointment," Myers says. "We played bridge on Monday, she agreed to come back on Tuesday and I loaded Diane and her dog into Mary Ellen's car and off to the airport they went. Unfortunately, something went terribly wrong."
Carlin, an experienced pilot and flight instructor, had barely taken off in her Golden Eagle Cessna under low cloud cover about 10:30am on Tuesday, July 13 when the plane swerved toward the ground, slammed into a home in the Monterra development off of Highway 68 and burst into flames.
While their bodies have yet to be recovered and identified—a process so painstaking it may take months before the coroner confirms the names—the crash was deemed unsurvivable. 
Myers described Carlin as her good friend, and her daughter, the oldest of two children and a food services worker in the Folsom Cordova School District, as a wonderful cook. She had brought her Emig to Monterey for three weeks this summer, and had planned to drive her back, but Carlin made the offer of her plane.  
"It took me quite a while to pry anything out of the Sheriff's Office," Myers says. "They burned up and there's an issue of identification."
Monterey County Sheriff's Office Chief Deputy John Thornburg says the recovery of remains was to commence the afternoon of July 14. The coroner will first try to use dental records to identify the victims; if that's unsuccessful, they will turn to DNA.
Myers suggested another way, at least for her daughter: "She had a plate in her head from the brain surgery. I imagine that could help them identify her.
"It's hard to come to terms with," Myers continued. "One day someone is here and perfectly well, and then all of a sudden, they're gone." 
Just as it may take months to confirm the identities of the victims, it could take many more months to determine the cause of the crash. 
At a press conference Wednesday afternoon at the airport, National Transportation Safety Board investigator Eric Gutierrez acknowledged they had little information to offer this soon in the process. 
"We're going to try to do everything within our abilities to trace down what happened with this event," Gutierrez said. "The process is to gather as much data as possible through the entire event."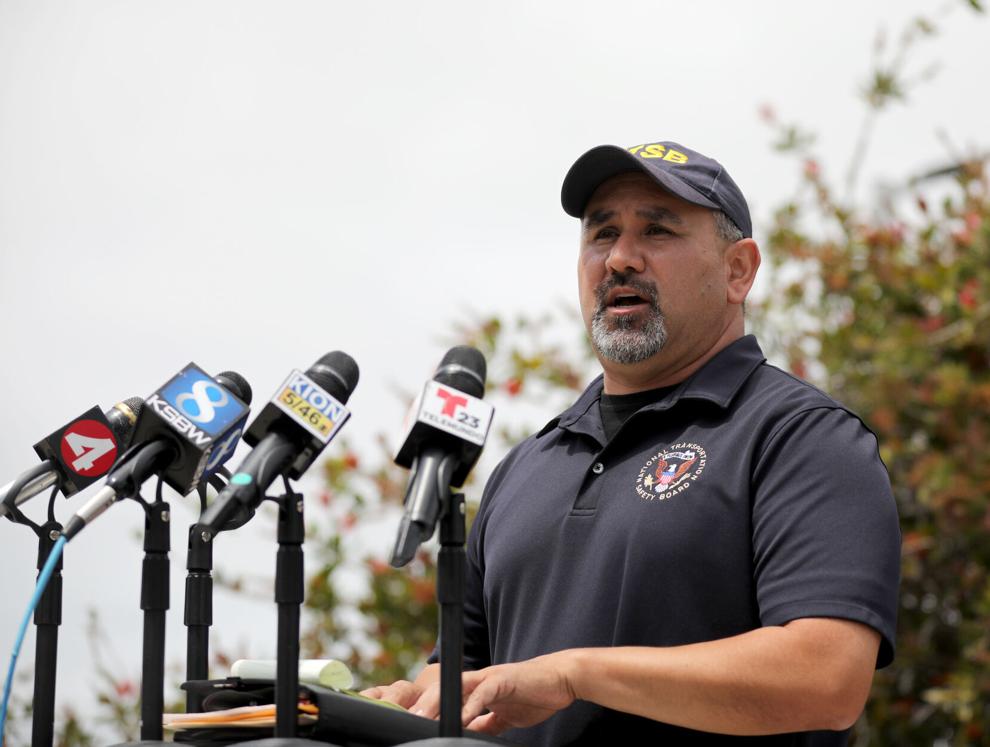 At about 10:40am July 13, the Cessna took off from Runway 10-Right and made a climbing right turn into a low cloud layer that dropped to about 700 feet. The aircraft climbed to about 1,900 feet, Gutierrez said, but then Northern California Tracon, the regional air traffic control facility based in Rancho Cordova, noted the plane was headed toward terrain.
"ATC then provided a low-altitude alert, and they also provided vectors. The aircraft continued making the right turn and started to descend," he said. "It impacted the southwest corner of a residence and luckily, for the residents, there was no one home at the time."
The house serves as a second home for Silicon Valley software executive Roger Goulart and his family. Reached on his cell phone as he was driving to Monterey County, Goulart said his 20-year-old daughter had been staying at the Monterra property, but wasn't there at the time of the accident.
Meanwhile, veteran commercial airline pilot Bill Sabo, who lives on the Peninsula, says that among aviators, there's speculation that the plane suffered a failure in one of its engines, causing it to veer in the direction that took it to its doom. 
"She started to climb and for some reason I haven't figured out yet, she turned right after takeoff. I've looked at the weather reports for that period of time, and it was reported to be 700 and overcast, meaning clouds were down to 700 feet…in a high-performance plane, you're going to clouds right away.
"Why she turned right, I'm not sure. It may have been she lost the engine. If she lost it on the right engine, with all the power on the left, it would push the airplane to the right," Sabo continues. "She got to a point in the climb, and this is very difficult, one of the most difficult thing to do, is balance this airplane with power on one side, no power on the other, and trying to keep it level." 
Sabo said it appeared, based on Flight Tracker, a program that, as its name states, tracks airplane traffic, that the plane had tried to curve back to the airport. Based on available audio between the pilot and air traffic control, the pilot didn't report any problems before the crash. 
Once any remains are recovered and removed, the NTSB will gather all of the plane's debris and stage it in a controlled facility for investigation. That facility will likely be in Sacramento, according to the NTSB.