Ruth Andresen, who as an environmental activist led an organizing effort that changed the course of Monterey County history, died on Oct. 31 at age 101. She was surrounded by family and was just six weeks shy of her 102nd birthday. She celebrated her 100th birthday in 2020 on the front lawn of her Salinas home during the height of the pandemic, waving to friends who came by to visit with her outside.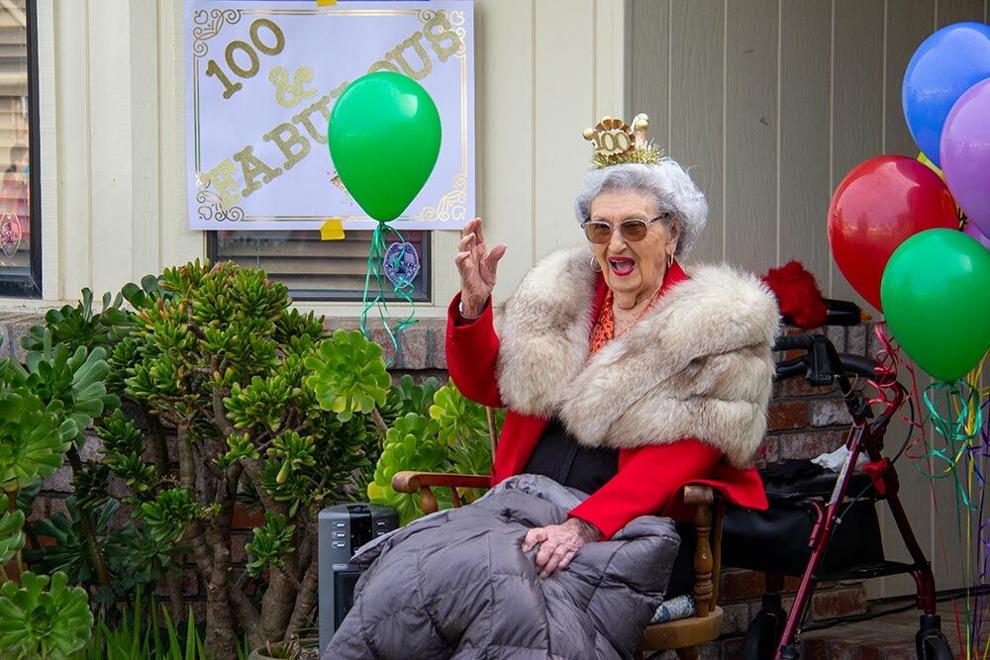 Family said she died after a brief decline related to her age, and that she was surrounded by family. She was "still wishing to live more life in this fascinating universe," according to an obituary written by her family. 
Andresen lived a full life with many chapters in this fascinating universe. She was born on Dec. 11, 1920 in Oklahoma, raised speaking her indigenous Chocktaw language, Chichasaw. She was forcibly enrolled in a boarding school for Native Americans, before a wealthy uncle—a geologist, who'd discovered oilfields in Oklahoma—removed her and raised her. 
Andresen's family described that uncle as a Chocktaw elder who influenced his niece to pursue education and seek success. She enrolled as a geology student at Stanford, where she met her future husband, Norman P. Andresen, in a lab at Hopkins Marine Station in Pacific Grove.
Her husband became a prominent obstetrician, and they moved to Salinas in 1952. The couple were both instrumental in creating Salinas Valley Memorial Hospital.
Andresen went on to become a marine biologist, although she graduated early due to the invasion of Pearl Harbor; she was an invasion planner during World War II, and went on to work as a marine biologist. 
Her scientific training became critical as Andresen went on to become a significant organizer in Salinas, brining the burgeoning environmental movement to her city during a time of rapid industrial expansion in the 1950s and '60s. 
According to the book Salinas: A History of Race and Resilience in an Agricultural City by historian Carl McKibben, "In Salinas, this activism was led by Ruth Andresen. She recalled that the support for unbridled growth and industrial development ended in the early 1960s in the context of a nationwide awareness of the severe consequences of pollution, brought about by such publications as Rachel Carson's Silent Spring." 
In 1965, Andresen led a major organizing effort against a proposal by Humble Oil to build a refinery in Moss Landing. 
"She began giving community lectures on wind and ocean currents through Salinas and the county to generate support for environmental activism that would be needed to counter the power of business and industry," McKibben wrote. "Ruth's work inspired groups of women to organized and resist, and they focused on the oil refinery…
"Ruth's environmental activism defined what environmentalism looked like in the 1960s and '70s."
In the book Humbled: How California's Monterey Bay Escaped Industrial Ruin, Kathryn McKenzie and Glenn Church detail how the Humble Oil project—which was approved by local government—would have forever altered Moss Landing, transforming it into a major industrial oil refinery center. The company (today ExxonMobile) eventually built its refinery in Benicia, instead. 
Andresen was an influential activist, and also an elected and appointed official. She served for 48 years on the board of the Monterey County Office of Education, and also on the Monterey County Historical Resources Board, where she demonstrated a commitment to preserving Salinas' historic identity. 
Andresen is survived by a daughter, Lauren, and son, Pete, and preceded in death by her eldest daughter, Kaaren. She had five grandchildren. 
A celebration of life is scheduled for 2-4pm on Sunday, Nov. 13 at Portobello's, located at 150 Main St., Salinas (on the first floor of the Taylor Building). The family requests that flowers not be sent; instead, they request donations be made in Ruth Andresen's memory to the Monterey County Historical Society or to Central Coast VNA & Hospice.
Family members are also collecting stories about her; if you wish to share, write to erandre7+obit@gmail.com.