Desperate times, desperate measures.
That's the message from Salinas Police Chief Kelly McMillin in a lengthy email to the entire Salinas PD today, explaining some major changes.
"This is arguably the largest structural change SPD has ever undertaken," McMillin wrote. 
After two days in a team-building workshop in Shell Beach talking about the future of Salinas PD, McMillin announced plans to put everyone back on patrol and investigations.
This means eliminating all special assignments, like school resource officers, the Police Activities League, the K-9 unit and the violence suppression unit. It also means the gang unit will go away for now.
The changes will take effect July 1.
A total of 19 sergeants and officers will be removed from special assignment posts and return to patrol.
These changes, McMillin wrote, are "not punitive in any way." He says they're designed to get the police department back to a solid foundation, after years of working to expand the reach of the police department into schools and the community, as a means of building trust. As McMillin wrote:
"It became apparent that our 'old' PD structure could not sustain the addition of new personnel, and that the only way to begin thinking about how to move the Department forward would be to solve the patrol staffing issue permanently. We concluded that the basic, core services any police agency must provide is patrol and investigations, and that any other service provided beyond that, however important, is provided at the expense of these two units."
(For a full copy of his letter, see below.) 
The decision comes as City Council and a newly-appointed oversight committee allocate funding from Measure G, a 1-cent sales tax measure approved by voters last November. The tax is expected to add $20 million to city coffers, and one high-priority item has been funding public safety. As McMillin wrote: 
"In order to build the Salinas Police Department of the future, to be good stewards of the generous funding the people of Salinas saw fit to provide for us, we now understand that we must flatten the organization to provide us a clear horizon, a 'clean slate' on which to build for the future…

"Some of the old units will come back, some may not.  New units may be created that serve us better than those they replace, some may be modified, but there will be no sacred cows."
Salinas Police Department spokesman Spencer Critchley says it's important to note these changes are temporary, and designed to provide a baseline for rebuilding the department—and that will include an expansion of community-based policing. "There is no part of this that is pulling back from community-based policing," Critchley says.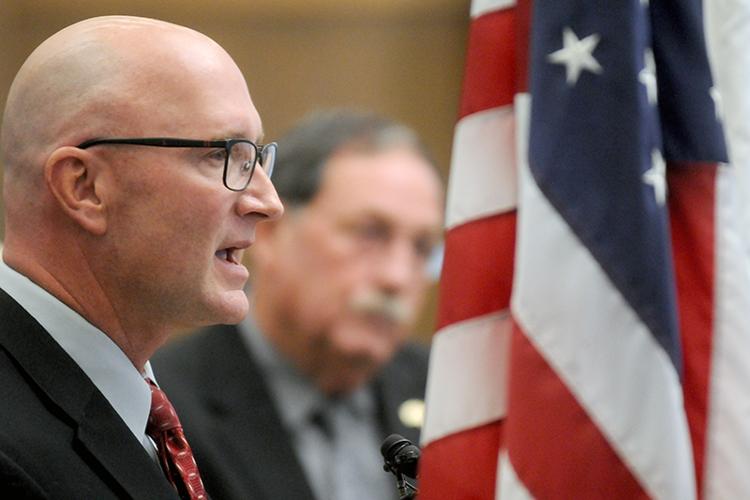 A working group, led by deputy chiefs Terry Gerhardstein and Dan Perez, will look at how to make these changes, and will consider things like how the current workload of special units gets absorbed, and what happens to premium pay for officers on special assignment. 
McMillin's letter ends by asking officers to weigh in with questions, and to cooperate with the process. 
"Don't panic," he writes. "This is a temporary fix that will benefit all of us with a massive reduction in overtime and the stress on you and your families that overtime causes." 
McMillin will publicly discuss the changes tonight, Wednesday, at the Police Community Advisory Committee meeting at City Hall at 6pm.