Between Christmas and New Year's, the traffic on Highway 1 in Big Sur turns hairy as tourists scout for parking near popular viewing and hiking spots. Iconic Bixby Bridge—the star of many a car commercial and known around the world—gets especially busy. Throw in crystal clear skies and the tourist population bumps up even more.
The conditions on Dec. 27 were just right for California Patrol Officer John Yerace to send word to Caltrans that the number of vehicles darting in and out of pull outs was enough to warrant traffic controls. Workers lined shoulders near Bixby Bridge with temporary fencing and "No Parking" signs.
"Our biggest concern is that everyone who passes through here can do so safely," says Yerace.
On Saturday, Dec. 29, about 25 members of Big Sur's Coast Property Owners Association came out in force to line the road with something else: human billboards spreading the word about the plight of over tourism.
About a dozen people at a time stood holding signs—smiling and waving throughout—from 9am to noon, along the southbound lane as vehicles approached Bixby Bridge from the north. They stayed fortified with homemade doughnuts and hot apple cider supplied by one of the residents.
"Share our coastal roads in a safe manner," "Be mindful of the impact of my actions," "Camp only where allowed," "Honor the spirit of Big Sur as it honors me," were a few of the lines from what they call the Big Sur Pledge, emblazoned on the signs CPOA members held up for passing vehicles to see.
"This is not a protest, this is an educational opportunity," says Butch Kronlund, executive director of CPOA. It was the first such "opportunity" the association executed, and will probably not be the last, he says.
It was also the first big opportunity for CPOA to roll out the pledge, which was featured at the organization's annual meeting on Dec. 11.
A website at bigsurpledge.org was introduced on Saturday, and members were handing out bumper stickers with the website URL to anyone who would take one. They were asking people to take the pledge to care for the unique region.
The response from visitors driving by was "about 95 percent thumbs up and 5 percent sourpuss," says member Lisa Keissner.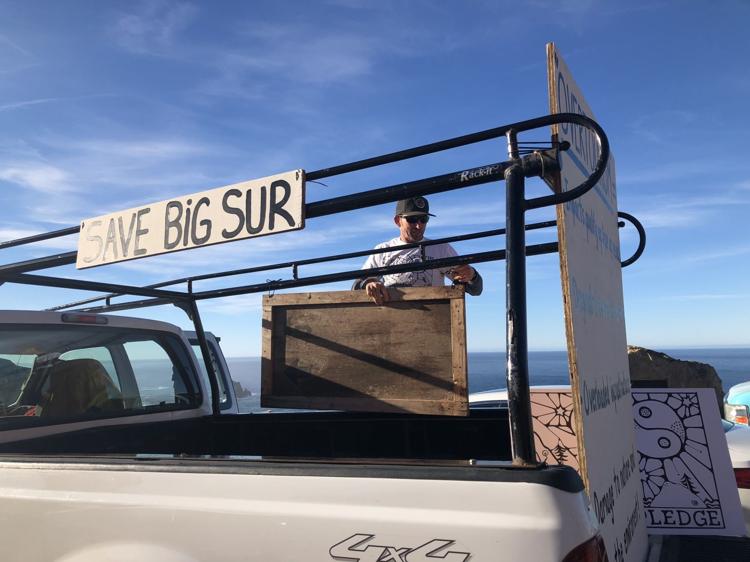 Resident Marcus Foster came early to park his truck in the spot closest to the bridge. He attached to the truck large signs  about the pledge, as well as decrying over-tourism.
"I've been down here a long time and feel like we're on an unsustainable path," he says. "If we stay on this path of growth it will be complete gridlock."
Foster points out many of the same ideas shared at the Dec. 11 meeting, that social media and inexpensive travel has led to more tourists flocking to scenic "bucket list" locations around the globe, not just Big Sur.
"I've seen it change more in five years than in my 30 years of being here," he says.
The answer, Foster says, is to stop spending money on marketing Big Sur and use that money instead for the betterment of the region, like more guardrails and garbage cans. He also thinks turning Highway 1 into a toll road is a viable solution.
"We're bringing in all this tax revenue and we don't see any of that money," he says. "The only thing that Big Sur is seeing the money spent on it to get more people to come here."
Sitting nearby was a family from British Columbia, Canada, on a two-week road tour of California.
"I just wanted to see the coast because it's so famous for its beauty," says Sonya Conn, as she and her husband, Michael, and their three teenage children enjoyed a picnic of peanut butter and jelly sandwiches and bananas on a large rock sitting atop the cliff with a panoramic view of Big Sur's coastline.
The Conns had no idea before they came how strongly Big Sur's residents feel about the plight of over tourism.
"It doesn't surprise me," says Michael Conn. "We have some of the same thing going on in British Columbia in different areas."