Sparked by the killing of George Floyd in Minneapolis on May 25, demonstrations and marches protesting years of systemic racism and injustice are continuing around the country, as well as in Monterey County, with more scheduled in coming days.
There have already been are least a half-dozen protests in Monterey, Seaside and Salinas since Saturday, with one of the largest gatherings and marches in Seaside on Tuesday, June 2, which drew an estimated 2,000 people.
More events are slated for this coming weekend in local cities, all billing themselves as peaceful protests. Organizers are calling on demonstrators to wear facial coverings out of respect for others (and to comply with Monterey County's health officer order) and maintain social distancing due to the Covid-19 pandemic.
UPDATE: Some protests have been cancelled or postponed since first announced earlier this week, including one that was previously set for 4pm today, June 5, at Closter Park in East Salinas.
Building Healthy Communities of East Salinas announced on Twitter late Thursday that today's event was being postponed:
"After careful consideration by the organizational committee we will be postponing this event to further define safety and purposeful intent. We apologize for the impact and short notice, and look forward to seeing you all at a future date," the tweet reads.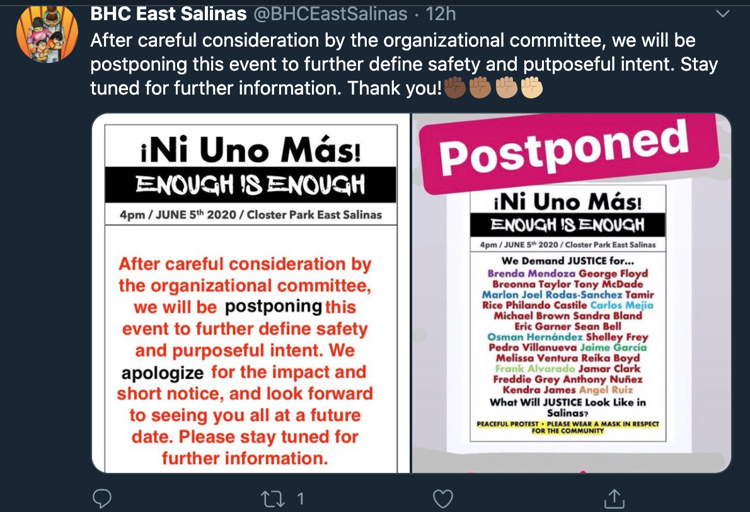 "¡Ni Uno Más! Enough is Enough!" reads the original flyer for the East Salinas demonstration now postponed.
The flyer demands justice for black and brown people who have been killed in police interactions, and includes the names of Floyd and Breonna Taylor, a 26-year-old woman shot in her sleep during a "no knock" warrant search in Louisville, Kentucky. It also lists others, including some who were killed in Salinas, Osman Hernandez and Frank Alvarado among them.
The long list of names on the flyer includes Brenda Rodriguez Mendoza, who was shot by Salinas Police in March of last year during a mental health crisis she was experiencing after running out of bipolar medication and within weeks after giving birth.
The Monterey County District Attorney's Office cleared officers of any wrongdoing, ruling the shooting was in self defense. Her death remains controversial to those who believe Rodriguez Mendoza should have received help, instead of fired upon.
Also on Friday, as part of a global "solidarity in surf" paddle out, protesters are gathering at 1pm on Del Monte Beach in Monterey (next to Wharf 2) to paddle out on surfboards—or boogie boards or floats, whatever you've got. 
Demonstrations are planned for Saturday in Soledad and Watsonville.
A "Black Lives Matter, Soledad for George Floyd" march is scheduled for noon on Saturday at Vosti Park in Soledad, with the march taking place at 1pm.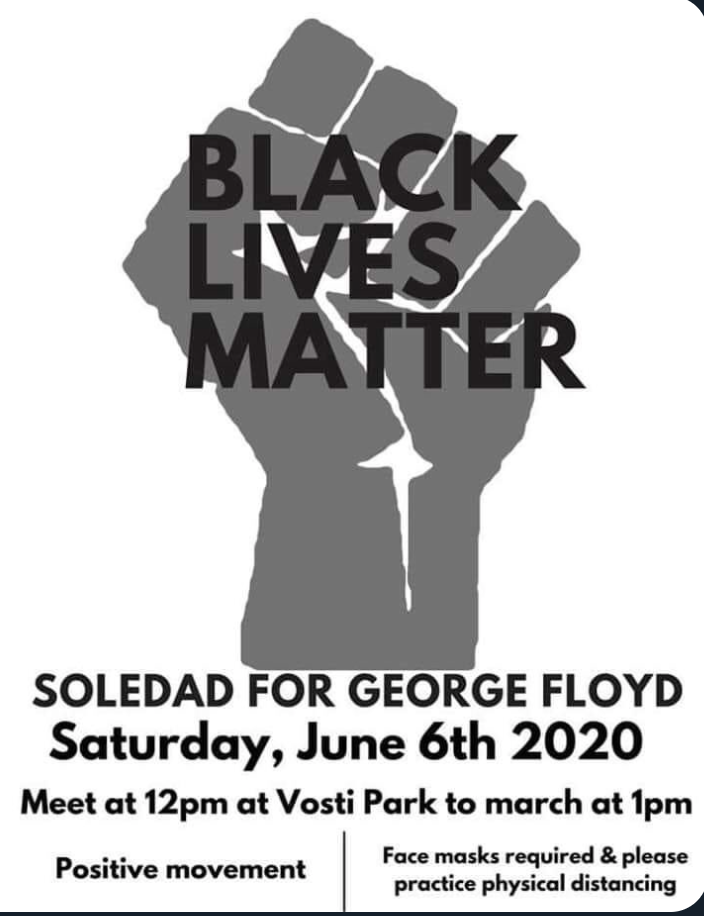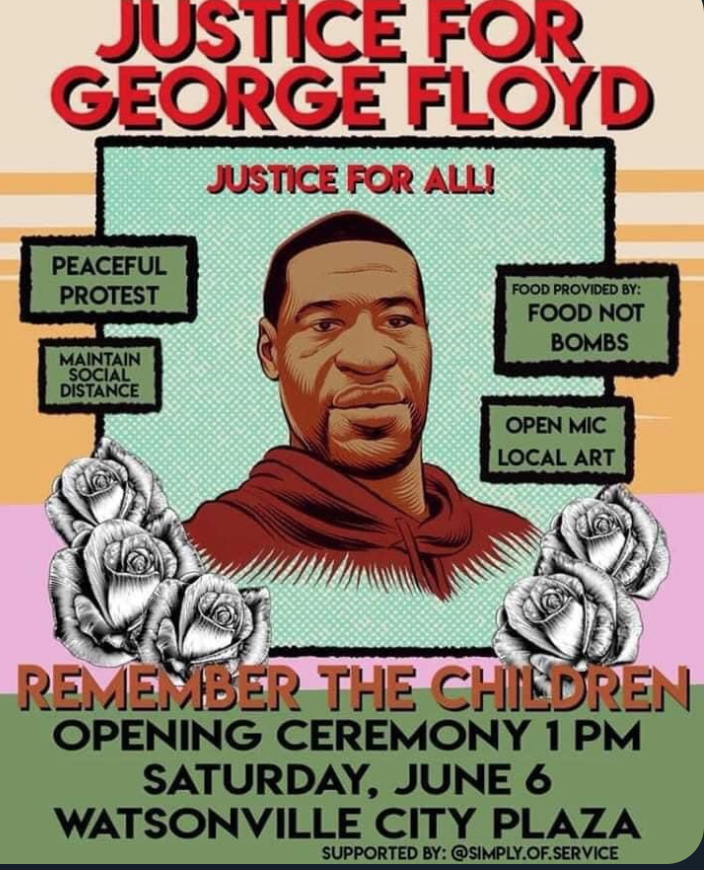 At 1pm on Saturday in Watsonville in the Watsonville City Plaza there's a "Justice for George Floyd, Remember the Children" event. A flyer promises food provided by the nonprofit Food Not Bombs, an open mic and local art.
A previously announced peaceful demonstration in Carmel has been cancelled, says City Administrator Chip Rerig. He says the Carmel City Council, city staff and Carmel Police were ready to welcome the student group from Monterey Peninsula College planning the event but was informed by students they changed their plans.
On Sunday, June 7, there is a protest planned at 9am, people are gathering in Salinas at the corner of South Main and East Blanco. 
A protest in Pacific Grove at Lovers Point Park scheduled for Sunday afternoon at 1pm has also been cancelled.