On a cool, gray June morning, fieldworkers were bent over harvesting lettuce in a Watsonville field not far from the Monterey Bay. Just a short distance away sat three men at the highest levels of U.S. government, discussing the finer points of national agriculture policy—macro ideas juxtaposed alongside the micro reality of the day-to-day life of farmworkers, their families and the region.
The three men were two congressmen, Jimmy Panetta, D-Carmel Valley, and Doug LaMalfa, R-Oroville, and U.S Secretary of Agriculture Sonny Perdue. They were addressing a town hall on June 27 at the Watsonville Water Resources Center, sponsored by Panetta.
As Panetta pointed out to the crowd of about 150 people, Perdue, the former Republican governor of Georgia, was one of the last cabinet members appointed by President Donald Trump, taking office in April 2017. Panetta then joked Perdue was also one of the longest-serving, a nod to the revolving door of Trump's administration. Even Perdue chuckled as the rest of the crowd laughed.
The men said they were there to listen and answer questions—in a spirit of bipartisanship Panetta emphasized. There was only an hour to do it, since Perdue was off to another stop on his California tour. Just the day before he appeared at the Forbes AgTech Summit in Salinas.
Questions from audience members included investing more in agricultural research to keep up with countries like China, which spends twice as much; leveling the playing field for small organic farmers competing with big companies; pesticides; and food stamps, among others.
Just two days earlier in Monterey County, a routine Crop Report press conference turned into a conversation about immigration policies and the impact on farmworkers and the industry. In Watsonville the question didn't come up from the audience, but it was the very first query out of a group of reporters after the town hall. 
"Agriculture needs access to a legal reliable workforce. We know we're not getting it from domestic workers," said Perdue. "These people want the opportunity to come and go, visit their families at home and come here and have economic freedom as well. We hope that can be accomplished sooner rather than later."
Perdue agreed the U.S. needs a guestworker program and acknowledged there are issues with the existing H-2A visa program that farmers complain is too complicated and costly to utilize. "We're trying to smooth out the edges," he said.
Panetta chimed in that Congress is also actively working on the issue.
"We're making sure that those who have worked here in agriculture get to stay here in agriculture with an opportunity to earn citizenship, but also making sure we streamline the guestworker program," Panetta said. "It takes some time but there are people sitting down at the table banging this out, grinding out on the details."
Monterey County Farm Bureau Executive Director Norm Groot says he raised the immigration issue at the town hall the day before at the Forbes conference. (There were a number of Monterey County representatives from agriculture interests in Watsonville on Thursday who also attended the ag-tech conference.)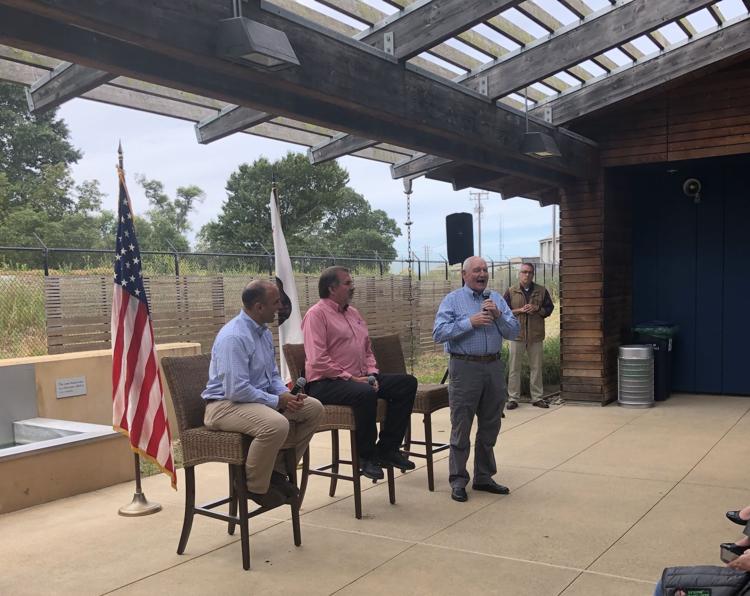 Groot had the last question of the day on Thursday. He took the opportunity to ask about international trade, noting that after all the talk the day before about innovation and technology in agriculture, "it's no good if we don't have a market in which to sell our products."
He asked Perdue about the proposed United States-Mexico-Canada Agreement, or USMCA, which would replace NAFTA, the North American Free Trade Agreement. Mexico was the first country to ratify the agreement on June 19, but the U.S. and Canada have yet to sign on.
Calling the USMCA a "retool of NAFTA," Perdue said there was "kind of a gasp" from the agriculture industry when Trump declared the U.S. was pulling out of the NAFTA agreement, but praised USMCA as a better deal for agriculture, labor, health, safety and environment.
Perdue noted a reluctance among Democrats to approve the deal as it stands now, saying he hoped House Speaker Nancy Pelosi, D-San Francisco, would help legislators with negotiating through the sticking points.
"Like any trade negotiations, it's not perfect and you're not going to get everyone happy about that," Perdue said. "But nonetheless, I think it's a great deal. It's much improved as the President committed. I hope we get it ratified sooner rather than later. It's not like California wine, it's not going to get better with age. So hopefully we can get that done."
As far as China and tariffs, Perdue said he's been involved in weekly negotiations. Trump understands that farmers have been the victims of recent tariffs imposed by the U.S. in a trade war, said Perdue. However, China has not played by the same rules of international trade for years and needs to be held to account.
"This president has called them out on it," said Perdue. "They've been jerking us around for years. So I'm hoping China will come back to the table."