Apparently, after the 2016 elections, sales of Sinclair Lewis' dystopian novel It Can't Happen Here took off. It's a cautionary tale about an ambitious and brash politician who wins the presidency on a fear-mongering, populist platform of returning America to greatness, then proceeds to rule with fascist tendencies.
Sound familiar?
The book has seen incarnations as a television movie in 1968 and 1982, as well as stage adaptations in 1936 and 2016.
And here it comes again. Starting this week, Western Stage is doing four weeks of the Tony Taccone and Bennett S. Cohen adaptation, which premiered at Berkeley Repertory Theatre in 2016.
"It's definitely topical, given what's happening in D.C. with the current president," says the play's Western Stage director, Jeff McGrath. "It seems every day a different activity by him that runs counter to the norms of our democracy. It's really amazing when you think about the barrage."
He points to Trump's attacks on the other branches of U.S. government, vilifying the press, appointing John Bolton as National Security Advisor. Add to that: "lock her up," the Muslim ban, Russia and Putin, loyalty oaths, "both sides," the hyper-nationalism, violent overtures…
The parallels are eerie – the newly elected president, Berzelius "Buzz" Windrip (played by David Norum), also goes after the press and persecutes political opponents – but McGrath says it's not a work explicitly about Trump. They will stay faithful to the 2016 adaptation, which is itself faithful to the book, set in the 1930s and loosely based on Louisiana politician Huey Long. Its lessons about fascism may not be easy to reconcile.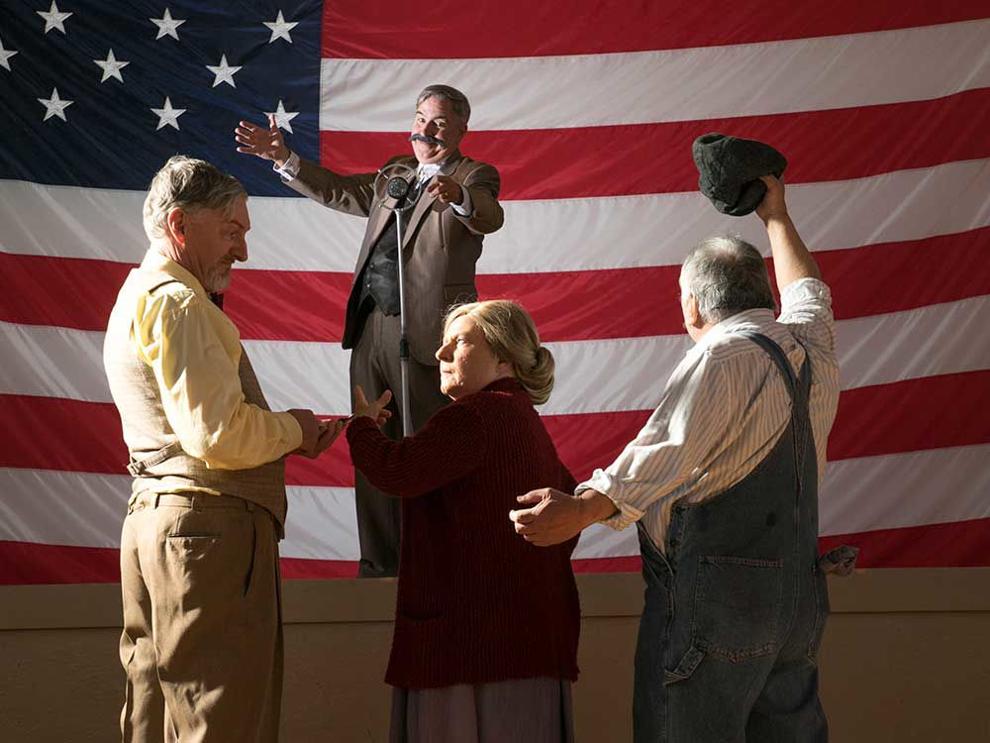 "It talks about the fractured nature of Americans, our disparate beliefs about how a country should run," McGrath says. "Different points of view are a foundation of our democracy. But disparate points of view can lead us into a situation not unlike the play. I think you see that in our social network activities, [where] people fall into echo chambers as opposed to real conversations."
Real conversation will happen after the June 3 performance, when the cast and creative team will stay on for an informal Q&A open to ticket holders to any of the shows. And this is a good one to talk through. Maybe it's enough that the work might give us insights into how fascist sympathies can ascend in the United States, the land of the free.