The art at Avery Gallery is funded by the California State Legislature to provide art to wards of the court to develop their unutilized potential.
---
This Friday, three of our county's esteemed art institutions will open their first art shows of the year at practically the same time. Avery Gallery in Seaside's City Hall puts on an exhibition of work by kids in the juvenile justice system. The Pacific Grove Art Center rounds up a deep assembly of artists for a show that rides the theme of conservation. And the Carl Cherry Center follows suit in their own unique way with a group show about the Wilderness Act.
All worthy works. And meeting the artists and curators and community members who are drawn to it, over refreshments, wine and music, is a savory opportunity. You want to go to all of it. And you can. It just takes a little planning. Here's a blueprint.
Start with the Carl Cherry Center (624-7491) show in Carmel. It opens first, 5-7pm. There, you'll take in Into the Wild, a tribute to the Wilderness Act of 1964 and its almost poetic directive, inspired by writer and environmentalist Wallace Stegner, to preserve areas where the "earth and its communities of life are left unchanged by people, where the primary forces of nature are left in control and where people themselves are visitors and do not remain."
Its artists – Deanna Forbes, Betsy Kendall, Tom Killion, Marc Pandone, Tim Ray, Brian Rothstein, Susan Schneider and the late Joe Oddo and Jill Strohn – most from the Bay Area, some local, submit their own painterly interpretations of the enduring law's mission. And the wooded grounds of the Cherry's little compound, with its walking garden and contemplative sculptures, is a nice way to bid farewell to the crisp January sunlight as it escapes through the tree leaves. (Later, on Jan. 16, several poets come with their lyrical tributes to the ideals of the Wilderness Act.)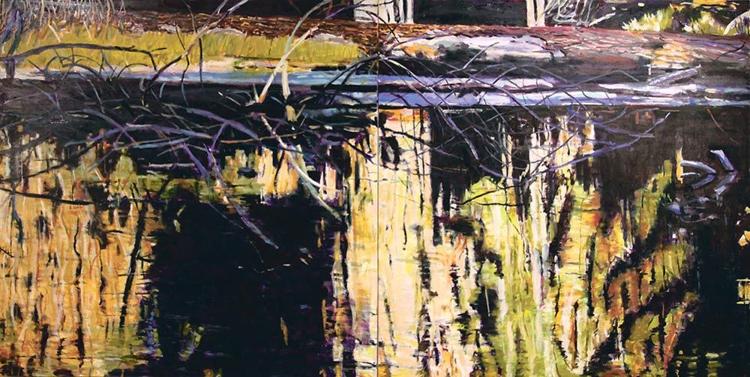 The next art shows open at 7pm in Seaside. PGAC's opening goes later, and you may want to grab a bite to eat in the cushion of time at this point. You have good Seaside options: La Tortuga (Mexican), Turtle Bay (Baja-Cali-Mexi) and The Fishwife (seafood) are all on Fremont Boulevard, right up the street from Avery Gallery (899-6811). All three can get you filled with good eats and out the door in time to catch the first half of the City Hall arts space's opening.
It comprises art from the kids of the Arts as Healing program run by Linda Hevern, who won an Arts Council Champion of the Arts award last year for her work with kids in the juvenile correctional system. The young artists' last names may be omitted from the labels to protect their privacy, and they won't likely be at the opening, but their mentors, including Hevern, will be there. As will a woman who will play the harp to set the mood for the paintings of jungles and savannahs and other places that aren't surrounded by bars and locked doors.
About 8pm or so, head to the Pacific Grove Art Center (375-2208). They're eager to show you some improvements that necessitated their closure from Dec. 18 to tonight's debut. Their show isConservation Is… , a prospect which is answered by artists like Larise Baker in her woven grass Gullah baskets, a tradition descended from former African slave women in the South Carolina Low County and the Sea of Islands in Georgia and Florida. And Ethan Estess' arresting collages of sea animals. And the Santa Cruz Oil Painters' many-splendored moments of nature's grace. And Marte Thompson's retrospective of Monterey Peninsula landscape paintings – not the most revolutionary of subjects, but one that Thompson treats as hallowed: "Art is my religion, paintings are my prayers. I believe in art. It is my faith."
It may seem like a lot of driving, but it's no more than an average commute for well-above-average art. Your time may be limited at each venue, but that can inspire more purposeful viewing and conversations. And what better purpose to plan and plot and rally after work? This night offers many reasons to have faith that something will speak to your soul.