It's hard to go wrong with pizza. You know what they say… even when it's bad, it's good. Bready carbs, melty hot cheese and lively tomato sauce seem to create the perfect comfort food. Still, so many types of pie exist, and producing each correctly takes work.
Such work is being accomplished at cozy new Heirloom Pizza Co.
After 17 years in the pizza and management industry, owner Michael Foley has taken pride in establishing a better pizza, and his efforts are wooing local crowds.
Heirloom only does evening hours, and the place was completely slammed one Wednesday night. But the turnover happened quickly enough that my date and I were seated after waiting only 10 minutes on the cute outdoor patio.
Though dark tones imbue the inside, a multitude of modern light fixtures provide a soft glow. Tantalizing aromas wafted through the air – aromas that I was very excited about when their source was finally in front of me.
Well, actually beets were in front of me first. Starters include roasted broccoli ($8), spicy baked chicken wings ($11) and greens like the arugula salad with apples, goat cheese, sunflower seeds and house lemon thyme vinaigrette ($9/small, $12/large). "Bomb beets" ($9), twice roasted with goat cheese, toasted walnuts and beet greens sounded way too good to pass on, so my disappointment was real when I got a small dish with only a few bites of beet and almost no goat cheese.
But no cheese shortage occurred on either pizza we ordered – one deep dish and one thin crust ($20/small, $27/large). Though the kitchen will put any topping on any pizza, some come particularly recommended by the menu. Deep-dish options include the mouthwatering "Bixby" with sausage, feta, green olives, red bell peppers and sundried tomatoes, while thin crust temptations include the fontina margherita, the "Napoli" with uncured pepperoni and salami and the "Pesto Potato" with ricotta and garlic.
Figuring their namesake pizza had to be something special, my deep-dish choice was the "Heirloom" with spinach, bacon, mushrooms, onions, garlic, ricotta and gorgonzola. The crust contained a buttery hunk of dough clearly baked with cornmeal.
If it sounds like a mouthful, that's because it was. There was no graceful way to tackle this pizza mountain, but each forkful brought interesting flavors and textures. The bacon delivered delightful chewiness alongside mushrooms and spinach. The caramelized onions added a touch of sweetness. The only topping I could do without was the gorgonzola, which seemed a little overpowering.
For thin crust, the sweet and spicy couldn't be beat. Tiny chopped jalapeños – scattered among pepperoni, pineapple, garlic and onion – highlighted each zingy bite. The crust carried the same cornmeal taste, balancing bready goodness with thin lightness.
With sustainable, organic ingredients and progressive décor, it's clear why this place calls itself "Monterey's best pizza."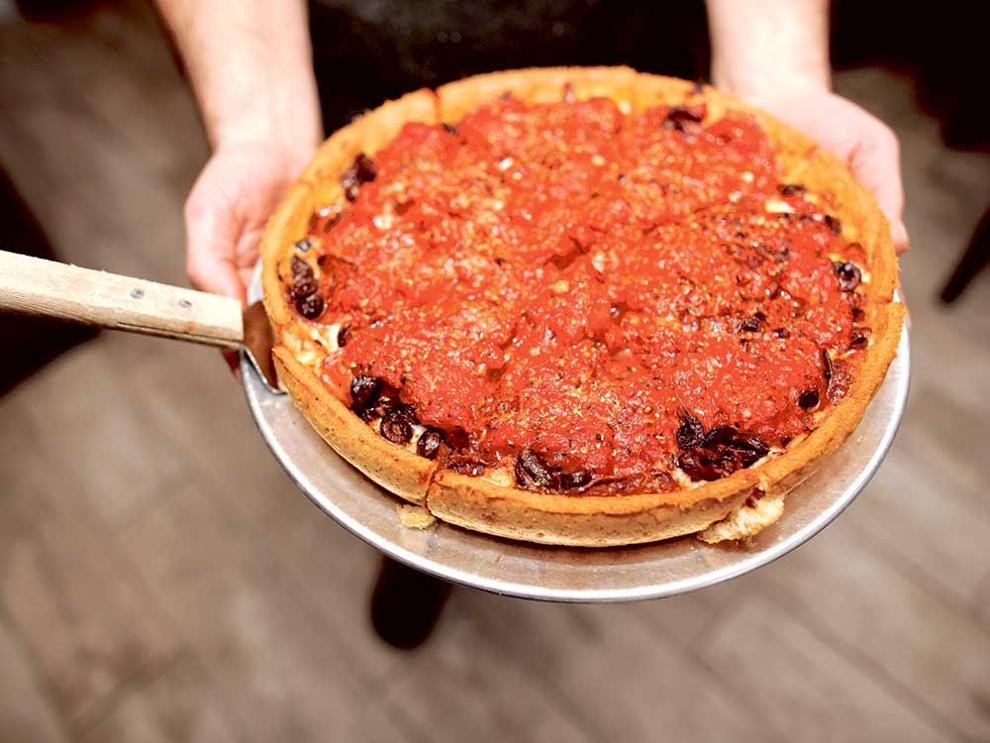 HEIRLOOM PIZZA CO. 700 Cass St. #102, Monterey. •5-9pm Wed-Mon; 5-10pm Fri-Sat • (831) 717-4363, heirloompizzapie.com