World championship pizza dough tossing is a thing. Which is beautiful news.
And it gets better: One of the dough-whispering contenders for the crown is Whole Foods Monterey (333-1600) head pizza master Matthew Driscoll of New Monterey.
On a bustling mid-afternoon Monday, he stands smiling behind his pizza station in the prepped-food gallery. He blurs into a swirl of movement as he controls his soft plastic practice puck, or ThrowDough, as if it's his giant yo-yo on an invisible string – before moving it between his legs like a Globetrotter, tossing it behind his back like a veteran juggler then miraculously moving it down his shoulders like a breakdancer with props. (Check out the picture above for a peek at his featured shoulder roll special.)
He's prepping for the U.S. Pizza Team trials in Las Vegas early next month and hoping for a spot on the national team and the trip to Italy for the International Pizza Challenge in March, where his routine will consume as many as five minutes of endless movement and zero fumbles.
"I try to push myself to the limit," he says. "The dough has to be continually spinning. It can't hit the floor."
Competitors will deploy everything from handstand moves to over-the-shoulder blind throws.
As he whips through his set – his double shoulder roll is a stunner – a couple of key things become clear. Implausibly enough, pizza is cooler than previously advertised. Two, hard-core tossing is a physically demanding deal.
"People would be surprised by the amount of exercise that goes into it," he says. "I work out every day – plyometrics, yoga and cardio for an hour and a half hour or hour of dough tossing – and have a good diet."
While Driscoll consumes a lot of chicken, rice and stir fry, other strict dieters are loving what he preps for them. Only his Gaia tapioca-starch "cheese"-topped pizzas are not just a hit among local vegans, who order by the bundle – a version of it is his go-to pie for the finals. Last year the raw-veggie pizza helped earn him third in the region and 15th among 70 nationally with its grilled dough, balsamic-marinated feta, thin-sliced cucumber and carrot, caramelized onion and Parmigiano-Reggiano.
"It's a refreshing take after a lot of heavy pizzas," he says.
It's also a reminder all the sweet moves in the country don't matter much if the pie ain't tasty, and not just with Whole Foods shoppers, but contest judges, who base score on both performance and taste.
"I like entertaining," he says. "More so I like them tasting the pizza. I like the whole package."
Driscoll's crust enjoys a forensically calculated crunch and a happy New York-style balance between too thin or too thick, with good bubbling to add airiness. His best-selling barbecue Hawaiian ($2.99/slice; two for $5; $13.99/large plus $1 per topping) – with crisp applewood bacon, fresh green scallions, barbecue sauce, grilled pineapple and Black Forest ham – should replace the traditional Hawaiian everywhere, forever. The prosciutto-asparagus and pesto-fire roasted tomato-spinach-mushroom pizzas also draw wows and serious sales receipts.
He's been chucking dough for a decade on both sides of Monterey Bay. Now-Whole Foods Exec Vice President of Operations David Lannon noticed his skills not long before Driscoll moved to the Monterey store to launch its pizza section. When Driscoll told Lannon about the competitions, then-regional WF chief Lannon offered to sponsor his push for pizza supremacy.
Driscoll continues the chase while doing his best to build an independent record label on the side, which provides some uplifting and spacey perspective.
"The music industry is a monster, a crazy stressful roller coaster," he says. "Right now I love doing the food. You can't go out and pirate a pizza, or download it for free – though you never know in the future. NASA has the freeze-dried 3-D printer."
His ambitions go beyond hopes to master his own handstand manuever in time for Vegas. He'd love to amplify the Whole Foods presence at competitions, where some teams show up 15 deep. He wants to add pizza workshops for kids and home cooks alike. He also aims to develop dough-tossing pros at other stores – "show them how to have fun with the dough, increase sales" – and to expand local delivery, ideally with scooters and/or smart cars.
"Our CEO calls our team members the special sauce," Whole Foods spokesperson Beth Krauss says. "By sponsoring him it provides a little support to grow what he's passionate about, makes him happier and more passionate – and able to showcase something that's unique to their store. We don't want stores to be cookie-cutter and people who shop at Monterey see something they won't see at other outlets."
"We're just a 3-foot-by-5-foot station now," Driscoll says, "but I have these visions."
And a wider vision of a world that can be as beautiful as a big ol' pizza pie.
"Yes!" Driscoll says. "All food should be this fun!"
QUICKBITES
• Sushi Time opens – softly – in Seaside's former Pho King this Friday, Sept. 6.
• Happy (belated) birthday, English Ales (883-3000), one of the local pioneers not just in craft beer but brewpubbery. They also led the local way with growlers – doubly important now that growlers like EA's can be filled at any brewery. Jump on some of the special Anniversary Ale, Pendragon and the strong ale before they're gone.
• Speaking of beer… crappy situation in Sand City: Landlord Orosco Group surprised Post No Bills staff and customers by demolishing its bathrooms as part of the build-out next door and upstairs, while steering them to Port-O-Potties. Amid the fireworks, an anonymous group of PNB customers fired off a bitter email to Orosco and owner Mark Moses wondered why an anchor business would get such lousy treatment. Get the lowdown on the blog, www.mcweekly.com/edible.
• More beer: Year two of Monterey Bay Oktoberfestjumps to the fairgrounds Sept. 14-15 with steins, lederhosen, brass bands, St. Pauli girls and enough kegs to flood the joint ($5 entrance; $25 beer garden in advance).
• Drake's Bay Oyster Company was just dealt a big blow. More on the blog.
• Carmel-by-the-Glass 2.0 ($30, 402-7373) is here Sept. 12, with a range of local wineries, live music and light bites all in Devendorf Park's grassy setting.
• National Breakfast Month is now. (Wow.)At Sweet Elena's (393-2063) that delivers a drip coffee, a refill and a spinach-and-cheese croissant or a thick wedge of quiche for $7. National Mushroom Month too, which translates to three-course mushroom Provencal (with porcini, morel, chanterelle, shitake and buttons) lunches for $14.95 at Fandango (372-3456).
• Portobello's Rotisserie Cafe (753-0797) in Oldtown Salinas serves a powerhouse prosciutto and brie omelet ($9.25 with toast and potatoes). Oh yes.
• Artichokes may have edged avocado for state food, but I'm still heading down the 101 to the Morro Bay Avocado and Margarita Festival Sept. 14-15 (www.avomargfest.com), and aiming to win a year's worth of avocados.
• "Ideas are like pizza dough," journalist and author Anna Quindlen said. "Made to be tossed around."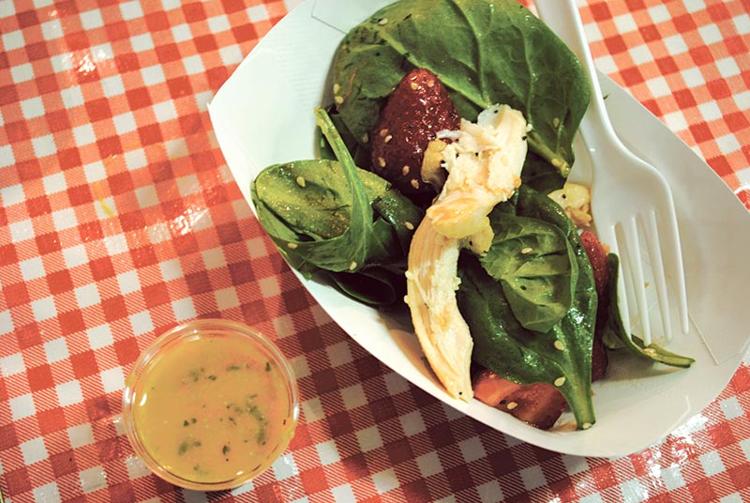 Fresh 20-minute recipes from Talk Radio Network's Dianne Linderman >> www.mcweekly.com/edible