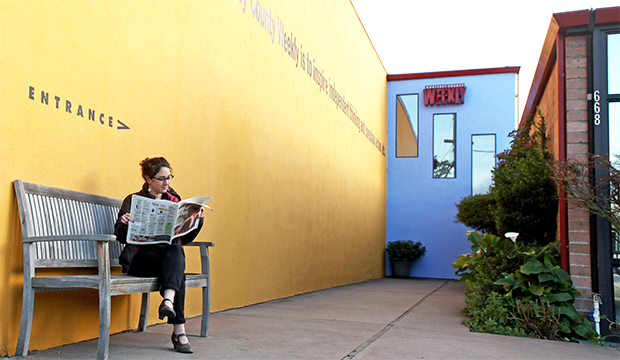 Why the Weekly?
Excellent customer service Real local people are here to help you.
Smart marketing Reach more eyeballs for less money.
Verified and Audited Circulation We deliver what we say we deliver... and we won't spam your driveway.
We have advertising options to fit any budget
From full page retail advertising to service directory classifieds, we've got you covered.
Questions? Call us at 831-394-5656.
Advertising is an investment.
Advertising in Monterey County Weekly — in print and on our digital platforms — is an investment with the potential of both short and long-term dividends. You get to control your message and speak directly to our 90,000 weekly readers with your print ads, and simultaneously be on screen with our over 60,000 unique visitors that use us each month online, or on their phones. You can even tap into our e-newsletter mailing list that is over 25,000 recipients, delivered three times per week.
Our readers are active, young, professional and they are smart consumers who are busy and discerning. They are looking for products for their everyday lives, for services, for fun and entertainment. You want to build top-of-mind awareness with this valuable audience, make sure that you know who you are and what you have to offer.
Five Good Reasons to Start Advertising Right Now
Promote a new product or service Be it a new tasty dish on the menu, a new spa treatment, or a new product no one else has, you need to get it out there.
Update your hours You've updated your hours, let your customers know so they can take advantage of new longer hours, or won't be disappointed when you've closed.
Host a successful event If you want people to show up, you better send them an invitation
Out Position your competitor For everyday that you market your business and your competitor doesn't, you are winning mind-share, so customers will call you first.
Be everywhere Location, location, location. Whether you're business is on a busy street or tucked away. Whether your customers live or work in your town. The Weekly can be found in high-traffic areas all over the county, anywhere in the world online and right in their pockets on mobile phones. The Weekly is everywhere people work, live and play.
Advertising and marketing your message is essential to your company's growth.
We recognize your business has plenty of choices on where to spend your limited advertising and marketing budget. But we've been around long enough to witness some very decent businesses fail due to misapplying solid principles of advertising, or worse, wasting their precious dollars on the wrong type of advertising.
Consumers today are busy, often inundated by information in their email, on their phone, TV, and computer. They are hungry for a way to cut through the noise and find what they want efficiently, all while becoming more connected to our community's deep offerings.
What we offer our readership is dynamic content about the community in a hyper-local product — in print, online, and mobile. We have grown to reach the largest adult audience in the county, and at the lowest cost (with the Weekly alone, you can reach more readers in Monterey County of any publication and at the lowest cost per thousand (cpm).
While a mix of different mediums may be the smart path for your advertising program, it is increasingly difficult to know how to best navigate these waters in our technologically rich world.
Commercial television stations have increased challenges as technology transforms its industry, expanding the channels offered, changing the way viewers watch with preset recordings on DVRs for increased convenience (and the power to skip commercials), even more people turning to their computers to watch their favorite programs (again commercial free);
Radio was once the powerhouse in an affordable media offering a targeted buy to a captive audience (e.g. commuters), but Pandora and other internet radio stations have turned the industry upside-down. Even new cars today are moving towards offering internet radios as standard equipment, further jeapordizing the market-share commericial radio has held;
Daily newspapers are in a freefall and have seen their readerships cut in half in the past few years. When the Weekly started in the late 1980s, both local daily newspapers had circulations more than twice ours. Today, there's little need to subsribe to a local daily newspaper and it shows — both the Californian and the Herald have circulation's half of the Weekly's.
Though Social Media like Facebook, Linkedin and Twitter are exciting new tools to assist potential customers in finding your business, its difficult to stand-out (amongst all the stuff including the funny cat videos). Thus far local social media audiences are typically miniscule (the average number of "likes" for a local business page is less than 500).
Proven results of Monterey County Weekly
One reason we've bucked the trend and thrived as a local media company is that we've never stopped investing into our product (content) and have a commitment to being the best for our advertisers. We've been recognized for being the top weekly in California, and our readers have a strong connection to our work. One example is that our readers participated in our annual campaign for local nonprofits this year and raised over $1,000,000 for Monterey County Gives! in a six-week period.
Our goal is that our customers get great results. Talk to our advertisers who run consistent campaigns and they will tell you the same thing: advertising in the Weekly brings new and repeat business and they get strong service from our staff. A recent survey of our readers showed that more than 70% use the goods or services advertised in Monterey County Weekly at least 3 times a month.
Veteran advertisers:
Below is a list of some local enterprises who advertise with Monterey County Weekly. We're grateful for their support and also proud that we've earned their business:
Passionfish
Monterey Bay Aquarium
Monterey Plaza Hotel & Spa
Whole Foods Market
Community Hospital of the Monterey Peninsula
Quail Lodge & Golf Club
Cassidy Turley BT Commercial Real Estate
Rio Grill Restaurant
Salinas Valley Plastic Surgery Associates
Scheid Vineyards
First Church of Christ Scientist Monterey
Del Monte Shopping Center
Hula's Grill
Aubergine
Sock Shop
Midas Auto Repair
Wells Fargo Home Mortgage
Mahoney and Associates Commercial Real Estate
California American Water
Hahn Estate Vineyards
Outdoor World
Tarpy's Restaurant
Hans Auto Repair
Doctors On Duty
Bay Bikes
Spa On The Plaza
Natural Veterinary Therapy
California State University Monterey Bay
Cannery Row Company
Sly McFly's
Spa on The Plaza
Restaurant 1833
Dr. Daria Maldonado
Monterey Peninsula College
CSUMB World Theater
Hyatt
Sunset Center
James Penna DDS
Peace of Mind Dog Rescue
Carmel Music Society
Pet Specialists of Monterey
Cannery Row Brewing Company
American Cancer Society Benefit Shop
Tom's Auto Repair
Beacon House
J&S Surplus
Futons & Such
Carmel Plaza Shopping Center
Monterey Bay Computer Works
Girl Boy Girl
Khaki's Men's Clothier of Carmel
The County of Monterey
Monterey County Fair
Andres Bouchee
Aqua Blue Spa
L'Auberge Carmel
Turn 12 Restaurant
Ordway Drug Store
East Village Coffee Lounge
Gasper's Jewelers
Federico's Shoe Repair
California American Water
Save Our Shores
Voices for Children/CASA
The Crossroads Shopping Village
The Wharf Marketplace
Museum of Monterey
Old Monterey Business Association
Shoreline Goodwill
Central Coast Pediatric Dental Group
The City of Seaside
Chartwell School
Pilgrim's Way Bookstore
Redshift Internet Services
Sunset Performing Arts Center
Chris' Whale Watching
Gold Coast Tattoo
Gianni's Pizza
Bulldog British Pub
Monterey Aesthetics Center
Stone Creek Kitchen
Baja Cantina & Grill
Brittania Arms
Blue Fin Cafe & Billiards
Peter B's Brewpub
Turtle Bay Taqueria/Fishwife Restaurant
Hula's Island Grill
Osio Cinemas
Portola Hotel and Spa
Paul's Drapery
Wild Thyme Deli
Futons & Such
Carmel Lavender
New Camoldi Heritage
Rocky Point Restaurant
Ventana Inn and Spa
Whole Enchilada
MYO Frozen Yogurt
York School
Since 1988 the Weekly's been working hard to offer value to our readers and our advertisers. We do the best job we can to merit our readers' time and our advertiser's investment, each and every week. Independently owned and operated (our headquarters are in a Charles Moore Building in Seaside), we hope we can serve you, too.
For more information, call us at 831-394-5656