AT 2AM ON NOV. 29, 2017, Laurie Huelga, a communications analyst with the city of Monterey, sent an email to Hans Uslar, the assistant city manager at the time.
Huelga was forwarding an approved comment from the "Citizen Comment Form" on the city's website, which allows members of the public to weigh in on city-related matters to city staff.
In this case, the comment was about then-city manager Mike McCarthy.
 "Dr Mr. McCarthy, or 'City Manager,' just to avoid any confusion. I'm writing to you because I just found out that you and my wife have been sending explicit pictures to each other, also referred to as 'sexting.' I found a bunch of interesting pictures in her phone and your Instagram accounts. I also just learned that you and her kissed each other at work the other day. You were both working, getting paid, and in her office. Yes, my wife is an employee at the City of Monterey to anyone reading this. Apparently this has been going on for a year now, according to my wife. I find it disgusting that you are in charge of everyone, and kissing subordinates at work. Is that the high moral character of a City Manager?… Unfortunately, I have decided to put this out there very passive aggressively. Believe me, that's not my style. I thought about coming down to see you at work, but figured you wouldn't see me when you figured out who I was and why I was there. I also figured it's best to stay away, as I am extremely upset. I looked for your phone number on here, but could not locate it. Thus, I have to do it this way.… I figure best case scenario, someone with power sees this and you have some explaining to do. Worst case scenario, you try to sweep this under the table, and my marriage is still ruined. Thank you very much for your time."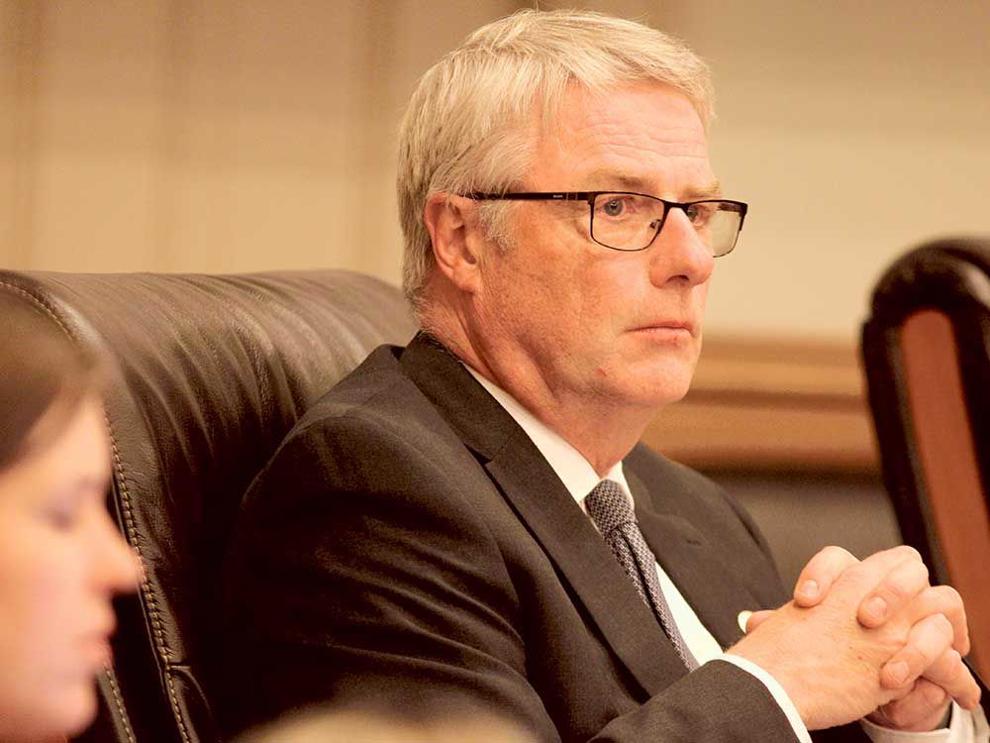 That comment, which the Weekly obtained through a California Public Records Act request, set off the chain reaction that led to McCarthy's resignation on Dec. 18, after being out on medical leave since Dec. 8.
When asked in December about why he resigned, before the details surrounding his departure became known, McCarthy said, "It was just time for me to move on."
PERSONNEL MATTERS ABOUT CITY EMPLOYEES are confidential, with few exceptions. The complaint about McCarthy's behavior is only a public record because it was made by a member of the public.
That being the case, it is inherently difficult to know what other personnel problems may be troubling Monterey City Hall, but with a staff that numbers close to 500, it's fair to assume there are some.
Yet with a population of about 28,500, the city retains a small-town feel where people love to gossip, but few are willing to speak on the record for fear it could come back to bite them.
But there is one story, on the record, that provides a unique window into the machinations of Monterey City Hall, and it contains allegations of sexual harassment, retaliation and corruption.
And while the allegations aren't as lurid as the complaint about McCarthy – though there are bombshells – they are in many ways more alarming, because they suggest a systemic problem, not an isolated one.
They also represent a different approach by leadership when it comes to receiving and handling allegations of misconduct; McCarthy stepped down from his position right away.
"I left so that the city could move on from this situation as soon as possible," McCarthy writes by email. "The city and community deserve nothing less."
It could be said this is Monterey's first #MeToo moment, but the alleged offenses – many of which are corroborated by testimony given under oath, by people other than the accuser – were first reported within the city's ranks in 2014, well before the movement took hold.
They became public, though not reported until now, in a lawsuit filed in February 2016, which is set to go to trial April 9.
It is a story about a woman who believed in doing the right thing, and who wouldn't look away when she believed someone was doing the wrong thing.
It is the story of Jeanne Colletto.
COLLETTO IS A MONTEREY NATIVE, and grew up in the city's Monterey Vista neighborhood. Now 52, one of her most indelible memories from growing up is that her family lived across the street from the Monterey fire chief at the time, Herb Scales.
"As a kid, I walked to the public library, and I just remember if he saw me walking by, he would always wave," she says. "That was a big deal. I have a memory of being in first grade, and that being the topic of my show and tell: 'I live across the street from the fire chief.'"
She also has warm recollections of camping trips in Big Sur with her extended Italian family, and of her dad driving around the neighborhood and loading up tents on the way out of town.
Colletto graduated from Monterey High and attended Monterey Peninsula College. After working in the banking industry out of the area for some years, she returned to Monterey in 1997. She worked on and off in the following years as she helped raise her family and did volunteer work, and in 2010, she got back to working full-time in Monterey County's Department of Social Services, processing applications for public assistance.
She enjoyed the job and was soon promoted, but in 2012, when she saw a job opening posted for a harbor assistant at the Monterey Harbormaster's Office, she jumped at the chance.
That's in part because Colletto has roots on the waterfront: her paternal grandfather was a commercial fisherman; his brother "Tiny" Colletto was a crew member on the Western Flyer with John Steinbeck and Ed Ricketts; and her maternal grandfather was the wharfinger – responsible for keeping the peace at the wharf – and then worked as assistant harbormaster after the harbor was built.
Yet she still considered herself a "long shot."
"A lot of people think it's not what you know, but who you know, and that's how you got a job at the city," she says. "I didn't think it would happen, but it did."
Colletto relays this history at the Weekly's offices in early February, but her narrative stops at the Monterey Harbor, where she started work in August 2012. Her attorneys, Peter Horton and Bradley Gage, advised her against speaking about her case, but a paper trail can take it from there.
"That's why I started to document everything," Colletto says. "I knew if I ever tried to tell this story, no one would ever believe me."
ONE OF THE FIRST SIGNS that things seemed off came to light by way of a pizza.
"The men will never let you tell them what to do."
According to Colletto's lawsuit – which was filed in Monterey County Superior Court against the city of Monterey on Feb. 4, 2016 – she requested an extended lunch to pick up and deliver a Costco pizza to her son's school on Oct. 11, 2012. Brian Nelson, a marine operations specialist at the harbor, asked that she also pick up a pizza for the office, and said she would be reimbursed.
When Colletto returned with the pizza, her lawsuit states that Nelson pulled an envelope from the office safe and "counted out $26 from a very thick stack of cash that was stuffed in the envelope."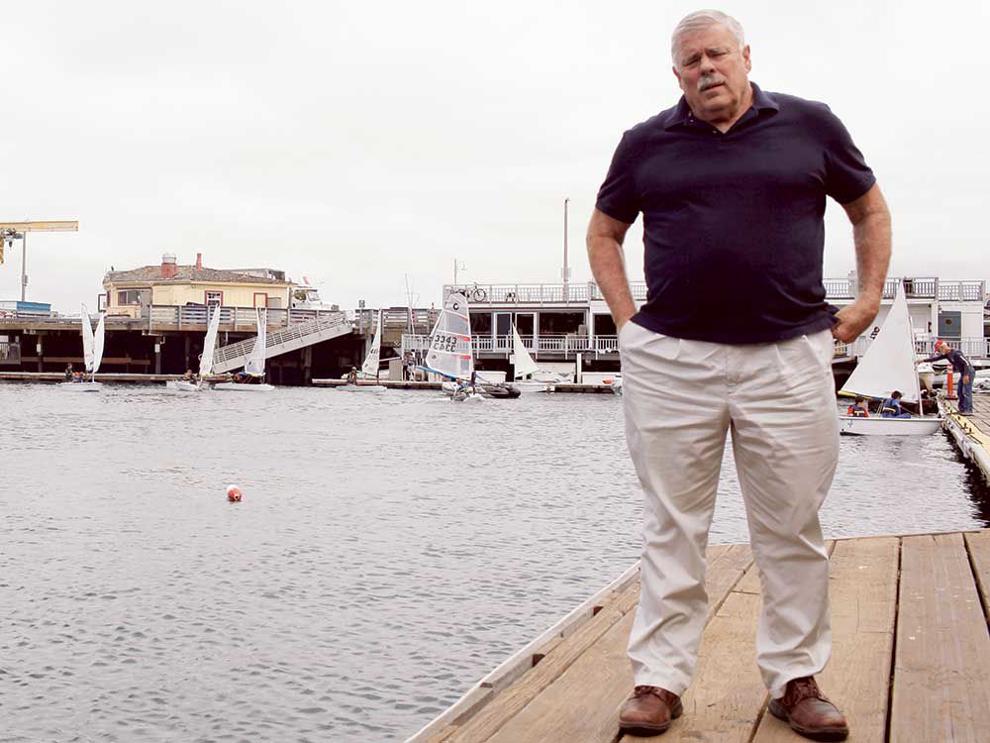 Colletto asked where the money had come from, and Nelson said that about $3,000-$4,000 had been accumulated from recycling scrap items from the harbor, according to her lawsuit. She asked Steve Scheiblauer, the longtime Monterey harbormaster who retired in February 2017, if it was appropriate to keep such cash on-site; Scheiblauer said that it was not, and directed Jennifer Penley, a part-time harbor assistant at the time, to deposit the money with the city's revenue office.
"Nelson and Penley discussed that there was too much cash to send in one deposit," the lawsuit states, "so smaller deposits would be sent over time so as not to raise any questions about the source of the funds."
Colletto, according to her lawsuit, approached Scheiblauer in April 2013 with concerns that the city's purchasing guidelines were being violated by harbor staff, in that purchases she felt required a contract were being charged to city credit cards "to avoid detection," and that some of the supplies being purchased were from Nelson's diving business in the harbor, which he operated while also employed by the city.
According to her lawsuit, Colletto asked Scheiblauer if she could oversee the purchasing process, and was told by Scheiblauer, "The men will never let you tell them what to do."
On April 15, 2013, Colletto met with Scheiblauer's boss, Kim Bui-Burton, then the city's community services and library director, who did not appear concerned by the purchasing policy violations, Colletto alleged.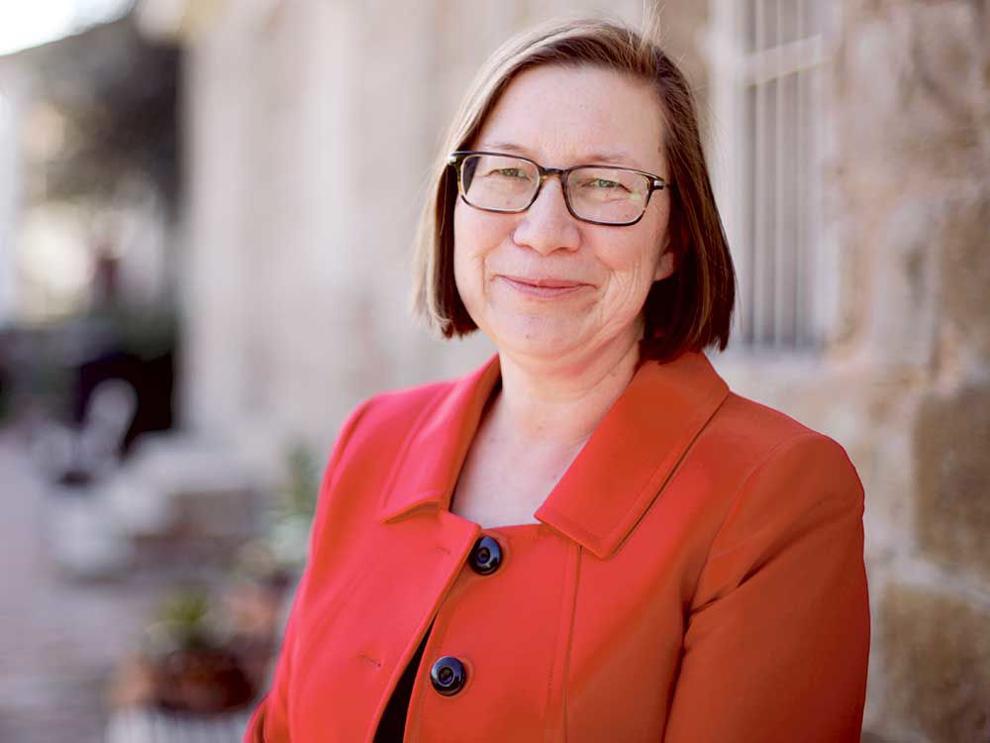 "No change to the harbor's standard operating procedure ever occurred," the lawsuit states.
Nonetheless, Colletto, in August 2013, was given a raise – she was hired as a "step 1" harbor assistant (out of 5 steps), and was promoted to "step 3."
Over the months that followed, Colletto's lawsuit outlines a host of other alleged improprieties: She alleges a boat slip was being used as a sublet – a violation of city ordinance – and that she was directed by a co-worker to falsify another co-worker's worker's compensation documents, a request Colletto refused.
In April 2014, Scheiblauer asked Colletto to do an analysis of proposed fee increases to harbor services in preparation of City Council review. In that analysis, she alleges that the city was paying Nelson well above market rate to conduct inspections of moorings; she states that Scheiblauer did not act on or investigate her concerns.
Around that same time, her lawsuit states, "Nelson's behavior toward [Colletto] began to turn sexual," and he started inviting her onto his personal boat, the harbor's work boat and to events out of town and outside of work.
It didn't end there.
ON MAY 13, 2014, Colletto, at Nelson's request, was tracking down documents regarding mooring licenses. Colletto recalled what happened next in a statement she emailed to Scheiblauer on May 18; they had already spoken about the incident in person, according to court documents.
When Colletto found the documents Nelson was looking for, her statement reads, "Brian approached me and asked if he could kiss me. When I replied no, he said, 'it's not as if I'm [gonna] give you tongue.' I told him to step away from me and that he had crossed way over the line. He laughed and walked into the Harbormaster's Office."
Later that day, she heard Nelson tell Scheiblauer that she needed to join Nelson on a boat for a training, despite Colletto telling Nelson there was "no valid reason or purpose for me to ever be on a boat." When Scheiblauer asked Colletto about doing it, she refused – "I replied that I didn't want to be alone, anywhere, with Brian" – and then told Scheiblauer about Nelson's kissing solicitation. In her statement, she characterized her work environment at the harbor as hostile.
On July 30, Luke Robert, a part-time harbor security worker with the city, emailed Scheiblauer with concerns that lend credence to Colletto's claims.
"Steve, It is my assessment that, in order to avoid very uncomfortable interactions with Brian Nelson during regular business hours, [Colletto] chose to work in the [Harbormaster's Office] until 1am on Wednesday, July 30," his email reads. "This is not the first time that such a decision has been made, and I'm concerned that this ridiculous arrangement is a reflection of the increasingly toxic work environment that has been developing of late."
On Aug. 28, Scheiblauer emailed harbor staff regarding chain of command while he vacationed in Europe for three weeks. He put Nelson in charge.
A week later, while Scheiblauer was in Europe, Nelson approached Colletto's desk and stood next to her, saying, "I need to get between your legs."
On that occasion there was a witness – a harbor security worker named Lucas Russell, who corroborated Colletto's report to Scheiblauer – and unlike the first incident, Scheiblauer reported it the city's Human Resources Department.
That assurance did little to calm Colletto's fears: On Oct. 20, the day an investigation into Colletto's harassment allegations commenced, Colletto wrote a letter to City Attorney Christine Davi, expressing concerns about regularly being subjected to "misogynistic vitriol" in the Harbormaster's Office. She worried she would be "vilified" and become the target of retaliation.
That same day, Colletto began working her first day in a new location: an office in the city's West Parking Garage, by herself. She had no computer, nor would she need one: her job, according to her lawsuit, was to go through "20 years of old file documents belonging to Scheiblauer."
She only worked there a week before taking time off because the "assigned work location and mundane tasks compounded the duress and anxiety that was already unmanageable."
Eventually, she returned to work at the Harbormaster's Office, and claims she took more than 100 hours of leave over the next year – for which she was never reimbursed – to minimize her interactions with Nelson.
TWO DAYS, UNPAID.
That's how long Nelson was put on administrative leave after the city's investigation found Colletto's allegations had merit. It took almost a year for even that punishment to be meted out.
Before that happened, Colletto's union got more involved in the summer of 2015, as the investigation into her allegations against Nelson was still not completed. Christopher Darker, the union's secretary-treasurer, wrote a scathing letter July 10 to Joanne Narloch, the city's interim HR director at the time.
"I am disappointed, to say the least, that the modern and progressive city of Monterey cannot complete an investigation into sexual harassment of an employee within the [90-day] time limits of its own policy," the letter reads. "The city of Monterey, in my opinion, has failed this employee."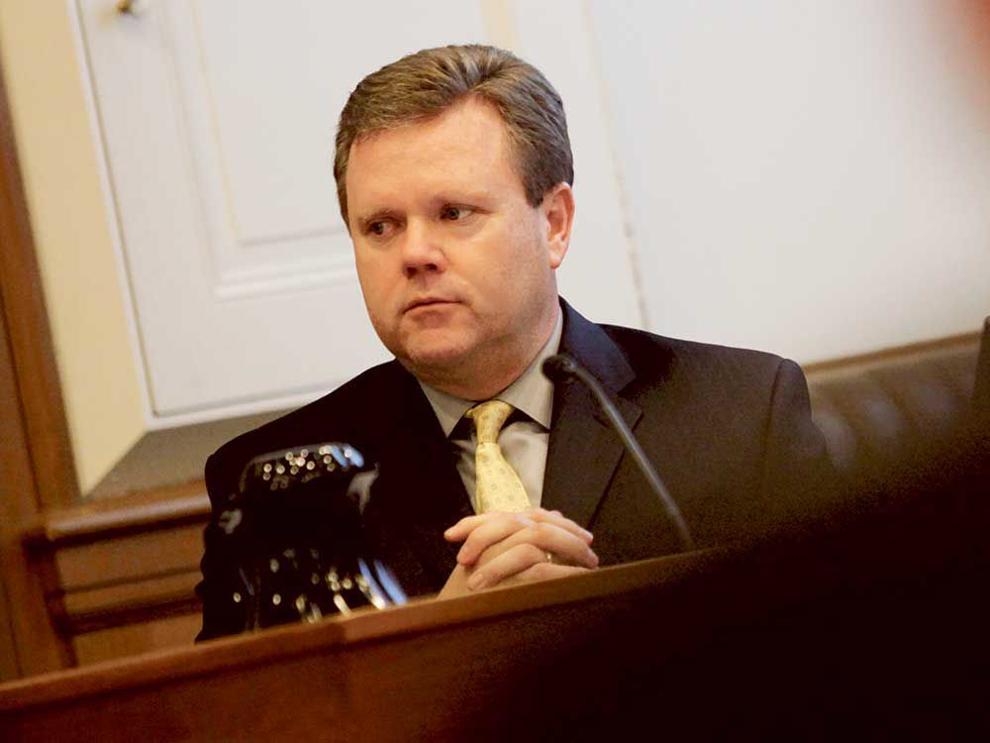 According to Colletto's lawsuit, on July 14, 2015, Colletto met with Uslar, then the assistant city manager, and Narloch. Narloch informed Colletto the investigation had wrapped up and that it found that Colletto was "harassed" and "discriminated against." In the very same meeting, according to the lawsuit, Uslar informed Colletto her schedule would be changing. The result was that, her lawsuit alleges, she would be expected to work more time alone with Nelson, not less.
Colletto filed a complaint with the state Department of Fair Employment and Housing on Aug. 14, 2015, because she was forced to continue working in close proximity to Nelson; two days later, she received her first "satisfactory" performance evaluation from Scheiblauer – the year prior it had been "outstanding." When she confronted Scheiblauer about it, he changed the evaluation to "highly satisfactory."
On Aug. 24, Bui-Burton informed Colletto, who was back working at the Harbormaster's Office by now, of the details of her new schedule. When she protested to Scheiblauer that the new hours – working until 7pm – conflicted with personal commitments she had to take care of her then-85-year old mother every evening, "he smiled and shrugged his shoulders," according to her lawsuit.
After her union intervened on her first day working the new schedule, her prior schedule was reinstated temporarily, and then permanently later that year. But she still sometimes had to work alone with Nelson.
On Jan. 21, 2016, while Colletto was readying to leave for the day at 5pm, her lawsuit states Nelson blocked the only exit from the office and "ranted" that he was not going to be promoted because of her complaint. In a complaint she filed the next day with the state Department of Fair Employment and Housing, she wrote: "Mr. Nelson grew increasingly emotional and unstable over the course of fifty minutes, ultimately blaming me for his failure to promote, lost earnings and kept repeating, over and over, that he was really hurting and didn't know how to make it stop. I felt trapped and paralyzed with fear. I made one motion to collect my belongings to leave and he adjusted his chair closer to me. I sat frozen in my desk until another employee entered the office at approximately 5:50pm."
Colletto immediately went out on medical leave following the incident, but quickly burned through the paid leave she had accrued. She hasn't worked a day for the city since, though she remains on the books.
Within weeks, she filed her lawsuit.
MANY OF THE RICHEST DETAILS in Colletto's case are revealed in depositions – statements made under oath – obtained by the Weekly. They number hundreds of pages in total, and reflect hours and days of interviews by attorneys.
Some of those details don't relate directly to her case, but speak to the malfeasance Colletto was blowing the whistle on, like the envelope full of cash in the harbor office's safe. When asked about that envelope, Scheiblauer, at his Aug. 17, 2016 deposition, said it was a "petty cash fund primarily funded by monies that came from recycled materials."
He said the fund had been in existence when he came on in 1995, and it was his understanding that many departments in the city had such a fund for "motivational lunches, you know, atta-boy type lunches."
Scheiblauer said he believed the cash in the fund was in the hundreds, not thousands, yet he says he was wary of it.
"I didn't like the fact that we had an off-the-books fund," he told Colletto's attorney Peter Horton.
"When you say off-the-books, this wasn't reported to finance?" Horton replied.
"It wasn't accounted for, that's right," Scheiblauer said.
In Bui-Burton's deposition, Horton asked if Nelson was "completely honest" during the investigation into Colleto's sexual harassment allegations.
"No," Bui-Burton responded. A few moments later, she affirmed that dishonesty was a fireable offense.
Uslar's deposition, taken in November 2016, lasted nearly six hours and the transcript numbers more than 200 pages. Among the revelations it contains are how other city employees were disciplined for personnel-related offenses.
Around the early aughts, a public works employee was suspended for calling his female supervisor "the c-word," Uslar said. Also around the same time, a different public works employee, Uslar said, was investigated for disparaging remarks about co-workers, and for suggesting that maybe there should be a holiday for "the guy who shot Martin Luther King." Punishment: demotion.
"I'm concerned that this ridiculous arrangement is a reflection of the increasingly toxic work environment."
After establishing details of some past harassment investigations in the city, Colletto's other attorney, Bradley Gage, brought it back to Nelson. He asked Uslar if the investigation into Nelson found he had lied to investigators, and that Colletto had been truthful. Uslar said yes. Uslar also affirmed that it's "standard legal practice" to move the harasser to a different workplace, and not the accuser.
But the city was in a tricky situation of its own making: When Nelson had applied for his position in 2010, he disclosed on his application that he had a part-time dive business and had a boat at the harbor – two things that should have been flagged as potential conflicts of interest – and even if they moved Nelson to another job in the city, or fired him, the city could not bar him from the Harbormaster's Office, given that he had a boat in the harbor.
Despite that, why the city handled Colletto's situation like it did remains difficult to understand, and is distilled in a question Gage asked Uslar: "After [Nelson's two-day suspension], the city changes [Colletto's] work hours so that she has to spend more time and alone time with Nelson, which she's reporting is causing her all kinds of stress and fears. Right?"
"Yes," Uslar replied.
A few answers later, Uslar clarified that he didn't recall, or didn't think, the new schedule would force her to work alone more with Nelson.
Yet in an email Colletto sent to Scheiblauer Aug. 26, 2015, she wrote, "The [new] schedule forces me to work more days and hours with the individual who victimized me."
Bui-Burton, interim HR director Narloch, and Uslar were all copied on the email.
THE CURRENT AND FORMER EMPLOYEES in this story said they were not authorized to comment on Colletto's case (Bui-Burton and Nelson did not respond to requests for comment). If they were authorized, they might call Colletto's account into question, but no such story came out in the depositions obtained by the Weekly.
And there are more depositions in the offing: Two weeks ago, Colletto's attorneys deposed former acting HR director Michelle Maloney, former finance director (and former acting HR director) Jimmy Forbis, former HR director Gina Donnelly (who brought her own attorney) and former city manager (and former HR director) Mike McCarthy, who resigned in December. None of those transcripts have yet been finalized.
When McCarthy was promoted from HR director to assistant city manager in July 2012, the HR department entered a state of upheaval.
Over the course of four years, between the time Colletto came on in August 2012 and the final Nelson incident in January 2016, there were five acting HR directors.
Prior to McCarthy, Ralph Bailey led the HR department for 18 years.
As to why there's been so much turnover in HR leadership, McCarthy says it's a hard position to fill, but adds that he hears the current HR director, Allyson Hauck, "is still doing great."
Monterey has hired Aptos-based attorney Vince Hurley to represent them in the case, and when asked about the HR department turnover, he calls it an "anomaly" and "not good for anybody." Of the protracted length of the investigation into Nelson, he says, "nobody was happy with that," and adds, "that's not going to happen again."
He also emphasizes the lengths to which the city tried to make Colletto feel comfortable: She was given scheduling accommodations during the investigation, and was allowed to leave whenever she might possibly be alone with Nelson. Before that, Hurley adds, the city tried to move her to a different location – the closest city office to the harbor – which she found untenable in a matter of days.
And, he contends that Colletto's version of what occurred in that final incident on Jan. 21, 2016 is not accurate, though he admits, "I wasn't there."
From the outside, it's possible to view Colletto's story in other ways, less as a victim than as a by-the-book troublemaker who refused to get along, or as a greedy opportunist out for a hefty cash payout. Or both.
Or, it could be that she is one of many women who experience harassment in the workplace, and is one of few who had the courage to speak out.
Ultimately, it appears a jury will decide, because Hurley thinks the case is going to trial.