A music concert is a fleeting moment. An adventure in anticipation, freedom, music, emotion and release. An odyssey that can involve a crescendo of events: getting the tickets, hanging out in the parking lot before the show, standing in line with fellow fans, fording scalpers and security; being subjected to booming sound systems, flaring bright lights, falling confetti and moving bodies; finding afterparties or breakfast at 1am, before the quiet, exhausted ride home. They can be ecstatic moments with friends, boyfriends, girlfriends or family, at venues massive or tiny, a communion with others of your tribe, your dedicated society whose only requirement is that you know and love and understand the artist, and through them, know and love and understand one another.
It's an ephemeral convergence, the music concert. It's not hard to understand how it would captivate people beyond reason. Music isn't a reasonable thing. Why should we sacrifice to seek it out as we do? Music is fleeting. It exists for a moment, vibrating in the air and inside us, then is gone.
Except it isn't. It lives on in our minds and hearts. We capture it in recordings and words and photographs.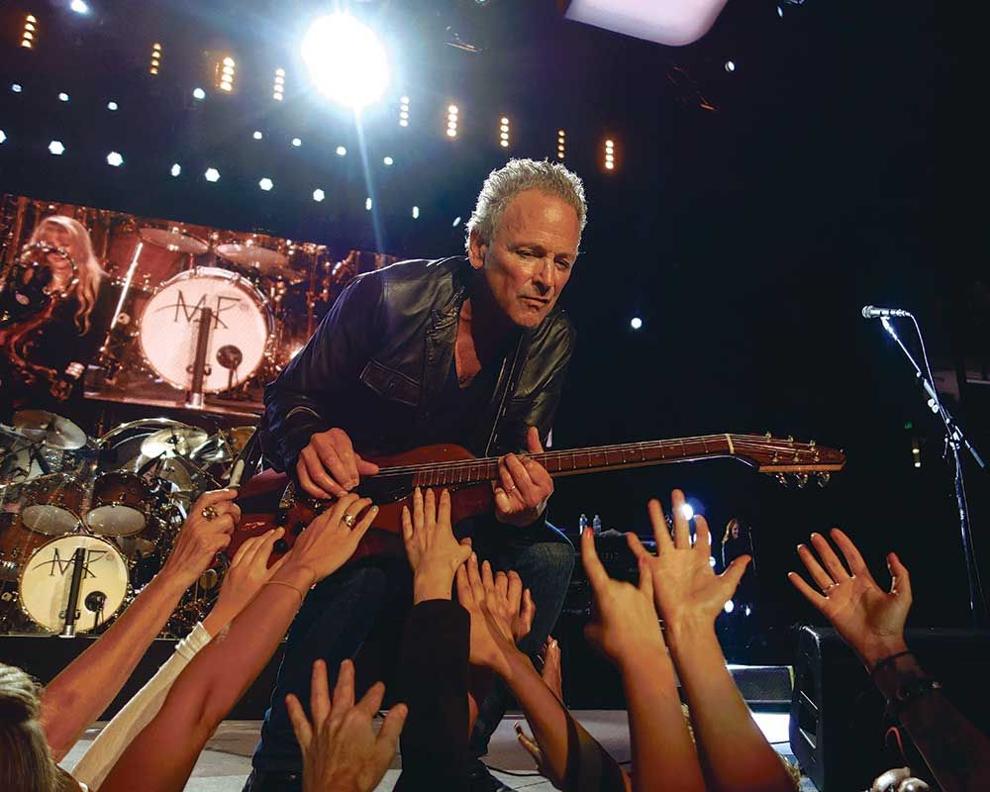 Jason DeBord's first music concert was teen sensations Lisa Lisa and the Cult Jam with Exposé at ARCO Arena (now Sleep Train Arena) in Sacramento, near where he grew up. It was 1987. He was 14.
"I was certain during the concert that Ann Curless of Exposé was staring right at me during the performance," he writes in his music blog, RockSubculture.com, "which seems kind of ridiculous today, but as a young teen, I was a believer. I was hooked."
The next concert, he recalls, was Run DMC and the Beastie Boys. Others came at an increasingly rapid rate. Depeche Mode, Duran Duran, The Pixies, Morrissey, New Order, Throwing Muses, Erasure. He liked new wave, modern rock, old school hip-hop and Britpop. Also Book of Love, Oingo Boingo, B-52s, Cyndi Lauper, Billy Idol. He remembers the first album he bought: Michael Jackson's Thriller. He used to tape Casey Kasem's American Top 40 radio program onto cassettes so he could listen to his favorite songs over and over.
He studied English literature at Sacramento State and then film and television at Loyola Marymount University. As an adult he's worked as a consultant, collector and expert in movie props and memorabilia – a knowledgeable "genre" movie fan who runs the blog www.OriginalProp.com.
He recently helped consign to auction the work of Star Wars artist Colin Cantwell, who made early prototype models of the X-Wing Fighter, Y-Wing Fighter, Landspeeder, Millennium Falcon and more for George Lucas. DeBord also authenticates memorabilia and debunks claims by people trying to pass off fakes as real.
He was sued for defamation and libel by one dealer whom he called out for deceptive business practices in a case that went to the California Supreme Court.
DeBord won. He says it was his way of protecting free speech, but he described the ordeal as stressful and negative.
"I've found the concert and music world to be really gratifying, more of a pure and positive experience," he says.
And he has kept attending shows faithfully over the years, chasing down bands all over the world. Only about three years ago he started taking professional photographs and meticulously chronicling his concert experiences on his music blog.
"Back [when I was younger] you couldn't bring a camera to a concert," he says. "It was all imprinted in your mind."
Not anymore. The camera, he says, changed his life. His blog is an earnest and profuse display of rock and pop music fandom. In the introduction, there are pictures of him standing and shyly beaming next to Chris Martin of Coldplay, Heart, Journey, Robert Smith of The Cure, hip-hop duo Method Man and Redman, and Rihanna, who is comfortably resting her head on his indulgent shoulder.
DeBord built his blog with an obsessiveness for details, for recording and preserving the fleeting experience of music. It's made up mainly of his concert reviews, hundreds of them, built up in less than three years. He's also posted Top 10 and Top 100 lists (true evidence of fandom, like John Cusack's character in High Fidelity); podcast interviews, name checks, set lists and year-in-review breakdowns.
What there are not: ads. He says he supports himself through advertising on the Original Prop blog, consulting for prop houses and doing photography gigs for promoters.
There are also very few negative posts, even though he thinks he went to 100 concerts last year. "Miraculously, I can probably count on one hand the number that were 'bad,'" he writes, "and the majority were awesome in one or more ways."
It's all akin to the way people used to meticulously annotate cassette mixtapes back in the day, but using the tools of today. He estimates he has 30,000 songs in digital form. He would buy VIP meet-and-greet tickets in order to get closer to the artists and pose in pictures with them. But most of the photos of his massive blog are composed of concert shots, for which he's learned to score photo credentials.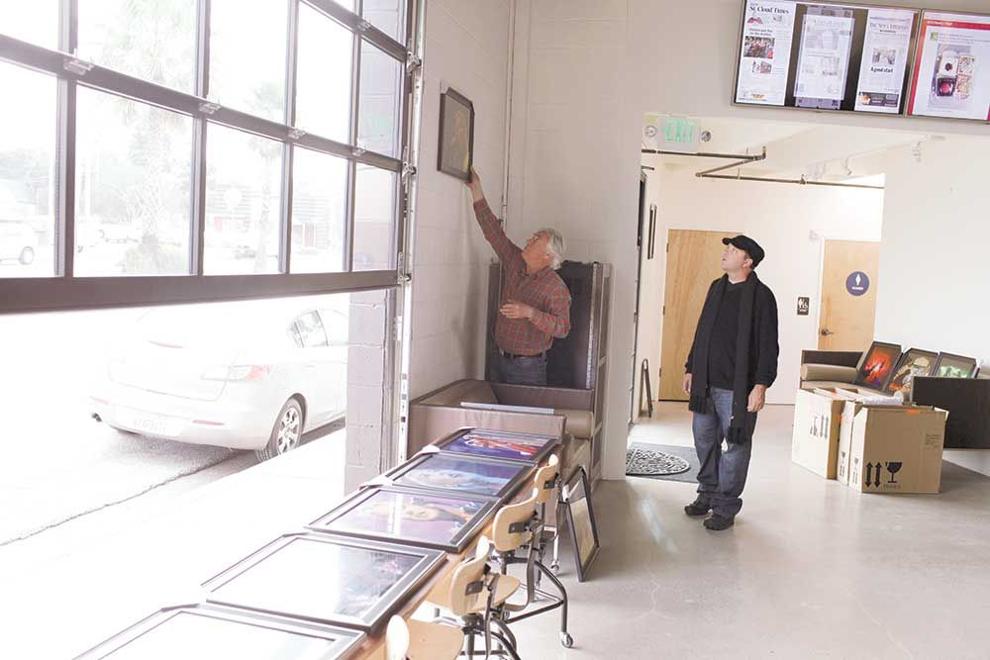 It's those shots that he's showing in the first art opening at the Weekly's Press Club cafe, gallery and gathering space 6:30-10pm Friday, Jan. 16. Music will set the ambiance of the opening in a concert performed by Down and Outlaws, starting at 9pm. (See sidebar, p. 24.)
Among the images: Fleetwood Mac guitarist and singer Lindsey Buckingham titillating the crowd with his guitar; Depeche Mode's David Grohan in a sparkly black jacket looking like a glam televangelist; Joan Jett, B.B. King, Morrissey, Steven Tyler and Pink. Gwen Stefani is backdropped by iridescent stage lights, reaching out to the audience with an almost pained expression on her face. In that picture is a rare appearance of Jason DeBord's hand, reaching back to her as if across a divide.
He tells the story of his portrait of Kitten lead singer Chloe Chaidez: "Toward the end of the show, Chloe jumped off the stage onto the rail in front of me, took off my hat and wore it, and generally had fun with me. A reminder that maybe I'm not so invisible."
DeBord claims to have no musical aptitude and suggests that's another reason he takes photos – to get closer to the music. He uses Canon gear, taking two bodies and 10 lenses into the photographers' pit in front of the stage. His shots are colorful, washed in the blues, reds and purples of the concert floodlights, taken from the lip of the stage so the artists look like divine beings.
He photographed the April 15, 2014, concert by The Pixies – one of his favorite bands since high school – at Henry Miller Memorial Library in Big Sur. He was shocked at how small the venue turned out to be, how intimate the vibe.
"It was quite surreal to stand a few feet from Joey Santiago and Black Francis and think back to seeing them back in the late '80s and very early '90s," he writes. "And here I was, more than two decades later, enjoying a stellar concert in the woods of Big Sur, standing right between them. I wish the teenage me could have known what was in my future."
He posted lots of photos from that show: cows grazing Big Sur oceanside pastures as he drove Highway 1 to the venue, the soundcheck, the opening act (and the crowd ignoring them), instruments and amps, and finally copious shots of The Pixies onstage.
The photos are sharply focused and clear, more refined than the music or the venue or the experience might suggest. DeBord believes photos can capture scenes beyond the possibility of the human eye.
You may have seen Pennie Smith's iconic black-and-white photo of The Clash's Paul Simonon about to chop apart some stage with his bass. DeBord's photos aren't like that. They're not raw. They're clean, avoiding the graininess, the blur, the flares, the overexposure or washed-out light, the sense of movement, of messiness, of fury in other rock photos.
DeBord's blogging style is tons of content – about 145 photos in this Pixies post alone – as if he uploads everything, describes some of it and calls it a day. He's a fan, collecting concert wristbands and credential lanyards, and that has its place in the world of rock. But better curating would make for a much stronger showing, and that's where Chris Winfield steps into the picture. He's curating the visual art in the Press Club.
The proprietor of Winfield Gallery in Carmel, Winfield represents artists such as David Ligare, Warren Chang, Albert Paley, Pamela Carroll, a multitude of others – not to mention rock photographers Ethan Russell and Tom O'Neal. He first heard of Jason DeBord from Jason's parents.
"My parents went to Monterey. They're big art collectors," DeBord says. "They purchased artwork [Winfield's] wife had done. They talked to [Winfield] about my work."
Winfield says, "There was this wonderful dialogue that occurred. People come into the gallery and tell me, 'My son does this, my daughter does that.' Ninety percent of the time I can't do anything with it."
Not so with DeBord. He saw something there. Russell and O'Neal, the rock photographers in Winfield's long roster of artists, came of age in the 1960s, shooting the Rolling Stones, the Who, Joni Mitchell, the Doors, Jimi Hendrix.
"Jason's part of a younger generation," Winfield says. "He's out and about tracking things my daughters, who are 17 and 31, know about but I don't know about. It's not to say that a lot of amateurs couldn't get a great shot comparable to his. But the consistency – he's there for every show."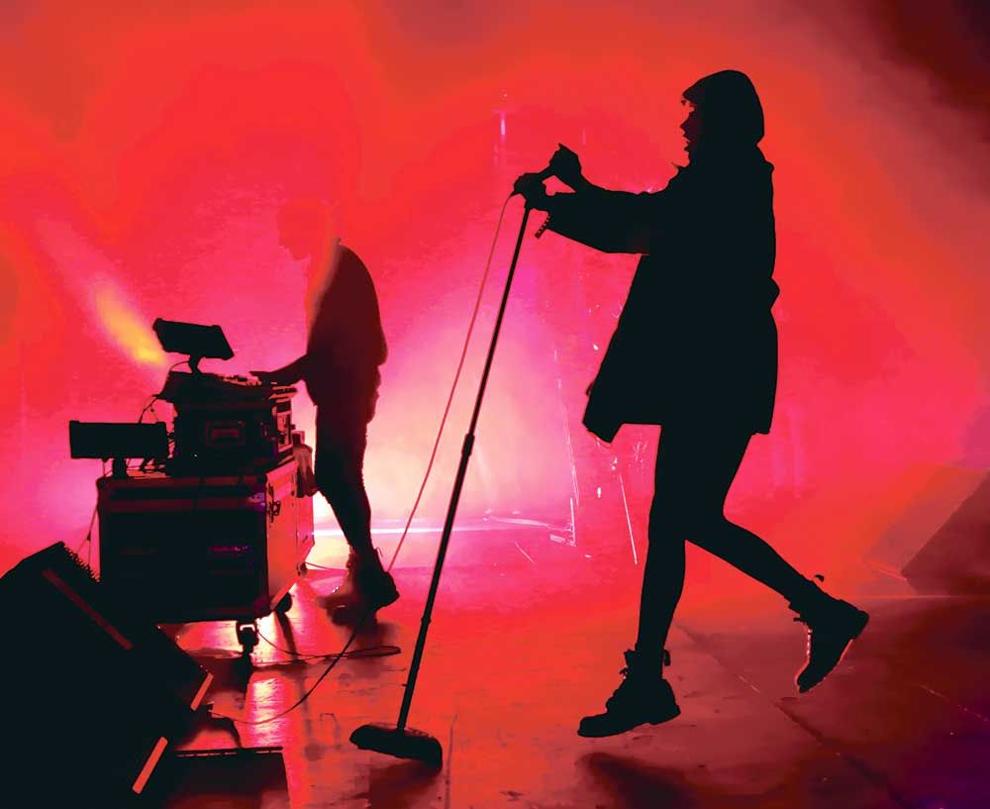 Winfield, who now represents DeBord and is currently showing his work at his gallery, got him into a museum show at the Fresno Art Museum alongside O'Neal and Russell, a placement DeBord is modest about: "I was honored to be in that company because they're total legends. They're iconic. I felt out of place." The work he showed there is almost identical to the work he's showing here.
But DeBord, who lives in Cool, California (population 1,500), is grateful for the exposure. A museum show, and now a gallery show set to launch with live music and a talk about his rock-n-roll travels. The work that began as a love affair and bloomed into an obsessive hobby of photos and memories of artists on stages around the world, seems now to be inhabiting a stage of its own.
The opening will also show off Weekly owner Bradley Zeve's venue as a creative space that houses other creative works. (On Jan. 27, the Arts Habitat's Arts in Progress series is moving there, and coming in February is Tom Tomorrow, creator of political satire comic strip This Modern World, which suddenly seems a daring vocation).
Winfield, the gallerist charged with filling The Press Club with visual meaning and atmosphere, is trying to grow the potential into a burgeoning thing that people seek and respond to.
It's a new venture, like DeBord's work, coming into its being – ready, Winfield says, "to take on its own life."