ON NOV. 19, 2019, A LARGE CROWD OF SUPPORTERS LINED UP AT THE MONTEREY COUNTY BOARD OF SUPERVISORS MEETING to tell the electeds why they needed to give a contract to A&D Narigi Consulting and its founder, John Narigi, to run operations at WeatherTech Raceway Laguna Seca. The county had decided its time working with the Sports Car Racing Association of the Monterey Peninsula, or SCRAMP, had reached its torturous end, after years of what has been described by detractors as bad-bordering-on-criminal ineptitude at running the county asset.
The track off of Highway 68, known for its corkscrew at Turn 8 – widely regarded as one of the most difficult turns in all of racing – pours tens of millions of dollars annually into the local economy, depending on the number of races held every year. In 2018, for example, the economic impact of the race season was pegged at $84 million in spending by tourists from outside the county, according to a CSU Monterey Bay study commissioned by SCRAMP.
The speakers that day were a who's who of local power: former Salinas City Councilmember Kimbley Craig, now president and CEO of the Monterey County Business Council, who announced she was a proud owner of the WeatherTech floor mats in all her vehicles and said Narigi would engage a smart team with the ability to execute major races; Rene Boskoff of the Monterey County Hospitality Association and the Marriott in Monterey, who described Narigi as a fierce competitor in the hotel industry; real estate broker Jeff Davi, who says the racetrack isn't just a facility, it's a "crown jewel" of the county that requires the best custodian of care – that custodian being Narigi; political shot-caller and construction industry leader Don Chapin, who says he's spent 30 years watching Narigi "make things happen"; Mike Becker of the Cannery Row Company, who pointed out the race industry is highly competitive and said Narigi is a "five-star character" who "does what he says in a first-class manner." And California American Water spokesperson Catherine Steadman advocated for Narigi and his "heartfelt commitment to volunteerism" and "straightforward style."
There were also detractors. One longtime volunteer – the success Laguna Seca has enjoyed rests on the shoulders of a volunteer army – said, "Races want to come here, spectators want to come here and it's all because of how they're treated by the volunteers… it's presumptive to assume the volunteers will want to go to work for these people." Two of the most famous race figures of all time – driver Mario Andretti and former racer and team owner Roger Penske – sent letters in support of SCRAMP.
When it came to the vote, it was unanimous: 5-0 in favor of granting A&D Narigi Consulting and its principal, John Narigi, a contract that includes a $275,000-a-month management fee and a percentage of track income after the county takes its share.
To call the racing community shocked would be a vast understatement.
The Weekly filed a California Public Records Act request for county documents explaining how the contract came into being. Some of what those documents show: Starting last August, Narigi had a lot of help from Assistant County Administrative Officer Dewayne Woods as he was forming his proposal; there was a soupcon of sexism aimed at Ann Bixler, the track's former senior vice president of operations who was fired last Christmas Eve, via email, after 23 years on the job; and one of the supervisors who voted in favor of the contract sought help in explaining herself, writing to Woods, "I am going to need more information for the blowback I will receive when you make this announcement. Please tell me the process that took place that led you to making this decision. Clearly it did not include [Board of Supervisors] input."
As Narigi's first season in charge is upended by the global Covid-19 pandemic, the county is preparing for a race of its own – this one to the courthouse, thanks to multiple claims that have been denied and may morph into lawsuits over the selection of Narigi; a slew of bills from outside race organizations to SCRAMP that have gone unpaid; and the ousters of former Laguna Seca CEO Tim McGrane and Ann Bixler.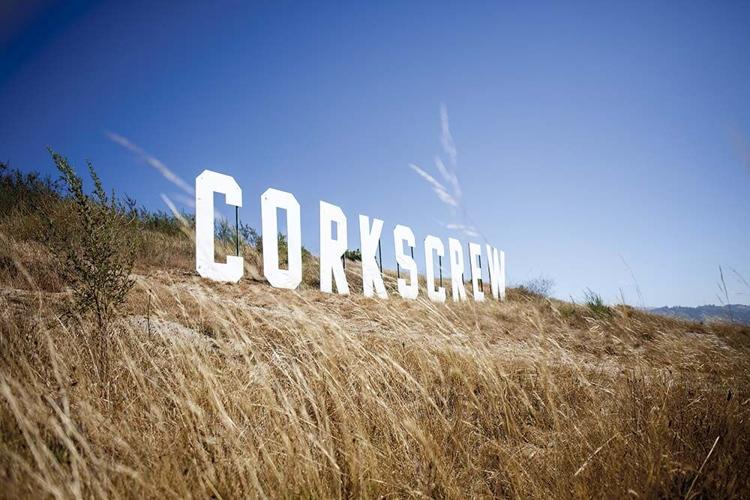 ON A WEDNESDAY MORNING IN EARLY MARCH, BEFORE THE COUNTY'S SHELTER-IN-PLACE ORDER WENT INTO EFFECT and before the race season would be postponed in the face of the pandemic, John Narigi steps out of his corner office onto a deck overlooking Laguna Seca. He takes in the view of rolling, oak-studded hills and the dry lake bed that was paved over decades ago with 2.2 miles of world-class race track. He sees the grandstands, the paddock, a pond and the track's version of the Hollywood sign. It's the word "CORKSCREW" in big white letters on a hillside above Turns 8 and 8A. It's a good visual signal for the legend of Laguna Seca. But for Narigi, the view is a reminder of a personal tragedy.
Nearly 13 years ago, his eldest son, Anthony, was killed when his younger son, Dominick, lost control of their truck as he drove from a motorcycle race at Laguna Seca. Dominick was badly injured in the accident.
"I remember that day like it was yesterday," Narigi says after stepping back into his office. "We could have very easily lost both of them. Every day I look at the balcony of the pavilion. That's the last place I saw my Anthony. The last time I said goodbye to him."
Narigi retired in 2019 from his role running the Monterey Plaza Hotel & Spa after nearly 26 years. He was a popular and well-known presence, representing the hospitality industry on various boards. He was a public face of the campaign for California American Water's proposed desalination plant. Just after his retirement, he founded A&D Consulting, named for his sons. He then incorporated the firm as an LLC as he entered talks with the county about taking over management of Laguna Seca.
Initially, Narigi had qualms about working at the track. "I had a very deep conversation with my wife," he says. Now in his early 30s, Dominick, who hadn't been to Laguna Seca since the accident (aside one trip made for legal reasons), paid a visit. "Dom finally came up here with me," Narigi says. "And if he had said, 'pops, don't do it,' I wouldn't have."
Today, Narigi says, Laguna Seca and racing don't have the same intrinsic draw they used to decades ago: "There's a belief that the racetrack and the industry can support a 580-acre facility. And it can't."
But he has ideas on how to transform it into something that can.
FOR THE FUTURE, Narigi looks at how other professional sports have diversified the fan experience while increasing income.
"If you look at Major League Baseball, if you look at NFL football, what have they done, to their events? They have now made it more family-friendly. There are games, there are beautiful food and beverage offerings," he says. "And the main attraction is still the game. But it isn't what drives attendance like the old days."
Narigi lists some of the upgrades he's proposing, but pauses. He knows the Highway 68 Coalition watches for noise and traffic disturbances. He knows that some people suspect he, a retired hotelier, wants to put up hotels or even housing.
So he clarifies: "Racing will always be the main attraction." And he adds that the county is ultimately the boss and that any changes have to conform to the county-issued use permit.
Then, in a matter of seconds, Narigi rattles off ideas: a Ferris wheel, hot air balloons (tethered to prevent horizontal movement), go-karts, electric race cars, glamping, concerts.
"I make a joke up here with my people," he says, "I don't have a world-renowned golf course but I have a world-known racetrack. I don't have an ocean outside my front door, but I have my lake bed and pond. I don't have 380 luxury guest rooms, but I've got 380 campsites."
Meanwhile, the track needs repairs. The surface needs to be redone. Turn 11 needs fixing. IndyCar asked for more pit lanes so that as many as 28 cars can race at a time. Narigi wants to draft a master plan for Laguna Seca. "The track needs a capital infusion of $10 million to $20 million," he says.
Like many things these days, the pandemic has delayed Narigi's plans. But during shelter-in-place, Narigi offered the track as an alternative venue for graduation ceremonies. Then, after restrictions were eased, on June 1, he began renting out the track to private parties, bringing back a revenue stream.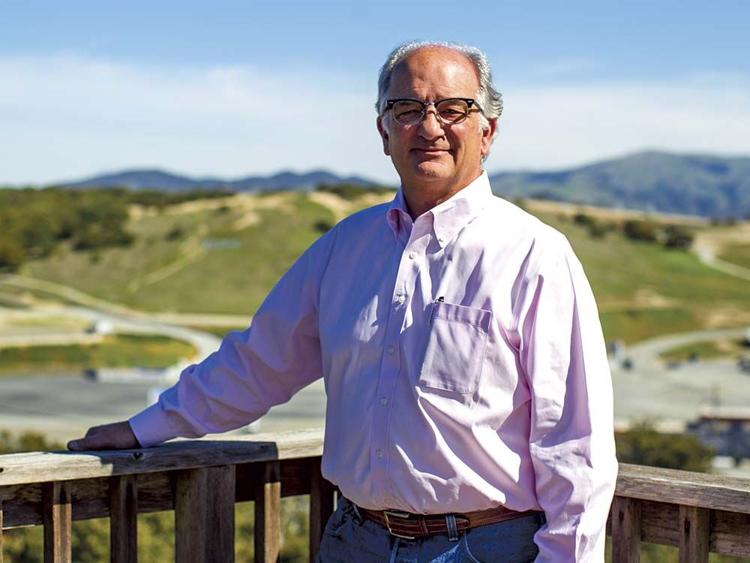 THE NARIGI FAMILY BLAMES THE ACCIDENT THAT KILLED ANTHONY on a flaw in the design of South Boundary Road that caused Dominick's raised pickup to roll over several times. The family sued the county; the file has been purged and it's unclear if the case was settled. Dom had to undergo multiple surgeries. He was convicted of a misdemeanor because Anthony was without a seatbelt.
During Dom's recovery, he got addicted to painkillers. He ended up in court again over a burglary and was convicted of another misdemeanor.
Today, Dom is a firefighter with Cal Fire and runs a cannabis business in Redding. Narigi says the credit for his son's recovery belongs to Rancho Cielo, a nonprofit vocational training center in Salinas for at-risk youth founded by County Supervisor John Phillips.
Narigi, while general manager of the Plaza, served as Rancho Cielo's board president; the Plaza hosted some large events for Rancho Cielo too.
"Rancho Cielo saved one of my sons, and that's how I got to know Judge Phillips," Narigi says, referring to Phillips with the honorific even though he is long-retired from the bench. "It was never supervisor to hotel GM. It was two friends and an individual that helped the family get through an extremely, extremely tough time."
And it was that friendship that contributed to suspicions about how Narigi obtained the Laguna Seca contract – something that Phillips was aware might appear questionable while he courted Narigi to consider running the track.
"I turned to [County Counsel] Les Girard and said, 'Do you think I have a problem?'" Phillips says. Once Narigi told him he was indeed interested, Phillips says he told his friend that he couldn't be involved in the process.
"I asked Les, 'Do I have a conflict? And there's also that organization [Narigi-affiliated PACs] that put money into my campaign.' And he said, 'I don't think there's a problem,'" Phillips says. "I can't help the fact John's a friend. There was never any question that he's a good friend."
COUNTY ADMINISTRATIVE OFFICER CHARLES MCKEE doesn't deny the contract happened faster than normal. But he says that's because the county had its back against the wall.
"We knew the SCRAMP agreement was ending and we needed to renew or get someone else in," he says.
A formal request for proposals (RFP) wasn't required, McKee says, because the deal didn't involve a construction project.
The official timeline starts on Oct. 15, 2019, when the county released a request for Laguna Seca management proposals with a deadline of Oct. 31 – that's just over two weeks to put together a proposal for the operation of a multimillion-dollar facility. The request contained no details.
On Nov. 14, the county's point person on Laguna Seca, Assistant County Administrative Officer Dewayne Woods, recommended Narigi's A&D Consulting, to the Board of Supervisors. His decision came as a surprise, and not necessarily because of the apparent ouster of SCRAMP after 62 years.
What was shocking, especially to the racing world, was the perception that a complete outsider was usurping a premier venue. Less than a week later, on Nov. 19, the board voted unanimously to approve the contract with Narigi.
According to emails obtained by the Weekly, months before the county put out its request, Woods was working out a deal with Narigi. The two went on a tour of Laguna Seca in August. On Aug. 20, Narigi thanked Woods for the tour and wrote, "To be clear I am interested in continuing our conversation." Narigi requested a suite of financial and operational documents on SCRAMP and the track. The next day, the information Woods provided was so comprehensive, he needed to spread it over several emails, "so that the file size does not exceed any limits."
One of the most powerful people in county's administration, Woods oversees most of the county's $1.6 billion budget from a distance. Over the past few years, as SCRAMP proved chronically inept at running track finances, Woods devoted close attention to Laguna Seca, even though the track makes up only about 1 percent of the total budget.
He was seen at the Laguna Seca office every few days and for a while had moved two senior county officials – Lavonne Chin and Mike Derr – to desks at the track. SCRAMP employees complained of what they called Woods' aggressive approach.
Even with Woods' attention, SCRAMP did not shed its bad habits. Consultants from accounting firm Hayashi & Wayland were hired in early 2019 to review track operations. They found poor accounting and cash management practices and chronic inefficiencies, many of which were raised in previous rounds of scrutiny. SCRAMP CEO Tim McGrane thought the report would be used as a roadmap to improvement. Woods saw it as an indictment; he says SCRAMP was "resistant to change."
Many in SCRAMP came to believe Woods was forcing them out, denying them a chance to correct past failures. In summer 2019, SCRAMP and the wider racing world knew that Woods was entertaining alternatives, but they did not know he was already coming so close to offering the track contract to Narigi.
By Sept. 13, Narigi made up his mind. He wanted the Laguna Seca deal. He wrote to Woods to say that he and his wife were abandoning plans to move to Washington state.
"I also want to inform you that we are staying here at our current residence," Narigi wrote. "The house has not sold and we have made that decision. Thus extremely interested in moving forward in an effort to secure the race track contract and working with the county."
As the time to make the deal public came closer, Narigi and Woods shared their dislike of SCRAMP. In a Sept. 21 email to Woods, Narigi complained that "SCRAMP is so busy spreading smack about me."
"Yes," Woods responded. "It's an absolute shame that they are so unprofessional and slanderous."
In the same email exchange, Narigi alluded to another example of what he called the "BS" he was dealing with: "pacs and contributions." PAC is an acronym for political action committees, and what Narigi knew was that he was under investigation by the Enforcement Division of the California Fair Political Practices Commission (FPPC).
For many years, Narigi was at the nexus of hospitality-industry PACs involved in financing local campaigns. The FPPC is still investigating whether these PACs colluded with supervisors Chris Lopez and Phillips in violation of campaign disclosure and conflict of interest rules, given the more than $60,000 in contributions made to their campaigns. Neither Narigi nor the supervisors disclosed the existence of the investigation at the time of the vote on the Laguna Seca contract. Woods says he had no idea about the FPPC contract until it was made public in the press in November, even though Narigi referenced it in an email exchange. "I am focused on the business, not the politics," Woods says. He also says that he did not give Narigi special treatment and that he talked to many individuals about the future of the track in those months he was talking to Narigi.
MARY ADAMS, THE COUNTY SUPERVISOR WHOSE DISTRICT INCLUDES THE TRACKS and who emailed Woods to ask for direction in the face of looming "blowback" once the Narigi deal went public, says she voted in favor of the contract because when she was first elected to the Board of Supervisors, SCRAMP "was in bad shape." So bad, in fact, with a negative audit and a negative Grand Jury report, she calls it "an outrage" at the very thought SCRAMP would get a third bite at the contract apple.
Narigi, she maintains, has a well-earned reputation as a turnaround artist, having brought the Monterey Plaza Hotel & Spa from the brink of obscurity. Plus, he'd served on the board of United Way Monterey County when Adams ran that nonprofit, and had told her about his commitment to ambitious employees, paying Spanish-speaking dishwashers to learn English so they could move up.
His business acumen and way with people led her to believe he would be smart enough to hire people with experience running a race organization. And so she voted the way she voted, despite the fast-track process.
"It was a backroom deal," Adams says. "I don't have any question about that."
Another vote for the Narigi contract came from Supervisor Jane Parker – despite the fact that Narigi-affiliated organizations, including the Monterey County Business PAC and the Monterey County Hospitality Association, had repeatedly geared up during multiple elections to fund her opponents.
"Knowledge of the race business could be useful, but in my experience in what the county was dealing with in SCRAMP, what was missing was a fundamental business sense," she says.
Narigi denies any wrongdoing. "I did not obtain this contract unfairly," he says. "I got involved for the good of the county." He says he first got involved in the conversation about the future of Laguna Seca in May 2019, when he reached out to Lew Bauman days before he retired as county administrative officer.
"I talked to Lew and Dewyane about coming in as a consultant for a year," Narigi says. "That was not what they were looking for. The end of the Laguna Seca contract was coming up. They were looking to find another operator."
Narigi says he had early meetings with Phillips and other supervisors, "as any businessman would."
"My dear friend John Phillips had very little involvement," Narigi adds. "We were very well aware that if he got involved what would happen."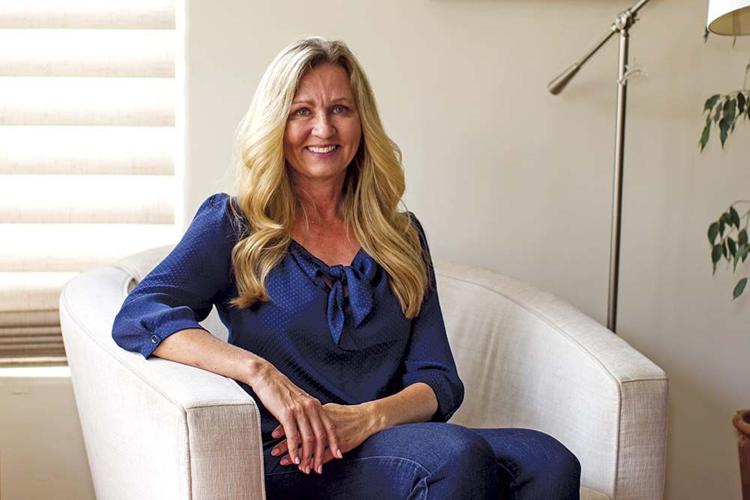 DURING THAT NOV. 19 BOARD OF SUPERVISORS MEETING, one theme – other than the vast respect Narigi has earned from the business community and politicians – was what would happen to the SCRAMP volunteers who have made Laguna Seca into that proverbial crown jewel.
In June, the Laguna Seca Volunteer Association announced it had broken off talks with the county after two months of negotiations; A&D Narigi had provided a proposed contract in March that the volunteers found unacceptable.
"It became apparent during these negotiations that there is a lack of understanding of volunteers and a lack of respect for the volunteers," the Laguna Seca Volunteer Association directors wrote to Woods.
Narigi says he was shocked. He thought the negotiations had resolved insurance questions and other issues, and he was willing to accept a deal that mirrored the one that existed with SCRAMP.
Since then, Narigi has hired a coordinator for outreach to the volunteer community and set up a new group.
Anywhere between 800 and 1,200 volunteers staff race events at Laguna Seca, and they're responsible for everything from traffic control at the gates to guest services for upward of 100,000 spectators who attend the biggest events, like MotoGP.
One of those volunteers is Jeff Kilpatrick, a Watsonville-based architect whose title at the track was assistant director of guest services, where he reported directly to SCRAMP board member Dean Fewtrell.
Every year for the past 20 years, Kilpatrick estimates he's spent about 24 days a year at the track, sheerly for the love of the sport and its fans, and the camaraderie among volunteers.
Over the years, Kilpatrick estimates he designed 10 buildings at Laguna, none of which ever got built. One of the longstanding problems for SCRAMP was the county's seeming unwillingness to use the fees SCRAMP paid to improve the facilities at the track.
Volunteers might be surprised to find out that on the issue of improving the track and facilities, they align with Narigi.
On March 10, as the Covid-19 pandemic was emerging and the first wave of event cancellations was beginning, Narigi went before the Board of Supervisors to talk about the postponement of the Sea Otter Classic. He gave them an earful.
"You have a wonderful asset. That thing's a gold mine," Narigi said. But representatives of Porsche, Lexus, Indy and IMSA (the International Motorsports Association), all told him the same thing: "The facility is tired, it is worn out, when are you going to do something about it?"
Many of the contracts with the aforementioned companies are up in two years, he added.
"I was contracted to do a turnaround and that is my intent," he told the board. "What I'd really like to see is the board and county staff begin looking at a plan… a master plan."
SO FAR, NO LAWSUITS HAVE BEEN FILED OVER THE NARIGI DEAL, but there are multiple indicators they're coming – claims filed against the county, a first step when a potential plaintiff wants to sue a government entity. As of this month, the county has denied all of those claims.
Veteran race operator Chris Pook, who competed for the management contract, filed a claim on Feb. 18 for $1 million. The county failed to disclose the advanced help given to Narigi in developing his bid and the inside information not disclosed to other bidders, Pook contends.
Former SCRAMP CEO Tim McGrane, whose contract expired on Dec. 31, filed a claim for $125,000 against the county on Feb. 19, referencing the severance clause in his employment agreement that he would receive six months base salary.
In an interview, McGrane says SCRAMP is not in any position to pay his severance, so he asked the county to step in but the county rejected his request.
Another claim was filed, this one on March 3, by Dorna Sports S.L., the Madrid-based operator behind the MotoGP superbike races. In a letter from McGrane attached to the claim, McGrane confirms the operator is owed $2.2 million for the 2015-16 race seasons. Dorna is requesting $852,834, plus $167,809 in interest, to settle one invoice.
In the Nov. 22 letter to Dorna COO/CFO Stefano Pacchioli, McGrane wrote that SCRAMP had no way to pay what it owed. "I would like to ask Dorna to consider dissolving the debt amounts, which if considered would be kept confidential," McGrane wrote. "In order to consider the dissolution of the SCRAMP organization by the U.S. government, we would have to secure recognition from Dorna that the current debt is dissolved."
Bixler filed her claim on March 24. In it, she writes the county operated SCRAMP as if it were a division of the county and not its own entity. And she writes county employees, including Woods, Purchasing Officer Mike Derr and Operations Manager Lavonne Chin created a "confusing, unhealthy, toxic and often hostile" work environment.
"County employees influenced (the) new management to not hire me, causing my loss of income and loss of my 24-year career based on their personal feelings," she writes. Narigi hired Bixler's underling, Mark Mathe, to fill the role; he left after only six months.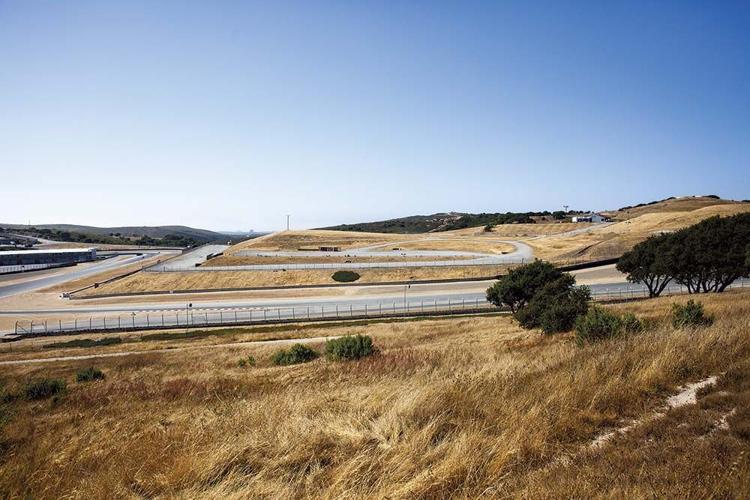 CONSIDER EVERYTHING THAT'S GONE – OR POSTPONED – AS A RESULT OF THE PANDEMIC: The Sea Otter Classic. The Monterey Motorsports Reunion. The Sports Car Championship. The IndyCar event. Instead of racing, Narigi opened up the track to the community, to every high school in Monterey County, so they could hold drive-thru graduations.
As the pandemic continues to roar, it's unclear if the 2020 Laguna Seca events that have been postponed until fall will happen at all, and if they do, if the volunteer force that makes those events possible will ever return.