A smile flashed across Dan Buettner's face when he took the stage at Sherwood Hall in Salinas on June 29. His presentations, by this point, are well-oiled – he's gotten good at rolling into a city and offering a plan for their residents to turn around their health.
"You're the 50th community we've come into," Buettner says. "That means we've made all of the mistakes in 49 other communities. This time, we'll be perfect."
Buettner is a tall man with an athletic build, a bright smile and a gift for turning a phrase – think Harold Hill of The Music Man, with a bicycle instead of 76 trombones. But he's done his damnedest to set himself apart from the usual cadre of quick-fix health gurus.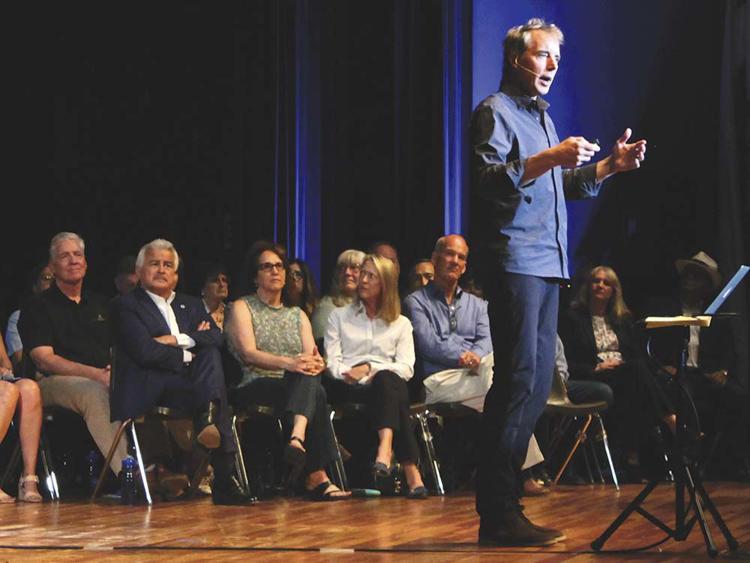 Since the 2009 publication of The Blue Zones: 9 Lessons for Living Longer From the People Who've Lived the Longest, Buettner has devoted himself to reengineering communities so residents are tripping over health.
But unlike Hill, he plans to stick around the communities he blows into.
"People are stubborn. We forget stuff, we're barraged with information and ideas, and… even the best diets only last for about seven months, because people lose focus," Buettner says. "You're never going to change America by trying to convince America to change its habits."
What works, he's found, isn't changing the human – it's changing everything around the human.
Take, for instance, Ventura Boulevard, the stretch of road outside of a Los Angeles cafe where Buettner sat last February. It's a five-lane corridor for traffic. If Buettner had his way, he'd reduce the number of traffic lanes, establish four-foot buffered bike lanes and slow traffic down from 45 miles per hour into the low 30s. The road would become one where humans could actually see the other humans around them, rather than their shiny metal shells.
"What are the chances that a driver going by right now is going to see a store and say, 'Oh, that's right – I need to pick up wine for tonight?'" Buettner says. "When you slow traffic down, business does better, it's safer, the air is cleaner. When people become more locally-focused, they're less likely to have this stranger anger… if you shape your environment, it'll shape you."
Communities where Buettner's Blue Zones Project have taken root have benefited. He points to case studies in outposts like Albert Lea, Minnesota, to work combating food deserts in Texas, and to surveys showing that, while most regions of the country have felt greater despair over the past three years, Blue Zones communities have largely held steady.
In Southern California, the Beach Cities Blue Zones Project touts one eye-popping stat: The childhood obesity rate in Redondo Beach's elementary-aged students has plummeted over 10 years, from more than 20 percent down to 6.4 percent.
The key to Blue Zones success hasn't come from any one thing; the strictures of the project are broad, covering "people, places and policy," Buettner says.
But what seems most important is that Blue Zones communities have an infrastructure, a framework and a sponsor in place to advance the cause before the Blue Zones Project launches.
"The challenge is finding communities that are ready for it," Buettner says. "Communities that are willing to invest the political equity."
Without that, there's no point.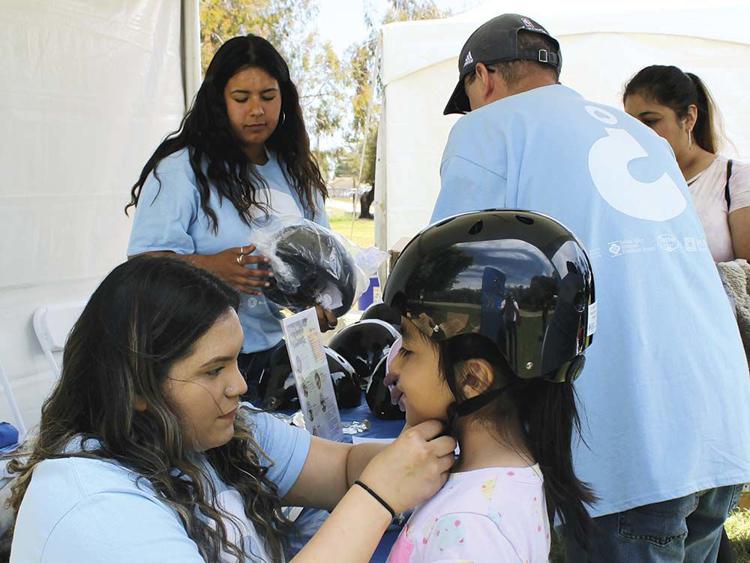 REPORTS FROM 3,600 ALBERT LEA RESIDENTS, PARTICIPATING IN WHAT WAS THEN KNOWN AS "VITALITY CITY," showed they lost an average of 2.6 pounds and that health care claims for city employees dropped by 49 percent.
Buettner's organization was courted by Healthways, later acquired by Sharecare, a private company specializing in establishing "well-being plans" for corporate personnel, and the pair forged a partnership. In 2010, they put out a call asking for communities to pitch them on why they should become their next Blue Zone outpost.
The Beach Cities Health District answered the call and was chosen from a group of 55 cities from across the country.
"From my perspective – focusing on health behavior – I saw it as a tremendous opportunity for a collective impact model, engaging sectors across the Beach Cities," says Lisa Santora, then BCHD's Chief Medical Officer.
The Beach Cities were an ideal pick for the first Blue Zones Project. The three cities – Redondo Beach, Hermosa Beach and Manhattan Beach, all in Los Angeles County – provide a large, densely populated area, in the country's second-largest media market. The community's bid was further buoyed by having the Health District as the backbone organization.
About 420 cities have applied, and Buettner's team has accepted 45 – about a 10-percent acceptance rate. The Blue Zones Project was born more than 15 years ago, when Buettner, an adventurer and journalist, led a five-year study, built on the shoulders of existing demographer research, to five communities: Nicoya, Costa Rica; Ikaria, Greece; Loma Linda, California; Okinawa, Japan; and Sardinia, Italy. His mission was to determine the commonalities causing those areas to have more centenarians, per capita, than anywhere else in the world.
His reporting eventually became a book that packaged those commonalities into a set of nine principles for people to live longer, better lives. The people in those often-rural communities make physical activity a part of their everyday activities, rather than three hour-long sessions at the gym each week; their diets are plant-based, focused on fruits, vegetables and legumes, but generally include some meat; and they're well-connected to the people in their communities.
The book was a hit, spawning four follow-ups to date. Buettner became a familiar face on daytime television – but he had a nagging feeling in the pit of his stomach.
"I'd sit in the green room after spending five years doing deep research, and I knew what I found – then I'd see one fad scientist, one fad diet-writer after another in the green room with me," Buettner says. "I wanted to prove that this would work."
In 2009, he got his chance. A $1 million grant from AARP gave him 10 months to prove his idea: Change the environment of a community and you can dramatically change lives.
He proved his point.
THE WELL BEING INDEX WAS CREATED AS A COLLABORATION between polling giant Gallup and Healthways (later Sharecare) to provide "an in-depth, nearly real-time view of Americans' well-being," in five areas, according to Gallup. A problem with most health metrics and data sets is that, often by the time they're released, they're out of date.
"The downside to the national data is that it generally lags two or three years behind," says Erika Graves of Sharecare. "There's a time lag, where we're collecting more real-time data and don't have a national comparison for the same time frame."
The Well Being Index, in partnership with Blue Zones, promises to bring near-immediate data to member communities through Gallup's continuous polling with telephone and mail surveys to broad regions. Pollsters take a representative oversample of Blue Zones communities, allowing locals to drill down into what their residents need and want.
What the WBI has found in the Beach Cities is that the community is largely thriving compared to the rest of the country: Residents have increasingly reported good physical health, less smoking and better habits, like increased physical activity and more healthful eating.
They've also reported that they're stressed, unclear about their life's purpose and often feel disconnected to people. In 2011, the WBI found that more Beach Cities residents, by percentage, were feeling more stressed than residents of post-Hurricane Katrina New Orleans. Reporting has improved since then, but not by much: 43.4 percent of residents say they deal with "significant" daily stress, higher than the national average.
In response, Beach Cities Health District has shifted its community health priorities away from changing the built environment (such as advocating for a protected bicycle path along the waterfront and anti-smoking policies) and toward social and emotional well-being.
"One interesting thing to me about this whole model… if you're successful with Blue Zones Project, it becomes integrated into the culture of whatever community it's in," says Lauren Nakano, Beach Cities Health District's Blue Zones project director. "It's a really interesting dilemma, because you have this product that you pay for, but the more it becomes part of a community, the less delineated it is as Blue Zones."
Nakano points to the Walking School Bus program – a Blue Zones-prescribed plan – that transformed into family-focused Walking Wednesdays. Those events don't require registration, volunteers or a specified walking route. Blue Zones-prescribed "Wine @ 5" outings have become monthly get-togethers that steer away from the idea of drinking (20.1 percent of Beach Cities adults report having seven or more drinks a week, nearly 8-percent greater than the national average) toward a gathering focused on good food and good friends.
Social programs have evolved as well, as the district leads workshops seeking to reduce stress among children, teens and adults, all who admit to stress and worry in greater numbers than state and national averages.
The changes to Beach Cities programming, Buettner says, are great – but not Blue Zones.
"It's worthy, but if I had my druthers, it'd be on optimizing the environment, rather than behavioral changes," Buettner says. "But on that side, we continue to point to the Beach Cites successes as a point of pride."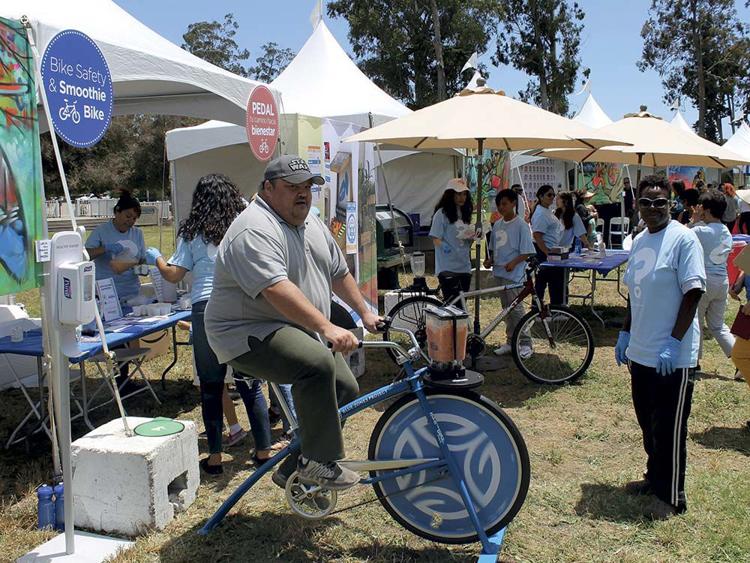 KLAMATH FALLS, OREGON, HASN'T HISTORICALLY BEEN KNOWN AS A BASTION OF HEALTH. The Robert Wood Johnson Foundation's annual County Health Rankings examine and rank each county within each state by their health factors and health outcomes. Since 2010, Klamath County has been at or near the bottom of RWJF's rankings for both morbidity (quality of life) and mortality (length of life).
In 2013, two women decided to change that. "No one wants to be last," says Katherine Pope.
She and Stephanie Van Dyke met as classmates at Johns Hopkins University, as they pursued graduate degrees in public health. The two were both well-versed in traditional medicine – Pope is a registered nurse; Van Dyke was trained as a primary care physician. But both felt they weren't doing enough.
"I was working in oncology and bone marrow transplants. I loved my job, but you could spend upwards of a million dollars on a single patient… I felt like I could do more," Pope says.
When the two graduated, they cemented their medical partnership by moving to Klamath Falls and finding employment at Sky Lakes Medical Center. Together, they developed the Sky Lakes Wellness Center, with a mission statement to teach the community to live healthier lives by demonstrating disease prevention and reversal, establishing community policies and changes to the built environment.
The Wellness Center began using data from Sky Lakes – the only hospital within 10,000 square miles – and examined health risk factors: smoking, Type 2 diabetes, high blood pressure and obesity, among others. They also began looking into walkability and alternate modes of transportation, and began mapping out the unhealthiest, most at-risk neighborhoods, with the help of the nearby Oregon Institute of Technology.
Looking for funding from the Blue Zones Project, about 30 members of the community drove about 278 miles, in a snowstorm, wearing matching T-shirts: blue, with gold letters naming the town of Klamath Falls in a baseball jersey-like cursive.
Their pitch stuck, largely due to passionate people like Dr. Glenn Gailis speaking up. "I think I failed miserably," Gailis says, taking it personally that the community's diabetes, obesity and heart disease risk factors rose during his active years practicing medicine.
After his 2014 retirement, Gailis happened to meet Van Dyke. And his research into the Blue Zones Project had him convinced that Blue Zones was a community effort that could actually make a difference, even in communities like Klamath that aren't wealthy. He was among the group that pitched Klamath to Blue Zones, and has remained an ardent supporter, even coming out of retirement to work with the Wellness Center.
"I think our hospital CEO and our board are committed to saying we can do a better job than this – that we can't do crisis sick care all the time, that we have to do wellness efforts," Gailis says.
The local Blue Zones Project is spearheaded by Healthy Klamath, a public-private collaborative that acts as a clearinghouse for data, repository for events and momentum-builder for policy change.
One point of pride has been attempts to derail food insecurity through an online, year-round market, Klamath Farmers Online Marketplace, where residents can buy meat, honey and seasonal produce year-round. Klamath has also passed tobacco-free city parks and tobacco licensing ordinances, and has developed a protected bike lane.
"If we had more money going into our park system and our recreation district, then our community would be thriving more," Executive Director Merritt Driscoll says. "But we're fortunate… although we're an economically disadvantaged community, we have supporters that are helping us thrive."
Driscoll adds that one of the biggest areas of opportunity is greater outreach to lower-income residents, and its Latino community. "We've tried to put out materials in Spanish [and other] culturally-appropriate materials," she says, "but we could do a better job."
County Commissioner Kelly Minty Morris feels that, despite the challenges and opportunities Klamath is still facing, the efforts have been successful. The Robert Wood Johnson Foundation agreed, naming the community a 2018 Culture of Health Prize winner for the strides it's made in the past years.
"The data will catch up, and it will reflect positive changes," Morris says. "It may take longer than I'd like, but it's been positive and successful."
Van Dyke died in 2017, killed in a sledding accident, and the community lost one of its champions. Last summer, the $750,000 Klamath Commons park project opened, Van Dyke's long-time dream. Her fingerprints can be found all over the park, especially at the gazebo in its heart, which displays a quote from the late doctor: "Rather than assuming time will change the wrongs of the world, in reality, we have to change them ourselves."
Salinas is known as the Salad Bowl of the World for growing the nation's greens, yet more than 50,000 residents face varying degrees of hunger and struggle to put food on the table, according to a 2016 county report.
The groundwork for Blue Zones Monterey County was originally more geographically targeted as Blue Zones Salinas. The groundwork had been laid many months before Buettner's speech in June at the launch event. "We did a big announcement, then went quiet purposefully," Blue Zones Project Monterey County Executive Director Tiffany DiTullio says. The project was like a duck in a lake, peaceful above the water, but churning like mad under the surface. "What we've found is, when you bring a new project like this to Salinas, there's some resistance early on from groups that feel they've been doing that work," DiTullio adds.
Salinas has already been the center of numerous health – and community-improvement projects, including the California Endowment's Building Healthy Communities effort and the Alisal Vibrancy Plan, a city initiative to improve the quality of life in East Salinas as part of the city's general plan update.
An ongoing project has sought to increase connectivity among the community, not just in Alisal or Oldtown Salinas.
But the biggest challenge to the community is diabetes – 57 percent of adults in Monterey County are diabetic or pre-diabetic.
"We're making sure we're aligning our work out there, working with schools, worksites and restaurants" as well as faith-based organizations, nonprofits and schools, DiTullio says. The challenge, she adds, is tying together the work of disparate organizations, all of which are fighting the same battle on different fronts.
They've found victories with worksites, and challenges in others – some organizations with wellness initiatives have had fairly low compliance, finding fewer than 1 in 5 people participating.
One thing stood out at the June kickoff weekend: While Buettner's English-language talk packed Sherwood Hall's auditorium, a second, Spanish-language presentation was sparsely attended.
DiTullio acknowledges that as a challenge and an area of opportunity. "In most cases, it's much easier to go to them than for them to come to us," she says. "But we've created relationships through the schools and family resource centers, and we're utilizing those."
The project has a total of four years and eight months to build relationships as it self-evaluates – the length of the contract established between Blue Zones and its partners in Monterey County: Salinas Valley Memorial Healthcare System, Taylor Farms and Montage Health.
The organizations were reticent to discuss terms, but an SVMHS representative states that the partners – SVMHS, Taylor and Montage – are paying a total of $12.3 million over the length of the contract, or an average of about $2.5 million annually.
That's well above what both Beach Cities Health District and Klamath Falls list as their costs. Healthy Klamath's website states that Sky Lakes Medical Center funds $200,000 annually, as part of a 2-to-1 funding match with Cambia Health Foundation. BCHD, in its licensing agreement, pays approximately $110,000 per year – but that's with the freedom to use the Blue Zones brand without directly working with Blue Zones staff.
As the founder of the project, Buettner acknowledges that, to a certain degree, he has to relinquish control to the participating communities.
"Not every single aspect of it works, but we carefully design the program so there's no downside. Putting in more sidewalks isn't going to hurt anybody. Making more farmers markets isn't going to hurt anybody," Buettner says. "Does it always work? No. But if I deploy 80 interventions in a city, and 30 of them fail and 50 of them work? I'm going to hit the ball out of the park."
His biggest concern is the project's quality – which is why he's working on "Blue Zones 2.0."
"The most important thing is shifting the focus away from the delusion that we're going to change individual lives of a population one-by-one with behavior modifications, and shifting to architecting behaviors by shaping the environment," Buettner says.