THE NARRATIVE IS TRAGICALLY FAMILIAR. On Memorial Day, Minneapolis police came to investigate George Floyd for allegedly using a counterfeit $20 bill. Officer Derek Chauvin, who is white, moved to detain Floyd, kneeling on Floyd's neck, with three colleagues standing by. As Floyd pleaded for air and the minutes passed, Chauvin did not move. Bystanders filmed the events over the next eight-plus minutes, until Floyd's body went limp. He died shortly afterward.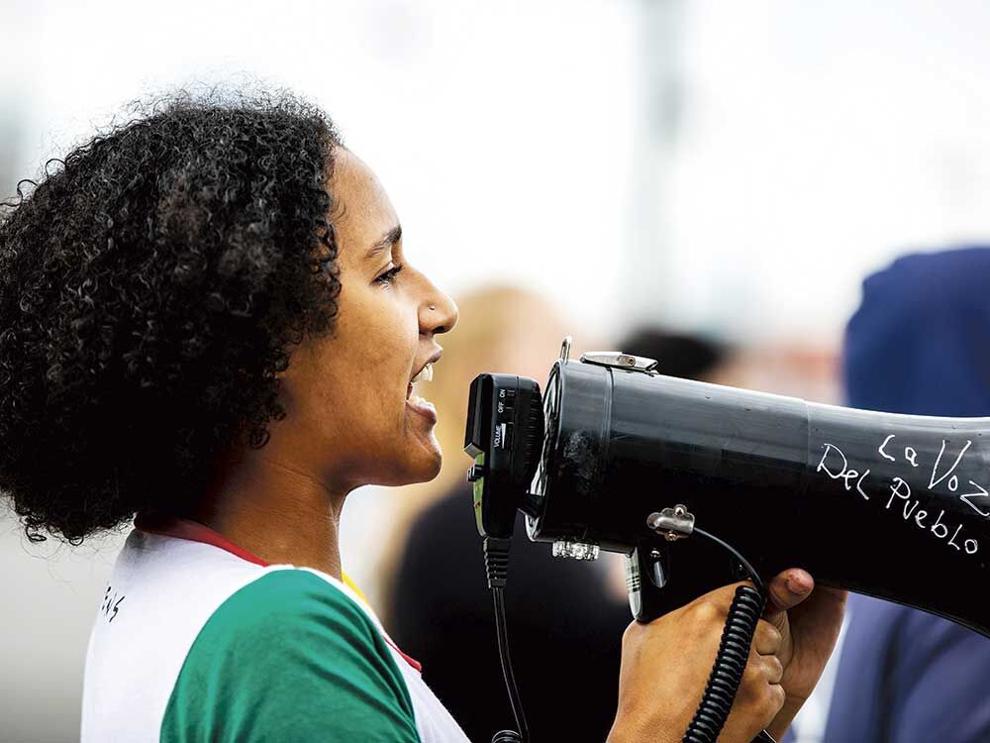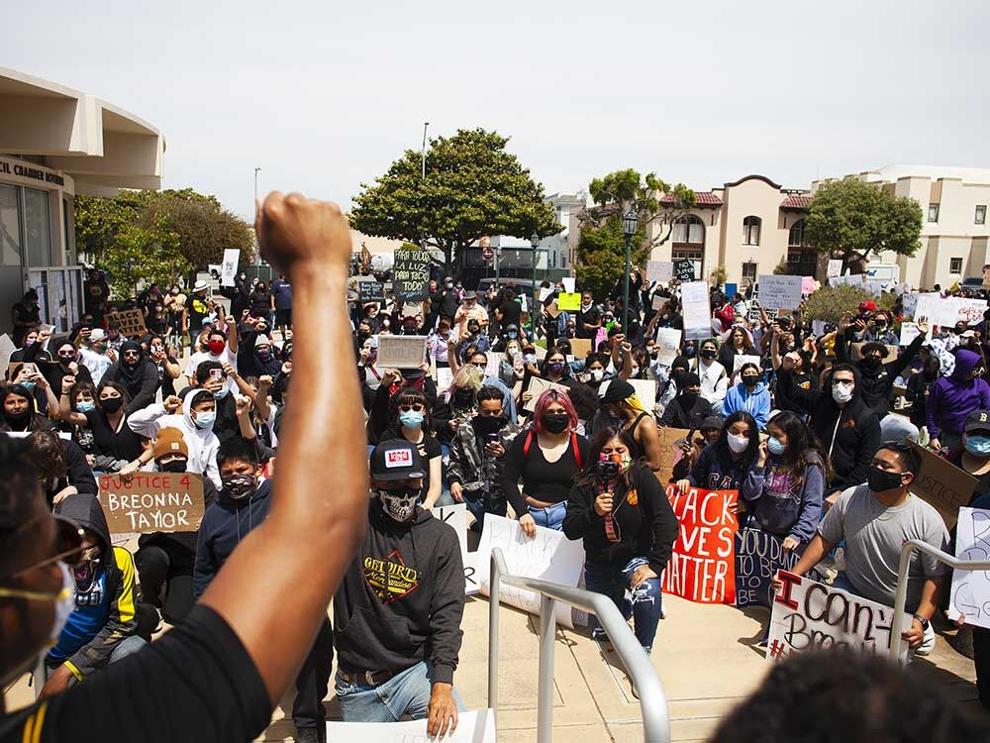 It might have been another story of a law enforcement officer killing a black man in a confrontation that could have been deescalated, provoking calls for reform that led nowhere. But Chauvin was arrested on charges of murder and manslaughter and police chiefs all over the country (including in Monterey County) have issued statements condemning his conduct, breaking from old norms. Floyd's killing triggered protests across the country, with tens of thousands of people marching in the streets demanding justice and an end to racism.
In many cities, it's moved to violence and destruction. In Monterey County, where protests began on the morning of May 30 and have continued at least daily since, thousands have gathered and marched peacefully. Many are first-time protesters, many of them young. Police have stood by to direct traffic as protesters have taken to main streets, including Highway 1 on Tuesday, June 2.
Ian Oglesby is mayor of Seaside and retired two years ago from a 27-plus-year career as a corrections officer at the Correctional Training Facility in Soledad. For years, he taught use of force. He got on the megaphone in the middle of a protest hundreds of people strong in Seaside on May 30, and he sees Floyd's killing as a pivotal moment for constructive change.
"Within 24 hours of them reviewing that video of the execution of Mr. Floyd, those four officers were fired. That's unheard of," he says. "Why did that happen? A few years ago, they changed the leadership – they changed the mayor, who changed the police chief.
"The focus has to be on what do we want to change in this community and the world at large?" Oglesby says. "One of the ways you do that is a peaceful protest."
And indeed, thousands of people in Monterey County are doing just that. This group of rising young leaders believe we can move forward into an equitable world, and they share their ideas for how to get there.
Allona Frame
On Sunday, May 31, Allona Frame knelt down on the utility box she was standing on to have a conversation with an older white man who was carrying an American flag. On the surface, the two seemed fundamentally opposed, especially at a Black Lives Matter protest in Salinas, but they were having a constructive conversation about systemic racism.
"I feel heard. Not just by my black brothers and sisters, but by our white community, the Latino and Asian and Native American communities," Frame says. "Seeing a group of other cultures stand up and stand with my culture makes a difference. This may not be their fight, but they're joining in with our fight."
At 22, Frame herself is new to being an activist. She's humble about it, calling herself a "student of activism," and says she's still educating herself on systemic racism and the history of African American people. But she looked like a leader yelling into the megaphone, inviting people of all races to speak in solidarity with Black Lives Matter.
"I'm someone that has to constantly learn and grow," she says. "If I'm not educated, I can't help educate someone else."
Frame is part of a new generation of activists who are mobilizing and marching through the streets and educating themselves on how they can make change. "Educating ourselves on these issues and on these injustices can help with breaking down the system and beginning it again," she says. "It's not that the system is broken, it was created wrongfully."
Optimism is both her biggest strength and her biggest weakness, Frame says, but she's leaning toward thinking of it as a strength while this growing protest movement gains momentum: "It's making people uncomfortable and the more and more we talk about it, the more and more that someone is going to have to listen."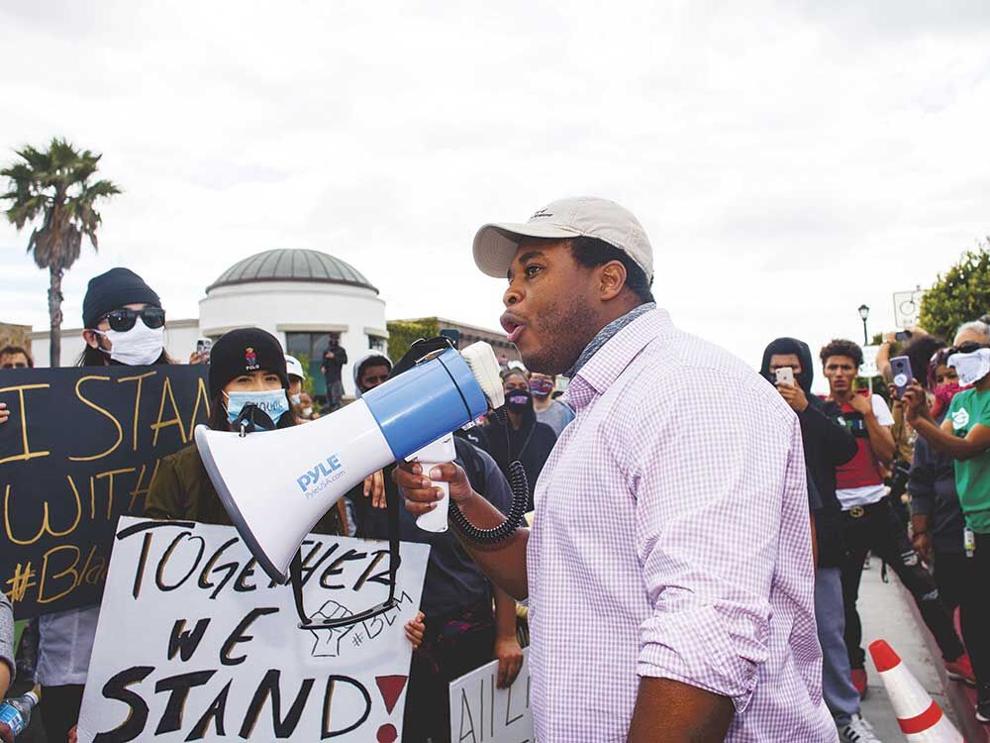 Nathaniel Sawyer
Addressing a crowd of about 1,000 people on the lawn of Seaside City Hall on June 2, Nathaniel Sawyer was thinking big. "We're about to start a motherfucking revolution!" he said.
Sawyer, who grew up in Alabama and moved to Marina to attend the Middlebury Institute of International Studies, where he is pursuing a master's degree in international policy and development, is fashioning himself into a leader at a moment he sees as uniquely inspiring. "I'm 26 years old and I'm tired of people telling me I should be silent, that I should wait, that I'm too young to lead," he says. "I'm always trying to prove people wrong. This is the time to speak out."
Indeed, that's become part of his message as he's attended protests day after day in the past week, including on May 30 in Seaside – where police asked him to come to help calm down and redirect a restless group of protesters.
"I should be the expectation, not the exception," he says. He's referring to himself as an educated black man – the first in his family to graduate high school, much less attend graduate school – and an active community volunteer.
Sawyer has been stopped by the police, and says he was once accused of stealing his wife's car (she is white). "This isn't about just George Floyd," he says. "This is about what happens if there wasn't a video of George Floyd's execution."
As hundreds of people held protest signs at Window on the Bay, the first of at least a half-dozen Monterey County protests since, Sawyer was agitating for a march. It was important to him to move throughout the city he says, the next step in civil disobedience (he talks about sitting in the streets to block traffic as a next step). But maintaining peaceful protests is equally important, he says.
"There are a lot of young people who are angry. I am going to protests and marches to make sure they don't burn our cities down," he says. His goal is to get elected leaders to pay attention and come up with meaningful policy solutions. It's through sustained protests, Sawyer believes, that they will be forced to not look away: "Our leaders need to take notice," he says. "Each leader should not just be congratulating us for marching, but doing things."
Tyller Williamson
Monterey City Councilmember Tyller Williamson readily acknowledges his experience as a black man isn't the experience of many other black men. He grew up in a military family, moving to various bases throughout his youth before landing on the Monterey Peninsula a decade ago. There's a level of nuance there he says is important to note: "I never lived in an African American community, and when you grow up in an African American community, you have more attention from the police. In a lot of ways, I see that as a benefit of growing up in the military.
"But I relate," he says, "because my skin color is the same."
Last week, Williamson, 32, helped organize a demonstration at Window on the Bay. He thanked Monterey police profusely for how they responded and interacted with the crowd – acts that included police bringing water for the demonstrators, as well as hand sanitizer.
And then he called for police to be defunded.
(Not done away with altogether, but for a chunk of the resources allocated to the department to be directed elsewhere. Regardless of the intent, his words drew ire from Police Chief Dave Hober, who later told him his words had wounded the department.)
"If you're trying to be an ally, why not listen to your black elected officials in moving the conversation forward?" Williamson says. "I think there is a need to defund police in a traditional sense and look more to restorative justice."
One example he points to is the city's funding of school resource officers for the Monterey Peninsula Unified School District. Instead of funding programs like it, Williams says money can be invested into counseling services and restorative justice programs.
"We've seen an increase in violent contacts with police and we need to be investing in things that will be de-escalating and reducing violence in the communities," he says. "Why don't we have personnel that can respond to the calls that don't require an officer with a gun? Why don't we find those situations that don't require an armed response and come to the situation with a more peaceful manner?"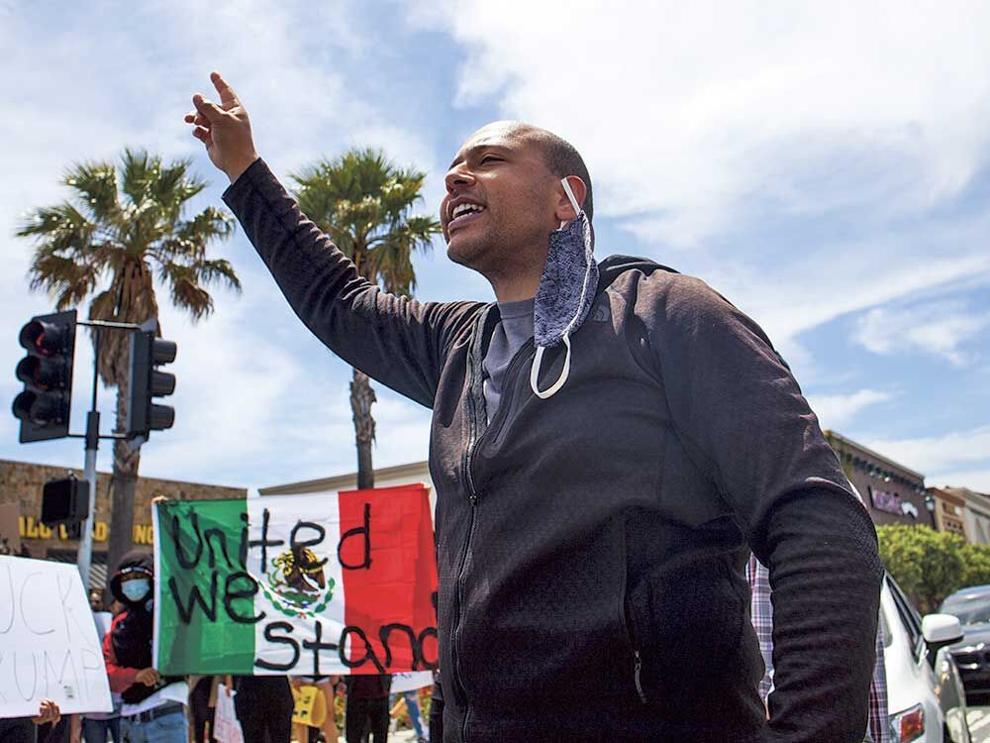 Jon Wizard
Want to know how to make Monterey County in general and the Monterey Peninsula in particular a more just place? Seaside Councilmember Jon Wizard, who is 34, says the place to start is by taking a minute to run some numbers.
Of the seven Monterey Peninsula cities, only two of 10 employees at the top of the government structure is a person of color – that's Monterey Assistant City Manager Nat Rojanasathira and Carmel Assistant City Administrator/Human Resources Director Maxine Gullo.
"That's one," Wizard says. "All seven of our cities are 75-percent the size of Salinas, and there are seven times as many administrators, and only one is not white. That's strange to me. That's awfully coincidental.
"And their experience is how they see the world," he adds.
Their experience includes a penchant for not cutting police and fire budgets at any cost. Monterey made a pledge to not lay off police or firefighters, yet they're facing a massive $10 million budget gap and they laid off recreation and library staff as they deal with the fallout of the Covid-19 shutdown. In Seaside, in the face of a $10 million budget gap, City Manager Craig Malin "eliminated the rec program, more or less," Wizard says.
"One unpopular thing I would do is realign budgets to reflect the needs of the community. I don't know of a single city in Monterey County where the police budget isn't 40 percent or more of the general fund," he says. Cutting $1.2 million from the police budget, for example, could bring the recreation department back, or fund a food distribution program and youth summer employment programs.
"We might be able to grow our own city planners and accountants and IT pros because we made that investment today. That's the biggest thing we could do out of the gate," he says. "One super important thing is that when you give kids meaningful work and money to go with it, they're not out getting in trouble. They're busy and occupied and you don't need as many police."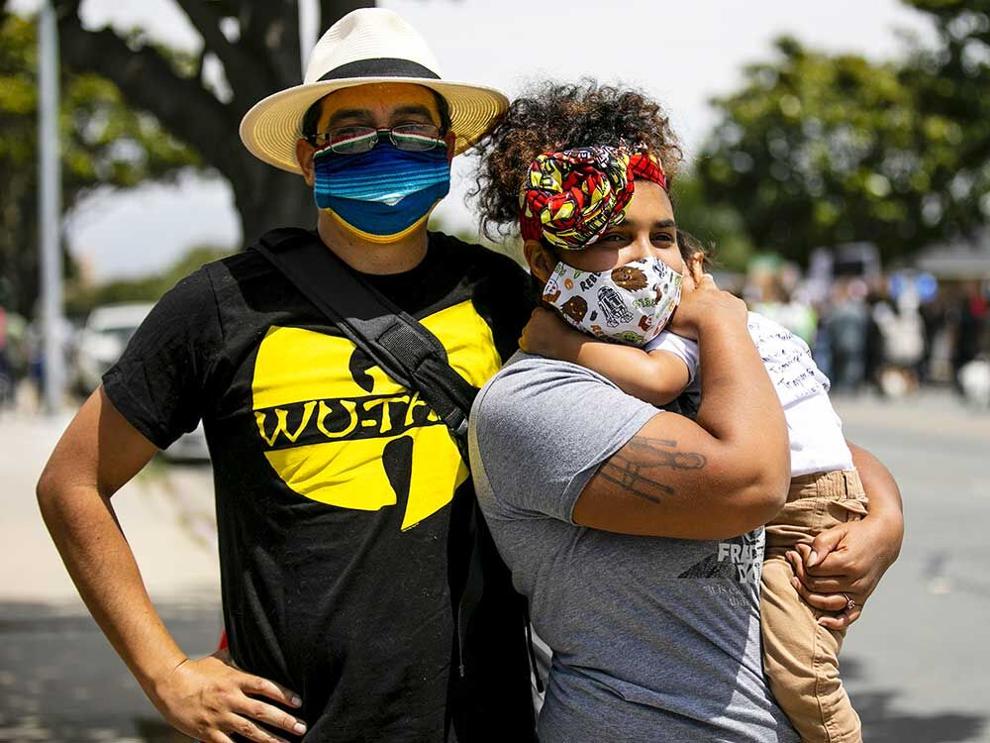 Breanna Page
When Breanna Page, 27, started thinking about starting a family of her own, she thought about the conversation she knew she would have to have with her child. It's not the one about the birds and the bees or their first broken heart: "How do you look into your kids' eyes," she says, "and tell them there are people out there that want you dead just because you're black?"
It used to be that every time she saw a video of a black man dying at the hands of police she thought of her father, her brother, her uncle. Now, as the mother of a 2-year-old boy, she thinks: "That could be my son."
Around age 15, she had a conversation with her father, not unlike the one she plans to have with her son. He told her that she had two strikes against her – she's black and a woman. That she would have to work twice as hard to get half as much as anyone else. That if she was pulled over, she needed to make sure she had her hands showing. To be as respectful as she could and not get angry. She remembers wondering, "Why am I the one that has to do all that?"
She wants her son to be able to walk the streets, go shopping or be pulled over with peace of mind. Three years ago, Page started a black student union at Hartnell College, and this week she joined her friend Reyes Manuel Villafaña in organizing a rally in Salinas where hundreds showed up outside of Hartnell College and marched to Salinas City Hall where they knelt for nine minutes – to highlight how long Police Officer Derek Chauvin knelt on George Floyd's neck.
Page is hopeful for the future. Issues that have long been swept under the rug are now being moved to the forefront, she says. She encourages white allies to educate themselves, not to rely on the black community to teach them about racism.
Page says conversations and protests are not enough: "The real change is going to come from us working with our communities and us voting and making sure that people that are fighting for these issues are being put in positions [of power]," she says. "It's important for people to know real change happens within your home. Having these hard discussions. Letting your family know what's going on. Educating people who might not seem like they understand what's going on. Letting them know there are changes that need to be made and how they can help others to make those changes happen."
Rosemary Soto
Rosemary Soto is playing the long game. "A Monterey County where racism does not exist? I believe that at some point in the future we will see that. I don't know if that will be even in my lifetime," the 41-year-old says. "We do this work not to see the change for ourselves, but for future generations."
Soto also sees not just where we're going, but how far we've come. She talks about the work of Martin Luther King, Jr. and Cesar Chavez as leaders of a struggle that is far from over. She is optimistic when she thinks about the marches this week, and chokes up with emotion.
Technically, her job title is management analyst in the County Administrative Office, but one of her projects is bringing a Governing for Racial Equity initiative to Monterey County. The idea is to empower all decision-makers with a framework to consider impacts on different racial groups every time they make decisions, whether it's the Resource Management Agency's capital improvement plan or District Attorney's task forces. (These are two examples that do incorporate GRE analysis.) This is a meaningful path, Soto says, to overcoming systemic racism.
As an example, she points to her own childhood in the Boronda neighborhood of North Salinas, which lacked basic infrastructure. "We didn't have sidewalks and fully paved roads until 2011," she says. Once they did, residents – mostly Latino and Asian – also requested a stop sign, but were dismissed by former county supervisor Lou Calcagno. "He said, 'You should be happy you finally got paved roads, why are you asking for two more stop signs?'" Basic infrastructure like that, the GRE thinking goes, should be available to everyone – even historically underserved communities.
"Yes we have problems, but one thing I love about the people of Salinas is that we are also very solution-oriented," Soto says. "Our next thought should always be, how do we resolve it? It's not just about whining and complaining and standing on a street corner with our sign – that is important, but that's not the end of it. We have to continue to work toward a solution."
Scott Davis
Scott Davis, 37, has a quadruple-unique perspective on the state of justice in Monterey County. He's an elected official, he's gay, he's half-Asian and he's a law enforcement officer.
He's also a son of Salinas, born and raised there, and he serves the city as a member of the City Council. He first takes a law enforcement perspective when asked about how Monterey County could be a more equitable and just place, examined through the lens of nationwide riots following the killing of George Floyd.
"I can't think of strong enough words to condemn not only the officer who placed his knee on his neck for such a long time in an inexcusable way, but the officers who were complicit in not stopping him," says Davis, a Monterey County Sheriff's deputy. "I can't think of anything that would make it OK. I'm disgusted by it."
And then he looks at the question from his perspective as an elected official, because, he says, it's deeper than just law enforcement: All government bodies, the Salinas City Council included, need to enact regulations that are not only equal, but equitable.
"Law enforcement is just what we see in everyday life, but we have to look deeper and we have to look at the systemic point of view when it comes to our laws, and how in our history we've put communities of color in a bad financial position," he says. "And we have to look at our educational system and how we fund schools, because education is how people get out of poverty."
He takes the seemingly simple subject of sidewalk replacement as an example of an inequitable situation. On the predominantly Latino East Side of Salinas, where some neighborhoods still lack sidewalks, those residents who have them and need them repaired are expected to pay half the cost of replacement. "It doesn't take into account that people on the East Side can't come up with $2,500 to pay their share," he says, while it might be an easier ask for a resident of the more-moneyed South Salinas. "Everyone has an equal opportunity to pay, but it's not equitable."
And, he adds, voting can't be a spectator sport any longer: "As a society, we have taken that right for granted."