THIS IS A STORY ABOUT A HIGH SCHOOL FOOTBALL FIELD, but the central characters are neither football players nor high school students. They are a recently retired restaurateur and winemaker; myriad school administrators; elected and appointed officials deliberating over things as tedious as proper pagination; and attorneys – lots of attorneys.
The story also doesn't unfold on the field – it happens in government meetings, emails, a stack of 23,000-plus pages of documents and in Monterey County Superior Court, where a group called Taxpayers for MPUSD Accountability has sued the Monterey Peninsula Unified School District.
They haven't sued over an actual football field project, because that project remains just a proposal. Instead, they've sued seeking to obtain thousands of pages of public records connected to that proposed project. Sifting through those records, they're hoping to find some kind of smoking gun, evidence that MPUSD officials are scheming to get away with something. But mostly what they've found so far are ordinary emails between government employees and their contractors.
Yet the fact that MPUSD's attorneys have for months withheld records has only magnified their suspicions.
Meanwhile, school district officials say they're just trying to do a simple thing: improve the athletic fields at Monterey High School, something they did not expect would be controversial. "It's been a learning experience for me," says MPUSD Superintendent PK Diffenbaugh.
Diffenbaugh has learned about the California Environmental Quality Act, the California Public Records Act and school bond oversight. And now, the goal line for the stadium project is finally in sight, with a vote by the MPUSD board expected next month. But MPUSD's attorneys are already bracing for another lawsuit over the project, which hasn't even been approved yet.
It's just one project at one school that MPUSD officials hope to fund thanks to Measure I, a $213 million bond measure approved by voters in 2018, but it's the only project that has drawn intense scrutiny and litigation.
And it's putting MPUSD and its bond oversight and transparency practices under some very bright lights.
THE ATHLETIC FIELD AT MONTEREY HIGH SCHOOL, CALLED DAN ALBERT STADIUM, is a sight to behold. Originally built in 1938, it is perched on the hillside above downtown Monterey, flanked by oak trees and wooded neighborhoods. Just above the field is a set of bleachers made of Carmel stone, big enough to seat 1,600 spectators who look out over the field where the Toreadores play and beyond that, to sweeping views of Monterey Bay.
The field was updated with a new scoreboard and turf, thanks to funds from Measure P, a $110 million bond approved in 2010. But shortcomings remain: With just one field, there's not enough space for all of the student-athletes to practice at the same time, and there are no lights – meaning for sports like junior varsity girls' soccer, games get cut off as early as half-time when it gets dark. It also means the football team plays its home games on the field at Monterey Peninsula College. For some night games, the school rents temporary lights, but people have complained about the fumes from the exhaust – in 2019, Peninsula Sports Incorporated, the local governing body for referees, said they would no longer referee games using the temporary lights.
The multi-part proposal is to develop an adjacent dirt field, sometimes used for overflow parking, into a multi-use synthetic turf field and a 1,900-square-foot weight room; build 300-seat visitor bleachers (facing those magnificent stone bleachers) and a permanent press box to replace the existing temporary one; add handrails to the existing bleachers; and install four 70-foot tall stadium lights.
"I spent my first 100 days meeting with a variety of stakeholders across the district, and three main projects came to the forefront," says Diffenbaugh, who joined MPUSD in 2014. "A gym at Marina High School, which we were able to do with Measure P; a new field and track at Seaside High School, which we did with Measure I; and improvements at Dan Albert Stadium, which we are trying to do currently."
Dozens of students, staff, parents and neighbors have submitted comments in support of the project. "I believe it is imperative that we move forward with renovating our athletic facilities; not only to improve the experience for our athletes, but to improve our on-campus activities and ultimately transform our school's culture," Activities Director Nicole Carter wrote.
Vincent and Sherry Lauter, parents of three graduates (and school neighbors) wrote, "Now that the football field and track have been superbly upgraded, it's a crime and waste of taxpayers' money not to use them for evening home games. Let's turn on the lights! We can't wait for the opportunity to sit in our own stands and cheer for our hometown Toreadores."
So how did this project become so controversial? Some of it has to do with the timeline, and when the timeline starts depends on who you ask. As one neighbor wondered: "How did the stadium project jump to the front of the line?"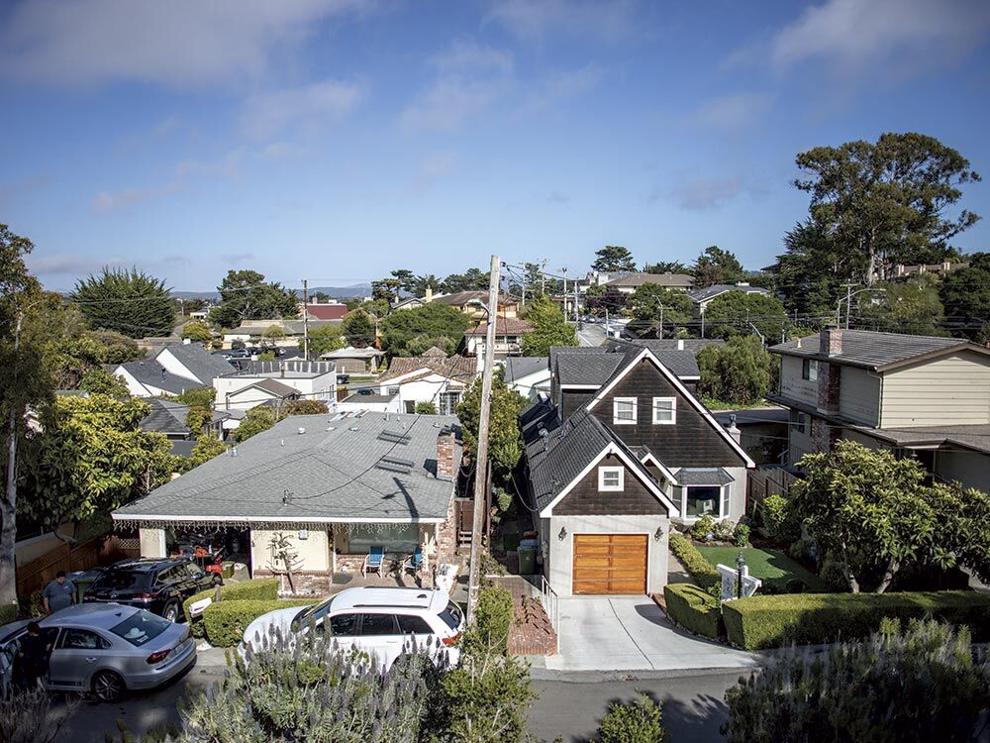 IN MPUSD'S TELLING, THE TIMELINE STARTS IN JANUARY 2018, when the district released a master plan update, a spreadsheet listing facilities needs and projected costs at each of 23 schools. Crumpton Elementary in Marina needed $794,750 worth of restroom upgrades, Seaside Middle needed $196,000 for new lighting in the kitchen, Marina High School needed $5 million for new locker rooms, Del Rey Woods Elementary needed $30,000 to replace classroom sinks, and so on. The dozens of facilities improvements listed totaled $680 million; Monterey High School alone had $95 million worth of needs, but that list didn't include field improvements.
Over the next six months, Diffenbaugh and MPUSD board members campaigned for Measure I, bolstered by a hefty $119,000 in campaign funds raised by the Committee to Support Quality Local Schools. (Donors included parents and school board members, as well as several contractors who are receiving bond funds, including project manager RGM Kramer, which gave $10,000; architect Verde Design, responsible for the athletic field project, gave $6,000; and law firm Lozano Smith, which represents MPUSD, gave $1,000.)
There was little opposition, not even by the fiscally conservative Monterey Peninsula Taxpayers Association; the formal opposition was filed by the county Libertarian Party. In June of 2018, voters overwhelmingly approved the bond, picking up where Measure P, a $110 million bond passed in 2010, would leave off.
The ballot measure language is far more broad than that facilities-needs spreadsheet, listing just about every piece of infrastructure big or small that might be needed for a school, things like bell/clock systems, plumbing, HVAC systems, playgrounds, pools, lighting, tack boards, restrooms and, yes, "stadium and facility lights."
Even with Measure I approved, there wouldn't be enough money to complete all of the projects, so MPUSD had to decide which projects would make the cut. On Nov. 5, 2018, the MPUSD Facilities Advisory Committee met to discuss what would be funded, and in the months that followed, presentations were made to the Marina, Seaside and Monterey city councils, as well as to the MPUSD board.
MPUSD hired RGM Kramer, Inc., a firm that specializes in public construction projects, to oversee Measure I, on a three-year, $5.6 million contract. In February of 2019, MPUSD signed a contract with Verde Design to work on the field project, and in April, signed on with planning firm EMC for $30,000 to prepare documents to comply with the California Environmental Quality Act (CEQA).
There are a few courses of action under CEQA. One is to complete a document called a mitigated negative declaration – a statement mostly detailing the non-impacts of a project – and the other is to complete an environmental impact report (EIR), detailing the impacts a project would have on traffic, wildlife, viewshed, greenhouse gas emissions and other factors; the latter is a far more thorough analysis. EMC set out to produce the less thorough version, a 90-page mitigated negative declaration – and anticipated they would receive only five public comment letters.
They underestimated public interest, instead receiving about 70 letters. And they also faced questions about a potential conflict of interest, because EMC Founder/Principal Michael Groves has been Monterey High's head varsity baseball coach for 30 years. Besides questioning that conflict, critics wanted a more in-depth environmental analysis, particularly in regard to lights changing the night sky in the Monte Vista neighborhood.
In October of 2019, MPUSD announced they would start over on CEQA compliance, with a new firm conducting a full-blown EIR, and they hired Sacramento-based firm Ascent Environmental for $250,000. "We believe this is the right step to take and will help avoid litigation," Diffenbaugh said at the time.
A draft EIR, 243 pages long, has been written, published and circulated for public comments. Ascent has been working on the final version, which is expected to be presented to the MPUSD board for approval in mid – to late June.
But for some neighbors who are critics of the project, the timeline starts much earlier.
UNTIL HE SOLD HIS THREE MONTEREY PENINSULA RESTAURANTS IN 2020, Tony Tollner for 37 years owned and ran Montrio Bistro, Rio Grill and Tarpy's Roadhouse. He lives in the neighborhood next to MHS, and he heard about the project from some neighbors, who'd heard about it from other neighbors. "I was concerned about how the project had gotten so far without our knowing about it, the costs and the impacts the project could have on our community," he wrote in court papers. "I became suspicious of how sneaky MPUSD seemed to be."
Marta Kraftzeck's parents built her family home in 1948, adjacent to the MHS campus, where she attended school before going to UC Santa Cruz then to UC Davis, where she got a master's in viticulture. Kraftzeck returned to Monterey County, where she became the county's first woman winemaker. She eventually went to work for Scheid Vineyards starting in 2009, and retired in 2020 after a 40-year career.
(Members of Taxpayers for MPUSD Accountability declined to be interviewed, but their stories and quotes are based on public records submitted to MPUSD and filed in court.)
Kraftzeck pieced together her own timeline of events, starting in 2006 when neighbors met with the former MPUSD superintendent and former MHS principal for a discussion about the field, and raised concerns. That led to a Feb. 5, 2007 use agreement, which states community members "expressed concerns about the safety and tranquility of their neighborhood due to nighttime and Sunday use of the track and field." The agreement prohibited Sunday use entirely, and prohibited loudspeakers before 9am and required Saturday events to end by 6pm.
In a follow-up report by the superintendent to the board in 2009, a slide indicated, "There are no plans to put permanent lights at Monterey High School field."
Then fast-forward to 2018, when a series of emails were exchanged between school officials, Verde Design and RGM discussing bleachers and field improvements, and a proposal for geotechnical engineering prepared by Moore Twining & Associates – all before that Facilities Advisory Committee meeting on Nov. 5, 2018. Eight days later, Diffenbaugh told the MPUSD board that the FAC recommended the stadium project for MHS. Only problem: There are no minutes of that FAC meeting, or any other FAC meeting, because MPUSD treats the group as an ad hoc committee.
Kraftzeck, Tollner and other neighbors opposed the lights on the grounds that it would disrupt the night sky in their neighborhood, and that the new field would eliminate overflow parking, driving more parking into the neighborhood during special events. In 2019, a neighborhood group hired three experts to prepare reports on the project proposal, showing the impact of the lights would be greater than represented in MPUSD's environmental documents. They created a website, concernedmontereyhighneighbors.com.
"We kept trying to get an accurate description of the project," Kraftzeck wrote. "We were not successful." At some point, as she attempted to get more information, the neighbors' focus shifted from the project itself to who came up with the idea and when. So Kraftzeck started filing requests for documents under the California Public Records Act.
And in 2020, with three seats on the MPUSD school board up for re-election, the MHS stadium became a campaign issue for the neighborhood.
BY 2020, ATTORNEY MOLLY ERICKSON (WHO HERSELF LIVES IN THE NEIGHBORHOOD, AS DOES DIFFENBAUGH) was representing one group of neighbors seeking information. She submitted requests for public records on Aug. 20 and 28, 2020, for documents related to preparation of the EIR, including financial documents on work already conducted. Six weeks passed, and the law firm representing MPUSD, Lozano Smith, failed to produce any records. On Oct. 8, 2020, Taxpayers for MPUSD Accountability sued in Monterey County Superior Court, seeking to compel MPUSD to turn over records, as required by the California Public Records Act.
Meanwhile, an election was coming on Nov. 3, and only one candidate in the three-way race, former Monterey city councilmember Nancy Selfridge, was anti-stadium lights. The neighbor group saw the release of documents as critical to informing voters before Election Day.
"The MPUSD action to delay the release favors the school board incumbents," Erickson wrote in the suit, filed six days after vote-by-mail began. "The voters deserve the information in the financial records in order to inform their vote."
Lozano Smith began to provide records batch by batch. By December, they had produced more than 22,000 pages of records, plus an index listing 1,945 records they intended to withhold for a variety of justifications. Those reasons include some standard exemptions to the California Public Records Act (attorney-client privilege, for example), but also some more unusual explanations for withholding.
A big part of it was "deliberative process," and Lozano Smith indicated they would not release records until after the final EIR was certified by the board. "If consultants and outside collaborators expected that any communication with the District would be subject to becoming public record, it would chill the expression of ideas and would serve to impede collaboration," Lozano Smith wrote.
And then there was the rationale that most irked opponents – the argument that release of records would cause public confusion. "Disclosure of the record at this stage, during the statutory comment period on the [draft] EIR and prior to certification of the final EIR, is untimely and likely to cause public confusion regarding the District's actual proposed and adopted policies," they wrote.
By the time Erickson and Lozano Smith attorney Sloan Simmons appeared for a trial before Monterey County Superior Court Judge Thomas Wills on May 4, 2021, the election that worried the neighbors group was long over. Incumbent Veronica Miramontes won, and was re-elected with more than 46 percent of the vote, Selfridge got 38 percent and pro-lights candidate Kevin Dayton got 16 percent.
And by that time, MPUSD, via Lozano Smith, had also released some more than 23,000 pages of records to Erickson and the taxpayers group. But where they thought they might find a smoking gun – some evidence that MPUSD officials had been in cahoots with Big Sports, or who knows what – they instead found tedious, run-of-the-mill government documents.
What they had been withholding included emails Erickson herself had written, and an email from Kraftzeck asking questions about a May 26 meeting of the Citizens Oversight Committee, which oversees bond expenditures. It included an email exchange with Edward Y.T. Mei, a senior structural engineer of seismic safety at the Division of the State Architect notifying a contractor that his signature was missing. There was an Aug. 4 contract with Redding-based firm SWPPP to develop a stormwater pollution prevention plan, and emails with representatives of AMP Media about video recordings of board meetings. There was a March 7, 2020 email from MPUSD Trustee (then-president) Tom Jennings to Diffenbaugh, forwarding a letter from Erickson alleging CEQA violations: "Oh boy a lot more words / I know that you got this."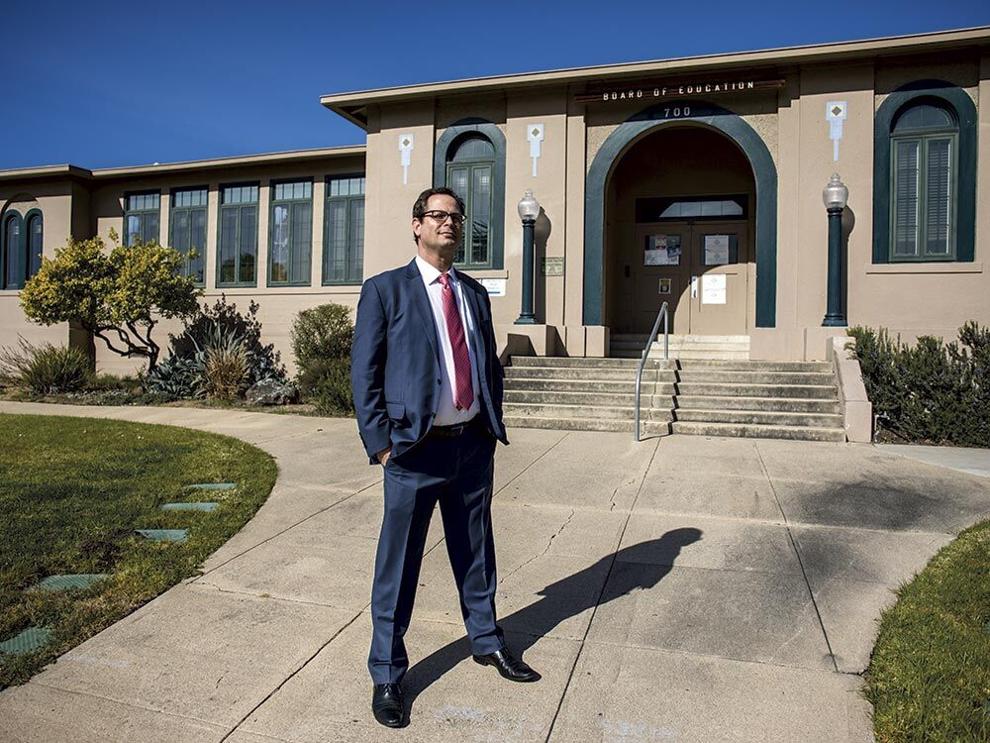 AT TRIAL ON MAY 4, SIMMONS APPEARED BY VIDEO and Erickson in person, speaking to the judge from behind plexiglass. In arguing her case about why MPUSD should be compelled to disclose the remaining records they continue to withhold, she said what had already been handed over was significant for just how insignificant it was.
"This is not top-secret stuff," Erickson said. "This is run-of-the-mill, straightforward, land-use records. These are the kinds of records that are being withheld."
Simmons had notified Erickson the week before that on top of more than 23,000 pages already produced, another 485 records would be coming – but only after the board votes on the final EIR, to avoid creating public confusion. (Part of his case for delaying disclosure was partly that he expects Taxpayers for MPUSD Accountability to eventually sue MPUSD over the EIR for the project itself, once it's approved – if it is approved. Erickson says there's no way to know yet if they'll sue, but Simmons said in court that he anticipates a CEQA challenge.)
Wills wasn't buying it. "I don't think public confusion is a reason to deny disclosure," he said. "Anybody that's looked at an EIR and administrative record that it rests upon can find a lot of reasons to be confused."
Simmons used an analogy to make his case. "Right now the district is in the kitchen," he said. "They're making soup that has to be disclosed to the public, and they have to tell the public what ingredients are in the soup. They are demanding to know that list of ingredients now – even if it's ingredients that are being considered, and are never going to go into the soup… I'll go back to the analogy of, we're making a cake here, we're cooking soup."
Wills was unpersuaded: "If I say, I want you to give me a list of all the ingredients that contain poison and those that don't, somebody's not entitled to find that out?"
Erickson ran with the analogy too: "The district wants to make their cake or make their soup with nobody in the kitchen. They want to be a private corporation, but they are a public agency, subject to the Public Records Act."
Wills did not make a ruling, and the parties are scheduled to return to court on May 19 to continue their trial on the remaining withheld records in question. But Wills clearly stated there's no reason for Lozano Smith to delay the release of the 485 records they said they intend to release eventually. "Keeping them undisclosed when they are going to be disclosed anyway, once the EIR is given final blessing… it's just a little bit hard to figure out why there's some need to keep them under wraps until then."
As of the Weekly's deadline, May 11, Lozano Smith has still not produced the records. When asked if the district intends to release them before returning to court, Simmons says, "Our expectation on that would be yes."
MPUSD RECEIVED 103 COMMENTS ON THE DRAFT EIR, about half of them in support of the stadium project and half opposed. It's not clear how many members are in Taxpayers for MPUSD Accountability, or what they expect they might find in those hundreds of pages of public records. But they are now paying attention to how the district oversees Measure I expenditures.
The Citizens Oversight Committee meets quarterly to review pages upon pages of spreadsheets listing each bond expenditure, a check-and-balance system intended to ensure government agencies spend bond funds only on what's allowed. When the COC met on May 5, RGM Kramer CEO Ralph Caputo and MPUSD Associate Superintendent Ryan Altemeyer presented them with a list of expenditures from Measure P and Measure I from Jan. 1-March 31, 2020. Dayton, who ran unsuccessfully for school board last year, now serves as chair of the COC; he asked committee members to review each page of the report and to flag about any questionable line items. But for dozens of line items listed as "B6 Other Costs" under "Expenditure Type," there was no clear answer. Expenses for the quarter in that category ranged from $1.32 and $55.80 to $3,843.
"All the things associated with running the bond program, they would be categorized as administrative costs," Altemeyer explained.
"While these obviously aren't significant compared to construction work, these are the kind of things that critics of the construction program are going to homing in on," Dayton said. "I don't know if there's a way in the description to be a little bit more precise about this sort of thing." He also requested that Altemeyer provide the COC with copies of the district's contract with RGM, something members hadn't seen before.
Meanwhile, many projects, including the MHS field, have been moving along. Since Measure I passed in June 2018, MPUSD has completed upgrades at 21 schools, including a new track ($4.1 million) and fire alarm system ($2 million) at Seaside High, water fountains at Marina Del Mar Preschool ($5,753), exterior painting at MHS ($232,000), and spent $1.1 million on student laptops.
Critics of the stadium project say MPUSD is spending too much on athletics, and ignoring other student needs and infrastructure, a claim that Diffenbaugh rejects, noting $14.3 million of Measure P funds went to a new science building at Monterey High. "I just don't think you can make the argument that infrastructure and academics have been neglected," he says.
"We have a very diverse community with a lot of different needs. I just don't think a handful of people should expect that they are the arbiter of value to the community."