After her guests emptied their corner glass-and-steel patio table, a site overlooking the uninterrupted views of Big Sur where the land rolls down the hillside and meets the distant sea, longtime Post Ranch server and South Coast resident Charity Waters found a remarkable document accidentally left behind by her whispering guests.
It was a bound, four-color, 156-page report, wrapped by a high-gloss cover featuring a picture of a heavily loaded pack mule carrying water and other supplies, crossing Bixby Bridge, and led by a young couple. The photo caught her attention because it was not historical but contemporary, and the adventurers were dressed in straight-leg jeans and hipster jackets. Mostly it was their footwear that stood out – Wool Runners from Allbirds. These were Bay Area computer geeks crossing the famous bridge, not frontiersmen.
The report had a big red stamp across its cover: "DO NOT CIRCULATE. FOR PRIVATE REVIEW ONLY." Naturally, Waters opened it to discover its contents.
Inside was a shocking plan, recently agreed to by the top leadership of Caltrans, Cal Fire, big insurance companies, REI, the Marriott, Joby Aviation (based in Marina) and the Association for Horsemen of Northern California. (On the draft viewed by the Weekly, several potential backers' names were crossed out with a black Sharpie – those still viewable under a thick black line are Ventana Big Sur, California State Parks, the U.S. Forest Service and Community Association of Big Sur.)
Entitled Big Sur: Enough is Enough, the report approved by these disparate groups representing government, entrepreneurs, large and small businesses, the massive national co-op for outdoor camping gear among them, draws a shocking conclusion: The relentless investment and expense to keep Highway 1 open, particularly in the past decade, represent good money chasing bad. It is time to turn off the spigot of public money and let Big Sur return to being Big Sur, more or less.
Their proposed solution: Shut down Highway 1 to thru-traffic. "We kill five birds with one stone this way," reads a draft introductory section titled "Talking Points." "While there is likely to be opposition, especially from residents and perhaps the community overall, locals, business owners, and environmentalists may see the many benefits. We should emphasize the benefits for these stakeholder groups. We can 1) Solve the overtourism burden plaguing the region; 2) Save billions of dollars in taxpayer funds on emergency response and road repairs; 3) Continue to support the tourism industry with unparalleled new methods for accessing an otherwise inaccessible area, generating new revenue; 4) Contribute to California's climate change goals by easing traffic; and 5) We don't have to build and maintain any stinking bathrooms."
Caltrans officials declined to comment, but an attorney representing the agency confirms the authenticity of the report. Because it would minimize environmental impacts, rather than worsen them, the proposal is not required to go through the California Environmental Quality Act. To be approved, it needs approval of the California Transportation Commission, which based on the report has already signaled its likely approval. Per the report, "Commissioners would happily say good riddance to a highway that is literally falling into the ocean."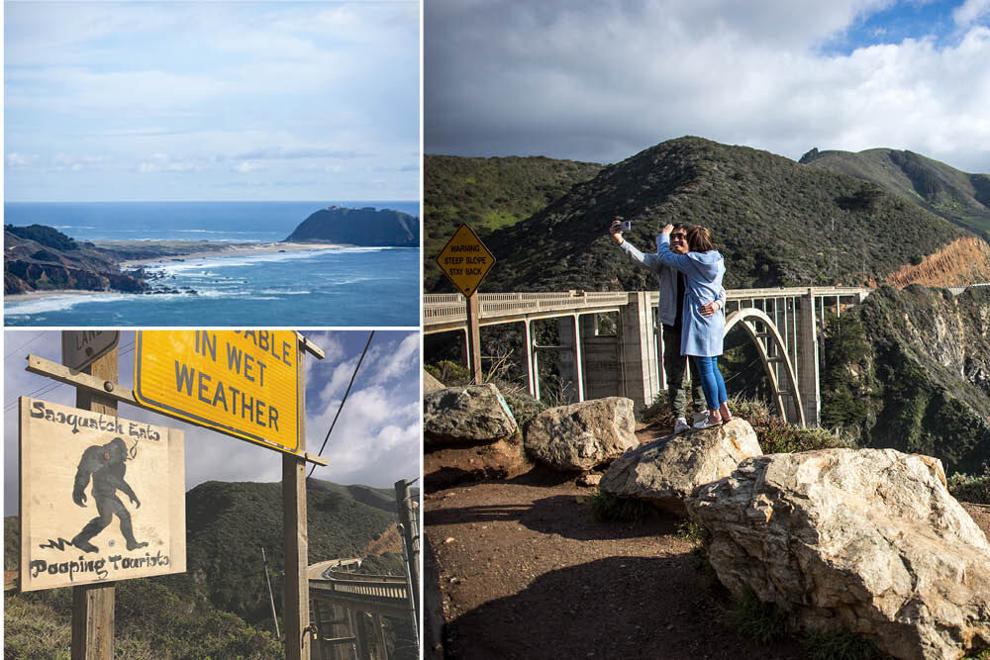 THIS PAST YEAR'S DISASTERS IN BIG SUR ARE JUST THE LATEST IN A LONG LIST – two of California's 20 largest wildfires (Basin Complex and Marble Cone); the fire that at the time, in 2016, was the most expensive to fight in California history (Soberanes, $262 million); the 2016 collapse of Pfeiffer Bridge ($24 million to fix) and massive slide near Gorda ($54 million to repair) and created "Big Sur Island"; and that's just a partial list.
The 2020 Dolan Fire, started by suspected arson, burned 125,000 acres over five months, and then in January, 12 inches of rain fell in 24 hours in Big Sur's high peaks, leading to a major mudslide and a 150-foot chunk of Highway 1 falling into the Pacific just north of Rat Creek.
The Enough Is Enough report lists these and some other disasters (the list is long) and is unwavering in its conclusion: The cost of keeping Big Sur open as a worldwide public attraction is simply not worth it, at least not anymore.
It's inevitable that Big Sur's storied history would turn a new twisted course. There were once routes along and across the Santa Lucia Mountains believed to have been frequented by members of the Esselen tribe. Then missionaries arrived, killing Native Americans and forcing them out. Land grant settlers followed in horse-drawn carts, then a lumber industry boomed in Big Sur's redwood forests, and lumberjacks needed easier passage. Then came a $1.5-million state bond in 1919, and loads of free convict labor (no way could you build a road like this paying fair wages and worker's comp), allowing the state to get to work. Then thanks to basically socialist president FDR and his Works Progress Administration, the 71-mile, curvy, scenic road that makes Big Sur Big Sur got its many bridges, way before hashtags were a thing.
And even though the road was susceptible to mudslides and debris flows back in the Before Times (and the Way Before Times), before weary travelers would make the trek without the luxury of savoring a craft beer or local Pinot Noir while overlooking the wind-swept beaches and rough surf from well carved out Vista Points, it seemed like a good idea for The People. Construction on Highway 1 through Big Sur started in 1922, and was finally completed in 1937. Isolated ranchers living in what was then basically the Wild West thought they could cash in big time on tourism. (They probably should've, but did not, build public restrooms at the time.)
Those million-dollar views from Highway 1 in Big Sur remain "free" today – even if some NIMBYs want to turn the highway into a toll road to keep out non-California natives, people with selfie sticks, or Instagram influencers – to lighten the pressures on the area's precious resources, and of course to keep their ocean views wide open and unobstructed. (Too bad for them that their land grant predecessors thought a road would be a good idea. But at least it gives paved access instead of horse-and-carriage access for those who are lucky enough to live there.)
The cost of keeping the highway open – free, or with a toll – may have run its course. After all, as is underscored in Enough is Enough, Big Sur is mostly serving only a handful of family businesses, tourists from other countries who don't know how to drive (they literally stop on the highway near Bixby Bridge) and hard-to-please locals.
As the report states, "We have to accept that in 2021, free isn't free anymore. And nobody wants to pay. Not Ted Turner, Al Jardine, nor Johnny Rivers. Not even Sean Parker."
A number of locals share that sentiment. "It was a good idea while it lasted, but frankly, it's time to shut it down," retired Congressman Sam Farr states off the record, choking back tears since access to his own South Coast property will soon be in jeopardy.
"I had my doubts after the Carmel River bridge was taken out to sea in 1995, after the bridge by the Big Sur Deli failed, after the slide near Hurricane Point, after the Soberanes Fire, after the Basin Fire, after the Dolan Fire, and – I think there was another time – but frankly, how can anyone who manages public money justify spending taxpayer dollars on this gem, which serves just a few, any longer?"
Farr is not alone in his thinking. Mime Anne Ownlimee works as a lobbyist for a big national Connecticut-based insurance company, and spoke to the Weekly while vacationing down the coast, picnicking outside her Sprinter van while looking for whales at a vista point near Julia Pfeiffer Burns State Park.
"Look, as long as the public was paying to fight those increasingly intense summer-long wildfires and help keep the wildfires from engulfing the private million-dollar residences which we insure, we were happy to keep doing business here," Ownlimee says. "But now that some folks want us to pick up the firefighting bill, the writing is on the wall. It's time to get out of Dodge."
Big Sur is more than a playground for the rich. It's also a hiker's and surfer's paradise, a motorcyclist's dream ride come true, a burger lover's most memorable and not-so-cheap burger (topped with cheddar, onion, tomato, mayo and special sauce at Nepenthe). It's also the best viewshed ever to impress your future in-laws, the best place on the planet to see condors scavenging roadkill, and the best and only place to lounge in the drafty, converted house-turned-library dedicated to the smut-ridden and impossible-to-read famous writer from New York, Henry Miller.
Big Sur is so hot right now it's even become the name for the latest operating system from Apple, Inc. Sadly, like Highway 1 itself, the new operating system is riddled with its own unexpected road closures and shutdowns, most definitely fouling up the internal indexing and the moods of Apple laptop owners. (Apple users are advised not to upgrade to Big Sur anytime soon, for your own good.)
Enough is Enough will not shut the road down immediately from Carmel to Hearst Castle, but in pieces, literally. With each subsequent slide and road crumble, Caltrans will no longer send in its scruffy civil engineers to reimagine the future twists and turns of the roadway.
Starting immediately, after a natural or unnatural disaster that takes out a lane or two, or a bridge or culvert, Caltrans will simply install orange barricades to stop the northbound or southbound traffic from continuing, preventing drivers (already distracted by the views) from inadvertently going off the road into the ocean where the road is no more. Drivers will simply have to turn around and return to their starting point and hopefully do some more gift shopping and wine tasting in Carmel-by-the-Sea, so long as the road allows for that.
ENOUGH IS ENOUGH OUTLINES SOME INNOVATIVE NEW PLANS TO INTERWEAVE THE OLD WITH THE NEW. Coming from the north, tourists will be able to drive as far south as Point Sur and park at the recently approved to be built 257-room Marriot Hotel. (The news of the new hotel would normally be bigger news, but since the Coastal Commission signed off on this project after a Christmas Eve night special meeting conducted on Zoom, it's a done deal – the meeting was properly noticed, even though the public, but not commissioners, had "technical difficulties" logging into the meeting. Documents obtained by the Weekly show the five commissioners who actually participated in the holiday night meeting will get 2,000 free Marriott points for their troubles on Christmas Eve.)
The only member of the public to comment during the public comment period was Dave Potter, now mayor of Carmel and a former coastal commissioner. "This project is an eyesore, competes with the Peninsula hotels, and ought to be denied," Potter says. "Fortunately the proposed condor, cattle and otter viewing platforms, combined with a view of North America's first-ever white rhino preserve – not to mention the frozen margarita automated machine – will offset the negatives. Go for it."
After parking at Point Sur – or later, points further north – visitors to Big Sur will be able to continue further south via trail (on foot or on rented mules), via electric bike (until the road is impassable or just plain gone), or via the sea on panga boats (recently seized during an international cannabis delivery bust near Partington Cove, and publicly noticed in tiny font in the back of the Weekly as a forfeiture).
Additionally, in an effort to meet the increasingly restrictive ADA rules, a new funicular – a gondola-style infrastructure similar to what exists in the Italian and French Alps – will be installed tower by tower over the next decade. It will extend from Point Sur to the Hermitage, with stations to receive and drop off visitors at attractions like Andrew Molera State Park, Nepenthe, Pfeiffer State Beach, Coast Gallery and Café and the Esalen Institute, ending at the New Camaldoli Hermitage. (Travelers who make it to the monks' place will receive a gift certificate for 10-percent off on a bag of their delicious Holy Granola or fruitcake. Hermitage representatives are reportedly working with some now-out-of-work influencers to promote their goods for sale via Instagram.)
"While it's certainly shocking, the fact of the matter is that Big Sur cannot handle the volume of tourists anymore," says Butch Kronlund, executive director of the Community Association of Big Sur. "Since we've spent the last five years arguing and not able to agree to install even a single bathroom by the highway, this plan cuts through the crap and wipes the slate clean. I'm good with that. While I'm not sure how we'll get to our homes yet, we Big Sur residents know that you have to be hearty and tenacious to live here. Onward ho." Kronlund then rushed off to the front of the line to use the bathrooms at River Inn.
A spokesperson for Post Ranch Inn seems similarly unperturbed. "We've relied on helicopters before to bring in our guests during road closures, and we'll do it again. Instead of Lexus paying us hundreds of thousands a year to get their brand in front of our well-heeled movie stars and tech zillionaires, we'll turn to the new flying helicopter company from Marina, Joby Aviation. EV helicopters are the future. Don't expect mules up here!"
Matt Glazer, the new manager of the resurrected Deetjen's Inn, also seems nonplussed about the secret plan. "Whether you arrive here by mule or helicopter, we'll still have the best eggs Benedict east of Highway 1."
Hillary Lipman, the gas station owner (and property owner) at Big Sur Bakery, is adamant that a gondola station needs to be installed on his property. "Travelers need their cappuccinos and scones or the Big Sur experience will simply not be the same. A road less traveled does not mean you take on Big Sur without being jacked up on caffeine and sugar."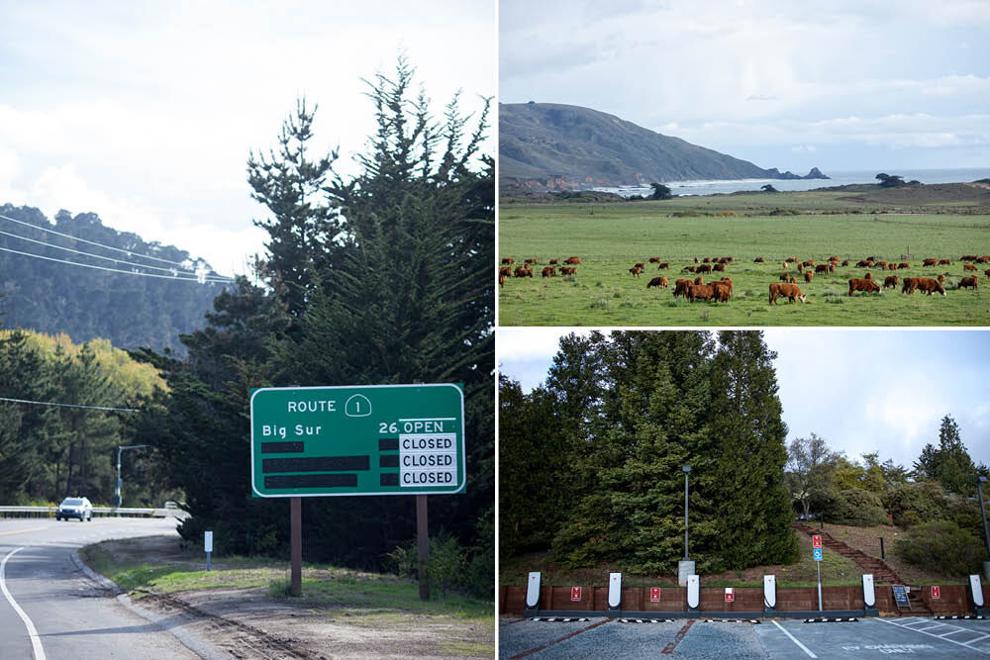 Terry Gilbey, executive director of the Esalen Institute, is giddy as he scours a reporter's copy of Enough is Enough. "Our institute has been on the forefront of human consciousness since day one, for nearly 60 years. Big Sur has never been for everyone and this new Caltrans plan recommits to that vision. It's clearly an experimental idea, but it's time is to stop dwelling on memories of the past and focus on the future. Plus, with fewer visitors wandering down the hill to our entrance, we can return to our mischievous roots. Currently, just the hot springs and shower area is clothing-optional. It's probably a good time to expand that body-positive policy to the entire property."
Not everyone is 100-percent on board with the proposal. Liliana Star is an Instagram influencer with 1.2 million followers who serves as a brand ambassador for a range of clients including Lululemon, Annie's Mac 'n' Cheese, Burt's Bees and the Libertarian Party.
"Oh my god, I literally cannot live without these totally epic backdrops for my Insta account," she says in an interview conducted atop a dirt road that is not actually open to the public, overlooking Highway 1. (She spoke to the Weekly while waiting for a tow after getting two flat tires.) "I look better with these backdrops, and my clients' products look better. I got, like, 175,000 likes at the Hurricane Point overlook. The landscaping at my condo complex in San Jose just doesn't cut it."
Kirk Gafill, president of the Big Sur Chamber of Commerce and longtime boss of the family business Nepenthe, who grew up in Big Sur and has survived even more disasters than Tiger Woods, Captain Sully and Evil Knievel combined, is clearly on edge.
"This is devastating news. We've finally reopened after the last three fires, the bridge rebuild, and barely made it through Covid. We may be known for being the phoenix rising from the ashes, but now we've got to worry about loading and offloading a boatload of foreigners from a giant gondola? Frankly, what nitwit came up with that idea?" With that, Gafill grabbed a handful of fries, and looked back at his computer screen. From a distance, this reporter could see the webpage loaded: "Funiculars For Dummies: A How-To Guide."
At recently remodeled Ventana resort, a disgusted Tesla founder and CEO Elon Musk was assisting one of his engineers on a recent sunny afternoon, dismantling a recently installed high-speed Tesla Supercharger and loading into a silver Tesla EV Cybertruck. "What a colossal mistake. The decision to close Highway 1 in Big Sur is another example of California government's lack of cojones and vision. Only pencil-pushing, overpaid public-sector employees would think that spending over $2 trillion in a decade – to protect and access private property and keep a remote highway open to tourists – is a waste of money.
"Sure, the state's schools, healthcare, housing and homelessness are all in a state of crisis and short on funds. But this is Big Sur. Future thinkers must ignore the pragmatic. It's just another reason why we'll be pulling out of this crumbling state and moving to where the true visionaries are, the great state of Texas."