Del Rey Oaks Police Chief Ron Langford steps up to the podium in the City Council chambers. He's not wearing his uniform, and his shirt is untucked. In his hand is a stack of papers, and he readies to deliver a report about traffic on Portola and Carlton drives.
It's Feb. 23, 2016, six months after a large group of residents banded together to push for traffic calming measures on the two streets, where speeding cars have concerned residents for decades.
"Two traffic engineers have indicated to me that it's a collector street," Langford says, "and the speed limit should be raised to 30mph."
Langford speaks so forcefully he's almost yelling. He goes on to give ticket and accident data, and when he finishes talking about each report, he drops the pages on the floor in front of him.
"I've been here for 35 years… my sergeant has been here for 18," he says, glaring back at the residents in attendance. "Accidents on Carlton? Zero!
"We're doing our job," he continues, "we're trying to do everything we can do in a manner that is lawful for public safety. We've spent a great deal of time on this issue, talking to traffic engineers, and to my knowledge there's not a traffic engineer in the room."
He's supposed to be addressing the council, but after he makes each point he turns to look at the residents, who are seated behind him.
"Maybe every once in awhile we should listen to the experts," he shouts. "Any other questions?"
Langford then bends over and picks up his papers from the ground, and Councilmember Pat Lintell – a soft-spoken, gentle woman – tells Mayor Jerry Edelen she has a question. As Langford stands, he slaps a report on the podium.
Lintell says that an average speed of 26-28 mph doesn't mean there aren't speeders.
"Yes, there are anomalies," Langford says. "At 2 o'clock in the morning, I can go up Carlton at 50, which is going to throw the whole numerical equation off!"
He said he prioritizes police duties based on hour and need.
"So for example, at 0740… should I be working speed on Carlton or should I be at Stone Creek when a guy pulls out a machete?" he says. "Where should I be?"
At the time, he appeared annoyed – at least surprised – anyone would question him.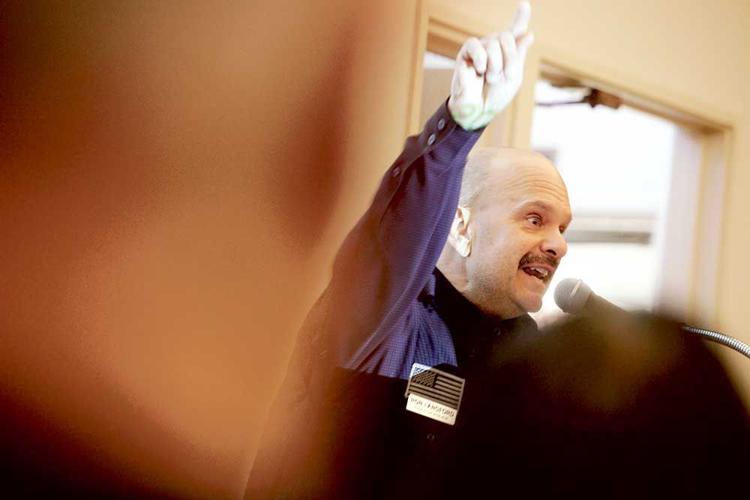 Yet less than a year later, on Jan. 9 of this year, the only question facing City Council was whether or not to fire him: The sole items on the council's agenda were an evaluation of his performance, and the potential naming of interim police chief. Council took no reportable action at that meeting, but on Feb. 13, Langford offered to retire, effective Aug. 1.
City Council accepted his offer.
• • •
Del Rey Oaks is a small and quiet city that covers about a half-square mile. It has just over 1,600 residents. It has no restaurants or schools. It's a place where people know their neighbors, walk their dogs in the middle of street, and the most contentious thing to hit the city in years was dog park rules. City Hall is about as big as a modest house, with portraits of all the old white men who have served as mayor.
But what's happened at City Hall recently – including the sudden and explosive exit of former city manager Daniel Dawson before Langford's exit – would be scandalous in a city of any size. That it's happening here make the chaos both surreal and bizarre.
Some residents believe that what's going on in Del Rey Oaks is a power play by Mayor Jerry Edelen. The truth is a lot more complicated, and more troubling.
Because the issues are personnel-related, city officials are not permitted to discuss them, so this story is pieced together from documents obtained through a series of California Public Records Act requests, court records and interviews with residents. Neither Langford nor Dawson responded to requests for interviews.
For those who'd been following an ongoing city drama – a year-and-a-half crusade by some residents to slow down traffic on a few residential streets – there were clues of what was to come.
Yet the traffic saga, and the way in which the city handled it, is not the reason for the shakeup at City Hall.
It served as a window into something bigger, revealing a culture of bullying, intimidation and harassment. That includes moments that would fit better in a bad movie: A city manager driving slowly past City Hall and mean-mugging his subordinates. A police chief who fights for a mine-resistant ambush-protected vehicle, but resists traffic calming. A planning commissioner – one of the "dogs," in Dawson's words – who sometimes yells at members of the public who speak up at meetings.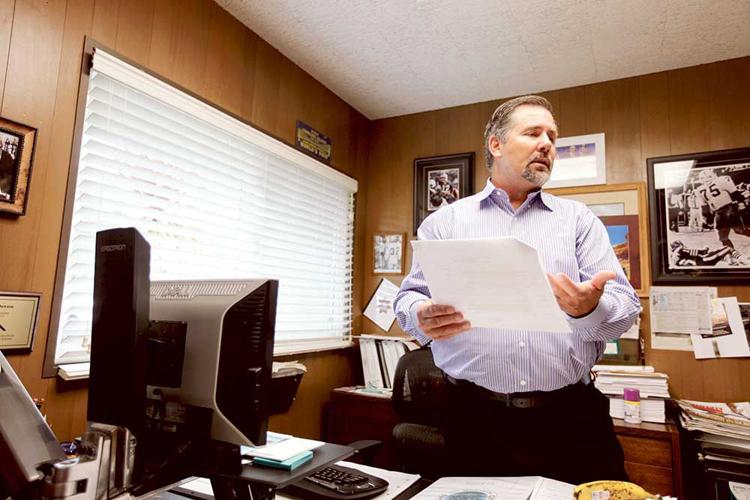 There are many questions, but the main one is: Did Langford and Dawson understand they worked for the residents?
The answer appears to be no.
• • •
For all the hard-to-obtain documents swirling around the Del Rey Oaks drama, the most explosive and illuminating document of all can be easily found at Monterey County Superior Court.
"[DAWSON] RULES BY INTIMIDATION AND FEAR IN MOST CIRCUMSTANCES."
It's a request for a restraining order filed against former city manager Dawson on Jan. 12 by Del Rey Oaks City Attorney Christina Trujillo, on behalf of deputy city clerks Kim Carvalho and Karen Minami.
This comes just nine days after City Council accepted Dawson's resignation, but not his terms – to stay on for another six months, with a 25-percent pay raise.
A hearing is scheduled for Feb. 23, but the court granted a temporary restraining order, and instructed Dawson, among other things, not to stalk or threaten either of the women and to keep a distance of at least 100 yards at all times. He was also ordered to give up his firearms, standard for such an order.
Carvalho and Minami's court declarations reveal a long history of bullying and intimidation by Dawson. When Dawson kept coming to City Hall after he was let go – despite being told not to – the women reached their breaking point.
"Employees do not wish to have any further encounters with Mr. Dawson, and have refused to come to work until a [temporary restraining order] is in place," Trujillo, the city attorney, wrote.
Among the allegations in Carvalho's declaration: Dawson came to City Hall Jan. 6 – three days after he resigned – to report a low-hanging tree, and said, "You ladies have a wonderful evening." On Jan. 11, Dawson allegedly came in and threw down his gas cards and receipts, Carvalho wrote. "THANK YOU for letting me know my card doesn't work anymore," she reports Dawson said. "After all these years THIS is how you repay me? I look forward to repaying YOU!"
Carvalho adds that she believed Dawson owned at least two shotguns and had heard him talk about all the handguns he owns, and that he would routinely shoot them on the city's former Fort Ord property.
She goes on to write that "[Dawson] rules by intimidation and fear in most circumstances," and that "he has made it exceedingly clear that I am to do as he says without question or else."
He would also drive into work through the police-only entrance into City Hall, and stop behind the building until the two women looked over. "Once we turn around, he then either smiles or glares at us so that we know he's here and what mood he's in," Carvalho writes.
He was also, allegedly, a jerk to a lot of people, she adds: "He makes derogatory and insulting comments to my face and makes fun of people when they come into City Hall if they have a disability, do not speak English or he judges them different somehow."
Carvalho goes on to say she's lived in "a constant state of fear of anxiety for the majority of my working years with him."
Minami's statement corroborates Carvalho's, and provides new details. She writes that Dawson was "manipulating," that she heard him "scream at people in person and on the phone" and "takes great pleasure in plotting against people that in his mind crossed him."
She also writes that in a Jan. 3 meeting with his staff, before his resignation was accepted, "He told us he would go into the sunset with dignity and grace if the council decides to accept his resignation."
Instead, on Jan. 10, he allegedly drove slowly past the office window, "leering at me with a big smile with no apparent legitimate purpose to be on city property. He then exited the city parking lot."
Minami also includes, in her declaration, screenshots of text messages he sent her after he resigned, asking her to do things on his behalf. After Jan. 5, she stopped responding.
When later asked why she stood up for Dawson at the Jan. 3 meeting, where she encouraged City Council to accept his terms, Minami says there were some things she hadn't been privy to.
"I was absolutely shocked he asked for an increase in pay. I had no clue," she says, adding that she and Carvalho are hanging in there. "We're more than OK, but it's been hard."
• • •
In the summer of 2015, Megan Fitzsimmons came to Del Rey Oaks to clean the home of her grandmother, who passed away in May of that year.
She says she spent a lot of time in the driveway and garage as she went about her work, and was alarmed by the number of cars speeding by on Portola Drive.
"I actually thought because of how severe it seemed, it must have been something new, because if anyone else were aware, something would have been done," she says. "It was only much later, when I was connected with other neighbors, that I learned people had been complaining about it for decades."
At the encouragement of Mayor Edelen, who had known Fitzsimmons' grandmother, she spoke to the issue in public comment at a City Council meeting in August 2015.
After that meeting, a group of residents began organizing, and at the September 2015 meeting, 24 residents spoke in favor of traffic mitigation on Portola and Carlton drives – a remarkable number for a city with so few residents. Edelen told the public the city would report back a month later with a plan to address their concerns.
Chief Langford delivered that report in October 2015, saying he was aware of the concerns, and recommended residents and city officials form a committee.
The Traffic Committee met in November with Monterey traffic engineer Rich Deal, who told them how to go about traffic calming legally, and that City Council needed to authorize a traffic study stamped by a professional engineer in order to move ahead. On Dec. 15, 2015, the council approved $15,000 for such a study.
For Traffic Committee member Layne Buckley – who was later elected to City Council Nov. 8, 2016 – it felt like a solution was just around the corner. Or so he thought.
Keith Higgins, a traffic engineer solicited by the city, emailed a proposal to Langford on Feb. 2, 2016 for a Carlton Drive traffic-slowing evaluation.
"Based on the results of the data, the results of the study will probably be that the volumes won't meet criteria for traffic calming," Higgins wrote. "The speed limit should be 30mph."
So instead of slowing cars down, the city was ready to speed them up.
Buckley, an ad hoc residents' leader of the traffic calming push, was among those caught off-guard.
"We're now at month five, only to come back with a proposal to raise the speed limit?" he says. "Everybody started to say, 'Something's not right in River City.'"
Buckley then mentions a May 2015 traffic analysis on Carlton Drive, at the intersection of Work Avenue, that clocked traffic speeds from May 12-19.
Heading southbound, the analysis showed more than 91 percent of cars clocked above 25mph, and northbound, more than 82 percent were speeding. Eighteen vehicles heading northbound traveled at speeds greater than 74mph.
Over the course of the rest of 2016, the issue became intractable. Traffic Committee meetings were frequently cancelled by Dawson, various council decisions were modified by staff and temporary stop signs were put up without warning. Frustration among residents and councilmembers grew.
A glimpse of the future came when Fitzsimmons emailed Dawson Aug. 23, 2016 for an update on a so-called "striping plan" that narrows the street, discourages speeding and adds a bike lane. She asked that some specific objectives be discussed at the meeting, as several weeks had gone by since she'd heard any updates.
In an email response, one part of an ongoing chain, Dawson wrote, "You most definitely do not dictate the workload and schedules of myself and my staff."
When Fitzsimmons responded politely – which she also sent to others, including three councilmembers – Dawson shot back an email and accused her, falsely, of causing three councilmembers to a violate the Brown Act by excluding two other councilmembers from the email.
Dawson voiced the same accusation at the next council meeting. Ultimately, Vice Mayor Kristin Clark – among those called out by Dawson for allegedly violating the Brown Act – spent $2,000 to hire an attorney to clear her name and force him to publicly apologize and put that apology on the city's website.
He did, but a few weeks later, the apology disappeared from the internet.
• • •
Just after 4pm on Jan. 3 of this year, the council chambers at Del Rey Oaks City Hall are at near-capacity.
"HE TOLD US HE WOULD GO INTO THE SUNSET WITH DIGNITY AND GRACE."
On the agenda for the closed-session portion of the City Council meeting is the "discipline/dismissal/release" of Dawson, and in open session, the "discussion and appointment" of an interim city manager.
Before the meeting, residents and reserve police officers milled about inside City Hall, and Dawson was smiling amid his supporters, saying he had "no idea" what the whole thing was about.
When the meeting starts, Dawson is not sitting in his usual seat next to Mayor Edelen; rather, he is sitting in the audience alongside members of the public.
Before the council adjourns to closed session, Edelen opens the floor to public comment, and Dawson rises his from his seat and steps to the microphone.
"I am somewhat shocked by the contents of this agenda," Dawson says.
"I met with all my staff today, very distraught staff, the very distraught individuals you see here in this room, and it's not because my imminent departure is on the horizon – I understand that," he continues. "City managers fall from grace very rapidly, that's why we all have contracts. I've had several colleagues contact me today offering their support. I really have no idea what this is even about."
Dawson had sent a letter to City Council the night before, after having learned about the special meeting earlier that day. In the letter, he offered to resign in another six months, during which time, he proposed, he would receive a 25-percent salary increase.
"I really encourage the council to take a look at the proposal, which gives six months to clean up some loose ends, and I ride off into the sunset in July," he says.
Among the things Dawson promises in his offer is a "peaceful and orderly retirement of [Chief] Langford." If not, he threatens, "at least three of you are aware a retracted mudslinging that would be fully financed by a few wealthy reserve police officers is a real possibility (sic)."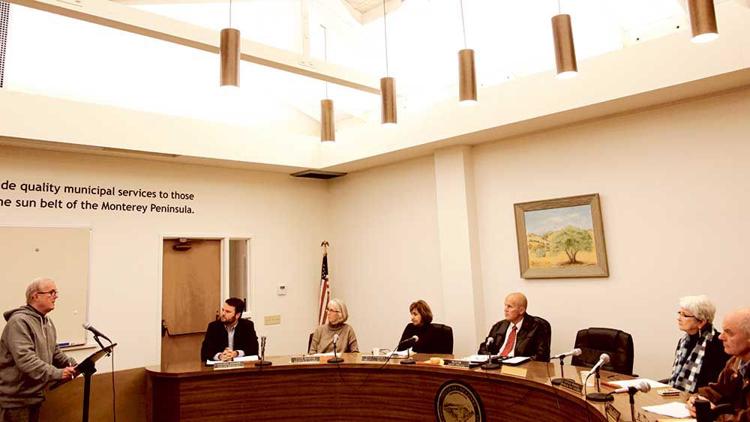 More than a dozen speakers – some of them reserve police officers – follow Dawson to the podium. They all speak favorably of him, including Minami, who urged council to accept his six-month proposal. "We have a group of folks who care for each other, and that's hard on all of us," she says.
Chief Langford, wearing plainclothes, steps to the podium a few minutes later.
"We give more due process to somebody sitting in handcuffs in the back of our jail than you're giving this man. What did he do? What did he do?" Langford says. As he continues speaking, he appears to begin choking up. "Is somebody in danger, am I missing something here? Take a breath! Take a breath! You're losing what we've worked – I'll keep my mouth clean – like hell for, like hell for. And I just don't understand it."
The council then adjourns to closed session, and aside from the councilmembers and two attorneys, everyone leaves the small council chambers and stands in the hallway.
Dawson stays for about a half-hour talking to his supporters, and says at one point, "This is so ludicrous."
When he finally walks out of City Hall around 4:50pm, he tells his supporters, "I gave them my proposal, it's very well done, and if they want to talk about it, they know how to get ahold of me."
When the council reconvenes just before 6pm, City Attorney Christina Trujillo says City Council accepted Dawson's resignation, but not his proposed terms, meaning he's out of a job, effective immediately.
Edelen then makes a motion to appoint Deputy City Clerk Carvalho – who is taking notes of the meeting – as the acting city manager. The motion passes 4-1, the meeting is adjourned and Carvalho appears undone by the news.
Moments later, Councilmember Lintell can be seen consoling Carvalho next to her desk as she wipes tears from her face.
"I am not a city manager," Carvalho tells Lintell. "I do not want to be a city manager."
A few hours later, Edelen calls the Weekly to say that Carvalho turned down the job, but would still be handing the position's administrative duties.
• • •
For such a sleepy little city, Del Rey Oaks has had its share of controversy and scandal. Even though it's generally more Reno 911! than The Wire, the city has struggled for decades to break free from it.
A January 1991 story in the Monterey Herald revealed the Monterey County District Attorney's office was investigating an allegation that then-chief Stephen Feather, Langford and another officer had conspired to steal a log-splitter that turned up three years later in the city's corporation yard. Citing a lack of sufficient evidence, the D.A.'s office declined to file charges.
Nonetheless, Langford saw his pay reduced – according to an agreement with his attorney and the city, reported by the Herald – after the investigation "revealed some shortcomings in his performance of assigned duties."
Langford served the dual role of police chief and city manager since 1999, before being replaced in the latter position in June 2008. That came after – according to a May 2008 story in the Weekly – Langford began missing time at work after filing a worker's compensation claim for an injury he sustained when a remote-controlled tactical robot, which he was controlling, "rolled backwards and turned, pushing him against the wall" in the police locker room.
"Northern Lights tactical robot ran over me," he wrote in his injury report. "200 lbs-steel, remote-controlled."
Then came the 2009 departure of then-mayor Joe Russell, who'd been a councilmember since 1974. Russell, who resigned in August 2009, stood accused by city staff and volunteers – i.e. reserve police officers – of having micromanaged city staff for years. They gave him a vote of no confidence in July, just before Dawson came on as city manager.
Russell apologized at an Aug. 13, 2009 council meeting, saying if he caused anyone problems, it was not intentional.
• • •
Former city councilmember Jeff Cecilio, who became a planning commissioner after losing his 2014 bid for re-election, has earned a reputation for outbursts in the council chambers, sometimes yelling at those who aren't on his side.
Cecilio is a self-professed friend of Dawson and Langford, and while some residents posit he'll take whatever side they're on, he says he's genuinely against traffic calming measures.
At a Jan. 24 meeting this year, City Council was set to hear a letter of concern about Cecilio, and to review his performance as a planning commissioner.
The day of the meeting, Cecilio said over the phone he wouldn't attend the meeting, and though he was aware of the outbursts he'd been accused of, he hadn't seen the letter.
"If I know what's going on, I would imagine they're going to reprimand me, kick me off the Planning Commission," he said, and added he's "talking to a lawyer."
At the meeting, the council asks Mike Fitzsimmons – Megan's father, and a Del Rey Oaks native and Traffic Committee member – to read his letter aloud.
"IF A CITY REPRESENTATIVE IS ALLOWED TO BULLY AND MENACE ACTIVE CITIZENS AND PUBLIC SERVANTS, I FEAR THAT WE WILL BECOME SILENCED."
Fitzsimmons highlights three recent incidents, at two Traffic Committee meetings and one City Council meeting, where Cecilio blew up at or personally insulted a resident. Fitzsimmons was on the receiving end once, and he also referenced a meeting where Cecilio went after Councilmember Lintell, who unseated Cecilio in the November 2014 election.
"I sat on the City Council for 10 years," he told Lintell during public comment in a November 2016 council meeting. "I am thoroughly disgusted with you Councilmember Pat Lintell, for your behavior… " It was entirely unprovoked. Lintell, outwardly unshaken, didn't respond.
In his letter, Fitzsimmons writes that he believes Cecilio has broken the city's code of conduct for elected and appointed officials, who, while still enjoying "their First Amendment rights, they should refrain from abusive conduct, personal charges or verbal attacks."
After Fitzsimmons finishes, Vice Mayor Clark reads an anonymous complaint from a resident about Cecilio: "If a city representative is allowed to bully and menace active citizens and public servants, I fear that we will become silenced, and more importantly, that solutions that are workable for all stakeholders may not be reached as a result."
Lintell then reads an anonymous comment she received: "The point is, Jeff is scary and is making people fear for speaking out at City Council meetings, and fear in their neighborhoods in general."
When it comes to Edelen's turn, he says "he's got two different issues," and reads from two different emails the Weekly later obtained through Public Records Act requests.
The first is a Jan. 8, 2016 email Cecilio sent to the city – to citymanager@delreyoaks.org – and the planning commissioners. It's an impassioned call to rally in Langford's defense at the Jan 9 meeting. "I think the Mayor is going to have him Fired !!! I don't know about you all but our great little city is now subject to more bad publicity and back door politics."
An email Dawson sent Edelen Jan. 1 is also revealing. Dawson proposes, in a list, his intent to do the following in the "Spirit of a Win-Win":
Not Bankrupt the City while buying a new Porsche for an attorney.
Call off the Dogs, ie the reserves and Cecelio (sic)
Preserve your standing and stellar reputation in the community and with your collegues (sic)
Maintain DRO in a positive light which will attract future revenue opportunities
Finish a few critical items that are 90% complete representing years of effort
Bring in every last $$ for the City before Ieave (sic)
Solve the Langford problem, he has way too much power, that should reside with the CC. (sic)
• • •
Del Rey Oaks is not out of the woods yet, but it's clear that a cultural shift is afoot at City Hall, and that more major fallout is coming. City Council is trying to make it a safe and respectful workplace, and a city where residents can freely and respectfully voice their opinions.
Less clear is how much influence the "dogs" will continue to have.
Yet in a sign of what is to come, striping to slow traffic on Carlton Drive began Feb. 13 – the same day Langford announced his retirement.