THE NATIONAL WEATHER SERVICE'S STATION IN MONTEREY OPERATES 24 HOURS A DAY, 365 DAYS A YEAR, MOSTLY OUT OF SIGHT. While someone from the team of 24 meteorologists is always on, interpreting data to predict what's coming – often moderate, pleasant, 60-something-degree conditions – sometimes the weather forecast shows the potential for severe, even life-threatening weather. In those times, such as the series of storms that pummeled the West Coast in late December and early January, the team at NWS' Monterey office suddenly becomes more prominent, issuing warnings about safety when it comes to high winds, hot temperatures, dangerous ocean conditions and more.
Meteorologists embed with incident management teams on wildfires, deployed to wherever they are needed in the country, to give weather updates. They may be asked to embed with a county office of emergency management, or to give weather briefings that influence all sorts of decisions, such as whether to close roads or, for the Federal Aviation Administration, airport runway plans.
Brian Garcia is the warning coordination meteorologist for the National Weather Service's San Francisco Bay Area/Monterey region, comprising 11 counties from Napa to Santa Clara to Monterey, home to a population of about 8 million. He deployed to San Francisco to team up with its emergency operations team during some of the most intense January conditions, and says in one day during the deluge, the team did 19 briefings for emergency officials. Calls come in overnight, particularly during severe weather conditions.
The regional NWS office has been based in Monterey for 29 years, on the U.S. Navy's annex property behind Monterey Regional Airport, next door to the Navy's Fleet Numerical Meteorology and Oceanography Center (the main Naval Support Activity Monterey installation is where the Naval Postgraduate School is located). The Weather Service relocated here in 1994 after its lease in Redwood City was up, and inked a 30-year lease with the Navy for $1 a year; that lease was just renewed last year for another 30 years.
The walls of the Monterey office are flanked with framed photos taken by meteorologists of various sites within the region, and all say something about the weather: cattle grazing in clear conditions on Mount Toro, vineyards in South Monterey County, flooded streets near San Jose in 2017, pellets of hail 6 inches deep on the beach in Marina in 2000.
"They are pictures of weather, but they are more a reminder of the population we serve," Garcia says. That includes roughly 8 million people, as well as eight airports, MRY, SFO and SJC among them.
The National Weather Service has been serving the public since 1872 when it was established by Congress and signed into law by Ulysses S. Grant. While the speed at which the measurements are collected and reported has changed, the premise remains the same: Take records like temperature and precipitation, and based on data, predict what is coming next.
Today, the Bay Area region's NWS office relies mostly on a supercomputer in Silver Spring, Maryland for data. A satellite dish out back, outside of the Monterey airport, takes a feed and real-time weather information shows up on monitors inside, alongside local news and the Weather Channel. Supercomputing means there's not much data collected onsite, and the area known as the "instrument garden" is largely defunct.
It's all relayed to the public in the form of a weather forecast, including a narrative written by a rotating staff of meteorologists. On Feb. 13, as cold temperatures settled in, it offered some advice: "Dress in layers and wear a hat that covers the ears. Pay special attention to children and the elderly, who are more vulnerable to the cold."
By Jan. 31, when Garcia and his crew have had enough time to catch their breath and invite the Weekly for a tour of the NWS office, there's still a Christmas tree standing, a sign of how much they had to hustle amid the winter storms. "Now it's a Valentine's Day tree," says Warren Blier, science and operations officer.
Blier and Garcia spoke to the Weekly about what goes into predicting the weather, and how the world of meteorology is changing.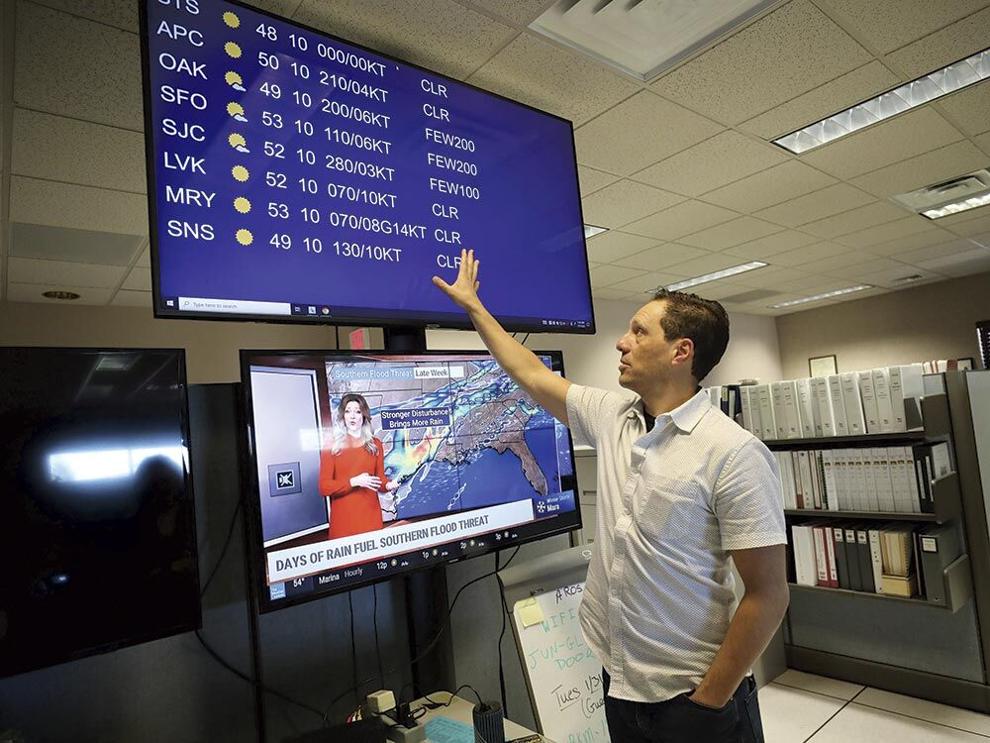 Weekly: The weather forecast is one week out at a time. Why one week?
Blier: It has to do with how we forecast the weather and what we are capable of.
Years ago, I would talk to students and say, "You want to cut school and go to the beach tomorrow, how do you make the decision?" It used to be, "I look at the newspaper." Now it's, "I look at the app."
Underlying that nice, friendly customer view is ultimately a problem of geophysical fluid dynamics – it's taking the three-dimensional atmosphere around the planet, cutting it up into little pieces, defining the initial state of those billions of little pieces at a time and recalculating the structure of the atmosphere into the future.
One of the things is probability. This takes really high-end supercomputing capacity to do. It's something referred to as the butterfly effect – the idea that a little change in something can have a big impact as you go out in time.
There is nothing to that – whether or not a butterfly flaps its wings is not going to have an impact. We are making numerical approximations, going out into the future. We don't know what each molecule is doing and is going to do.
Isn't there a longer-term understanding though, seasonally, of what the weather is going to do?
Blier: In September or October, people say, "What's the winter going to be like?" We look at things like El Niño, cycles in the atmosphere. But there's no real way to tell.
When you consider the complexity and all that's going on with it, I would think people would be impressed that we can predict the weather two or three days from now.
Garcia: If we were doing what we're doing back in the days of the Salem witch trials, we would all be burned at the stake.
It seems there might still be difficulty in maintaining public trust. If you forecast conditions that are different than what actually happens, does it make people skeptical? Is there too much caution?
Garcia: Going into Jan. 4, the media really picked up on the term bomb cyclone. It's a rapidly deepening storm that has potentially large impacts.
We highlighted that storm pretty hard with wind and rain. We give ideas, like: If you don't have to travel on that day, don't travel; if you have the ability to work from home, work from home.
We had trees down, and power outages. We started getting messages on Twitter and Facebook saying, "This was a dud, this didn't pan out the way you guys said it would."
But when I was driving home to Santa Cruz that night and there was nobody on the road, I was like, "Yes, people heeded the warning."
We had one death that night in our service area, in Sonoma County where a tree fell on a house and killed a 2-year-old.
That's because people did stay home and heed our warnings. It's hard to quantify lives saved.
I am not going to worry about crying wolf when the potential impacts are huge. We are not talking every year, every other year – it's for extreme events. It's not crying wolf at that point, it's giving a plausible worst-case scenario.
Do you think people are more or less skeptical of weather forecasts today than through history?
Blier: In the 1860s, Admiral Robert FitzRoy [of the British Navy] became the first to issue daily weather. Prior, it was "foretelling the weather." He transitioned to "forecast." London, interestingly, is a tough place to forecast the weather.
How has weather forecasting developed and changed?
Blier: It's cool how far this field has come in such a short period of time. You need to have standardized weather instruments at various places, all sending information to a place to be measured. Prior to the invention of the telegraph, there was no way to do that – the Pony Express was just not fast enough. You needed some way to communicate across vast distances.
We think now that the idea of standardized time across the planet has been the way it's been forever, but it hasn't. In the 1800s, every town had its own definition of what time was. FitzRoy really pioneered that.
Your focus is in Central and Northern California, but to forecast what is happening here, are you looking at the entire planet? Where does our weather come from?
Blier: The basic flow is west to east. Generally, it is more significant what's going on to the west of us than what's going on to the east of us.
If you were to go back in time before weather satellites, the Pacific Ocean was a big black hole. It was an extraordinary moment when the first weather satellites were launched. Before that, it was as if everyone was blind.
Garcia: I get jealous of the East Coast sometimes. They get a couple of days. We're looking through foggy goggles and they're looking through sunglasses.
Blier: With satellites, suddenly you could see what everyone looked like. We could see the face of the weather – it was stunning.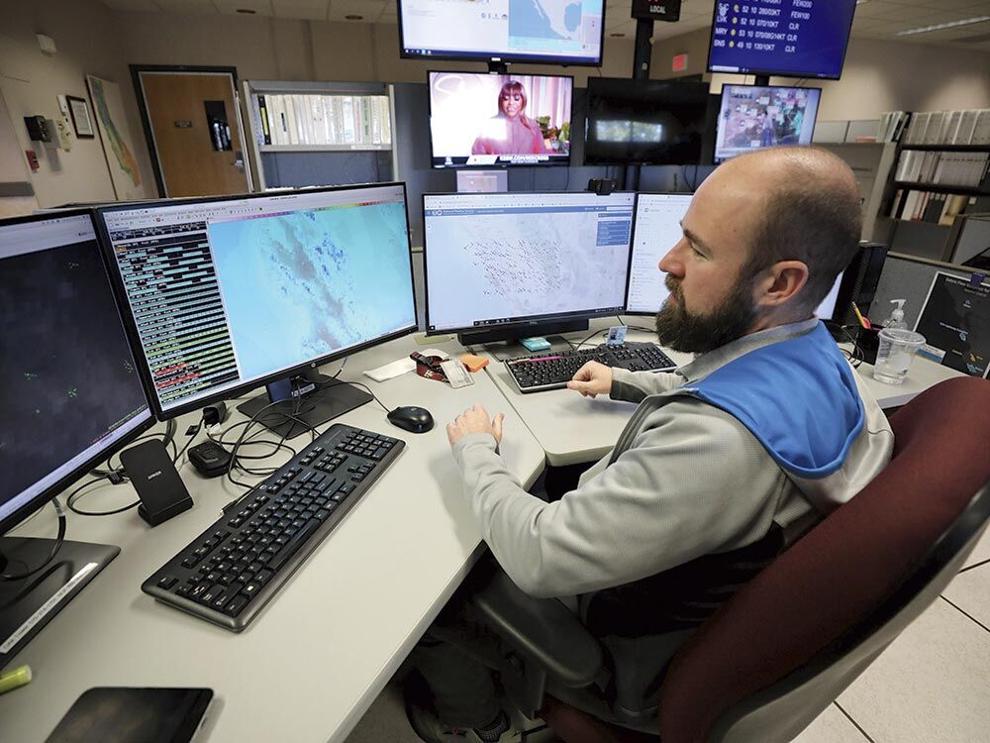 How much does climate change impact your modeling?
Blier: It is important to understand the distinction between weather and climate. Climate is the statistics of weather over time. There is some evidence that as a result of climate change in general, somewhat more extreme weather is occurring. I'll leave it at that.
Let's say, for example, that kind of event that we just had, three weeks of heavy rain, may be a once-in-50-year event – maybe with climate change it becomes a once-in-25-year event. Really what we are doing, day in and day out, is forecasting the weather out the next seven days. That's not to say climate change isn't significant, but the role we are doing here is relatively limited.
Climate change is obviously a politically charged issue, but what about weather – is there a political tenor to it?
Garcia: There is actually a very bipartisan feel to weather, which is nice. Weather is a shared experience among everyone on this planet.
Is there "good" weather or "bad" weather?
Garcia: We have to be careful about what we call good or bad. We get really excited when we see severe weather, because intellectually it's stimulating to us. Whereas, in the general population, severe weather can have dramatic impacts. It's in the eyes of the beholder. It's ultimately all weather.
Blier: We might say something like "pleasant weather," or "a day on which people might enjoy being outside."
It's all subjective. We provide the forecast, you provide the valuation.
Let's talk about the recent winter storms. How do you convey to the public that severe (not "bad") weather is coming?
Garcia: We send out email briefings highlighting weather threats potentially coming in five to seven days. As the threat becomes more impactful, the more critical the forecast becomes. For example, if we are talking more rain in the Salinas River watershed – what's that going to do if the river is already close to going into flood stage?
Our phones were ringing nonstop with media requests. We did everything from the Morgan Hill Times to the BBC. Santa Cruz County had us on calls up to six times a day.
Blier: I counted at the end. We did 19 briefings with emergency management partners in one day, and that's just during waking hours. Overnight, we continued to get calls.
There was a lot of emergency messaging to the public and the press during those storms. How do you relay the weather forecast to the decision-makers who might take steps like closing roads?
Garcia: Having a meteorologist in areas of highest impact is critical for us to accomplish our mission, which is simply protection of life and property.
[During the recent winter storms] we had a meteorologist embedded in the Monterey County Department of Emergency Management. Ultimately what they message is up to our partner agencies. What we message is the data: "OK, here's what the forecast is."
At times, we will be shoulder to shoulder, talking about a worst-case scenario [like the December-January storms]. This doesn't happen every year – and even if it doesn't happen this year, which it didn't – this is a great opportunity to exercise your personal response to a disaster. It is an opportunity to really get the attention of the public around here, and say, this is a plausible worst-case scenario.
You also deploy meteorologists to other places during extreme weather, where staffing is needed.
Garcia: Matt Mehle from our office volunteered to go up to the Tubbs Fire in 2017. A typical deployment is two weeks.
It might not be wartime PTSD, but there is legitimate weather PTSD. I was in the Sonoma County [Emergency Operations Center] in 2017 after the Tubbs Fire killed 22 people. I went back into the EOC eight months later, and felt every bit of it – I almost lost it when I walked in.
When people talk about weather, whether people say "thanks" or "hey, you guys suck," our staff feels it all. At the end of the day, we're human. We get worn out as well. One of the important things to remember is we live here too; we are just as impacted by the weather.
After all that rain in January, is California still in a drought?
Garcia: There is a difference between long-term and short-term drought. Larger redwoods aren't back to 2005 conditions, since the 2012-to-2016 drought. It would take sustained years of above-normal precipitation to recharge aquifers to help give large timber the chance to be healthy and saturated again.
What's your favorite weather movie: L.A. Story or Groundhog Day?
Garica: [No hesitation.] Twister.
Do you have a favorite forecast?
Garcia: I got into weather because of surfing. I wanted to know where to surf and when.
So my favorite forecast is light offshore winds with nice, clean swell rolling in. I don't care if it's sunny or cloudy.
Blier: I don't have favorite weather, I just watch the weather.
Meteorology is a field that seems to attract an unusually large number of people who, for whatever reason, are absolutely fascinated by the weather going back into childhood. I don't know why, but going back to early elementary school days, I liked all things that had to do with science and nature, but I always had this particular fascination with weather.