Day 1
Bird's the Word
Start your morning in North Monterey County, in the peaceful Elkhorn Slough National Estuarine Research Reserve. There is a lot of plant and animal diversity – not to mention scenery – to explore in this tidal marsh, by boat or by foot. But we recommend turning your gaze to the birds. There are more than 340 avian species that call this place home.
Here's a secret about birding: It's an activity that's available to anyone, any time, anyplace, no fancy binoculars required (though they do help). Even experts like Amanda Preece, environmental advocate for the Monterey Audubon Society, agree. "Birds are literally anywhere and everywhere all the time," she says. While so-called charismatic megafauna – bigger creatures, specifically mammals – often draw our attention, birds are always doing something. You can watch them fly, hear them sing, see them skitter about and gather food or nesting material. Maybe you get lucky and see a raptor hunt. You can observe a ton of drama play out in the animal kingdom without breaking a sweat. Plus, learning to appreciate bird life is its own reward that translates to every day: "It's like mindfulness," Preece says. "I might be stressed and then I see a bird and have a moment connecting with this little creature."
It's a good thing to get started early. For one thing, you have a big adventure ahead of you with a lot of ground to cover. For another, birds are especially active early in the morning, and the light makes it easier to see what they're up to. As they say, the early bird gets the worm. [SR]
Elkhorn Slough, 1700 Elkhorn Road, Watsonville. Free. 728-2822, elkhornslough.org.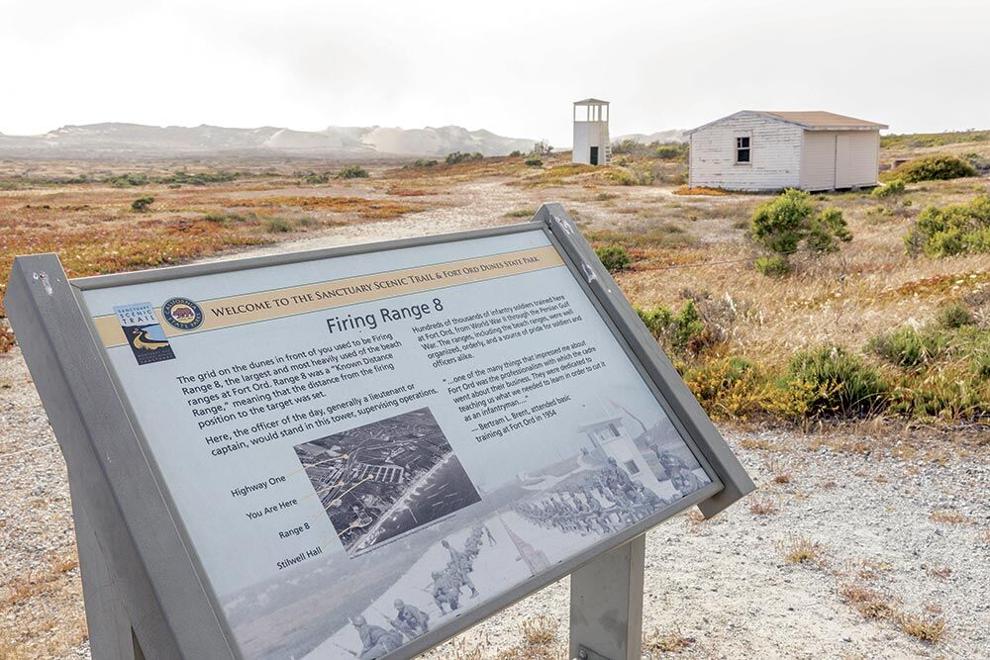 Military History
There's a rugged beauty to the dunes and beach stretching south from Moss Landing all the way to Monterey. Check out Fort Ord Dunes State Park for four miles of trails (and unlimited beach walking) and classic coastal scenery, plus eerie remnants of Fort Ord. Eight interpretive signs invite visitors to learn about military history and see what old buildings – like the firing range or storage bunkers that contained volatile ammunition – looked like. This is also a spot to see (and learn about) the many animals that inhabit this ecosystem, such as legless lizards and snowy plovers.
Additional information is available at each sign location; just dial 998-9458 and enter # or visit bit.ly/FortOrdDunes to go deeper into your education. Or, if you prefer, just go for a beach walk or a bike ride along the paved Rec Trail portion of this park. Note that dogs are allowed on-leash and on trails, only. And bonus: A campground is planned for this state park, so someday soon you'll be able to spend the night. [CJ]
Fort Ord Dunes State Park, Lightfighter Drive west of Highway 1 (accessible via an overpass from 9th Street), Marina. Free. 649-2836, bit.ly/FortOrdDunesSP.
On Wheels
After that, it would be a great time revisit – or discover – perhaps what is the most sublime coast live oak forest in the world, which is in our backyard also located on the former Fort Ord, where stately oaks are draped with lichen and serve as reminders of the landscape that once blanketed the local coast (Roberts Oak, which was believed to be world's oldest coast live oak tree at the time, once stood where the Seaside Home Depot's Garden Center now sits). One can relish in the flora on foot, but arguably the best way to explore is on a bike, as there are several trails braided throughout Fort Ord National Monument that will take you through all of its majesty. Mountain biking gives you access to more of the 86 miles of trail on these 7,200 acres, but you can also explore a lot on a road bike thanks to a network of paved roads that remain closed to traffic.
There are dips and curves, but if you launch from 8th Avenue and Gigling Road in Seaside – the gateway to Happy Trails, as the area is known – there aren't a lot of hills and the trails are mostly level. Alternatively, set out from the Creekside Terrace Trailhead along Reservation Road by Highway 68 and explore one of the world's largest swaths of maritime chaparral, and the numerous canyons on the national monument's southeast side. Or, start rolling at the end of Eucalyptus Road in Seaside, which opened up to cars (so you can now park at its terminus) for the first time ever May 21, providing Seaside residents with more direct access to this local treasure. [DS]
Fort Ord National Monument, various access points in Salinas, Marina and Seaside. Free. 582-2200, blm.gov/visit/fort-ord-national-monument.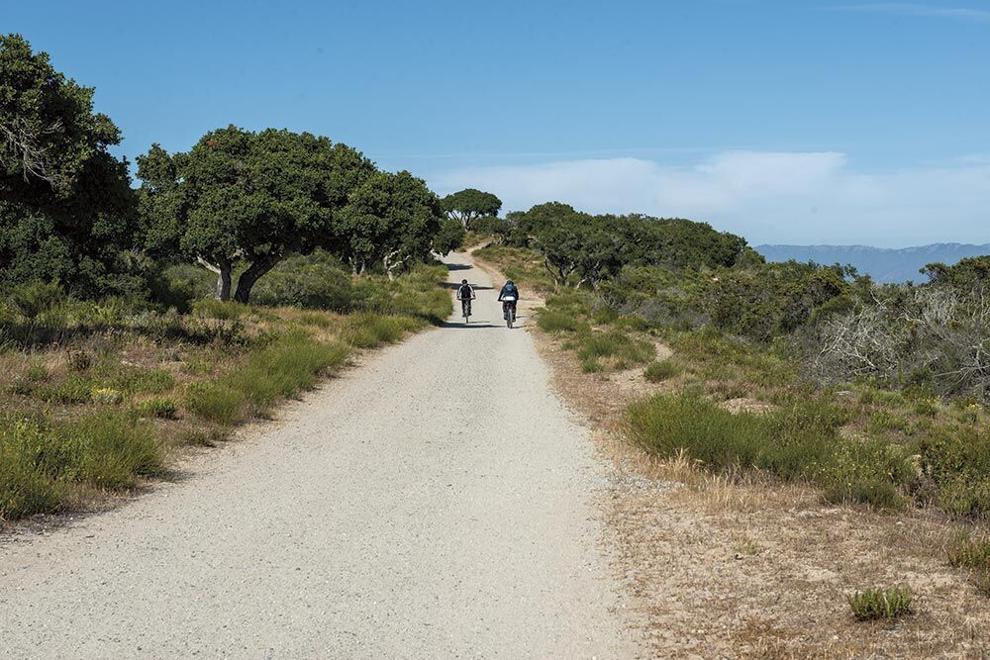 Lunch Break
Toro County Park is a gem. It's just six miles from downtown Salinas, but it's a sprawling 4,756 acres with 20 miles of trails on steep terrain offering excellent views – but you're not here to hike today, given the rigorous itinerary you are on with other activities that will work your legs. Instead, enjoy some of the other popular amenities at this well-loved park, and take a break and have a picnic. Toro Park is home to playgrounds, softball fields, horseshoe pits and volleyball courts – and a gorgeous, massive picnic area below all those steep trails. There are hundreds of picnic sites here, conveniently situated for lawn games (or a nap on the grass). Bonus: As of 2021, most county parks are free to enter. [SR]
Toro Park, 501 Highway 68, Salinas. Free. 755-4899, co.monterey.ca.us.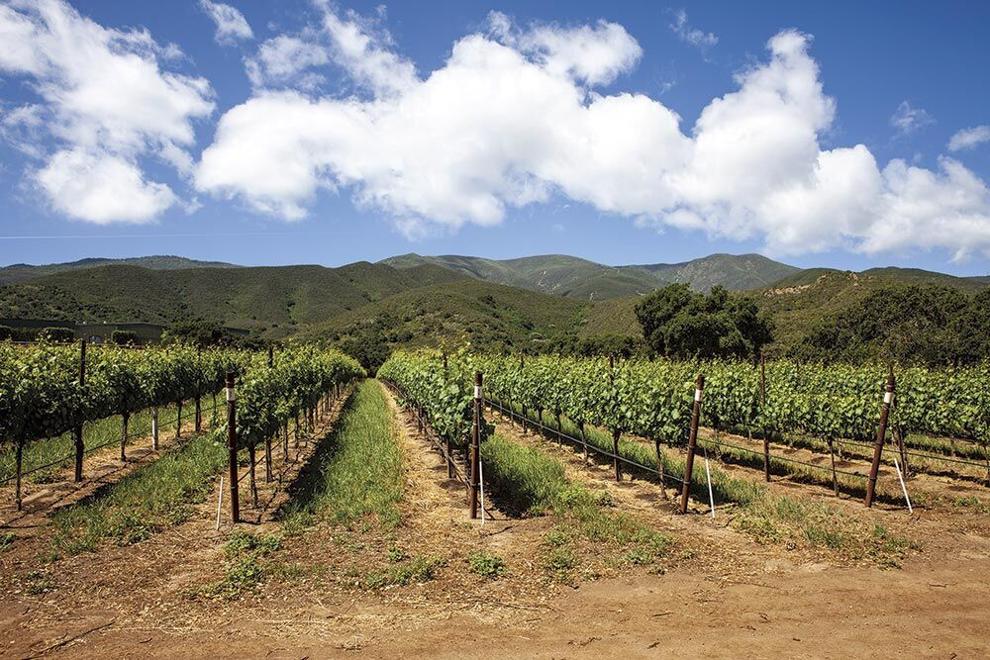 Down by the River
This section of the day tour could all too easily become an itinerary-buster. Once you set about cruising the River Road Wine Trail, the hours fade – but by now, you need a break from being on your feet.
There are about a dozen wineries, most with tasting rooms and areas to relax and take in the vineyard scenery. One stop might be a tasting room tucked into a dressed-up barn. Another might feature an elegant deck with entertainment. Odonata is the first winery heading south and is an obvious place to sketch out a plan. Rustique is next on the route. The storied Chalone Vineyard, to the east, is your last stop before arriving at Pinnacles National Park. But with a schedule of the essence, it's perhaps best to set upon some must visits and drop in on the rest another weekend. Wrath Wines, Hahn Estate, Cru Winery and Scheid Family Wines allow you to enjoy the great outdoors, wine-tasting style. If you can fit in Joyce Estate, do so.
River Road and its offshoots ride the Santa Lucia Highlands bench through the Salinas Valley. It's a strip of land on which coveted varietals like Pinot Noir thrive. Along the trail there are award-winning Pinots to sample. And Chardonnays from the region take on a rich, toasted pineapple note, making them equally desirable. Syrahs are another focus. But there are many other wines to try, including standout sparklers. At some wineries you're likely to bump into the winemaker and become caught up in conversation – quite a departure from the hustle of more urban tasting rooms.
Pack snacks and be willing to wander, and to revisit. And maybe grab an extra bottle for your night under the stars. [DF]
Various points along River Road, from Chualar to Soledad. Tasting prices vary. Map at riverroadwinetrail.com.
Park Peak
From River Road at Soledad, travel across Highway 146 into the Gabilan Mountains to reach Pinnacles National Park, where you will find a different side to the local natural beauty. The former national monument was given national park status in 2013 under then-President Barack Obama – and among many natural wonders, it remains Monterey County's only national park.
There is no road that cuts across the roughly 27,000-acre park, so for a day trip, you will have to choose either the east or west entrance. The route from Soledad will place you at the west entrance and give you access to a range of trails. High-endurance hikers can take the High Peaks to Balconies Cave trail, a 9.5-mile loop that achieves the elevated vistas and the claustrophobic squeezes through dark caves that this park is known for. Those looking for a quick taste (advisable in this itinerary, after a wine-tasting stop) can try the one-mile Pinnacles Overlook trail.
While a flashlight is necessary for the cave trails, binoculars are a must-have everywhere else, as you never know when you might be graced by the presence of a California condor. How will you know? Turkey vultures have white feathers under the backside of their wings, while the white on the underside of condors line the front end of their wings, appearing to form a white triangle on each side. [CN]
Pinnacles National Park, Highway 146, 14 miles east of Soledad. $30/vehicle entrance fee; $15/bicycle or pedestrian. 389-4486, nps.gov/pinn/index.htm.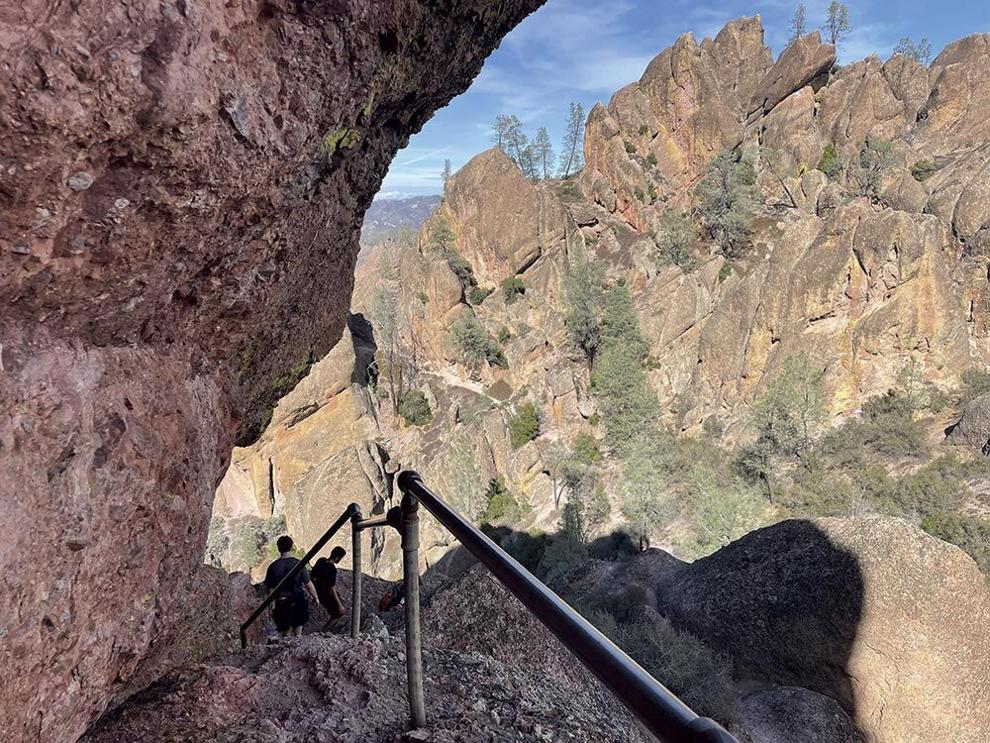 River Run
Arroyo Seco feels like an oasis, as the weather is several degrees warmer than on the coast, and is protected from the wind chill that sweeps through the Salinas Valley on summer afternoons. There is an array of fishing spots and swimming holes along the river and, for the adventurous, an opportunity to hike up the gorge then run the river on a tube, or even without one – wetsuit only. There's also a mellow river beach just as you enter the day-use area.
Arroyo Seco also offers a large, well-appointed campground where we suggest you post up after an active Day 1. And after waking up in your tent on Day 2, you can just hang by the river, or hike upriver from the campground, where there are numerous offshoot trails to several glorious destinations in the Ventana Wilderness that are unique, because of the aridity of the local landscape. After exploring, jump back in the river to refresh.
It wouldn't be fair to say Arroyo Seco is an unappreciated gem – people flock to it in the warmer months – but it's probably not appreciated enough. Enjoy, chillax, and take a dip. [DS]
Arroyo Seco Recreation Area, Arroyo Seco Road, 20 miles west of Greenfield. $10/day use; $30/campsite. 242-0619, bit.ly/ArroyoSecoRecArea.
Day 2
Tree Canopy
After frolicking in the heat at Arroyo Seco, what better place to hike next than along a creek among the cool redwoods. Head down Carmel Valley to Garzas Creek in Garland Ranch Regional Park – a little bit off the beaten track – and follow the signs to Garzas Canyon Trail. After climbing the biggest hill, settle into a four-mile loop that starts off winding through oaks along the river. Look for the signs to the Redwood Canyon Trail and dive into the cool redwood grove, stop and gaze up to admire the graceful beauty of these impressively old, large trees. You'll cross several bridges over the river and, like all trails in Garland Park, this is dog-friendly and the river offers some cool-off spots for your pup. While your canine hiking buddy is splashing about, sit for a spell and listen to the sounds of forest; this is a peaceful place that feels a world apart.
To close out your loop, continue back to the Terrace Trail and reflect on the calm feeling that comes from hiking among tall trees. [KL]
Garland Ranch Regional Park, 700 W. Carmel Valley Road, Carmel Valley. Free. 372-3196, mprpd.org/garland-ranch-regional-park.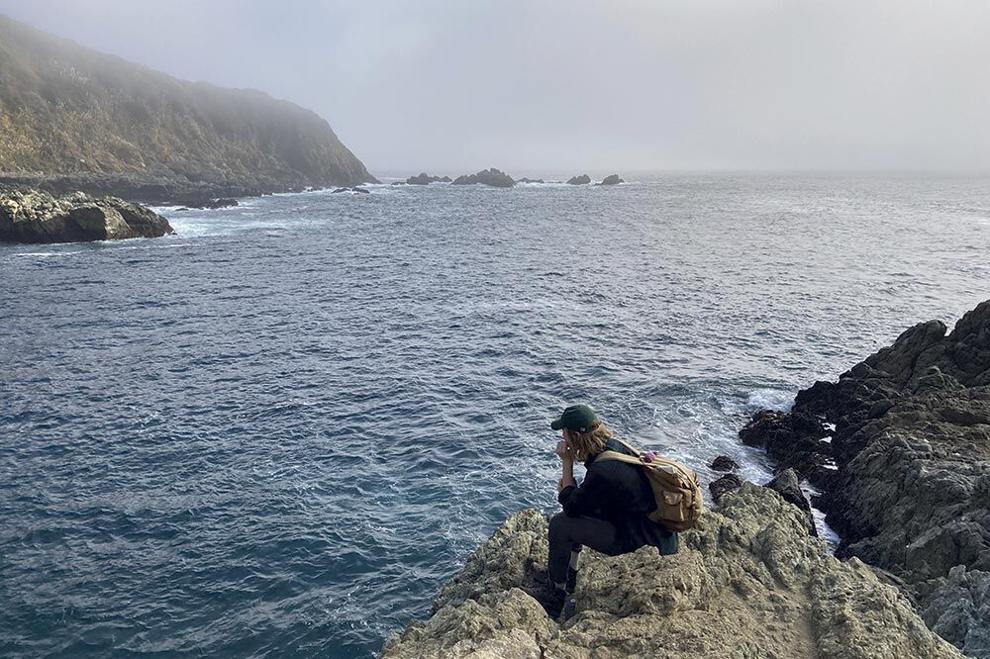 Edge of the Earth
With a couple of short hikes already under your belt from the morning, it's time to enjoy some sights via automobile, and there are few, if any drives in the world that can match the beauty of Highway 1 south from Carmel through Big Sur. Famed author Henry Miller said it best when he described Big Sur as "the face of the earth as the Creator intended it to look." From the comfort of the car cabin you can witness the dramatic ménage à trois available only at the western edge of the contiguous U.S. – California's towering, green and rocky cliffs introducing themselves to the blue infinity of the Pacific Ocean below and sky above.
Although mesmerizing from the car, the landscape begs to be experienced on foot, and the short half-mile loop down to Partington Cove offers an easy taste of Big Sur's geological beauty. The hike begins right off of Highway 1. The first reward is the refreshing air that greets you as you reach sea level. The ultimate payoff, however, is on the other side of a narrow, dark, human-made tunnel supported by a network of wooden beams, which leads to a rock jetty that puts you sea level with the roaring Pacific Ocean, surrounded by the rocky cliffs you see from Highway 1. This is an easy-access way to experience the essence of Big Sur. And it's a perfect spot to bring a packed lunch and book before you continue the rest of your journey. [CN]
Trailhead located about 14 miles south of Andrew Molera State Park on Highway 1, across the highway (west) from the Tin House Trail. Free. fs.usda.gov/lpnf.
Seeing Stars
The 44 campsites nestled in a grove of towering Monterey pines at Plaskett Creek are incredibly popular, so here your adventure will require a little advance planning (a good dose of flexibility helps too). But let's say you have a spot secured. Congratulations! You'll arrive in the afternoon, and set up camp, hammock recommended. You'll prepare a camp dinner and maybe break open a well-deserved bottle of wine (or beer, or sparkling water – whatever sounds most refreshing to you). You'll watch the sun go down, and the sky turn orange and yellow and purple and pink. And then the light will fade and before you know it it'll be dark – a kind of inky black darkness that only exists in remote places. Head across the street to Sand Dollar Beach and find a dry patch of sand, then lean back, train your ears on the undulating crashing of the waves, and take in the night sky in all its glory. There's nothing quite like stargazing in Big Sur, where, on a clear night, the lack of light pollution allows an almost overwhelming array of stars and planets to be seen. There are apps that can help you identify the constellations if you're into that sort of thing, but there's also something magical about not knowing, really, and wondering instead. [TCL]
Plaskett Creek Campground, 69345 Highway 1, Big Sur. $35/campsite. 242-0619, bit.ly/PlaskettCreekCampground.
Day 3
Ebb and Flow
It's morning on Day 3. You've got another big day ahead, so pack up early and hit the road. There are benefits to being on Highway 1 first thing – the morning light makes even the most rugged cliffs appear soft, and you're unlikely to encounter many tourists. Wind your way north along the coast's many curves. Pull over and stop in pullouts that are usually overrun. But don't dally too much – your schedule is bound by the time of the tides. Specifically, you're trying to hit Ribera Beach in time for low tide. Park on the northern end of Monastery Beach, or near the red schoolhouse, and walk north on the coastal trail. Around a couple of corners (keep an eye out for the small rabbits that inhabit the coyote brush/poison oak thickets on either side of the trail) you'll find the beach.
The scene is beautiful at any time, but at low tide the rock formations that lie between sand and sea make for excellent tidepooling. Look around (gently!) and get a glimpse inside the lives of red and yellow starfish, blue-green anemones, hermit crabs of all sizes and more. There is a magic to seeing the ocean anytime, but there's another layer revealed when the ocean recedes and the colors and biodiversity reveal themselves. Tread carefully to avoid crushing fragile critters underfoot. [TCL]
Ribera Beach (part of Carmel River State Beach), accessible from Carmel Meadows Trail at 27448 Highway 1, Carmel. Free. 649-2836, bit.ly/CarmelRiverStateBeach.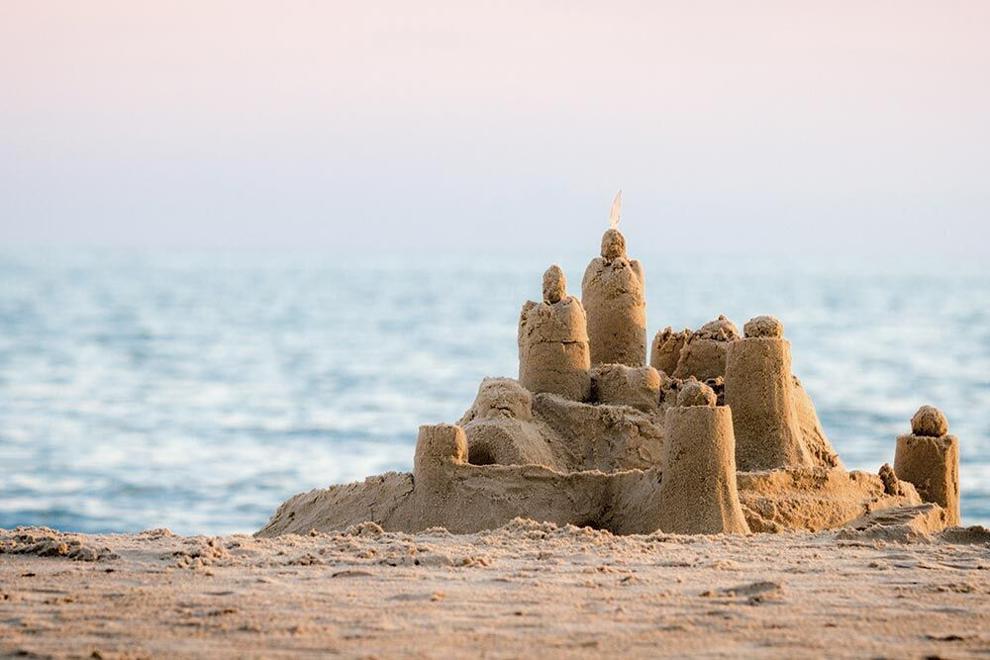 Sand Art
In your whirlwind tour of Monterey County, take a breather on Carmel Beach and just try to not dig your hands in its famous white sand, home to the annual Carmel Sandcastle Contest. It's almost a primal urge to plunge your fingers into the beach below and experience the cool grains of sand between your fingers. The next human impulse invariably is to take those sticky grains and start mounding them into castles or other fanciful shapes.
Kids instinctively start digging and mounding, but even if you don't have kids in tow, it's a great excuse to let your inner child engage in some play through sandcastle building. All it takes is a pair of hands, but if you really want to be ambitious, bring along a few tools to help with construction and sculpting.
Popular Mechanics asked sandcastle building pros what they use, and some of the recommended tools include the expected, like a bucket, garden shovel and a trowel, but they pull from the kitchen as well. Spatulas, icing spreaders and melon ballers or teaspoons can all be used for finer decorating.
Once at the beach, use the bucket to scoop up ocean water to moisten the sand so it will stick together. The pros recommend starting by building a volcano shape first, creating a bowl at the top, then filling the bowl with water and using your fingers to punch holes in the sand to let the water settle into and compact the base. That gives you a solid foundation from which to construct your castle. Let your imagination take over and add all the turrets, spires, windows and passageways you want. Don't forget the moat.
When you're done, take a photo to remember your creation and then either leave it for the waves and wind, or smash it like a giant stomping through the kingdom. It's up to that child inside. [PM]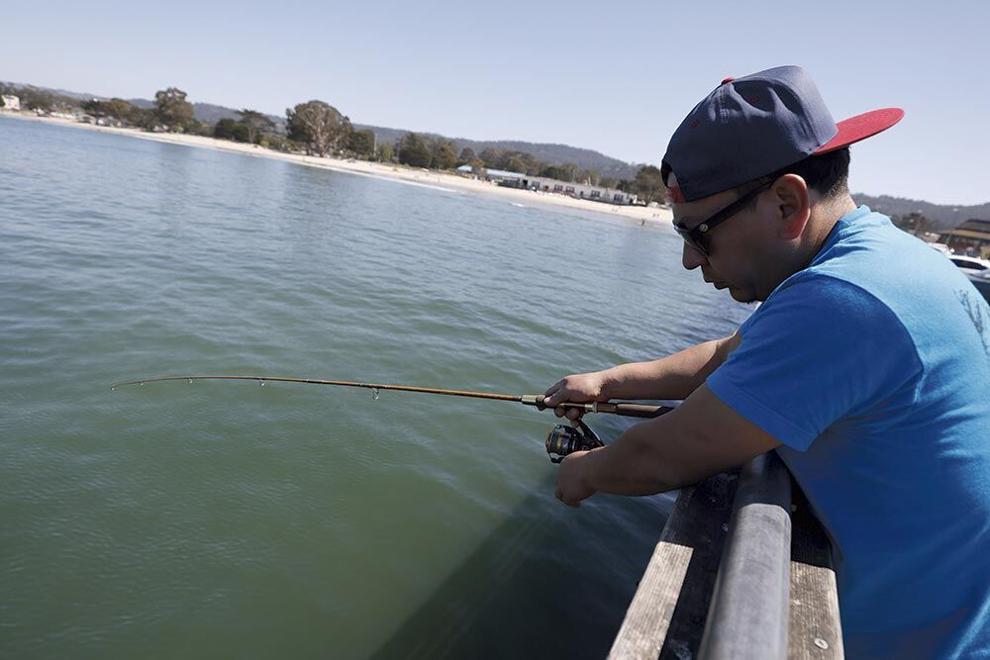 Go Fish
All you need is a fishing pole and a lot of patience to perhaps catch tonight's dinner (if you are lucky, you will be cooking fresh fish over a fire tonight). If you're not lucky, you still get to hang out outdoors and take in the scene. On Wharf 2 in Monterey, the scene includes a lot of regulars. On a recent day, Ruben Gomez of Salinas is catching a sardine every couple of minutes. Meanwhile, just a few yards down the wharf, Randall Cunningham of Cachagua is catching absolutely nothing, although he comes here roughly every other day. "Just to pass time," he says. "I just kick back and drink a beer." Not a bad way to soak in the outside.
Note that no fishing license is required from a public pier in California, but if you want to take your rod elsewhere, you will need to get a license. Good luck, and if all goes right, enjoy your catch. [SR]
Under Water
Stay on the coast and head to Pacific Grove to get off the beach and into the water for some snorkeling in Otter Cove. You can take a stone staircase from the road down to the water, where a wetsuit is recommended. If you've got a snorkel and weight belt and flippers, you can swim deeper and see more – but a simply pair of goggles and swimming freestyle will also give you an excellent view of the plant and animal life in the Monterey Bay National Marine Sanctuary, known as the "Serengeti of the Sea."
While you are required by law (and common sense) to keep a wide distance between yourself and marine mammals, part of the adventure of getting underwater is to see the smaller creatures – the kelp forest, fascinating invertebrates, over 525 species of fish – that are invisible from shore. Soak it up during your underwater safari. [SR]
Perkins Park, northwest of Lovers Point, Pacific Grove. Free. cityofpacificgrove.org.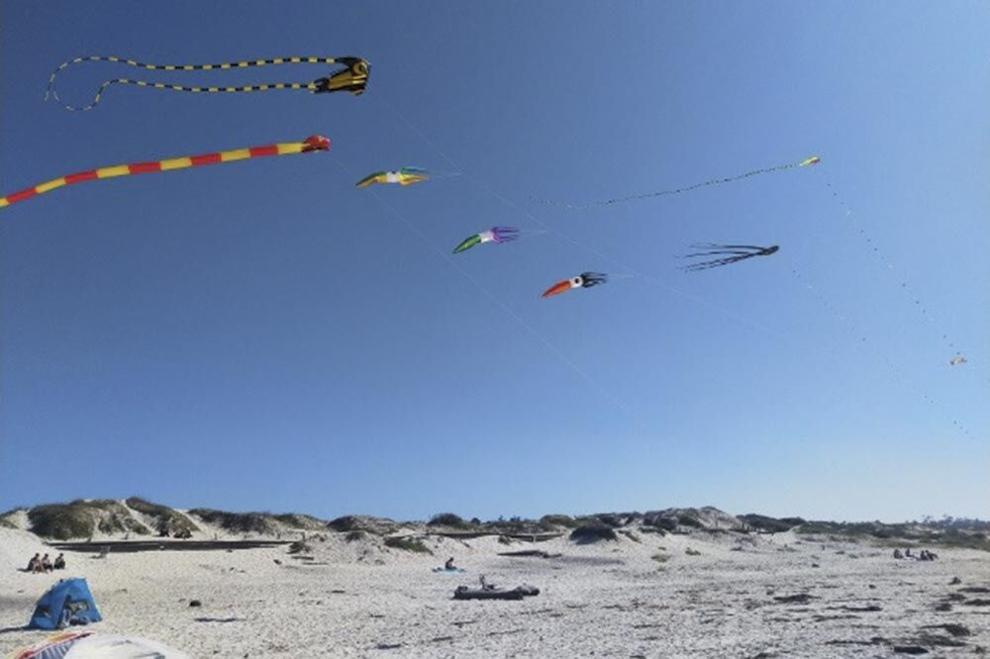 Go Fly a Kite
One way to merge childlike joy with physics is also a great way to maximize the often-windy coastal conditions of Monterey County: Fly a kite. You can use a simple, affordable entry-level kite (experts recommend starting with delta-style kites, those shaped like triangle), and all you need is a little wind. Long-time kite enthusiast Glenn Mitchell, who got his start in kite-flying in Monterey in 1985, says that if you need to run to get lift-off, you're doing it wrong: "If the kite cannot be flown out of hand, or pulled into the air with strong tugs, then maybe it's a better day to go swimming."
As you get more advanced, you can get more extravagant with kites, offering an embellishment to already-beautiful scenery. And as Mitchell says, you can feel nature while flying a kite: "You feel a connection to nature because of the wind force that's transmitted to your hands down the line – you have a physical connection there."
We recommend heading to the edge of the Monterey Peninsula, Asilomar State Beach, a popular spot for kite-flyers, but this is something you can do anywhere with a little bit of space. [SR]
Asilomar State Beach, Sunset Drive, Pacific Grove. Free. 646-6440, bit.ly/AsilomarStateBeach.
S'mores O'Clock
While it takes some effort and thinking ahead, it is still OK to have a classic beach bonfire in certain places on Monterey County beaches, usually in official, designated fire pits. No state beaches allow fire, but fires are allowed in select areas of Monterey, Pebble Beach and Carmel.
Fire has a mixed rep in California, devouring our forests like a wild beast, but it is also the element that gives us cooked food, that illuminates and purifies and represents the heart of home. It has been celebrated on California beaches for decades, offering light and warmth of chilly nights (even in summertime) and it is still a perfect ending to the day of outdoor adventure.
You will need your own wood, so designate who will carry what. Check if the person who insists on bringing the guitar knows how to play it, and don't forget matches. Pack food and drinks; consider blankets. Most fire rings are first-come, first-served. The key is to keep your fire under control and do not bury embers – an unsuspecting beach walker may burn themselves. Instead, douse your fire with water and make sure you've removed all litter – the beach should look at least as pristine as it did when you arrived.
Warming up your face while the ocean behind you is getting colder and colder, feel free to marvel at the power of evolution that allowed for an ape to become a human, and an Italian meringue to become a marshmallow. And then, a human and fire created s'mores. [AP]
Several beaches in Monterey County, including southern portion of Asilomar Beach, Pebble Beach. Free. Check local regulations first.