---
---
FIRST PLACE
Truth or Lie
Today was a weird day. I ate a salad, then I killed six men. I then robbed a bank. I crashed a car on the run from the cops and killed a family. Just kidding, how could you believe that? Don't you know me? It's ME! I would never eat a salad. It was a cheeseburger.
Joe Picone, Tres Pinos
SECOND PLACE
Screen Time
Mike couldn't believe his eyes. Everywhere he looked. Everyone was staring at screens. As he walked, he saw a young couple. They weren't talking, but stared at screens. In a coffee shop, he saw a family eating lunch and all stared at screens. Further he walked. A grandma at a bus stop stared at a screen. A guy feeding pigeons stared at a screen. Kids, businessmen, the mailman, all were staring at screens. With a gasp, Mike violently awoke. It was a nightmare, he realized. He reached for his phone and turned on a cat video. Walking is scary, he thought.
Shawn Boyle, Pacific Grove
THIRD PLACE
On Roading
He couldn't remember when he had started closing his eyes on dark highways. It was a game he often played, throwing rocks at God's window, daring the universe to lead the car astray. True believers have always needed God in unholy ways: seconds before a red light turns, in the dripping aftermath of a bar brawl. He felt his wheels drift. Behind his lids, the oncoming headlights blazed violently. He yanked the wheel, coasting into his own lane, laughing to himself. True believers needed fear the way most people need God: in the roaring blaze of headlights, seconds before the unthinkable.
Grace Young, Monterey
FOURTH PLACE
Keeping It Together
As I walked Hanna, my newly adopted 120-pound dog, around Lake Estero, my brother called. I sat on the nearest bench to answer, dog at my feet. "It's ALS, Lou Gehrig's disease," Michael said. "Do you think I could stay with you?" Roaring, Hanna flew past, attacking a dog walking behind us. My hand, tangled in her leash, flew against the back of the bench, pinned. I felt the leash, burning, pull through my fingers. "Noooo!" I yanked her back. My hand freed, I looked down. One finger was dangling loose.
"Hello?" from my phone. Everything was falling apart.
Susan C. Morse, Carmel
RUNNERS UP
Meet the Makers
"Will you ever forgive me, baby?" He once told me men paint pretty girls on fighter jets because they're afraid to look a killing thing in the eye. He said we name monsters after their creators for the same reason, like Frankenstein after the Doctor. I realized too late he was his own creature and creator. His smile was classified as a weapon, his mugshot a leering grin, wolf eyes wide. On the other side of the glass, he knitted his bulbous, swollen knuckles together, the phone tucked into his shoulder. He was riotously orange. "Depends. Did you kill my sister?"
Grace Young, Monterey
Dream Works
My parents tell me I was born here, in King City, but I don't believe them or my birth certificate. Guadalajara is home. It's an actual city with malls, trains and Costco. But now I'm here in my aunt's trailer, on an empty main street with gas stations and oversized toy trucks. I'm supposed to start school too – I even met a teacher I don't understand. I'd prefer picking tomatoes, though, to make money and leave. Maybe to Salinas after graduating. My older cousin lives there. I hear it has a Costco, and nice beaches, too.
Eddie Cuevas, Salinas
Dumb Luck
I was 16 and I thought I was gonna get laid for the first time, but it didn't work out that way. The stars were aligned, as they say. But the stars didn't take into account my dumbass move of trying to shoplift a pack of Trojans. I'm no thief and I even had the money. But the guy working checkout was in my brother's class and he was a dick. So you can understand my predicament.I explained all this to the security guy who caught me. He wasn't very sympathetic. I don't want to talk about the rest.
Steven M. Beutler, Carmel
Drowning In It
I woke up feeling pretty bad. I groped my way to the kitchen, bloodshot, and fumbled with the percolator, placing it on the stove. I've been accused of leaving what could be done today for tomorrow, or longer, and on this day was greeted by the smell and unsightly architecture of nearly every single dish, pot, pan and piece of cutlery crawling out of my overburdened sink. But, I had a flight to catch in ninety minutes, a hangover to attend to, and a history of avoidance behavior. I carried them all to the bathtub, filled it, and called a cab.
Brian Plonsky, Monterey
Road Kill
First of all, I'm too old to be a SQUID, and second of all, I never would have become one. For those of you who don't ride motorcycles, a SQUID is a derogatory term for an out of control young motorcyclist (Squirrely Kid).I was raised in a generation when Honda's slogan was, "You meet the nicest people on a Honda." Not today. Today you'll find Mohawk-helmeted teens wheelying down the freeway at 70 miles per hour on their fluorescent green Ninjas! Not me. I would much rather be a COD (Cautious Old Dude) than end up asfreeway calamari.
Mike Haugh, Monterey
Countdown
An undisturbed half hour was all she needed. Settling in her favorite chair, she closed her eyes and let the silence wash over her. No sounds to disturb her thoughts, no banging doors, no raised voices – just peace, perfect peace. The peace she had desired for months but never expected encountering again. It couldn't continue of course. Reality would come crashing in and her life would change perpetually. But she still had this half hour. She felt the stress leave her body. Only 25 minutes left now. And then she would call the police and tell them what she had done.
Cailin Templeman, Pacific Grove
Turning the Tables
The aide rushed into the Oval Office and said, "Mr. President, the Mexican government is refusing to accept our deportees! They are prohibiting our air transport flights. At border crossings they refuse our agents transporting the drug sales. The Mexican government says the people we are trying to deport have been 'Americanized' and are no longer Mexican." The President was bewildered, no one had ever defied him as the Mexican government now did. "I will Tweet a response!" He accessed his phone and the screen read, "account deleted."
David Fairhurst, Carmel Valley
In Memory
He seated himself at a table in the rundown cafe, like he had every morning for the past three weeks. Diane poured him some coffee; then he sat there brooding. He looked like a booking photo, unshaven and with an expression on his face that was as bitter as the coffee. It had been awhile since he'd changed his clothes, and he was starting to smell. "Are you going to do it today?" asked Diane. "Maybe tomorrow," he mumbled almost inaudibly. Was he the only widower in the world who couldn't bring himself to visit his wife's grave?
Steven M. Beutler, Carmel
Happy Pills
The shenanigans of the children surface unusually early this morning. I'm tired and frazzled but still manage to get my parenting obligations done.I shuffle the children into the truck for school and as I click the seatbelt for my 5-year-old son, he looks at me with his great big soft blue eyes and says, "Mommy, don't forget to take your nice medicine today!"
Elizabeth Hill, Carmel Valley
Digging Deep
The road crew uncovered a vessel that could phase into the future. A science nerd from CSUMB told him the news. Mike ordered it buried. Further down Broadway they dug up a coffin covered in barnacles and black mold. A pale gentleman was found snoozing inside. He poofed in a wisp of smoke over Goodwill. The excavation crew unearthed a gas canister that made them all invisible during the day. Mike ordered both destroyed. Crews excavated bones near the Del Monte intersection. Hoffa, they said. You never saw it, Mike said. "And people wonder why we ain't finished," he grumbled.
Patrick Whitehurst, Seaside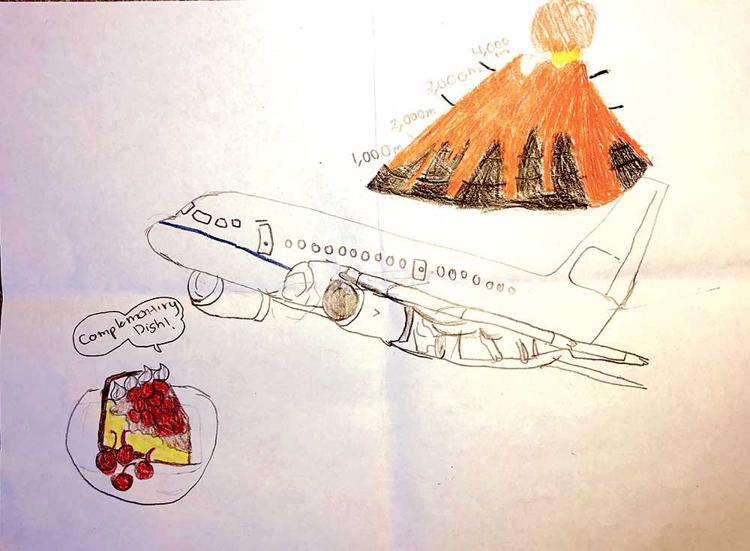 HONORABLE MENTIONS
Stranger Than Fiction
It's John Steinbeck's fault. I intended to stay three years – and that was in 2008. I racked up 100K in debt trying to be a writer, and I was paying it back one horse at a time. I shoe horses for a living. But writing like Steinbeck is my vocation. I'm also considering the priesthood – but that involves a different John. Along the way, I married a woman with a black widow tattoo on her breast. The spider was considerable; she's a 36D. She left me – a real Cathy Trask, indeed. I still have the debt. And it's John Steinbeck's fault.
Jordan Garrick, Big Sur
Cemetery Ceremony
"Plastic is better," Bob stated. "Burlap is natural," said Harry. "And it will decay faster." The burlap,rope,gloves and shovels were in the cart. Nearing the checkout Bob realized he'd be the one doing all the digging.Harry had a bad heart. "Vinnie? You busy?" Bob said into his cell. "We're heading out to Long Island to bury Jennieat Sal's." Bob glanced over Harry's shoulder, catching a woman's eye. Seeing fear fill her face, he realized she had overheard him.Abandoning her cart she ran toward the exit.Bob smiled for the first time since the dog died.
Pat Mahoney, Marina
Ordering In
Deliverance lay fretfully in a high-strung corner of a state of uncertainty that caused its insiders to intone that penetrative outsiders had impregnated Deliverance's theretofore homogeneity and so the insiders cast out all outsiders and thereafter repelled further outcast infiltration by erecting a repellent perimeter partition: so high that no one could ever get over it, so low-sunk that no one could ever undercut it, so impenetrable that the insiders soon realized that not only were they then lacking egress and exposable scapegoats but also they could never again enjoy real ethnic food because outsiders could no longer deliver it warmly.
William Wall, Champlain, New York
Green Revolution
Fed up with inaction on climate change, plants revolted. First they changed color: pink striped pines, orange ivy, blue carrots, etc. Few noticed, so they evolved mobility, leaving their roots in the ground. It made quite a mess of the freeways when larger trees traveled. They surrounded Congress and the United Nations, semaphoring demands with branches, fronds, leaves and tendrils. One politician threatened nuclear retaliation. Kudzu engulfed and groped him mercilessly until he turned all his buildings, including the Russian ones, into planter boxes.
People begged plants to leave some environment for them. The plants semaphored they'd consider it – for centuries.
Jeff Barnard, Monterey
Sneaking Around
He had broken into the big house before, so he knew his way around, even in the middle of the night. The owners had a new security system, but they hadn't turned it on. It was surprising how many people left their alarms off, and it sure made his work easier.He did his job quickly, and was careful not to disturb things too much. He was a professional, and he liked to keep things neat.All finished, he carried his large bag of valuables back outside."OK, Rudolph," he said. "Let's get going to the next house."
Erik Dahl, Pacific Grove
Count To 101
They say the alleys in Seaside aren't bad. Well, they never faced an editor in one after dark. You can't see them, but your skin crawls when they're around, like being pet by skeletal fingers soaked in ice water. You went over 101 words, the editor says with a voice like the Cryptkeeper on Ambien, stopping me cold as I crossed the alley to my Volvo. YOU. WENT. OVER. "So what if I did?" That's when the shakes hit. I reach for the keys in my pocket. Drop them. "It's stupid," I say. "I can go over the word limit if… "
Patrick Whitehurst, Seaside
Sound Track
Time to hit the streets. That's what she thought every night, leaving the bar at2:15, sharing the darkness with sleeping lumps, sometimes raccoons, one time a rat, once a cat. Took her 33 minutes along the path, shorter if she took Del Monte. Working through scales under her breath as she walked, fingers tapping rhythm on her thigh, practicing the round vowels, barely audible. Then, at her spot, crashing water to cover other sounds, full throat singing, her morning workout wasn't like anyone else's, she was certain. Puccini. Verdi. Mozart. Arias, then blessed sleep.
Georgia Hughes, Marina
Final Word
"Nothing you people said in this stupid article about me is true," Priscilla shouted at the group working at her real estate office. But she knew it was true. All of it. She is difficult, overbearing and unjust. So what, they should just get over it. They seemed to be completely ignoring her so she told them again that they had it wrong. Again no response. What an ungrateful bunch of "friends," she thought. Entirely insensitive to her concerns! She crumpled up the obituary column, threw it on the floor and stormed out of the office… for good.
GL Vinyard, Monterey
Up in Smoke
Jake,On receiving your message, I scheduled dinner with The Donald at the Federalist Pig in D.C.'s Adams Morgan. Given your mandate to spare no expense for this patriotic mission of necessity, we dined after hours in private. The job is done. Money's in the bank. Your suggestion to take out The Donald hadn't previously occurred to me. But after Southern BBQ, a Penfolds '96 Grange and a tweet, it was over. I got an exclusive to write a 101-word story of his life as the last President of the United States.Sparky.
Rio Zuni, Pacific Grove
Unconditional Love
"I'm so in love!" "Not again." "This time it's different." "Really?How so?" "He is amazingly kind, unbelievably generous, and wise. I am crazy about him!" "Hmmm, sounds good, but how does he feel about you?" "He truly loves me, just as I am, yet challenges me to be a better person. Would you believe that he fell for me before I even noticed him? I've never had a relationship like this one!" "Who is this guy?" "His name is Jesus."
Laura R. Adame, Monterey
Who's There?
The last man in the world was sitting in his house, then he heard a knock on the door.
Jacob Schriver, Salinas
Runner Royale
My bucket list included running the London Marathon. At age 68, I did it! Exhausted, I crossed the finish line by Buckingham Palace. I joined the queue to have a finisher's medal placed around my neck. When my turn came, a nicely dressed elderly lady was distributing the medals. As I looked up after receiving mine, I blurted out, "You look just like the queen!" She smiled slightly and replied, "That's very reassuring of you." She moved on to the chap following me. As I looked back, I saw him make a deep bow and say, "Thank you, your majesty."
Stuart Sargisson, Carmel
Sound of the Forest
Before he turns, he looks up. Silence. Eyes move up mottled bark, through the deep green canopy. Too beautiful to be real. Silence broken. The raucous voice of – what? Remember. Camping with Dad. Scent of woodsmoke. Metal spoon scraping a spatterware plate. Blue. His finger pointing. Look! Steller's jay. Those trees. Redwoods. Cathedral. Hands on your head! Hands, my hands. Palms together. Pray. Pray. Turn around! Pray. Turn. He's got a gun! Oh, that sound! That awful sound. Fluttering of wings, flash of blue as he falls backward into the exquisite silence of the forest.
Elaine LaMattina, Carmel
Out of Love
The light told me the wedding was over, the sky turning deep orange above the dunes. They'd be cramming into the limo, white skirts pulled up so they wouldn't trip, smiles beaming on flushed faces, bouquets crunched and sandy, looking forward to Champagne. My bike propped against the bench, dress in pannier, shoes on rack. Twelve minutes to the hotel for the reception. I'd done it a thousand times, to work. Now, it was to the worst day of my life, a wedding that should have never happened. I might tell my lover's husband just that when I showed up, uninvited.
Georgia Hughes, Marina
Curve in the Road
"There's a lesson in this somewhere," he thought as he looked in the rearview mirror at the dozen or so rear-end collisions on the Big Sur coast, but he couldn't quite figure out what it was. Cyclists, too, were tending their wounds and assessing their now misshapen bikes as he drove on.Seeing yet another of those stupid 55 MPH speed limit signs, he turned to his wife and said, "These Californians are idiots. There ain't nothing like this back home so they should damn well know I'm gonna stop up short whenever there's a swell view.Darned fools!"
Dan Reznick, Carmel
Dog Days
It might be sleeping, Lily says. Or sick. Maybe it needs medicine. Lily is just 3 years old. A puppy lying entirely still in the grass is not dead. I think you're right, I say. The puppy is sleeping. Puppies need to sleep a lot and we shouldn't bother it. Bye, puppy, Lily whispers as I take her hand and guide her away. She'll tell her mom about the sleeping puppy when we get home, I know.
I'll call the city to make sure it's gone before we walk through the park again.
Henry Marchand, Monterey
Listening In
In the air, a swelling spiral of gulls, squawking with anticipation. Pelicans furling seven-foot wings to launch dive-bomber sorties, pouches primed for submarine scooping. On the water, crowded coots, terns and grebes jostling for advantage. On the rocks, a cluster of cormorants in animated consultation, like a panel of querulous seafood critics. In the narrow sand strip between ice plant and tide, two beach chairs cradling a mesmerized couple. No conversation, just holding hands. Couldn't hear themselves anyway above the raucous chorus. A ready-made pattern for a Chautauqua quilt. Soundtrack no extra charge.
Russell Sunshine, Pacific Grove
On the Road
Hitchhiking to L.A. from Berkeley we were stopped by a policeman for warming ourselves with a fire in a trash can at the corner of University and 101.North and south on Highway 101 for 50 years, through every stage and circumstance of life, thousands of miles and memories: playing travel games with my son; by myself, listening to oldies contemplating life; racing fire in Santa Barbara with sister and children on our way to visit our sick father; introducing my New York husband to the rolling green hills in the spring. Someone asked, "Where is home for you?""Highway 101."
Devora Stark, Pacific Grove
Speak, Child
My daughter said "Dada" in a cute Pebbles voice, but I couldn't get her to say "Mama." One day when I was very sick and lying on the couch with my eyes closed, I could feel her pull herself up. She stood in front of me with her face inches from mine. I kept my eyes closed since I knew exactly where she was and what she was doing. Then, to my surprise, I heard a demonic voice say, "Mama." I flashed my eyes open which caused her to laugh in hysterics. She crawled away babbling in her cute Pebbles voice.
Wanda Folk Warner, Marina
Asocial Media
Instagram: 9,829. Twitter: 10,595. Facebook: 7,902. Phone Contacts: 15. Thousands of likes. Hundreds of comments. Zero texts and calls. Kelli's phone constantly went off. It was always: this stranger liked your tweet; that stranger commented on your photo; someone shared your post. But never a "Hi Kelli! How is your day?" or "Hey, Kelli! Wanna hang?" Despite the love from her followers, she had no true friends to love her. Feeling broken and alone she thought it was time to let herself go, when a text finally came through. "Hi Kelli! How are you?" She finally smiled again. Then she replied.
Jennifer Strizver, Salinas
On Paper
Mrs. C was mute. She died. While cleaning her room at the nursing home, I found an envelope. The address was crossed out, replaced by my name written with a thick red marker. Inside she wrote:
"Thank you for being kind.l stopped talking on my 70th birthday. My husband died and my grandchildren were too old for me to read to. Most conversation seemed pointless.When I was silent, people shared their stories. Everyone needs to be heard. I was useful. Please return the red marker to Nurse Susan's pocket.Cook Charlie loves you and would make a good husband."
Devora Stark, Pacific Grove
Fight to the Finish
He leaned down from his desk and tightened his laces, grimacing. He would have to outrun the older boys. It was worth it, standing up for the slow kid again. The bell rang. He moved, running out the door. It was five blocks to his Grandfather's home. He could hear them shouting behind him. His chest burned. He could see his home farther ahead. He would be safe if he could make it through the door, which was always unlocked. He knew where his Grandfather's gun was, but he wouldn't need it. They wouldn't dare enter his home. They were cowards.
William Marvos, Arroyo Grande
Feed the Animals
For years, the old woman was a neighborhood fixture, stooped and shambling through her overgrown yard. Frayed housecoat cinched above flapping slippers. Feeding her deer. "You know, Ma'am, you're not supposed to do that. Handouts make them dependent." "God's creatures gotta eat. You don't hear them complainin'." She left the gate unlatched once too often. Vandals took advantage. Relatives were summoned. An all-caps sign set the new agenda. POSTED. KEEP OUT. No more dawn walkabouts. Only the occasional glimpse of snow-white curls behind darkened windows. Another year, another sign. FOR SALE BY OWNERS. The curtains were drawn. The deer moved on.
Russell Sunshine, Pacific Grove
Roaming Free
Loss can only be appreciated in retrospect. She didn't know, when she pushed her kayak away from the shore, that she wouldn't be returning. She kayaked at Elkhorn Slough to mingle with the otters and watch herons. Life was beating her down and she needed to get perspective and remember that life is large, larger than her daily grind. When she saw her spirit animal, a bobcat, she paddled to shore and stealthily climbed out of her kayak to follow it. Years later, from her platform in a tree, she could laugh at her clumsy attempts to be part of society.
Pamela Kaye, Marina
Donuts and Kings
Once, there was a karate chicken named Duck. Duck was a black belt in karate, but he wanted to start a café called Duck's Donuts. So every day, Duck would go home and start planning for his business. First he made calls to other chickens who could cook, and asked them if they wanted to work with him. Some said no, but three said they would help Duck start his café. Five years later Duck and his friends had the best donut café in Chickenland, and they were making millions of chicken dollars… But Duck wasn't happy. He wanted world domination.
Finn King, Pacific Grove
Taming the Bull Kelp
"Pick it up, Carlos, I dare ya." A small shiny, green object was lying on the beach partially covered in kelp. Carlos bent down and touched the protruding object. It quivered! "Let's get out of here," they shouted. From behind a sand dune the boys watched with widened eyes as the object pulled itself out of the kelp, growing into an immense creature emitting a green glow with bubbled smooth skin, multiple eyes and no head. It looked directly at the boys then fell back down on the sand, apparently dead. "Touch it, Carlos, I dare ya."
GL Vinyard, Monterey