Spanish artist Salvador Dali, in his room at Hotel Del Monte, puts his "Thought Compression Chamber" over his head.
He has just been asked by Samuel F.B. Morse, owner and founder of Del Monte Properties, and Herbert Cerwin, Morse's publicist, if they can put on a party in Dali's honor. An epic party, they say, the likes of which has never been seen on the Monterey Peninsula, and of which Dali could control every artistic detail.
With his head inside the chamber, which he says stimulates ideas, the answer becomes clear: Yes.
That scene derives from an August 19, 1941 article in the Monterey Peninsula Herald about the birth of the party – which Dali would name "Surrealistic Night in an Enchanted Forest" – and which sadly leaves out any details of the "chamber," or if it was even real.
It's also hard to know if the scene really happened. It differs from an account Cerwin writes in his 1966 memoir Searching for Something, which reports Dali got the idea for the party while swimming in the hotel's "Roman Plunge" pool, which he did daily, with his famously-waxed mustache held above water. Dali's plan, Cerwin writes, was to raise money for European painters that had been displaced by World War II, and who were struggling to make ends meet in America.
Yet while the party's provenance remains uncertain, there is much we do know.
As Nazis stormed across Europe in early 1940, Dali and his wife Gala fled from France to Portugal to New York, and eventually landed at Hotel Del Monte in July 1941. Through Gala's negotiating, they took over two rooms for the price of one; one to live in, one for Dali's studio.
Among other things, Dali came to Monterey in '41 to finish his autobiography, and the summer would mark the beginning of a seven-year stint in which the Dalis would spend several months out of the year in the area, dividing their time between New York and Monterey or Pebble Beach.
We also know that once "Surrealistic Night" was announced in mid-August, preparations became one of Dali's obsessions. And in his desire to turn the party's location – the hotel's Bali Room (now the El Prado room at Naval Postgraduate School) – into an enchanted forest, his list of demands grew long.
Really long. More on that later.
What's most important to understand is that "Surrealistic Night" would mark the splash of Dali's famed presence on the Monterey Peninsula, a presence that – 70 years later – somehow has become obscure, just a whisper in the historical record.
While the region rightfully celebrates John Steinbeck and Ed Ricketts, Robert Louis Stevenson and Robinson Jeffers, Henry Miller and Jack Kerouac, it has not yet claimed Dali as one of its own.
Expect that to change fast, because what might be the world's most comprehensive collection of Dali's graphic art is coming to the Museum of Monterey. Permanently.
~ ◊ ~
The Monterey History and Art Association has long been in need of a miracle.
MHAA opened the Stanton Center, where the Museum of Monterey is housed, in 1992, and it was the culmination of years of hard work by scores of volunteers. The building, which overlooks Custom House Plaza next to Fisherman's Wharf, was made possible by a fundraising campaign that garnered $6.5 million in donations, and it would finally provide the space to showcase the association's collection of items highlighting Monterey's maritime history.
But when the fanfare faded, serious cracks began to appear in the association's finances. After starting the museum's operation in 1992 with an endowment of about $3 million, year by year, the money kept bleeding away.
In an interview last August about the museum's finances, MHAA board treasurer John Burke spoke bluntly: "We have not had a single positive year since we opened the museum."
At that time, the endowment was down to just over $400,000, and nearly all of the expendable reserves had been depleted.
But last August was also a time of great optimism. MHAA board members had been putting out word that the association was looking for a third party to utilize the building in a manner consistent with MHAA's mission: "Sharing the histories and the diverse legacies of people, stories, and places that continue to shape Monterey."
Four groups submitted proposals, and last August board president Larry Chavez said with palpable enthusiasm that any one of them "would stand alone on themselves and make the community proud.
"We're right on a tipping point," he said. "We're dealing from a position of strength now."
Chavez would not reveal what proposals had been made – nor will he now – but promised to share when a decision was made, and a signature was on the dotted line.
That time arrived on the evening of Feb. 16, when businessman and Dali collector Dmitry Piterman was voted onto MHAA's board, and a partnership between him and the association becomes official.
Over the phone in the minutes that follow, Piterman's publicist Katrina Semmes says he will establish the first-ever permanent exhibition of Salvador Dali's work on the West Coast.
"The community is going to be known worldwide for this," she says.
It's a bold statement, but given the size of Piterman's collection – over 500 pieces – it seems within reason.
All of a sudden, the Museum of Monterey is poised to become the number two attraction in Monterey, one that will have a transformative effect on its waterfront, downtown and the entire region.
The miracle has been delivered.
~ ◊ ~
If you Google Dmitry Piterman, you will find a long list of unflattering articles – most of them in Spanish – about his eight-year stint, from 1999 to 2007, as an outspoken president, coach and part owner of four Spanish soccer teams. In one incident that was widely reported, he physically threatened a member of one team in front of other players in the locker room.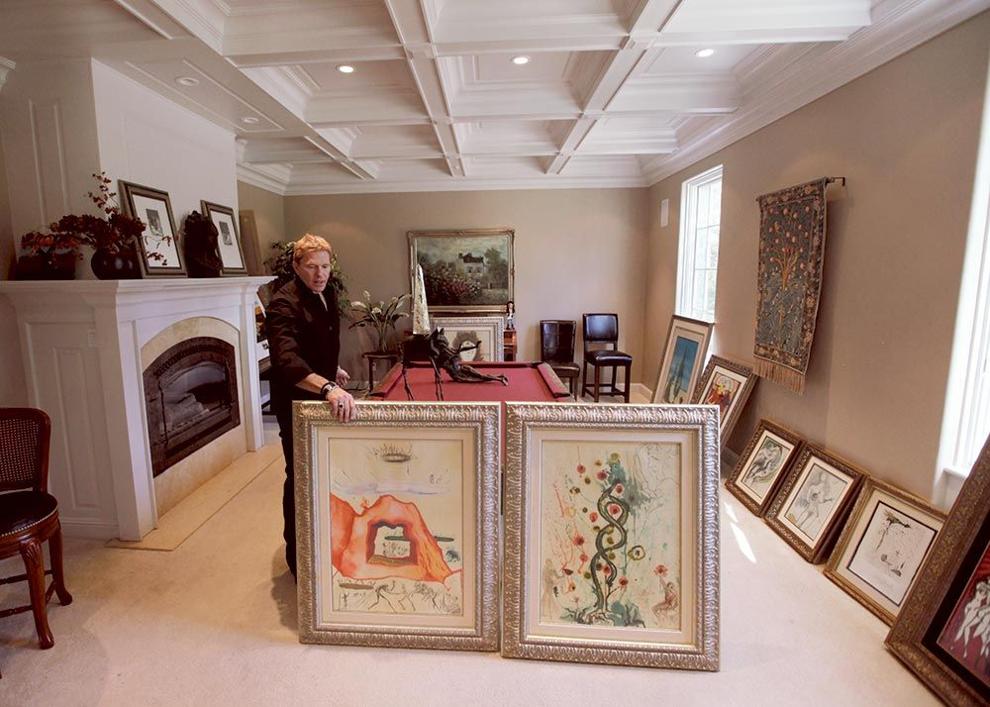 "People equated me a little bit to Al Davis," Piterman says, referring the controversial late owner and general manager of the Oakland Raiders.
Piterman's teams often had great success, but as a foreigner and outsider to Spain's soccer community, his brash, sometimes domineering style didn't go over well when things turned south.
"[In Spain], people change wives, they change religions, but they never change their [soccer] club. They die with that club," he says. "My American concept of managing and operating the team how you want, that clashed with the local customs."
But there is far more to the man than just his time in soccer.
Born in Odessa, Ukraine, Piterman emigrated to Brooklyn with his family in 1979 when he was 15, as part of what he calls a "Jews-for-grain" exchange. Though he grew up playing soccer, he quickly showed an aptitude in track and field, and in 1982 set the New York City record for the triple jump, a record he says still stands today.
"It's my only claim to fame," he says.
After earning a track scholarship to Cal, Piterman, in 1986, began buying and fixing up apartment buildings in Berkeley with a "minor" amount of capital from both his parents and high school track coach. These investments became wildly profitable, and he continued to reinvest after every sale he made.
"It was a little bit of luck, and a lot of hard work," he says. "It seems the harder I worked, the luckier I got."
Piterman later competed in the U.S. Olympic trials for the 1992 games in Barcelona, and though he failed to qualify for the triple jump, he came to Spain before those trials to compete in pre-Olympic events. It was then he discovered Dali, which helped inspire a permanent move to Spain in 1998, where he had also begun investing in real estate.
"I was really fascinated with his message, his surrealism and his thinking outside the box," he says. "I always thought I was kind of a rare fish myself, so it was easy to identify with someone who was very flamboyant and very different.
"Then it became almost an obsession, and I started acquiring his art."
After collecting Dali's work about 10 years, Piterman had it exhibited in Tossa de Mar from 2000 to 2004, but for the last decade, it's been out of public sight.
~ ◊ ~
As the gates open to the driveway of Piterman's European-style villa, just a half mile from The Lodge at Pebble Beach, his two Great Danes trot out the front door into the sun, an eager welcoming party. When they start sniffing, jumping and pawing, Piterman tries to dispel any concern.
"Don't worry, they're friendly," he says, with a slight Russian accent. He is dressed in a black sport coat, dress shirt and shiny designer jeans. He is handsome, fit, and his cologne smells like money.
Piterman bought the home in 2012, but has spent most of the last four years in the Oakland hills, where he moved with his family from Spain in 2007.
Piterman has only a tiny fraction of his Dali collection, perhaps a dozen pieces, on hand to show in his Pebble Beach house, and they are all in one room, with some leaning against walls and others hanging. On the center table is a bronze sculpture of an elephant with long, spindly legs and an obelisk on its back – a signature Dali form. He rattles off the names of the series that each lithograph in the room comes from. It's clear his knowledge of Dali's work is encyclopedic.
Piterman doesn't own any Dali paintings, but owns an extensive collection of his graphic art – lithographs and etchings – as well as sculptures, tapestries and "mixed media." There are more than 550 pieces in total. All his lithographs and etchings, he says, are "authentic," a classification that means Dali printed them himself. Over 300 of them are also "original," meaning that Dali himself made the printing plates or stones.
As he sits down at his dining room table minutes later, he pulls out numerous books that catalog Dali's work, and points to the some of the pieces in his collection, including Dali's re-workings of prints by artist Francisco Goya from 1799. As he flips the pages, he is captivated.
"There's an entire dissertation you can write on this," he says. "He's a genius, the way he thought."
Piterman then starts discussing his plans for the museum, which he hopes to open within a few months: It will be a retrospective of Dali's work – spanning 50-plus years – that he says does not exist anywhere in the world.
"It will be a one of kind," he says.
In the next two months, Piterman will oversee a retrofitting of the building's electrical fixtures, a fresh paint job and new signage – perhaps a surreal Dali image facing the cars entering Lighthouse Tunnel from the east.
His greater vision is to continue acquiring more work and expand the museum's collection, and hopefully, transform it into an artistic hub that holds events like those he saw in Spain, where there were contests in which artists would compete to create the best painting they could in a single day.
"It's really tremendous," he says. "It's like the town is under siege by painters."
But that's a ways off. Piterman says during the first months, he will learn by doing. He is planning to acquire historic photos of Dali's time on the Peninsula, and to make Dali's local connection a featured aspect of the museum, one that will align the exhibit with MHAA's mission.
And unlike the current museum admission, which is donation-only, he plans to charge $10 or $15.
"Once you have money, you can do a lot of things," he says.
~ ◊ ~
The expenses for "Surrealistic Night" were underwritten by the New York Museum of Modern Art, with the expectation that not only would the money be repaid, but that what was left over would be given to refugee artists.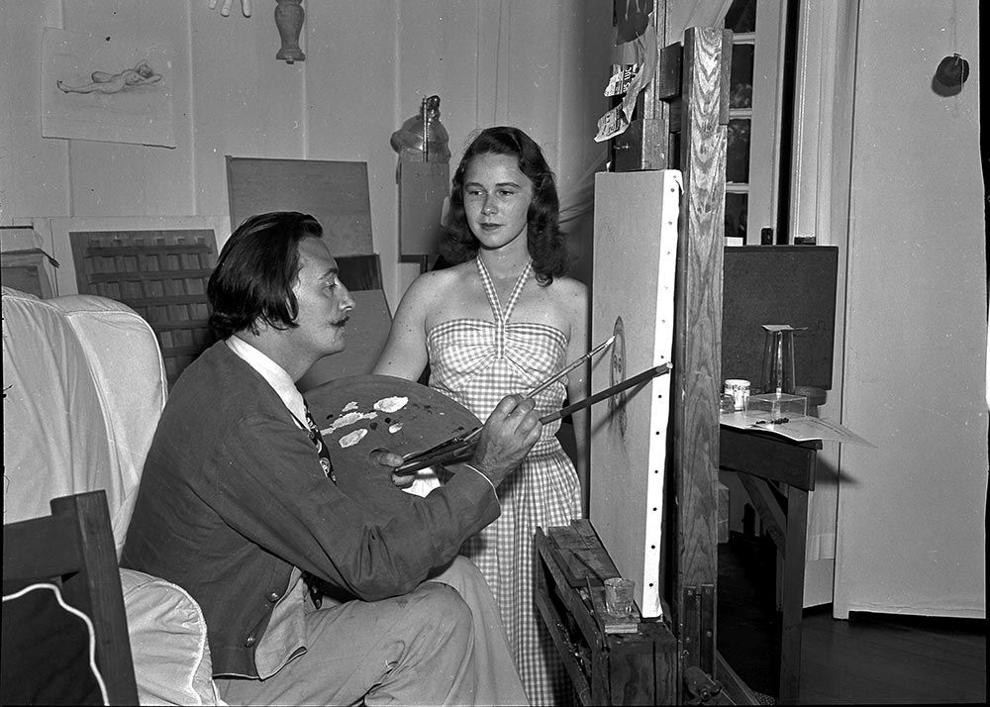 But as the list of Dali's demands grew, so did the expenses.
Two thousand trees were thinned from the Del Monte Forest and lined along the walls of the Bali Room. Two dozen female mannequins were procured and, after they were topped with fake animal heads from a Hollywood studio, they were set amid the trees. Dali asked Cerwin to get the biggest bed in Hollywood – he did – which was big enough to sleep 10, and which would sit at the head of the dining table.
Twenty types of animals were brought in from the San Francisco Zoo, including a lion cub, monkeys and at least one porcupine. (The zoo would not part with a giraffe, much to Dali's dismay.)
The party would include a wrecked car with a nude model inside, who would be sedated and appear dead. At some point during the evening, two dancers – bandaged and painted with fake blood – would spring from the wreck and perform the "Dance of Death," which Dali choreographed.
Invitations sent to selected locals and celebrities across the nation asked that guests dress in a costume "copied after your dream," or in that of a "primitive animal" or "people of the forest."
The party was to be on Sept. 2, 1941. Admission was $4 for those having dinner, and $2.50 for those not, and the dinner quickly became overbooked.
"Surrealistic Night" was attended by the likes of Bob Hope, Clark Gable, Bing Crosby, Alfred Hitchcock and East Coast heiress and socialite Gloria Vanderbilt, then only 17 years old. Local attendees included Morse and his wife Relda, architect Robert Stanton and his wife Virginia, and poet Robinson Jeffers – who hated parties – with his wife Una.
The night is briefly summed up in a 50-second newsreel that played across the nation's movie theaters at the time, and which is on YouTube titled "Dizzy Dali Dinner."It ends with a platter being presented to Bob Hope; when the lid is lifted, live frogs leap from the table.
"Surrealist Salvador Dali threw a party last night," reads a Herald article from Sep. 3, 1941, "and by dawn most of the best people were subconscious."
A December 1966 Herald review of Cerwin's memoir Searching for Something recounted the party and its preparations: "I would doubt the story myself, except that I was there. And it was truly unbelievable with Dali and his wife Gala in a huge Hollywood bed at one end of the ballroom, with wild animals all over the place, with a wrecked car on which reposed a real honest to goodness live nude lady… It was some party."
Unfortunately, the party's expenses far outweighed the revenue. After learning this the next day, Dali was incensed, and made a quick departure with his wife.
But he would come back to the area often until 1948. He even became a member of the Carmel Art Association. In a time when Europe was wracked with warfare and its aftermath, the Peninsula was a refuge for Dali, a place he created some of his most breathtaking art.
"The Poetry of America," which he painted at Del Monte Lodge in 1943, stands as a testament.
~ ◊ ~
The news of the Dali exhibit became public in a media event Feb. 24, about the time the Weekly went to print. But a few knew of it before then, including Monterey City Manager Mike McCarthy.
"I think there is a real chance this could be a big attraction for Monterey, but with any attraction, you have to not only have something people are interested in seeing, but you have to market it properly," McCarthy says. "But I hope their vision comes true."
MHAA board vice president Marc Del Piero emphasizes a countywide impact.
"It's truly a rare opportunity for… students to experience these works of art, and the things that an artist of great talents can accomplish, regardless of where they come from," he says. "It's wonderful for the city of Monterey, but I think it's wonderful for Monterey County, on a bunch of different levels."
Piterman, despite his success in most every avenue in life, is hesitant to say the museum will be an immediate hit.
"In the first year, I wouldn't be surprised if we had a few hundred people, or a few hundred thousand," he says. But he adds he's in it for the long haul. "There is no rush to the bank."
When asked about the exhibit's opening, Piterman offers an idea that's in Dali's spirit. It feels like a good omen.
"We're thinking about bringing in an elephant from [the zoo in] Salinas," he says with a smile.
---