Elias is still wiping tears from his face as the cheerful voice of Ramiro Reyes, principal at Seaside's Del Rey Woods Elementary, comes over the loudspeaker.
"Happy Thursday everyone!"
It's Aug. 7, 2014, the second day of school in the Monterey Peninsula Unified School District, and Elias, age 4, misses his parents. But as Reyes announces the sunny weather forecast and that a "surprise award" would be given to the day's quietest table in the cafeteria, Elias' mood starts to lighten.
"And remember, always walk in the hallways, students," Reyes says. "Be safe, Dolphins!"
The moment the speaker goes quiet, kindergarten teacher Cathie Galindo springs into action. She instructs her students – all 4-year-olds – to form rows, sitting boy-girl-boy-girl.
And as simple as it may sound, organizing kindergartners is like corralling a herd of baby lambs.
"Rows take a long time," she says. "Circles are easy, but rows are hard. You really have to teach them."
It's an early indicator that when working with kids this young, many of whom speak little or no English, there aren't many things teachers can take for granted. As she directs her 20 students, who are taking their seats here, there and everywhere, she looks up and smiles.
"It takes about a month to learn rows," she says.
Galindo leads her class through singing everyone's name and enunciating the first letter of each one. When that exercise is completed, she begins pulling out cards with pictures of objects and the words that describe them.
"Apple, apple, ah, ah, ah."
She puts a melody to the exercise, getting the students to sing along.
"Butterfly, butterfly, buh, buh, buh."
Galindo flaps her arms as she sings with her elbows pointed out. The kids follow suit, and the cute factor goes off the charts.
"Gestures are an anchor to help them," she says. "Some of them are kinetic learners."
Christian is among them. His big, brown eyes betray a sweet innocence. As they fixate on the cards Galindo holds up, they also reveal an incomprehension of what he is seeing. Still he's singing along with the others and flapping his arms enthusiastically. (Note: Students' names have been changed to protect privacy.)
Around 8:45am, 45 minutes after class begins, Galindo breaks the class for recess. They shuffle out of the classroom in single file, and she watches to make sure they walk – not run – along a snake painted on the blacktop. They must walk the snake before they are free to play, so that they get in a habit of following rules on the playground. It's one of many simple foundational blocks that build toward bigger, long-term accomplishments.
"Whatever problem you have at the end of the year is your fault," Galindo says as the students walk with visible restraint. It's part of her mantra, in fact, that a good teacher can control any class.
"With good classroom management, you can do anything," she says.
That's good news, because the challenge before her is daunting.
~ ~ ~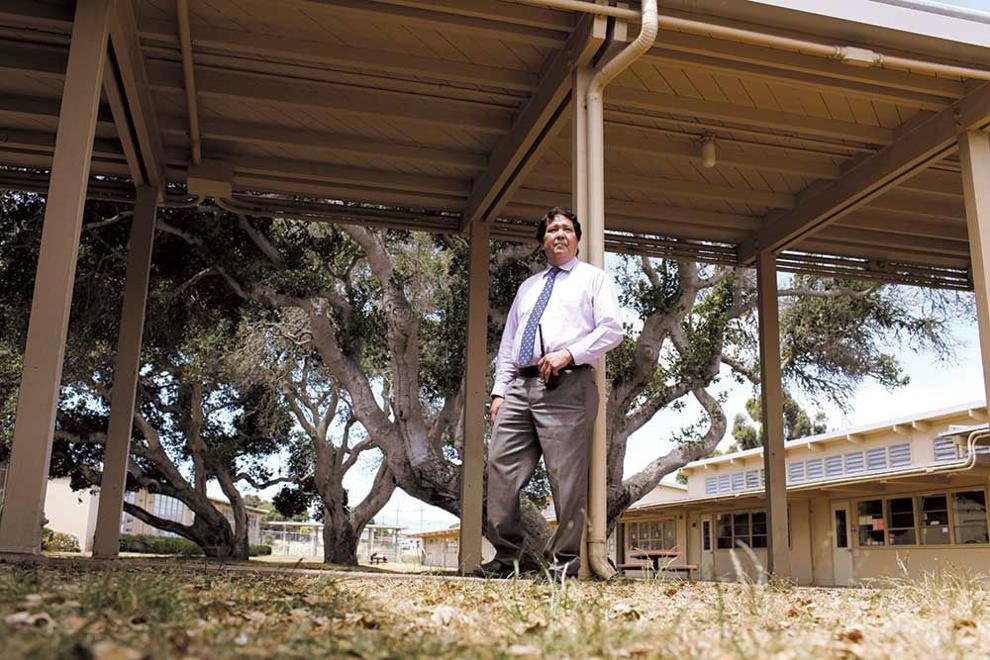 The idea was ambitious: Spend time with a single kindergarten class over the course of a year, dropping in on their class every couple of weeks to observe their growth and progress. Then keep following those same kids as they move through the local education system to provide a rich, detailed and telling evaluation of our public schools.
My editor and I decided it would be most revealing to examine an elementary school serving students from the lowest-income families in the county. These are the students who have probably learned the least, academically, before entering school. They are the most likely to have two parents working, and maybe working more than one job each. Their parents are the most likely to lack formal education, and speak little or no English.
On the advice of officials from the County Office of Education, we looked at schools with the most students enrolled in the free and reduced-price lunch program. Highest on the list was Gabilan Elementary in Soledad, with 96.8 percent of students enrolled. Second was Roosevelt Elementary in Salinas at 96.1 percent, and third was Del Rey Woods, at 96 percent. I live just a few blocks from Del Rey Woods. If I was going back to kindergarten, it made sense to do it in my neighborhood.
In discussing the idea last summer with first-year MPUSD superintendent Daniel Prakash "PK" Diffenbaugh, he suggested it might be more interesting to follow a transitional kindergarten class, so I could compare their performance in years ahead with students who've had one less year of schooling.
Transitional kindergarten was created by the state's Kindergarten Readiness Act of 2010, and ensures all students entering kindergarten are 5 years old. Those who turn 5 from Sept. 2-Dec. 2 enter transitional kindergarten, where they're taught – according to the state's Department of Education website – "a modified kindergarten curriculum that is age and developmentally appropriate."
Rather than enter kindergarten youngest in their class, and less developmentally ready – potentially affecting the entire class' progress – they enter a year later, older and more prepared.
Transitional kindergarten has been controversial since its implementation in California, and a 2012 editorial in the Los Angeles Times argued that with a $1 billion price tag annually, it should be abolished.
But Diffenbaugh says investing in early childhood education is one of the best possible uses of taxpayer dollars.
"The development of the child at that age, in terms of public policy, is one of the smartest things we can do," he says. "We would be wise to continue to move down the spectrum to preschool."
Much research bears that out.
In Paul Tough's recent bestseller How Children Succeed, he writes, "Those first few years matter so much in the healthy development of a child's brain; they represent a unique opportunity to make a difference in a child's future.
"Pure IQ," he adds, "is stubbornly resistant to improvement after about age 8."
A 2007 report, produced by Stanford University using data compiled from 23 universities, doesn't reveal great successes from the state's public school system, calling it "broken." Recent reforms like Common Core, which emphasizes critical thinking and problem-solving over rote learning, aim to fix it.
"The structural problems are so deep-seated," the Stanford report stated, "that more funding and small, incremental interventions are unlikely to make a difference unless matched with a commitment to wholesale reform."
At Del Rey Woods, I discovered a mini version of that reform. At a school where one might least expect it, great teaching and administration not only make success possible, they make it happen.
~ ~ ~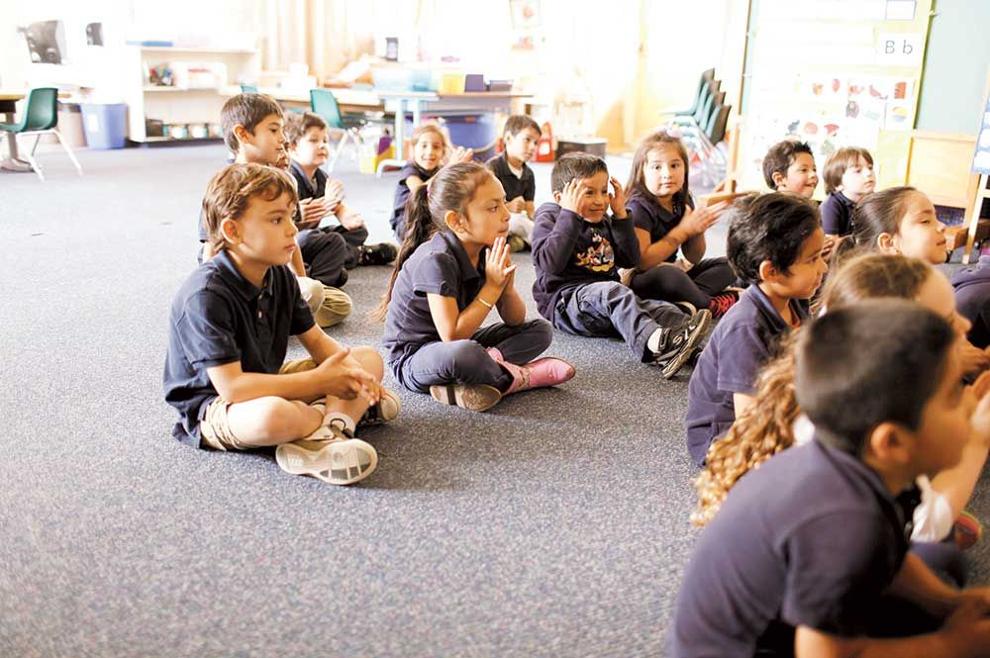 Imagine asking a parent for help on your homework, and mom or dad can't read it. Or trying to study with a gnawing hunger because you haven't eaten that night, and won't. Or struggling to find a hard, flat surface to work on besides the floor.
At the beginning of the school year, 12 of Galindo's 20 students were classified as English language learners, meaning that English was not their primary language.
Eight students couldn't identify a single letter in the alphabet after hearing it spoken. Only seven could identify more than seven letters. When Galindo pointed to a letter and asked the students to tell her the sound, 14 students didn't know a single one. Only three students knew more than two. Nineteen students couldn't read a single word; the other one could read eight.
In terms of math skills, the picture wasn't much prettier. Only 12 students could count past six, and three past 20. Seven students couldn't write any numbers; only two could write more than 10.
But that's partly why Galindo gravitates toward teaching 5-year-olds. For her, they are a clean slate. "I've always liked this grade," she says, "because I know what I taught them."
The demographics of her class mostly mirror the demographics of the school, which is 87 percent Hispanic, 6 percent white and 7 percent "other" (which includes black, Pacific Islander, Asian and Native American.).
And while one common challenge many students face might be not having a stay-at-home parent, or not having well-educated parents, the struggles for many students at Del Rey Woods run deeper.
"For the lower socioeconomic status people on the Peninsula, it is very hard to afford housing," says Reyes, the principal, on a recent afternoon. "So what you end up with is a bunch of people living together, kids sharing rooms with adults, or sleeping on living room floors, or living with a bunch of older adult males, who are perhaps not the best influences.
"[They] say things and do things and talk about things that these kids have no business knowing about at their ages," Reyes says. "Kids in this demographic come to school with a lot of baggage, and they've seen way more than they should have seen in a lot of cases."
To help support students, Reyes has a full-time community liaison on staff and a family services specialist who does wrap-around services, like Spanish translation for parents and support resource searches in the community. He also has a counselor working two and a half days per week with groups of students on social skills, anger management and mental well-being.
"When I was growing up, all of these skills, that was the job of the parents, maybe the church, but not the educational institution. Now we are taking on that role," Reyes says. "I have babies teaching babies, and with parents being the first teacher, it's really important that they have a degree of skill. If they don't, I have to provide those resources here."
~ ~ ~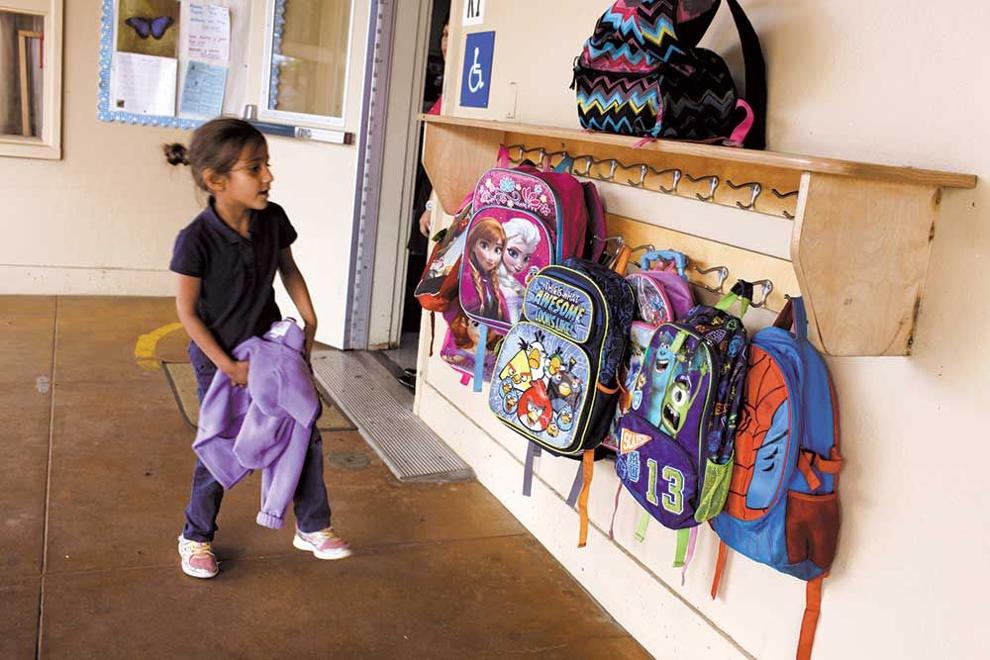 Backpacks hang on a rack outside Galindo's classroom, and one – depicting characters from the mobile phone game Angry Birds has a message printed across its front: "This is what awesome looks like."
Something awesome is happening inside. Galindo leads her class in writing letters in the air with their fingers, getting them used to the motion of writing each symbol. Because all tests are taken on computers these days, she says, many teachers don't teach handwriting anymore. Galindo does because it facilitates other progress.
"A lot of the children learn to read by writing," she says.
Galindo changes activities often, sometimes every five minutes, and soon she is leading the class through their ABCs. Only a handful of them knew it when the year began. Now, about halfway through the school year, more than half the kids can finish the song.
"Because of technology, you have to be really animated to engage them," she says. "If I'm competing with video games, you have to move around a lot and keep the kids moving."
In the next activity, she uses technology to her advantage: The students stand and turn to the classroom's projector screen, and Galindo cues up a video, one much like the exercise she led only minutes earlier. A giant hand appears onscreen, music begins, and the hand starts moving as a cheerful voice blaring from a speaker leads the routine.
"Write an uppercase 'M' in the air! Write a lowercase 'm' in the air!"
The kids all move their hands, singing along with enthusiasm.
"M is a consonant, a letter in the alphabet!"
On another day, I find the kids divided into groups and working on numbers and counting. One group is dividing up different types of fake coins; another is separating different colors of rocks.
"In kindergarten and TK, they have to learn to be able to sort things into different attributes," Galindo says, "because in math you have to do that."
Other groups are writing numbers, and some are counting objects and tallying them with hash marks. Galindo spots a student doodling on a dry erase board, not writing numbers as he should be.
"Juan, are we supposed to be drawing pictures or numbers?"
Juan gives her a sheepish look.
"This is like a circus. You have to be everywhere," Galindo says. "Some of the kids you can catch, some of the kids you have to catch later."
Joshua, sitting at a table, explains he's counting the number of play-food items on a tray.
"Did you do this when you were in school?" he asks.
Those types of questions came often in the many visits over the school year, but others would be random, and enough to melt your heart.
"Can you write that our class is pretty?" Valery asks one day. "Can you write that we like your mustache?"
Other times, the kids summon spectacular non sequiturs.
"And then you drop into a chocolate pool, and get launched into the sky, and then you come down on fire," David says.
Elias, another day: "A long time ago, I go to the airport, airplanes were doing tricks and there was one big robot dragon, a big T-rex, and it can blow fire."
On a few occasions, something heartbreaking slips out, revealing the challenges some Del Rey Woods students live with. "I wasn't supposed to tell you my dad's in jail," Emma says, unprompted.
Later that same day, Angel is trying to explain his dad's name. Amelia, sitting next to him, interjects: "You don't have a dad, Angel. Your dad died."
~ ~ ~
Many of the signs and pictures tacked on the walls of Galindo's classroom change over the course of the year, but one set of signs stayed up, and reiterated a message she drove home every hour of every school day: "Be safe. Be friendly. Be respectful."
Hurt feelings were another constant, and I watched Galindo stave off kids' tears on dozens of occasions. She does it by getting her students to say a simple, five-letter word: sorry.
"That's how you get them to stop tattle-taling. You just get them to communicate," she says. "They feel empowered just to talk it out, then they usually just hug."
By the end of year, the kids have grown accustomed to the protocol, but still come to Galindo to report an incident. Sometimes, they come to me.
At recess one day in May, Angel walks up to tell us Aaron called him "little." Galindo calls Aaron over and instructs Angel to tell Aaron the problem.
"I don't like when you call me little," Angel says.
"Sorry," Aaron responds, and they shake hands, then run off to play.
Then Joshua runs up, pointing to the kids on the play structure. "They're using the 'K' word," he says.
Galindo asks him to elaborate.
"Cuh-eye-ess," Joshua says.
"No kissing at school!" Galindo yells to her students, unable to hide a smile. After Joshua runs off, she adds, "That's called segmenting."
Segmenting, saying the sounds of a word, is one example of the education jargon Galindo throws out from time to time. Others are end-coding (part of learning to write) and blending (which helps with reading). They come from her years learning the science of teaching.
"I can do kindergarten without books," she says. "I know how to teach kids how to read."
Galindo is in her 28th year at Del Rey Woods, the only school at which she's ever taught. And it just might be that teaching, and the school, is in her DNA: Her mother taught fourth grade at Del Rey Woods, and growing up, Galindo would help her mom set up her classroom in the summer.
Galindo later attended UC Berkeley, majoring in Spanish. Although she is Filipino, it felt like the right fit.
"I grew up not knowing Filipino, neither my parents' dialect nor Tagalog," she says. "My parents just wanted me to be American. For that generation, that was really important."
She initially resisted teaching, not wanting to follow her mother's path, but her stint as a Spanish tutor in college changed that. Her Spanish is indispensable at Del Rey Woods, where she confers with many parents who can't or prefer not to speak English.
"This is really what I'm good at. It just comes naturally," she says. "I think it's in my blood."
These days she gets the most parent requests out of all the teachers in the school. But Del Rey Woods' success goes beyond Galindo, or Reyes.
That first became apparent to me in February, when Diffenbaugh described Del Rey Woods as a "special" school.
"The best institutions have consistently good classrooms across the board," he says. "You see that being built at Del Rey Woods. The consistency of excellent instruction is there."
What Diffenbaugh didn't tell me then, and that I only learned recently, is that he and his wife Vanessa, who could've conceivably sent their own kids to any school in the district, transferred their daughter to Del Rey Woods last November.
"With a 96 percent free and reduced lunch population, there are going to be challenges," Diffenbaugh says. "But it's meeting that challenge."
Del Rey Woods represents the only school in MPUSD to raise its California Standardized Testing (CST) scores each of the last five years. This year, a new testing metric is being implemented.
"I was fortunate to inherit a school that was on a positive growth trend," Reyes says. "But I was able to keep up the growth."
Reyes, who's been at Del Rey Woods five years, attributes the success to constant collaboration among teachers and staff to integrate multiple subjects into a single teaching block. He says Jennifer Ortiz, the school's academic coach, has helped make possible.
Proactivity helps. Galindo says if Ortiz and Reyes hear a new teaching standard is coming down the pike, "they say, 'Let's start now.'"
A pioneering partnership with CSU Monterey Bay has also proven vital. Reyes taught in the teacher credentialing program for four years, and when he left for Del Rey Woods, he encouraged colleagues to send him their students and use his school as a laboratory.
This year, he had seven student-teachers at the school from start to finish, greatly reducing teacher-student ratios and stabilizing campus recruiting. He currently has five former student-teachers on staff.
"I'm home-growing my own teachers," he says. "That's really important."
Ortiz, who's in her 23rd year as an educator, agrees.
"When they start teaching at Del Rey Woods, they already know the culture," she says. "They have their mentor next door, and don't struggle as much as first-year teachers at other schools."
It's an environment, Ortiz says, where students' needs come first and collaboration is paramount.
"We all help one another," she says. "The teachers at our school, whether they're veterans or new, we all have the same purpose in mind. That's not something you can go and re-create easily at another school."
Easy to replicate or not, Diffenbaugh is watching closely.
"I firmly believe the single greatest factor impacting student learning is teaching in the classroom," Diffenbaugh says. "Dr. Reyes has created a culture around teaching."
Reyes will turn 54 in a couple of months, he says, and has reached the point where retirement feels near. But he hopes to leave behind a legacy.
"My school is going to be great, and carry on a high level of academics," he says with a smile. "Unfortunately, that means Ms. Galindo can never retire."
~ ~ ~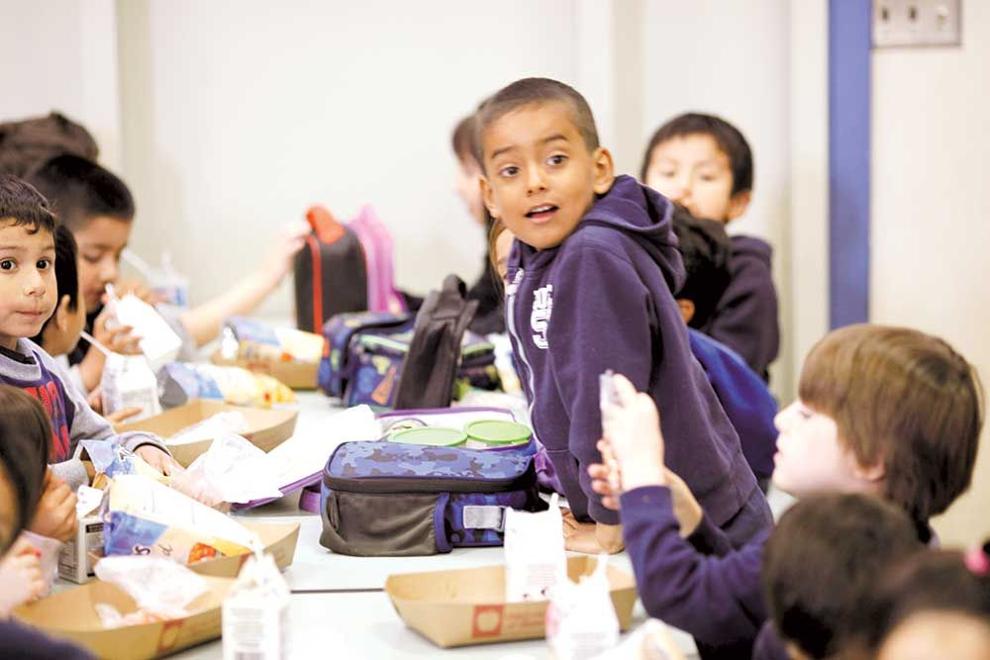 Over the course of my year in kindergarten, there was one question Galindo asked nearly every time: Do I see any changes?
Sitting in on the second-to-last day of the school year, for nearly the entire day rather than my customary 1-2 hours, the changes are more visible than ever.
The kids have grown physically. David and Joshua were about the same height as other boys in the class when the year started, now they are about four inches taller than the rest. Emily and Nicole clearly looked like 4-year-olds last August, but their limbs have stretched, and length of their arms and legs now make them appear like first graders.
But I know the bigger changes are in their minds. All but a few of them now know their ABCs by heart. Everyone in the class knows their "three B's" (Be safe, friendly, respectful), and most can recite them readily. They have become familiar with their routines: They know when and how to circle up, sit in rows and clean up after activities. They can write letters and cut with scissors. They can tell you if the weather is sunny, rainy, windy or foggy.
I ask each student what they've learned.
"Counting," Nicole says.
"I can count to 164," Brian chimes in.
Another common answer: "I learned to play," Aaron says. "And write."
Elias, those first day tears long gone, reports, "I can count to 100."
"I learned to do my ABCs and be really smart," David says. "I know how to count to 1,500."
Not to be outdone, Valery says: "I can count to 1,600."
When these kids enter kindergarten next year, they'll be the oldest students in their respective classes, and they'll have a leg up from an extra year of school.
The state's kindergarten standards – what a student is expected to learn over the course of the year – include being able to count to 100 and recognize all the upper – and lower-case letters.
"I think that the majority of the kids will be superstars next year," Galindo says. "Some of them can already count to 100. Some of them can already read."
Christian, who began the year quiet, and ignorant of numbers and letters, is now capable of complex thought. When Galindo asks the class for a clue about word she is holding up (baby), he raises his hand, brown eyes bright.
"It's something that we were," Christian says.
"That's a great clue Christian," Galindo responds.
It's also an appropriate way to describe their progress. After the kids have gone home, Galindo shares the results of her final reading and numbers assessments, evidence these aren't babies anymore.
A transfer student had joined her classroom during the school year, bringing the total number of students to 21. At year's start, only seven students could identify more than seven letters. Now 19 could identify at least 37 of the 52 upper – and lower-case letters. Nine got at least 51, and five knew them all.
Eighteen students knew at least 20 of the 26 sounds in the alphabet, and five got them all.
In August, 14 students didn't know a single sound, and only three knew more than two. She with started with 19 students not being able to read a simple word, a feat 16 of her students are now capable of doing.
Only three could count to 20 previously. Now 19 of her students can, and two can count to at least 100.
Only two of her students could write more than 10 numbers at the year's start. Now, they can all write at least 10, and four can write to 100.
Galindo's success is not based in rote learning, or even repetition, as important as that can be.
In every activity, she asks her students "why" an answer is correct.
"They need to be thinkers, that's what we are trying to do," she says. "If they can leave school with that, they're always improving themselves, not just in book learning, but in learning about life."
School starts Aug. 5.
I can't wait for traditional kindergarten and more so, I can't wait to see what these kids do next.