For years, a weird thing happened if you were a public radio listener. You could flip back and forth between KUSP (88.9FM) and KAZU (90.3) and hear the exact same show, about a second apart. It sounded like NPR's Morning Edition host Steve Inskeep or, later in the day, All Things Considered host Audie Cornish were echoing themselves.
In fall of 2015, KUSP was trying to hang on. The station owed about $450,000 to NPR, and about $850,000 to creditors altogether. Revenues for 2015 were $1.2 million, finally back to 2012 levels after dropping off for a few years.
The board voted to do a major restructuring, firing their longtime general manager and switching to an all-music format. No more news.
For months, it sounded like KUSP was back. And, in a way, it was – back to the community station roots it had come from, when it was founded in Santa Cruz on a $600 budget in 1972, in a time when FM frequencies were abundant and cheap to buy, and its content was almost purely music.
As the station, and expenses, grew from there, things got complicated. There was drama in the mid-'90s over whether to begin airing shows produced by NPR.
Diana Moll, a volunteer at KUSP for 10 years, and who was then married to program director Johnny Simmons, shed light for a Weekly cover story in 1994.
"There is a certain faction of people at the station who are psychotically opposed to any change," she said. "There's this incredible nostalgia for what KUSP used to be – a one-watt station in a closet."
At the time, KUSP broadcast as far north as Pescadero and Morgan Hill, and as far south as Paso Robles – and Big Sur, the only FM station that transmitted there.
Over the years, the station sold off its power station in San Ardo and a translator in Los Gatos to help stay afloat, but that meant less reach. (Now the signal stops around Gilroy and Greenfield, according to Federal Communications Commission maps.)
Duncan Lively, who was general manager of KAZU from 2005-08 before going to work for KUSP for five years, observed the same tension at KUSP 15 years later. (Lively now works for a station in Santa Barbara.)
Lively oversaw the creation of the "NPR for the Monterey Bay" wording you still hear on KAZU. "I was listening to my competition and realized, they are not building their station around the NPR brand, so I thought, 'I'm going to do it,'" Lively says. "It's not rocket science. They could've contested us for the NPR brand – and because they'd had it for so long, they could've won that tussle. But I don't think they really wanted it."
In May of this year, still faced with nearly $900,000 in debt and lagging on its fundraising goals – despite a banner year in 2015 bringing in $737,000 in listener donations alone – KUSP's board decided to lay off all but one employee, Alex Burke, who stayed behind to manage an automated playlist. To keep the FCC from revoking its license, KUSP had to keep something on the airwaves.
Burke met weekly with a group of music aficionados for ideas on new releases to add to her mix. It got repetitive, but it was good music. In late July, Burke spoke about progress since the mass layoff.
"We've been seeing positive response to what we're doing," she said. "We've had over 100 new members join us since we went to this automated system."
Then, just after midnight on Aug. 1, KUSP's engineer turned off the power. Now when you turn the dial to 88.9, all you hear is static.
<<<>>>
The owner of KUSP's FCC license is the nonprofit Pataphysical Broadcasting Foundation, Inc., named for pataphysics, a concept attributed to 19th-century French absurdist writer Alfred Jarry. It means the science of the metaphysical, extraordinary or imaginary.
But there is no extraordinary way forward for KUSP, or any ordinary way either. Instead, the station's license will be auctioned off to the highest bidder, under the oversight of a bankruptcy trustee.
On Aug. 12, the station filed for Chapter 7 bankruptcy. That means Federal Bankruptcy Trustee John Richardson will be responsible for selling off the little bit of what's left of KUSP – $168,000 in assets, including $118,000 worth of office supplies and broadcast equipment, plus a record and CD collection worth $5,000 – to help pay off $843,000 in debt.
KUSP owes varying amounts to dozens of entities, including nearly $19,000 to its landlord, Park Place LLC, for a Santa Cruz office and studio, according to bankruptcy documents. The station also owes $56,000 to American Public Media, $12,000 to the Corporation for Public Broadcasting, $10,000 to Pacifica Foundation, and $357,000 to National Public Radio.
Richardson is expecting an offer on what's left of KUSP any day – namely, its FCC license allowing a noncommercial entity to broadcast over the airwaves. (If no noncommercial buyer steps up, the FCC could open up the frequency to commercial offers, as well. See story, p. 30.)
A group of locals, calling themselves the Community Radio Phoenix Project, is making a bid. At the helm are Ed Porter, a former Santa Cruz city councilman, and Rachel Goodman, a journalist and journalism professor at Cabrillo College, and a longtime KUSP volunteer.
It's a variation of a group that formed in spring of 2015, then called KUSP Forward, in an effort to buy the license from the failing station and lose the expensive NPR programming for old-school community radio, covering local issues and powered largely by volunteers. The transaction then would've been relatively straightforward – but now, the group will likely have to outbid others, for a price Goodman expects to easily be in the "hundreds of thousands." So far, they've raised just $80,000.
"I don't think it's too late yet," Goodman says. "I really think this is the last possible moment we could save this. I would feel bad if we didn't try."
<<<>>>
The Community Radio Phoenix Project isn't sure who they'll be bidding against. Richardson says he's gotten inquiries from three or four entities, though he won't disclose who they are. He changed the locks on KUSP's building and holds the keys, and might also auction off what's left on the lease.
Goodman's local group would likely make an offer to take over the lease, and all the office furniture and broadcasting equipment too.
But other bidders might be out-of-town outfits with national reach that use satellite to broadcast their programming far and wide. Since they probably wouldn't need the office furniture and radio gear, they'd likely be bidding on just the FCC license and the existing towers – meaning a lower price.
Rumor has it that a Christian station is considering it. Joe Miller, vice president of signal development for K-LOVE, a national player in Christian music, says they're currently undecided on whether to bid on KUSP. They expect to close a $1.25 million deal to acquire KYZZ (97.9FM) in Salinas soon.
"That may or may not impact our decision on KUSP," Miller said. "As a general rule, we cannot comment on potential acquisitions like this one."
K-LOVE already airs in the Monterey Bay region on 89.7FM. If they acquire a second station, Miller says 89.7 would switch to their Christian rock-heavy program targeted for younger listeners, called Air1.
Even as public radio and commercial radio struggle to keep their business models working, K-LOVE is doing well, Miller adds.
"The whole industry is struggling a little bit," he says. "As far as our Christian music format is concerned, people still seemed to be blessed by it."
One person who would likely have felt less blessed: Lorenzo Milam, a founder of KUSP.
He authored Petition 2493 to the FCC in 1974, calling on them to restrict the definition of an "educational institution" that was allowed to buy a noncommercial radio station to exclude religious institutions.
They weren't educational, but religious, Milam argued.
The FCC disagreed.
Instead they agreed with the more than 30 million letters they received slamming Petition 2493. Milam wrote a book about it, and how wrong he thought it was that he lost.
If a Christian station buys KUSP, Goodman says, "That would be the ultimate irony. Milam would be turning over in his grave."
<<<>>>
To get to KAZU's studio on the CSU Monterey Bay campus, you have to walk through an old bathroom. The shower still has a curtain, but it's pulled to the side revealing a stack of boxes. General Manager Mik Benedek calls it "the secret passage," and notes the cinderblock building, now home to a number of administrative offices, was a former military headquarters.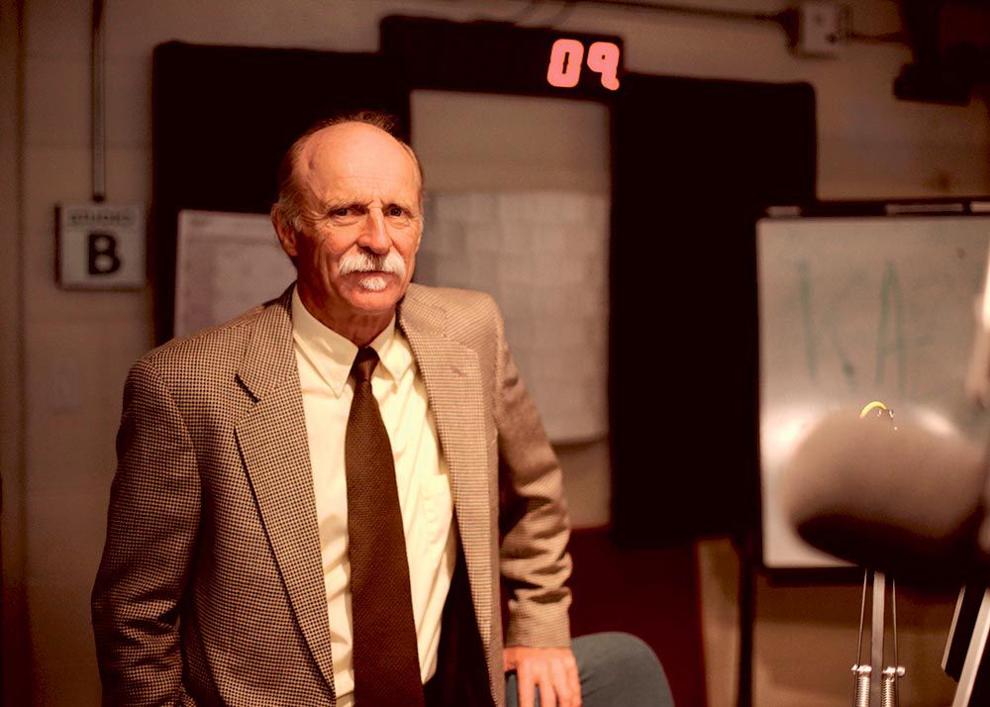 With just eight people on staff, KAZU doesn't do much of their own reporting and production news stories.
More typically its hosts, Krista Almanzan and Dylan Music, interject traffic and weather reports between NPR content broadcast via satellite.
KAZU's revenue in 2014 was $1.4 million, about 25-percent higher than KUSP's; the station had about 55,000 listeners weekly, compared to KUSP's 35,000. (KAZU's listnership has since risen to about 63,000 weekly, but there hasn't been a noticeable increase since KUSP shut down.)
Benedek moved to San Jose in 1978 to train with an acclaimed fencing coach to train for the Olympics. (He was a junior national champion, but never made it to the Olympics.) But he ended up DJing, then worked in sales at KWAV, and stuck with radio, eventually buying KMBY (104.3FM) when it was an alternative rock station in 1996. (It's now The Hippo.)
KAZU has explored a merger with KUSP at least once before, but the board of University Corporation at Monterey Bay, a nonprofit affiliated with CSUMB that owns KAZU, shot down the deal in 2008. Lively was general manager of KAZU then, and says he resigned because he thought the board made the wrong call.
At the time, Lively says the price to buy KUSP was in the $1 million to $1.2 million range; today, Richardson, the bankruptcy trustee, says he's heard it could sell for anywhere "from a couple hundred thousand up to a half a million."
Benedek doesn't give a straight yes or no as to whether KAZU is considering bidding on KUSP. "I can't comment on that at the moment," he says. "I can say it's my hope that it stays with a local owner-operator, not an outside owner."
Editor's note: This story has been updated to reflect the following clarifications. The FCC could open up the station to commercial buyers, but the frequency would still have to remain in noncommercial use. In addition, while previous KUSP management believed they would lose their FCC license by going off the air, they could have notified the FCC and received a one-year grace period before losing their license.