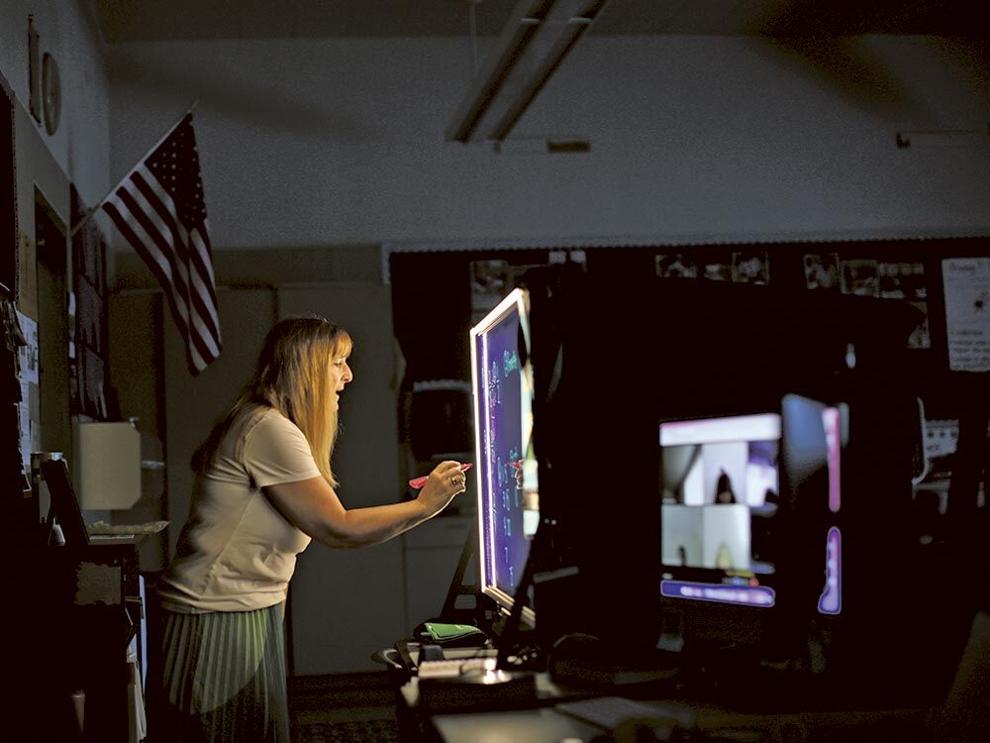 IN 2020, THE CHANGE CAME SUDDENLY. With the Covid-19 virus looming, schools shut down for in-person learning. They closed at first for what officials thought might be a short time, with the Monterey County Office of Education announcing on March 13, 2020 that all K-12 schools would be closed through the end of the month.
That, of course, was just the beginning of what became a year-plus immersion in remote learning. At first, it was a scramble – families lined up outside of schools to pick up bagged lunches and Chromebooks. Teachers had in-person lesson plans ready to go, and transitioned to teaching to a screen overnight. Parents had to adapt too, with students of all ages at home for the duration of the school day. Internet connectivity hubs were set up in parking lots for students who needed a place to log in.
Months into the remote school experiment, at the beginning of the next academic year in August of 2020, a photo of two girls doing homework outside of Taco Bell in East Salinas made national headlines. The image brought attention to the struggles of low-income families whose parents lacked computer literacy, and students who live in rural areas of Monterey County without high-speed internet at home.
Months of heated and politically charged public discourse followed, with parents attending school board meetings – remotely, then in person – demanding a return to the classroom. Remote learning was taking a toll on their children, not just academically, but socially and emotionally as well.
Standardized test results showed a decline in academic performance across the country. In California, fourth-graders' scores dropped 5 percent in English and literature, with just 44.2 percent proficiency in the 2021-22 school year, down from 49.5 percent in 2018-19. Math scores dropped by over 6.5 percent, from 45 – to 38.3-percent proficient.
Despite the chaotic transition to remote learning followed by political backlash and negative testing outcomes, some parents, teachers, administrators and students came to prefer online learning for certain students. It helped with bullying prevention, provided a better environment for some students with special needs and decreased the chances of getting sick with Covid (or any other virus). For some kids, it was successful.
Seeing that success, even as Monterey County schools returned to in-person learning, at least two local districts – Salinas City Elementary and Alisal Union – developed a curriculum to continue offering virtual instruction to students in grades K-6. SCESD started its Salinas City Virtual Academy during the 2021-2022 school year; a year later, AUSD followed with the Alisal Virtual Academy (AVA).
Now, as the 2022-23 school year wraps up, virtual learning appears likely to stay, and even expand in the future.
Some parents who are now choosing this option are the same parents who were once detractors.
"[During the pandemic] I had to hire someone else to be able to stay with my children and for them to do their school online because there was no other way," Carmen Núñez says in Spanish. She runs a home child care business, and has three children of her own: Nicole, 11; Alexander, 9; and Kayla, 7, who all attended Monte Bella Elementary School remotely during shelter-in-place.
After that bad experience, Núñez says she took a leap of faith when she received a flier about continuing remote learning – but she had a strong motivation: Alexander was being bullied. They reported the bullying at school, but still it escalated. She says Alexander was beaten and his food was stolen. He didn't sleep well and missed classes. Núñez felt she couldn't protect him beyond the school's walls, and remote schooling through AVA gave her hope.
"I felt it was a salvation for him," Núñez says.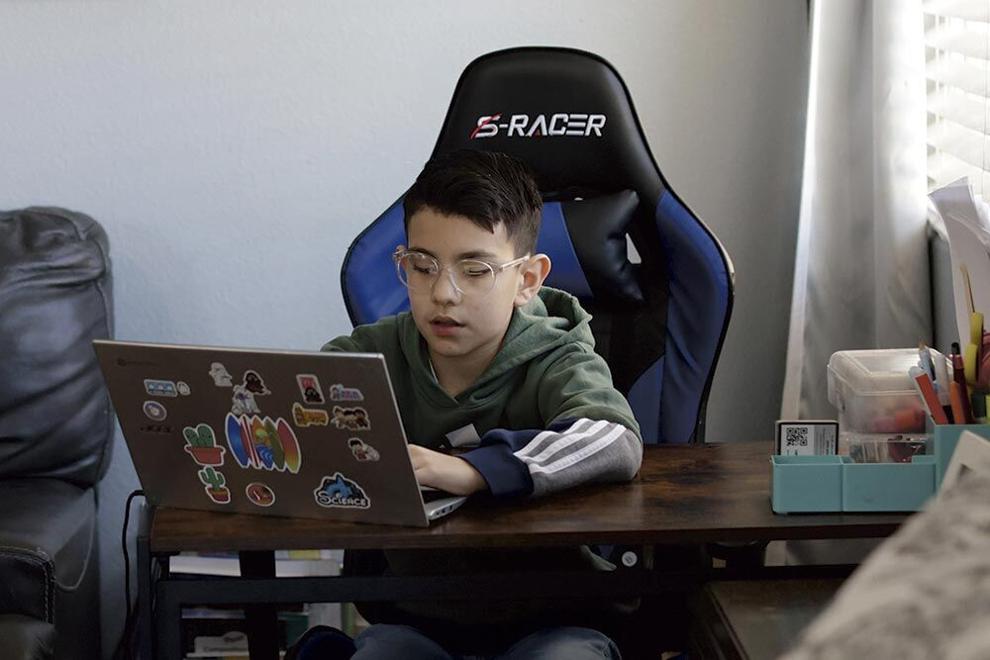 THE FAMILIES OF OVER 250 STUDENTS currently enrolled in remote K-6 education in Alisal and SCESD felt similarly to Núñez, choosing to stay virtual even when schools reopened in-person. SCESD's Virtual Academy was in high demand during its first year. "We had 13 classrooms, which far exceeded what we originally had planned," says Erika Tumminelli, principal of the SCESD Virtual Academy, which currently serves 302 students, about 4 percent of the district's total student body.
Classes are synchronous, meaning students and their teachers log in at the same time for live learning sessions, like they would in an in-person school. At Alisal Virtual Academy, each class averages 10 students. The small class size is just one way that today's virtual classrooms differ from the early, chaotic days of the pandemic – teachers and administrators have refined the model. They know how to use the technology (Google Classroom). Families are invited to pick up supplies in-person at school for activities at home.
Parents and teachers say these adaptations are helping the kids who are enrolled in virtual school succeed. Núñez's son Alexander Contreras, now in fourth grade, likes attending Alisal Virtual Academy, where science is his favorite subject. "We can learn about earthquakes and make things like buildings with our materials," he says.
His older sister Nicole, a fifth-grader, says online learning is "more fun" because they have more opportunities to be curious and learn through hands-on activities, with things like planting a seed, watering it over time and watching it grow.
For Núñez's family, AVA has been a game changer. "It was the best decision we have made in educating our children," she says. She's seen her kids gain confidence and expand their perspectives. "They say, 'Oh, now we are going to be inventors, mom,'" Núñez says; they talk about NASA, and are initiating their own projects at home. In December, her kids created snow at home. They've built structures with Legos while looking at an app to guide them. Núñez has seen a stronger emphasis on technology, something she believes will help her kids succeed academically and professionally.
There are about 70 students enrolled in the Alisal Virtual Academy, accounting for less than 1 percent of the total student body (AUSD's student population is about 7,500).
Alisal Virtual Academy Principal William Franzell says many of those students will return for the 2023-24 school year. "'Yes' was the overwhelming majority," he says of parents who attended an open house.
As the pandemic gets further into the background, interest has waned somewhat. AVA won't have a kindergarten class next year, due to low enrollment. "We're going to start with first grade because developmentally, they're a little bit more mature," Franzell says. Depending on interest from parents, kindergarten could be added back in the future.
Since the pandemic, interest in virtual learning at Salinas City Elementary has waned, but maybe it's leveled off. Enrollment in SCVA for the 2022-23 school year, 184 students, was town by 40 percent from the previous year. Tumminelli expects enrollment next year to remain steady.
THE TRANSITION AWAY FROM THE CHAOS OF THE PANDEMIC to virtual learning 2.0 for elementary students didn't happen overnight. It was a researched and documented process administrators worked on for months, reaching out to other school districts across the state that offered online classes, analyzing their approaches to adapt to their students' needs. Joshua Harris, AUSD's director of educational technology, says they wanted to offer different options for students and parents. And that includes not just technology, but some in-person elements as well.
At the Alisal Virtual Academy, the school provides learning kits – bags of craft sticks, paper, Legos, books and more, that students utilize from home for science projects and math activities.
Candace Ambrose is a fifth-grade teacher at AVA with 33 years of experience. "We've been teaching the same way for hundreds of years. We need to change it," Ambrose says. "This is my opportunity to try to do something different."
Her classroom is at Alisal Community School. (AVA is moving to Creekside Elementary for the 2023-24 school year.) The classroom itself looks deserted, with empty chairs. The activity is all on her monitor, from which students watch Ambrose and the whiteboard behind her.
Ana Lucia Vazquez, a second-grade teacher at AVA, has 10 students in her class. The main difference from in-person teaching, she says, is she doesn't have the same degree of control. If a student spends too much time away from the screen to get water or go to the bathroom, she texts parents to make them aware of the situation and bring them back to class. To get students' attention, Vazquez uses "AVA bucks" or dojo points; students who return on time from a break get a point or a "buck." They can later exchange them for goods like Slime, coloring books or playdough.
Internet connectivity can still be a challenge, and families who are not internet savvy may have a bumpy beginning. (Virtual academies provide tools like computers and hot spots.)
Besides screen time, SCESD and AUSD's virtual schools offer field trips and monthly in-person meetups. Students learn the same content that students learn in a regular classroom including writing, reading and group projects.
In the two years that Julyssa De La Mora, 10, has been in virtual learning at the Salinas City Virtual Academy, she's gone on field trips to destinations like the first Salinas mayor's house, the Harvey-Baker House (where they made butter), a pumpkin patch to harvest pre-Halloween, and an educational event hosted by the pro soccer team the San Jose Earthquakes.
Next to Kammann Elementary School on a sunny afternoon, dozens of kids are playing with their friends, watering plants, and eating pizza during career day at SCVA. Students talk with professionals from different careers including police officers, a teacher, and firefighters (a popular destination, where they got to climb up onto a fire engine).
Julyssa was there with her mom, Norma De La Mora. De La Mora found out about the new school on Facebook. She didn't know much about it, but since she is a stay-home mom and her daughter was afraid of returning to in-person learning because of Covid, she enrolled her in the virtual school. "I'm so happy that I decided to give this school a try," De La Mora says. She adds that she and other virtual academy parents have formed a tight community.
Julyssa now attends class from the family kitchen.
At AVA, students can attend school in-person once a month to interact with their classmates and work on art or science projects. Last August, during a science day, fifth-graders learn about physics and chemistry and the states of matter (solid, liquid, gas). After learning these basic science concepts, students grabbed different materials and practiced what they had learned. "We're not teaching reading in isolation or science in isolation," Ambrose points out. "We're integrating the subjects, which I think helps them make it meaningful for the kids and helps them make those connections."
Shawn Quiane, a virtual kindergarten teacher at AVA, says kids connect with the objects they have at home. Quiane was reading If You Give a Mouse a Cookie to her students through Google Classroom, and one of them moved from his seat and then reappeared on the screen holding a book by the same author.
Ambrose says, "We're focusing on integrating technology, integrating science and literacy, making those connections with the kids."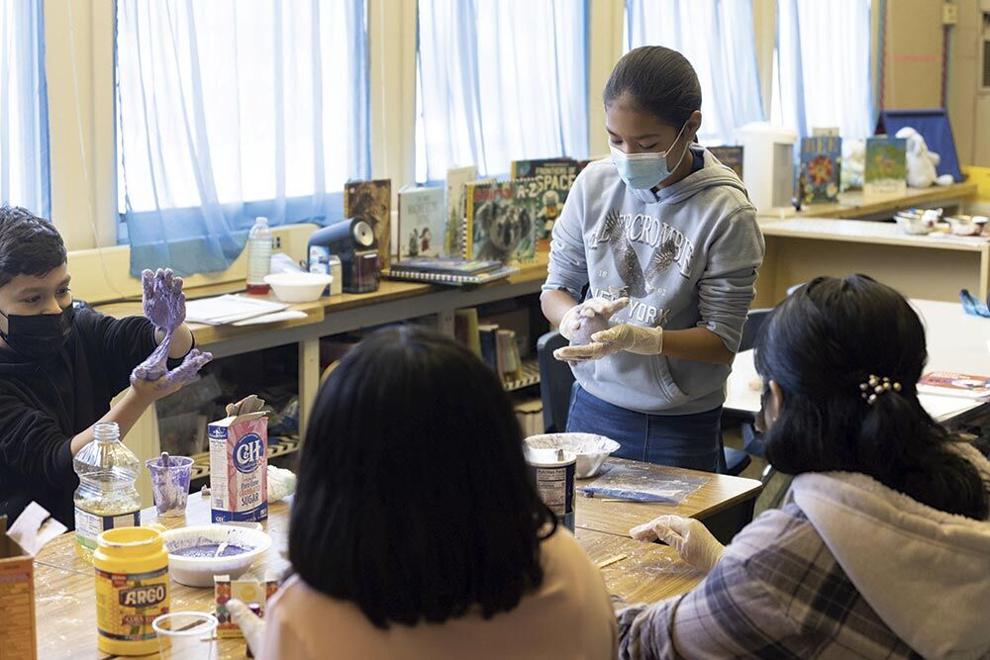 VIRTUAL LEARNING DOES NOT WORK FOR EVERYONE, but those who say it works for them find that it works really well.
"I don't have to sit in a chair all day," says Reese Martinez, a 10-year-old fourth-grader. Reese's desk is in his parents' room, and he attends class from a bouncy ball and spinning chair. Sometimes, he lies in bed or on top of pillows behind his back. Another plus: He can choose what to eat for lunch. "Sometimes I eat bagels. I love bagels," he says.
His sister, Sienah, also attends SCVA. Their mom, Amber Ali, says both kids have excelled in online learning; she says they focused more on academics than trying to fit in at school. Reese, who has ADHD, was medicated while attending in-person school, something Ali says he needed in order to function in a regular classroom setting. "We were having a big issue with him being overly exposed [at school] and then crashing and being tired by 5pm," she says. Then he'd be awake until 1am. Now, he doesn't take ADHD medication anymore, has a normal sleeping schedule and doesn't distract his classmates during class.
He's also learning how to program video games, using code from Gorilla Tag created by Axiom LLC, and he created a game he named "Happy Monkeys."
"He's able to essentially have a personalized IEP [individualized education program]," Ali says. Both Reese and Sienah made the honor roll.
Academic success in small, virtual classes is something multiple parents emphasize. "It feels like it's almost a private school because they go above and beyond," De La Mora says. "There are no shortcuts. Everybody is required to finish their work at a certain time." Her daughter, Julyssa, offers: "Reading was very hard for me and now I'm getting better and better." She now reads regularly, and her favorite books are Pinkalicious and The Otter.
De La Mora says Julyssa has also bloomed socially in the virtual academy, and even became co-president of her class.
She's one of several appreciative parents who say their kids gain confidence. "They aren't afraid to ask questions," Núñez says. Her daughter Kayla is also excelling academically: "Kayla now reads fluently in both languages, English and Spanish."
While parents and students share stories of positive outcomes, test results show that virtual students are performing at the same level as or slightly worse than in-person students. At SCVA, 26.1 percent of third – through sixth-graders were proficient in English, the same as district-wide. In math, SCVA is 5-percent behind the district average, at 15.6 percent compared to 20.4 percent.
AVA doesn't have test results yet since it is in its first school year, but Franzell says the academy's teaching approach is different from the other 12 schools in the Alisal district – it's more project-based learning. "If we're not engaging with students with what they're wondering and curious about, we're doing them a disservice by just teaching what the curriculum is putting in front of us," he says.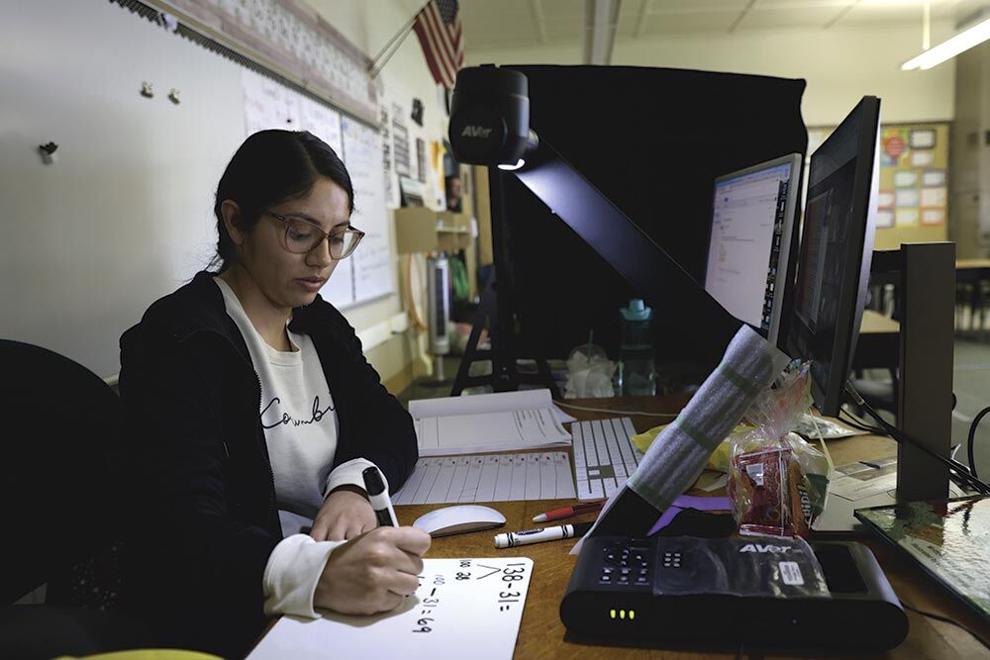 EVEN PROPONENTS OF VIRTUAL LEARNING VOICE CONCERNS about a need for human interaction. Parents say that when their kids transition from in-person to virtual learning they miss their friends, but eventually, they adapt to their new environment. And they note that conditions in 2023 are different than in 2020; during shelter-in-place, contact was mostly limited to one's household. Now, kids can meet up with friends after-school and attend events. Virtual learning now is more of a hybrid simply because the world is more open.
Deneen Guss, Monterey County superintendent of schools, says the pandemic was an eye-opener for parents who found some silver linings worth keeping. "Everyone has realized that there are options, and parents and kids and everyone in this world need options – in how you access your academic program, or even the doctor," she says.
Some parents of virtual students say their children have found social contact sometimes even more meaningful than pre-pandemic. Ali says during shelter-in-place, her kids missed their friends, but once they reunited, they told her, "We don't really have anything in common anymore." Now she takes her children to the Salinas Aquatic Center or the park where they interact with other kids.
De La Mora says there are regular gatherings. "We reach out to other parents and arrange play dates," she says. "I don't ever remember having anything like that in the actual school setting."
Some parents worry that kids spend too much time in front of a screen, but Núñez counters: "If we are going to talk about the future, most jobs are in front of a computer."
Franzell sees virtual classrooms as the future: "Our model is very much based on 21st-century skills," he says. "[Students'] questions and wonders and connections to their prior knowledge is what's driving instruction. It's very much like how scientists do their work."
With big changes, he sees this direction as one worth continuing to invest in: "The world is shifting and changing, especially with things like AI and technology. How do we use that for good?"
For some families and students – those with special needs, or who were not excelling in a traditional classroom – virtual learning may indeed be the future. But Guss believes that even as virtual learning models proliferate at the college and graduate level, the needs of K-12 students are different.
"College-level students more and more tend to want to take online classes," she says. "It either works for their schedule, or they have the convenience of being able to take their classes from home, and they save money on transportation."
For younger students, who are "still building those social and emotional connections," Guss says human interaction is "critical to our development."
And while online education at all grade levels is increasing, Guss doubts K-12 classrooms will move fully online. More than three decades ago, she remembers hearing a presentation in which the speaker predicted all education would be online. "That was the prediction 30 years ago and as you can see that didn't happen," Guss says. "Yes, it is an option. It's available, but it's not always the most preferred option by all individuals.
"Is it the way of the future? I don't know. It's always going to come back to what is the need of the learner."