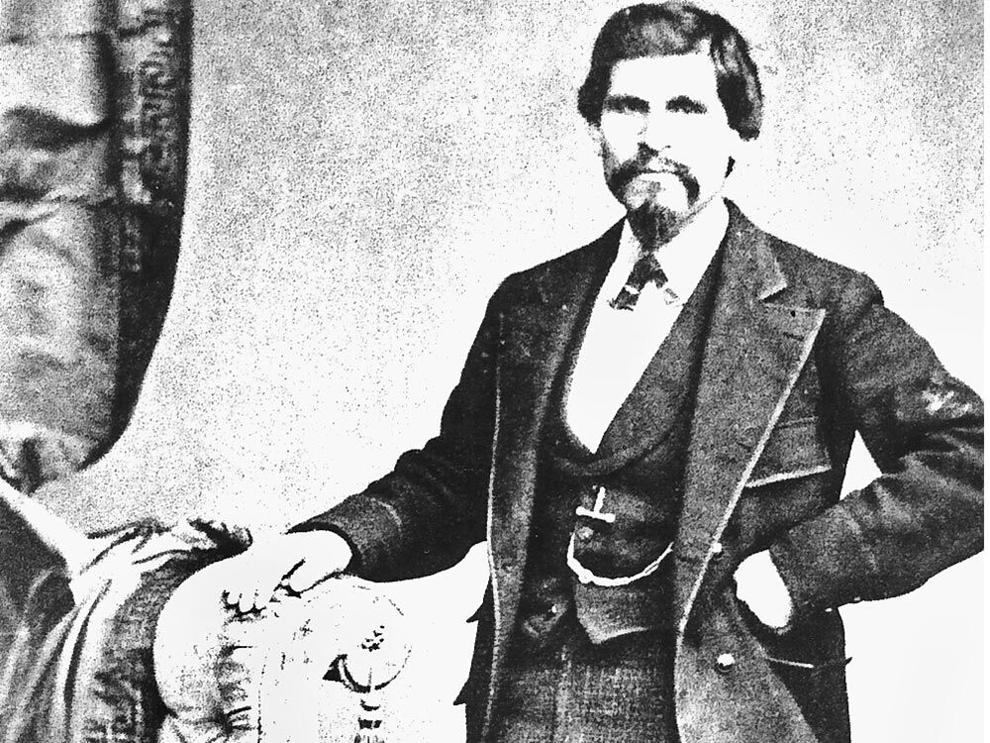 It's evening, August 26, 1873, and Tiburcio Vasquez – a career outlaw and native son of Monterey – is about to become the most wanted man in America.
Tiburcio, along with his right-hand man at the time, Clodoveo Chávez, both riding horseback, approach Snyder's General Store in what is now called Paicines – at the time Tres Pinos – preparing to meet fellow gang members after they finish what is intended to be a routine robbery.
But in the minutes to come, everything would go wrong.
Already, two other members of Tiburcio's gang are inside the store to case the scene. A third member, Romulo Gonzales – just ahead of Tiburcio and Chávez – arrives about 15 minutes later, wearing a mask and brandishing a pistol, and orders the owner, Andrew Snyder, his clerk and the two customers inside to lie down.
Tiburcio, having just left a failed stage robbery – one of his protectors was on the stage, so he bailed – is determined to make this next robbery pay off.
When he steps through the door of Snyder's not long after the pistols have been drawn, he's told the job isn't done, so he asks one of his gang members to join him outside.
Gonzales, who had entered wearing a mask, steps out, while the two members inside are set to finish tying up the victims.
Next door is a hotel, and from the porch of the store, Tiburcio can see people moving in and out of the door. There are also kids playing outside, and a man driving animals coming down the road southbound, from Hollister.
Then a local shepherd approaches, seeking lodging for the night. When the shepherd, Bernard Bahury, who is Portuguese, passes the store, Gonzales orders him to lie down. But Bahury doesn't understand, and flees behind the store and circles back around it. Gonzales pursues, and shoots twice, hitting Bahury once in the mouth. Bahury then struggles to the porch of the store, and another member of the gang, Teodoro Moreno – Tiburcio's cousin – shoots him in the chest and kills him.
George Redford, who had been driving animals down the road from Hollister with a load of fence pickets, arrives on the scene. But Redford, who is deaf, remains unaware of what is happening. Tiburcio and Moreno approach him, guns drawn, and upon seeing them, Redford flees toward a nearby barn.
Tiburcio shoots twice. His first shot kills a horse in the barn, the second kills Redford.
Those in the hotel – or at least some – see that murder happen. The township's saddler runs out of the back of the hotel, and then toward his shop across the road, but after seeing Tiburcio coming to cut him off, he runs back inside toward the front door.
When Tiburcio, carrying a rifle, comes around the corner by the front door – at that point closed – he fires a single shot at it, and the bullet rips through the door, then into the heart of hotel owner Leander Davison, who had been holding the door shut from inside with his wife Elizabeth. Leander falls back into her arms, and dies.
Then the looting begins: Tiburcio and his gang take all the cash they can off of those in the store, and the same at the hotel, where the owner's widow is crying over her dead husband on the floor. The haul is about $2,200.
After returning to the store, where they dress themselves in new clothes and accessories, they tap a keg of beer and dine on crackers, cheese, canned oysters and sardines.
Around 8:30pm, about two-and-a-half hours after the first members of the gang entered the store, Tiburcio gives the call to saddle up. They steal the eight remaining horses in the nearby barn, and load their plunder onto the pack mule Tiburcio and Chávez had brought with them.
They go on the run, heading south.
Then the chase begins.
News of the incident splashed across papers nationwide, and with the law on his tail at every turn, Tiburcio would stay running for the next nine months, while continuing on a crime spree in Central California.
But eventually – and he probably knows this as he's riding out of town – his luck would run out. Perhaps, if only at a subconscious level, that's what he wants – he's been running his entire adult life.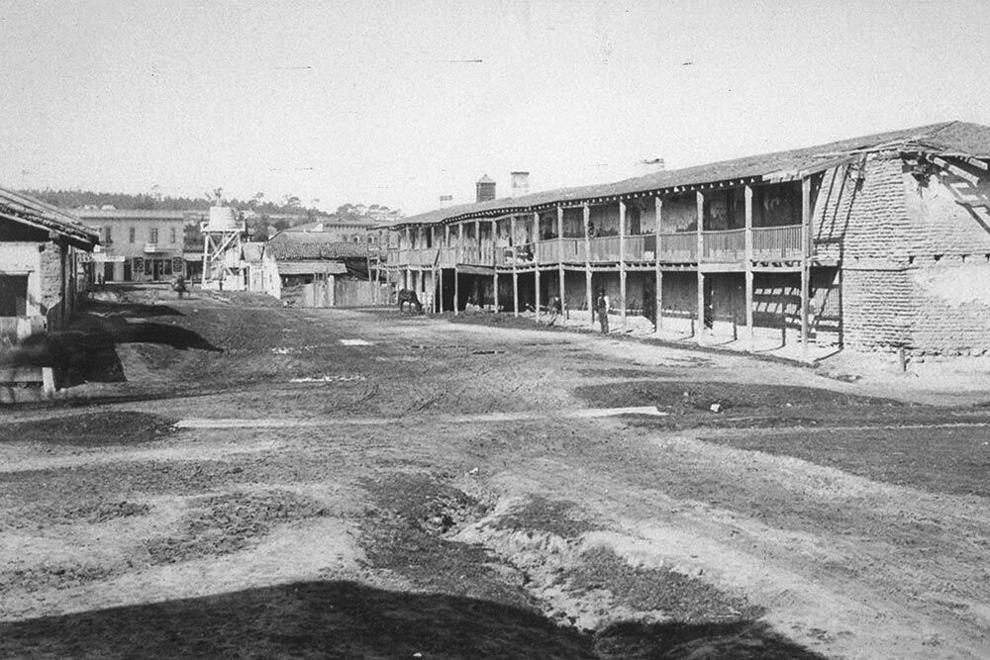 IN LIFE, AND EVEN MORE IN DEATH, TIBURCIO VASQUEZ BECAME A LEGEND.
He was handsome, charming, well educated and bilingual. He could also sing, dance and play guitar. In the Californio community – the original colonizers of Spain's Alta California, and their descendants – he was beloved.
When he was incarcerated in Salinas in 1874 before being transferred to the jail in San Jose, there were reportedly around 3,000 people trying to see him.
There were songs about his exploits, and in 1919, a silent movie about him was filmed at the Pinnacles titled Vasquez of the Pinnacles. Landmarks, and even institutions have been named after him, including, in 2012, an elementary school in East Salinas in the Alisal Unified School District; following controversy, the name was changed to Monte Bella in 2016.
The legend is that Tiburcio was a Robin Hood character.
Tiburcio stole mostly from white working people, not at all rich, and laid low for weeks within his vast Californio community across the state, paying for food and board. He also enjoyed biding time in any number of quicksilver mine camps on the Central Coast, where he could gamble, which for him generated income, and where he could also carouse with women and party – he loved women, and they loved him back, and in the end, that would be his undoing.
Tiburcio, to his dying day, denied ever killing anyone, but he told a lot of lies. (It's worth noting that, in the interviews he gave to reporters in his final year, he was being held in custody on murder charges.)
The definitive account of Tiburcio's life is John Boessenecker's Bandido: The Life and Times of Tiburcio Vasquez, which was published in 2010.
Boessenecker, an attorney in his day job, has somehow managed in his spare time to research and write 11 Western history books in the last 33 years. (In Bandido, the endnotes and bibliography total 40 pages.)
Boessenecker is currently at work on a book about Black Bart, who he considers among the most notorious outlaws of the West. The other two, he says, are Joaquin Murrieta and Tiburcio Vasquez.
Tiburico had all the attributes of a romantic Western hero: He was charismatic, and beloved by women. He was smart, a skilled horseman, and reportedly, a dead shot. He had swagger.
Yet he also had the makings of a classic villain: including all the above, he shot at lawmen on numerous occasions, he was a murderer, and stole from honest people for a living. He was also an unscrupulous womanizer.
But Tiburcio, through and through, was a Montereño, and in his teenage years, he saw the world he grew up in start to disappear.
TIBURCIO WAS BORN ON APRIL 10, 1835, the youngest of nine children, in a small adobe behind where Colton Hall now stands. Its address is 546 Dutra Street, and it's now owned by the city of Monterey, which uses it as offices for its recreation department.
In a city full of historical markers, there is no plaque about Tiburcio.
In 1775, Tiburcio's great-grandfather, Juan Anastasio Vasquez, was the first man to sign on to Juan Bautista de Anza's expedition to settle Alta California. His race was listed at mulato – of mixed Spanish and African blood. And like most men who signed on, he brought his family – a wife and three sons.
On June 27, 1776 – six days before America declared its independence from England – the expedition finally settled at a place that became Mission Dolores, and founded a city that would ultimately be called San Francisco. In 1777, Tiburcio's grandfather José, who was 20 when he came from Mexico the year before, helped settle and found San Jose. For three years (nonconsecutively), he later served as its alcalde, which essentially was both mayor and judge.
In 1834, with money she inherited, Tiburcio's mother bought the adobe in Monterey and moved there with her husband and children. Five months later, Tiburcio was born.
The world he came into was one of rich Californio culture. Life revolved around family, and religious festivals were celebrated with sometimes days-long feasts with bull and bear fights, cockfighting and horse racing. Dances were wildly popular.
Violence was also common. Boessenecker writes of "wide-eyed, barefoot boys following a mounted bandido down Calle Principal… a string of severed ears draped around his saddle horns… lonely travelers robbed and murdered on the roads leading out of the pueblo; public officers shot down in broad daylight; and desperate gunbattles between heavily armed ruffians in saloons and fandango houses."
The population of Monterey at the time was about 1,000, but Tiburcio's world was bigger: his father owned a small rancho in the Pajaro Valley, and he had relatives that owned land in San Mateo County and San Juan Bautista. His uncle Felipe was granted a 2,700-acre rancho bordering Pilarcitos Canyon, in what is now the Fort Ord National Monument.
It was there Tiburcio learned to ride and rope, herd, shear sheep and butcher animals.
After a public school was established in Monterey in 1842, Tiburcio started his education, learning English, and how to read and write proficiently.
Then in 1847, Mexico ceded all of California to America, and Anglos starting showing up in town.
His mother and sisters would make tamales and other dishes and sell them to American soldiers. On one occasion, after two soldiers were leaving the adobe, one started kissing one of his sisters, and Tiburcio, 14 or 15, jumped up, reportedly saying in Spanish: "Gringos! You've stolen our country. You've killed our men. Now you attack our women!"
Tiburcio became a popular rider in horse races in the area – he was but 5-foot-6 and about 135 pounds – which sparked his interest in betting on races, and ultimately one of his two great loves in life: gambling. The other, of course, was women.
That's in part why, when he started working at various ranchos in the early 1850s as a vaquero, it didn't take – he loved to be social. At 17, he opened up what was a combination of saloon, dance hall and gambling joint in downtown Monterey near what is now Abrego and Webster streets.
Scrapes over women were common – there were far more men around at that time than women. One night, he was involved in a brawl with Americans who he felt were mistreating the woman who was singing. That was the moment, he later said, he vowed to become a bandit.
At the time, Americans – and also white immigrants – were edging Californios off their lands through a legal system that was foreign to them, and they were forced to resettle in drier, more remote locations. But for Tiburcio specifically, it always came back to women.
He told a reporter from the Los Angeles Daily Star in 1874: "Americans, then beginning to become numerous, would force themselves and shove the native born men aside, monopolizing the dance and the women… A spirit of hatred and revenge took possession of me."
TIBURCIO SOON FELL IN WITH LOCAL BANDIDO ANASTACIO GARCÍA IN 1854, AND BLOODSHED ENSUED.
In September of that year, García started a fight in a Monterey fandango hall that led to a shootout with local lawmen, wherein Constable William Hardmount was shot and killed by either Tiburcio or one of his cohorts. Another account pinned it on Tiburcio exclusively, but he was never charged.
Tiburcio, 19, fled Monterey. He soon became linked to a murder involving García, and the two split ways. Tiburcio rode down to Ventura County, working for a time as a vaquero and shepherd. García was captured in San Juan Capistrano in 1856, and put on a steamship back to Monterey, where he was charged with six murders. In 1857, a masked lynch mob entered the Old Monterey Jail and put a rope around García's neck and strangled him.
That same year, Tiburcio was captured in Los Angeles County and charged with grand larceny for stealing horses. He was convicted, and sentenced to five years in San Quentin, on account of him being the leader of the gang.
The conditions at the prison were squalid, and Tiburcio would help lead four increasingly bold prison breaks, none of which succeeded, and which ultimately led to the deaths of 20 inmates, some of whom weren't trying to escape. In one attempt, Tiburcio was shot, but he survived.
The punishment for escape attempts was lashes, 50 or more.
Tiburcio was released in August 1863, having spent much of his young adulthood behind bars. He soon recruited a gang, and began a spree of robberies in the North Bay, which included stealing cattle. Sonoma County, suddenly, was experiencing a crime wave.
Tipped off by informants, including one from a captured fellow gang member – an American he met at San Quentin – Petaluma City Marshal James H. Knowles arrested Tiburcio in December 1866. He was convicted of a burglary charge and, in an apparent plea bargain, pleaded guilty to a grand larceny charge. He got four years total, and was sent back to San Quentin.
The conditions at the prison, which had been renovated since Tiburcio's last stint, were much improved. And because of the Goodwin Act, which the state legislature passed in 1864, Tiburcio could now get time shaved off his sentence for good behavior.
So this time, he behaved.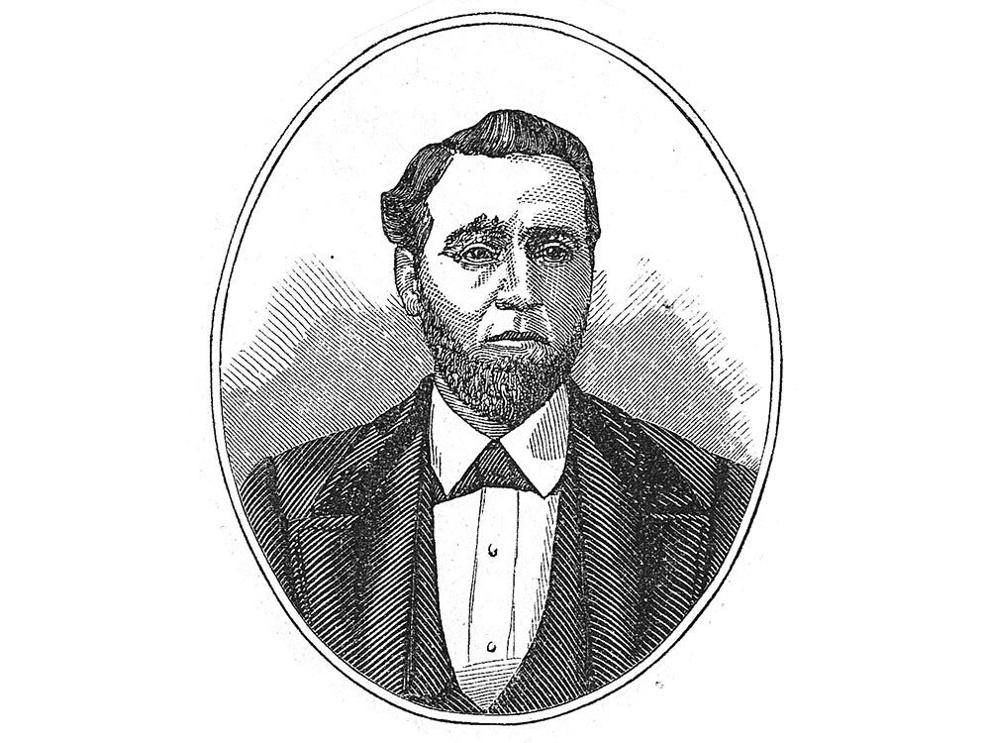 ON JUNE 4, 1870, TIBURCIO WALKED OUT OF SAN QUENTIN A FREE MAN. HE WOULD NOT SEE THE PRISON AGAIN.
He returned to Monterey County to see family members, and stayed for a spell with his two sisters in San Juan Bautista, who lived separately with their husbands. At the time, San Juan Bautista – then part of Monterey County – had a population of about 1,200 and had 17 saloons, and brothels.
It was in this milieu that Tiburcio recruited new partners, and a series of stage robberies and other crimes began. Tiburcio was soon suspected as an accomplice to a brutal murder in a holdup in Sunol Valley, and local lawmen, when they received tips, started forming posses to hunt Tiburcio's gang down. Matt Tarpy, a vigilante rancher in the Pajaro Valley, did the same. Among them, Tarpy would remain the most persistent.
And while the legal system was corrupt and inept through the 1850s, that was no longer the case. But law enforcement was still dependent on people, and Tiburcio was never aggressively pursued by local law officers. For several years, the county's deputy undersheriff was Jacob Leese, who was Tiburcio's friend in childhood.
Tiburcio evaded capture every time, but there were close calls, including a failed raid by Monterey County Sheriff Thomas Watson in Corral de Tierra. Tiburcio fled on foot, and spent a month in the mountains. Watson and his posse did not pursue him.
In September 1871, coming off a string of robberies and with plenty of coin, Tiburcio went into Santa Cruz for a night on the town. When he and his compadres were denied entrance into a brothel – it was midnight, and they were drunk – they shot out all its windows.
Officer Robert Liddell, of Santa Cruz, tracked them down on foot, as they were trying to find another brothel. A shootout ensued, in which Tiburcio shot Liddell in his thigh, and Tiburcio caught a bullet in his side. He was badly wounded, and fled on his horse.
In 1873, Tiburcio planted the seeds for his own demise.
After a robbery in Firebaugh, Tiburcio and his cohorts split up, and he went to stay with his brother Francisco, who went by the name Chico, at his place near Elizabeth Lake, in Southern California. In March 1873, he had an affair with Chico's 17-year-old daughter Felicita – his niece – and impregnated her. It is not clear if she knew he was her uncle.
In the months after Tiburcio rode north, it became clear Felicita was pregnant, and Chico vowed he would kill his brother on sight if he ever saw him again.
In Cantua Canyon, April 1873, Tiburcio got into a shootout with George Castro, who had property there and in San Juan Bautista, and was reportedly the only man Tiburcio was afraid of. Several newspapers reported, inaccurately, that Tiburcio was killed.
One of his compadres, Abdon Leiva – who later joined him in the Tres Pinos robbery – had recently bought property in Cantua Canyon, and Tiburcio soon had an affair with his wife Rosario, and also impregnated her. Though Rosario later accused Tiburcio of abducting her in the weeks to come – the accusation came after her husband had been incarcerated – there is no solid evidence to suggest this relationship was not consensual.
Both of those affairs would come back to bite him.
FOLLOWING THE TRES PINOS MURDERS, Governor Newton Booth offered a $1,000 reward for the capture of one or all the killers.
Santa Clara County Sheriff John H. Adams, campaigning at the time in Gilroy, heard news of the murders via telegraph while passing through town.
Adams wired Monterey County Sheriff Andrew Wasson to meet him in Hollister. When Adams arrived by train at 10am, he tried to recruit a posse, and Wasson later joined him, but by 5pm, they were only able to recruit six volunteers.
With Tiburcio always a step ahead, Wasson abandoned the hunt after Adams said he was heading east to Fresno to take a train to Bakersfield to cut off Tiburcio – Wasson said he had to return home to campaign. While the posse continued south, Wasson and Adams made their way to Fresno, where Wasson boarded a train back to Salinas.
As the running continued, down near Elizabeth Lake, Leiva caught Tiburcio having sex with wife Rosario. He had already come to suspect she loved him, and he soon abandoned the gang to ride to Los Angeles to turn himself in, and turn state's witness against Tiburcio. When he left, he still didn't know she was pregnant.
As he continued his pursuit, Adams telegraphed Los Angeles County Sheriff William R. Rowland, asking that he raise a posse and head toward the Elizabeth Lake area. They soon linked up, and engaged in a shootout with Tiburcio and his gang – no one was hit – and Tiburcio escaped, and the lawmen lost his scent.
In the subsequent months, Tiburcio and his gang would conduct a series of brazen raids in the San Joaquin Valley, causing the citizenry to rise up.
"Tiburcio's raids exacerbated racial tensions," Boessenecker writes. "Bands of vigilantes scoured the Hispanic settlements [nearby], terrifying Californios and Mexicans."
Tiburcio went on the run again. By this point, he had become a folk hero among Californios, as tales of his exploits were widely reported.
The award for Vasquez was $3,000 alive, $2,000 dead. Governor Booth tapped Alameda County Sheriff Harry Morse to lead the manhunt who, Boessenecker writes, "hand-picked an eight-man posse of seasoned manhunters."
After two months of preparation, the manhunt began. It would last 61 days, the longest ever at that point in California history. Initially, Morse and his posse chased down several false leads – the Californio community loved Tiburcio, and would not give him up.
But after his niece gave birth to their child – it was a scandal – the blowback was swift within the Californio community, and Morse soon got a tip for Tiburcio's location in the San Fernando Valley, where he was staying with "Greek George" Caralambo.
Morse notified Los Angeles lawmen, who indicated they didn't trust the information. Morse, exasperated, broke up his posse and rode north. But the L.A. lawmen nonetheless staked out Greek George's place for two weeks, during which time Governor Booth increased the reward for Tiburcio to $8,000 alive, $6,000 dead. Rowland approached Greek George, offering a share of the reward – after talking it over with this wife, he agreed – and plans for a raid on the property commenced.
Tiburcio was caught at Greek George's place in the morning on May 14, 1874, and as he tried to escape, was hit by two rounds of buckshot. It spilled a lot of blood but, yet again, he survived.
He would never again be a free man.
TIBURCIO'S ARREST CREATED A NATIONAL SENSATION, and both reporters and admirers flocked to see him in jail.
Because he was being charged with murders that happened in what was then Monterey County – in February 1874, San Benito County was formed – Tiburcio was soon put on a ship and brought to San Francisco, and then sent to Salinas.
On July 10, 1884, Judge David Belden ordered Tiburcio to be transferred to the jail in San Jose, at that time considered more secure than the jails in Salinas or Hollister.
In January 1875, a jury convicted Tiburcio of murder and sentenced him to death. On March 19, he was hanged, in the same city his grandfather had helped found a century before.
In the night before he was hanged, Tiburcio dictated a statement denouncing the outlaw life he had led, which included: "Standing at the portals of the unknown and unknowable world, and looking back upon the life of this, as I have seen it, I would urge upon you to make your greatest care to so train, influence, instruct, and govern the young to whom you have given life, that they be kept aloof… from the degrading companionship of the immoral and vicious."
Whether or not those comments were heartfelt is unknowable, but it burnished Tiburcio's image: He was articulate, and repentant, despite denying having ever killed anyone.
Boessenecker, however, isn't buying it. By his count, Tiburcio was involved in at least nine murders, not to mention the 20 inmates killed in the prison breaks he helped lead.
Tiburcio's fame continued to grow in death, as did his status as a folk hero for the marginalized Californio community.
A New York Times obituary about Tiburcio from April 1875 begins, "Tiburcio Vasquez was a bandit. He and his band ravaged at will several of the lower counties in California. In the wild, free, Andalusian life of Los Angeles and Santa Clara, these brigands found ample room and verge enough for exploits whose recital takes us back to medieval times."
The legend of Robin Hood started in medieval England, even though he was never a real person, at least as the legend described him. But people wanted him to be real, so the legend continued to grow – he was a character that gave people hope, joy and also, vengeance.
Tiburcio was real, but he was no Robin Hood. Yet for similar reasons, he was made into one.
Because for many Californios, who were often forced to the margins when America took over, he was a symbol of resistance to their world being taken from them. A world they would never get back.