In early 2014, Cary Neiman was a scrappy cannabis grower feeling ecstatic as he watched the long-standing taboo around his favorite plant easing. More and more states were enacting laws to allow medical and even recreational uses. He was determined to participate in the economic boom that would inevitably follow. So, on April 2, 2014, Neiman called up the richest person he knew.
What happened next is the subject of a lawsuit against one of the world's largest cannabis companies. Green Thumb Industries, a vertically integrated Chicago-based firm with 1,800 employees, is now valued at about $3 billion. Even with the pandemic recession, the company is growing at a rapid pace, selling $222 million worth of product in 12 states in the first half of 2020, more than the company sold in all of 2019.
The legal dispute over Green Thumb's founding has twists that echo the origin story of Facebook as told in the movie The Social Network, but in reverse. According to the lawsuit filed by Neiman in Illinois' Cook County Circuit Court, Neiman's richest acquaintance, a private equity investor named Benjamin Kovler, who knew nothing about the cannabis business at the time, promised Neiman partnership and financial support but ended up stealing the company and kicking Neiman out.
Kovler did not respond to a request to be interviewed. A spokesperson for Green Thumb Industries responded to the Weekly's inquiries with this statement: "This case was filed in 2017 and is pending in Cook County, Illinois. We don't comment on active litigation."
That leaves the narrative of what happened to court records, and to Neiman.
"He basically took all the knowledge I gave him, and all the lingo, and I hear him in the meetings and he would drop it," Neiman says. "At the time we were partners so I was like, 'Oh good Ben, you're really picking this up.' And then all of a sudden I was like, 'Oh shit, you're becoming me. You're Green Thumb Industries now.'"
In the wake of his ouster, Neiman, who is 43, moved to Santa Rosa, California, to start a new cannabis business, but soon the Tubbs Fire came along and consumed his family's home, his farm and all the cannabis flowers he had harvested during his second season in business. Now, he lives in Carmel Valley where he's fighting to claim some credit for Green Thumb Industries and "an amount in excess of $500,000, along with such further relief as this court deems just and proper," per the lawsuit. But these types of lawsuits can take years. The burden of a lengthy legal battle is putting Neiman under pressure to settle with Kovler, who has offered $275,000, according to Neiman.
Whatever the payout amount, Neiman could use a cash infusion to boost his latest cannabis venture, a retail brand curating products from select cultivators. In a nod to his Jewish heritage, he called the new brand Mazel Tov Farms, selling strains with names like Kosher Kush. The products are available at several dispensaries including The Reef in Seaside and East of Eden in Salinas.
The phrase "mazel tov" is used to express congratulations, but it literally means good luck. Both meanings of the phrase might come in handy in the near future as Neiman negotiates with Kovler and awaits a compensation offer from Pacific Gas & Electric over his destroyed Santa Rosa home.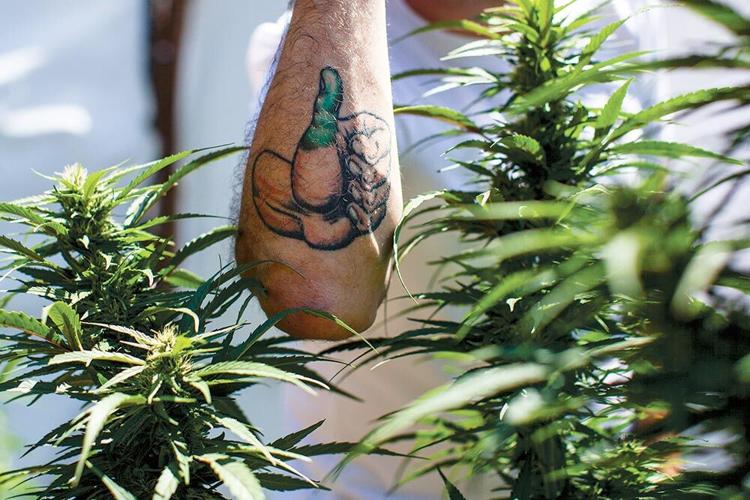 BACK IN APRIL 2014, WHEN THEIR SHARED FUTURE SEEMED HOPEFUL, Kovler asked to schedule a business lunch with Neiman as soon as possible. The two had known each other casually, having met as students at Francis W. Parker School, an elite private institution in Chicago.
At close to 1pm the next day, April 3, Neiman made his way to 875 N. Michigan Ave., known at the time as the John Hancock Center. At 100 floors, it was the fourth-tallest skyscraper in Chicago and the Kovler family empire operated out of a whole floor. Neiman arrived and met Kovler in the building's upscale food court.
"[Neiman] offered [Kovler] the opportunity to create a partnership under the name Green Thumb Industries in order to grow and sell medical marijuana in Illinois and other states through cultivating centers, processing facilities and dispensary locations," according to the lawsuit.
At that moment, it seemed, the best thing that could possibly happen to a cannabis grower happened to Neiman. Kovler invited him to his nearby office where they began discussing profit margins and the terms of a partnership. It would be the classic marriage of capital, Kovler, and ability, Neiman.
"Sounds like we need each other," Kovler told Neiman, according to the lawsuit. "I need you to teach me everything cannabis-related so I can be educated enough to get us the licenses we need… with your cannabis experience and concept for Green Thumb Industries and my capital and contacts, we will almost certainly be awarded all of the licenses we apply for."
The name of the venture came from an informal moniker Neiman gave to his previous medical cannabis operation in Michigan. Neiman had thought up a logo for the firm – a hand, drawn in green, making the thumbs-up sign. He had even gotten a tattoo of the logo on his forearm. The lawsuit claims Neiman flashed the tattoo showing it to Kovler during their meeting.
One of the reasons Neiman needed Kovler, or at least someone with money, was that he figured that the cost of applying for an Illinois cannabis growing and distribution permit was about $2 million. He offered to raise $1 million himself. But Kovler told him to keep his money, Neiman claims.
"Knowing our lanes is important," Kovler responded, the lawsuit states. "My access to capital and the relationships I have forged within the Illinois business and political world from [Chicago] to Springfield, as well as my family's name means that without me it is doubtful you will even secure one license."
About his family name: There's a Kovler Lion House and a Kovler Seal Pool at Lincoln Park Zoo, a Kovler Diabetes Center at the University of Chicago Medical Center, and a Kovler Hall at the Chicago Public Library.
The negotiation over the terms ended with Neiman agreeing to take a 1-percent ownership stake in Green Thumb Industries, the title of co-founder, an annual salary of $120,000 and the opportunity for him and his family members to acquire more of the company in early investment rounds.
They shook on it.
NEIMAN'S LAWSUIT ACKNOWLEDGES THAT HE DID NOT DEMAND A DEAL IN WRITING. That's not to say their business relationship went entirely undocumented. In the lawsuit, Neiman presents text messages and emails sent from the day of their initial meeting and the months that followed. "Stage is set well," Kovler wrote on April 4, a day after the alleged handshake. "Same outline to structure I proposed yesterday. Plan being I help you structure this right to protect you and set us up to win, well-capitalized w the right folks."
From there, they continued strategizing and started building a team and compiling permit applications. Neiman was teaching Kovler about the cannabis, a topic Kovler knew little about.
"I am getting somewhat fired up about this," Kovler wrote on April 18. "We have a ton of work to do."
The back and forth features business items like a May 5 text message from Neiman asking Kovler, "have we tied up www.greenthumbindustries.com?" and also what appears like friendship, with, for example, Kovler regularly asking Neiman to score him some pot: "Get a grip of indica for me," he wrote in one email.
Kovler was pulling connections and making progress on grabbing some of the few commercial cannabis permits that would be available in Illinois. He and Neiman had a small team ready. On May 10, Kovler wrote: "If this email is the core five, let's CLOSE THE KIMONO. Let's enter phase two leaner and better. New game and new look. New level of craZiness… "
ASIDE FROM NEIMAN, neither Kovler nor any of the other core team members of early Green Thumb Industries agreed to speak to the Weekly for this story. But the reason for Kovler's excitement is easy enough to glean from his family history.
In 1934, less than a year after prohibition, Kovler's great-great-grandfather Phillip Blum invested $5,000 in the bourbon distillery of James Beauregard Beam. His great-grandfather Harry Blum bought out the partners for about $1 million in 1941 and built Jim Beam into a brand that's sold in every liquor store and market, according to American Still Life, a book about the company. Blum's son-in-law Everett Kovler took over in 1959 and turned the brand international. In 1967, the Blums and Kovlers sold the company for an undisclosed amount.
As an heir to fortune acquired after prohibition, this generation's Kovler is trying to replicate his ancestor's success with cannabis as it emerges from its own prohibition.
"We're taking the world from moonshine to cocktails," Kovler said about his goals for Green Thumb Industries in a 2018 interview with Bloomberg News. "People come in complaining that the moonshine burns their throat, and we say, 'Here, try this rum and Coke.' We're seeking to create an authentic relationship with consumers in the same way that alcohol companies do with hard liquor, beer and wine."
For Salinas cannabis attorney Aaron Johnson, the period of transition that Kovler describes is indeed an opportunity, but it also contains a threat. The so-called green rush introduced deep-pocketed interests to the cannabis world. "I worry about these huge companies controlling the industry," Johnson says. "A lot of people are worried about that. We see a lot of local families and local farmers making it through the transition into a legal market, doing all the things you do in traditional agriculture. A lot of times, however, a larger company is welcomed because it brings expertise in compliance expertise, which is very hard to manage."
Arguably, Kovler is on pace to do better than his ancestors. As a publicly-traded company on the Canadian Securities Exchange, GTI releases regular financial statements. The most recent disclosure of major shareholders showed that Kovler owned 19.82 percent of the company's stock. That comes out to roughly $600 million, as of Sept. 14. The worth of stake has ballooned through the pandemic in tandem with a stock price that has tripled since mid-March. Kovler also owns 50.89 percent of the voting stock, which means he controls the company the way Mark Zuckerberg controls Facebook.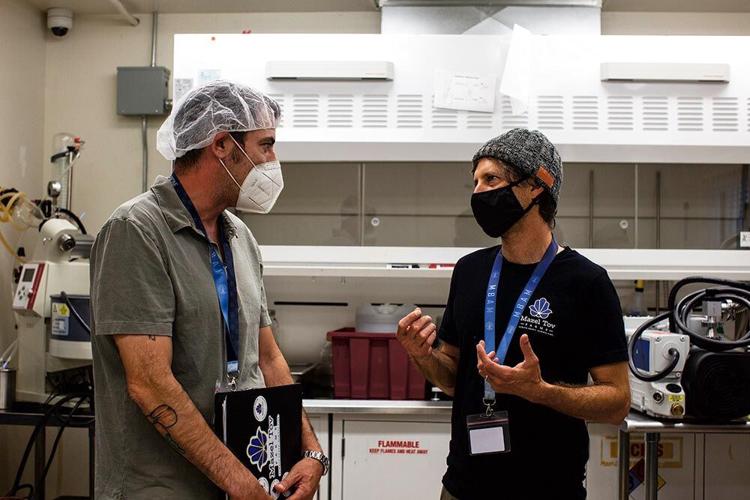 HOW KOVLER ENDED UP AS THE ZUCKERBERG OF THIS STORY, and Neiman with nothing, is a little murky. The lawsuit only hints at what happened, and Neiman's lawyers are limiting what he can say. By the beginning of May 2014, a core team had coalesced and it consisted of the two of them plus Peter Kadens, Ari Levy, Jeff Goldman, Ryan Suma and Mitch Kranitz, according to the emails. They traveled to Denver together, where they made some business contacts. They held regular meetings and discussed hunting for real estate to establish dispensaries and how to reach influential Illinois politicians.
But even while they worked together, Kovler allegedly began to mislead Neiman. On May 27, without telling him, Kovler registered Green Thumb Industries as a limited liability company. In mid-June, according to the lawsuit, he told Suma and others in the "core team" that he planned to "box Mr. Neiman out of GTI."
By July 6, the boxing out had apparently happened, because Kranitz sent an email pleading with Kovler to bring Neiman back. "I caught up with Cary this morning – He gave me the scoop on his situation," Kranitz wrote. "He indicated that he is 100% squeaky clean on file… Did you complete background checks on him?" Whatever issue might have come up in Neiman's background is not clear. "If all looks good on your end, I think we should pull him back into the team."
Kranitz gave three reasons. First, Neiman was critical to the founding of the group: "Without him, who knows if GTI/Clinic would even exist!" Second, the team could use the "ground work" he provided. And third, while the rest of the team were business people, Neiman knew cannabis. "He's the only resource on the GTI side with cultivation experience," Kranitz wrote.
Two days later, Kovler texted Neiman with false reassurance. "Don't worry, Cary," he wrote. "Everything I am doing is with the intent to win a license and put us in business. I am not turning my back on you."
Neiman believed him. In an email a few days later, he wrote: "Hope to talk soon regarding what you see as my role in the future with GTI. Can you believe how far this has come from our lunch that started this all?" Kovler responded with a terse email, entirely ignoring Neiman's nostalgic pleading.
Johnson says the dispute over the founding of Green Thumb Industries sounds familiar. "In the past, people were hastily putting deals together," he says. "It's a lot of trust and the need to get to the starting line that may have precluded formalizing the legal aspect. A lot of attorneys are dealing with issues that started with a handshake. But it's like getting married, you have to know who your partner is."
ON THE STREET AND PARKING LOT OUTSIDE BETHEL MISSIONARY BAPTIST CHURCH, hundreds of people gathered for this year's Juneteenth celebration, a holiday amplified by the resurgence of the Black Lives Matter movement. One of the few white people in the crowd, who is wearing a white T-shirt, jeans, sunglasses and collector sneakers, is Neiman, out celebrating Juneteenth with his partner Melissa Whitley, who is Black, and their two children.
On his arm is a tattoo with big, block Hebrew letters that roughly translate to, "What happened, happened." He says he was disappointed when he moved to liberal Coastal California and found only a tiny Jewish community. It might be an unlikely place from which to launch his Jewish-inspired brand Mazel Tov Farms, but Neiman says he plans to expand throughout California.
His Hebrew tattoo is matched by another, this one in English, on his other arm. It reads, "it is what it is."
Both tattoos date back many years, to a time before he had ever thought of approaching his richest acquaintance with a business proposition. When Neiman got these two phrases of forbearance, Green Thumb Industries had not yet formed nor its partnership been disputed, and his house had not yet burned down. It was like he was giving advice to his future self: "There are things you can't control," he says. "[These tattoos ] are a way to acknowledge what happened but be able to move on."
Unless it settles first, the case is next set for a hearing in Illinois' Cook County Circuit Court on Feb. 1, 2021.