ON A TUESDAY MORNING, THE MULTIPURPOSE ROOM AT CABRILLO FAMILY RESOURCE CENTER IN SEASIDE IS BUZZING. About a dozen people are unpacking large boxes of food and sorting the products into brown paper grocery bags. Boxcutters zip through packing tape followed by a loud slap as boxes are tossed unceremoniously into the middle of a hard laminate floor.
There is a system at work here. Unpacking donations, repacking them into individual bags, carrying them to a corner under the canopy outside. They are then accounted for by someone, before they're packed up to be distributed by drivers. But this isn't anyone's day job. The people on site are not working with a food pantry or any other nonprofit. They're volunteers associated with a grassroots interfaith service group called Love Our Central Coast.
The group is spearheaded by Shoreline Church member Eric Johnsen. He created Love Our Central Coast in 2016 as a way for churchgoers to complete service work. Eventually, it became an interfaith organization with big service projects twice a year. When Covid-19 hit, they focused heavily on feeding the homeless around the Monterey Peninsula. (Johnsen is familiar with this issue as the vice president of nonprofit Community Homeless Solutions' board of directors.) The group partnered with Seaside's Grocery Outlet for donated food and settled on a biweekly system. Thus, the well-oiled process of packing and delivering food to the homeless in various encampments on the Peninsula by a band of volunteer drivers on Tuesdays and Fridays was born.
"There is a religious side to churches, but there's also the human side to it," Johnsen says. "I think what we're seeing with this cadre of volunteers is people addressing that human side. I don't think you can live in this community without seeing what's going on."
And there's a lot going on because of the pandemic.
People are losing their jobs and their ability to feed and clothe themselves and those under their care. In May, unemployment reached a record high of 20.2 percent in Monterey County, the highest since 1990, when such data was first recorded. The Food Bank for Monterey County reports that prior to shelter-in-place, they served 13,000 families per month; since SIP, it's been 60,000 families. That meant depleting six months' worth of inventory in seven weeks, according to a June 23 report to the County Board of Supervisors. Call volume is up at United Way Monterey County's 211 phone resource line with questions about food, rent assistance and other essential, and at Suicide Prevention Service of the Central Coast.
The need is great, and serving people with the greatest need is complex during a pandemic. And yet, a group of mostly senior-aged people – one of the populations most vulnerable to Covid-19 – get in their cars, with masks and gloves, and show up twice a week to feed people with Love Our Central Coast.
"Everyone needs to eat," 82-year-old Joan Brophy Thomas says. She holds tightly to a clipboard, counting the number of bags quietly to herself and then recording the numbers. Brophy Thomas is not part of Shoreline Church, but she's a practicing Catholic and wanted to do something that fell in line with her religious beliefs.
"People are losing their jobs and going hungry," she says. "It's our duty to help out."
Different volunteers have different motivations. Rick Richards, who is breaking down boxes, says he's helping because he feels a responsibility toward others and this is where he was needed most. "I'm 66 years old, and after three years of [volunteering], it has made a world of a difference to my blood pressure," he jokes. "I feel a responsibility to this community. Isn't that just beautiful what we're doing here?"
The formula for effective community efforts like Love Our Central Coast is simple: finding a need and then filling it quickly. No strings attached.
It's one of the many examples springing up of direct aid – no formal nonprofit, no board of directors – just people getting together to help other people in an immediate way. Grassroots efforts aren't new, but in the urgency of the pandemic and faced with the need for essentials, like grocery shopping for an immuno-compromised neighbor or delivering food to homeless encampments, they've found a new footing. Meanwhile, nonprofits themselves are facing challenging economic times, and struggling to deliver on their missions. At a time when their work is needed more than ever, the machinery behind them is under pressure.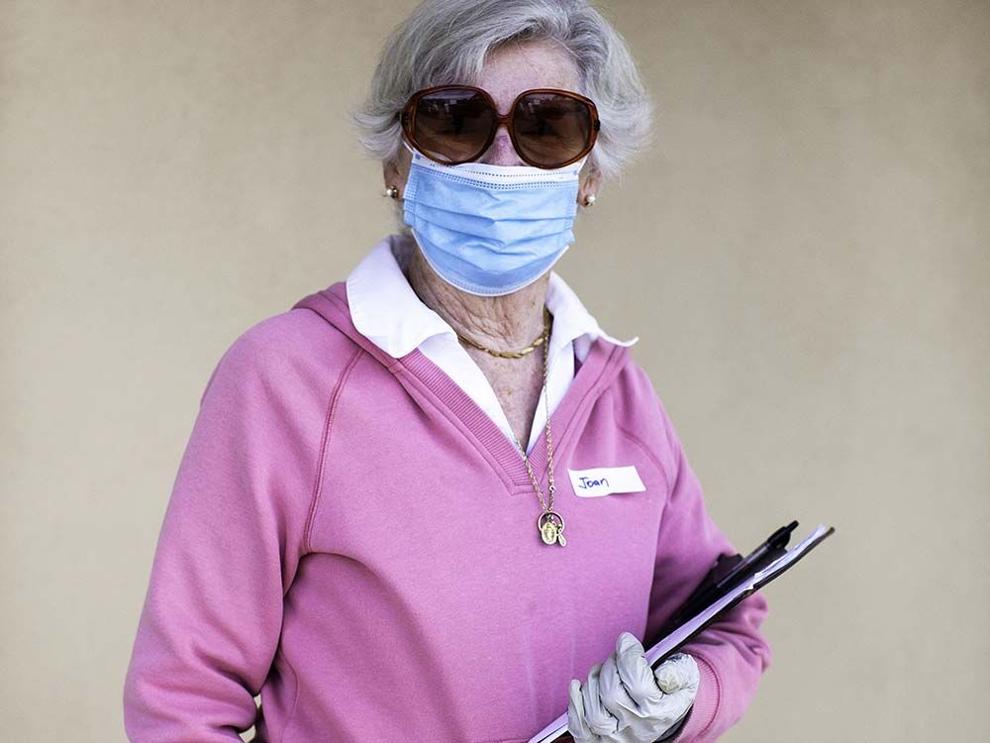 MANY MONTEREY COUNTY NONPROFITS WERE DEEMED ESSENTIAL when shelter-in-place orders first took effect on March 17. But with SIP came orders to comply with social distancing and other health policies. About 75 percent of volunteers at the call center for Suicide Prevention Services opted to do shifts from home, rather than at the call center, which required a quick technological adaptation. Food pantries transitioned from in-person gathering places to drive-thrus, with an invitation to pull up and never leave your car. Interim Inc.'s Omni Resource Center, which normally welcomes clients in person for support dealing with mental illness, had to transition to virtual support groups.
As nonprofits transitioned, the demand for many of their services also grew – and fast. Days after the county's first SIP order took effect, an influx of people came to Catholic Charities Diocese of Monterey asking for rental assistance or for help signing up for medical insurance. "It was the same story. A man or woman would come to us saying that they were laid off from – choose whatever hotel you know, one of the big ones – and they're not eligible for unemployment, or they can't make rent," says Ana Ventura Phares, executive director of Catholic Charities. "Our work was absolutely essential."
To keep running, they made some changes; those who could work remotely did. They set up servicing windows and installed drop-off boxes. They bought personal protective equipment for any clients who had to be in the office.
Beyond adaptations, the pandemic meant forming new partnerships. When the state committed $125 million for one-time cash assistance to undocumented workers, Catholic Charities partnered with other tri-county nonprofits, like Santa Cruz Community Ventures and United Way of Santa Cruz, to distribute those funds around the Central Coast.
Catholic Charities leveraged its reputation to reach people in need of direct assistance related to Covid-19. Among other services, like help navigating the immigration system and laser-tattoo removal, Catholic Charities has been helping people find food, emergency monetary aid and rental assistance, or enroll in Medi-Cal for decades. "People know they can come to us," Ventura Phares says.
The nonprofit's history positions them to do exactly this sort of work of direct aid. But the need was so great, other nonprofits changed gears to help too.
In North Country, the Elkhorn Slough Foundation, which normally helps protect and preserve the Elkhorn Slough watershed, began delivering meals to people in rural communities of Pajaro Valley. In Seaside, nonprofit Palenke Arts normally provides accessible art classes for low-income students. During the pandemic, they handed out $500 Target gift cards to families.
"It was a real burden on our community," says Juan Sánchez, executive director of Palenke Arts. "How were students going to concentrate when mom is worrying about socks or food?"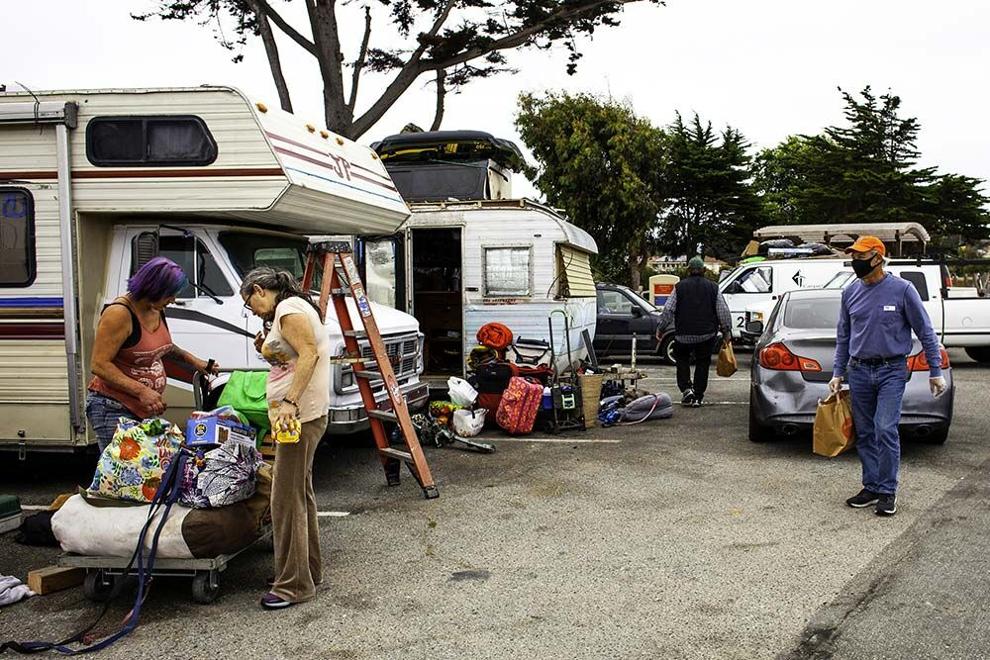 NO ONE CAN PREDICT THE ECONOMIC TOLL OF THE PANDEMIC YET, but the urgent calls from nonprofits for financial help came swiftly. The Community Foundation for Monterey County launched a Covid-19 relief fund on March 16, with 100 percent of donations going to nonprofits. As of July 23, they've raised over $3 million, and distributed $2.8 million in 120 grants to 100-plus nonprofits. (That includes $25,000 to Palenke Arts for the gift cards for immigrant families; $150,000 to the Food Bank for Monterey County for emergency food assistance; and $20,000 to Carmel Foundation for low-income senior housing, among others.)
"With the pandemic, we lost our five most lucrative forms of income," says Sánchez, noting that Palenke Arts' fundraisers were all in-person events. The Community Foundation's relief fund was intended to help nonprofits meet the immediate and unprecedented needs of the people they serve related to the pandemic, and also to survive it themselves. "These are challenges nonprofits saw in their community. In March, things looked really dire. Now today, well, things aren't so rosy," Community Foundation President/CEO Dan Baldwin says. "The impact of this pandemic is huge."
At Catholic Charities, Ventura Phares says, "The need [for services] is huge. We need 10 times more staff just to deal with the increase of people."
She reports donations to keep up the services have been generous. As for her keeping her 24 staff members paid and operations going, they received money from the federal Paycheck Protection Program and some individual donations. "Our donors are really great and the response to help is big," she says. The only difference is the number of people who need help.
When it comes to how nonprofits will fare long-term, Baldwin remains only cautiously optimistic: "It's clear, whether you run a small business or a nonprofit, not everyone is going to make it out OK."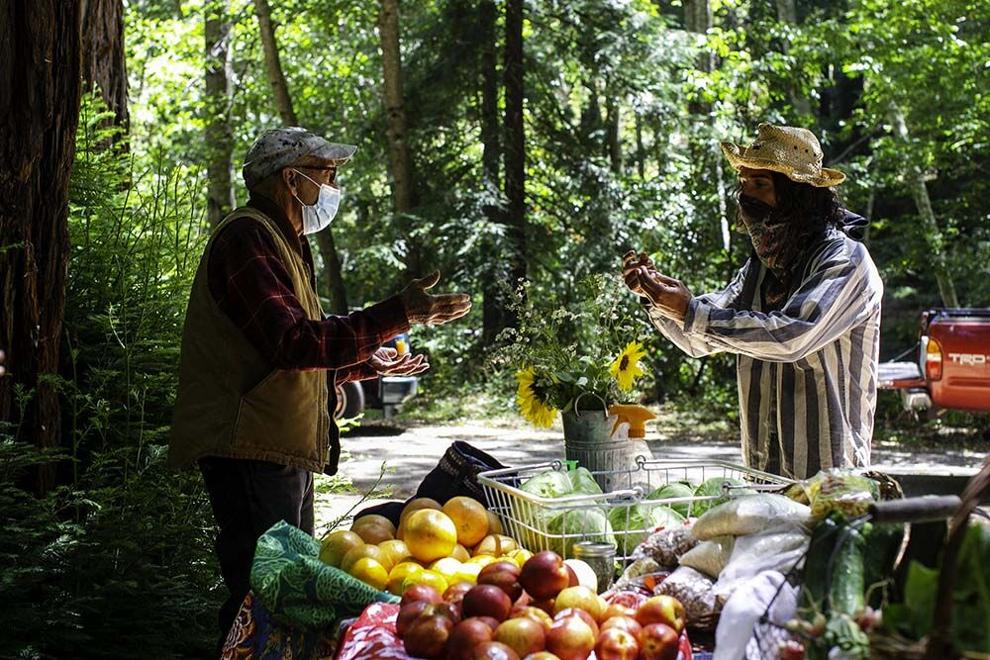 ON A WARM MONDAY AFTERNOON, UNDER A GROVE OF REDWOOD TREES outside of the Big Sur Grange, Helen Handshy attends to a table with fresh fruits and vegetables and several bags of rice and beans. The stall is a simple concept: take what she didn't eat from her home garden and share it with her neighbors once a week. It grew into Big Sur Big Share and with co-founder Joseph Bradford and a few others, the group now provides fresh fruits and vegetables to Big Sur.
"It really started by looking at what we had, and when we looked around, we had enough," Handshy says.
"[Big Sur Big Share] came about organically from our environment," says Bradford. "We didn't want this to become 'charity,' because we know people need help, but people don't like asking for help. So we just put it out all there, and see where it took us."
News of the project spread by word of mouth. People sometimes pick up more than their share so they can drop it off at a neighbor's home. Those who don't need food donate from their own gardens or pick up extra nonperishable goods when they're shopping in town. Even Handshy's 90-year-old grandmother pitches in, sewing grocery bags from home since she can't be on-site while sheltering in place.
Bradford adds that Big Sur is a tough community to reach because of its rural, spread-out geography. Many people live in remote areas without cell phone service or internet connections.
They're looking at ways to expand – maybe sharing tips on how to increase productivity of home garden plots, or reaching more of their neighbors to minimize trips into town. Something that hasn't quite come to mind while working on this project: partnerships, specifically with nonprofits. "We want to see where this grows and see if that's really the right decision," Handshy says. "Right now, my main concern is getting food from point A to point B." In the future, she knows that food from her and her neighbors' gardens will run out. At that point she may look into partnering with small farmers, such as Agriculture & Land-Based Training Association, or ALBA, a nonprofit in Salinas.
Like Love Our Central Coast, Big Sur Big Share is a hyper-local but effective effort. But efficacy is dependent mostly on one variable: the number of volunteers. For Handshy, more volunteers means extra hands at no cost for delivering and sourcing food. It has meant being able to attract different kinds of people, so now Big Sur Big Share has spread to some harder-to-reach communities like the Latino population. They've recently went from packing 112 boxes of food to 168 boxes of food.
"It's clear we've underestimated the need here in Big Sur," Handshy says. "The more volunteers we get, the more we can continue giving to our community."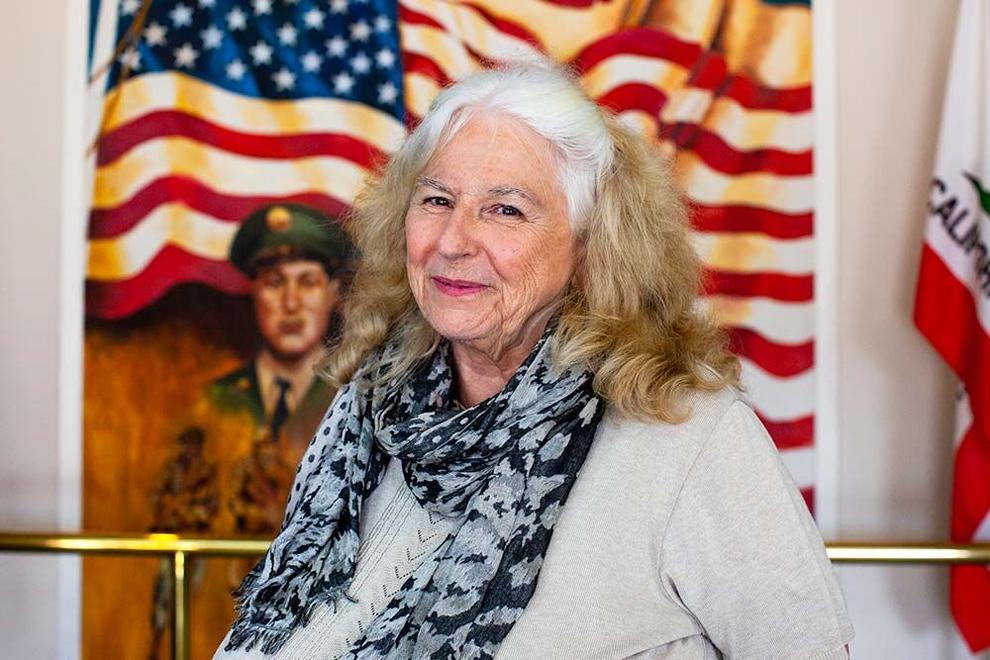 TISH SAMMON IS WELL ACQUAINTED WITH THE POWER OF VOLUNTEERS. As co-executive director of Community Builders for Monterey County, she coordinates connections between prospective volunteers and organizations in need of their services, helping match interest and availability with need.
"Nonprofits rely on the work of volunteers," Sammon says. She points to places like the Monterey Bay Aquarium, for example, which relies on 650 volunteer guides during normal times.
Volunteers power both large legacy nonprofits and informal grassroots groups. Sometimes their numbers are the reason small direct aid efforts can grow. "Neighbors helping neighbors don't have a board of directors to talk to, or grants to write – they're not accountable to anybody but who they're helping," Sammon says.
During the pandemic, some reliable but high-risk volunteers have had to quit commitments due to SIP, but many continue, willing to risk their own health to help. At Love Our Central Coast, volunteers are predominately over age 60. For food, the group relies on donations from Seaside's Grocery Outlet. Deliveries are made to homeless encampments on the Peninsula by volunteers who use their own gas. "Our projects start at no-cost to low-cost because that's what's possible," Johnsen says. "People are doing this because they want to be here."
Nonprofits have made big adaptations, but they can be more unwieldy than grassroots efforts. Some have complex legal requirements or confidentiality rules to follow, and they're structured more top-down, plus there are often additional costs. "Nonprofits have to think about safety and liability and insurance and PPE and who is at risk," Sammon says. "There's a few more hoops to jump through."
Whether it's a multimillion nonprofit or a neighborhood vegetable stand, Sammon sees a bright future for both. Nonprofits have the ability to magnify the power of localized needs if they partner, and hyper-local groups can tune in to immediate needs.
"I think it can be sustainable. If small projects grow, they can partner with bigger nonprofits," Sammon says. "People are already seeing budgets being slashed, so bigger agencies are going to have to look at ways they can keep relief going. I think partnerships are going to grow. The need is certainly not going away. "
The need for large and well-established organizations is also not going to go away. Catholic Charities joined an effort by Communities for Relational Power in Action to successfully advocate for a change to the California state budget – the kind of work that is too big for a small-scale neighborhood group – to extend the California Earned Income Tax Credit to some undocumented immigrants. Their advocacy means up to $6,600 for more working families with children who do not qualify for unemployment benefits.
"That's part of our mission," Ventura Phares says. "When working people are in some kind of crisis and their cities, state or federal government does not respond, we have to advocate for them."
Broader partnerships, and with them broader reach, are already happening. Love Our Central Coast is working with Rancho Cielo in Salinas, a campus for teens and young to complete vocational training programs and earn high school diplomas. They'll team up in August to pack donated vegetables and distribute them to families in need.
"It's a great time to be out there in the community and to be feeders and build relationships," Johnsen says. "It allows Love Our Central Coast to connect with food pantries and other nonprofits locally. We can promote this stuff and do projects together. There is a balance."