It was New Year's Eve 1998, and 11-year-old Joe Jaskolka was celebrating with his parents in Philadelphia. In the first few minutes of 1999, the boy was walking alongside his father. The sounds of midnight echoed through city streets – fireworks, congratulatory shouting, Champagne corks.
And gunshots as revelers fired guns skyward.
One of those aimless, celebratory bullets arced up into the sky and then rocketed down. It might have traveled as far as five miles. As gravity pulled that bullet back toward Earth, it whizzed past buildings, trees and telephone poles. The bullet collided with young Joe Jaskolka's head.
The bullet is still lodged there, 16 years later. Jaskolka, now 28, lives in Wilmington, Delaware with his parents. After years of arduous recovery, he's able to move about in a wheelchair, and he's studying criminal justice at a community college. His speech is strained, but in a FaceTime interview, Jaskolka is smart and articulate, and he wants to tell his story.
"I want people to see the scars on my head, and maybe to feel, wow, what happened to that guy?" Jaskolka says. "I want people to find out what happened to me.
"What gun violence prevention activists do, what I do, is we just try to raise awareness," he adds. "People can choose to ignore what's going on and play dumb. But I can't play dumb. I can't ignore it."
Every December, Jaskolka joins Philadelphia law enforcement officials at a press conference urging people to lay off the celebratory gunfire. There are news articles, citing the last New Year's shooting count (there were 114 reports of gunshots in Philadelphia, according to CBS news, as 2013 ticked into 2014).
Year after year, news photographers photograph Jaskolka at a podium next to uniformed officials. So when Brooklyn photographer Joe Quint contacted Jaskolka's family, it's no surprise they thought he was just another guy with a camera.
"I first thought he was another reporter," Jaskolka recalls. "Then he gave us a link to look at some of what he was doing, and I thought, 'Wow, he's a brave man.'"
Quint, whose day job is running a marketing design studio, has made it his mission to document the daily lives of people affected by gun violence. And he does it through artful portraits of intimate, private moments, showing friends helping bathe their paralyzed friends, or moms weeping at the headstones of their murdered children.
The idea struck mid-2014, after a shooter at UC Santa Barbara killed seven people. Quint glanced at the cover of People magazine; the cover story was about Kim Kardashian and Kanye West's wedding. A small box in the upper right-hand corner read, "College Murders: How could this happen – again?"
"I was struck by both the naivete and borderline irresponsiblity of that subhead," Quint writes by email. "'How could it NOT happen again?' was my immediate reaction."
The moment for him was a call to action, and he took with him the tool he knows best: his camera. Quint travels the country collecting stories and images detailing effects of gun violence on family members who've lost loved ones, and individuals who've survived shootings.
The resulting project, It Takes Us, is a collection of powerful black-and-white portraits, taken at locations chosen by Quint's subjects.
He also travels as an activist to talk about his work, which will be exhibited at The Press Club in Seaside starting Friday, Sept. 25. He spoke to the Weekly in advance of the opening.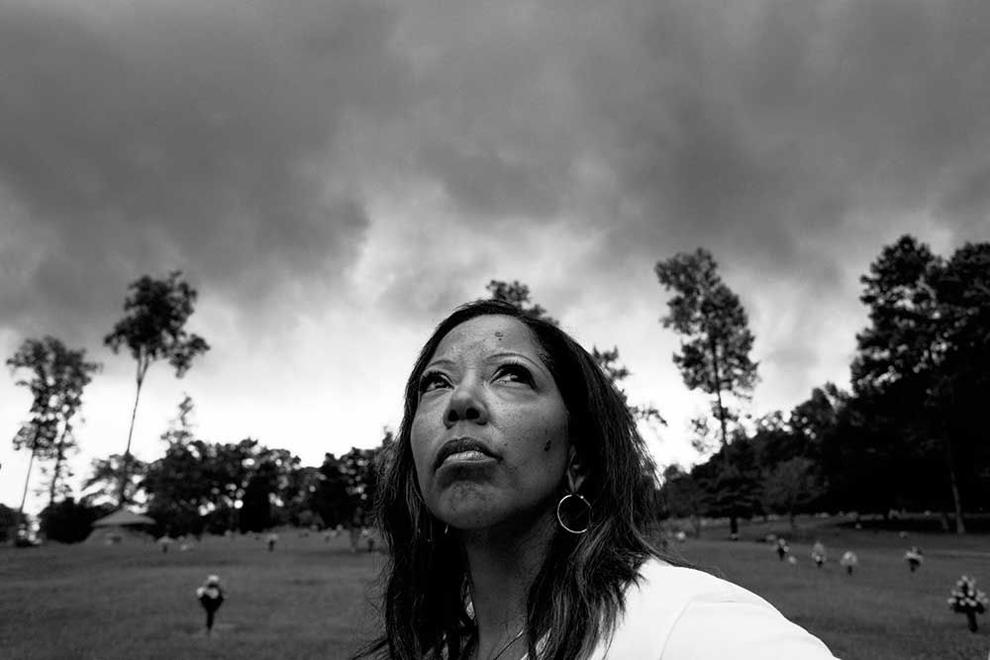 Weekly: You're capturing people in their most intense moments of grief. Does it get you down?
Quint: Yes, it does. It's intense. It has taken its toll. But there's perspective: These people have to live this every day. It sounds cliché, but I am really inspired by their strength.
I was impacted by gun violence a little bit in college, but it's not really part of the story or why I did this project. I'm lucky in that I have the luxury of leaving it behind, but they don't. That keeps me going.
The stories of each of these shooting victims are so diverse. Is there a common thread that runs throughout It Takes Us?
It's not just Baltimore, New York, Detroit, Chicago. Two-thirds of gun deaths are related to suicide. Let's talk about that. Let's talk about how much more likely a woman is to be killed by a domestic abuser if there's a firearm in the house.
It's about PTSD and suicide, which accounts for two-thirds of the gun deaths in this country. We have drug companies spending a zillion dollars to treat depression; people get better. These are deaths that don't need to happen.
There are all these other things that the other side doesn't want to say are part of the story. They just want to say, "It's good guys and bad guys," as opposed to, "This is a really complicated issue that touches everybody."
Just because you don't happen to live in a bad neighborhood or send your kids to a crappy school, it doesn't mean you're immune to this at all.
When it comes to gun violence in Salinas, police say that victims and perpetrators are almost identical. Police have found that in most cases, the victim and the suspect are similar in age, demographic, criminal record and the number of times they've been incarcerated. That's part of the story we in the media keep telling, because it's part of the facts, but does that do a disservice to the bigger picture?
My concern is that people tune out, because it fits the narrative that they want to believe: "This is something that happens to them, it isn't something that happens to me; if that guy wasn't in that situation he'd be fine, but he made his choices."
I used to go to meetings of an organization in Harlem for women who'd lost sons. I'll be honest: A lot of these kids, they're not altar boys. They made some choices that I wouldn't make. But regardless of who these kids are, these mothers definitely didn't deserve the level of suffering they're experiencing. And these kids made choices from a place that I'm fortunate enough not to have to make choices from. I can't sit in judgement of what it's like to be 14 years old, have a father that's not in the picture, a mother that's addicted to drugs, have no money, everybody you know is involved in drug dealing, has been to prison, has been shot. There's a certain, this is what life is like.
Who's your intended audience?
There are the people who believe what I believe, and haven't yet been motivated to action – basically me, a year ago – who think, "I can't just 'like' another Facebook page and I'm active." They need to have some skin in the game.
Another is people who are already involved in the movement. People can get burnt out. I think there's a value in firing up the faithful.
Another group is the responsible gun owners, who are with the majority and believe in safe storage laws and background checks.
There's the fringe 5 percent that no matter what you say, they hear, "Oh my God, they're coming for my guns!" There's no point in talking to those people because we're never going to turn them around.
Do you hear much from extreme gun rights Internet trolls trying to take you down?
Every day. I try not to go into the weeds with them, because they'll do it for 12 hours. That's their job. They feel like if they can keep me engaged for 12 hours, they're being good soldiers because they're keeping me from doing something more productive.
If I talk about the project on Twitter or online, I'll get 17 people posting, "How come you don't want to profile people who have used guns to protect their family?" Well, because that's not my project. What this project is about is showing the impact of gun violence.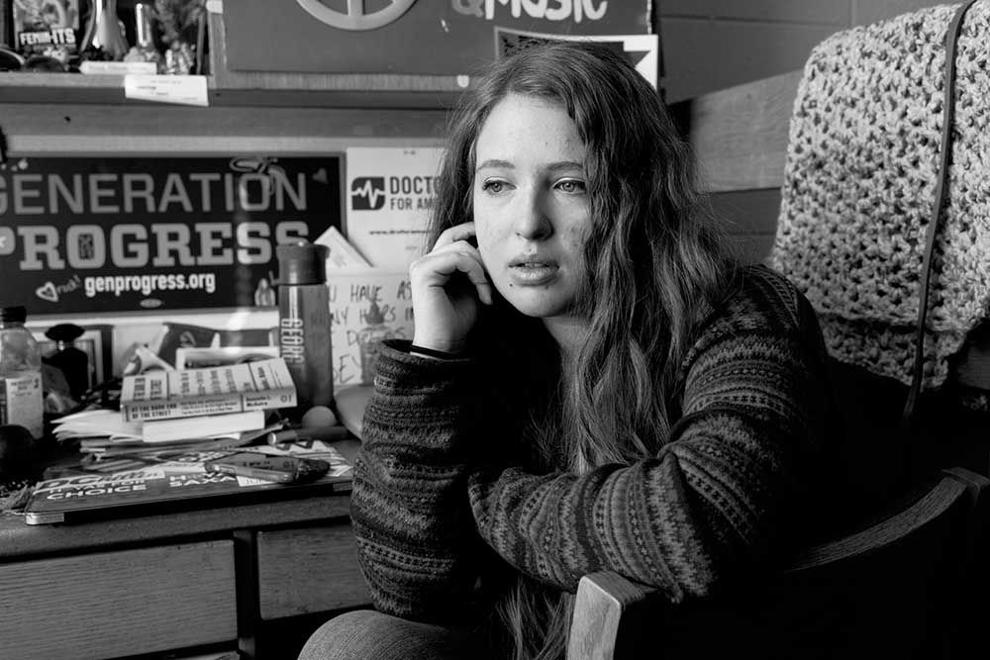 Tell me more about the messaging you hear from "the other side."
When the other side talks about good guys with guns and bad guys with guns, they don't realize that many of these perpetrators are good guys with guns right up until the minute that they're not. There's no way to screen for that.
Especially with suicide, the NRA and gun activists try to marginalize it and say, "That's a mental health issue, it's not a gun issue."
How has your own view on guns changed since starting It Takes Us?
Before I started, I might've been in that camp that would say, "Screw it, let's ban all the guns, enough's enough." Now I realize I don't have anything against the machine, per se. Prove to society that you're not crazy, that you know how to use it responsibly and that you're going to lock it up when it's not in use.
I can't turn around in New York City without getting a ticket. Where's the enforcement for somebody not taking the same level of precaution that I need to take with my car? If you're willing to have the same logic applied, that exists not only for your own safety but the safety of society as a whole, then I have no problem with the inanimate object.
Are you optimistic about seeing smarter gun laws in the future?
I am more optimistic than I was when I first started this project. The fact that [presidential candidates] are even talking about it is progress.
Your subjects allow you very intimate access to photograph them in emotionally sensitive space. What's your process like for developing a relationship and getting access like that?
It's me, one camera, one lens and a small audio recorder. It's not big bells and whistles; it's very fly-on-the-wall style documentary photography.
So many of these people have been revictimized by the media, and even though I don't consider myself a part of the media, to a lot of these people, I was.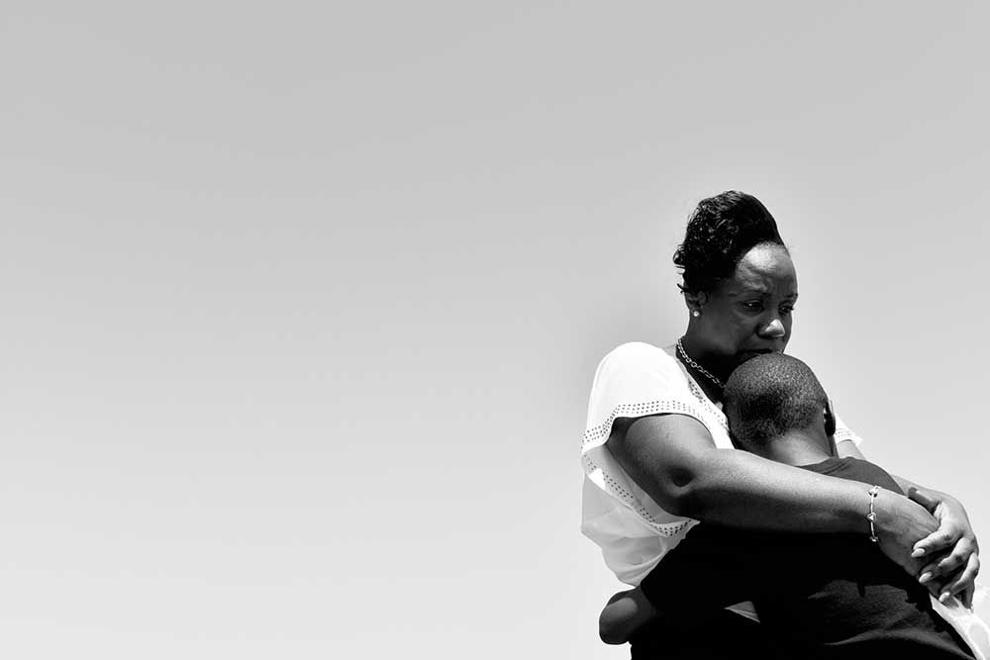 They needed to know I was going to treat their story with respect and dignity, and that I had no agenda, other than sharing their story.
It's not about aligning with one gun violence prevention organization or another. It's just a conduit to get their stories out into the world, so people can see what everyday Americans have to deal with when the cameras are gone, and people stop bringing food over to the house after the funeral.
IT TAKES US opens 6-8pm Fri Sept. 25 at The Press Club, 668 Williams Ave., Seaside. 6-7pm social hour, 7-8pm discussion. Free. 394-5656, www.ittakes.us