Carmel painter Michael Snodgrass has a dog named Jackson Pollock.
He identifies himself as a "very liberal" lifelong Democrat who cares about social issues, but says his politics don't seep into his work.
On his curriculum vitae, an artist's version of a resume, the 71-year-old's list of art shows begins with two in San Francisco in 1963. Then they drop off for a resounding four-decade silence, starting up again in 2004 when he gets a solo and group exhibition in Sand City.
When he came back to painting, Snodgrass says, "I wasn't moved by the artwork I saw around me, the pretty landscapes and still lifes."
So he looked to the Latin American style of retablos, which he defines as "small devotional paintings done in a folk art style, usually glorifying a single saint or virgin and using a limited amount of text to identify the subject."
He's currently showing at the Weekly's Press Club: a dozen paintings, acrylics and collage, maybe a mixed media piece in there somewhere with oil, acrylic, crayon, felt tip marker or pencil – he's not sure. He put it together quickly ("pieces I thought would dress up the place"), showed them to Press Club curator Chris Winfield who approved them, and up they went. Winfield has Snodgrass' paintings at his own gallery in Carmel and at Tarpy's Roadhouse in Monterey.
Snodgrass works in series. There is a series of three matador paintings in the show. Other pieces, though, are broken free from their kin and made the show on their own virtues: good composition and a strong use of color.
But Snodgrass knows his work – roughly painted figures of (mostly) men against a background of color swatches in a style he describes as primitive and neo-expressionist – can be confusing as a puzzle. He used to be cool with that.
His gallery, Christopher Hill Gallery in Healdsburg and St. Helena, loved his work but didn't understand it. They asked him for explanations.
"Like a typical artist, I said 'I really want the viewer to use their mental process,'" he says. "Picasso didn't explain himself. Artists throughout the centuries have used various symbols."
But he relented to his gallery's request and wrote captions, like for a series in which he addressed art, wine and food critics. One acrylic painting called "Three Food Critics" depicts a vulture perched on a cactus, a restaurant critic in a top hat, and a child's drawing of a hyena. Here is an excerpt from his take on it:
"The restaurant critic… enjoys the hospitality of aspiring chefs and restaurateurs then attacks with poison pen and acid words. The vulture, at least, has the good taste to let his victims die before he rips out their hearts."
They are acerbic, almost hostile. And what's to keep these lone figures from being figurative straw men? After all, critics love and praise things too.
Some of the explanations are unnecessary because he's painted enough textual information into the canvas to serve as clues. The "Neo-Expressionist Art Critic," for example, is emblazoned with "Relic of 1980s," "Art critic," and "A history of bad calls."
Snodgrass says he paints from a place of playfulness and humor, but it can feel defensive, mocking, as if he's working out issues. He says his father never supported his artistic ambitions, even convinced him to stop painting for all those decades. Snodgrass began exhibiting his paintings again about the time his father died, but insists he's never depicted him in his artwork. This is complicated stuff. Maybe he can explain. Maybe.
Weekly: Where are you now and what are you doing?
Snodgrass: I'm in Santa Fe, New Mexico. I came out to help my son buy a duplex. I'm doing the fine cabinets and countertops. And catching up with old friends and seeing galleries [where] I'm interested in placing my work.
What do you consider your hometown?
I've got three. I live in Carmel. I was born in St. Helena [where] I spent some of my childhood. It was the most beautiful spot on the face of the earth, surrounded by vineyards and orchards, a beautiful small town in Napa Valley – all Italian and German. My other hometown is Santa Fe. I spent eight or nine years here. I love it. I have two adult kids who live here.
Why did you begin painting?
When I was 14 or 15, I saw the movie The Horse's Mouth with Alec Guinness, about an eccentric British painter. The only thing I wanted to be was a painter. When I got out of high school in San Mateo, I took a job working for an artist in San Francisco, doing backgrounds. Then I learned how to do foregrounds – cut out the middleman. I started painting and selling wholesale to these guys who decorated hotels and motels, mass produced art for decorators – cityscapes, cable cars, bridges.
Who has influenced you?
Picasso is probably the main influence. Basquiat, Dubuffet – a primitive French artist – James Havard. Picasso, I used to pore over his books. He had the most educated hand I've ever seen in my life. Basquiat's distortion of the human form and use of color was insanely good. He put text in everything he did. His composition, balance, was just superb. Georg Baselitz is another one. I love his work. He painted everything upside down.
Were you influenced by the Bay Area Figurative Movement?
Yeah. David Park and Nathan Oliveira, sculptor and illustrator Manuel Neary.
You link your work to "tribal art." What do you mean by that term?
Third world art. Cultures from other countries, the art that is created by indigenous people. My work has got that feeling. It's not tribal art. But a lot of the people who collect my work are collectors of tribal art. I'm really poking fun at society and cultures, doing it with really primitively rendered figures. I normally paint males because I find them really ridiculous.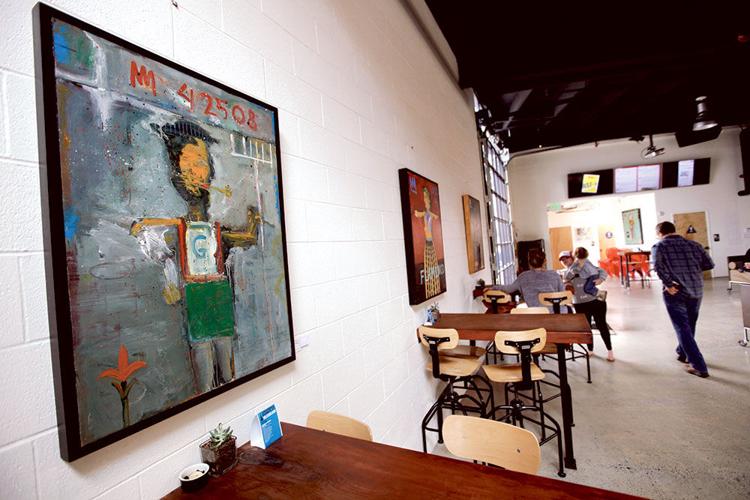 What keeps your work from going from being inspired by, to co-opting indigenous art?
My work doesn't look like any primitive art from any particular place. I'm not co-opting their artform. I get inspired by it. The first thing that got my nose was cave drawings. I was fascinated by someone completely unschooled, who had to walk into a dark cave with a torch and draw a bison. They were so moved to render what they saw. I'm doing my own take. I'm co-opting his mental process. You'll never see anything in [the Press Club] that resembles indigenous art.
Why did you leave fine art?
My father didn't like the way I was living. I was 18 years old, sharing an apartment with another guy, no furniture, living on cornflakes and milk, laundry piled up in the corner. I think my parents came to see my apartment and I'm sure my mother said, "Get him out of there." My father was a big believer in having a trade. I got pulled back into the family business, which was construction.
Did you put up a fight?
I got lured with the money. It was comfortable for me to slip back in. I wasn't selling much art and not making much money. I would have loved to go to a good art school, but I had no money. I had one semester of high school art. Apprenticing with the artist in San Francisco was the only art training I ever got. The easy answer is: the steady paycheck.
What did you do instead?
I started as a carpenter. It didn't hold much interest. I was an artistic person. My father said if you climb up in the world of construction, you become a finish cabinet maker. I started excelling at that. I got bored with it and started making furniture, which is really challenging. I was married and had a family by then.
What did you encounter in New Mexico that inspired you in the 1990s?
Every corner you turned, there was art everywhere. Galleries, sculpture in the streets, paintings. It was an exciting place. Great music, tribal art everywhere, architecture and furniture. I started by sculpting. I had a woodworking sculpture studio in Santa Fe. My very first sculpture was commissioned by Judy Chicago, the most well-known feminist artist in the country. In my shop, we would build and reproduce anything: Baroque, old Spanish furniture, we could carve Corinthian columns. But my sculptures were taking so long. I could spend a month or two on a sculpture; or I could knock out a painting in a day or two.
Did you get artistic reward from woodworking and furniture making?
I thought I did at the time. We prided ourselves, in our shop, of being able to make anything they brought in the door. A lot of the people I was working for I didn't like.
Who were they?
Wealthy people in Santa Fe. They wanted this and that. They didn't have any soul. We would kill ourselves, and it was just a trinket for somebody else. I have a better relationship with my clientele who buy my paintings. They don't say "Here, do this." They love my taste, my ideas, my sense of humor. I paint what I want.
What's your painting process like?
Big blocks of paint. Free-flowing painting. You don't have any contrived… it comes out of your self-expression. Your ego is not involved. It flows automatically from you. My work is contrived because it's figures. I try to combine the two.
Where do you get ideas from?
Everywhere. You walk out the door, go to the grocery store, and somebody's acting like a jerk. I use colors to signify things, basic expressions. The art and wine critic, their body postures are leaning back, looking down their nose at something very distasteful. That's what my perception of those people is.
What's your favorite painting in the Press Club show?
As you walk in, it's right there: "The Basket Maker's Daughter." In Spain, many songs are about the basket maker's daughter, which is a term for gypsies, who are also horse brokers. In song, it's a gypsy girl. There's a lot of reference to the culture of basket making just north of Santa Fe, on the Apache reservation. I'm combining the two. That's why there's so much emphasis on Spain. I'm half Spanish. My mother was Central American, from El Salvador. Her father came from Spain. In my youth I studied flamenco guitar. I speak Spanish fluently, as do my children.
When you were younger, and living destitute…
I wasn't destitute. I was a kid. My father did not feel that any son of his should devote his life to art. I gave in to the resistance of my father.
Do you regret it?
Oh. Every day. Every day. I've been very fortunate. I do extremely well with my art. I make good money. Can you imagine if I had 40 more years with my art? Forty more years to hone my craft? I'd be in museums. I'd be a famous artist at this point. I have many regrets. Huge regrets. My father [passed away] eight years ago. He never once acknowledged my work. Ever. He didn't understand it. He didn't like it.
And your mother?
My mother was a lot more sympathetic. She was a very elegant woman, had fairly refined tastes. What she was doing with my father I don't know.
Do you wish he had understood your art before he died?
No. Not at all. The truth is, that is the thing that drove me. To know I didn't have his support. It drove me to stick with it.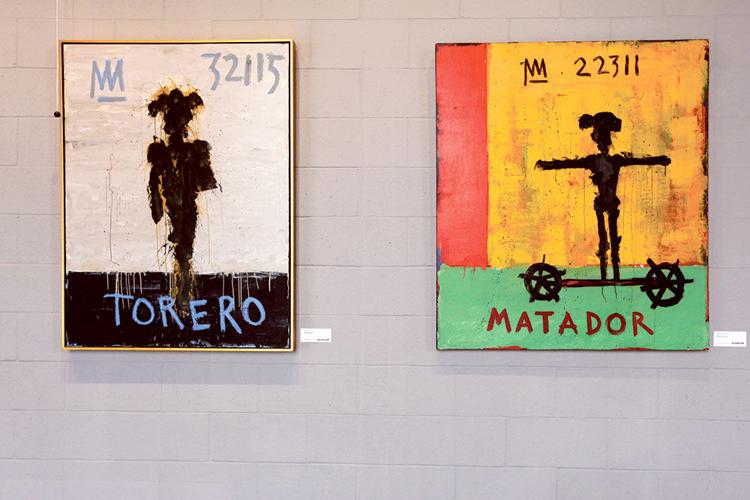 Does it still motivate you?
At this point it doesn't motivate me.
Are you more conscious now of how you support your kids?
You got it right on the head. That's why I'm in New Mexico. I'll do anything for my kids.
Michael Snodgrass' work shows through June 16 at The Press Club, 1123 Fremont Blvd., Seaside. 901-3900, www.montereycountyweekly.com/pressclub