On June 8, 2015, several men left port in Punta Banda, a peninsula just south of Ensenada in Baja California, and motored out to sea in a 30-foot skiff called a panga.
Pangas don't attract much attention in Baja, as they are common for local fishermen to use.
Only Juan Antonio Rojo, Jose Burgueno Sanchez, Victor Sandoval, Jesus Isrealas Carrion Corrales and likely a few others weren't in search of fish. They were looking to land something much more lucrative: a $2 million-plus payout for a successful shipment of marijuana.
Their destination: Big Sur. With extensive wilderness and minimal law enforcement, the region lends itself to clandestine activity. The pangas' low profile and two high-horsepower engines make them hard to spot and speedy in case of pursuit.
Few people who make land in Big Sur with a cache of drugs ever get apprehended.
Not so for this group.
~ ~ ~
In the ever-changing game of cat and mouse between drug cartels and the U.S. government, Monterey County's rugged Big Sur coastline has become a destination for multi-million dollar shipments by the Sinaloa cartel.
In the vast majority of detected landings in Big Sur, panga boats are unloaded and the getaway cars disappear before authorities realize anything has transpired, leaving only a scuttled boat to be ravaged in the waves.
In the past 15 months, there have been at least 10 panga boat landings on the Central Coast, according to the Monterey County District Attorney's office, each bringing $2 to $6 million worth of weed.
On Jan. 30 a panga boat was found near Gaviota in Santa Barbara County, says Monterey County Deputy District Attorney Steve Somers.
To date, only marijuana shipments have been detected on the Big Sur coast, making them a low priority for federal enforcement agencies. Theories persist the Sinaloa cartel is perfecting the route to smuggle much more lucrative caches of other controlled substances.
"One of our big concerns is that these may be test runs," Somers says. "So far there haven't been any guns onboard, but if you put cocaine or heroin on these boats, then the whole game changes."
If the 2,712.5 pounds of marijuana found last June 12 had been cocaine, the value of the shipment would have pushed $40 million.
Monterey County Sheriff's Sgt. David Murray explains why Big Sur is seeing an uptick:
"It's not that drug shipments from Mexico have increased, it's that greater enforcement in the south has pushed the boats north."
~ ~ ~
Gregory D. Lee, a retired supervisory special agent with the U.S. Drug Enforcement Administration and a Pebble Beach resident who now testifies as an expert witness in drug cases, observes a similar pattern.
"The presence of panga boats has been increasing for the past few years," he says. "Smugglers are very flexible. When you better secure the border and have better enforcement mechanisms in place down south, the cartels adjust their tactics."
Big Sur presents the southernmost stretch of remote coastline on the U.S. Pacific Coast. Without full-time law enforcement presence and little traffic on Highway 1 most nights, it proves inviting.
"Big Sur is a perfect place for cartels to offload," Lee says. "If they send 10 boats and only eight get through, then it's still a success. The same is true with ground operations: Cartels are looking for an 80 – to 90-percent success rate, no matter what kind of dope they're smuggling."
~ ~ ~
The Sinaloa cartel has had a presence in Monterey County for decades, according to retired Greenfield Police Chief Joe Grebmeier. Decades ago the cartel made connections with the Mexican Mafia and Sureño gangs for their local distribution network, he says, and also operates grows in the wilderness outside Arroyo Seco.
Some dramatic evidence to that effect surfaced just last month. On Jan. 10, a man was found on Arroyo Seco Road, suffering from what law enforcement officials will only describe as injuries to his lower legs. At first, they thought he had been in a car accident.
But sources with knowledge of the case say the man's feet were sawed off or hacked off at the ankles – the type of violence common for the Sinaloa and other cartels in Mexico, but rarely heard of here. Officials have given no further information about the incident, including what, if anything, the man had done to raise such ire. The victim, meanwhile, isn't cooperating with police.
"The Sinaloa cartel is very low profile in this county," Grebmeier says. "You don't see or hear a lot about the cartel here because they're so dangerous."
Lee describes another effect of the increased number of panga landings: As more dope reaches local shores, more of it is pushed through local distribution networks.
The story of how the June 12 boatload arrived in Monterey County was told in more than 200 pages of court transcripts.
~ ~ ~
The GPS unit ultimately found in a tent by the panga in Big Sur gives a clear picture of the Punta Banda smugglers' journey north. Monterey County Sheriff's Detective Michael Davis, who is assigned to a DEA task force in San Jose, explained as much in court.
The GPS device's waypoints – digital latitudinal and longitudinal coordinates that mark points on a map – were likely programmed before the men left port, to show them the safest route north.
As the men left the Ensenada area of Baja with an extra-large fuel bladder, they headed more than 130 miles south – in the opposite direction from their destination – to a cove near Punta Prieta, Baja and a waypoint named Marro, slang for a prisoner's base in Spanish. It is unknown if they picked up their shipment at that remote beach, or if their detour was for other reasons.
~ ~ ~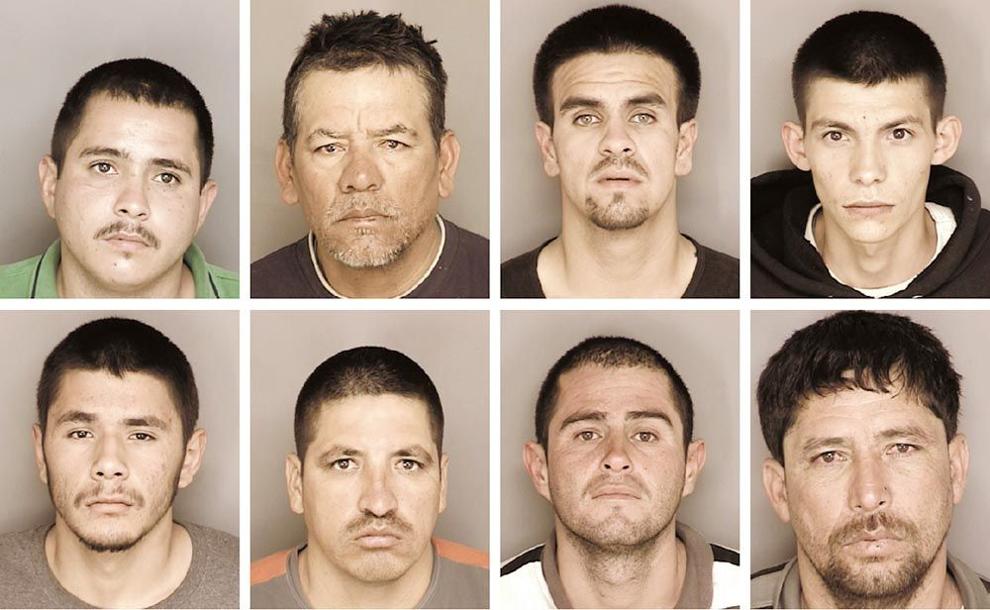 The boat then headed out to sea to the next waypoint, this one called Descanso ("break" or "rest" in Spanish), 187 miles south of Punta Banda and 51 miles off shore. Again, it is unknown what occurred at that location, but the panga boat then headed further west to a waypoint 130 miles off the coast.
The boat headed west before it went north to avoid the coastal waters heavily patrolled by the Mexican Navy and, north of the maritime border, the United States Coast Guard and Navy.
The next waypoint was 147 miles off the coast from Point Conception, California in northern Santa Barbara County. There the coast abruptly shifts to the north – 160 miles south of the panga's Monterey County destination.
With at least a ton of marijuana and enough fuel for a 700-mile journey (the plus-sized bladder allows for 1,000 gallons), the large skiff would have been weighed down. The men on board were likely apprehensive as the distance of the trip and the weight of the load made for a treacherous expedition even in the best of weather.
They might have feared losing their lives, but given smugglers' success rates of landing in Big Sur, they likely didn't fear losing their freedom.
~ ~ ~
Simultaneous to the boat ride, two brothers named Jesus and Alexis Garibay left Yuma, Arizona in a van. It's not clear if an associate named Alejandro Acosta was with them, or whether he took a blue Dodge pickup separately from Yuma, but the trio then made their way to Riverside, California.
There they picked up Gonzalo Ruiz Quezada, who allegedly worked for their cousin as a drywaller, and possibly others. From Riverside, they made their way north toward Big Sur to meet the panga.
Sometime during the night before June 12, 2015, the men who departed Baja three days earlier arrived at their destination, at the waypoint labeled Llegada, or "arrival" in Spanish. That sits at the mouth of Mill Creek in southern Big Sur, about an hour south of the Henry Miller Memorial Library.
Since panga boats are no higher than the average swell, they're notoriously difficult to see on radar. But this time was different: A Coast Guard vessel picked up the boat's movement off the California coast and began tracking it.
The Coast Guard notified the sheriff's departments in San Luis Obispo and Monterey counties of the observation.
San Luis Obispo deputies were the first to arrive at the intersection of Highway 1 and Nacimiento-Fergusson Road around 3am. They saw a panga boat in the water.
It lolled in the surf by the mouth of the creek with 79 bales of marijuana on board – and no people. On the beach, San Luis Obispo deputies found 32 more bales, rubber boots and a CB radio, but still no smugglers.
More than a dozen law enforcement officials came to the scene, including agents from the Department of Homeland Security, the DEA and U.S. Immigration and Customs. As the tide rose, the beach became inaccessible, and Border Patrol agents were forced to pull the 30-pound bales up a cliff with a rope later in the day.
They started to canvass the area, looking for the smugglers. Around 5:45am, authorities stopped a white cargo van near the intersection of Nacimiento-Fergusson Road and Highway 1, just a few hundred yards away from the weed-filled panga boat in the surf at Mill Creek. The van came equipped with tinted windows up front, no windows in the back and with a fabricated metal plate on the tailgate to accommodate a padlock.
San Luis Obispo and Monterey County deputies found Alejandro Acosta in the driver's seat, with the Garibay brothers and Ruiz Quezada allegedly trying to sleep in the back. All men were wet and sandy. (They claimed to have bathed in Mill Creek the day before.)
They further claimed they had come to Big Sur for a camping trip, but their friend had gotten sick and was taken to the hospital by another friend and they were on their way to visit them.
Inside the van, deputies found a CB radio set to the same channel as the CB radio found on the beach.
Acosta claimed to have left Yuma in a blue Dodge, while the brothers said he was with them in the white van the whole trip. The discrepancies in their stories not only undermined their claims to innocence, says Somers, but also mean it's likely other players were involved in the delivery who escaped in the Dodge and were never apprehended.
The men told police they had been camping for a few days and had gone to King City to resupply. Inside the van authorities found a receipt for a hotel at Arroyo Grande, where they later confirmed Jesus Garibay had checked in on June 9.
Logic would lead many to ask why the men would return to the scene of the crime so conspicuously when they could have been hundreds of miles away. Such are the stakes for not following through on an operation: As far as the Sinaloa cartel is concerned, failure would likely mean something worse than jail time.
That's why they went back to see if there was anything they could salvage.
~ ~ ~
By 1pm a crowd of spectators was gathering on the edges of the crime scene. Special Agent Lance Maniscalco of the U.S. Bureau of Land Management noticed two men who stuck out – Aaron Quintero and Gerardo Gonzalez Rodriguez.
Quintero was wet and sandy from the waist down; he said had been hiking along the river, Maniscalco testified later. (His testimony didn't indicate why Gonzalez Rodriguez caught his eye.)
When asked what he was doing at the scene, Quintero claimed that he came up from Riverside with his family and Rodriguez to camp, but his family had left him and he was stranded. When searched, Quintero was found with a 1.1-gram bindle of methamphetamine and a pipe.
Later, three miles up Nacimiento-Fergusson Road, Maniscalco said a shoeless Antonio Rojo and Burgueno Sanchez were found. Not far away was a collapsed tent that contained wetsuits, jeans and a GPS unit. Rojo claimed his father had arranged for him to take a boat from Tijuana to San Diego then to head north to Salinas to find work in the fields.
"They looked extremely tired, dehydrated, sunburned and possibly windburned," Maniscalco told the court. "I've seen other people that have come off pangas that have been in the open sea for several days and so… the wind and sunburn, the faces are extremely red."
Eleven miles up Nacimiento-Fergusson Road, authorities found two more men, who in court were called Witness 1 and Witness 2.
The two claimed they were trying to go to the U.S. to find work. They said they were offered a ride on the panga boat to San Diego, and that it would cost them $1,500 each. They didn't have the money but were told they could work it off.
On the 700-mile boat ride, they said they were told to sit in place and not move; if they were to look under the tarp covering the cargo, they were told, they would be beaten. They told the court there were eight people on the boat – although authorities say it's possible there were more – and identified Antonio Rojo and Burgueno Sanchez as being onboard.
While on the boat, they realized they had stumbled upon more than a coyote operation. They didn't ask any questions. When they finally made land in Big Sur, they claimed to have no idea where they were.
Upon arrival, they said they were told to get out and wait on the beach. After a while, they said, they fled up Nacimiento-Fergusson Road. They reiterated they had wanted to come to the U.S. to look for work, not to smuggle drugs.
Many drug running operations move more than dope, Lee says. It's quite common for them to also move people. But Somers is cautious not to support the claims of the two men.
"It's hard to separate who's the labor and who runs the show," Somers says. A DEA agent told him in his experience, the person who most adamantly claims to be the victim is actually the boss.
~ ~ ~
In all, ten men were arrested in connection to the panga boat operation. While 111 bales of marijuana were recovered, weighing a total of 2,712.5 pounds, the load was half of what is typically offloaded from pangas. It's possible, says Somers, that people and weed fled quickly in the blue Dodge truck Acosta had mentioned.
The 10 were taken to Monterey County Jail, all facing charges of transportation and possession of marijuana. The Garibay brothers posted $30,000 bail on June 13. When the brothers appeared in court on June 23, the judge increased their bail to $500,000 and gave them a day to surrender and produce the bail money, according to Somers. They fled, likely going to Mexico.
Rodriguez was released. Somers says he was the only dry person arrested and that there was not enough evidence to tie him to the operation.
All men tooks plea deals and were sentenced to two years in prison. Somers says he would have liked to give them more time behind bars, but to get the maximum four-year penalty, he would have had to take the case to trial.
There were no federal charges filed.
~ ~ ~
It's hard to piece together how exactly the 2,712.5 pounds would have moved through Monterey County if the panga landing had been completely successfully. Somers was told by the DEA that the weed was likely headed to Utah, where prices are higher. While some in law enforcement have noted a presence of the Sinaloa cartel and its connection to Sureño gang members, it's difficult to make any solid connections. In the business of drugs, local connections are more likely to be subcontractors and retailers with little knowledge of who's calling the shots on the supply side.
Rodrigo Nieto Gomez, a research professor at the Naval Postgraduate School in Monterey, studies cartels for a living. He has had the ear of the U.S. Department of Defense's Joint Chiefs of Staff and has given a TEDx Talk on drug policy and the innovative business practices of the cartels.
Nieto Gomez has taken notice of the pangas' push north to Big Sur.
"Think of the last time you walked the beach and noticed all the pristine coastline with nobody around," he says. "The cartels notice that too. Cartels are like venture capital firms. They're using marijuana to test a theory."
While the Sinaloa cartel might be bringing their weed to Big Sur, there are other radical shifts happening in the market for ganja, Nieto Gomez says. Increasing domestic production of high-quality, legal marijuana in many states has driven down demand for the cartels' weed. Lower demand means lower prices for cartel-provided weed, which historically has provided 30 to 40 percent of cartels' revenue.
As cannabis laws continue to be liberalized across the country, and the cartels' weed business falters, they will respond to keep their profit margins, Nieto Gomez says.
"Cartels sit at the crossroads of regulatory failure and human desire," he says.
While pharmaceutical companies produce well-regulated, high-quality drugs, he explains, their cousins on the black market can be cut with substances more dangerous than the drug itself: "We have to realize that the demand for recreational [drugs] will be filled, and right now it's being filled with unregulated rat poison."
To deal with the security and public health problems illegal recreational drugs cause, and to deal with the supply-chain movements that bring the war on drugs to Big Sur, he says, we really should consider regulating recreational drugs – a controversial position for someone who works for the military.
Until any substantial shifts take place, cartels will continue to look for the easiest pathway to move their product, and the Big Sur coastline will continue to be a multi-million-dollar port-of-call for the Sinaloa cartel.