It's a long way from Dronfield, the East Midlands, England town he grew up in, but Rick Allen, remembers his youth there well.
The longtime drummer for Def Leppard, the metal band which has sold over 100 million albums, takes such accolades in stride. It's all another day at work. And he also takes in stride the recent announcement that the band will be inducted into the Rock and Roll Hall of Fame next March 29, along with Radiohead, Janet Jackson, Stevie Nicks, The Cure, Roxy Music and The Zombies,
"Sheffield was the closest city, probably nine or 10 miles away," he recalls."My brother Robert and I would go there to buy records – one of the first ones I bought was Spirit in the Sky by Norman Greenbaum. My dad was a big music fan who introduced me to a lot of [music], from the jazz musician Glenn Miller to Carole King and Elton John. And Robert started bringing home albums by Deep Purple and other bands, so I got a really good cross-section."
He was sold on drumming from the start, he says, as he unspools his history from a booth at Edgar's restaurant in Quail Lodge – he and his wife now divide their time between Carmel, far from the entertainment business hustle, and Malibu, where Allen keeps his home studio.
"My dad used to play in a Boy Scouts band. I found some drumsticks in the house and started playing when I was 9 or 10 years old on the furniture. It didn't go down so well with my mother, you know, but it got me started. Then my best friend got a guitar, so I went home and said, 'Can I get a drum kit?'
"They immediately said no – we just couldn't afford it – but I kept pestering them until finally they said, OK, if you start doing odd jobs around the house and in the neighborhood, then maybe we can think about getting something on purchase [installments]. Their only stipulation was that I had to get drum lessons."
Still, his origin story sounds like any little kid trying out the drums. He studied with drum teacher Kenny Slade, a fixture of the local music scene who had played with Joe Cocker. Young Allen would travel six miles by bus weekly to Sheffield to learn the basics.
Lightning struck when Def Leppard's original drummer – a guy named Tony Kenning who was the Pete Best (the Beatles' pre-Ringo drummer) of this saga) – left the group, and Allen's mother read that the band was looking for a replacement, in an article headlined, "Leppard Loses Skins."
Allen – then "at the ripe old age of 14" – had already decided he was done drumming after playing with a few local bands.
"I'd decided I didn't want to play anymore, but ironically decided to audition," he says. "The groups I'd been with were all about cover songs and making a bit of extra money to supplement their day jobs. I wanted to do something where people were a bit more invested in the music."
What he found was a band with ambitions that matched his own, who wanted to break out of bars and small-town gigs and make it on the world stage.
"Meeting up with [lead singer] Joe Elliott and Steve Clark [lead guitarist until he died of alcohol poisoning in 1991] was a breath of fresh air," Allen continues, recalling that audition at age 14. "They were into making their own music. We realized we'd rubbed shoulders at all these gigs of people we liked who came through town – Tin Lizzy, Slade, Sweet – so we had camaraderie."
There were three drummers auditioning for the spot – including the old drummer, who wanted his job back. The three converged at the band's rehearsal room in an old spoon factory, and Allen played last.
"I listened [to the first two], and when it came my turn, I knew the parts pretty well and it felt good," he remembers.
He was hired, just before his 15th birthday in 1978.
DEF LEPPARD RELEASED THEIR FIRST ALBUM, On Through The Night, in 1980, followed byHigh and Dry in 1981. Two years later, Pyromania – with hits like "Photograph" and "Rock of Ages" – made it to the charts, and the band's hard-rocking metal and exuberant stage presence meant they were truly on their way.
Then tragedy struck.
On New Year's Eve, 1984, Allen was driving in the countryside near Sheffield with his then-girlfriend, when he lost control of his Corvette as he tried to pass another car at high speed. He was thrown from the car due to a loose seat belt. Against the odds he survived, but his left arm was severed; after initial attempts by his doctors to re-attach it, the arm had to be amputated because of an infection. His girlfriend was also badly hurt, suffering spine and back injuries, and also survived.
"It was full stop," Allen says.
It was the worst thing that could happen to a musician who made a living using both hands pounding hard, percussive beats. But, true to his blue-collar roots, the musician was determined to stay the course and find a way to keep doing what he loved.
"It was a horrible experience, but ultimately one that became a blessing," Allen continues. "One of the things that really propelled me was all the support I got, not only from my family and the guys in the band, but this huge wave from people in countries I'd never even heard of, from all over the world."
He asked his brother to bring him his turntable in the hospital while he was recovering, and tapped into music he'd been listening to since he was a kid – "Deep Purple, Zeppelin, Cream, you name it."
Still, he thought he was done for, at least as a musician, until an odd discovery thanks to the design of his hospital bed. The staff of the hospital had placed a piece of foam at the foot of his bed to prevent him from sliding off, a concern given how heavily he was medicated. As he listened to music on the turntable, the drummer started tapping his feet on the foam, a reminder that his muscle memory was still there, despite the accident. It made him feel like he was still in the game.
Pete Hartley, a friend who was into electronic gear, visited Allen in the hospital. He saw the foam and the toe-tapping, and offered to develop specially designed electronic foot pedals. With the new gear, Allen's left foot could do the work his left arm used to.
It gave Allen a new lease on life, and his career. He left the hospital after a month, and re-entering the outside world came as a shock.
"The day I left, I remember being in the car with my brother and the world seeming like such a big place," he says. "I felt so small, so insignificant, so self-conscious. But when we drove to Pete's store and I sat behind the drum kit he'd set up, it was a relief."
He was physically exhausted after lying in bed for a month, but it was only a couple of weeks until he felt strong enough to rejoin the band.
"They basically gave me a choice, whatever I felt was right for me was right for them," he says. "There were discussions, but the thing that took me to another level was realizing that it didn't serve me to compare myself to how I used to be, or to others. I stopped comparing myself to two-armed drummers, and it allowed me to realize my uniqueness."
He had been living around Amsterdam, where the group had been working on the first versions of the album that ultimately became Hysteria – the title was Rick's suggestion, in response to the media madness surrounding his injury, its endless speculation, paparazzi and tabloid coverage that reveled in the gruesome details.
In 1984, after recording the early takes of Hysteria, the band decided to take a break and get back to its roots of performing.
Allen's official return culminated at the 1984 "Monsters of Rock" show in Castle Donington, U.K., where he received an emotional, and unplanned, introduction from Elliott.
"Before the show, Joe said he wasn't going to say anything about me coming back," Allen says. "But he felt this enormous energy, so he stopped in the middle of a track and went off on this beautiful dialogue that was completely impromptu. I was sitting there sobbing, but felt this overwhelming wave of support, a confirmation of sorts – 'Oh, I'm back. It's OK to be who I am. They were on my side.'"
The fan support for the band, as well as it's drummer who had survived, has been key to Def Leppard's success: The group has always had broad commercial, if not critical, success, compared to cult favorites like The Velvet Underground. When the Rock and Roll Hall of Fame fan ballots were tabulated in December, Def Leppard lapped the field with 547, 647 votes, easily outdistancing all competitors.
Despite the public adulation, Allen's private struggle was far from over.
After a 1997 incident of domestic abuse against his then-wife, Allen pleaded guilty and was sentenced to community service and mandatory Alcoholics Anonymous meetings.
He was a popular drummer in a world famous band. But he still had a long way to go – and he knew it.
"I had still been dealing with the aftermath of the accident, including the temptation to self-medicate," he allows. "I literally threw myself right back into the band, didn't do any work on myself or therapy,'' he allows.
Meeting Lauren Monroe, a massage therapist and fellow musician, helped him turn the corner.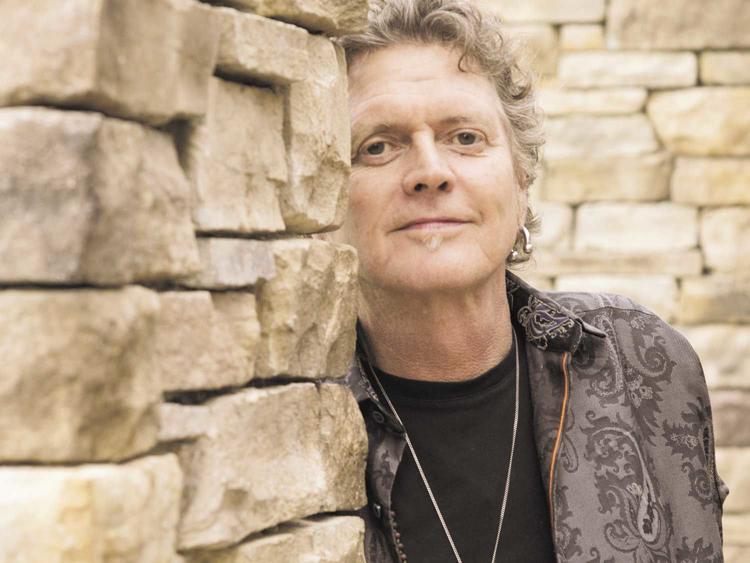 SHE WAS A HEALER, AND HE NEEDED HEALING. She was teaching at the Boulder College of Massage Therapy, and he was "going through a lot of pain." It was 2000 when they met, when they attended a session where he says there was no touch, just talk and intention – and he was overcome with emotion. "There wasn't a dry eye in the house," Allen says.
"The next day, I had a massage session with her. After awhile, we became more than that. She was helping me in as many ways as she could, but I guess I'm hard-headed."
An invitation in 2006 to visit the Walter Reed Army Medical Center in Bethesda, Maryland, marked another turning point for Allen.
"It wasn't until I was invited by the USO and went to Walter Reed that I started to come to terms with it,'' he says. "I saw so much suffering."
By then, he and Monroe were a couple, and they'd founded the Raven Drum Foundation, offering holistic healing programs. Allen's visit to Walter Reed hospital caused them to shift their focus (although the other programs continue). They started by partnering with Wounded Warriors to bring groups of veterans and their families backstage to a private room at Def Leppard concerts. '"Once I started working with the Wounded Warriors a lot of what they were dealing with – rage, self-medication, isolation – resonated with me,'' he says.
They expanded the Drum Foundation's work to include Project Resiliency, an effort to help address the ongoing veterans crisis: An estimated 45 percent of the homeless people in this country are veterans, and more than 100,000 veterans have committed suicide since 1999.
Monroe and Allen wanted to be doing something about it.
But, true to the Leppard tune, they try to pour a little sugar on it to make the medicine, and the message, go down.
ON A COOL AUTUMN EVENING, GUESTS ARE ON THE PATIO at Folktale Winery and Vineyards in Carmel Valley, sampling different vintages and noshing on squash blossom with goat cheese, hummus and other Mediterranean appetizers – and paying $250 for VIP tickets to Project Resiliency, sponsored by the Raven Drum Foundation, to help veterans suffering from PTSD and other trauma.
They raised $30,500 at the Folktale event last fall, and have raised more than $1 million since Project Resliency was founded in 2007.
John Roberts is a husky-looking ex-Marine from Texas who'd survived near death and third-degree burns over most of his body after his helicopter went down over Somalia. He now devotes himself to the Wounded Warrior cause, and on the Folktale patio, chats with supporters who are gathered in part for their chance to meet Rick Allen, who circulates from table to table.
The post-reception performance features Allen and Monroe, a singer, songwriter and guitarist backed by a band of local musicians, plus a set from Santa Cruz-based musician Keith Greeninger.
Monroe hooked up with the back-up band for the Folktale gig through local producer/guitarist Stu Hayden at the Carmel Recording Studio in the Barnyard. And Allen plans to hang with his friend, fellow jazz drummer Steve Smith, at Kuumbwa Jazz in Santa Cruz in the not-too-distant future. (He keeps a video of Joe Morello's legendary solo on Dave Brubeck's "Take Five" on his website.)
The Carmel Valley crowd loved it.
And undaunted by the Hall of Fame honors, the band continues to rock on. Just last year, the inveterate rockers did 60 high-energy shows in North America and Canada, Hawaii, Japan, Australia and New Zealand. Two short weeks after the Folktale gig, Allen was off to Dublin for the next leg of the tour – always moving forward, rather than looking back.
"Sometimes I wonder why I chose the drums," he says, then pauses. "I guess they chose me."