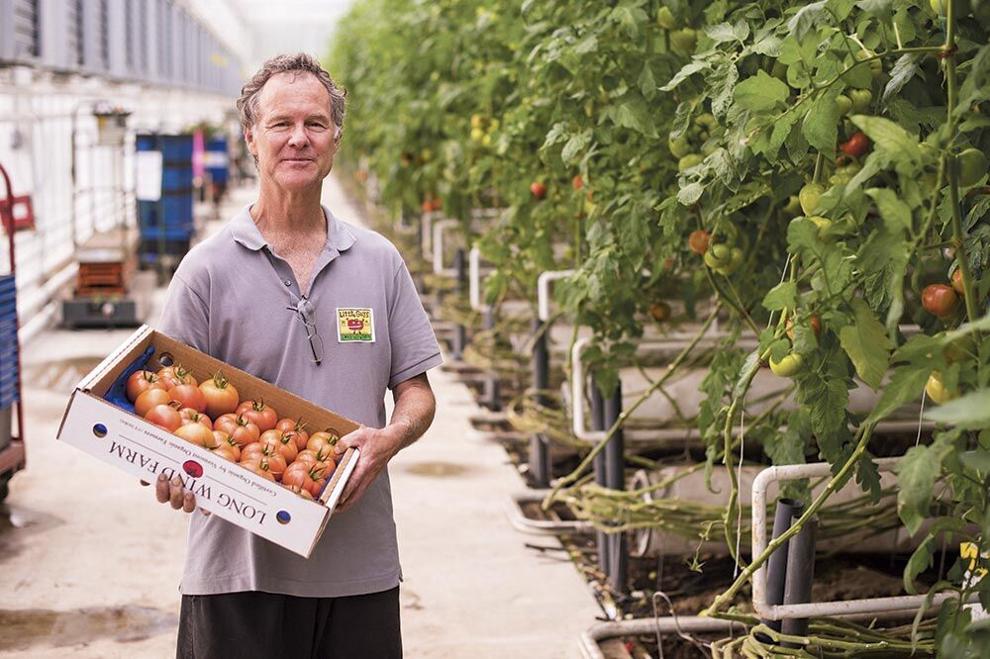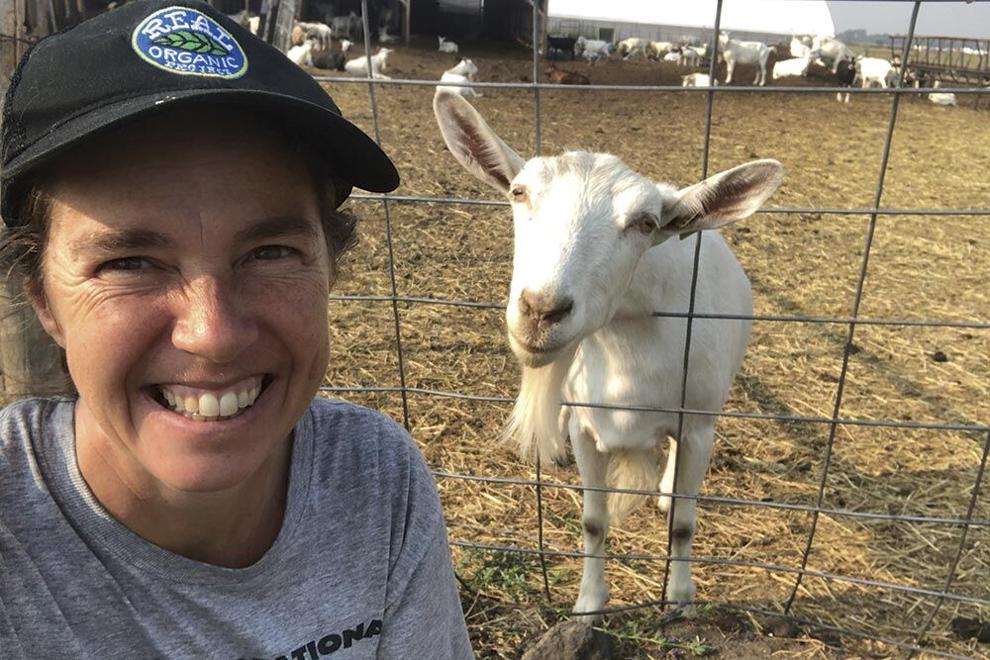 DAVE CHAPMAN KNOWS TOMATOES. Since 1984, he's been growing them in Vermont at Long Wind Farm, perfecting his use of greenhouses to extend the season, from as early as March to as late as December. So he's enthusiastic about taking measures to make tomato-growing as productive as possible, for as long as possible. Even while adhering to old-school principles as a lifelong organic farmer, Chapman is used to pushing boundaries.
But about a decade ago, Chapman saw tomatoes at a regional produce warehouse that confounded him. "They were beautiful, perfect-looking, very mediocre-tasting and very inexpensive," he remembers. "I thought, who is growing all of these beautiful, perfectly formed, tasteless tomatoes and selling them at such a low price? How can they afford to do that?"
So Chapman did a little research, and learned that hydroponic farming – growing crops in water, rather than soil, and adding fertility to the water – was permissible under organic certification standards of the U.S. Department of Agriculture.
"I was shocked," Chapman says. "How can this be?"
A little research turned into a lot of research. Chapman's political curiosity took a turn into political advocacy. He found himself unraveling the organic standards, established under advice of the National Organic Standards Board, a 15-member group of people appointed by the U.S. Secretary of Agriculture who volunteer to serve five-year terms. Their direction guides the evolution of the National Organic Program, which defines the standards by which food in the U.S. can be labeled as "organic." It's a structure that was established in 1990 by the Organic Foods Production Act.
Chapman knew in general terms this system existed, and he trusted it. But as he started to peel back the layers, he decided it was time to get involved.
"Once hydroponic producers realized they could [use the label] it became hugely profitable for them," he says. "The foundational belief of organic is, feed the soil, not the plant."
Once it became clear to Chapman that soil was not actually a requirement of USDA organic certification, he and other farmers organized a protest in 2015. During a meeting of the NOSB, which convenes twice a year, farmers rallied with five tractors. The next year, 26 tractors gathered in Vermont, along with elected officials. Then in 2017, with another vote on whether to prohibit hydroponic farming from organic certification, farmers rallied in tractors in 15 locations. And at the meeting itself, Chapman joined about 60 other farmers in Jacksonville, Florida, to weigh in. They were there to deliver the message to the NOSB: Organic should be about healthy soil, and growing crops without dirt shouldn't count.
"We lost. That was the night they drove organic down," Chapman says. "That moment was a bit of a watershed, a turning point. The corporate takeover of the organic brand became apparent. That was the night it all changed. We realized we weren't going to succeed through reform."
There was grieving to be done, and about 30 organic Vermont farmers met to share it. But they had an idea: If the National Organic Program was going to pander to corporate interests, it was time to stop fighting a losing fight. Instead, they should create their own label – something that would honor the original spirit of organic, something that would celebrate healthy soil and healthy livestock.
That idea for a new label became the Real Organic Project.
TO BE CERTIFIED BY THE REAL ORGANIC PROJECT, a farm must first be certified according to USDA's organic standard. Real Organic comes on top of that, and departs from USDA's definition in two key ways: Crops must be grown in soil, and animals must not be kept entirely confined. "Organic crops are grown in the soil, in the ground. Organic terrestrial plant production must be a soil-based system in which plant roots grow in healthy, living soil. Biological activity, essential for healthy crops, must be supported by sound soil stewardship," ROP's standards read.
For livestock, "All individual animals must have daily, year-round access to the outdoors, where the outdoors constitutes at least 50-percent vegetated cover during the growing season."
To Chapman and his co-director of the Real Organic Project, Colorado-based farmer Linley Dixon, these are unremarkable standards – they are the principles that guide most organic farmers. Since launching in 2018, the nonprofit has certified 1,050 farms certified as Real Organic. Dixon believes thousands more are eligible. Certification is free, and like USDA organic, requires a site visit from an inspector.
As a past member of ROP's standards board, Dixon has been in the midst of some technical debates about how to be inclusive but also hold the bar high. For example, the standards require ruminants (cattle, goats, sheep) to get at least 40 percent of their diet during grazing season from grass, not grain. On top of that, they require animals not be kept in isolation. "We have revisited it three years in a row now, and we have kept it so that they cannot be in isolation. We have kept pretty strict standards," Dixon says.
There's no limit on how big a farm can be, but Dixon says the practices tend to keep farms relatively small – there are only so many dairy cows you can move in a day if they leave the barn. "Ecological practices are themselves scale-limiting, although our standards don't have a size or dollar amount," Dixon says.
And size – both of a farm and of the business – is not inherently bad, she adds. "When I started as an organic farmer, there was zero market for organic. Now, of course, it's a big business. There's nothing wrong with that – we want it to be a huge business, we just don't want it to be dominated by a few huge players. Inevitably they end up controlling it and redefining it to suit them, and they lose track of what it was there in the first place."
But the farms certified by the Real Organic Project, including 13 in Monterey County, are still tracking with why it was there in the first place.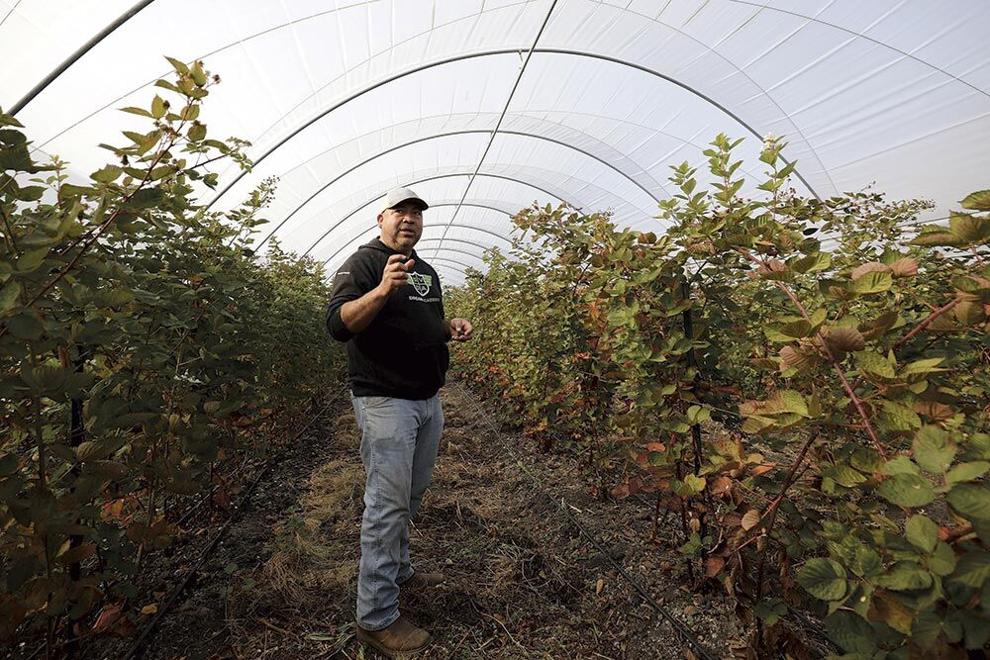 AT JSM ORGANICS IN NORTH MONTEREY COUNTY, Javier Zamora reaches down for a young head of romaine and gives a solid tug. "Look at those roots," Zamora says. "Those are some big roots for this tiny little lettuce."
The romaine is growing alongside carrots, still tiny. Zamora pulls out a little purple carrot, covered in soil, and holds it to his nose. "You can immediately smell clean, healthy soil," he says. He shakes off most of that soil, then takes a bite, noting he can do so freely because his farm is organic and there are no pesticides in this soil.
When Zamora bought this land six years ago, it was already certified organic, but crops were rotated less frequently – he encountered a predominance of brassicas, crops like broccoli, cabbage, Brussels sprouts, kale. They can invite nematodes and a condition called club root. Early on, he found that when he planted Brussels sprouts, the roots were damaged. So the next year, he planted an entire field of marigolds – nature's soil-cleaner he says, instead of fumigation.
"It's beautiful, but you have to be kind of smart about it," he says. "I am not a scientist, but I have seen it work."
It's that kind of philosophy in action that earned him certification from the Real Organic Project.
Strawberries are especially susceptible to pests, and in conventional farms, the soil is fumigated. Zamora instead uses a crop of broccoli. It means he can't plant strawberries in the same place consecutively, which takes planning. And you can't follow tomatoes with eggplants, which host the same diseases.
The diversification pays off in terms of soil health. When he acquired this land, soil tests showed 3-percent organic matter. Within three years, it rose to 5.5 percent. "That's just incredible – it's like a human having no cholesterol," Zamora says.
But perhaps more importantly for a small operation like JSM, diversification pays off in terms of business.
Sugar snap peas are just coming up between rows of blackberries, which are all but finished for the year. Green beans – bonus for being nitrogen fixers – are growing among the tomatoes. As the romaine is harvested, the carrots – now tiny, between lettuce heads – are just maturing. Next to those rows of lettuce and carrots, hibiscus flowers from the summer are hanging upside down to dry. Marigolds, lining a hoop house of tomatoes as a natural form of pest control, will eventually be harvested and sold as cut flowers. "Everything that I plant needs to bring money," Zamora says.
He sells mostly to Bi-Rite in San Francisco and to the Sacramento Natural Foods Co-op; he's found a better year-round market to the north. (He sells seasonal berries to Elroy's and Andronico's in Monterey.)
Zamora has been successful. In 11 years of farming, he's gone from working with just his wife and two daughters to 48 employees, including one whom he's training to take over someday. Five years into farming he bought his own 200-acre ranch, with 68 farmable acres. (The Elkhorn Slough Foundation holds an easement on the ranch, which guarantees 132 acres – including where Carneros Creek runs through the property – remain as wildlife habitat. Well managed farms are included in many ESF easements: "Farmland is part of the equation, part of the tapestry of protecting the watershed," says Ross Robertson of ESF. Zamora says the nonprofit's $1 million toward the easement enabled him to buy his own farm.)
In some ways, farming was a return to his roots. Zamora grew up in Michoacán, Mexico, and remembers picking strawberries on the family farm as a child. But it was a lifetime until he returned to farming. Zamora followed friends to Los Angeles and worked in the restaurant industry, then lost everything in the 2008 recession. In 2011 he enrolled at Cabrillo College and in 2012, began farming on rented land in Monterey County.
Just across the street from JSM, rows of plastic line a sloping field, ready for strawberries to be planted. From a distance, there's no way to know whether that field is conventional or organic, but it is obvious that it's not Real Organic Project-certified – and you can tell a Real Organic farm when you see one, or smell one. "The producer must select and implement tillage and cultivation practices that maintain or improve the physical, chemical, and biological condition of soil and minimize soil erosion," per ROP's standards. The emphasis on soil means a departure from the use of "substrate" – sometimes coconut coir or peat, rather than soil at all – on large, industrial-scale farms, even organic ones.
"Not to insult larger corporations, but they are in it because there's a shitload of money," Zamora says. "They're just piggybacking on this label, organic.
"I can sell things for more than Driscoll because people understand how I am treating the soil, and how I am treating my employees."
He sees that as proof there is hope for a broader, system-wide change: "It will change when the consumer gets the education and information on what is happening."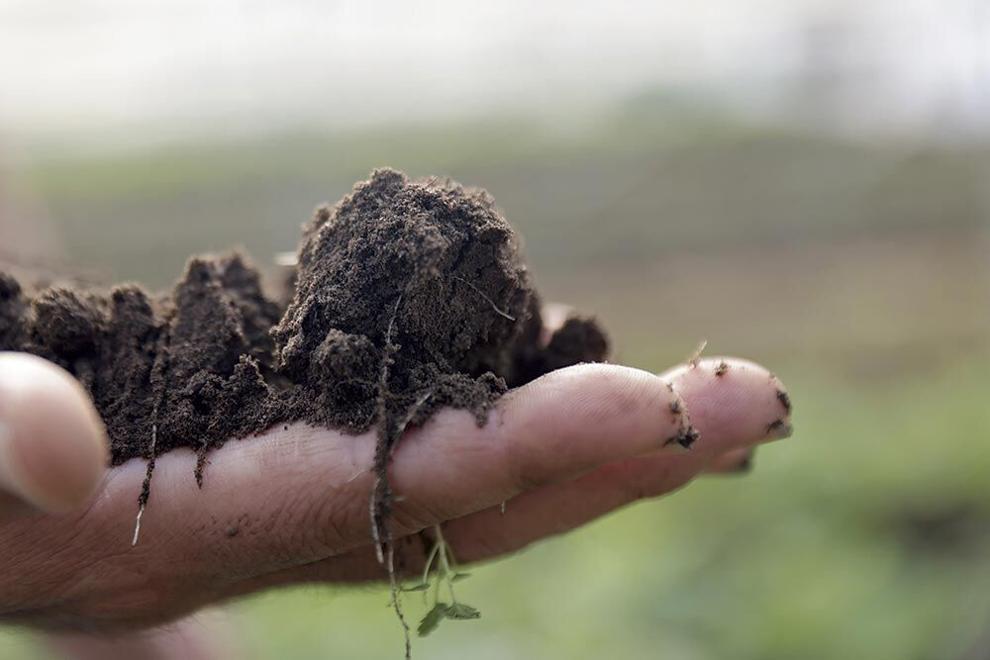 THE IDEA OF EDUCATING CONSUMERS – who Chapman prefers to call "eaters" – is part of the guiding principle at an upcoming symposium on Jan. 17 that will precede the annual EcoFarm conference in Pacific Grove. Zamora, Chapman and Dixon are three of the 12 speakers in a lineup described as "TED-style talks," and each will riff on the dysfunctional food system – specifically, the shortcomings of the USDA organic label – and how to fix it.
(For the Real Organic Project, this is a preview of its bigger, all-virtual 2023 symposium, scheduled for two Sundays, Feb. 26 and March 5, with more than 50 speakers.)
EcoFarm is hosted by the Ecological Farming Association, now in its 43rd year, making it the oldest organic farming conference west of the Mississippi. The conference packs days with a range of sessions on big ideas ("Uniting the World Organic Movement," "The Global Consolidation of Seed Ownership: Should We Be Concerned?"), more technical topics for farmers ("Organic Orchard and Vineyard Management Under Drought Conditions," "Developing Commercial Tomato Varieties With Superior Flavor") and financially focused panels ("Tools for Succession Planning," "How to Tap Into Federal Funds on Your Farm/Ranch"). A number of Spanish-language sessions – and Spanish-language interpretation for all keynotes – are designed to make the conference accessible to a wider farming community. Policy discussions give farmers a chance to learn how to engage, hopefully before they wind up with tractors and pitchforks at the next NOSB meeting.
EcoFarm draws an audience primarily of farmers trading tips and ideas. The Real Organic Project symposium is for farmers as well as the general public. Keynote speaker Paul Hawken, an organic food entrepreneur turned author and ecological thinker, says he'll be mostly listening to the farmer-speakers – the people on the front lines of growing food, real organic food, every day.
But he's also thinking about systems, including consumers in this confusing world of labels. "Consumers don't want to buy things that kill things, they want to buy organic. But what is organic, now?" Hawken says. "What you have seen is a takeover of the USDA organic standards by big business."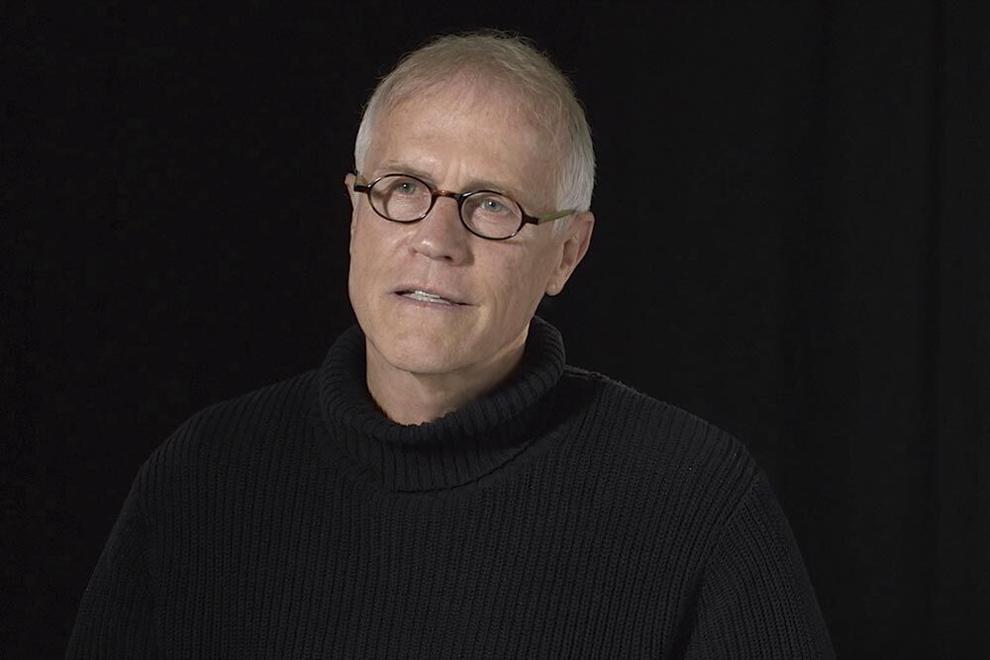 A SUCCESSFUL ENTREPRENEUR, Hawken is no stranger to business. He founded Erewhon, one of the first notable natural foods companies in the U.S., in the 1960s. In 1979 he cofounded gardening supply purveyor Smith & Hawken. In 2009 he founded a solar energy company now called Energy Everywhere. And he created the country's first organic certification organization, Organic Merchants, well before the National Organic Program existed – intended primarily in his Erewhon days to root out fraud through inspections.
That list of credentials is a long way of saying that Hawken is not inherently suspicious of profit motivations. "I make a really big distinction between commerce and capitalism," he says. "Commerce is sacred, it goes back 10,000 years. When Lewis and Clark got to the Northwest, the Native Americans there had shells from Patagonia. Those exchanges were about trust – credit, 'pay me later,' is a belief and trust. These values are innate to being homo sapiens. That's who we are.
"'Capitalism' is not capitalism – it would include social capital, natural capital – every single form of capital. We're talking about financial concentration."
Hawken is interested in seeing farmers succeed in business. Profitability for a small farmer is good news for the resiliency and productivity of a farm, he says. But he is specifically interested in seeing small, family farms continue to thrive, and he dismisses claims that small, organic farms can't feed the world as rubbish. "When I started in the organic food business in the late '60s, the thing that was always thrown at us was, 'if we all farm that way, children will starve.' This is a lunacy that has been propagated by Monsanto and other industrial agriculture companies, the idea that if we don't farm using industrial methods, the world will starve.
"First of all, industrial agriculture only feeds 30 percent of the world; the other 70 percent is fed by small farmers. Most of what industrial ag does is create commodity crops to feed animals in CAFOs, which is just an abomination."
In his 2021 book Regeneration: Ending the Climate Crisis in One Generation, Hawken writes about the forces underlying and reinforcing this consolidation, but also suggests paths to get out of it. (The book examines not just food, but a series of systems – like marine protected areas, building adaptations in urban settings and renewable energy – that offer example-heavy ideas for practical, attainable solutions to the climate crisis.)
Hawken is the author of eight books, including The Ecology of Commerce, which is widely taught at business schools. He's a sharer of ideas, and he sees reason to be hopeful – in part because big corporations are catching on, which means the odds for regenerative farming to really take hold are good; it's less likely to be just growers providing relatively high-priced food to upscale customers, but the people growing raw ingredients for everything at a range of price points. In 2021, Nestle budgeted $1.3 billion to transition 20 percent of the farms providing its raw ingredients to regenerative agriculture by 2025; the company is working toward 50 percent by 2030, and ultimately toward all 500,000 farmers in its supply chain. "Why do they want to do that? Because they are pragmatic," Hawken says. "They want a supply chain that is going to work 20, 30 years from now." Similarly, Walmart has pledged to transition 50 million acres to regenerative farming by 2030.
"If the two biggest food companies in the world are doing this, it's not some wingnuts out there in Vermont," Hawken says. "This is where it's going."
Hawken expects some amount of skepticism from longtime organic farmers about the big companies getting involved, but in Hawken's take, it's ultimately about solving the climate crisis – and the big suppliers stand to really help advance that cause.
"Nothing is successful if we lose our planet, if we lose the living conditions that allow us to be a civilization – and I'm not being apocalyptic. This is learning, it's school – and if we skip school, it will be an apocalypse. Nature is school."
43RD ANNUAL ECOFARM CONFERENCE happens Wednesday-Saturday, Jan. 18-21 at Asilomar Conference Grounds. $820/full conference with meals; $545/full conference without meals; day rates available. (240) 552-9195, info@eco-farm.org, eco-farm.org.