It was Friday night, Oct. 18, 2019. Sixteen-year-old Perla Velasco-Cruz was getting texts from a friend beckoning her to hang out that night.
"Perla didn't want to go out," says her mom, Carolina Velasco. But 20 minutes later, Perla's friend showed up in a car with other teens at the Velasco family's Seaside home, two boys and two girls. Perla spent about 10 minutes outside, came back inside and then left again. "And that was the last time I saw her."
A few hours later, an unresponsive Velasco-Cruz was rushed to Community Hospital of the Monterey Peninsula. The staff worked frantically to revive the teen, who appeared to have overdosed on opioids. But every tool used to bring Velasco-Cruz back failed, as distraught family members waited. She was pronounced dead at approximately 11pm.
Nearly five months later, those working in the CHOMP emergency department that night remain traumatized by her death, says Casey Grover, the ER medical director.
Velasco-Cruz wasn't the only one to overdose that night. Another teen boy also overdosed. He survived. So did three others who overdosed on the Monterey Peninsula that weekend, making a total of five opioid-related overdoses. The victims may have thought they were using prescription opioids – in Velasco-Cruz's case, the teens thought the pill they purchased that night from a street dealer was Percocet. It looked like the real thing, a blue pill stamped with an "M" on one side and an underlined "30" on the other.
The small blue pill turned out to be a deadly Trojan horse. Doctors and law enforcement soon determined it was laced with another synthetic opioid, fentanyl. Used therapeutically and in the right hands with an intent to help patients, fentanyl can save lives. In the wrong hands, fentanyl can kill.
In a county where opioid overdoses caused by prescription drugs had dropped dramatically thanks to an innovative program developed by CHOMP doctors in 2014 called Prescribe Safe, five overdoses in two days was alarming. The total number of opioid-related deaths – including fentanyl – for 2019 in Monterey County was 93, a 933-percent increase over 2018.
Since that October weekend, doctors, law enforcement officers, drug treatment specialists, educators and many others have mobilized to spread the word about fentanyl: Even one pill from the street might kill. In fact, any drug bought on the street has the potential to kill, since drug cartels are lacing cannabis, heroin and cocaine with fentanyl. It's cheap, and can be purchased by Mexican drug cartels via the internet from China.
Yet even as they work to warn the community about how deadly fentanyl is, they know if they vanquish fentanyl another dangerous drug will follow. So health professionals are thinking differently about the issue and new efforts are being created to teach children how to handle stress without turning to potentially addictive or lethal substances, and how to avoid using those substances in the first place.
Perla Velasco-Cruz's mother is grieving for her daughter with a mix of sadness, anger, guilt and other intense feelings that roll over her, through her and spill out on those around her.
"I'm so mad. I had talked to her about drugs," Carolina says. She starts her next sentence, then stops before she can complete the thought. "But for those fucking pills."
ANYONE WHO'S HAD ANESTHESIA ADMINISTERED DURING SURGERY IN THE LAST 50 YEARS HAS PROBABLY BEEN GIVEN FENTANYL. The synthetic opioid was developed in 1959 by Belgian chemist Paul Janssen, whose life goal was to create drugs that helped people and made them feel better. Janssen and his team were experimenting with the chemical structure of morphine when they created fentanyl, according to the 2019 book Fentanyl, Inc., by Ben Westhoff.
The new painkiller was more powerful than morphine, acted faster and wasn't likely to cause nausea in patients like morphine could. Janssen later wrote that it was fentanyl, combined with other drugs, that made longer surgeries possible, including modern open-heart surgeries.
Fentanyl was initially well received by doctors in Europe but it faced a delay in receiving approval from the U.S. Food and Drug Administration over concerns it could be abused recreationally. It was eventually approved in 1968.
Janssen set out only to help people, but by 1971, fentanyl was considered to have a "high potential for abuse" and was made a Schedule II drug in the U.S., making it illegal to use recreationally. (Schedule I controlled substances are defined as having "no currently accepted medical use in the United States," according to the Drug Enforcement Administration. Heroin and cannabis are on the Schedule I list. Schedule II, III, IV and V controlled substances include painkillers and other medicines prescribed by physicians.)
Other fentanyl analogues have gone on to be abused, including carfentanil, a veterinary tranquilizer far more powerful than fentanyl. It hasn't been seen as much on the streets in California – yet – but it's been found elsewhere, including Ohio where it was responsible for killing more than 1,100 people over a 12-month period in 2016 and 2017, according to Westhoff's book.
LOCAL LAW ENFORCEMENT BELIEVE THE FENTANYL THAT WAS IN THE PILL THAT KILLED PERLA VELASCO-CRUZ was created in China then shipped to Mexico, where a drug cartel manufactured the counterfeit pill and then smuggled it over the border. It eventually made its way up Highway 101 to Salinas, where it was distributed by dealers around the county.
Fifty to 100 times more powerful than morphine, it takes only a very small amount of fentanyl to produce a quick high, making it a cheap ingredient. As a result, cartels and other illegal manufacturers are cutting fentanyl into nearly every illegal drug available that are more expensive on their own: heroine, cocaine, fake pills disguised as Percocet, Xanax and hydrocodone, and even cannabis. Manufacturing costs go down, and dealers can turn around and undercut the competition by offering their drugs at a lower price, or marketing them as higher grade with a more intense high.
It takes a tiny amount of fentanyl to kill, 2 to 3 milligrams, a miniscule pinch of grains. Those who overdose often look like they're sleeping, while in fact the drug is suppressing the victim's breathing. There's no quality control among illicit manufacturers. The amount of fentanyl could be different from one pill to another, and even from one side of a pill to the other.
"It's like playing Russian roulette, except that it's all bullets," says Reb Close, a CHOMP emergency doctor and co-creator of the Prescribe Safe program that monitors opioid use. "You're just hoping the gun misfires."
Close and Grover, the husband-wife team behind Prescribe Safe, have been making the rounds to schools, community meetings, government meetings – anywhere that will have them – to spread the word that "one pill can kill." They've spoken to at least nine schools in Monterey County. At one town hall Close told the parents, teens and other members of the public gathered there, "Don't take so much as a breath mint from anyone. Take nothing."
They've been working in conjunction with another Montage doctor, Susan Swick, hired in 2018 as director of Ohana, which will become the county's only in-patient treatment center for adolescent mental health. Swick has been giving parents advice on ways to talk to their kids about drugs in a way that won't shut down communication, as well as how to help children find healthy ways of dealing with stress. She's also been breaking down just why the teen brain takes risks, like trying drinking or new drugs, despite the danger. (See sidebar, p. 22.)
Many community presentations and a few months later, Close's advice is still the same: "That's where we are right now," Close says. "Any pill can kill."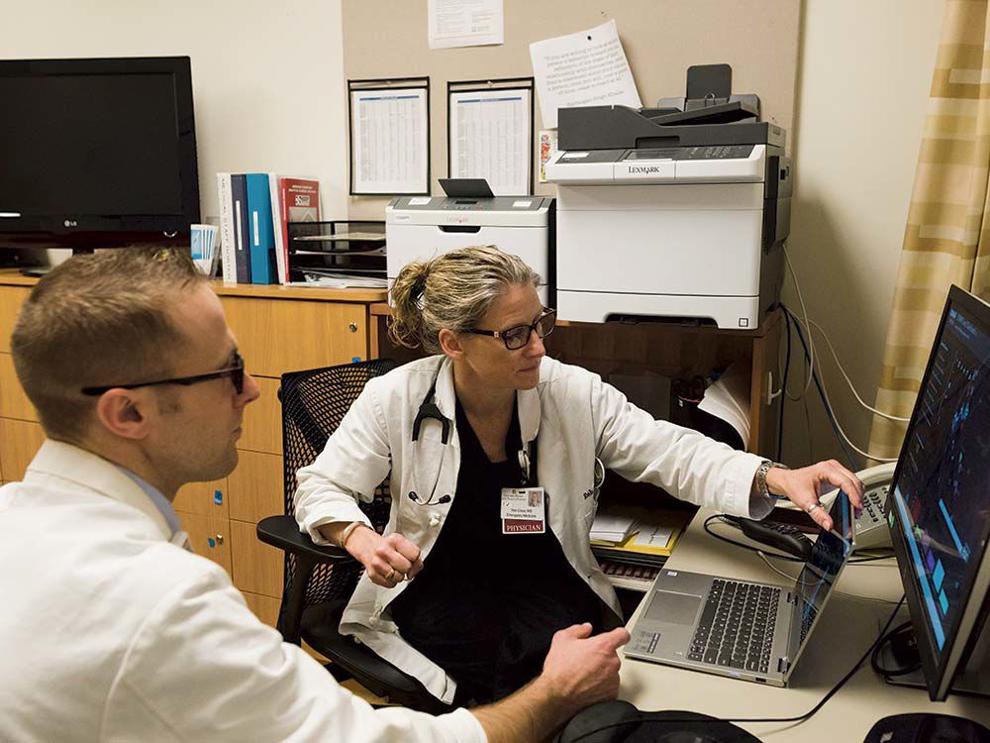 INSIDE THE MONTEREY HOME OF KEYLA VELASCO is a corner table with an 8-by-10-inch photo of her niece, Perla, prominently displayed. A few feet away, Keyla sits on the couch with her cousin, Carolina Velasco, Perla's mom. (Even though Perla is technically Keyla's cousin, Keyla says in Hispanic culture she's her aunt.) They've agreed to an interview because, they say, they hear many misconceptions about Perla and what happened, and they don't want what happened to their family happen to others. Through most of the interview they are mostly sad, sometimes angry, but when asked what kind of a girl Perla was, their faces light up.
"She was adventurous," Keyla says. "She loved bringing street animals home, she would save a bunny or dogs and want to keep them." The two women recall the day that Perla saw baby "bunnies" and picked one up despite her mother warning her not to. It turned out to be a skunk and Perla got sprayed, resulting in a tomato juice bath soon after.
Perla's caring nature extended to helping take care of her three younger siblings, ages 16, 11 and 5, and extending kindness to friends. She was artistic and she dreamed of one day going to college in Texas.
Carolina insists that Perla was not the kind of teen to go out drinking or using drugs. She had recently broken up with her boyfriend, and the night of Oct. 18, a friend encouraged the girl to go out with them, drink and forget their troubles. Four months later, Carolina and Keyla pieced together what they think happened that night after Perla left the house. Some details they heard from others, some they are assuming and some they know because one of Perla's friends shared with Carolina videos the teens shot that night.
"Those girls snapchatted everything," Keyla says.
The teens bought the fake Percocet pill for $20 from another teen. The teens in the car were drinking and at some point they placed the pill on a square of foil, held a lighter underneath to heat it up, and inhaled the resulting vapor as the pill melted.
"They were driving around and she was having the overdose," Keyla says. "Her friend thought she was sleeping."
The two sisters believe the teens in the car left Perla on a Seaside sidewalk alone, then drove off. They say another friend of Perla's who lived nearby just happened to find her later and called 911.
The version from investigators is that some of the teens from the car were with Perla when first responders came on the scene, although some had already left. Then-Carmel Police Cmdr. Luke Powell, who at the time was head of the Peninsula Regional Violence and Narcotics Team, confirms that the friends who were there waited about two hours before calling 911. "If they had not delayed, the victim would have been saved," Powell says. (Powell left Carmel recently to join the Gilroy Police Department.)
The teens in the car that evening didn't call right away out of fear that they themselves might be arrested. They might have not known about the state's Good Samaritan law, which protects people who report an emergency from arrest and prosecution. (Dealers are an exception.)
"We're not going after you if you call 911," Powell says. "We don't want anyone else to die."
GUILLERMO RODRIGUEZ KNOWS FIRSTHAND the life-saving properties of naloxone, the antidote to opioid overdoses. He already knew on a clinical level about naloxone, sold under the name Narcan, as the clinical director of Valley Health Associates, an outpatient drug treatment center in Salinas. He's spent years showing people how to use it if they're with a person who is overdosing, explaining how it can immediately reverse the effects of an overdose and save someone's life. One day he put that knowledge to good use.
Rodriguez was driving through Salinas one day when he saw a man lying unconscious in the middle of the street. Cars were driving around him, but no one was stopping to help. "I'm actually seeing this, cars going around them, and I'm thinking, 'Are you really ignoring this person?'" Rodriguez stopped, went to the man and turned him over. He could tell immediately the man was overdosing – one clue was the needle he was holding in his hand.
He called 911 and grabbed the naloxone he was carrying in the trunk of his car and some rubber gloves. The single-dose naloxone spray is designed so that nearly anyone can use it, with little training.
Like an allergy spray, the tube of the spray bottle is inserted into a nostril. A simple pump of the thumb sends the spray upward into the nasal passages. The molecules of naloxone replaces opioid molecules attached to the brain's receptors, reversing the opioid's effects and restoring breathing.
The results can be dramatic and even though Rodriguez had explained it many times to others, "actually seeing it in person was a whole different experience," he says. (If someone is having a different medical emergency, administering naloxone will not hurt them.) The key is to get naloxone into the victim's system as soon as possible.
It's also important to administer more than one dose if the victim doesn't respond after a couple of minutes. Last year, as more overdose cases started popping up in Monterey County, doctors learned quickly they had to keep administering doses until patients responded. The naloxone wears off before the opioid does, another reason to give multiple doses. It buys time for victims before they get to the hospital. Once there, doctors will often administer the drug intravenously, which in the best-case scenarios, leads to an "intense" reaction, Grover says: "People wake up as if from the dead."
Valley Health Associates will give naloxone for free to anyone who asks, and there are occasional public events where it is distributed. (To get naloxone, call 831-424-6655 or email valleyhealthsalinas@gmail.com.)
Close has been working for about three months to create an overdose heat map, using a platform called ODMAPS, that shows law enforcement and medical professionals where overdoses are happening in a region. Her goal is to make the information nearly real-time, so they can pinpoint which neighborhoods to distribute naloxone to residents, as well as offer information and help with addiction treatment.
Close and Grover are working with the Monterey County Emergency Medical Services Agency and drug treatment representatives to figure out a way to get "care packs" into the hands of first responders to give to families and friends on the scene of an overdose. The pack would include naloxone, tip sheets about addiction and phone numbers to all the drug and substance abuse resources in the county.
Facilities like Valley Health are expanding their services. In Valley Health's case, the organization announced on March 2 the addition of a "peer recovery specialist" to its staff, to support people who are newly entering recovery from substance abuse disorders, including opioid use disorder. It also announced a new outpatient treatment program for youth, scheduled to open in late March.
Traditional interventions for substance abuse aren't working in the case of fentanyl, Grover says, so they have to keep working to find new strategies. "The rules are different, so our response has to be different," he says.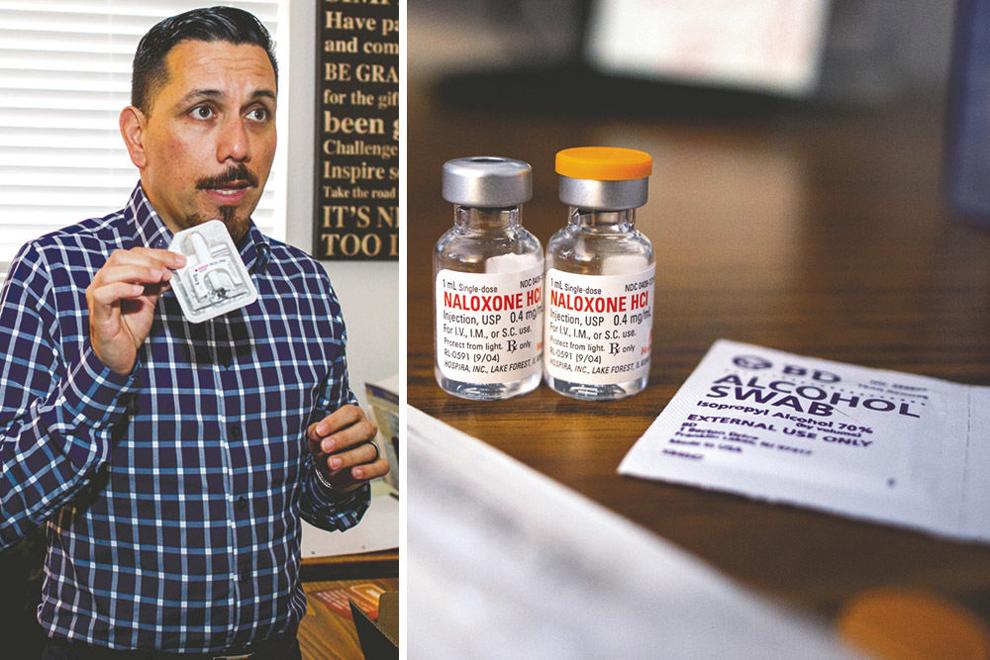 THE U.S. CENTERS FOR DISEASE CONTROL REPORT THAT THE NUMBER OF POSITIVE TEST RESULTS FOR FENTANYL-LACED HEROIN doubled in the U.S. between 2014 and 2015, from approximately 5,300 to more than 13,800. The findings were mostly east of the Mississippi at that time. In 2016, deaths from synthetic opioids, primarily illegal fentanyl, passed prescription opioids as the most common drugs involved in overdose deaths in the U.S., according to the National Institute on Drug Abuse. In 2010, synthetic opioids accounted for 3,000 deaths, by 2016 that number was more than 19,000.
It was that same year, 2016, when drugs laced with fentanyl flooded Sacramento County and surrounding areas, resulting in 12 deaths and 52 overdoses in the county. It was California's introduction to this new wave of synthetic opioids disguised as some other drug, but it hadn't made its way, at least not noticeably, to Monterey County until 2019.
Between 2014, when Prescribe Safe was launched, and 2018, opioid overdose deaths decreased dramatically. In 2012, Monterey County ranked 21 out of 53 California counties and regions in the number of overdose deaths per capita. By 2017 the county was 51st, making it the third-lowest for deaths per capita in the state. The program received national recognition for its efforts to reduce the number of opioids prescribed, increase the use of non-opioid therapies at CHOMP and sponsor drug take-backs that resulted in collecting thousands of pounds of unused medications annually.
There were only nine opioid overdose deaths in Monterey County in all of 2018. As if a switch was flicked, the number of deaths skyrocketed from only nine in 2018 to 93 in 2019. It left officials scratching their heads, until the summer when law enforcement seized a large number of fake pills, reported to the public in September when the CSU Monterey Bay Police Department issued a press release in the wake of a student's overdose.
Then came "Fentanyl Weekend" in October. PRVNT, made up of senior investigators representing the Monterey Peninsula police agencies, Monterey County Sheriff's Department, District Attorney's Office and other law enforcement immediately launched an investigation into who sold the pill to Perla Velasco-Cruz and her friends.
A suspect quickly emerged, a 17-year-old boy who police didn't arrest until Feb. 9, after he had turned 18. Normally a minor would not be identified to the public, but he was booked as an adult into Monterey County Jail. James Hanford Davis appeared in Juvenile Justice Court on Feb. 14, where Monterey County Superior Court Judge Stephanie Hulsey granted a request by Davis' attorney to move the young-looking suspect from the county jail to Juvenile Hall.
While law enforcement worked the case, Close and Grover, through Prescribe Safe, were in talks with representatives from Homeland Security and other medical officials around the state to brainstorm ideas on how to combat the rising number of overdoses. Close has met with groups of other medical professionals, county officials and others in the San Francisco Bay Area, in recent months.
If there is anything that positive that came out of Velasco-Cruz's death, says Grover, it's the web of connections coming together to find solutions to the fentanyl epidemic. The size of the threat made them realize: "Holy smokes, we have to work together better."
EXACTLY ONE MONTH AFTER VELASCO-CRUZ WALKED OUT THE DOOR of her family's home, never to return again, Carolina Velasco stood on a stage next to her sister Keyla at the Oldemeyer Center in Seaside, for what was billed as a Drug Overdose Awareness Town Hall and Narcan distribution. Montage Health, the nonprofit medical organization that includes CHOMP, invited the sisters to come.
"As hard as it is to talk about Perla, [Carolina] wants people to know we can prevent this," Keyla Velasco says. "I know she wouldn't wish this pain on anybody."
Keyla stood at a podium on behalf of the family before a crowd of about 125 people, while Carolina stood behind her on stage, her hands firmly in her jean pockets and at times tears running down her face.
"It's shocking to know that it was a nationwide epidemic but now it's here, now it's home," Keyla said. She urged the parents in the room to talk to their children, even though it may feel uncomfortable.
"My point is, this was a 16-year-old child. It could be anybody else's kid," Keyla said. "Our kids are supposed to bury us, we're not supposed to bury them."