EXT. HIGHWAY 1, BIG SUR  -  DAY
An unmarked car pulls into a highway shoulder amid a swirl of sirens. RAY VELCORO, a California Highway Patrol detective, steps out of the car, and a Monterey County sheriff's deputy points offscreen, toward a creek under the road.
Velcoro radiates confidence but has an edginess to his vibe—we can see his jawbone clenching.As he arrives at the bottom of the canyon, another deputy hands him latex gloves before he dips under the police tape. Other deputies stand by taking notes, photographs.
When Velcoro's eyes first meet the dead body, he stops: A naked, middle-aged man lies face up in the creek. Satanic symbols are etched his chest.
MALE VOICE (O.S.)
Mornin' detective. 
PAUL WOODRUGH, a young, muscled-up highway patrolman, stands near the body. 
WOODRUGH
I hope you came ready for a party.   
Velcoro looks up at him, steeled, distracted. 
WOODRUGH
The cavalry is on the way.  
That scene hasn't happened. Yet.
But it just might.
The Hollywood blogosphere erupted last August with the scoop that season two of HBO's True Detective, a TV series that debuted last January to much critical acclaim, would center around a body found on Highway 1 in Big Sur.
The above scene is an interpretation of the leaks to come out thus far: The body belongs to a middle-aged man, said to be a corrupt city manager of a fictional California city, whose chest is marked with satanic symbols. The detective Velcoro (Colin Farrell) struggles with cocaine and anger. The highway patrolman is a military veteran with a troubled past (played by Taylor Kitsch of Friday Night Lights and Lone Survivor).
Here's what makes that such a specific coup for Big Sur and Monterey County.
Every season of the show is self-contained, set in a different place with different people. Much attention surrounding the show's first season focused on the stellar acting of Matthew McConaughey and Woody Harrelson, who played the lead detectives in the story. Both were nominated for Emmys. Many argue their performances rank among the best of their careers.
But the other star of the first season, rural Louisiana, wasn't nominated for anything, and isn't named in the credits. Few other shows have made the landscapes and subcultures of the setting such a strong character in the plot. We see bleak imagery of sugarcane fields, refineries and ramshackle settlements. We travel through underworlds of biker gangs and pop-up preachers, drug traffickers and underage prostitutes. The world is one of haunting contrasts, where relentless plant life seems always ready to strangle anything humans dare build and leave untended, and where order and civilization are ever ready to crumble from our own evil. The tagline for season one: "Man is the cruelest animal."
"What it describes is: We're in a place of high spirituality and incendiary sunshine," True Detective creator Nic Pizzolatto says of season one's setting during a commentary piece on HBO. "Within this landscape and this bright, bright environment exists darknesses."
The environment, he says, is given the same nuance and dimensionality as his lead characters.
"We want to establish this landscape as realistically as we can, not only on its own, but in a background for our main characters," Pizzolatto says. "[It's] something they live in and that affects them, surrounds them."
In True Detective, setting is more than just a place, it's a character, a living thing that changes the world around it. And if that character in season two is Monterey County, viewers may never look at our home quite the same way again.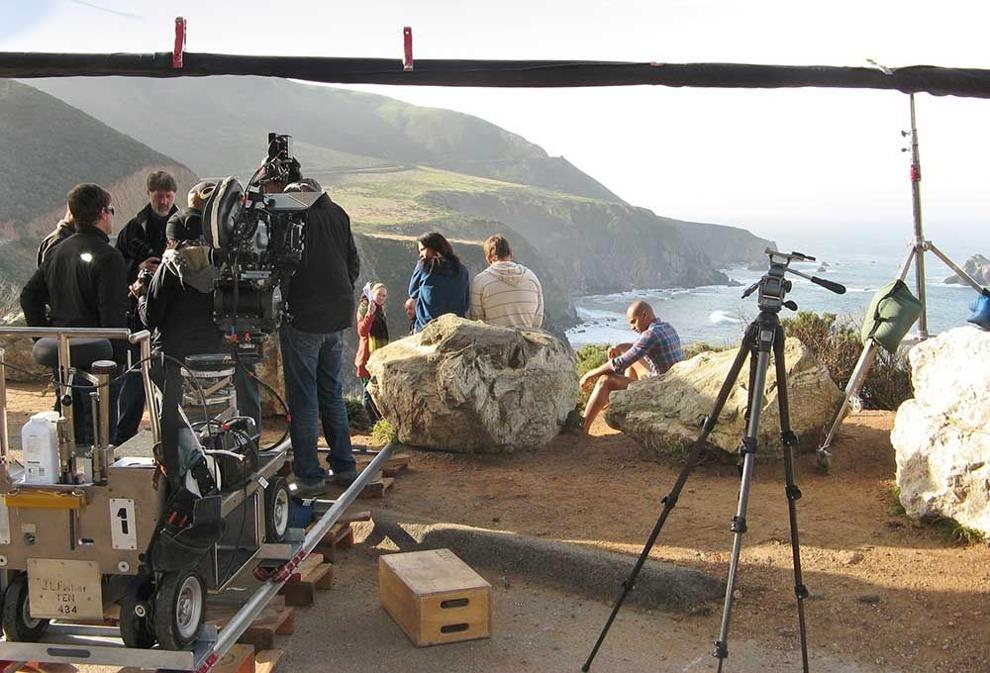 On the wall is a young Tom Hanks, doing his best to look serious as an adorable, slobbery canine named Hooch stares up at him plaintively.
The poster is one of many adorning the small Lighthouse Avenue office of Karen Nordstrand, president of the Monterey County Film Commission, who works full-time to bring cameras and action to the local film scene. And if the sun's not cooperating, she can help with the lights too.
"The main thing is staying top of mind so you're in the game whenever that production might be calling," she says. "Productions are moving faster now, they're in and out."
If you're a producer wanting to know if there's flooding on Highway 1, or what the best hotel options are locally, Nordstrand has anwers. "We're like a chamber of commerce," she says.
The county Board of Supervisors created the film commission in 1987, with the mission to promote and market the county as a "destination for the motion picture, television and related industries." The hope therein is to help put the region back on the map the way that it once was, cinematically speaking.
"The '40s and '50s were the heyday for filming here. A lot of people came up here from Hollywood," Nordstrand says. "They even used Fisherman's Wharf to double as a Norwegian fishing village occupied by Nazis." (That was for Edge of Darkness, in 1942.)
In terms of dollars, film may be dwarfed locally by ag and tourism, but it comes at a tiny fraction of the cost. Nordstrand says the industry feeds at least $3 million a year into the local economy, but the county funnels just over $150,000 annually to the MCFC, a 20-to-1 return on investment. (Last year, MCFC received $158,000 from the county and had an overall budget of $180,000.)
And while movies may be the first thing that comes to people's minds when they think of the film commission, Nordstrand says the vast majority of productions she assists are commercials and, over the last few years, TV shows.
She rattles off some recent productions: Diners, Drive-Ins and Dives; Candid Camera; Veteran's Affairs public service announcements filmed in Big Sur; various car commercials and California tourism plugs.
Sports Illustrated did a handful of shoots along the Monterey County coast last summer for their 2015 swimsuit issue, which hit the stands Feb. 9. (Permits were granted for Point Lobos, Garrapata State Park, Carmel River State Beach, Pfeiffer Big Sur State Park and the Highway 1 Bixby Bridge turnout.)
No matter the inquiry, Nordstrand tries to be helpful. "I once had to find a herd of sheep in 24 hours," she says, "and I had to get a manicurist for Annie Leibovitz at 5am in Big Sur."
The film commission's website hosts a catalog of locations and other resources for prospective producers. People who have resources to offer can register anything from a house to a bicycle.
The MCFC "provides free scouting to a degree," Nordstrand says, but the in-depth work is reserved for the pros.
"We're happy to pass things on to the local location scouts," she says, "because they get paid."
On one of his very first jobs, Alan Vasquez was asked to buy lingerie. For Lauren Bacall.
The legendary actress was in town shooting The Forger (2012), much of which was filmed in Carmel. Vasquez was a production assistant.
"Small-budget films are always trying to ask for a deal, so I went to the Gap and to Macy's, and sure enough, I asked for a discount," says Vasquez, who is now a location scout and producer. (Full disclosure: Vasquez is married to Weekly ad exec Tracy Vasquez.) "So now every time I see the producer that hired me, we always have a little joke about how we met: getting Lauren Bacall's undergarments."
Vasquez, a CSU Monterey Bay alum, is one of a handful of locally based location scouts, and makes his living finding the right scenery to match a director's or photographer's vision.
Recently, he got an assignment for a commercial. He was sent a picture of a windblown tree. From Africa.
Vasquez spent four days driving the coast from Monterey to San Francisco looking for the right tree, and after he offered 20 different locations throughout the county, the producers chose one near the Pacific Grove Municipal Golf Links.
"It was like finding a needle in the haystack," he says. But he won't say exactly where that needle was.
Location scouts, though they work together at times, aren't apt to reveal many of their locations. The places they find are like trade secrets.
Peter Newfield, a former grip (lighting and rigging technician) who's been working locations along the Central Coast for the last 15 years, has his favorites, including a ranch in the Gabilan foothills.
"I walked by a pickup that had real bullet holes in it," he says. "They turned out to be really nice people, but you never know what kind of reception you're going to get when you knock on doors."
For a Subaru commercial, he wasn't sent any storyboards, just one word: "aspirational."
"I laughed out loud and sent them a hodgepodge of locations – after I looked it up in Webster's," he says.
Location scout Jere Newton, whose been working in the industry about 25 years, much of that locally, cites Killer Klowns from Outer Space (1988) as one of the most enjoyable productions she's worked on locally.
"That was a fun project," she says, "and it's gone on to have kind of a cult classic status."
Neither The Forger nor Killer Klowns made much of a splash at the box office, which for a movie filmed locally, is a rare thing.
Most of the films shot here turn out to be blockbusters.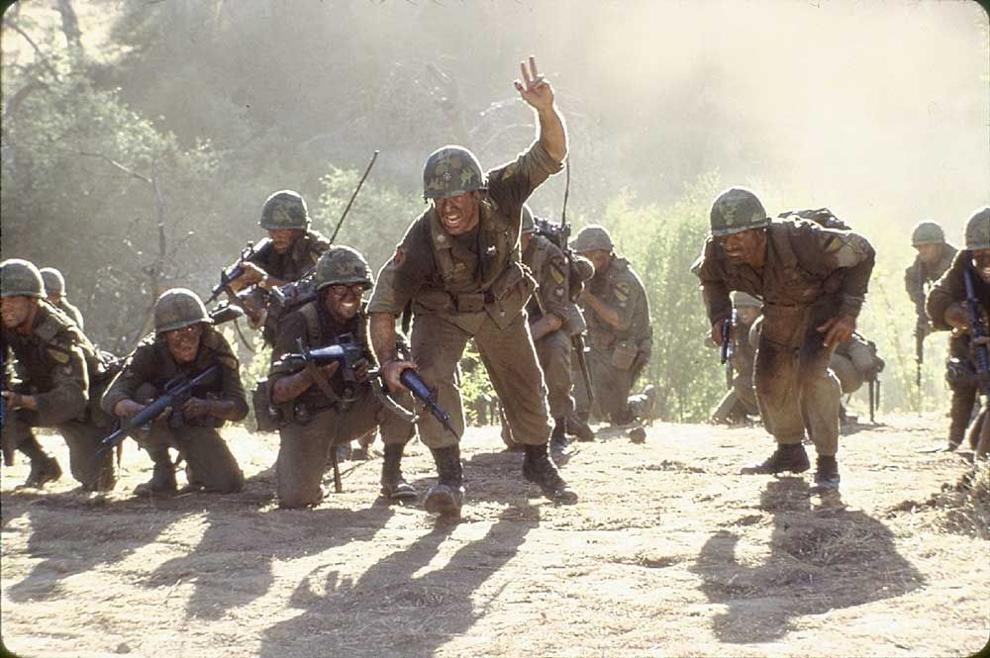 Mel Gibson never put on a combat helmet in Vietnam, but he wore one in Monterey County.
The 2002 film We Were Soldiers, starring Gibson, depicts an epic battle in the Ia Drang Valley at the beginning of the Vietnam War. Lt. Gen. Harold G. Moore (U.S. Army, Ret.), who co-authored the book the movie was based on, was present during the filming at Fort Hunter Liggett in South Monterey County.
"He said it looked just like the Central Highlands of Vietnam," says Nordstrand.
That movie is among the most surprising to have been filmed in Monterey County, and there have been more than 200. Just a few weeks ago, the MCFC released the "Monterey County Movie Map," a brochure that lists every movie to film here, alongside a map that breaks out some of the highlights.
"Directors and cinematographers have been drawn to the spot since 1897, when a cameraman working for Thomas Edison shot the pounding Monterey surf and filmed carriages arriving at the posh Hotel Del Monte," the map reads. "Filmmakers from Cecil B. DeMille to Alfred Hitchcock have filmed here ever since."
In the 1994 comedy Junior (tagline: "Nothing is inconceivable"), where does Arnold Schwarzenegger go when he gets pregnant? Carmel Valley, to a retreat for expectant mothers at the tony Stonepine Estate.
There's Turner and Hooch, with a young Tom Hanks playing a bored, small-town detective about to transfer to the big city until he gets a murder case in which the only witness is a dog. That boring, small town of mostly misdemeanors? Pacific Grove.
Oldtown Salinas' 201 Main St., the former bank and now restaurant Giorgio's, was used to film a robbery in 2001's Bandits (Billy Bob Thornton, Bruce Willis).
"Billy Bob Thornton was so nice with the locals," Nordstrand says, "signing autographs after the show shut down each day."
John Steinbeck's novel East of Eden was first adapted to the screen in 1955 and starred James Dean and Jo Van Fleet, who traveled to the Salinas Valley to shoot farm scenes in fields near Spreckels. A new East of Eden is in development, with Jennifer Lawrence rumored to be playing the murderous Cathy, a role for which Van Fleet won an Oscar.
And the list goes on and on: Play Misty for Me (1971; Clint Eastwood, Jessica Walter), which had scenes all over the Peninsula. Basic Instinct (1992; Michael Douglas, Sharon Stone), where Carmel Highlands, Carmel Valley Village and Garrapata Beach doubled for Marin County. Star Trek IV: The Voyage Home (1986; William Shatner, Leonard Nimoy), where the Monterey Bay Aquarium doubled for the "Cetacean Institute" in Sausalito. There's The Limey (1999; Terence Stamp, Peter Fonda) where Big Sur is simply… Big Sur.
The first thing we see in True Detective, season one, is a dark silhouette dragging a body through a field at night. A flame is lit, and the field comes afire.
Detective Martin Hart (Woody Harrelson) then sits in an interrogation room. It's 2012.
"What do I think?" he tells his questioners. "I think you can't pick your parents, and you can't pick your partner."
A masterfully layered storyline, unfolding like origami, plays out from there.
Soon we see the murder victim at the heart of the story: a young, naked woman bound to a tree on her knees. She has visible stab wounds, and a crown of thorns and antlers affixed to her head.
Hart, and McConaughey's character, Rust Cohle, arrive. It is 1995. As Hart stands off, Cohle is a student, absorbing every detail. He seems a man obsessed.
More than a decade later, in the interrogation room, we see Cohle again. He looks like he's aged beyond his years. He's chain smoking and demands that his questioners, two detectives fishing on a new case, bring him beer.
"Thursdays is one of my days off. On my days off, I start drinking at noon. You don't get to interrupt that," he says.
Both Cohle and Hart, before long, sense the reason they're being interrogated: Another murder has been committed, one with a similar signature.
"Looks a lot like '95," Cohle says, after persuading the detectives to show him a picture of the body. "How could it be him, if we already caught him in '95?"
One of the detectives responds: "I figured you'd know."
"Then start asking the right fucking questions," Cohle says.
So ends the first episode. Seven more follow. The show was the most popular freshman series in HBO's history. The finale crashed the network's streaming service.
The first peep about season two of True Detective came March 10, 2014, just hours after the last episode of season one aired. Hitflix.com's Alan Sepinwall got the scoop, in an interview with creator Nic Pizzolatto.
"If there was one overarching theme to True Detective, I would say it was that as human beings, we are nothing but the stories we live and die by," Pizzolatto told Sepinwall. "So you'd better be careful what stories you tell yourself."
A few questions later, Sepinwall asks: "Can you tell me anything at all about season two?"
"This is really early, but I'll tell you [it's about] hard women, bad men and the secret occult history of the United States transportation system."
After that, it wasn't until May 25 that new intel came out, when Pizzolatto told the public radio show To The Best Of Our Knowledge that season two "takes place in California – not Los Angeles, but some of the much lesser known venues of California – and we're going to try to capture a certain psychosphere ambiance of the place, much like we did in season one."
The transportation project central to the story is said to be a high-speed train. (California's high-speed rail project broke ground Jan. 8.) The intrigue builds.
Some of season two's cast – which Pizzolatto says will have four leads – starts leaking over the summer: Vince Vaughn might play the antagonist, a "thug-turned-businessman" (according to thewrap.com), while Colin Farrell, Taylor Kitsch and Elizabeth Moss will possibly play the detective leads. (Moss' role, reportedly, would be for a "Monterey" sheriff.)
Then Slate has an Aug. 6 story, sourcing The Wrap, that reports the corpse of Ben Caspar (the corrupt city manager) "is found on a lonely stretch of Pacific Coast Highway near Big Sur – satanic symbols etched on his chest. It turns out he had a penchant for rough sex and may have been involved in the occult."
But in at least two ways, the blogs got it wrong: Rachel McAdams, not Moss, will play the female sheriff. And instead of Monterey, she'll be repping Ventura County.
Another disheartening development: The Wrap has since wiped the Big Sur scene from their story, without any mention of ever doing it – leaving the question of season two's location, like the plotline itself, a mystery.
"Rumors are a dime a dozen out there, and until a production company is ready to shoot, anything's a possibility," Nordstrand says. "They look at the cost of doing things, and other factors come into play before they decide to actually film anything."
In other words: It's tough for Monterey County to compete. Other states (like Louisiana, where season one was filmed), have enticing tax breaks California struggles to compete with.
Other countries enjoy similar advantages: The Fox show Grace Point is set in a California seaside town, and Pacific Grove was a leading candidate for the setting. But Canada, a cheaper choice, won out. "Incentives have become a real key to where projects go over the years," Nordstrand says.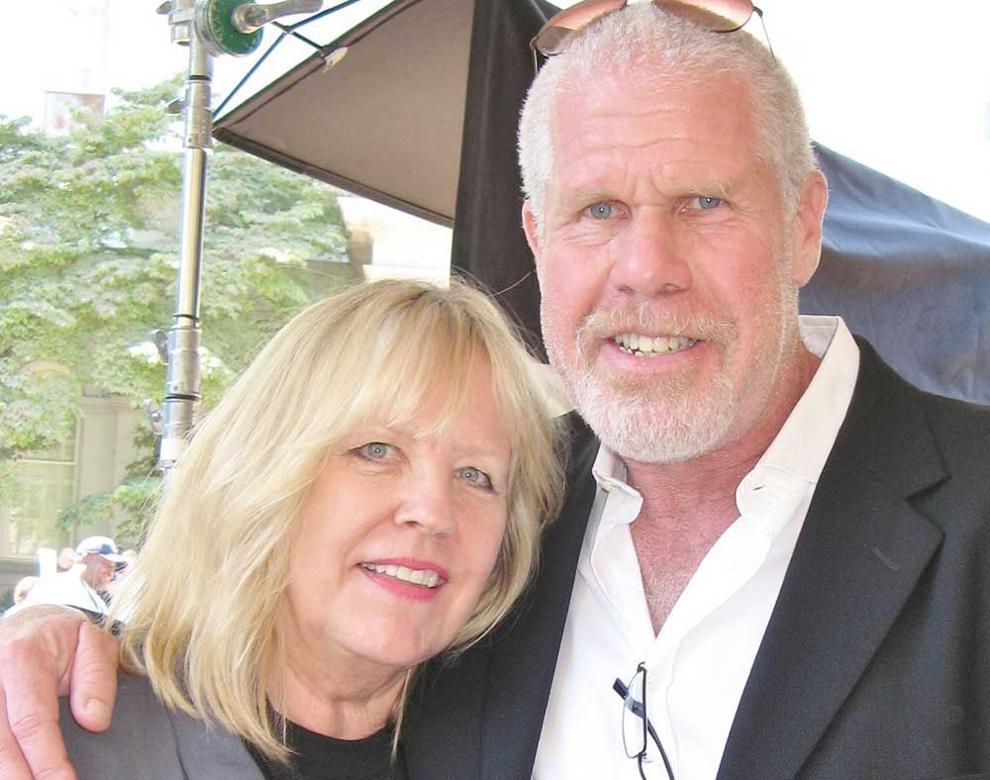 California lawmakers recently passed a bill to increase incentives across the state, one that boosts the pool of state tax credit opportunities from $100 million to $330 million per year. But that won't take effect until July; True Detective is rumored to air this summer.
When probed, all of the scouts and Nordstrand, say they don't know anything of the show's intentions beyond what is on the blogosphere. They have not been contacted, they say.
California Film Commission Executive Director Amy Lemisch says no permits have yet been issued for True Detective to film on Monterey County's Highway 1, but adds that productions don't often apply for permits until days before the shoot. "You'd have to check every week," she says. "But that'd be really cool if they went there."
As a fan, I'm happy to remain in the dark, trusting Pizzolatto's vision. As a local, I want to see our epic coastline, our sprawling vistas, given the star treatment they deserve. More than that, I'm interested in seeing what he finds in our shadows.
Perhaps Pizzolatto had to flip his script due to budget and film closer to L.A., where the cast and crew live. But if Monterey and Big Sur, were part of his original vision – and they may very well be part of the current one – it's hard to imagine the essence of the Central Coast won't remain important to the story.
"The conspiracies that I've researched and encountered, they seem to happen very ad hoc," Pizzolatto told Sepinwall after season one finished. "They become conspiracies when it's necessary to have a conspiracy."