Traveling south on foot down Highway 1, on a warm Sunday morning in mid-June, there are no cars on the road just south of Gorda, a tiny town about 10 miles north of the San Luis Obispo County line.
There are only a few pedestrians, who have come to witness a force of nature: the slide at Mud Creek.
As we come around a bend in the road, the immensity of the slide comes into view: The road is buried in a steep, towering slope of dirt – about 2.5 million cubic yards of it, according to Caltrans – that is strewn with rocks and boulders. It's impossible to see the southern edge of the slide, and looking up, it's impossible to see its crown. There's just too much dirt in the way.
Placed on the road in front of the slide is a yellow, diamond-shaped sign that reads: "Rough Road."
Seaward of what used to be Highway 1, another 2.3 million cubic yards of dirt – enough to fill 697 Olympic swimming pools – spill out into the Pacific, re-forming the shore into a rounded point that adds about 15 acres and 2,400 feet of new shoreline to Big Sur's coast.
The toe of the slide flattens as it gets closer to the sea. Sitting on a small, graded level area near its edge is a trailer that resembles, from afar, a shipping container. Caltrans recently placed it there, and it houses radar equipment that is scanning the slide's movements and sending the information to Sacramento for analysis. Caltrans is also using laser technology to assess the slide, in addition to occasional drones, and inclinometers are being inserted in bore holes. The U.S. Geological Survey is also assisting with photogrammetry – using images to make scientific assessments.
The massive Mud Creek slide occurred May 20, after a much smaller slide started there in January. Caltrans does not yet have a plan for how it will restore the road.
As with many problems that relate to Highway 1 in Big Sur, it's complicated.
~ .:. ~
In recent years, before Big Sur braved a crucible of fire and flood, it was increasingly common to see photos on Facebook and other social media platforms of bumper-to-bumper traffic on Highway 1.
That vehicular traffic was pushing locals on social media toward peak frustration when an illegal campfire along Soberanes Creek – where camping is not allowed – ignited the Soberanes Fire on July 22, 2016.
The fire spread rapidly, and ultimately consumed more than 132,000 acres over three months. It cost more than $260 million to put out, making it the most costly firefight in U.S. history.
Three months later, starting in mid-January, waves of storms battered the Central Coast, particularly Big Sur. In a short time, Big Sur's landscape became oversaturated, and water gushed down its canyons. Along parts of the steep coastline, land began falling onto Highway 1.
Around Feb. 12, the ground slid under the support columns of the Pfeiffer Canyon Bridge, putting the columns at a tilt, and the bridge at risk of collapse. Caltrans closed the bridge within days, and finished demolishing it March 22. A span to replace it is expected to be completed sometime in September.
The closure of the bridge created "the island," a stretch of Big Sur, extending 24 miles south from the former Pfeiffer Canyon Bridge to Paul's Slide, with no regular road access to the outside world.
Paul's Slide – about 12 miles north of Mud Creek – was cleared July 18, with only one lane open during the day as Caltrans workers build a ledge on the hillside to catch falling rocks. (At Pfeiffer Canyon Bridge, it is also expected that only one lane will be open initially during the daytime.)
For the first time in months, the islanders, and outsiders, can freely travel in and out via the snaking Nacimiento-Fergusson Road.
But the Mud Creek slide is a whole other animal.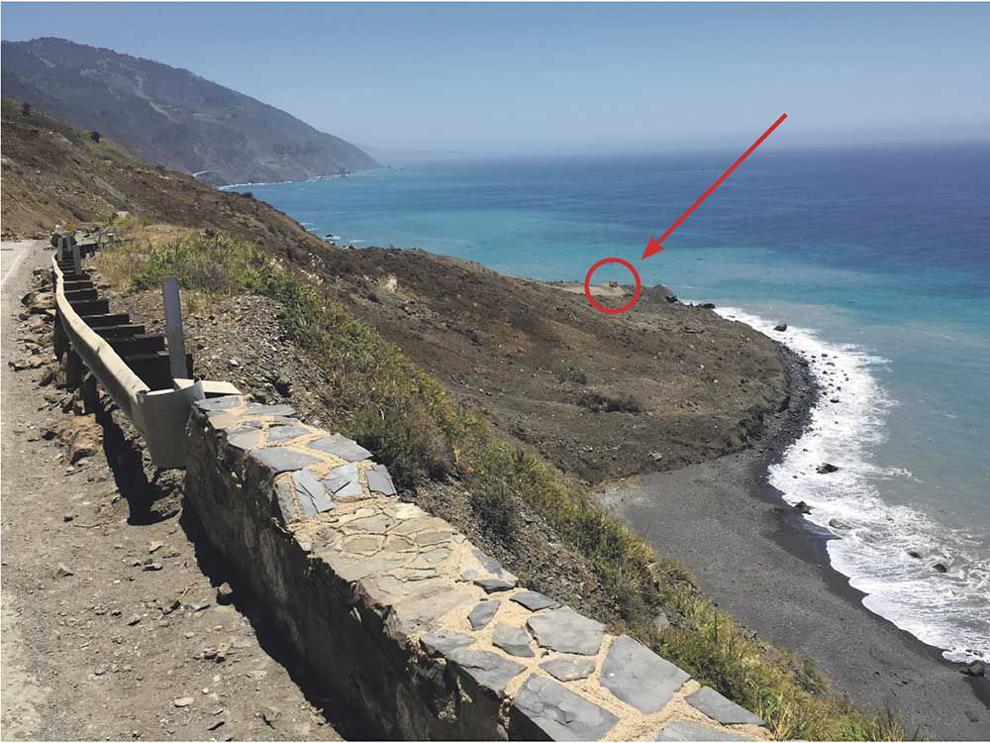 It first started in early January, but grew exponentially May 20, when about 5 million cubic yards of earth went tumbling toward the sea.
The slide made national news, and serves as a metaphor for the difficulty of maintaining Highway 1 in Big Sur: Nature will inevitably foil humans' best-laid plans.
That fact inspired the headline for a June 3 story in the San Jose Mercury News that reads: "Is Big Sur's Highway 1 worth saving?"
It is a fair question: Much treasure has been expended to maintain Highway 1. In the first half of 2017 alone, $21 million of state money has been spent to clear the road, and $24 million has been budgeted to fix the Pfeiffer Canyon Bridge.
That's in addition to cash spent on nearly 100 past closures: A 2001 report commissioned by Caltrans shows there had been about 94 major closures on the road up to that time. In 1998, the most disastrous year for the road, there were about 40 closures. Two heavy equipment operators have lost their lives repairing the road; the first died when his tractor plunged into the sea in 1973, and the second was killed by a mudslide in 1983.
Caltrans is unable to produce any data showing the number of major closures since that report.
The Mud Creek slide remains a daunting unknown, and a reminder that the geology in Big Sur ensures that, in order to keep the road open in perpetuity, much more money will need to be expended going forward.
"It's definitely a costly stretch of state highway," says State Sen. Bill Monning, D-Carmel. But he says the question of whether the highway is worth saving is a non-starter.
"I haven't heard any rumblings, at any level, on anything but to keep the highway open," he says. "Highway 1 is integral not just to Big Sur, but to our whole coastal region."
Monning has a point: Big Sur boasts what is among the most scenic stretches of coastline on the planet, and is both culturally priceless, and an economic engine.
While nobody is considering abandoning Highway 1, the question fed-up residents are asking is, what to do about all the visitors?
~ .:. ~
In 1769, when the party of Spanish explorer Gaspar de Portola arrived to the Big Sur coast from the south, the Santa Lucia Mountains stopped them in their tracks.
Judging the sheer coastline to be impassable, the party cut inland at San Carpoforo Creek – just south of the Monterey-San Luis Obispo county line at Ragged Point – and toiled their way over the mountains to the Nacimiento River.
Caltrans Historian Robert Pavlik, in his "Historical Overview of the Carmel to San Simeon Highway" – a slim Caltrans report sourced from numerous books and other documents – writes that Big Sur's indigenous population likely took a similar strategy when traversing the range.
"Because of the deep stream-cut canyons and high ridges, long-ranging north and south travel was probably eschewed by the native Californians in favor of east-west crossings that would yield access to both the coast and the inland resources," he writes.
In other words, the original residents, who were good with tough travel, thought wiser of tracking the trail that Highway 1 now covers.
After most of the native population was absorbed into the mission system in the late 1700s and early 1800s, the mountains became almost entirely empty of people for decades. That began to change in the years after the Gold Rush, when homesteaders arrived to Big Sur to try and make a life there.
Once a year, a steamer would come from San Francisco to drop off supplies in Big Sur, with one stop at the mouth of the Big Sur River and another at Big Creek, a few miles north of Lucia. A wagon road from Monterey only went as far south as Mill Creek, near Palo Colorado Canyon (not to be mistaken for another Mill Creek in southern Big Sur) and after that it was only a horse trail.
Rosalind Sharpe Wall, in her 1989 book A Wild Coast and Lonely, interviewed Frank Post – son of Big Sur pioneer W.B. Post – who recalled, "People on the coast were stuck all winter on account of high water and slides. Dad wanted a road to his place."
The County Board of Supervisors balked at the proposition, Post recalled, claiming there wasn't enough money. W.B. Post ultimately persuaded the county to pony up $200, which was soon used up, and he and other settlers paid for the rest of the road, which went all the way to the Big Sur River valley.
At the time – the 1880s, '90s and early 1900s – Big Sur was still the wild west, and Wall writes that "there were knife fights, murders, and even lynchings."
"During this period the Coast became notorious," Wall writes, adding that the bar at Mill Creek "was frequented by the limekiln workers, mainly Italians, and every Sunday morning dead Italians would be found in the woods."
It was during that time that Dr. John Roberts, who would later found the community of Seaside, began traveling from Monterey to Big Sur in 1887, becoming the area's first doctor.
"He felt that a highway would not only make life easier for the inhabitants of the region, especially for those around Lucia, but would make this scenic landscape accessible to everyone," writes Wall, who was born at Mill Creek in 1919, and who later interviewed Roberts several times. "As it was, no one knew its beauty save those who lived there. It belonged, he felt, to the state, the nation, the world."
Roberts traveled from Monterey to San Simeon in 1897, and estimated the cost of building the road to be $50,000. After lobbying the state for years, legislators issued a $1.5 million bond for construction of the highway in 1919. Construction began in 1922, then stalled in 1924. It restarted in 1928 – with convict labor crews doing the unskilled work – and was finally completed in 1937. Roberts took part in a ribbon-cutting ceremony at Bixby Bridge on June 27 of that year – at the time it was called Rainbow Bridge – but Wall, who was a teenager at the time, and who grew up a few miles inland of the bridge, was wary of the highway.
"I did not attend the ceremony, as I was opposed to 'progress' – a word of which my father was particularly fond," Wall writes. "Many Coast ranchers, including himself, expected to make millions from tourists trade along the highway."
The inland canyons, once the mainstay of Big Sur life, began to be deserted as Big Sur residents migrated toward the coast.
"With the coming of the highway," Wall writes, "this entire way of life came to an abrupt end."
~ .:. ~
The poetry of Robinson Jeffers, in the 1920s and 1930s, put Big Sur on the world map. After World War II, with Highway 1 providing access, tourists began pouring in.
Its fame grew even more with the 1965 film The Sandpiper, starring Elizabeth Taylor and Richard Burton, which was set on the Big Sur coast.
In the early 1960s, up-and-coming writer Hunter S. Thompson worked at Slate's Hot Springs, now the Esalen Institute. In 1965, he wrote a story in Pageantmagazine that sought, in part, to answer a question posed by a recent San Francisco Examiner column: "Will Liz Taylor change Big Sur?"
But Big Sur, Thompson writes, had already been changing, attracting those with money, who began displacing the hardscrabble community of artists who arrived after the highway was built.
"The new Big Sur is a different bag of nuts, as it were, and many residents are deeply pessimistic about its future," he writes. "The coast is fast becoming a very commercial property, a natural expansion area for the tourist shops and cocktail lounges of Carmel, a happy 'discovery' for the bored socialites of Pebble Beach and San Francisco, and a very 'in' place to visit from Hollywood or Beverly Hills.
"The change is so obvious that there is talk of designing a new Big Sur flag: crossed martini glasses and a massive cheeseburger on a field of financial green."
Also in 1965: Highway 1, from Carmel to San Simeon, was designated the state's first scenic highway. That came after decades of concerns related to the highway's aesthetics: In 1930, seven years before the road was completed, the Monterey County Planning Commission passed a zoning ordinance that would ban billboards on the highway.
A family that owned a gas station 15 miles south of Monterey challenged that ordinance in court in 1936. After five years of litigation, Monterey County Superior Court Judge Maurice Dooling ruled in the county's favor, upholding the ban.
In subsequent years, talk began in Sacramento about turning Highway 1 in Big Sur into a four-lane road to deal with increasing traffic. In response, then State Sen. Fred Farr, of Carmel, successfully led an effort in 1959 to get Highway 1 in Big Sur removed from state's freeway master plan, which contemplated the expansion of freeways across the state.
In the early '60s, Farr began to advocate for a scenic highway program in the state, despite pushback.
"The billboard lobby was as strong as the gun lobby," recalls his son Sam, a retired congressman, who owns property in Big Sur. Fred Farr introduced a scenic highway bill that the state Legislature passed in 1963.
And in that scenic highway program, Sam Farr says his father's "first success was Highway 1."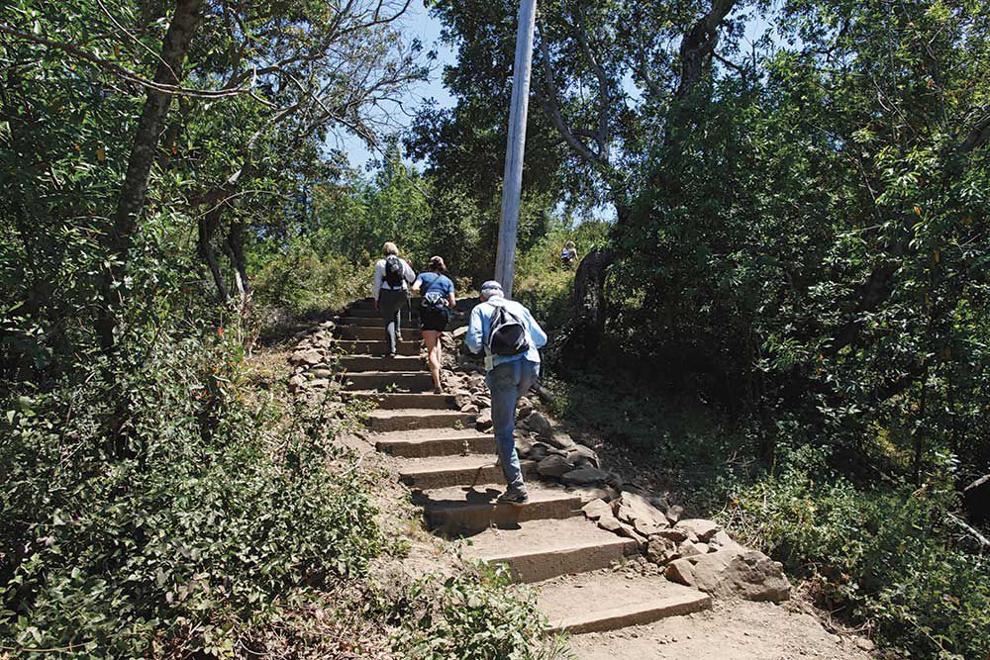 ~ .:. ~
Any given turnout on Highway 1 in Big Sur is liable to be littered with toilet paper and turds.
Martha Diehl, a county planning commissioner, lives near Garrapata Creek, and says she and her neighbors regularly clean up human waste at the base of a cypress tree where the road to her house begins off of Highway 1.
Diehl says she and her neighbors find between 10-30 piles of used toilet paper in a weekend, as well as dirty diapers.
"There have been discussions about bathrooms [in Big Sur] for at least 20 years, but nobody can afford them or afford to service them," Diehl says.
Butch Kronlund, president of the Coast Property Owners Association, says the difficulty of putting up a bathroom structure that might affect the viewshed – generally restricted under scenic highway guidelines – is a "paper tiger."
"It's a 'scenic highway' with piles of shit up and down the highway," he says. "Gimme a break."
The only public restrooms from Rio Road at the north to San Simeon in the south are in state parks or U.S. Forest Service campgrounds, parks or beaches. Even then, a tourist could easily drive by without even knowing they're there.
But the biggest issue residents face is traffic, via the number of visitors on the road, and how those visitors sometimes behave on Highway 1.
Diehl, who says she congratulates herself when she's able to pull across traffic onto her road on busy weekends, says it's not uncommon for tourists to stop in the middle of the road and get out of their cars to take pictures.
"It happens all the time," she says.
Kronlund agrees, and says one time a tourist stopped in the highway in front of him, pulled his keys from the ignition, and started yelling, "Whales!" as he walked toward the ocean.
"When traffic is backed up a mile long, your tolerance begins to fray," Kronlund says.
Kirk Gafill, who co-owns the restaurant Nepenthe and is president of the Big Sur Chamber of Commerce, says that before the Soberanes Fire closed Highway 1 to the greater public, he estimates there's been a 40-percent increase in visitors to Nepenthe since 2011.
Kronlund agrees with Gafill's estimate of about a 40-percent increase in visitors. He recalls about 10 years ago, Gafill pointing out to him the number of people at Nepenthe taking photos on their smartphones, a new technology at the time.
"Now their friends want to go there," Kronlund says, "and you know how it goes: boom, boom, boom."
Kronlund says he is "all for" commerce in Big Sur, but he is committed to finding solutions to the overuse issues ailing it.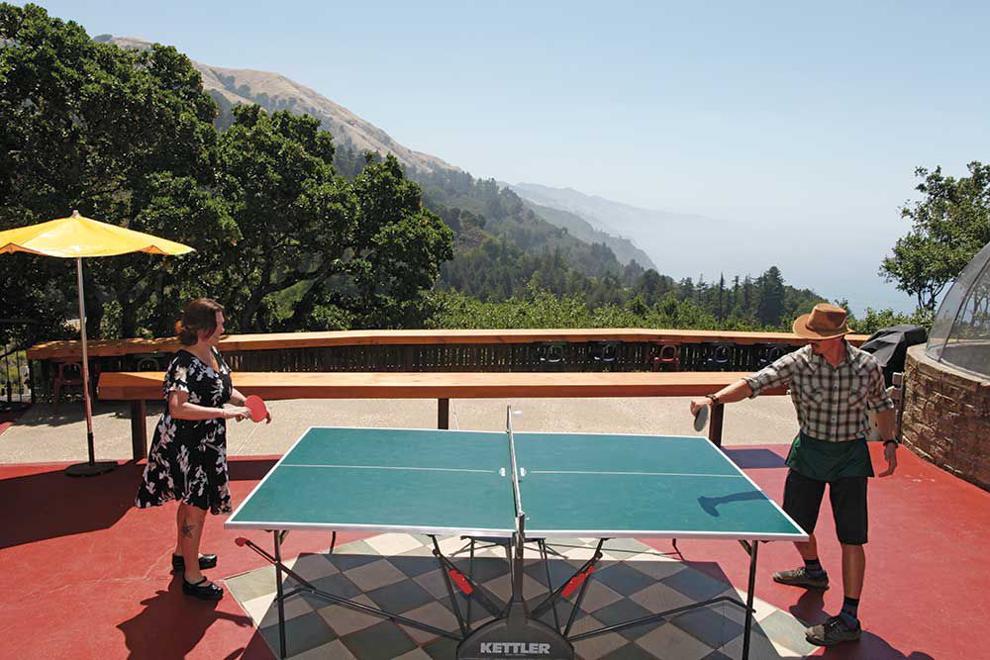 "A lot of things can be done," he says, adding that the issue he wants to tackle first is the traffic on Sycamore Canyon Road, where up to 600 cars a day, he says, drive down to Pfeiffer Beach, which is under the jurisdiction of the U.S. Forest Service. He proposes a shuttle that would take tourists down from a yet-to-be-identified parking area.
"Those of us that live here have to formulate a plan to remedy that," he says. "If we can make that work, it will be a model to deal with other problems down the line."
One option that's not on the table is making Highway 1 a toll road – Caltrans can't legally charge a toll unless it adds another lane. Caltrans can't limit traffic on the road, either – it's a public highway.
But the status quo, Kronlund says, is untenable. When asked about a recent increase in visitors from China, he adds, "There's a billion Chinese, and here they come, so we should be ready for it."
~ .:. ~
Tourism is a $2.7 billion industry in Monterey County, according to a 2015 report, making it the county's second-biggest industry, after agriculture.
By extension, that makes Highway 1 in Big Sur equally vital to the regional economy, as it is a major draw for many tourists: From July 2015 through June 2016, Big Sur hotels contributed $4.8 million in transient occupancy taxes to county coffers (which is $100,000 more than the previous year, and 21 percent of total for unincorporated Monterey County). That number doesn't include sales taxes paid by those tourists or hotel taxes elsewhere in the county, paid by tourists who were drawn to the region, in part, by Big Sur.
The Monterey County Convention and Visitors Bureau actively solicits those visitors, spending about $1.5 million per year on paid media advertisements, but MCCVB Chief Marketing Officer Rob O'Keefe says it's important to him that residents in Big Sur, and elsewhere in the county, don't feel a negative impact.
"Residents not happy about tourism isn't going to contribute to a positive tourism experience," O'Keefe says.
To that end, O'Keefe says MCCVB's marketing strategy is to target visitors who will stay multiple days, and that while Bay Area and Central Valley visitors – who may come for a day, or a weekend – are still the bread and butter of the local industry, MCCVB is increasingly targeting international visitors.
MCCVB pays a Chinese agency about $80,000 annually – "which is a pittance when you consider how big China is," O'Keefe says – to market the county to travel agents and tour operators.
MCCVB also emphasizes attracting visitors in the winter – typically the down season for local tourism. "We want the right traveler at the right time of year," O'Keefe says.
He also stresses that whenever ideas are discussed to solve Big Sur's overuse problems, MCCVB wants to ensure it's part of the solution.
"We're doing everything we can to be at the table," he says.
~ .:. ~
The Pfeiffer Canyon Bridge is expected to reopen sometime in September, per the latest Caltrans estimates, which will provide access to most of Big Sur to visitors from the north. And despite the lack of public access to many Big Sur businesses over the last five months, Gafill says he's not aware of a single business that shut down permanently as a result.
The hardest hit was Deetjen's, which lost three structures due to a combination of landslides and fallen trees. Deetjen's manager Jeanne Crowley says the final assessment of how much damage the winter storms caused is yet to be completed, but adds the resort and restaurant is a nonprofit, and does not have a reserve of cash to pay for repairs. She adds that she believes extreme weather like this pattern represents "a new normal."
"This was a wake-up call with everybody," she says. "You have to be more prepared with finances, with plans, that is the reality."
Another reality: If anything is to be done about overuse issues, solutions can only come through collaboration between residents and numerous government agencies – local, state and federal – that have jurisdiction in Big Sur.
"[Overcrowding] will continue to be an issue that we're going to have to address, because Big Sur will always be a destination, not just for California, but for those throughout the world," says U.S. Rep. Jimmy Panetta, D-Carmel Valley. "It's not going to be done overnight, by one person or one agency, it's going to take a group effort."
Mary Adams, county supervisor for District 5, which includes Big Sur, echoes that sentiment, and overuse problems in Big Sur were among the issues highlighted in her 2016 campaign. But she laments the impact of the loss of tax revenue from Big Sur over the last year, due to the highway being closed, which will affect residents all across the county.
"This really weighs on me," she says. "It's just so serious."
And then there is the vexing, most recent landslide at Mud Creek which, two months after it occurred, Caltrans still has neither a plan to fix, nor an estimate for how much it will cost. It's too big, too dynamic, to lend itself to quick solutions.
That's especially true because Mud Creek is part of a geologic landscape prone to landslides.
In the 2005 book Living with the Changing California Coast, authors Gary Griggs, Kiki Patsch and Lauret Savoy describe the coastline at Gorda, about a mile north of the Mud Creek slide:
"The town of Gorda is built within a large ancient landslide complex. The interior portion of this large slide continues to slip on smaller, active slide planes, resulting in very high landslide risks."
Griggs, who's been an earth sciences professor at UC Santa Cruz since 1968, says that due to the geology at Mud Creek, preventing landslides at the location – and protecting the highway from them – is likely not possible.
"I think Caltrans is in a tough spot," he says. "It will forever be a complicated problem. There's always a simple answer, and it's always wrong."