David Lopez woke up wet and shivering on the ground behind a row of hedges in downtown Monterey. To say he woke up might be saying too much. The chilly night didn't give him much rest. As the first pedestrians of the day started walking by his sleeping quarters, he pulled himself up, brushed off as much mud as he could and made his way down to the waterfront hoping he could find company with one of his few friends.
Lopez is a sturdily built man who once lived a violent life on the streets of Salinas, but at 66, life outside is wearing on him. He says he feels tired. He looks exhausted. He wonders if a trip to the ER or a night or two in jail might make him feel better. But what he really wants is a backpack, or better yet, a blanket. His was stolen a few days earlier, making life in the darkening days of late November harder than normal.
He walks toward Cannery Row where his friend Douglas slept on the beach. Douglas finds himself on the streets for a different reason: Substance abuse and likely mental illness stripped him of his tenuous hold on a working-class existence. Lopez, on the other hand, says he was released from prison in 2012 after spending 35 years behind bars, a senior citizen with no family to stay with, and no marketable skills.
"When you get out and tell them your age, no one wants to hire you," Lopez says while sitting on a bench at San Carlos Beach. "And then if I have to check the box [marking himself as a felon on applications], there's no way."
Down the street stands Cannery Row, a sanitized re-creation of the dirtiest part of Depression-era Monterey. The Row today was born again after Steinbeck made the area famous with his book of the same name, which humanized the downtrodden and celebrated a person's ability to laugh, love and act kindly while facing a materially precarious state of being.
Douglas (no last name given) comes over to the bench and hands Lopez a beer. Lopez looks up, then, apparently embarrassed, says, "Maybe later."
From gang-banging to prison, Lopez never paid into social security. Now he's finding it nearly impossible to get support. Thirty-five years is a long time to be locked up. When asked what he did to get a sentence like that, he first demurs, puts his face in his hands, then looks up with tears in his eyes and says, "triple murder."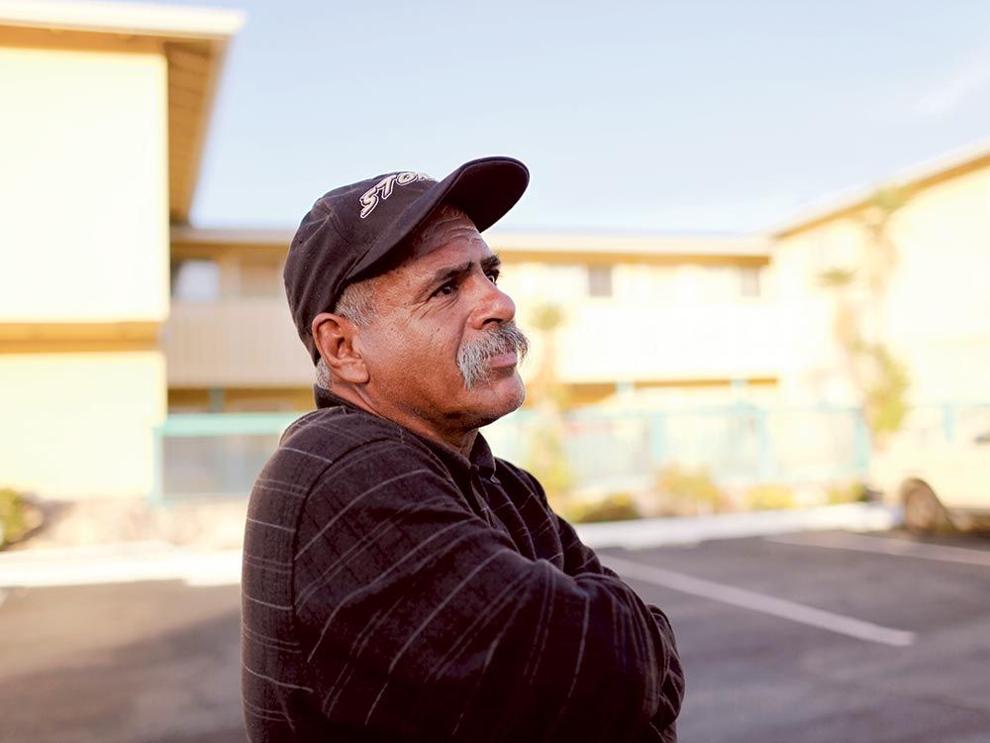 Every homeless person has a story and most have no history of violence. Some are older women who worked as homemakers on the Monterey Peninsula who are now living out of their cars because they can't cover rent on Social Security stipends. Others have Section 8 vouchers but can't find housing because few landlords are willing to house those on public assistance. Some have addiction, others mental illness and many a combination, a condition known as "dual diagnosis."
Whatever their story, they aren't getting better self-treating on the sidewalks, in abandoned buildings or under bridges in Monterey County. The county has initiated a sweeping plan to house them all by 2022 through the creation of more than 2,000 units of permanent supportive housing, where in addition to shelter they'd receive social services and job training.
Since the goal was approved by the Monterey County Board of Supervisors in the final month of 2011, 280 permanent supportive housing units and 96 units of permanent low-income housing units in privately owned and managed developments have been constructed. Dozens more are in the pipeline, including 90 units from a nonprofit developer in Chinatown. But those are years away from opening.
There is no price tag for the ambitious plan, nor a definite means of funding.
In some ways, the impetus of the plan is less altruistic than it is desperate. In order to draw U.S. Department of Housing and Urban Development dollars, counties must put together a blueprint to help, even if it doesn't come to fruition.
The current plan follows what's called a "Housing First" approach, as it has since 2010. Otherwise the nearly $2 million dollars the county receives annually for case-management services might dry up.
HUD instituted Housing First under the administraton of President George W. Bush. The county's federally mandated effort to follow suit is known as "Lead Me Home," and was spearheaded by the Coalition of Homeless Service Providers of Monterey County and the county Department of Social Services.
The Housing First model is based on the success of programs in the state of Utah and the city of Seattle, among other locations. The premise of Housing First is that it's cheaper and easier to help someone achieve stability and independence when they have a roof over their head than it is to make them first achieve sobriety, mental stability or get a job before there can enter government-funded housing programs (an approach called "housing readiness").
Advocates of the Housing First model say the plan goes beyond the humanitarian notion that housing should be a basic right, but proves the most fiscally responsible way to deal with the issues surrounding homelessness.
The success that Utah has had over the past 10 years is convincing.
According to data released by Utah's Division of Housing and Community Development, the population of chronically homeless in Utah fell 91 percent in 2014, from 1,932 in 2005 to 178, and the annual cost of programs and services fell $8,000 for each homeless person. That said, Utah is not the pricey chunk of the California Coast that is Monterey County, where even in the Alisal, the county's most impoverished neighborhood, a one-room apartment goes for more than $1,000 a month, unaffordable at minimum wage.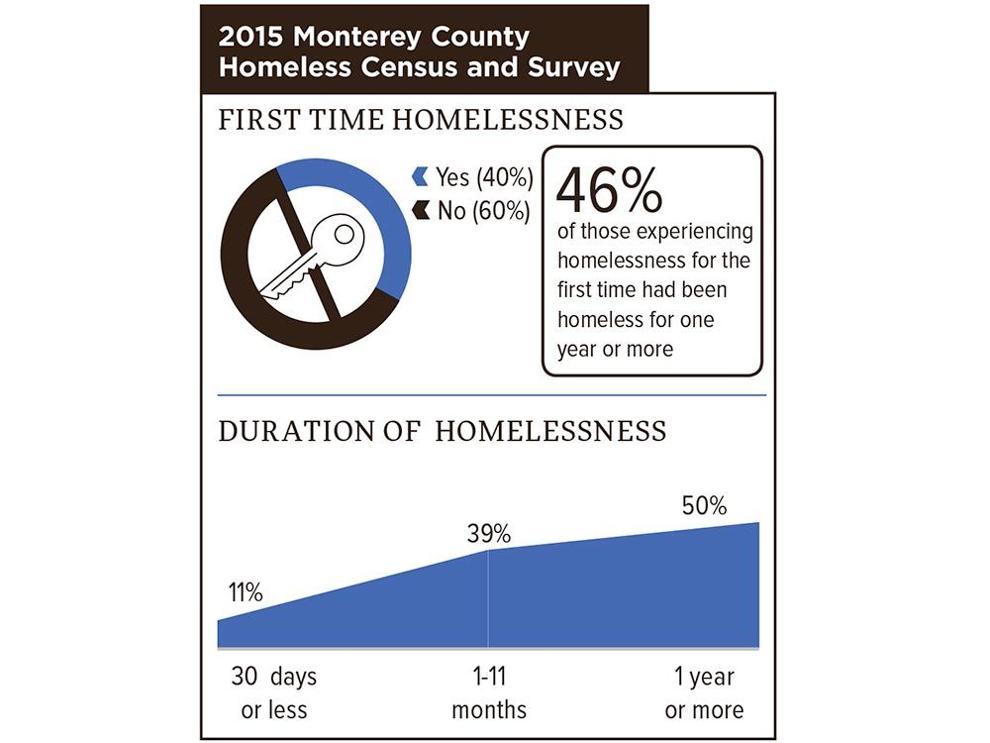 Neither the Department of Social Services nor the Coalition of Homeless Service Providers can identify a dollar amount for the goal of housing the homeless, says Katherine Theoni, executive officer of the coalition. But the goal for 2016 is to come up with a solid number, she says.
A study released in 2014 by the California Department of Housing and Community Development found it costs $232,000 to develop a single unit of affordable housing.
Simple multiplication shows the political bombshell behind the heady goal.
Housing all the homeless in Monterey County would likely cost upwards of $500 million, or 8.5 times the annual budget of the city of Monterey.
Policymakers might take issue with the number as an oversimplication, but Betsy Nahas Wilson, director of housing development at the affordable housing developer MidPen Housing, confirms that the price tag of the plan would be in the hundreds of millions of dollars.
Nahas Wilson warns against sticker shock, saying the federal low-income housing tax credits make the goal feasible, because each dollar invested by private developers can be written off.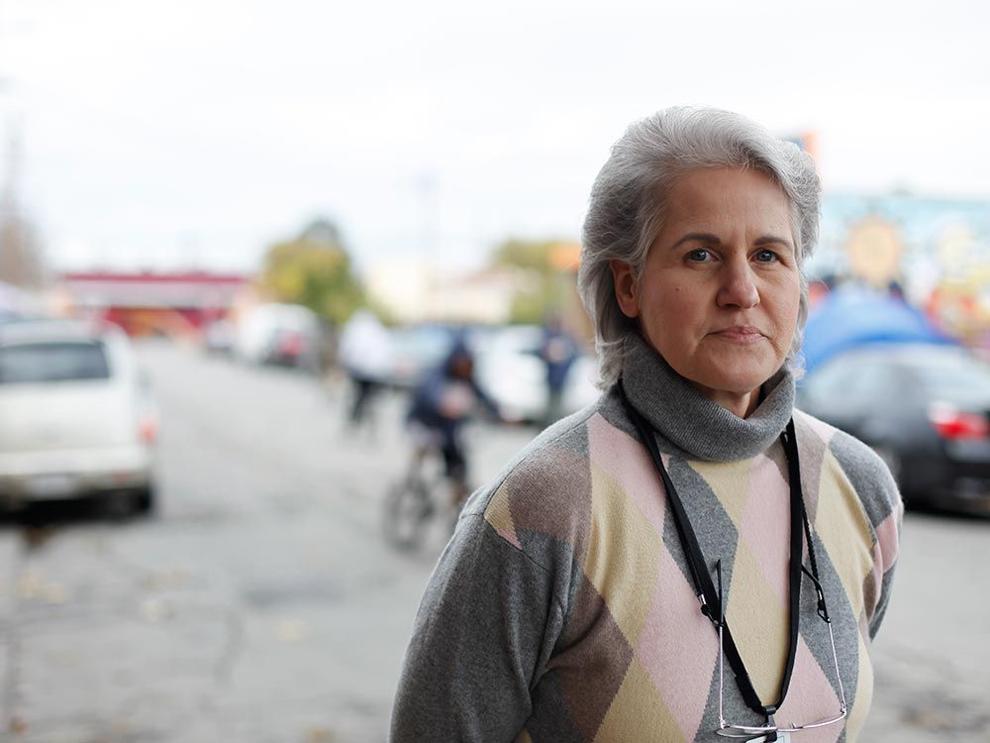 Sitting at a desk in her second floor office at Dorothy's Place in Salinas' Chinatown, Executive Director Jill Allen doesn't sugarcoat any of the problems found in the streets below.
She tells of the time she dealt with drug dealers doing business right in front of Dorothy's shelter/homeless kitchen. She walked up and told them to take their business elsewhere. It took a few times, but they finally moved, not wanting their cash flow interrupted.
Dorothy's Place is run by the Franciscan Workers of Junipero Serra and is named after Dorothy Day, a Catholic social activist who started the leftist Catholic Workers movement. What started as a soup kitchen in 1982 now offers transitional housing, a drop-in center and a women's shelter.
The few blocks of Chinatown are a rough place to live for nearly 250 people who call those streets home on any given day. Despair, violence, prostitution and disenfranchisement are a daily reality. Yet solidarity has emerged from the members of the community that call its streets home.
"If you don't factor in the trauma element it's impossible to effectively serve the homeless," Allen says. "Everyone living on the street suffers from PTSD. Every homeless person faces trauma and it is that trauma that keeps the chronically homeless, homeless."
After the interview I walked around the two-block area. The last time I had been to Chinatown was in 2008. The few-block area has long been known as Salinas' Skid Row, but things have gotten worse.
Tents and shanties line the streets where they hadn't before, as residents cobble together a meager existence. There are no public toilets available at night, and the stench of urine and feces often wafts through the air of what some have called an open-air drug market.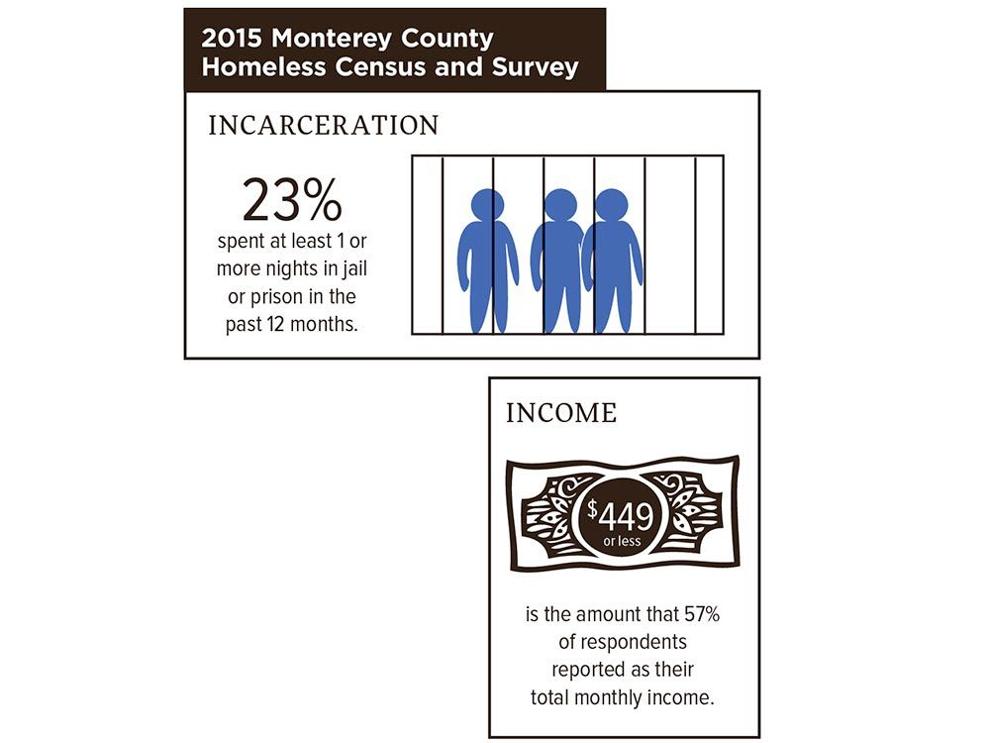 As I walked through a vacant section of the street, I passed a man who looked at me with suspicion, but after a little street banter he offered me "white, brown or yellow" – cocaine, black tar and powdered heroin. I declined and kept walking down the street only to realize the car alarm I'd heard in the distance was emanating from my own vehicle.
The trauma of homelessness is not unique to Chinatown. As the weather gets worse in an El Niño year, many fear desperation will grow in other parts of the county. Pastor Brian Bajari has worked with homeless on the Monterey Peninsula for years, organizing the Gathering by the Bay ministry that meets on Del Monte Beach at 9am every Sunday to provide breakfast and other services to the area's homeless.
He is concerned, in the face of heavy rains to come and the raw cold, those living directly under the elements will take more extreme measures.
"If we don't do anything, if we don't get a shelter set up quick," Bajari says, "desperate people will do desperate things."
Chronically homeless crowd Chinatown. Travelers panhandle on Alvarado Street to the point numerous business owners called on Monterey City Council to restrict their presence.
Mack, Hazel and Eddie of Steinbeck's Cannery Row linger in modern form on the streets and beaches of the Monterey Peninsula. Mothers with children and elderly women often stay out of sight from both fear and shame.
Like those in Salinas' Chinatown, the homeless in Laguna Grande Park on the border of Seaside and Monterey created their own society, complete with a childcare tent and an ad hoc graveyard where two men who died of natural causes were buried.
From 2007 to 2013, the number of homeless in Monterey County jumped from 1,402 to 2,590. Between 2013 and 2015, it decreased by 10.8 percent to 2,308.
Theoni cautions 8 percent of the drop can be accounted for by the fact homeless families who are already counted by the Monterey County Office of Education are no longer included.
Bajari isn't buying it either. He smirks and shakes his head while hearing the drop in numbers. He stands around dozens of homeless who join him Sundays just east of Wharf II.
He believes the study underestimates the true number of homeless in Monterey, and must have a few hundred more than presently accounted for.
But neither Theoni or Bajari dispute a recent and dramatic geographic shift in the homeless population.
In 2013 there were more counted homeless in the city of Monterey than in Salinas. Since that time, the numbers have flipped.
The homeless population in the city of Monterey decreased by 205, from 542 to 337, according to the 2015 Monterey County Point-in-Time Census – a study the county is required to do to receive HUD funding.
The study also found that in the same time period the homeless population of Salinas grew by 63 percent in only two years, from 532 to 867.
"I call that a geographical shuffle," says Theoni. "This is mostly due to the Chinatown phenomena. Someone may start homeless in a Peninsula-based city, they'll eventually end up in Chinatown."
The "phenomena" she describes stems from the perceived greater availablity of resources in Chinatown, as well as homeless being less likely to be cited for illegal camping in Salinas.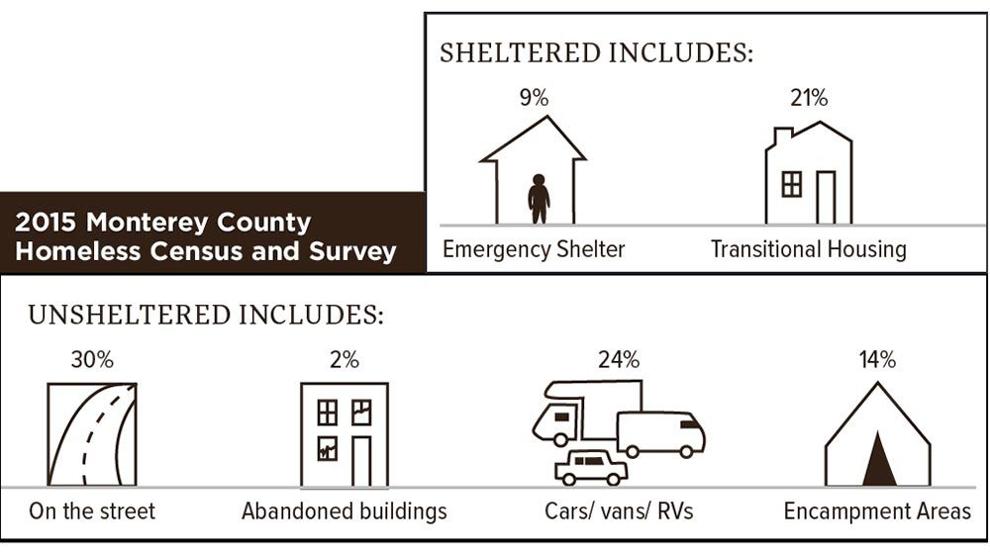 At Dorothy's Place, Allen has witnessed the influx in recent years and is now working in partnership with the city of Salinas and the county to address the new challenges. But with a sober understanding, she adds, "Generally people who come to Chinatown are either very naive or they are very desperate."
To deal with increasing numbers of homeless in Salinas, the city and the county partnered to create a warming shelter that accommodates 68 people a night. The shelter is on city property and is allocated money from Salinas' general fund. The county of Monterey's Department of Social Services manages the day-to-day operations of the shelter.
In Chinatown, the old Copacabana Bar is slated to be retrofitted into the pilot Chinatown Health Service Center, with showers and restrooms open 24 hours a day, seven days a week, along with office space and a meeting area. The city of Salinas will cover the lease and the renovation of the now-derelict building and the county has pledged $45,000 for initial operation costs. The restroom and showers will be staffed for the first six months with six employees through CalWORKs, a state service that provides jobs to families in need.
Managing the new project on the ground will be the Franciscan Workers. The radical Catholics will oversee the remodel and keep the new center running through its fundraising. "No one can stretch a penny like us," says Allen.
The center attempts to assess the needs of every person living in Chinatown and will give priority to those most vulnerable, abandoning the traditional "first come first served" approach as well as the old notion of "housing readiness." The Chinatown Center will also provide case management for those looking for assistance. "We'll literally walk them through the process," Allen says.
Many advocates for the homeless have called on the city of Monterey to do more for those living outdoors within the city limits.
After weeks of meetings with local advocates, on Dec. 15, the Monterey City Council voted 5-0 to pony up $28,252 from the general fund, the equivalent of a dollar for each resident, to be available immediately for organizations providing services to the homeless with an emphasis on funding a warming shelter.
The City Council said it would give another $28,252 if other Peninsula cities also gave $1 per resident for homeless support services.
The one dollar per resident challenge is modeled after a Pacific Grove City Council challenge last year, which put $14,516 on the table. The cities of Monterey, Carmel and Sand City responded and together the three cities supplied more than $50,000 in additional funding for homeless through local nonprofits and churches. The One Starfish Program was established through Pacific Grove's challenge, giving women living in their cars and RVs safe places to park overnight.
If Peninsula city councils follow Monterey's lead on this second challenge, more than $100,000 in immediate funding will be available for nonprofits and charities that support the homeless.
As the county, Peninsula cities, nonprofits and church groups scramble to find an appropriate building for a shelter, Pastor Cindy Storrs said her congregation is willing to provide a warming shelter at the Monterey United Methodist Church.
While Storrs said they can open their doors Jan. 1, Housing and Property Manager Rick Marvin says the permitting and possible zoning changes could cause a delay of several weeks, if not more than a month.
In the meantime, services like the Interfaith Homeless Emergency Lodging Program (I-HELP) has provided shelter for decades on the Peninsula, housing and feeding men at participating churches.
Through I-HELP, hundreds have found stability and transitional housing and, in turn, independent living with a roof over their head. The program provides an example of how services on the Peninsula can help stem the flood of homeless going to Salinas.
Michael Stribling, who stayed with I-HELP for more than two months, was able to find sobriety and a new outlook on life through the program. Last week he left I-HELP and entered an 18-month residential program at Men in Transition in Marina.
When asked where he'd be if I-HELP hadn't been there to break his fall, he replies with a shrug, "Probably Salinas."
Call it schizophrenic or call it managing a multi-faceted situation – as the cities of Salinas and Monterey slowly open their coffers to support services for the homeless, they've also given police more authority to crack down on the same people.
In October 2014, the Monterey City Council approved a controversial sit-lie ordinance that intended to clear the streets of homeless and transients on busy pedestrian corridors. The city claimed it was not a criminalization of homelessness, but rather a redirection. Advocates of homeless, like Bajari, are staunchly opposed to such measures. In Oregon, the state court found a similar law enacted in Portland unconstitutional.
• • •
---
The Year of the Veteran
Last June, First Lady Michelle Obama challenged mayors across the country to end veteran homelessness in a joint effort with the U.S. Department of Housing and Urban Development (HUD) and the U.S. Department of Veterans Affairs (VA). The national push to house the nearly 50,000 homeless veterans in the U.S. brought additional attention and funding to the problem.
"This is a national task," says Terry Bare, executive director of Marina-based Veterans Transition Center. "These men and women served our country so we must serve them when they fall on hard times. I'm glad to see that all the mayors in Monterey County signed on to meet this challenge."
The 2015 Homelessness Census of Monterey County found there were 141 homeless veterans, 34 percent of whom were sheltered. Bare questions the accuracy of the census, saying it's very difficult to account for all of the homeless in a survey that's conducted in one day.
"I'd say the number of homeless veterans in Monterey County is more like 400 or 500," he says. At a recent Homeless Veterans Stand Down, a VA-sponsored multi-day event that provides services and shelter, more than 400 veterans came in for help.
Around 110 people find housing at the center annually, Bare says. All told around 1,200 veterans use one of the many services provided by the Veterans Transition Center every year. Those using services at VTC are Vietnam vets as old as 75 to men in their 20s recently returned from Afghanistan.
Another program operated through the center is to help struggling veterans keep their homes with Supportive Services for Veterans Families funds. The center pays the rent or mortgage and other bills for veterans not making ends meet, say Bare, and if veterans lose their homes the center will "rapidly rehouse them."
In 2015, police have issued two citations under the ordinance.
When Monterey Police do cite homeless people, it's often for camping outside of designated areas. In 2015, the police issued 64 citations for that.
Under city code, panhandlers also could be fined.
In October the Salinas City Council passed the a controversial ordinance that allows the city to confiscate the personal belongings of homeless in the city. The ordinance covers the storage of personal property and bulky items on city property, and gives city officials authority to conduct sweeps of tents, sleeping bags and other belongings of homeless in Salinas after issuing a 24-hour notice to those impacted.
Homeless claim multiple sweeps result in people losing medications, identifications and other necessary items, and homeless people in Salinas have sought a temporary restraining order against the city. A federal judge denied the request after finding errors in the application. Attorney and homeless advocate Anthony Prince says he will apply again.
---
• • •
David Lopez didn't end up going to the ER or to jail to get out of the cold. With help from a family member and saving whatever money came his way from people he met on the street, he was able to pay $120 for one night in a motel in Seaside. He tried to make the most of his time in the motel pushing the checkout deadline.
"'You gotta get out of here in 15 minutes or I'm calling the cops,' she said, and I'm like, 'Whoa take it easy lady,'" Lopez says of one of the few mornings he's spent indoors in recent years. He was packing his things when the manager came back to kick him out. She took a look at him and saw all the clothes he owned were on his body and only a few meager possessions alongside him.
The motel had many vacancies and there was maintenance needed. The manager recognized that Lopez had been living rough. She told him that if he was willing to work he could stay for free. One night turned into two, then the regular maid took a week off and the manager asked if he was willing to clean rooms.
"She told me it would just take me a few hours, but it's a lot of work," Lopez says in the parking lot of the motel after he just installed a screen in a window of one of the rooms. "I've been working more than 10 hours a day."
His compensation was a bed and a warm room. He says he hasn't had this much shelter since he got out of prison three years ago. With no income, he still has to hustle up enough calories to survive; he says it isn't that difficult.
Bajari says there's plenty of food for the homeless on the Peninsula – with the Salvation Army in Sand City providing lunch and dinner Monday through Friday and church groups cooking on weekends – but what's needed is regular shelter.
After a week, the maid returned and there were no more maintenance projects. Lopez finds himself back on the street. Back to a patch of dirt between a row of hedges and a building in downtown Monterey. He's protective of his quarters; it's one of the few places with an electrical outlet facing the street.
Lopez wonders what's coming next.
As the temperature dipped to 40 degrees with strong wind and rain Sunday night, two homeless men died of exposure behind the Fidelity Investment building in downtown Monterey. The men were contacted by police at 10am the day before, says Lt. Jeff Jackson. The men asked for blankets, but Jackson says Monterey PD doesn't hand them out. He adds the officers told the men they could give them information on homeless service providers, but the men weren't interested.
The service that could have saved their lives that night, an emergency warming shelter, was not available.
Jessie Ball, 25, camped out behind Fidelity office at 553 Munras Ave. for a few months. Fearing the storm she sought shelter in a friend's car. When she made her way downtown Monday, she says she was told her campmates were dead.
"I'm too sad and creeped out to stay here tonight," Ball says as she organizes her things just feet from where her friends didn't wake up. "It doesn't make sense."
She says one of the men was in his mid-60s and had been suffering health problems. He had taken to drinking after a short-lived rehabilitation at the Sun Street Center in Seaside. The other was in his 30s, and while he liked to drink, she said he seemed too healthy to die.
Monterey Police say there are no signs of foul play. The men remain unnamed as of press time, as the Monterey County Coroner had yet to contact their families.
The corpses provide human context as the county works to implement its Housing First Programs and the city of Monterey searches out money for emergency services.
It remains unclear if government agencies have the political will to make it happen.
As a homeless woman wrote in an email to the Weekly the day after the bodies were found, "How many dead is it going to take?"
---
Nonprofit service providers for the homeless
The Monterey County Gives! campaign includes a number of nonprofits providing homeless services to men and women, young and old alike.
Gathering for Women
Provides homeless women lunch, community and access to services every Tuesday. | www.gatheringforwomen.org
Interim, Inc.
Helps mentally ill transition from homelessness to housing. | www.interiminc.org
Housing Resource Center
Works with families and veterans to find emergency housing with an emphasis on permanent solutions. | www.hrcmontereycounty.org
Community Human Services
Reaches out to street youth, providing emergency shelter and support services. | www.chservices.org
Fund for Homeless Women
Offers case management and finds shelter for the more than 400 homeless women on the Monterey Peninsula. | www.cfmco.org
Community Homeless Solutions (formerly Shelter Outreach Plus)
Provides healing, shelter and education for the homeless. | www.shelteroutreachplus.org