IN REALITY, ON A WARM OCTOBER AFTERNOON IN THE YEAR 2021, PK Swartz, age 13, is sitting at a table inside a small room in a building on Pacific Street in Monterey playing the video game Overwatch. There are cords everywhere – ethernet cables and mouse cables and power cords. The room is crowded and a little stuffy – seven boys sit around the table – but Swartz doesn't seem to mind.
Perhaps that's because MelonMan (this is Swartz's gamertag, sort of a nickname or screen name within the universe of the game) is not entirely here. His eyes are focused intently on a laptop computer screen, left-hand fingers moving dexterously across the W, A and D keys on his keyboard. His attention is on "Ilios, Greece" (a fictionalized location based on the east side of the island of Santorini), at a time 60 years in the future, where he's directing the motions of a character called McCree, who is shooting at enemy characters with a Peacekeeper revolver.
Together with five other heroes, each with their own skills and strengths (who are also, in reality, boys sitting around this very table in Monterey), McCree aka MelonMan aka PK Swartz is attempting to protect the ancient Greek ruins of Ilios against an encroaching enemy team.
This is the Monterey Whales, a competitive youth video game team that emerged out of the pandemic. The Whales compete against other teams from across the country in an under-15 Overwatch league. Today they're at one of their two two-hour practices per week, so there's joking around and lots of overlapping chatter, as well as moments of complete absorption.
We tend to think of video games as a solitary, even isolating, activity. But what this group is doing flips that understanding on its head – through the game these boys are learning lessons about communication, camaraderie and leadership. They're also experiencing the rewards of teamwork – they just happen to be doing it from behind a laptop screen instead of out on a sporting field.
OVERWATCH IS A SIX-ON-SIX MULTIPLAYER, FIRST-PERSON SHOOTER GAME FIRST RELEASED IN 2016. The game's plot draws from a rich and complicated backstory that involves hostile artificially intelligent robots, a United Nations task force, some drama with that task force and then a United Nations resolution to dismantle the aforementioned task force.
This backstory was fully laid out in a series of short animated videos released by Blizzard Entertainment, the company behind Overwatch. But while it may add to the richness of play, the backstory is not critical to understanding how the game works. Some basics of gameplay, however, are helpful.
There are around 30 "heroes" (playable characters) in the game, and each game takes place in one of a long (and expanding) list of "maps" (locations of play) – many of which are cartoony versions of real-life places like Havana, Cuba and New York City.
The heroes are divided into three categories: Tanks, which lead the charge; DPS, or damage dealers; and Supports, which are characters that can help heal their teammates. Typically, within a six-person team, there are two heroes of each category. Which ones exactly is up to the player, and can change mid-game should circumstances require.
There are also four different kinds of maps – Assault, in which there are two rectangular areas players must capture and control; Escort, where players must escort a payload across three checkpoints; Hybrid, a mixture of the previous two; and Control, where there is one rectangular area to find, capture and control.
A game can take as little as five minutes; longer games take up to 20 minutes.
If all this seems like an overwhelming amount of information and new language to keep track of, that's because it is. "It took me about 100 hours to learn everything," says 12-year-old Whales team member Luka Adams, gamertag SeaSerpent. But now Adams operates with impressive ease, interpreting the vast and very colorful visual stimuli of the game (bad guys are outlined in red, good guys in blue; players are throwing things and shooting things and it's not uncommon for an explosion to rock the frame) with comfortable fluency.
Compared to other video games, Overwatch lends itself well to a team framework. So well, in fact, that there's a professional esports league built around it, organized by Blizzard Entertainment. The Overwatch League played its first season in 2018. Twenty teams from six different countries currently compete – the winner of the 2021 season was the Shanghai Dragons.
This is not a game to play alone – players are either paired up with five others from anywhere in the world who happen to be logged on at the same time, or, as in the case of the Whales, they're paired with known friends and teammates. It's a game that requires coordination and near-constant communication and the boys like this about it. "It's a game where you can't only think about yourself," says team member Nixon Mitchell, gamertag CrispModestRice.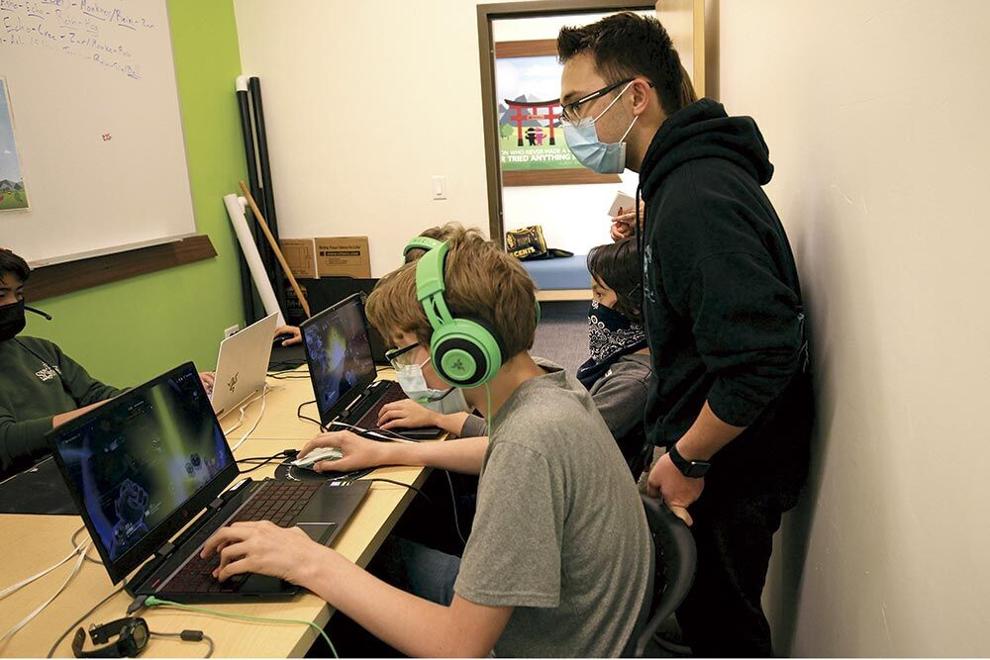 THE ORIGIN STORY OF HOW THESE KIDS ENDED UP IN THIS ROOM PLAYING THIS VIDEO GAME BEGINS IN THE EARLY DAYS OF THE COVID-19 PANDEMIC when schools were shut down and sports leagues were shut down and nearly every activity a child could get involved in outside the house ceased to exist. Code Ninjas, however, the Monterey branch of a Texas-based coding school franchise, remained open. Sure, not as many kids were coming in and suddenly there were plexiglass dividers necessary between desks, but the doors were open, providing a place that kids could go. In those days that was rare.
Well before a global pandemic was on anyone's mind, in August 2019, Chelsea Villareal and her husband Enrique (a former tech industry worker and sixth-grade teacher, respectively) opened Code Ninjas Monterey. They saw an opportunity to supplement the technical education available in local schools. "We both realized there was a huge gap in STEM education," Villareal says. Now, in spite of how everything has changed since 2019, Villareal says opening Code Ninjas is the best career move she's ever made.
The school teaches the coding languages Java, Lua, C# and Unity. Students progress along a "belt" system, similar to karate (ironically, Code Ninjas Monterey is located directly next door to the self-defense school Monterey Martial Arts) and once they reach the top (a "black belt") they create their own app or game to submit to the app store. There are about 110 kids currently enrolled in the program, and Code Ninjas also has contracts with local schools like Santa Catalina.
A key component of the Code Ninjas ethos is blending education with fun, and vice versa. This is where video games come in. "Kids – they can't just code all day," Villareal explains. In the spring of 2020 Code Ninjas Monterey had just purchased some new gaming laptops (video games require faster computer processors than your typical web browsing or streaming) and so they decided to start playing various games, including Overwatch, as a respite from the more serious side of learning to code.
"Kids were sorely looking for something to do, something to engage with, something fun," says Julian Torres who, at the time, was the center director of Code Ninjas Monterey. "And so we thought this would be really good."
Code Ninjas Monterey reached out to other locations of the franchise, and three additional locations provided teams for the pilot season of this scrappy rec league.
It took off. Today that rec league has blossomed into a company in its own right – XP League, an under-15 esports league with 47 locations around the U.S. and Canada. Torres is now XP League's program director. XP League is also a franchise (the Monterey edition of which operates out of Code Ninjas) that organizes and runs the nine-week long seasons, with games held on Saturdays.
Torres says XP League is filling an important niche in the world of competitive video gaming. As esports gain cultural traction – there are an ever-increasing number of college scholarships for gamers on offer, and salaried professional gamers can reportedly make between $3,000 and $5,000 per month (plus prize money for winning games) – there are plenty of opportunities for college students and high school students. But there isn't much for younger kids besides XP League. "We're doing a lot of stuff that maybe a couple of years from now is going to be standard," Torres says. The League also supports seasons of the games Fortnite, Valorant and Rocket League.
The first season was rough for the Monterey Whales. Many of the kids had never played Overwatch before. "We lost every single game leading up to the playoffs," Torres says. "We weren't the best," Bogden Grots, one of the current team coaches, admits.
But things have improved over time. In June the Whales won their regional qualifiers and were invited to the first-ever XP League National Championship, held in early August in Raleigh, North Carolina. Parents and the team's coaches describe it as an awesome, unforgettable event. Rows and rows of computers in a blue-and-green lit conference hall; teams from across the country playing game after game after game. All in all, the Whales competed for 10 hours straight. They didn't win, but that didn't matter – the seven boys who flew to Raleigh were mostly excited to meet their friends (competition), who they recognized by gamertag, IRL.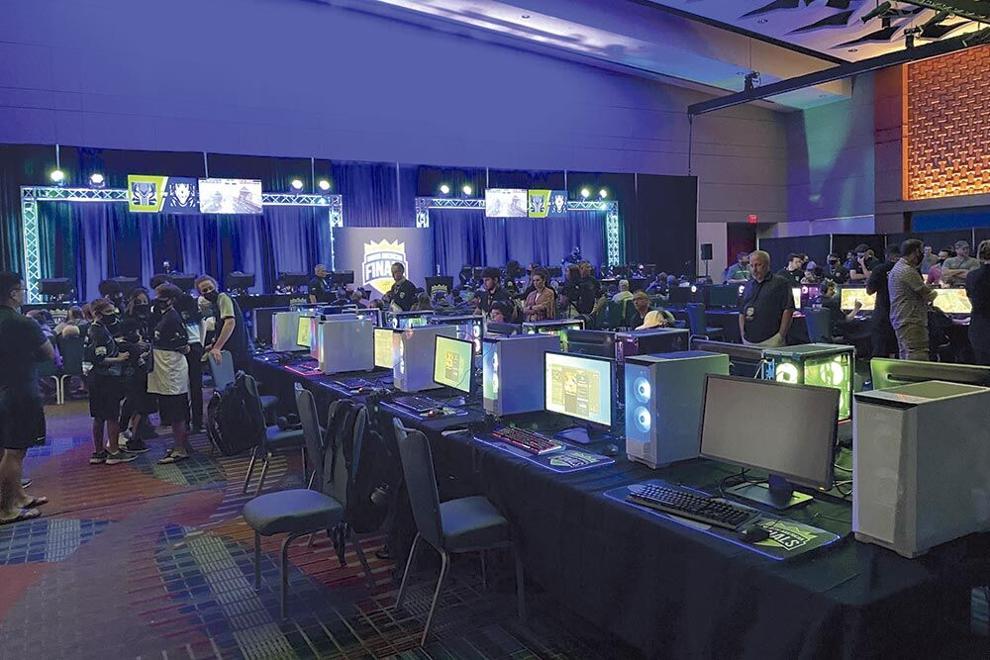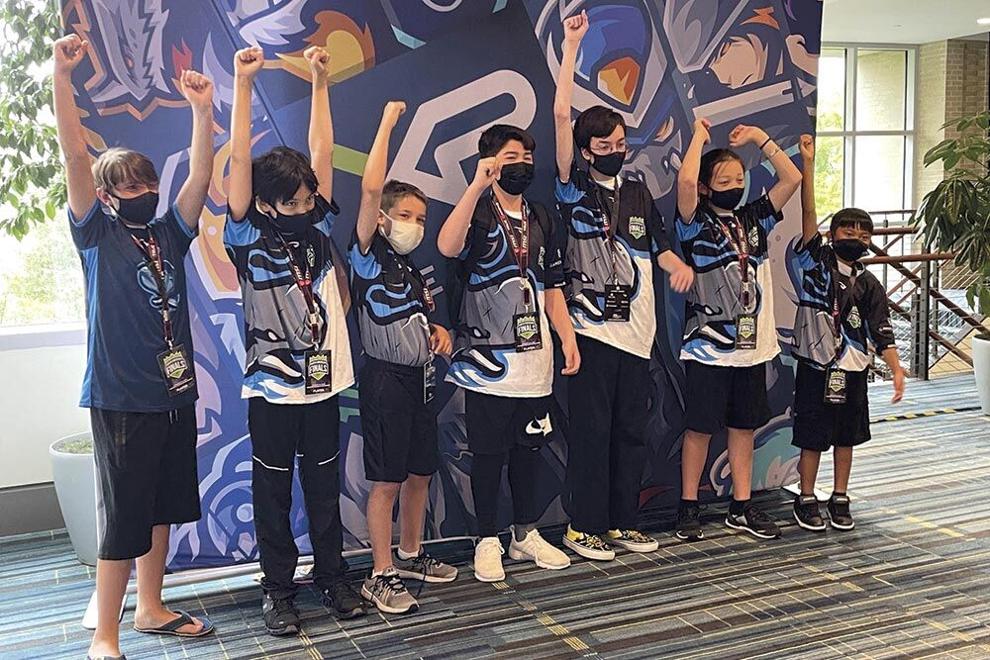 TYPICALLY, SATURDAYS ARE GAME DAYS. But on Saturday, Oct. 30 the team gathered for a Halloween-themed hangout instead – munching on slices of pizza and comparing costumes (two kids came dressed as the same Overwatch character).
They settle into a game, divided into two teams, getting a little feisty in their comments back and forth as pizza-fueled boys are wont to do. A boy on one team takes to the in-game chat to tease the other team after they lose a match.
"Just GGs and move on," coach Braden Schnute reminds him, gently. (In gamer shorthand, GG stands for "good game" – a common way to congratulate or thank the opposing team.)
"But they know I'm joking," the boy intones, pleadingly.
Schnute stays steady. "They might not always know you're joking," he says. "Just say GG."
Part of what the boys are learning here is a kind of new techno-media literacy – how to interact with, or ignore, toxic commentary. The internet in general, and video game culture specifically, doesn't always enjoy a reputation for good sportsmanship. But XP League aims to build players who are kind and supportive of one another. To help ensure this, all XP League coaches are trained through the Positive Coaching Alliance, a nonprofit dedicated to creating a positive youth sports environment (whether that sport takes place on the field, rink, court or screen).
But they're also learning lessons about teamwork, coordination, communication and leadership – lessons that will be familiar to any player, coach or parent in a more "traditional" sport.
"This is not a traditional sport," Villareal says. "But there are aspects of it being a sport, and it's becoming more and more popular." One specific – and Torres says unexpected – community that esports is proving to be popular with is families who have kids with mobility issues. "[They've] really embraced XP League, because their kids normally wouldn't be able to be part of a team sport," Torres says. "We didn't expect the accessibility of video games to be something that was really near and dear to us."
But there's broader appeal, too. "Some kids are just not sports kids," Perrine Adams, Luka's mother, says. "I see it as the exact same thing as being on a sports team. The same dynamics, the same learning to be positive with your teammates – for me, he's gaining a lot from it. It's an experience that, usually, kids who don't do sports don't get."
Coach Grots, who has been with the team since the spring of 2020, has watched the players go from a bunch of individuals to a team. It's his favorite part – the bit he's even a little jealous of. "It's cool to see how they're learning to be a team," he says.
But what of the screen time? Surely, one thing parents appreciate about traditional sports is that kids are active and, often, outdoors.
"It's tough," Adams admits. "It's a balance" – she's clearly supportive of her son's interest, but there's also homework to be done and swimming twice a week and a bedtime to be observed. "Now that they're back at school in person I feel a lot better," she says.
Torres of XP League has a clear message on screen time concerns: "Let us be that screen time," he says. "Maybe, instead of playing video games in their room… let us be that structure that instead of making it so that the screen time is always an isolating experience, allow us to come in and make it a positive, growing experience for that child.
"We see it as a solution, and not as another thing on top of the screen time," Torres adds.
Come the end of practice, MelonMan morphs into PK Swartz once again and changes his clothes into some athletic shorts. It's time for soccer practice. The Whales' fall season wrapped up (with the team winning two games) on Nov. 6 – the team will now hold tryouts for others who might want to join before the next season kicks off on Nov. 21.
"Can we make practice every day?" Luka Adams asks, wistfully, as he walks out the door onto Pacific Street. "It's so fun."