This is a story about trust.
It is also about a dysfunctional family, and it's complicated.
For Monterey County and Seaside voters, it's about Brian Boudreau, the developer behind Monterey Downs, the largest proposed project in Seaside's history.
Boudreau declined to talk about this story, as did other members of his family, so it is largely drawn from hundreds of pages of public documents, as well as interviews with people who've taken a hard look at how Boudreau does business.
The deeper one drills into those documents, the more questions there are that arise.
It is only when stepping back from the details, and seeing them as brushstrokes, that a greater picture begins to emerge.
Once it comes into focus, it's hard to look away.
• • •
On April 24, 1990, Charles and Kathleen Boudreau, Brian's parents, created the Boudreau Trust.
The elder Boudreaus resided in the Calabasas region of the San Fernando Valley, a wealthy area in the northern foothills of the Santa Monica Mountains. Charles was a real estate developer, and had interests in thoroughbred racehorses.
Charles and Kathleen were the only beneficiaries of the trust, as long as they remained alive. In the event both passed away, three shares each would go to their daughters Karen and Michele, while four shares would go to their son Brian, the oldest of the three siblings.
When the trust was formed, Charles was designated as the trustee, giving him control of the trust's assets. He resigned from that role in July 1992, and appointed Brian to take his place.
Just over five months later, on Dec. 9, 1992, Charles and Kathleen amended the trust in several places.
Among the changes were that, in the event of their parents' deaths, Karen and Michele would only get one share each of the trust's assets, while Brian would get two – an amendment that increased his interest from 40 to 50 percent of the total shares.
The amendments also deleted all references to a "trust advisor." In the original language of the trust, the advisor had the power to approve or disapprove any proposed transactions by the trustee.
That was no longer the case, and suddenly, Brian's control over the trust's finances had grown dramatically.
Nine days later, Charles passed away at the age of 62.
What happened next is tricky to unravel: The trust's assets were split, and two trusts were formed. One would become solely for Kathleen, and would comprise half of the assets in the trust that she'd shared with Charles. The other trust – aka the "decedent's trust" – would have the other half of those assets, plus any assets Charles owned outright. How much Charles' assets were worth is not clear.
Both trusts would ultimately benefit Kathleen's children when she passed away, but in her lifetime, she was the sole beneficiary. She was to receive all of the income and as much principal from the trusts as she needed.
So in effect, she remained the sole beneficiary of both trusts.
According to Brian's own accounting, which appears to lump the assets of both trusts into a single amount, the assets were worth more than $6 million in 1993.
By the end of 2014, after more than 20 years of Brian's stewardship, his accounting showed the trust to be worth just $106,834.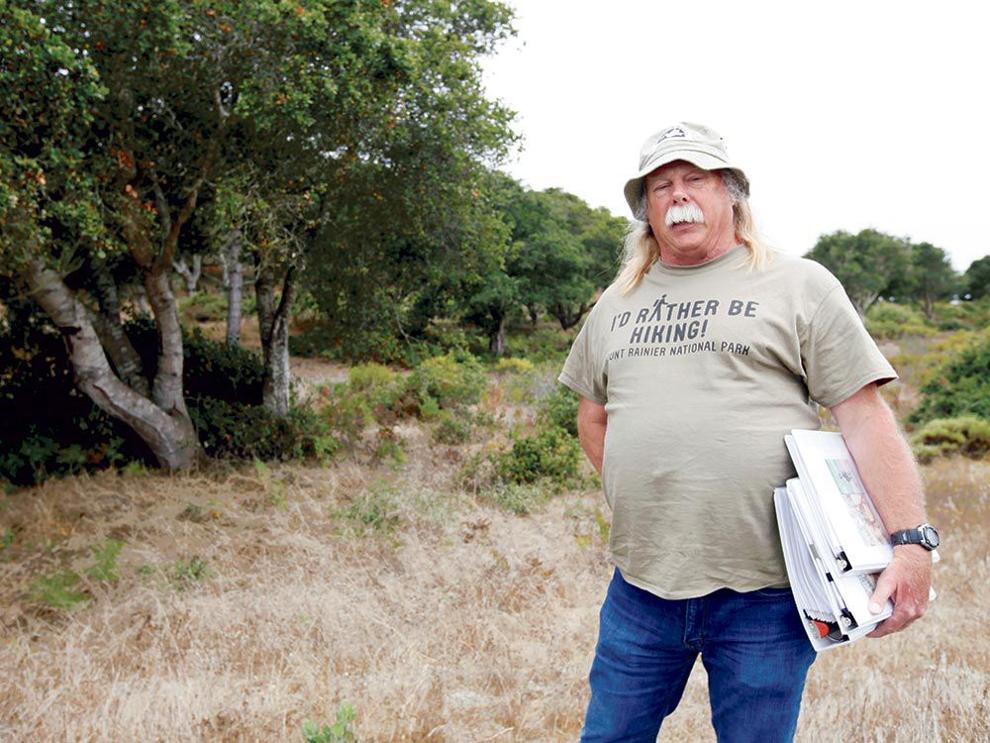 • • •
 Salinas resident Eric Petersen first encountered Brian Boudreau after Monterey Downs was proposed in late 2010. Boudreau was giving a presentation about the project at the Marina Public Library.
Petersen, who retired as an auditor with the Internal Revenue Service in 2009, next saw Boudreau months later, at an advisory committee meeting for the Transportation Agency of Monterey County.
According to Petersen, as Boudreau explained the project's proposed sports complex, Petersen raised his hand and inquired if Boudreau had thought about building a velodrome – a cycle-racing track with banked curves.
Boudreau said he would need to see a design for one first, and Petersen mentioned he had a friend who had such designs. Boudreau acted enthusiastic about the idea, Petersen says, but it ended there.
In many ways, Petersen fits the perfect profile of a watchdog. Aside from being retired from the IRS, he had been involved in the local Green Party chapter for years, and after retirement, had vowed to throw himself into community activism. That included unsuccessful campaigns for U.S. Congress (against Rep. Sam Farr, D-Carmel) as a Green Party candidate in 2010 and 2012, and later, an unsuccessful run for Salinas City Council in 2014.
He believes his childhood in Menlo Park, where his neighbor was a five-term city councilman, helped inspire his interest in public service.
"I was brought up in an environment where I was expected to contribute in some way to the community," he says. "One of the things [he] taught me was: Even if you trust them, you watch them."
As an environmentalist, Petersen was concerned about how Fort Ord might be developed, so he started paying closer attention to Boudreau, and Monterey Downs.
"I realized what he was telling me, telling everybody, didn't add up," Petersen says. "He started matching a stereotype I had seen when I was in the IRS."
Even though he no longer had clearance to look at private documents, Petersen knew which public documents to look for, and in 2012, he started digging.
• • •
In late June, Petersen arrives at the Weekly carrying three binders thick with material he uncovered in 2012.
He smiles when welcomed, but his bushy white mustache nearly makes it invisible. The top of his head is bald, and ringed with a cape of long white-blonde hair that drapes onto his shoulders.
He is hardly the picture one would draw when imagining a retired IRS auditor – his eyes convey cheerfulness, and he smiles frequently. Yet in his eyes and his smile, one can detect a dash of cynicism.
"Profiling is very often unfair, but I did it anyway," Petersen says, grinning, after taking a seat in a conference room at the Weekly. "When I was in the IRS, I dealt with businesses where the business model was: Start a business, incorporate, run it into the ground and go out of business, leaving a bunch of people you owe money to."
Among the documents Petersen uncovered was a case from 1997, wherein a company controlled by Boudreau that was formerly owned by his father, Malibu Valley Inc., filed for bankruptcy. That part, in Petersen's words, "is no big deal."
What is a big deal, he says, is that David Seror, a trustee appointed by the U.S. Department of Justice, filed an adversary proceeding in federal court to recover $186,833 from Boudreau. Petersen says that's a sign Seror felt Boudreau "was playing inappropriate games with bankruptcy."
According to records from that case later obtained by the Weekly, Malibu Valley Inc. lent $186,833 to the Boudreau Trust on Dec. 31, 1995, and filed for bankruptcy just 16 months later. (Among those Malibu Valley Inc. owed money to was Fidelity Federal Bank, to the tune of more than $640,000.)
In Seror's initial filing, he alleged the trust had failed to pay interest to Malibu Valley Inc., and a federal judge ruled that the trust repay the entire loan amount to Seror.
Seror later settled with Boudreau for a $18,683 payment – just 10 percent of the loan – because according to Seror's attorney, the trust's financial statement showed the trust's property "does not have any appreciable equity over and above the proposed settlement."
Meanwhile, in Boudreau's own accounting of the trust finances – which he filed in court in 2015 in a case against his sister Michele – its assets are shown to be worth upwards of $4 million in 1998.
And then there are the 11 companies Petersen was able to attach to Boudreau's name, other than Monterey Downs LLC. According to Secretary of State records in California and Nevada, the licenses for five of those 11 businesses have expired, dissolved, been revoked or cancelled.
The names of those businesses include variations of Malibu Valley Farms, Diamond West and Malibu Canyon, names that come in handy later, when looking at the trust's finances.
There are also news articles about Boudreau's failed attempt, in 2005, to develop property in the Santa Monica Mountains and build a spa, 203-room resort and convention center with equestrian trails around it.
Petersen's documents hold clues that, in his estimation, illustrate a pattern.
"I'm convinced what I have found is the worst possible scenario," he says. "This is worse than actually building Monterey Downs. This is somebody who can't build Monterey Downs."
---
Downs by the Numbers
As proposed, Monterey Downs – which would be developed on 542 acres of the former Fort Ord – would allow for:
880 homes
400 apartments
656 hotel rooms
812,200 square feet of commercial space
6,500-seat sports arena
1,500-seat grandstand
1,500-horse capacity barns
111-acre horse park
5,000-square-foot recreation center
29,937 trees removed from oak woodlands
Source: Draft EIR for Monterey Downs, available at www.seasidemontereydownsandveteranscemeteryspecificplan.com.
---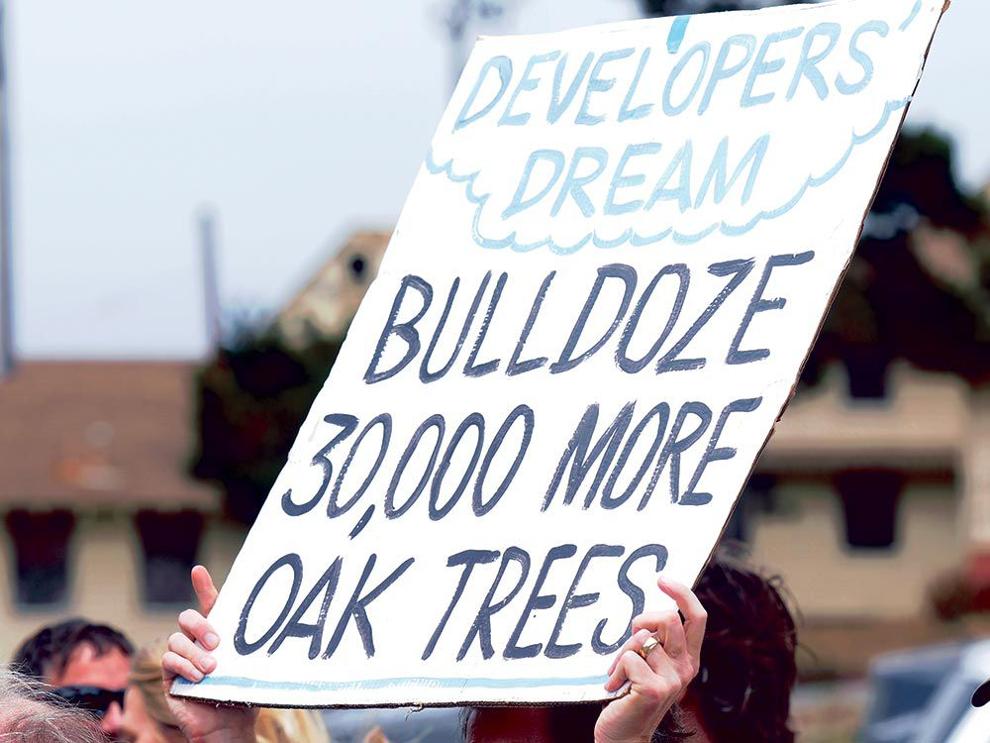 • • •
 If Petersen is Boudreau's watchdog locally, Michele Boudreau, one of Brian's sisters, is the watchdog in his own family. She is also a certified public accountant.
In August 2014, in Los Angeles County Superior Court, she filed a lawsuit against Brian that demanded an accounting of the Boudreau family trust, and alleged that Brian is the reason its book value collapsed from over to $6 million to just $106,834.
The essence of Michele's allegations are that Brian "engaged in numerous acts of self-dealing since accepting appointment as trustee," and that "large parcels of real estate that were part of the trust upon the death of Charles are now titled in the name of Brian Boudreau individually, or in the name of companies owned by or related to Brian."
Locally, the financial affairs of the Boudreau family would be of little interest if not for the fact that Brian Boudreau is proposing to build the biggest development in Seaside's history.
At full build-out, Monterey Downs would transform approximately 550 acres in the former Fort Ord – much of it coast live oak woodlands – into homes, hotels, a commercial district, a sports complex and a horse racing track.
The final environmental impact report for the project, a lengthy document outlining the project's impacts on things like habitat, groundwater and traffic, was released July 29.
In the coming months, Seaside City Council will be faced with a decision as to whether to adopt the EIR, and whether to approve the project.
The stakes are high.
The extent that the city of Seaside will benefit from the project, from a revenue versus expenses standpoint, depends greatly on whether two proposed hotels pan out. According to a city-commissioned fiscal impact analysis, if the hotels don't materialize, the development will cost Seaside more than the revenue it brings in.
"IN CASES LIKE THIS, WHERE THE MONEY'S RUN OUT, DO YOU KNOW WHO GETS RICH? THE ATTORNEYS."
On top of that, many of the permanent jobs Monterey Downs is projected to create would only come if the horse racing track – which comes in the last phase of the project – actually gets built.
The circumstances merit a closer look at how Brian Boudreau does business. In perusing the bulk of Michele's lawsuit against him, which has a case file more than 1,100 pages long, three possibilities present themselves, if her allegations are true.
One is that Brian is a bad investor, and has not excelled as a developer.
Another is that he illegally siphoned off the trust's money to his own interests.
The third possibility is that the first two are both true.
At present, the lawsuit is in the discovery phase.
And there is much to discover.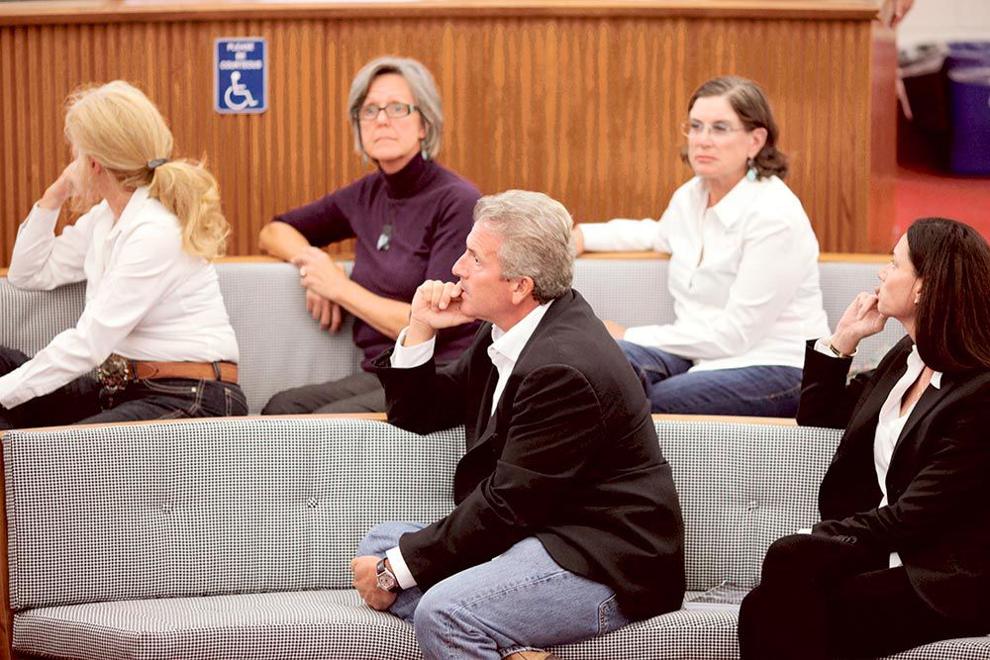 • • •
On June 30, 151 pages of court documents from Michele's lawsuit against Brian arrive at the Weekly from a courier by mail. Hundreds more documents follow in subsequent weeks.
Within those papers, a history of Michele's suspicion emerges. It first appears in a 2011 letter written by David Lane, Michele's attorney at the time, addressed to Brian.
The letter asks for an accounting of the Boudreau Trust – its assets, liabilities, income and expenses – to be provided within 30 days.
Brian responded with a letter six days later, writing, "As Michele Boudreau has no current interest in the trust and there is no income or principal to be currently distributed to her, there is no requirement to provide any such accounting to her."
While the letter didn't contain any hints of brotherly love, Brian did, however, provide Michele's attorney with a copy of the trust.
Kathleen, Brian's mother, also asked for an accounting of the trust in 2011, and court records indicate Brian later provided her an accounting from 1992-2012.
Those records also show that in February 2013, Kathleen suddenly agreed to give up her legal rights as beneficiary, after accepting Brian's story that the trust had become almost worthless.
By law, she'd have 180 days to change her mind.
She did change her mind: In August 2013, Kathleen wrote Brian a letter indicating she wanted to rescind their prior agreement.
"I have signed many documents over the years with full and complete faith and trust in you that you are looking after my best interests," the letter reads. "You are my only son, my firstborn, and I love and will always love you. At some point I would like that you (Mia and the kids), I, Karen and Michele may find peace and be a family again."
Kathleen then references a meeting she had with Brian in February.
"As I am not familiar with the law or capable of understanding complex business transactions," the letter continues, "I believe it was not appropriate for you to request that I review the accounting in a quick meeting when I do not have either a lawyer or accountant with me to represent my interests."
But over the next year, Kathleen had another change of heart, and once again she sided with Brian.
She wrote another letter to Brian in January 2014, stating that her previous letter was sent at the suggestion of Michele, who "had questions on transactions" related to the trust.
"The letter came across in a way that I never intended," Kathleen writes.
"I apologize for any suggestion that you had done anything improper or inappropriate."
In April 2014, an attorney representing Michele sent Brian another letter demanding an accounting of the trust.
Brian responded a month later with a letter from his lawyer, who denied the request.
In July 2014, Brian obtained his mother's approval to terminate the trust, which – if later approved by the court – would also terminate Michele's future benefits. (It would also terminate future benefits for Brian and Karen.)
Michele sued him that August, hoping to obtain the trust's financials through the courts.
Again, Brian's attorney tried to block her, but the court eventually ordered Brian to provide Michele with the accounting.
Instead of doing that – despite Michele being legally entitled to the accounting – Brian's attorney filed a petition to terminate the trust in June 2015, arguing it had few assets aside from the non-income-producing family home, and that Kathleen had been paid $2 million from the trust over the course of its lifetime.
That $2 million is impossible to verify when looking at the accounting; it shows less than $140,000 being paid directly to Kathleen, and hundreds of thousands more being paid toward expenses. What's not clear is which expenses are Kathleen's and which are the trust's.
Brian's petition to terminate the trust also stated that he was now lending money to Kathleen – even though the trust's primary purpose was to provide her, the beneficiary, with income – and that further loans to Kathleen could be secured by a deed of trust on the family home.
At the time, in 2015, the carrying value of the trust­ – cost of assets minus depreciation – was alleged to be only $106,834, down by more than $5.9 million in 23 years.
But looking back, the trust appears to have been worth quite a bit more: Brian got permission from the court in December 2015 to sell the family home, despite protests from Michele's attorney, and it sold this past April for $1.14 million.
Karen Boudreau, Brian and Michele's sister, is a real estate agent for Coldwell Banker in Calabasas, and according to Coldwell Banker's website, she was the listing agent on the sale.
So the trust lives on, as does Michele's lawsuit. And while the home might be lost, Michele's attorney has otherwise succeeded in the courtroom, staving off attempts by Brian's attorney to block requests for documents.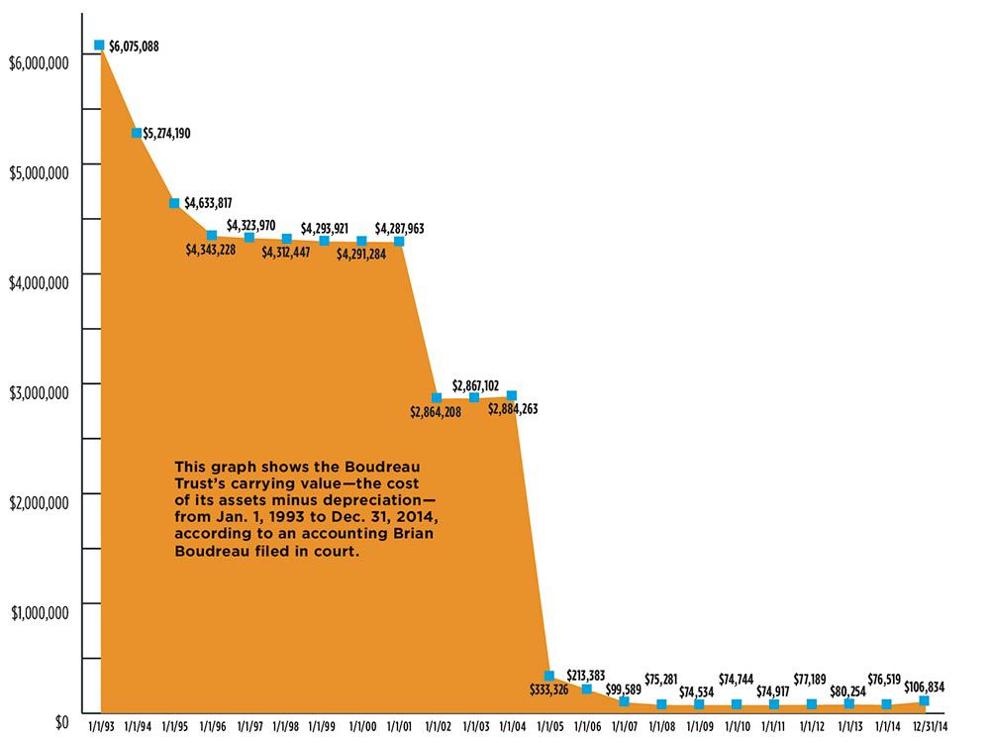 • • •
When Brian filed to terminate the trust in June 2015, he included an accounting.
It contains only simple line items, columns filled with names of businesses or people, and expenses or receipts. It stretches from 1993 through 2014, with annual reports.
Over that time, the accounts provide a blueprint for the how the trust's principal got chipped away, year after year.
In the month after that document became public, Michele's attorney at the time, Mark Boykin, filed a petition that slams Brian's record in managing the trust, and asks that he be removed from his position as trustee.
It points to net losses on sales of land, and some investments, of over $3.5 million since 1993.
In the accounting of the trust, which numbers 405 pages, numerous transactions stand out as head-scratchers.
Two properties in Riverside County, for example, both with an acquisition value of $26,000, were sold in 1995 for $264 and $216, respectively. Even stranger is that, according to Gerald Frease, a principal deputy of the Riverside County Assessor-Clerk-Recorder's office, the trust sold the properties for $8,000 each.
In 2001, a $1.2 million trust investment in Country Ridge Estates, LP, which was on the books when Brian took over as trustee, vanishes from the assets.
In 2004, a year when the trust made a $3 million profit on a land sale in San Diego, it lost $1.5 million on another sale in San Diego.
Michele's lawsuit alleges the losses are not by accident.
"Brian engaged in numerous real estate transactions with third parties, given in exchange for various considerations, virtually all of which resulted in losses to the trust," it reads.
It then goes on to say that Brian would cut a deal with the "third party," and acquire the land for himself.
These assets, the lawsuit continues, have "been obtained by constructive fraud."
The biggest red flag raised by the court file is that over the course of a decade, millions of dollars were disbursed to companies affiliated with Brian – in the accounting, they are referred to as "affiliates" – in amounts far greater than they ever paid back to the trust.
The year that jumps out most is 2004, when the trust made a big profit in land sales, and $466,000 was paid to Spectrum Development, a development company controlled by Brian.
Michele's lawsuit, however, doesn't go into any specifics with respect to the financial transactions.
But it does contain another hefty allegation: that their mother is emotionally and financially dependent on Brian, and incapable of objectively evaluating his performance.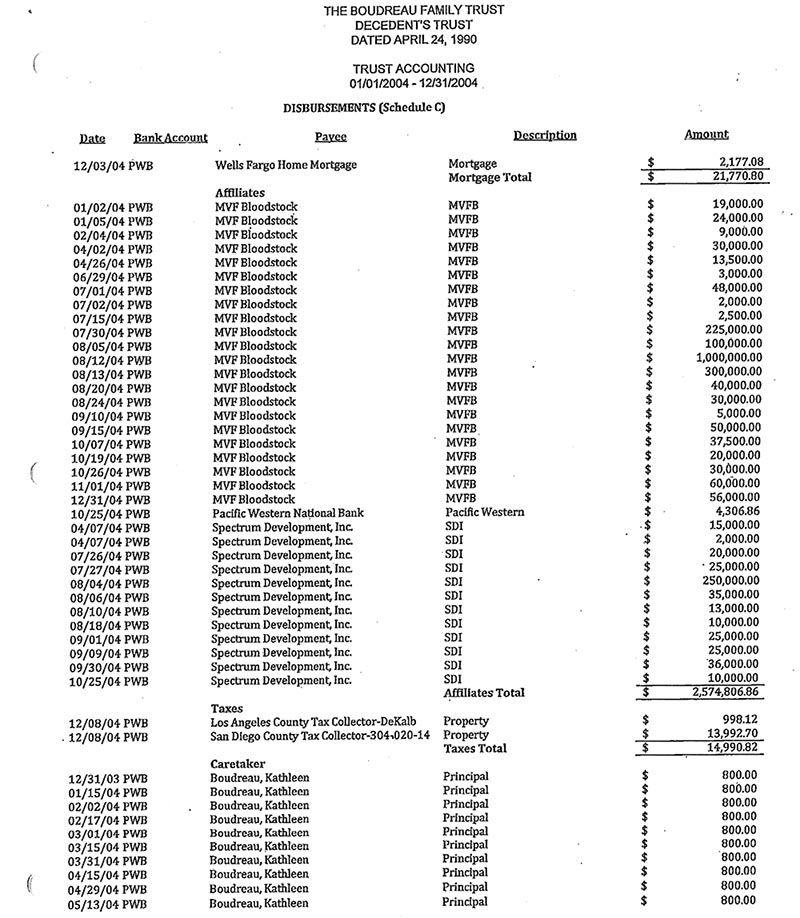 • • •
Horses, cattle and livestock: These are the only things Brian is not allowed to invest in with the trust's money, according to the terms of the trust.
The trust's finances, however, seem to indicate he was unable to resist.
Brian's love affair with horses begins in the summer of 1978, after his freshman year at Arizona State, when his father made him manager of Malibu Valley Farms, the family horse-breeding business.
According to a 2003 profile in a monthly magazine published by the California Thoroughbred Breeders Association, thoroughbred breeding eventually became his "passion and principal hobby."
As far as the trust is concerned, it appears to have been an expensive one.
In year after year, trust money flowed to Malibu Valley Farms.
In Kathleen's 2013 letter to Brian, when she was questioning his management of the trust, she singled out "MVF Bloodstock, a company you own and control."
The Weekly has been unable to find a registered business by that name – perhaps it's a subsidiary – and it's not clear what the business does. But it's impossible to ignore the definition of "bloodstock," per Merriam-Webster Dictionary: "horses of thoroughbred breeding."
Kathleen had signed documents allowing the trust to borrow money from MVF Bloodstock, but in her letter to Brian, she professed that she didn't know why the trust would need to borrow from Brian's company.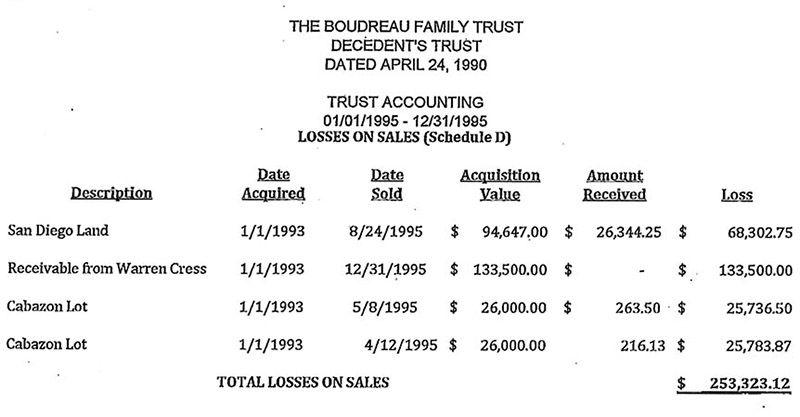 In 2004, the same year the trust made a big profit on a land sale, the trust paid out more than $2 million to MVF Bloodstock.
According to Brian's accounting, in other years, when there were net losses on sales, MVF Bloodstock would get far less in payouts from the trust, something closer to $100,000 or $200,000.
Yet despite all the trust money paid to MVF Bloodstock over the years, by 2013, the trust needed to borrow money from the company.
To try to make sense of it all, the Weekly hired Jennifer Walker, an attorney with the Monterey firm Leach & Walker who specializes in trusts, to look over the documents and offer her opinion. Her familiarity with Monterey Downs is vague, and she says she has no agenda with respect to the project.
Walker says one potential issue revealed in the case file – that Brian didn't appear to provide his mother an annual accounting of the trust – isn't necessarily uncommon.
"When you have family members handling trust administration, it's expensive to produce these accountings," she says.
What's not common, she says, is for trusts to allow for self-dealing by the trustee, something that appears evident in the accounting of the Boudreau Trust, and which is generally prohibited by state probate law.
Yet the Boudreau Trust, she says, "contracts around" the standard probate code provisions, and allows Brian to engage in self-dealing in certain situations.
"It looked like the mother and father had done some business dealings together, and they wanted to keep some of that going," she says.
Nonetheless, Walker says, "The duty of the trustee is to take care of the beneficiaries, and to treat the beneficiary impartially. The trustee has a duty to be prudent, and do what a reasonable person would do in terms of investing to make sure there's funds there for the beneficiary."
The trustee must also maintain financial records, and Michele's lawsuit asks for receipts that go back for more than 20 years.
"When you're a trustee, you have to account for every penny in and every penny out," Walker says.
In the case of the Boudreau Trust, she says, where it appears Brian's businesses are entangled with the trust's assets, that gets complicated. "He may have a defense for all of this, but that's going to be a long and arduous haul."
Nonetheless, Walker says the burden of proof will rest on Michele, and that such lawsuits can go on for years.
"THIS IS WORSE THAN ACTUALLY BUILDING MONTEREY DOWNS. THIS IS SOMEBODY WHO CAN'T BUILD MONTEREY DOWNS."
"I would predict they will probably settle this," she says. "These things rarely go to trial."
There were other things Walker noted, as did Michele's attorney, like there being no accounting for the months in 1992 that Brian was trustee, or the lack of labeling on the many inter-trust transfers that occurred over the years.
But one thing Walker found "curious" – and that Michele's attorney has not called into question – is that, over a 22-year period, the trust's expenses almost exactly match the receipts from year to year, despite the trust's assets being whittled down.
She finds it curious because with a trust invested in various business entities, it is unusual to see the income and expenses so neatly balanced over such a long timespan.
Still though, Walker says the records are too opaque to fully comprehend, and she can't pass judgment without knowing more.
"This is a very complicated accounting, and it has a lot of pieces to it, and it's not clear what's happening," she says. "If I was representing any of these parties, I'd need a lot more information to know what the heck happened."
That information is presently being gathered through discovery by Michele's current attorney, Christopher Clark. If it's found Brian has breached his fiduciary duties, he can be forced to pay out of his own pocket to make the trust whole again.
"It can go on and on, and it can get really nasty," Walker says. "This is clearly a nasty situation."
Either way, Walker adds, whether Michele ultimately benefits remains to be seen.
"In cases like this, where the money's run out, do you know who gets rich? The attorneys," she says. "It happens all the time – attorneys are getting hundreds of thousands of dollars, and there's nothing left for the family."
• • •
With respect to his dream of building an equestrian-themed development, Monterey Downs is not Boudreau's first rodeo.
Since at least as early as 2003, he had plans to build a spa and 200,000-square-foot convention center on property adjacent to Calabasas that was to be lined with equestrian trails.
IN NEARLY EVERY YEAR BRIAN BOUDREAU MANAGED THE TRUST, IT SPENT AND LOST MORE THAN IT EARNED.
According to Calabasas resident Mary Hubbard, president of the Malibu Canyon Community Association, the property would never get approved by the county, in part because of L.A. County Supervisor Zev Yaroslavsky.
"He hates [Boudreau] and knows his tricks," she says. Yet Yaroslavsky, who termed out in 2014, insists there was nothing personal between him and Brian, and his opposition to the project was because its proposed grading went against the county plan for the area.
"He wanted to grade the hell out of that area," Yaroslavsky says.
He says Brian could have saved a lot of money if he'd followed his instincts instead of listening to his lawyers.
"In a bizarre way I feel sorry for him that he allowed himself to be controlled by people making a living off of him," he says, adding, "His instincts about horses are second to none, but his development plans leave a lot to desire."
So in order to get the project approved, Boudreau engineered an attempt to annex the property into Calabasas, a move Yaroslavsky calls "sleazy."
The result was Measure C, a ballot measure that would include both annexation and project approval.
Hubbard wrote the ballot argument against the measure, and was sued by Boudreau for misrepresenting the project's impacts.
She got pro-bono representation, and won the lawsuit, with only minor changes to the ballot language.
Measure C was defeated by Calabasas voters by a 60-40 margin in 2005, and the project was sunk.
• • •
Although Brian would not comment on this story­ – nor would his attorney, citing "pending trial matters" – he did offer a few words when reached by phone before he was even asked a question.
"You write whatever you want," he says. "It's never mattered what I say. I'm not looking for any endorsement."
Perhaps he has a valid explanation for why the trust was depleted of its assets. Perhaps not. Either way, he won't say.
Hubbard has an idea why.
"He's real shady, real slippery," she says.
Hubbard has remained a thorn in Boudreau's side well past the 2005 referendum, and has pending litigation that alleges Brian misrepresented the facts to the Coastal Commission regarding permits he claimed to have.
The case is being heard in the Second District Court of Appeal, and the next hearing date has not been set.
"He's an expert at working government agencies where the right hand doesn't know what the left hand is doing," she says.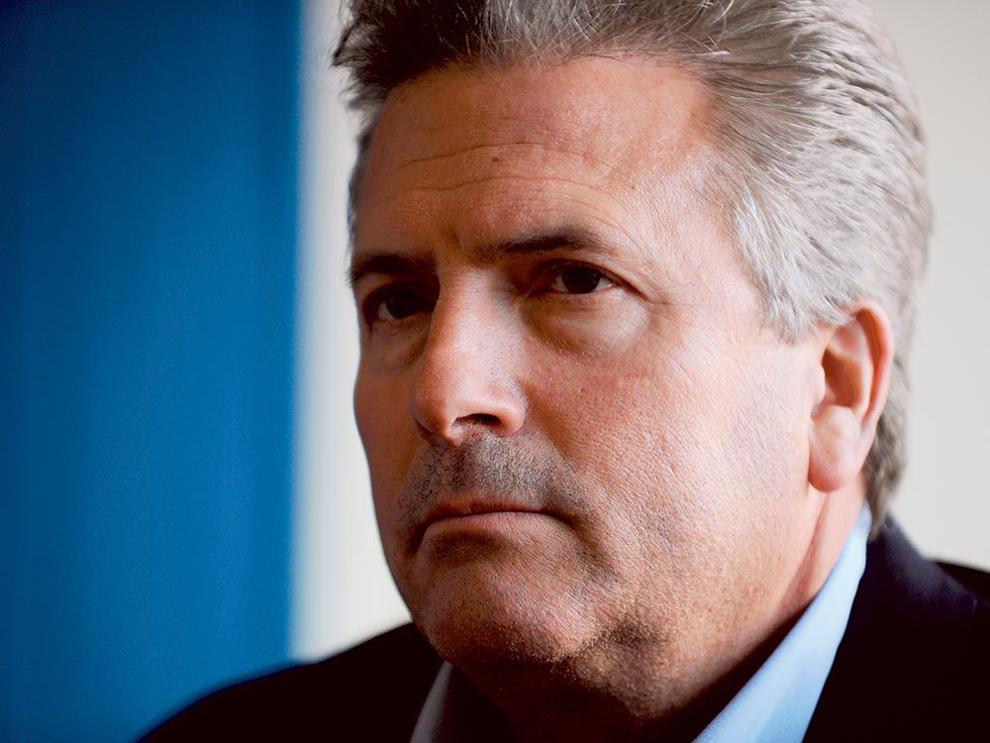 • • •
Nothing will happen in Michele's case for a least a few months, as discovery is ongoing.
In a different sense, the same can be said for Monterey Downs, as its final EIR is more than 2,000 pages long. For public officials – or the public, for that matter – to fully comprehend the document is an enormous undertaking.
Yet despite that, and the fact that the Monterey Downs EIR reveals it is short nearly 300 acre-feet of water to achieve full build-out, the project will come in front of Seaside City Council as early as Sept. 22.
On the other hand, given that Monterey Downs LLC has paid about $1.6 million to the city of Seaside toward project planning costs, to date, a timely hearing process is due.
But no matter what Seaside does, hundreds of acres on the project site lie in unincorporated county lands, and the Monterey County Board of Supervisors must approve an annexation for the project to move forward.
In the coming weeks, elected officials and the public will be asking many questions about the project, and about its water supply, or lack thereof.
And in a surprising twist before the Seaside Planning Commission met Sept. 7 to discuss Monterey Downs, Seaside city staff recommended amending the project's specific plan to disallow horse racing.
Ultimately, the most important question is one elected officials will have to answer for themselves: Should we place a bet on Brian Boudreau?