It began with a clue.
In late 2006, Robert Scoles, a retired Santa Cruz County sheriff's deputy, saw several otter tracks on the beach inside Moss Landing Harbor. He decided to investigate.
Scoles began going out at night to the parking lot on the west side of the north harbor, and – so as not to disturb the otters – would lie on the ground, peering over the edge of the asphalt. To onlookers, the sight could be unsettling.
"Cars would come down, and here's this guy hanging over the edge," Scoles says, laughing. "They'd turn around and leave. They didn't want to be part of a crime scene or something."
At the time, Scoles volunteered for Team OCEAN, a Monterey Bay National Marine Sanctuary program where volunteers – paddling in kayaks at various locations in the sanctuary – educate fellow kayakers about wildlife, and the importance of keeping the proper distance. At a team meeting in 2007, Scoles asked the group if anyone wanted to join him – in the hours before sunrise – in kayaking out on the harbor to look for otters. Ron Eby, a retired naval officer, raised his hand.
In the nine years since, Eby and Scoles have logged about 3,000 hours watching otters around Elkhorn Slough. Each.
Someone working a full-time job would have to work 18 months straight, no vacation, to reach that many hours. In the last three years, Eby estimates they've missed less than 10 days, weekends and holidays be damned. The license plate on Scoles' Corolla, fittingly enough, reads: "IVLNTER."
That clue Scoles found told them otters were hanging out on the beach, which scientists had long considered infrequent behavior. What they've observed in those many hours since has surprised those scientists, and inspired experiments that have produced more groundbreaking discoveries. Among them: Sea otters that live in Elkhorn Slough – which in itself was thought abnormal – are healthier than otters that live in the sea, and what's more, the slough is healthier because of sea otters.
It's a harmonious relationship with profound implications: As southern sea otters struggle to expand their range beyond the Central California coast, the data Eby and Scoles collect has the potential to expand that range and aid in the restoration of the largest estuary on the West Coast of North America.
~ ~ ~
It's a cloudy morning in mid-January, and in a parking lot off Dolan Road in Moss Landing, about two dozen would-be volunteers begin tromping north toward the edge of Elkhorn Slough.
The group follows a trail that cuts through grassland, and after skirting a few puddles, they begin a gentle climb onto Yampah Island, a hill surrounded by the slough to the north, east and west.
Among them are Eby and Scoles, who have come to talk about their work, much of which took place on the edge of the hill where the group comes to a stop.
Kerstin Wasson, research coordinator of the Elkhorn Slough National Estuarine Research Reserve, begins by pointing to train tracks cutting through the slough in the distance. In 2010, she explains, the reserve finally began a project to build an underwater "sill" next to the tracks, a barrier that would slow the speed of water flowing in and out with the tide and reduce erosion on the slough's banks.
But in order to get permitted for that project, the reserve needed to ensure that construction wouldn't impact southern sea otters, which through the Marine Mammal Protection Act are protected from disturbances by federal law.
In 2009, two years into their observations together, Eby and Scoles began taking regular surveys of the otters in the project area, and once construction began, alerted workers with whistles and flags if otters drew too close to the work.
"They needed somebody, and volunteers work cheap," Scoles tells the group.
As they observed the proceedings from Yampah Island, they began to realize they were observing another phenomenon that flew in the face of the existing paradigm: Not only were otters present in large numbers in the upper slough, miles east of the ocean habitats that scientists believed were otters' favored ecosystem, it appeared many of them never left, and seemed to thrive there.
~ ~ ~
A few months later, Eby and Scoles sit in front of a computer in an office at the reserve.
On the monitor is the view from the slough's "otter cam," which livestreams footage of the slough. With permission from the reserve, and a major assist from the Elkhorn Slough Foundation and Friends of the Sea Otter – two nonprofits partnered with the reserve – Eby helped install the camera in 2012. ESF added a high-definition camera in 2015.
Eby remotely toggles the camera's view, then leans back, and the two talk about how they got their start.
At first, the two only went out on Moss Landing Harbor twice a month, always during the night and early morning. Before long, they crossed paths with Daniela Maldini, the chief scientist at Okeanis, a research-focused nonprofit based in Moss Landing.
"She took us under her wing," Eby says. "She was fascinated with what we had seen."
And knew how valuable their dedication could be. Like Eby told the group at Yampah Island, "What [scientists] can't do is be out there and do the observations. That's what we can do: go out, and sit there.
"Every day we learn something new."
Maldini trained the two on how to collect data that would be statistically useful, and twice a month over the next two years, Eby and Scoles conducted 24-hour watches on the harbor in rotating 12-hour or six-hour shifts, with occasional help from other volunteers.
"You'd be surprised how much you can see at night once your eyes get really adjusted to it," Eby says.
Every 30 minutes, Eby and Scoles would record tide levels, air and water temperatures, and how many otters were in the water and on the beach. Before their work, scientists knew southern sea otters hung out on beaches sometimes – a behavior known as "hauling out" – but the numbers they saw were eye-opening. "[Before], it was dismissed, like we were seeing aberrant behavior," Eby says.
Using their data, Maldini published a paper in 2012 – naming Eby and Scoles as co-authors – that brought revelations: Sea otters were observed hauling out on 70 percent of the days in the study and the average number of otters seen hauling out was 22. On one occasion, Eby and Scoles saw 93.
"The paper convinced [scientists] it's not unusual, it's part of their nature," Eby says. It also demonstrated two volunteers, neither of whom had basic biology degrees, had scooped career scientists.
More important revelations were to come.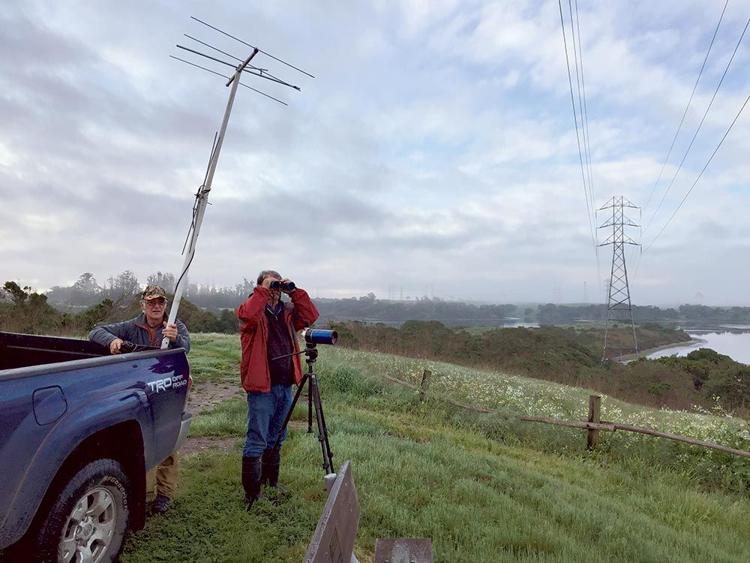 ~ ~ ~
Kerstin Wasson has been a researcher at Elkhorn Slough since 2000, but until Eby and Scoles came along, she never thought of otters as a species that belonged there.
"When I started, I'd say, 'I can't believe everyone is so interested in otters, they're not even estuarine species,'" she says.
Otters have been observed in Elkhorn Slough for decades, and their numbers have increased since the Monterey Bay Aquarium began releasing rescued otters there about 20 years ago. But Wasson didn't think many of them actually lived there.
"The general paradigm when I started was, 'This is an anomaly, these are Aquarium rehab animals,'" she says.
Then Scoles made a discovery – in 2008 or 2009 – that upended Wasson's notions about sea otters and estuaries.
On a visit to Morro Bay State Park, Scoles found an out-of-print book – The California Sea Otter Trade, 1784-1848, by Adele Ogden – which brought history to light that shocked the reserve's staff.
"San Francisco Bay abounded in otters," Ogden writes. "They not only swam around in the bay but frequented the numerous estuaries and even hauled up on shore."
The Spanish, who controlled what is now San Francisco in the early 1800s, would not let Russian otter hunters – or the Aleutian Islands natives they employed – through the mouth of the bay.
A novel solution was decided upon: The Aleuts would land just north of the headlands near today's Golden Gate Bridge, and carry their kayaks over the hills to the bay. In this fashion, they hunted thousands of otters in just a few years.
For Scoles, and then Eby, the implications were clear: What they were witnessing was not an anomaly, it was a historical norm – otters thrive in estuaries.
"That's when we started thinking we were on to something special," Eby says.
In the run-up to the sill project, when Eby and Scoles began observing otters in the upper slough, they found proof otters were comfortable in the marsh setting, and even seemed to prefer it.
Wasson's interest was piqued.
"They realized something extraordinary was going on with the otters," she says. "They were using tidal creeks in a way nobody had observed before."
In time, Wasson became galvanized.
At a meeting of local sea otter researchers in 2012, she presented a slideshow of results from Eby and Scoles' observations, which included how frequently otters were using creeks in the upper slough. She also presented a hypothesis posited by the two: Not only were many otters in the slough year-round residents, they appeared to spend less time foraging for food than otters in the sea, and because they didn't have to dive as deep to find that food, appeared to expend less energy getting it and were healthier as a result. (The hypothesis turned out to be true.)
Among those at the meeting was Tim Tinker, a Santa Cruz-based biologist with the U.S. Geological Survey, and a professor at UC Santa Cruz. Tinker has been studying sea otters for decades, and is the project leader for federal research on sea otters in California.
"Their finding that sea otters were using the tidal creeks, to me, was really exciting," Tinker says.
The discoveries inspired Tinker, along with other otter researchers, to launch a three-year study that began in 2013 called the Elkhorn Slough Otter Project. Researchers captured 26 otters from the slough, fixed them with radio transmitters and marked them with colored tags so they could be visually identified.
But after the otters were tagged and affixed with transmitters, the scientists would need observers to go out and collect the data – every day for three years.
~ ~ ~
On a recent Thursday morning, not long after sunrise, Eby steers his pickup truck down a winding dirt road, just north of the reserve's headquarters. Eby crosses a short levee to Hummingbird Island, a small parcel dotted with trees, and popular with birds. After he parks, he grabs his tracking gear, which includes an antenna about 7 feet long, and Scoles, after parking, shoulders his scope. As they set off across the island, mist rises from the marsh, and birdsong fills the air.
The pair work together seamlessly, and each, in their own way, seems uniquely qualified for their pursuit.
Eby grew up on the coast of Maryland, and spent most of his career as an officer in the Navy. Looking out at the water, and just observing, comes naturally.
Scoles also spent time in the military – "I did 33 months and 18 days in the Army" – and later worked as a sheriff's deputy. He too spent his days tuned in to his surroundings.
"When you get this far up in the slough, it's like fishing when you're looking for otters," Scoles says.
"The males tend to be in the same places," Eby adds.
Crossing over the island, which is one of several stops in their daily, two-hour routine, they stop at the western bank.
Scoles looks out through the scope and scans everything in view, keeping an eye out for otters with tags. If he sees a tagged otter, he tells Eby which one, and then Eby tries get its signal over the radio. Each tagged otter has its own channel, so in this way, Eby is able to confirm a nearby otter's identity.
The further away an otter is, the weaker its signal, and the signal goes out entirely when otters dive underwater.
As Eby scans through the channels, his brow furrows. "Huh, I'm picking up 580, to the south," he says.
"I'm picking up one," Scoles responds, looking through his scope, "but it's hard to tell which because of the sunlight."
It's thrilling to be surrounded by a paradise of wildlife, although to some, their daily observations might lack excitement.
But Eby and Scoles continue – day in, day out – to brim with enthusiasm.
In part, it's because they love being outdoors, and have been seeing things they never thought possible: a coyote swimming for more than 100 meters, an orca "spyhopping" – poking its head above water – in the middle of the channel in the harbor – and a dolphin that swam all the way back into the upper reaches of the slough.
But with respect to otters, the thrill of discovery has become an obsession.
"Every time we saw an otter do something new, it was super exciting," Eby says.
Currently, that excitement is fed in part by an awareness that the studies they are currently assisting with – in particular the Elkhorn Slough Otter Project, which will mostly wrap up this September – could have far-reaching impacts in the scientific community.
Andy Johnson, the Monterey Bay Aquarium's sea otter research and conservation manager, estimates about 10 publications will come from the study.
"It's a very in-depth chunk of work, and involves a lot of collaboration," he says.
Specifically, that collaboration involves USGS, the Aquarium, the University of California, the California Department of Fish and Wildlife and the Elkhorn Slough Reserve.
Despite all the scientists involved in the study, Eby and Scoles possess one of the rarer resources: time.
Wasson, among others, is acutely aware of that, and says most of her work hours involve analyzing data and working on grant proposals.
"Citizen scientists like Ron and Robert can spend many more hours out there noticing things," she says. As an example, she offers how Eby wondered if the algae washing up on the marsh shorelines might be suffocating the marsh plants and killing them.
"We then did an experiment, an observational study that monitored it, and sure enough he was exactly right," she says.
But the biggest contribution Eby and Scoles have made is in increasing the understanding, and the profile, of the relationship between otters and estuaries.
"Our interest is in understanding how important estuaries are for sea otter recovery," Tinker says. "Elkhorn Slough is just the first estuary they've encountered in their recovery."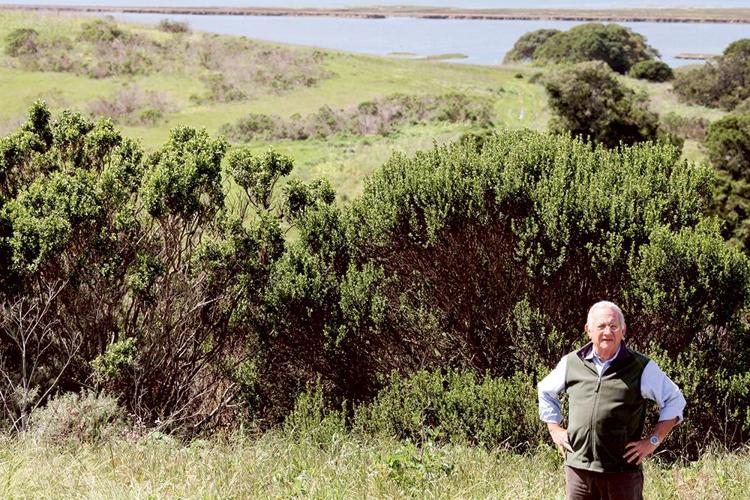 ~ ~ ~
The recovery of sea otters has been halted by an old enemy: sharks.Over the last 10 years, great white sharks are increasingly biting otters near the edges of their current range, which stretches from Pigeon Point on the north (near Santa Cruz) to Gaviota State Beach on the south (near Santa Barbara).
The result is they've been unable to expand their range. Historically, otters lived along the entire California coast, and scientists are now asking, how do we expand the current range?
Perhaps the best answer was discovered in Elkhorn Slough by Brent Hughes, a graduate student working under Wasson and Pete Raimondi, a scientist at UCSC.
Hughes was trying to figure out why eelgrass – a type of seagrass, and critical part of the ecosystem – was healthier in Elkhorn Slough than other wetlands across the state. In fact, because the water in Elkhorn Slough is loaded with nutrients from farm runoff, the grass should be less healthy, and suffocated by algae.
With Eby's help, and others, Hughes began conducting experiments in 2012, and what he discovered led to a 2013 paper that proved Hughes' breakthrough hypothesis: otters eat crabs, so there are fewer crabs to eat slugs, so there are more slugs to eat algae, so there is less algae to steal light from the eelgrass.
It's the type food web phenomenon known as a "trophic cascade," and the result is a healthier, more balanced ecosystem, which in hindsight, makes complete sense. Historically, otters were the top predator in West Coast estuaries.
For Lilian Carswell, the USFWS southern sea otter recovery and marine conservation coordinator, the importance of Hughes' discovery was immediately apparent, especially given the dire state of eelgrass in other estuaries.
"You can't help but think, 'What if we had otters in other estuaries?'" she says.
"Then of course your mind turns to the largest estuary," she adds, referring to the San Francisco Bay.
If there is an effort to bring otters back to the San Francisco Bay, perhaps by the Aquarium releasing rescued otters there, the project would fall under Carswell's jurisdiction. But as of right now, she says there is no proposal on the table.
Nonetheless, she says the idea has been a hot topic of discussion, and she is among many that are paying close attention to the findings of the current study that Eby and Scoles helped inspire.
"The restoration potential for sea otters in estuaries is hugely exciting," Carswell says of the study. "As we go forward, we'll have a much clearer vision of what's going to happen."
~ ~ ~
On a recent weekday at Moss Landing Harbor, as the late morning sun shimmers on the water, Eby pilots the reserve's research boat east under Highway 1, up into the slough's main channel.
A gulp of cormorants swims nearby, with only their heads held above water, hunting for anchovies.
As the boat nears Seal Bend, a curve in the channel north of Moon Glow Dairy farm, a raft of otters comes into sight, some mothers and pups among them.
"It's amazing how many pups are out here, isn't it Robert?" Eby says.
About 100 otters live in Elkhorn Slough, a number that's held steady over recent years, but otters are only a small – if critical – part of a diverse ecosystem that's among the richest in the state.
Things might've been different. PG&E, which operated the Moss Landing power plant now owned by Dynegy, announced in 1971 that they were considering converting the site into a nuclear power plant. Although that never happened, in 1973, citing a shortage of natural gas, PG&E got the state's permission to convert the power plant to oil, which was piped to the site by an offshore tanker.
In 1979, as PG&E was seeking federal approval to moor even larger tankers off Moss Landing, the Arco Endeavor, which was delivering oil to the plant, spilled 3,400 gallons of oil into Monterey Bay.
Ultimately, the plant went back to natural gas, and more forward-thinking ideas won out: The slough was designated a federal research reserve in the early 1980s, and Elkhorn Slough Foundation was formed in 1982.
Today, the slough is often referred to as a "living laboratory," and for good reason. It's an extremely accessible ecosystem both rich with life, and the potential for future discovery.
That makes Eby and Scoles' work all the more significant.
"Those two guys have put so much time into this place," says Reserve Manager Dave Feliz. "They've really stimulated investigation into sea otter life and history. It will really change the way we think about sea otters."
Mark Silberstein, foundation's executive director, concurs.
"They are an outstanding example of volunteers taking it the next level, in engaging in what people are now calling 'citizen science,'" he says. "Neither of them was formally trained."
The Otter Project will be winding down this year, but Wasson says the reserve will continue its weekly otter monitoring with volunteers, a program administered by Eby and Scoles since 2009.
That program appears to be in good hands: Sitting at the reserve headquarters, Eby and Scoles smile at the idea that they'd ever hang up their hats.
"We're here all the time, and we're going to be here as long as we can be," Scoles says.
"We'll build wheelchair accesses for ourselves," Eby adds, smiling.
"We want there to be a continual tracking of what's going on in Elkhorn Slough. That's the goal," he continues. "We're like catalysts. We get the information out there so others can use it."
That's been their modus operandi all along. So far, so good.