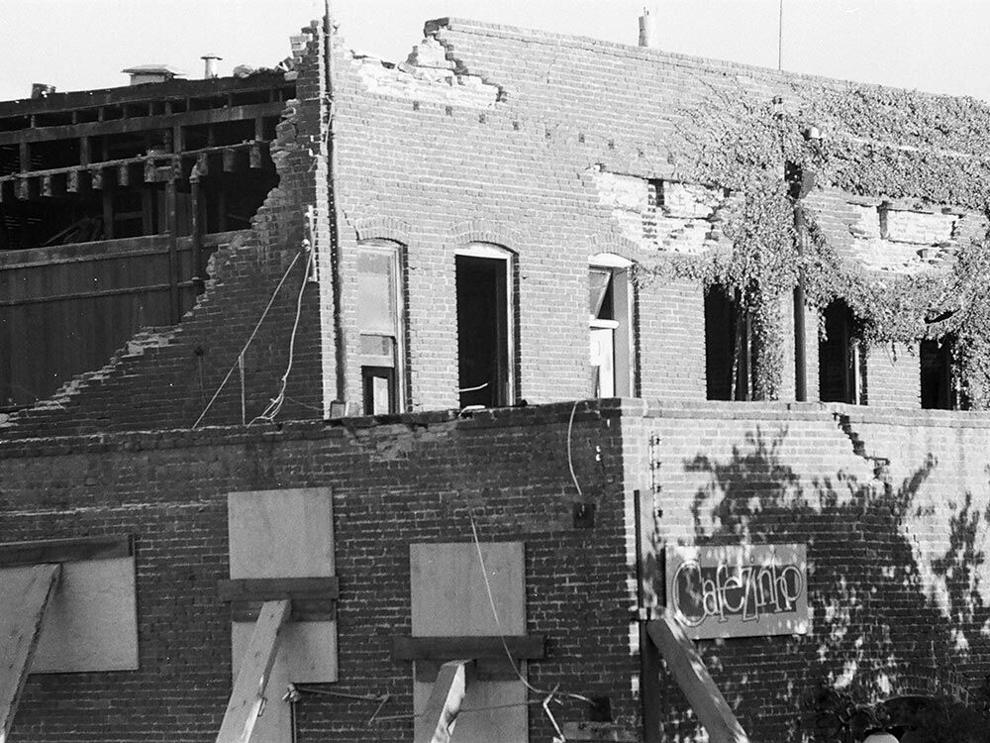 Picture this:
On a restless Tuesday, you've decided to head home from your 9-to-5 in Aptos at around 4:45pm, a bit early for a work day. You're one of the Monterey County residents who commute out-of-county for work, so you take Highway 1 south toward Marina, where your pet, roommates and beloved bedroom await you. As you enter Moss Landing at 5:04pm, you feel a jolt – a bump in the road, perhaps. But suddenly it seems as if the steering wheel develops a mind of its own, the vehicle starts shaking beyond control and you wonder for a split second if you've taken a wrong turn down the spine of an awakened beast.
You slow to a stop and notice the road rippling ahead of you, a paved road buckling atop seismic waves. Looking to your right at the access road entering the Moss Landing State Beach, you see the filling materials keeping the road propped up sloshing beneath the concrete, the loosely packed sand reacting like water to the shaking. The materials seem to dissolve into the bodies of water on either side, and the road caves in.
Not far from you, but out of sight, lateral spreading at the Moss Landing Marine Laboratory causes the building's foundation to spread apart by 1 to 1.3 meters, nearly collapsing the whole structure.
Such were the sights on Oct. 17, 1989, along the perimeter of Elkhorn Slough, during the historic Loma Prieta earthquake. The damage in Moss Landing, documented in photos on a UC Davis website on earthquake hazards, would later serve as a case study for the impact of liquefaction in seismic events. Liquefaction, according to the U.S. Geological Survey, is a phenomenon wherein "loosely packed, water-logged sediments at or near the ground level lose their strength in response to ground shaking." The fluid-like consistency of the ground cannot support structures, and is often likened to quicksand.
No earthquake of a comparable scale has since struck this region of the San Andreas Fault, which runs through the southeastern region of Monterey County for 30 miles. But the USGS estimates that in the greater Bay Area region, which extends from Santa Rosa to Monterey County, there is a 72-percent probability of at least one 6.7-magnitude or greater earthquake striking before 2043, a forecast based on historical earthquake frequency and magnitude and the rate that tension builds along faults in the region.
And according to a 2018 USGS long-term earthquake hazard map, most of Monterey County falls on or near the "highest hazard" end of the scale, with the southwestern portion of the region around Big Sur posing slightly less than the "highest hazard" designation.
This year was ushered in with a rattle when a 4.3-magnitude quake struck in Monterey County on Jan. 2, 14 miles from Soledad. But that's not the only jolt Central Coast residents have felt in the past few months. Two quakes, magnitude 3.0 and 3.4, struck on Nov. 11, 2020, within a half-hour of each other, near Prunedale. Every so often, residents on the Central Coast are reminded that even after periods of stillness, the potential for earthquakes is ever present.
Since the Loma Prieta earthquake, we've learned a lot about seismic hazard and vulnerability in our region, and although progress has been made in some areas, many buildings across Monterey County municipalities still stand without retrofits, posing hazards to occupants and nearby pedestrians. In other words, the county has some work to do with regard to preparedness, but the Office of Emergency Services urges that at the heart of resilient communities are earthquake-ready individuals.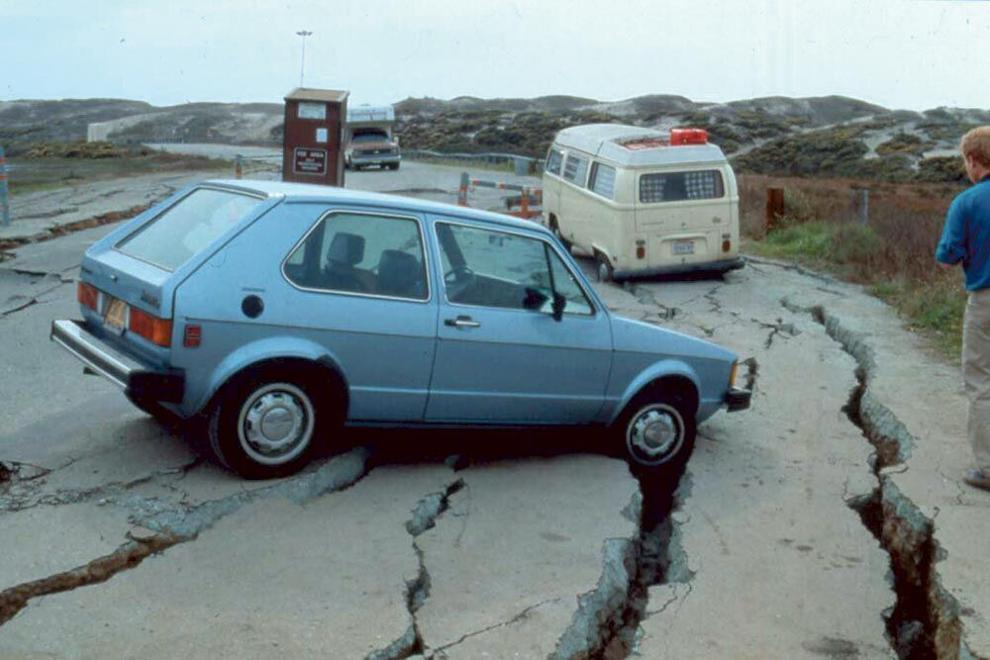 A comparison of images along Moss Landing State Beach access road - top: 1989, bottom: 2021. 1989 photos compiled in a report by the UC Davis Department of Civil and Environmental Engineering.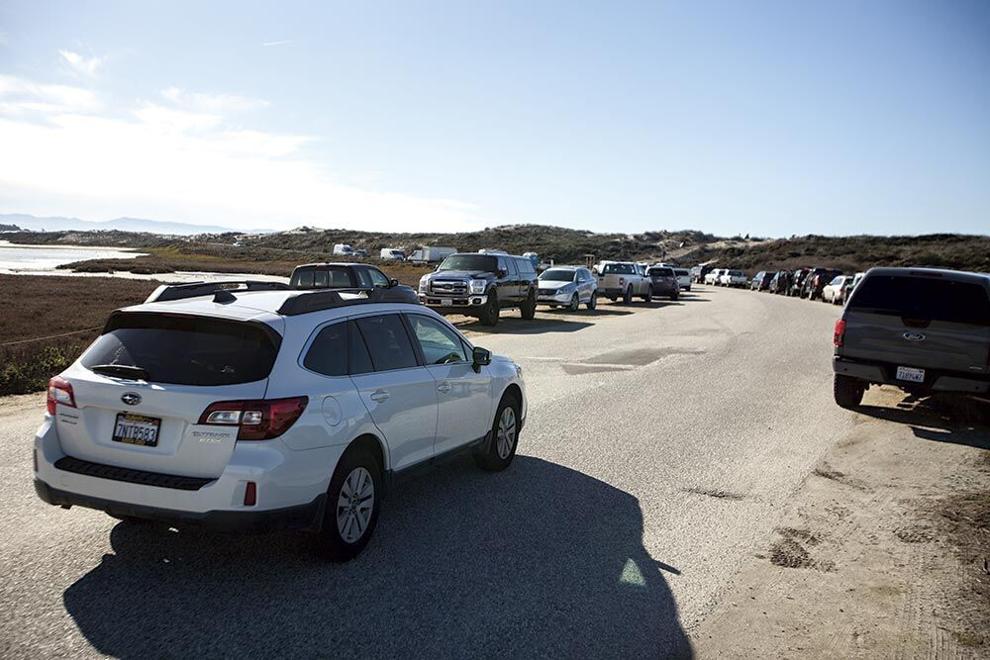 WE ARE IN "EARTHQUAKE COUNTRY," AFTER ALL. Most of us know the San Andreas Fault as the fault posing the greatest seismic risk in California. It is the most active fault system in California, and according to the USGS, there is a 22-percent likelihood that this fault will rupture and cause a large earthquake before 2043.
There are other, smaller faults near us that are lesser-known than the San Andreas too, such as the Monterey Bay-Tularcitos Fault, which runs straight through the Monterey Bay, or the Reliz Fault, which runs through the Salinas Valley near Spreckels. But according to a 2001 study on faults in Monterey County, these faults are not considered active.
The San Gregorio Fault is another example, however, right off the coast of Monterey. It runs parallel to the San Andreas, and proposes the next-greatest probability of rupture in the immediate Monterey Bay region. This fault's probability of an earthquake striking before 2043 is about 6 percent. On the surface, it seems like a non-threatening estimation, but nature does not adhere to the maths of chance – an earthquake, technically, could strike whenever.
It's important to note, too, that in a large earthquake, it's possible for one earthquake to trigger another in a distant location. If one fault, such as the San Andreas, produces an earthquake large enough, the energy from the seismic waves could cause the San Gregorio to rupture, according to the USGS. It's a phenomena called dynamic stress transfer, and it typically occurs on faults prone to more frequent earthquakes.
It's certainly a possible event, says Heather Savage, associate professor of the Department of Earth and Planetary Sciences at UC Santa Cruz. But it's not "the most likely scenario," because the San Gregorio is not accumulating strain at the same rate that the San Andreas is.
An earthquake is caused by a slip along a fault; the slip occurs when two tectonic plates have been slowly building tension as a result of movement against each other.
Although the likelihood of a rupture on the San Gregorio before 2043 is smaller, retired USGS geologist Tom Holzer says that in terms of damages, the mostly submerged fault may pose a greater risk. The San Gregorio Fault is closer to the Monterey Peninsula, and would likely cause more intense shaking in its cities than an earthquake of the same size on the San Andreas Fault, because of proximity.
Earthquakes can pose some major geologic hazards in their aftermath, like tsunamis, landslides and liquefaction. In major seismic events like the Loma Prieta earthquake, Monterey County residents have seen some instances of these phenomena before and, in the event of another large quake, would likely see the same phenomena again.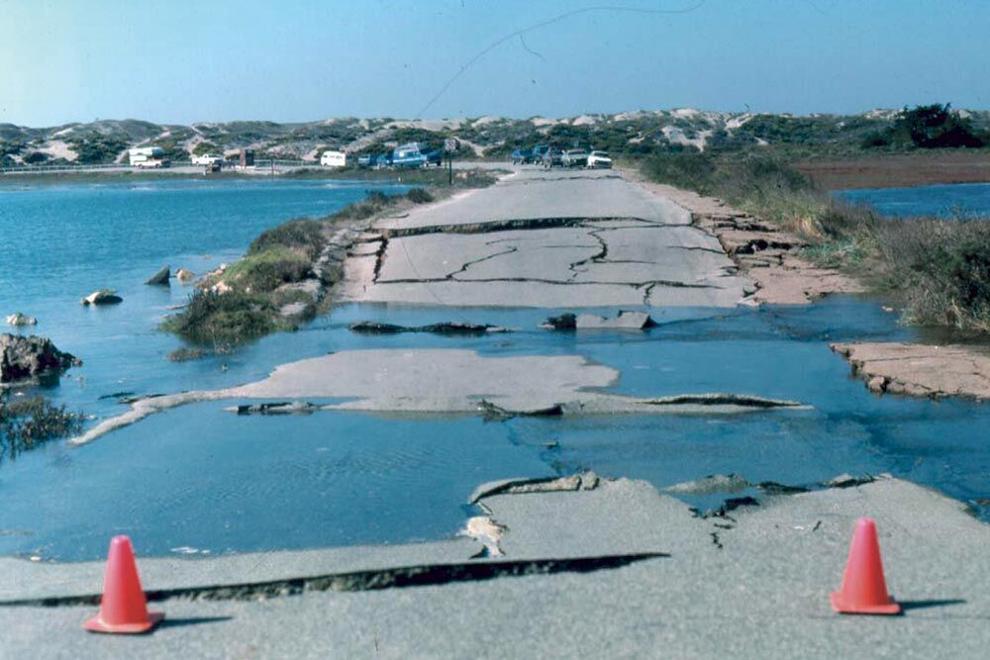 An image showing damage from the 1989 Loma Prieta earthquake along the state beach access road in Moss Landing is compared to a present-day view of the site.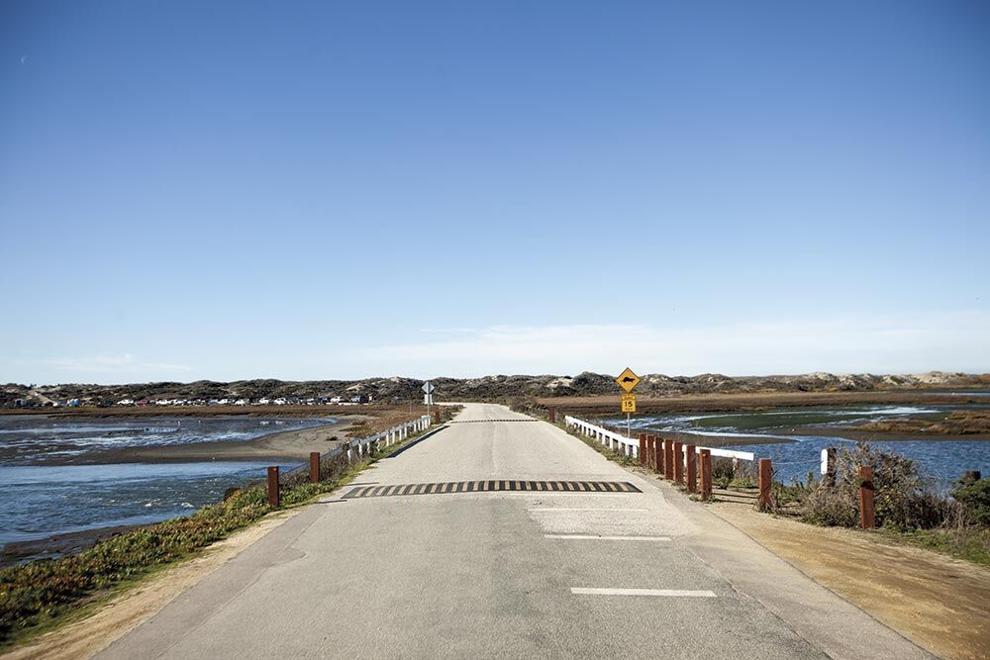 BECAUSE THE SAN GREGORIO FAULT LIES UNDERWATER, one might assume it poses a higher risk of tsunami. But the slip along this fault itself doesn't pose such a threat at all to cities on the coast, because it's a strike-slip fault. A strike-slip fault is a boundary where two plates slide against each other, like two cars passing each other on opposite sides of a highway.
Moreover, the movement along a strike-slip fault is horizontal, but for a fault itself to generate a tsunami wave, the slip motion must be vertical. A tsunami can form due to other causes, however, like a landslide triggered by an earthquake, which could send a tsunami wave across the bay.
One such possible tsunami-by-landslide threat lies not on land, but underwater, Holzer says. The Monterey Canyon, an underwater canyon similar to the Grand Canyon in shape and size, may experience something like a submarine avalanche due to seismic trembling on the seafloor, the vertical displacement from which could send a tsunami toward the coast.
Even disregarding the possibility of a landslide triggering a tsunami, landslides still pose a threat to the coastline, Holzer says. According to Monterey County Geographic Information Systems mapping on landslide susceptibility in Monterey County, many of the higher-altitude regions, such as the communities around Jacks Peak County Park and regions along the Big Sur coastline, pose high risk of landslides.
"The coastal bluffs are a real concern," Holzer said. "There was a lot of sloughing off of coastal bluffs in the Loma Prieta earthquake. I would expect that a San Gregorio earthquake would do that."
The 1989 Loma Prieta earthquake also serves as a strong frame of reference for understanding the potential damage a large-scale earthquake could pose to Monterey County, Holzer says, including with regard to how liquefaction manifested. Moss Landing has been used as a case study for the damage liquefaction has the potential to pose to the Central Coast. It can lead to more severe damage to structures in an earthquake, because the sediment land liquefies and can no longer support the structures that stand on it.
On Oct. 17, 1989, that is exactly what happened in Moss Landing due to shaking from the earthquake: Lateral spreading led to the ground cracking, an access road to the Moss Landing State Beach collapsed into shallow water and utility lines crossing a one-lane bridge were severed at the bridge's abutments.
According to GIS mapping, sites along the Salinas River, Carmel River and Elkhorn Slough experienced liquefaction during the 1989 and 1906 earthquakes. Additionally, GIS data shows that sites along the Salinas River throughout the entire Salinas Valley are either moderately or highly susceptible to liquefaction. Other areas that are highly susceptible to liquefaction include the western face of Pacific Grove, near Asilomar Beach; certain strips of downtown Monterey; Carmel Valley, along the Carmel River; and some parts of coastal Pebble Beach.
Areas with moderate susceptibility to liquefaction include Castroville and a strip of the coast from Marina south to Monterey.
Being as these are highly trafficked residential and commercial regions of the Central Coast, there's potential for liquefaction contributing to damage to structures, and thus injuring people or causing fatalities. Certain building types – such as soft-story buildings or those with unreinforced masonry – are especially vulnerable.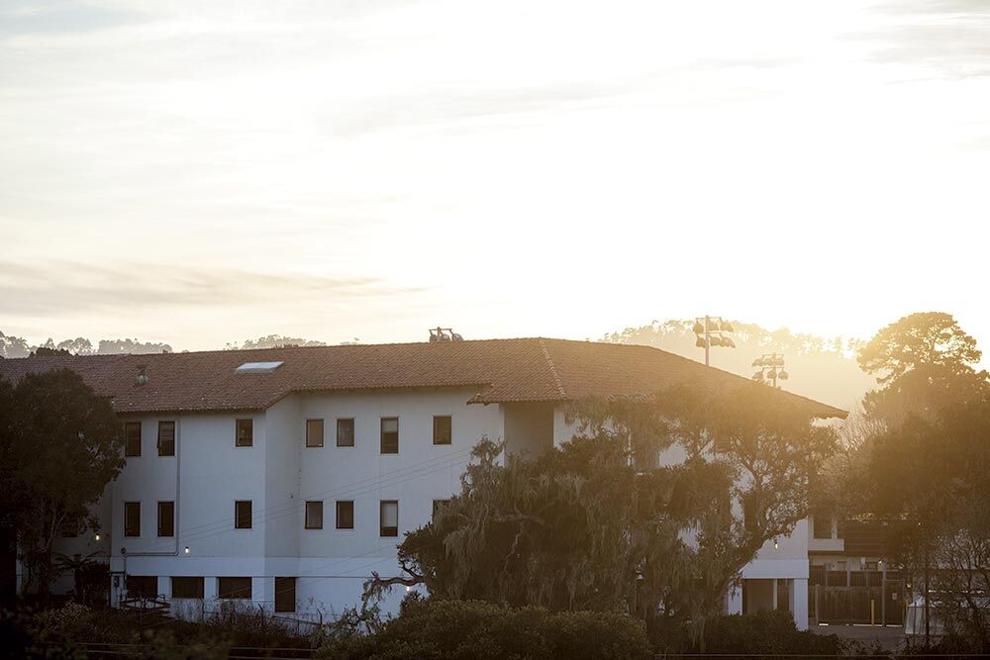 A TEXTBOOK EXAMPLE OF A SOFT-STORY BUILDING is an apartment building with three or more stories over a ground level that is mostly unenclosed, such as with a parking garage or businesses with large windows. No known inventory has been made of the soft-story buildings in Monterey County, which is often the first step in the effort to reduce earthquake hazards through seismic retrofitting.
Unreinforced masonry buildings, which are, broadly speaking, buildings that are primarily brick, stone or adobe, that lack earthquake-resistant design, like steel reinforcing bars, also pose a threat in moderate to large earthquakes, according to a report by the Federal Emergency Management Agency. These buildings are hazardous not only to occupants, but people in adjacent buildings and pedestrians, too. They are prone to spewing heavy debris or even collapsing totally, according to the report.
In the Loma Prieta earthquake, 374 buildings, or 16 percent of all unreinforced masonry buildings in the affected areas, sustained such severe damage that they had to be vacated, according to the FEMA report.
A document from the city of Monterey Building and Safety Division reveals that there are at least 18 unreinforced masonry buildings in Monterey that have not yet been retrofitted or have only received a partial retrofit. Many of these buildings are located downtown, in or near areas highly susceptible to liquefaction in an earthquake. These buildings are designated by the document as mostly office or museum spaces.
The document lists the Hacienda at Santa Catalina School at 1500 Mark Thomas Drive as one of the unreinforced masonry buildings with no retrofit. (Santa Catalina is a school with 512 students, some of which board there.)
The Field Act and Garrison Act, which were passed after 230 schools crumbled or rendered unsafe in the 1933 Long Beach earthquake, banned unreinforced masonry construction in schools and set standards for existing schools. Private schools, however, are still exempt from these regulations.
Getting buildings retrofitted can be expensive, sometimes exceeding $100,000 for larger multistory buildings. When a building gets retrofitted, the costs typically fall on the owner, according to Lori Lynn Williamson, Monterey's chief building official.
"If you own a building that is [unreinforced masonry] or has a soft-story, it is highly advisable to have it retrofitted," Williamson says. "Failures of these structures can cost lives."
Certain cities like Berkeley have been lauded for introducing programs that require owners of soft-story or unreinforced masonry buildings to retrofit. (The city also offers a retrofit grants program, funded by FEMA, which reimburses portions of landowners' costs.)
There are no such known retrofit programs for soft-story and unreinforced masonry buildings in Monterey, according to Williamson. In Salinas, building official Joseph DeSante says the city has no official count or program for retrofitting soft-story buildings.
According to one of the USGS Loma Prieta papers, a series of documents with data on the titular earthquake, there were a total of 195 unreinforced masonry buildings in Monterey County in 1998. In Monterey, six of those are residential buildings, totaling 30 residential units in all. In Greenfield, one of those buildings is residential, with four units total.
In the Monterey County Office of Emergency Services Multijurisdictional Hazard Mitigation Plans, which were released in 2007 and 2016, most cities in the county addressed retrofitting unreinforced masonry buildings as a top-priority goal in 2007.
Yet in 2016, most of the same counties had listed the goal item as "deferred," claiming a lack of funding or staff.
Salinas, the only city to have listed the goal as "deleted" in the updated plan 10 years later, said it had not met the goal due to the 2008 recession and because funding is not expected in the foreseeable future.
"It is also difficult at this point to quantify the value and priority of this action moving forward," the plan adds.
The city in the county with the most unreinforced masonry buildings is Salinas, with about 70 total, according to the 1998 Loma Prieta Papers.
Twelve residential units in Salinas were red-tagged after the quake, while 200 units were yellow-tagged. A red tag indicates that a building is unsafe to enter, and no entry is granted until further engineering evaluation, retrofit or reconstruction has taken place. A yellow tag indicates limited access, either to certain parts of the building only or to specialized personnel.
Inspectors red-tagged a few other buildings in Seaside and Soledad, and 10 were red-tagged in unincorporated Monterey County.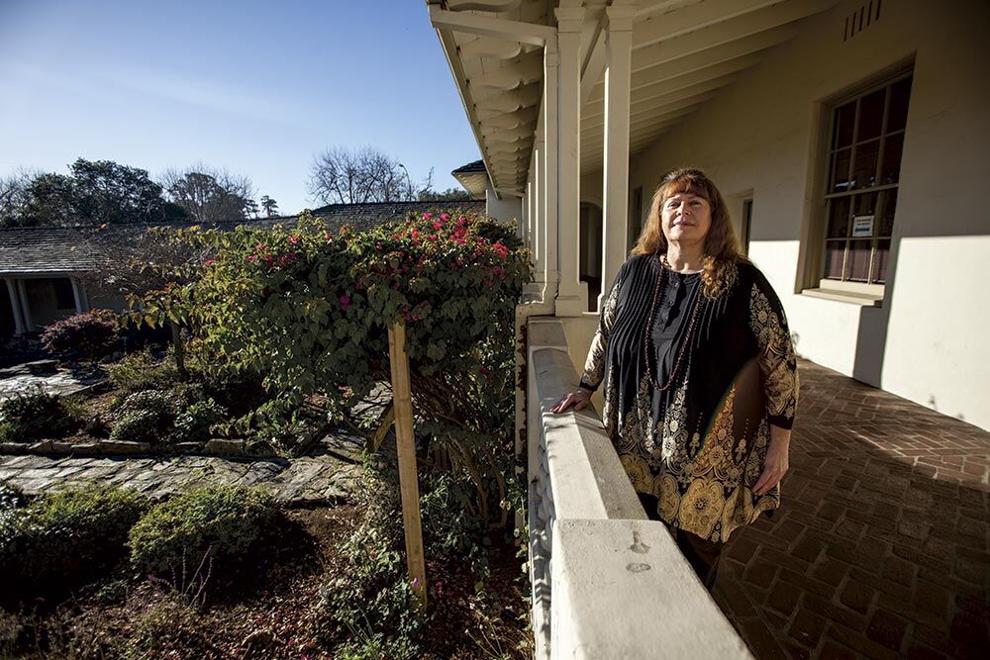 ANOTHER CATEGORY OF BUILDINGS SUSCEPTIBLE TO EARTHQUAKE DAMAGE is non-ductile concrete buildings, typically built before 1980, when seismic building standards for concrete buildings were established. They pose a threat of collapse in moderate-sized quakes due to lack of reinforcing steel.
There are at least 51 pre-1980 concrete buildings in Monterey County, according to a 2011 report by the Earthquake Engineering Research Institute, Applied Technology Council and Pacific Earthquake Engineering Research Center. Such buildings can be retrofitted, but as with other building types that require retrofit to successfully withstand earthquakes, cities in Monterey County have not passed mandatory retrofit or retrofit cost relief programs.
Wood-frame, single-family homes that were built before 1979 may also see severe damage from an earthquake. In past earthquakes, such as the 6.4-magnitude 1933 Long Beach earthquake and the 6.7-magnitude Northridge earthquake in 1994, many homes of this sort were tossed off their foundations. (This type of damage can amount to $100,000 to $400,000 in repair costs.)
Homes can be retrofitted, however, for a lower cost using the "bolt and brace" method, which bolts the house to its foundation and installs bracing around the perimeter of the crawl space. The cost to retrofit a pre-1979 wood frame home is typically between $2,000 and $10,000.
There are no laws requiring retrofit of pre-1979 wood frame homes, including upon sale.
SOME OF THE MOST CIRCULATED IMAGES FROM THE LOMA PRIETA QUAKE are of the Cypress Street Viaduct – often referred to as the Cypress Structure or Cypress Freeway – in Oakland, where the upper deck of a two-deck freeway collapsed onto the lower one, killing 42 people.
Since that devastating event, the California Department of Transportation has invested over $100 million in seismic research that is used to update its seismic design and retrofit policies and standards, according to Chris Traina, interim chief of the Caltrans Earthquake Engineering, Analysis and Research Department.
In Monterey County, 59 bridges have been retrofitted, Traina says. There are 379 total bridges in the county.
When it comes to structures, resilience and preparedness aren't always in the people's control. Some people rent or work in buildings that are higher risk. That's why taking steps to make sure people are prepared on an individual level is just as important.
Kelsey Scanlon, a planner with the Monterey County Office of Emergency Services, says that in light of Covid-19's impact on unprepared communities nationwide, it's time for a paradigm shift. The "most resilient" communities are composed of individuals who take responsibility for their preparedness by having an earthquake response plan and stockpiling resources. There are a variety of ways that individuals and families can make their homes safer if a quake strikes, according to an informational packet developed by the California Earthquake Alliance. (For more, see sidebar, right.)
For many people, such as renters who live in soft-story or unreinforced masonry buildings, their structural preparedness can only go so far. That's where personal emergency preparedness comes in; it's advised that people do what's within their power to be ready.
"It's like the Disneyland of disasters out here [in California]," Scanlon says. "People need to take responsibility for their own preparedness just as much as the government has a responsibility to provide those resources."