Monday through Friday, local airwaves blast one of the most popular morning shows, KDON's Morning Madhouse. The snarky and tells-it-how-it-is DJ duo, Sam Diggedy and ShowBiz, deliver edgy jokes about Donald Trump, celebrities and sex. It's a non-stop, three-hour gabfest with hit songs sprinkled in and a daily soundtrack for thousands of commuters stuck on Highway 1 or 68.
If Top 40 isn't your go-to, fear not. In Monterey County, stations run the gamut from classic rock to smooth jazz to pop to old-school Spanish-language ballads. They enjoy distinct sounds, trademark DJs, and their own demographics of listeners, from young to old, blue-collar to white-collar. But most of the 30-some stations are owned by only two corporations: mass media company iheartmedia (formerly Clear Channel) and a smaller Monterey-based radio company, Mapleton Communications.
Those include stations that were once independent, and some still have an independent-sounding streak. iheartmedia owns 102.5FM KDON, 92.7FM KTOM, 1460AM KION, 105.1FM K-Ocean and 100.7/100.9FM La Preciosa. Mapleton owns 101.7FM KCDU (The Beach), 107.5FM KPIG, 104.3FM KHIP (The Hippo), 95.5FM KKHK (Bob FM) and 96.9FM KWAV.
This happens at a time internet programs like Spotify and Pandora can make using a radio transmitter feel like a thing of the past. According to Edison Research Center's Share of Ear survey in 2014, Americans spent 52 percent of their listening time tuned into traditional AM/FM radio. 
<<<>>>
Commercial radio was not always like this. Some local radio stations, such as smooth jazz station KNRY, were independently owned.
Mark Carbonaro, a local program director for talk station KION AM, got the radio itch at age 23, in 1982. He started out as a midday DJ and program director at the former Cannery Row station KNRY. He remembers a time when over 20 employees were crowded in the former studio, now Bear Flag building. There were 10 DJs whose shifts covered the airwaves 'round-the-clock.
Then the entire broadcast world changed. In 1981, a year before Carbonaro came to KNRY, President Ronald Reagan was new to office. So was Mark Fowler, chairman of the Federal Communications Commission. The duo began to change policies throughout the '80s at the FCC, deregulating both radio and TV.
By 1987, the FCC lifted a restriction on the number of advertisements per hour and permitted more freedom of content. That led to an increase in ad revenue.
But what really changed radio was the Telecommunications Act of 1996, when President Bill Clinton and Congress demolished the cap on the number of stations one entity could own. This brought in a whole new ballgame: massive radio consolidation by major companies.
Companies like iheartmedia, which was Clear Channel at the time, spent over $80 billion buying up radio stations. Today, iheartmedia owns about 850 stations, including five in Monterey County. Mapleton Communications owns 42 stations throughout California, Washington and Oregon. A local former radio executive says back then, companies paid a lot for these properties, not predicting the rise of the digital age, and truly believed revenue would increase. But it didn't.
Recent filings with the U.S. Securities and Exchange Commission show that iheartmedia hasn't turned a quarterly profit since 2009, and as of June 30, the company's debt is almost $21 billion. It is impossible to know how much of that debt falls within the radio sector, and which markets are affected, but Sean Beken, the general manager of iheartmedia's Monterey-Salinas Santa Cruz market, says his stations are doing well.
"Listening time is increasing and our numbers are getting bigger," Beken says. He got his start in the radio business in Monterey in 1999, three years after the Telecom Act of 1996. Throughout consolidations and sales, he's been through it all, switching from Mapleton to Clear Channel, which then became iheartmedia. Beken declined to comment on the financial state of the company.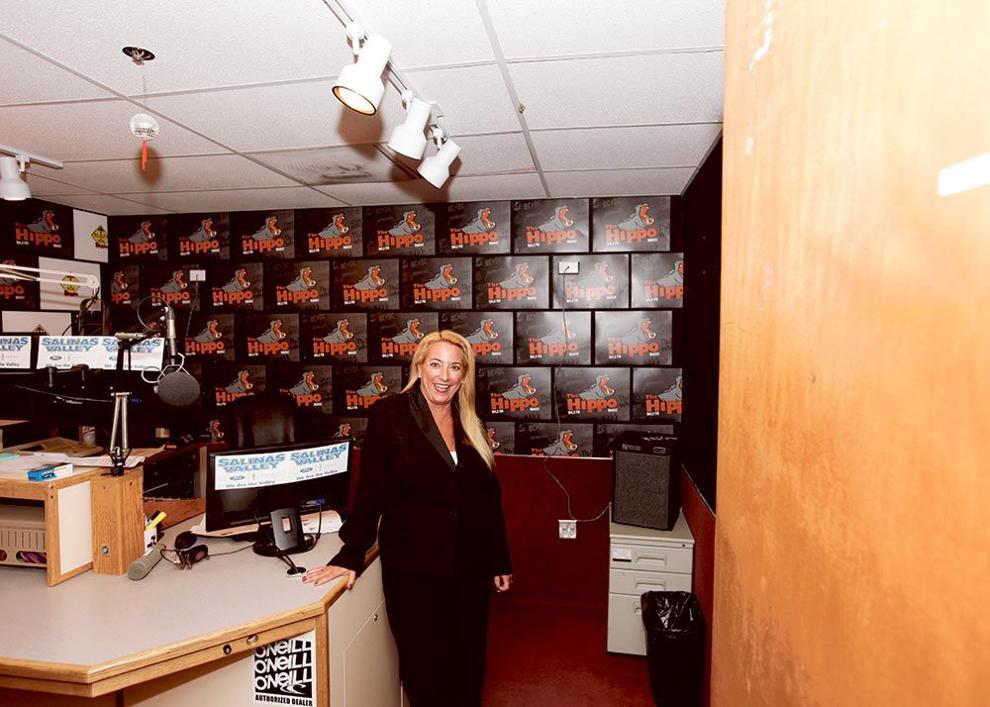 Jodi Morgan, general manager of Mapleton's local market, also maintains things are good. "Commercial radio is the strongest that it has ever been," she says. But in 2008, Mapleton filed Chapter 11 bankruptcy, and in 2011 faced a Chapter 7 suit over $35,000 in debt. Last year Mapleton's debt was bought out by Balance Point Capital Partners, a Connecticut-based private equity firm.
Data from the Pew Research center says that radio revenue for spot advertisements – the jingles you hear on-air – dropped 3 percent, and revenue for digital went up almost 5 percent from 2014-15, a significant change.
Despite those dispiriting national numbers, both Morgan and Beken insist commercial radio is here to stay.
They each say the same thing in separate interviews: that radio accounts for 93 percent of listening, and online options like Spotify are only used for personalized listening. But according to a 2015 Edison Research study, online radio listening doubled from 2010-15, comprising some of what 57 percent of listeners tune into.
<<<>>>
Today KNRY, the station Carbonaro ran over 30 years ago, no longer has live DJs. Everything is automated and simulcast through Los Angeles. It's owned by Mt. Wilson Broadcasting, a Los Angeles-based radio company. (In a separate transaction Aug. 29, Mt. Wilson donated its license for 103.9FM to San Francisco's classical station KDFC, owned by USC Radio Group.)
Carbonaro doesn't even know if there's staff at KNRY anymore, but he gently says, "That is the nature of the beast." Radio station promotions teams that had giveaways at the neighborhood grocery store on Saturdays, live DJs on the air all the time and robust radio ad sales teams are all going extinct.
"Radio is not dying," Carbonaro says. "Radio is just evolving."
Editor's note: This story has been updated to reflect the following corrections. A 2014 Edison Research survey shows Americans still listen to AM/FM 52 percent of the time; earlier reporting conflated two separate portions of the same study. In addition, Mapleton Communications is headquartered in Monterey, and was formerly but not currently based in Los Angeles.