It was 1977 when David Packard, half of the founding team behind the Hewlett-Packard Company, invited his children to take on a challenge: Come up with a big project that would make a difference in the world.
One of his daughters, Nancy Burnett, along with her husband Robin Burnett, and Chuck Baxter and Steve Webster – all of them marine biologists who had studied at Hopkins Marine Station, where Baxter was on faculty at the time – hatched the idea of an aquarium featuring Monterey Bay plant and animal life. Another daughter, Julie Packard, drew some early sketches for the concept. Packard and his wife, Lucile, invested $55 million to make the Monterey Bay Aquarium a reality, with initial studies projecting 350,000 visitors a year. Year one drew nearly 2.4 million people.
On opening day, Oct. 20, 1984, Julie Packard was promoted from project director to executive director, a role she's held ever since. Thirty-five years in, she wrote and illustrated a short book about her career at the helm. Among the major achievements is education: Within six months of opening, the Aquarium board decided to waive fees for visiting schoolchildren and their chaperones. Thirty-five years later, the Aquarium has hosted some 2.5 million kids on field trips, and earlier this year, opened the Bechtel Education Center just down Cannery Row, serving teachers and students in science education.
"It's imperative our young people develop critical thinking skills, and understand how to read a graph in the newspaper, and how to engage – and realize the stakes at hand if we don't engage," Packard says.
Packard serves on the board of the David and Lucile Packard Foundation, a family foundation created in 1971 by her parents to support issues including children's health, land conservation, science and reproductive rights. The foundation (a partner in Monterey County Gives!) also does local grantmaking in San Mateo, Santa Cruz, San Benito, Santa Clara and Monterey counties, as well as Pueblo, Colorado, where David Packard was born and raised.
On Nov. 2, Packard received the 2019 James C. Morgan Global Humanitarian Award from the Tech Interactive, celebrating leaders in solving global problems. Past recipients include Bill Gates, Al Gore, Paul Hawken and Queen Rania Al Abdullah of Jordan.
As Monterey County Gives! kicks off, Packard spoke to the Weekly from her position on both sides of philanthropy – the executive director of a nonprofit that fundraises about $25 million a year to run programs and build exhibits – and a board member of a family foundation that gave nearly $334 million in grants last year.
Weekly: You're the first and only executive director of the Aquarium. What did you think you'd be doing now, 35 years later, and does your job resemble that?
Packard: Definitely not. Am I pleased and grateful that I've had this opportunity? Absolutely. It's been amazing.
I've always taken my career in an incremental fashion. My philosophy in life is, as long as you're learning something every day and you're working with great people and you're motivated and you're motivating them, it's all good. The Aquarium just keeps growing and changing and there's never a shortage of interesting things to be involved with. Being involved with the Monterey Bay Aquarium was an incredible opportunity and such a privilege.
The Aquarium started out with a mission statement of: "The purpose of the Monterey Bay Aquarium is to stimulate interest, increase knowledge and promote stewardship of Monterey Bay and the world's ocean environment through innovative exhibits, public education and scientific research." In 1996, you changed it to, "The mission of the Monterey Bay Aquarium is to inspire conservation of the ocean." Why?
Stepping up our focus on conservation included changing our mission statement. That was a big move, to redefine the public aquarium as a force for conservation impact.
It was in response to the growing human impact on the ocean, and the fact that there was an idea that the ocean is so vast that as a terrestrial species, we couldn't affect it.
Has the Aquarium made a difference and how can you tell?
One of the impacts we've had is with Seafood Watch, plastic awareness, awareness about the ocean's role in climate change, and that it plays such a big role in modulating climate change.
Perhaps the biggest impact we've had – which most of our local visitors might not see – is inspiring a lot of other institutions to take up the challenge of having conservation as their core mission. We've inspired a lot of other new aquariums to be built around the country. And virtually all the major public aquariums today have conservation in their mission.
That's really exciting to me.
The past few years, we have been working on the idea to launch a collaborative of the major public aquariums around the U.S. to do ocean policy and advocacy together. We've not only demonstrated that people trust us as an information source – important especially in today's world, where people are just bombarded by information and they want to know what is happening in the environment and what they can do.
We inform and activate people around things they can get involved with. We're taking that model national now with the Aquarium Conservation Partnership, 20 major aquariums with common ocean conservation agendas. Together we have at least 25 million visitors a year.
Given the worsening climate crisis in the last 35 years, it seems the urgency of your mission has also increased.
Environmental crises – most of all, climate change – have definitely escalated. Twenty-five years ago, ocean conservation wasn't really on anyone's screen. Even though we have protected the big charismatic wildlife [like whales and dolphins], we have ocean acidification, ocean warming, microplastic – there are myriad perturbations happening in the ocean.
Two things are happening: The scale of human impact has grown exponentially. And the more science we do, we have a much deeper understanding of the ocean.
On the subject of climate solutions, I wonder how you feel about investing in technology to sequester carbon. I hear the argument that by looking for a technological fix, it's dodging the bigger challenge of forcing governments to commit to reducing emissions, basically enabling more pollution.
I think we have to do all of the above. I don't personally agree that is admitting defeat. I think there are potential environmental concerns about some of the schemes. But there will be some technological developments, I'm sure.
What was it like in the early days at the Aquarium?
Our idea when we created the Aquarium was – it was risky and innovative – but the idea itself was pretty straightforward: it was to create an aquarium that's all about Monterey Bay and that would raise public awareness and get people excited about the ocean and learning about science.
In the beginning, the first challenge was executing on the exhibit concepts and feasibility and, very importantly, seeing if we'd be able to pay the bills. Once the Aquarium became successful in terms of attendance, that enabled us to expand our idea of what we could do with this institution.
When we opened, I didn't want us to be the kind of museum where we have this big grand opening and all the shiny new things are there, and then you come 20 year later and all the things are exactly the same, except a little bit worn down. The ocean is constantly changing, and life is constantly evolving.
People thought [the Monterey Bay focus] was very limiting; we were told that we needed to have tropical fish, and that seaweeds and invertebrate animals were boring. We took that as a challenge.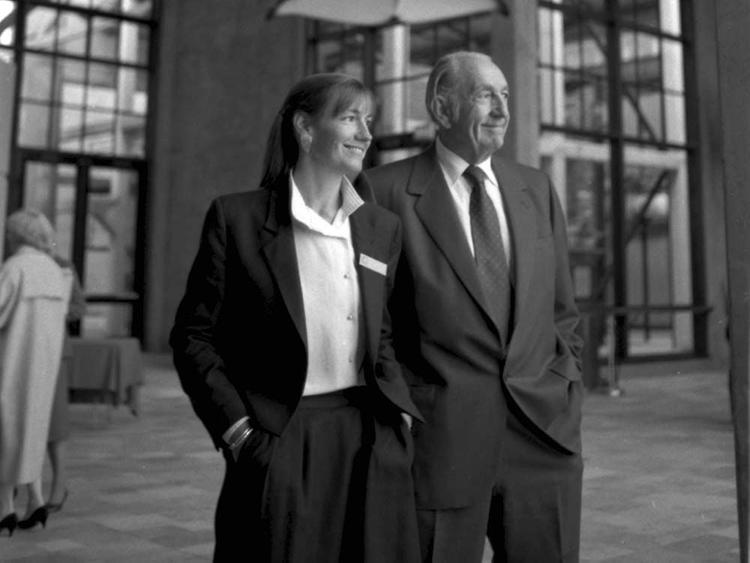 Do you have a favorite exhibit?
Probably the kelp forest.
The illustrations in your book are simple and lovely, showing mostly algae, and there's a sea star. You mentioned some are from when you were a student. Do you still make art?
I always liked to do science illustration, probably from my days studying botany and marine biology. I always liked having some art in my life, that's important. I do trail sketching out in nature when I have time. It always gets my mind in a good place.
In your book, you wrote about your relationship with your dad, especially when you began as executive director. "As a 32-year-old, I found myself supervising people nearly twice my age with vastly more knowledge and experience. Without any business training, I relied heavily on my father's leadership values – work hard, listen, always treat people with respect and admit what you don't know." Besides being an electrical engineer and CEO, he also served as deputy secretary of defense under President Nixon. What was it like working alongside your dad?
My father was a brilliant person and I learned so much from him and I still draw on his wisdom every day. His intellect was remarkable, but that wasn't the main takeaway that I got. I think his values were what has really been a big influence in my life and my family members' lives, and our family foundation. First and foremost, integrity. Second, believing in people. My father was always open to talking to anyone at any level in his organization. He had a practice that was known as "management by wandering around." He'd wander around the shops at HP and just talk to the engineers about what they were doing. He valued people and their opinions at any level and treated everyone with respect. He was the least arrogant person that I could imagine. That being said, obviously he was very decisive, and suffered no fools. He'd listen to anyone – anyone could pitch an idea, but he could be impatient, and hard to work for.
He was an intensely curious person. We were a very science-based family. We spent a lot of time outdoors. My father was very curious about nature; that's why he got really engaged and excited about the ocean. He called it the last frontier on Earth, which is absolutely the case. He was very motivated about developing engineering tools to enable us to see what's down there.
How did you fall in love with the ocean yourself?
If you talk to someone like Sylvia Earle, you hear, "I went snorkeling at age 3." Growing up, we didn't spend any time at the ocean. I grew up in the Santa Clara Valley. My father worked a lot. When we did take vacations, it was to the mountains; he loved to fly fish. So the mountains have always been my first love.
It wasn't until I went to UC Santa Cruz, where I was studying botany and took an intertidal botany class, which involved going out in tidepools in early mornings, that I took an interest. I ended up working on research and teaching and went to grad school.
Do you do any ocean recreation?
I stand-up paddle board and swim, and I live up in the north side of the bay, where it's a little warmer. We've had some real warm periods, though not for a good reason.
Do you anticipate a more advocacy-oriented role for the Aquarium in the future and another potential change of mission statement?
First and foremost, the Aquarium's most powerful role is connecting people with amazing animals and the incredible array of life that's right offshore here, and have a fun day with their family and create a memorable experience. That will make them come back and learn more.
Yes, we have gotten engaged over the years in more direct conservation work, but what differentiates the Monterey Bay Aquarium is the obvious – we have the aquarium. It is our most treasured tool and most powerful tool to build a constituency for the ocean. We never lose sight of that, that's where the magic begins.
Will we be doing more advocacy in the future? Our biggest investment is around our sustainable seafood work, and that is having such a big impact globally. It's something we'll continue to invest in because it's having amazing results. It's about science-based seafood ratings and partnerships working with business. We're going to continue to advocate.
Many of the conservation solutions the Aquarium has been involved with, especially our work on sustainable seafood and aquaculture, are really making change on the water (see sidebar, next page). We have fisheries recovering. Like our local rockfish fishery – we've got rockfish back on the menu, which we didn't have for a very long time.
What's your favorite seafood?
I first and foremost choose local, so certainly any of our local rockfish species, and that supports our local fishermen too. They have a hard time making it.
Has the Aquarium's relationship to science, and science education, changed?
In the past, the debate would be more around science and religion or spirituality – which we know can totally coexist – and today, it's really about science and questioning science and its efficacy in the interest of advancing a political outcome.
We know the state of science education for our nation's children has continued to decline, and with a huge amount of information that we all are asked to absorb and make sense of with the huge decisions facing us – we have to figure that out.
You serve on the board of the David and Lucile Packard Foundation. It's been incredibly influential locally, investing at least $1.1 billion in Monterey County in more than 1,100 grants, including to the Monterey Bay Aquarium Research Institute, Big Sur Land Trust, Elkhorn Slough Foundation. But is there tension when a family foundation, which isn't accountable to the public like a government agency, get to decide how to spend influential sums of money?
There's definitely tension around the concept of family foundations and where the power resides. Most of it is around making sure that the money is spent on solutions and programs and activities that are crafted by community members, and not top-down by some foundation staff in a boardroom far away; that's where a lot of the tension exists.
And different foundations have different ways of working. The Packard Foundation – because of our founders' values of respect for people and wanting to truly, authentically engage them in what the solutions are to societal issues – we work very hard to make good on that and put our grantees forward. That being said, foundation boards also need to demonstrate impact. So a lot of tension also exists around the metrics a foundation board is looking at versus the messiness of a [non-governmental organization] in the community working to solve a really tough problem.
One thing our foundation believes really strongly in is providing general operating support, especially to many of our local grantees: You have to keep the lights on.
How do you decide what the Packard Foundation will contribute to?
It began as a small grantmaking foundation in the Santa Clara Valley. My parents' idea was, give back to the community where HP had seen success, and help support a community that had good education and cultural institutions and social service networks. And over time as [assets] grew, we expanded our aspirations. We expanded my parents' interest areas to bigger issues, which included reproductive health, access to family planning globally, and conservation and science work.
Land conservation was my father's interest. My generation led a pivot to ocean conservation just because there weren't any foundations investing in the ocean. Today there are a lot of funders funding ocean issues, but not nearly enough; something like 3 percent of philanthropy goes to environmental issues. Which is just – wow, considering the crisis we're in. That is quite discouraging.
How do you stay positive, especially as environmental protections and regulations are being rolled back?
I think about it in two ways. The way change happens is by demonstrating effective solutions and demonstrating success.
We have a lot of really motivating and inspiring success stories happening right here in our region; California has been an amazing leader in environmental protection. The fact that the state has been able to advance such important legislation around climate action and ocean protection shows we can have environmental protection and a healthy economy, and the sky's not going to fall.
Especially in these times, when critical protections are being eroded, it's more important than ever to keep moving forward. We are moving forward here on the West Coast. Keep pressing forward.
And, just the power of the youth voices that we're hearing, that's been front and center in recent weeks [as Greta Thunberg addressed the United Nations], and I applaud it. It links to what we're doing here at the Aquarium. All of our teen programs have a goal to create the next generation of ocean conservation leaders who are science literate and confident and ready to act. We're seeing that all around us. It's an exciting time, and we need to support all those voices, and also do a much better job giving power and voice to the diversity of points of view that are out there about why the environment is valuable.
One thing we think about here a lot is that the traditional environmental movement was created by mainly white baby boomers. If we want to have a constituency for the environment in the future, that movement needs to change. In California, we have a really exciting opportunity to watch that evolution happen. We're in the state that has been the leader in environmental legislation. Future Californians: What will be their definition of the big wins that are ahead of us? I'm confident the progress will continue.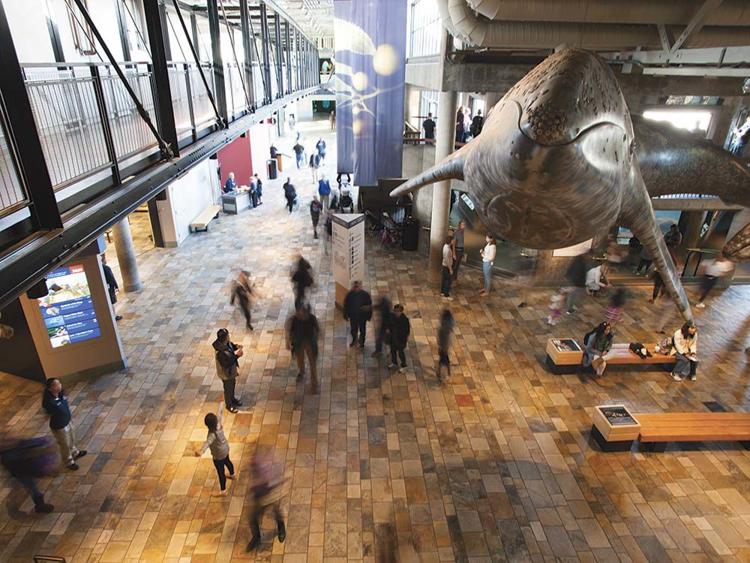 ---
Something Fishy
Julie Packard describes one of the bright spots in the past 35 years and looking forward to the next 35 years as the Monterey Bay Aquarium's seafood conservation work. That got its start in 1997, when the Aquarium opened an exhibit focused on unsustainable fishing and aquaculture, with an emphasis on shrimp. They published a companion book, titled Faces of Fishing: People, Food and the Sea at the Dawn of the 21st Century, which was then distributed to policymakers – including President Bill Clinton at the first National Ocean Conference in Monterey in 1998.
The Aquarium began to review its own restaurant menu in terms of sustainability, and launched the Seafood Watch program in 1999. It started as a color-coded consumer pocket guide that notes which fish are the best options and which species to avoid, and has grown to leading the way in policy on sustainable fisheries today.
This work ranges from science – like creating metrics to determine what sustainable fishing is or isn't – to negotiation. Bringing international fisheries into the fold is especially important given that about 90 percent of the nation's seafood is imported. For example, the Association of Southeast Asian Nations is currently developing standards for shrimp aquaculture based on Seafood Watch's standards. About 50 percent of shrimp imported into the U.S. comes from ASEAN nations, with an annual market value of $2.5 billion. Seafood Watch convened the Asian Seafood Improvement Collaborative to develop standards for fisheries in Indonesia, Myanmar, Philippines, Singapore, Thailand and Vietnam, governed by members from those nations.