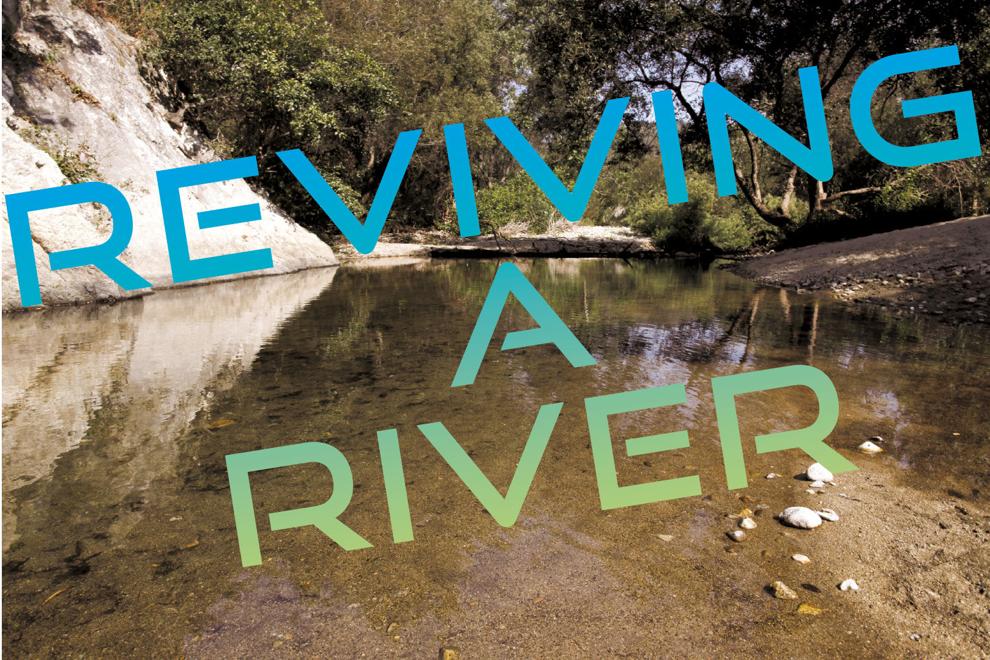 When California American Water held a ribbon-cutting ceremony in June 2013, celebrating the start of the San Clemente Dam removal, there was cake. 
Not just any cake, but one immaculately crafted to look like the dam and surrounding terrain. 
Though well-intended, the celebration – at least as it relates to the river's steelhead – was premature.
Flash forward to a sweltering day in September 2017. Tommy Williams, a fishery biologist with the National Marine Fisheries Service, crouches alongside a shady bank of the Carmel River, just downstream from the footbridge in Garland Ranch Regional Park.
He launches into an explanation of the river's historical ecosystem – and how it has evolved to weather a dry, variable, Mediterranean-style climate – and extols the resilience of the river's most iconic species, the federally threatened steelhead trout. 
"Steelhead are very crafty," he says. "They are well-equipped to deal with variability." 
As a species, Carmel steelhead have survived dire threats for the last century. The river's water has been siphoned off for decades to feed development. Three dams were built to augment the region's water supply, impeding passage of steelhead upstream and trapping decades' worth of sediment that helps create a healthy riverbed for steelhead to spawn. 
"The river has gotten constrained and simplified," Williams says. "A dam stops movement, stopping how that energy moves through the system."
But with the removal of the San Clemente Dam in 2015, two years after the cake-cutting, Williams says the natural variability of the ecosystem is rebounding: Fallen trees have been swept downriver by the past winter's storms, creating refuge for steelhead and other species, and sediment runoff is adding nutrients to the riverbed. 
"Messy is good, we like messy," he says. "The system is coming back."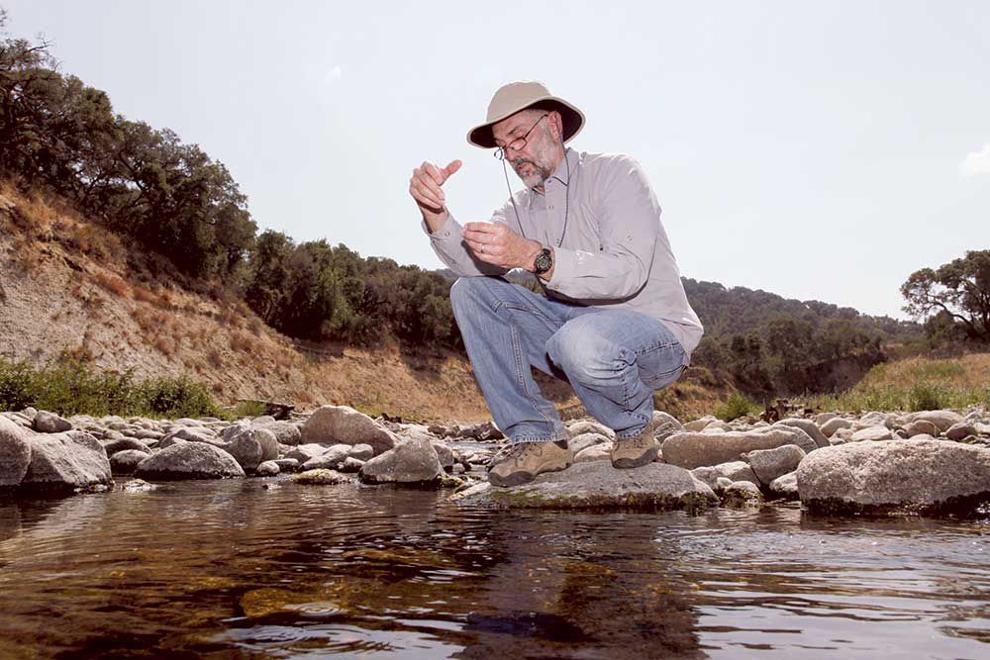 The former dam, which was completed in 1921, trapped water into a reservoir to supply a growing local population, and regulated the river's flow downstream. 
But it also trapped so much sediment that by the time is was torn down, it no longer stored any water – it was just a useless wall in the river, and an impediment to migrating steelhead. 
About 30 minutes after leaving Garland Ranch with Williams, Aman Gonzalez, Cal Am's project manager for the dam removal, drives along a winding road off Carmel Valley Road and comes to a stop near the recently constructed – and painstakingly engineered – new river channel, which re-routed the river around the former dam's reservoir. 
It was an innovative solution – and an unprecedented one – to avoid removing the 2.5 million cubic yards of sediment that backed up behind the dam. 
The rerouted channel holds remnants of what used to be 54 elegantly concentric step-pools designed to allow the upstream passage of steelhead – before heavy winter flows threw the boulders into chaos.
The result is a river that, aside from the lack of mature riparian flora, looks natural, ahead of schedule. 
Williams is among those who think that's a good thing, as it's a function of a dynamic system. 
"Complexity adds a diversity of habitat," he says. 
Williams starts bounding over rocks in the river, picking them up and turning them over as he points out mayfly and beetle larvae, two species steelhead feed on. 
Yet steelhead, which became listed as a federally threatened species in 2006, haven't rebounded in the river since the dam removal two years ago. Williams stresses its impacts on steelhead will take years to manifest, and that some people wrongly assumed "it would be a like a switch," and steelhead would make a sudden resurgence.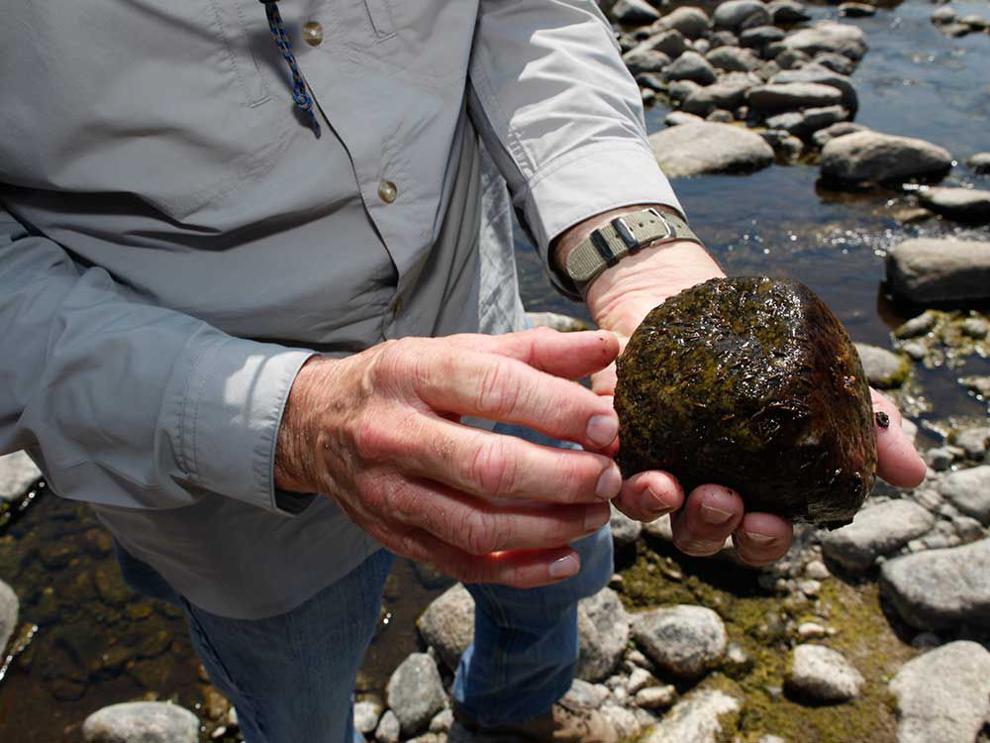 Right now, he says, what's most important is that the dam is gone: "But, we're not bringing out the sheet-cakes and celebrating yet."
In large part, that's because steelhead have a new, foreign enemy. 
The Water Heater 
The San Clemente Dam removal was the largest in California history.
Cal Am contractors tore it down in 2015 after years of planning and debate over what to do with the dam, which was seismically unsound and presented a public safety risk for downstream residents in the event that it failed. 
For years, Cal Am favored the cheaper option of buttressing the dam – which was filled with so much sediment it hadn't stored water since 2003 – but that changed after Donald Lingenfelter, the dam's caretaker since 1990, struck upon another plan. 
Lingenfelter, who recently retired and moved to Hawaii, says he never liked the idea of buttressing the dam because he saw firsthand its effects on steelhead: When the river level got low, the water in the dam's reservoir became too warm for steelhead to thrive. 
"That reservoir acted as a giant water heater," he says. "That always bothered me."
In 2005 or 2006, Lingenfelter was hiking along the ridge separating the Carmel River from San Clemente Creek, a tributary, when he realized the channels were approximately the same depth.
That's when an idea hit: Maybe, he thought, it would be possible to re-reroute the Carmel River channel down San Clemente Creek.
"I don't think anybody took me real serious," he says. 
That changed a few years later when he talked to Jonas Minton, a senior water policy advisor with the Planning and Conservation League, an environmental advocacy nonprofit. 
"His eyes lit up," Lingenfelter says. 
As the idea gained traction, the State Coastal Conservancy stepped in and contributed $9.2 million toward removing the dam, and led the effort to raise another $25 million to help make it happen. In total, the project cost about $84 million, $49 million of which was paid by Cal Am, which in turn was passed on to the company's ratepayers. 
The dam removal is the most significant restoration project yet on a river that, as recently as 1999, was considered among the most endangered rivers in America. And there are dozens of other restoration projects on the river that have been ongoing for decades, and which strive to ensure the revival of a habitat that is a touchstone of the ecological health of the greater Monterey Peninsula. 
Since the 1980s, the Monterey Peninsula Water Management District has been restoring riparian habitat along the river's banks – and in doing so, protecting the river channel from eroding. The Big Sur Land Trust, meanwhile, is embarking on an ambitious project to restore much of the river's floodplain near Highway 1, creating a buffer that will help prevent lower Carmel Valley – in the event of a major storm – from turning into Houston. 
But there is a wrinkle: Conservation of steelhead, a primary catalyst for river restoration efforts, faces a new challenge. Since at least the early 2000s, the river's lagoon has been invaded by striped bass, a non-native species introduced to the West Coast near the California Delta in 1879. 
Like steelhead, striped bass thrive both in fresh and salt water, and have since spread out from the Delta and migrated down the coast. The problem: Striped bass prey upon juvenile steelhead, and there is evidence the invaders are stifling the steelhead's recovery.
So while the river is in better shape than it's been in nearly a century, critical challenges remain-. When an ecosystem is thrown out of balance, restoring it isn't simple.
The Discovery 
The Carmel River was first spotted by westerners in December 1602, just before Spanish explorer Sebastian Vizcaino made landfall in Monterey. A few weeks later, when the springs near Monterey froze in early January, Vizcaino and his men were forced to hike over the hill to obtain freshwater from the river, an act that, in retrospect, was an omen. 
In 1771, Junipero Serra moved his mission from Monterey to Carmel in order to tap the Carmel River as a water source, and in the century that followed, the river continued supplying water to ranchers and settlers. 
In 1883, Charles Crocker, a railroad baron, facilitated the construction of the so-called Chinese Dam – named for the Chinese immigrants who built it – in the upper river, near Cachagua, to supply 400 acre-feet of water to his Hotel Del Monte. 
In the years that followed, Crocker oversaw the construction of two reservoirs, one in Pebble Beach and the other in Pacific Grove, and thus began a pattern that's continued to this day, relying on the Carmel River as the primary water supply for the ever-growing population on the greater Monterey Peninsula. 
The San Clemente Dam was built to supply that development, and in the early 1940s, demand for water ramped up due to bustling sardine canneries, which needed freshwater for holding tanks and steam for can-washing. After the sardine fishery collapsed just a few years later, the Los Padres Dam was built in 1949, and helped deliver water to newly sprouted golf courses and residential development. 
In the years that followed, the river continued to suffer from unabated overpumping, and by the early 1980s, the newly formed Monterey Peninsula Water Management District (MPWMD) realized the degradation of the river's habitat posed a threat to both wildlife and property: Not only were fish and other animals dying off, but so was the riparian habitat that was starved of water. As the trees disappeared from the riverbanks, the banks began eroding in storms, encroaching on nearby homes. 
Years before any other public agency, the MPWMD decided to take action.
The Unraveling 
Thomas Christensen, a riparian projects coordinator with MPWMD, stands near a bridge on Schulte Road in Carmel Valley, holding pictures of what the river bed looked like in this place in 1983: wide open with no trees on its shores, and steep banks denuded of vegetation. 
"There was no defined channel," he says. "It was like the river was unraveling."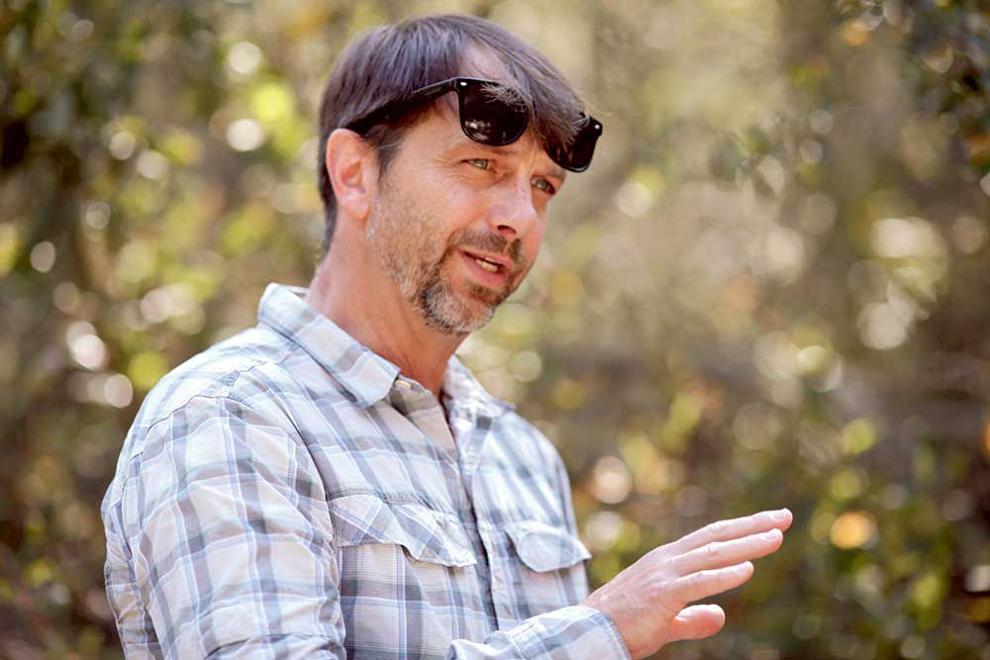 Along with Sarah Hardgrave and Rachel Saunders from the Big Sur Land Trust, Christensen walks down a path toward a spot known as the Songbird Preserve. 
The land trust acquired the property 2008, wanting to keep intact the restoration work MPWMD carried out for 30-plus years, and to protect the land from development. 
The trio leads the way to a small beach on the river where it gently curves, and is partly shaded by willow, cottonwood and sycamore trees.
"It's an incredibly birdy place," Saunders says. "This whole riparian corridor is important for migratory birds."
Christensen offers some local lore. "People say Steinbeck may have hung out here and collected red-legged frogs," he says, noting the species is now threatened. 
The site is one of 13 restoration projects MPWMD is carrying out on the river – the agency also rescues and rears steelhead – and though the Songbird Preserve restoration is more or less complete, MPWMD will irrigate the property as needed until Cal Am ceases its overpumping of the river. 
Christensen, who's worked with MPWMD for 20 years, marvels at how far the river has come in its recovery. As recently as the 1980s, after many trees along the river's banks died off from overpumping the river – at a rate about 60-percent greater than current pumping – landowners took action to protect against erosion, and in some places lined its banks with concrete construction debris, old car tires and even rusted-out hulks of junked cars. 
"It's pretty amazing to see the difference," he says. "It really has gone through a remarkable change. A lot of people remember the river when it was in this semi-degraded place. Now there's a canopy."
Hardgrave says the Big Sur Land Trust thinks of the Songbird Preserve as its "reference site" for its own future restorations projects like Carmel River FREE – Floodplain Restoration and Environmental Enhancement – which will create a natural floodplain near Highway 1. 
"It's a picture of the future," Saunders adds. "That natural solution is more cost-effective, and carries with it a whole host of benefits." 
Hardgrave puts it into context: "It's green infrastructure instead of gray."
The Floods 
In March 1995, floodwaters swept away the Highway 1 bridge at the mouth of Carmel Valley. 
Just three years later, during an El Niño-fueled storm in 1998, lower Carmel Valley flooded again. 
Former county supervisor Lou Calcagno, as he was preparing to retire in late 2014, was asked by the Weekly if he had a clear conscience about all the projects he'd voted to approve. Among his regrets was approving homes at Mission Fields, a development near the river mouth and west of Highway 1, squarely in the river's floodplain. 
"Those houses should've never been built there," he said.
From a flood-risk standpoint, the same can be said for dozens of other homes built near the Carmel River, which, in future storms, promises to swell ever more mightily due to climate change-influenced weather extremes. 
The Carmel River FREE project will mitigate those risks, and in the process, enhance habitat on the floodplain. 
"As we're witnessing in Texas, unwise planning leads to huge impacts," Saunders says. "An ounce of prevention is worth a pound of cure."
In the case of Carmel River FREE, that ounce of prevention comes with a price tag of about $27 million, less than the $38 million of damage the 1998 storms caused in the region. The land trust has already raised $15 million from public agencies for the project, and is currently conducting an environmental impact report. The earliest the project could be shovel-ready is 2019. 
When the project comes to fruition, the land trust will grade about 100 acres of a former artichoke field and turn it into a floodplain. They'll also create five openings in the levee on the river's south bank, as it reaches a chokepoint on its approach to Rio Road. Those openings will act as a release valve when the river gets to five-year storm levels. 
In the floodplain, they'll grade two ancillary channels that, in storm events, will carry water through a yet-to-be-built causeway under Highway 1, which would spill into the river's lagoon south of the river mouth. They'll also plant native trees and create riparian-like habitat, returning the land back to nature. 
It's going to require buy-in from other agencies, and the public. 
"The story of the river, and this whole area, is collaboration," Saunders says. "That is the fundamental pathway to success, and it's not an easy lift, because it takes work to collaborate."
The Riddle 
The Carmel River's biggest problem now is an unsolved riddle.
"The vegetation, streambanks and care for steelhead have vastly improved," says MPWMD General Manager Dave Stoldt, "which leads to the frustration of: Where's our steelhead? How come they haven't snapped back?"
For Brian LeNeve, president of the Carmel River Steelhead Association, answering that question is the easy part: The answer is those striped bass, which can prey on juvenile steelhead, compete with them for food and can drive them out of their preferred feeding areas. 
LeNeve, who was born in Carmel and caught his first steelhead at age 10 – he's now 75 – has been heavily involved in the restoration process for the last 15 years. 
"They can do all they want by taking out the [dam] and putting more water in the river, but if you don't get rid of striped bass, it's worthless," he says. 
This summer, the Steelhead Association spent about $2,300 to have the stomach-contents of 22 striped bass, which were caught in the river in June and July, tested for DNA. When the results came back in August, 13 of the 22 bass came back positive for steelhead DNA in their stomachs. Those bass could have eaten multiple steelhead, and furthermore, LeNeve says, the tests only have 100-percent accuracy within 24 hours – meaning that steelhead eaten a few days prior may not have registered. 
"It really jolted me awake," he says. 
It's not known exactly when striped bass invaded the Monterey Bay – they've been observed since as early at 1958 – or which seed population they come from: Like steelhead, they can thrive in the ocean or in freshwater, and have invaded other Central Coast rivers – like the Salinas, Pajaro and San Lorenzo – since being released in Martinez 150 years ago. 
Kevan Urquhart, MPWMD's senior fisheries biologist, pins the date somewhere around 2001 when juvenile striped bass were first spotted in the Carmel River Lagoon, and says adult striped bass were spotted a few years later. Since then, the number of adults has grown. 
The good news, if it can be called that, is that biologists have found no evidence striped bass are spawning in the river – instead, they continue coming in from the sea to feed. Steelhead are so resilient, Urquhart adds, he doubts they can be driven to extinction. 
Government biologists who work in the Carmel River are likewise concerned about the impact of striped bass on steelhead. And the government is preparing to do something about the bass. 
Erin Seghesio, the Central Coast's salmon and steelhead recovery coordinator for the National Oceanic and Atmospheric Administration, acknowledges the striped bass threat, but says agencies move slowly: "You have to be careful, because trying to remove a species is a complicated thing." 
NOAA Fisheries' Joel Casagrande has been working with Seghesio on the regulatory aspects of Carmel River steelhead, and says striped bass have become an increasing concern. 
"We've known about the [bass] population in the lagoon for several years now," Casagrande says. "We never envisioned they would be moving up into the Carmel River, but they are. That was news to us this year."
Casagrande says NOAA hopes to have a mitigation plan ready by next spring. 
"Nobody has an easy answer," he says, adding that even if bass were eliminated in the river, there is nothing to stop them from re-entering from the sea. Nonetheless, he says NOAA is committed to coming up with a solution. "We just spent a lot of money taking down the dam and getting the river to flow naturally for steelhead. It would be terrible to do that and have a new threat come in and gobble up all the fish." 
 The Possibility
Change is not over for the Carmel River. In the years to come, there is also the possibility of the Los Padres Dam being removed or replaced. 
The dam, built in 1949, is upstream of the former San Clemente Dam and about 25 river-miles from the sea. It originally held 3,030 acre-feet of water, but after years of sediment runoff into its reservoir, it now only holds 1,775 acre-feet. Still, in a region with water supply challenges, it's a crucial amount of storage. 
NOAA is interested in seeing the dam come down, but the agency has gotten pushback from MPWMD. 
"You can't just say, 'Let's return the river to a natural state' when you're not going to repurchase homes and move them out of Carmel Valley," Stoldt says. 
In 2015, MPWMD approved a study to examine what to do with the Los Padres Dam and to look at a host of options that even include – because the fate of Cal Am's desalination project remains an unknown – building a new dam. 
It's a possibility that flies in the face of modern ecological thinking, but there are those who say it could ultimately be better for the environment as a whole – dams consume less energy than the alternatives – and for steelhead, because the river would run more consistently. 
Urquhart says the data show that with no dams at all, two-thirds of the river would dry up for one to three months a year most years. 
"Dams are not good for fish," he says, "but no water is worse."
The Deal 
On a recent Saturday morning along the Carmel River at the former Rancho Cañada Golf Club, water flows gently by as tiny frogs and toads hop around in the mud. 
Christy Fischer, executive director of the Santa Lucia Conservancy, picks her steps along the riverbed with her daughter Cassie, 11, and her husband Tim Frahm, the Central Coast steelhead coordinator for Trout Unlimited.
"Look, there's a baby western toad!" Fischer tells Cassie, pointing. Cassie catches the toad in her hands, and shows it off, smiling. 
"There's a tree frog!" Fischer says a minute or so later. 
The frogs and toads are everywhere.
Frahm, who like everyone else can't stop smiling, says the baby amphibians are in "terrific condition," which means there's a diversity of insects in this spot. 
"These animals are thriving," he says, adding that he's doubtful the water would still be flowing at this time of year if the golf club was still in operation. 
Fischer and Frahm, and their respective agencies, were part of a landmark deal announced in April 2016. The east course of the golf club was sold to the Trust for Public Land, which will soon be conveyed to the Monterey Pensinsula Regional Park District.
It's an acquisition that will re-wild a golf course, and become an expansive public access point to experience and learn about the Carmel River.
And while steelhead have been slow to come back, other wildlife is thriving in the river's newly revitalized habitat. 
As she hikes away, Fischer says, "I feel so much optimism and excitement about the future of this river."