Ethical eating has many parts and definitions: eating with social, political or ethical concerns in mind; or consumer, economic, health, well-being and environment front and center. It could pertain to not wasting food, buying local, eating vegetarian/vegan, nourishing your kids, labor practices, packaging.
Taking that array into account, we emailed the same set of questions to local experts from different facets of the local food supply chain and ag industry, and let them tell us what ethical eating means to them, how they do it, and how we can do it too.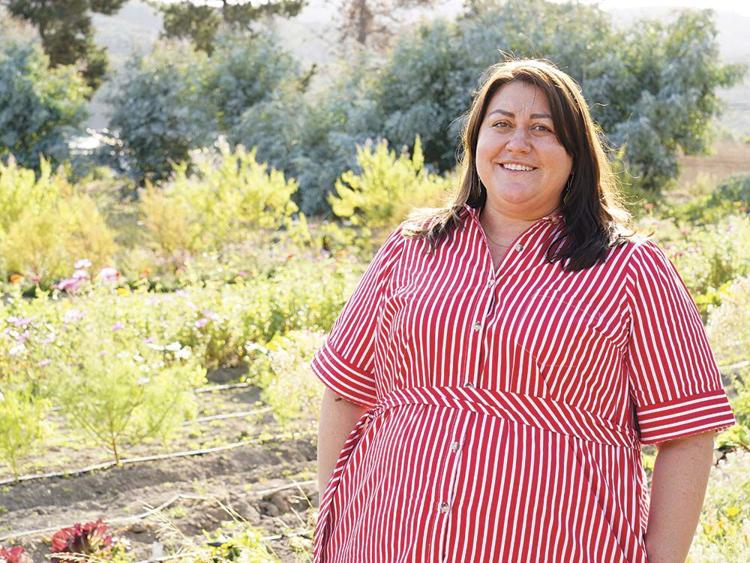 Jessica Harris
Product Manager for Organic Salads at Taylor Farms, Chair of Ag Against Hunger
Jessica Harris has a succinct definition of ethical eating: "Making food choices in harmony with your values."
But values are not only different from one person to the next, but may change over a person's own lifetime. When younger, a person may favor affordability; as a parent, nutrition content and safety concerns may override.
Her most vital ethical eating practice is eating organic, partly because it's easy and partly because she believes in that USDA organic seal.
"I tend to use 'organic' as a simple shortcut for my grocery shopping," she says. "There are rigorous standards for earning the USDA organic certification and I appreciate farmers and other food producers who make that effort. Organic touches all of the pieces in the supply chain that matter most to me – eliminating the use of synthetic pesticides, keeping the soil healthy, caring for workers and communities while still providing an outstanding product each and every day."
Harris' esteem for organics is also informed by the company she worked at prior to its being bought out by Taylor Farms earlier this year.
"At Earthbound Farm, our previous mission statement was to make organic food accessible to as many people as possible, and I feel like we achieved that," she says. "You can find organic in more than 75 percent of grocery stores today, with a large majority of those greens and vegetables coming from Monterey County."
She's also a board member of the ag industry trade group the Grower Shipper Association, and, not surprising considering that Taylor Farms dominates the packaged salads category, she gives plastic packaging some license, saying that it plays a "vital role" in our food chain.
"For certain uses (for example, organic salads) we just haven't found a material other than plastic that can keep the food fresh and safe and provide the kind of visibility to the product that shoppers are looking for."
She's also not opposed to giving people some license, too.
"You have to make it as simple and convenient as possible or you'll wind up agonizing over every decision at the grocery shelf. You can't torture yourself. Sometimes, you're hungry and there's nothing perfect around – it's OK!"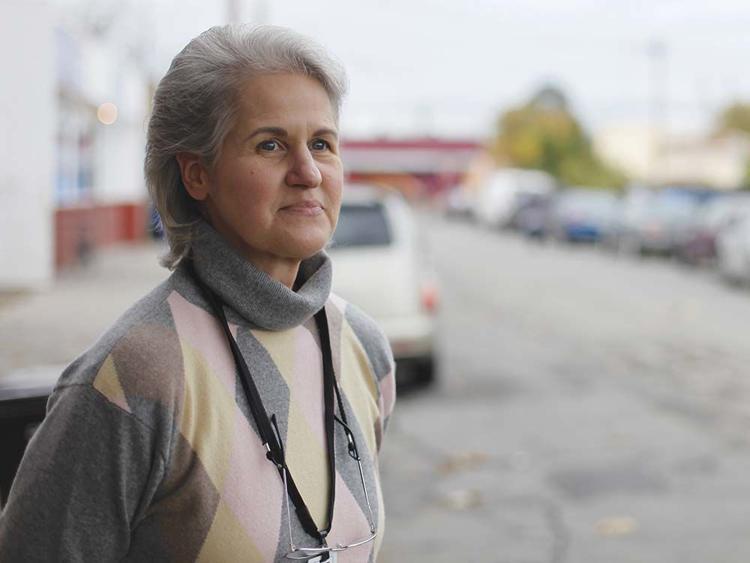 Jill Allen
Executive director of Dorothy's Place and Franciscan Workers of Junipero Serra
As the director of the famed Salinas soup kitchen, Jill Allen says, "We believe that everyone should have the opportunity to eat well and healthy, and most often, the homeless people we serve do not have as much opportunity as you and me."
If homeless people refuse food based on the same ethical guidelines that more privileged people do – it's not fair practice, or organic, or local – they go hungry. So she sees their job as not just nourishing them nutritionally, but trying to abide by ethical standards on their behalf.
Here in Monterey County, particularly, she believes we should source locally. And more.
"I believe that the farm workers that harvest our vegetables and fruits should be paid a living wage and should not be expected to work in conditions that are harmful to their health," she says. "This includes working in fields where harmful pesticides are used, not being allowed to take breaks to relieve themselves of the often painful bent-over position, and providing adequate health insurance. If that raises the price of lettuce and broccoli, so be it."
But she suspects there's a way to do all that while keeping food costs affordable.
She says that people should support the local Food Bank for Monterey County – "and not just with canned goods at Thanksgiving time," she notes, but with money to buy healthy foods. And that everyone locally should support the new Blue Zones Project, which she says can shore up food ethics in Salinas and beyond for the next four years. Dorothy's Kitchen will apply for Blue Zones certification next year, and already meets most of the criteria.
For her own family's ethical food practice, Allen says they eat organic and locally sourced, grow some of their own vegetables, buy fair trade food, reduce waste and compost scraps, and frequent the farmers markets. And as with Harris, she allows some latitude.
"My guys sneak hot dogs in there for lunch, and eat more fast food when they're out of the home than I would like."
As part of the ethical consideration of food practiced by Dorothy's Kitchen, they are opening a deli/cafe called Red Artichoke Cafe at the new, low-income Moon Gate Plaza and will employ people from their client base, teaching them ethical food practices and helping them find permanent jobs in the restaurant industry.
Susie Brusa
CEO of Rancho Cielo
Susie Brusa's two main ethical eating components are the treatment of animals and the treatment of the planet (in terms of pesticides, distribution distance, packaging).
"I am not a vegetarian," she says. "I am looking for animal protein that has been treated humanely. The benefit is not just in my psyche; there is a tangible benefit in that the meat tastes so much better! This is noticeably true for both chicken and for grass-fed beef."
She says her cousin used to own a beautiful buffalo ranch in the Badlands of South Dakota, and applied for and received permission to shoot the buffalo on the plains from a distance. This spared the animals from the fear and stress of being herded into trucks and taken to slaughter, and preserved the taste and texture of the meat.
Several of our respondents touted knowledge and learning in order to guide ethical eating.
Brusa knows where to find resources, including Dave Dorrance, a Mt. Toro rancher who has conducted studies of the grasses and animals, and moves the herd so the land can regenerate; and Mark Farr of Corral de Tierra Cattle Company, which Rancho Cielo's Drummond Culinary Academy Dining Room (which trains at-risk kids in running a restaurant) sources for meats.
And, again, another critique of plastic packaging.
"In terms of the planet, I have a particular interest in plastic usage," she says. "I don't condemn businesses for using plastic – it's the best-performing and cheapest option for packaging. Because of its lighter weight, the distribution of it (mostly in trucks on highways) has reduced emissions. So we have to find a replacement that can be as reasonably priced and scalable for mass usage."
She turns to expert guidance in Daniella Russo, founder of the nonprofit Think Beyond Plastic, which is enlisting large companies dependent on plastics to seek alternatives: "She's a badass."
Eating ethically is more expensive, Brusa admits. But it can be approached in bite-sized pieces.
"Here are some things I do: Buy veggies that are not packaged. Buy in season. Reuse 'single use' plastic bags for cleaning the cat litter box. Compost. Grow a garden. Recycle like a nutjob. Do not waste. Eat leftovers for breakfast. Label leftovers in the fridge with the day of the week you made them so that you eat them before they go bad. Again, nutjob."
Lastly, she invites people to eat at Rancho Cielo on Friday nights, starting on Oct. 18, courtesy of the young people who are learning to thrive in the world by learning practical skills at the Drummond Culinary Academy.
Reid Norris
Executive director of Everyone's Harvest
The word "harvest" is a key ingredient for this nonprofit operator of certified farmers markets. Another is "season."
"I think that learning to eat locally and seasonally are really important steps people can take to eat more ethically," Norris says. "When you walk into a supermarket, the selection of produce does not reflect the actual agricultural community we live in. Apples, for example, are harvested on the California coast during the fall, but big grocery stores import them throughout the year, often from South America, and give the impression that apples (or any fruit or vegetable) should be available all the time."
Whereas at a farmers market, you will see the yearly coming and going of seasonal fruits and vegetables that correspond to the season and the harvest. Although in Monterey County, because the growing season is year-round, there is more abundance than in, say, Norris' former home state of Indiana.
Like Brusa, Norris turns to higher authorities on certain matters of food.
"Alice Waters is my personal hero in this regard and her book The Art of Simple Food is my culinary bible."
He says that Waters' strategies can be applied to eating fish and meat, with the goal of buying locally from people you know are using responsible practices. And he encourages people to take their ethical food practices into their own hands even further by learning how to garden and preserve foods. And to think of others.
"Access to local food is not equitably distributed throughout our community, and many local families face significant challenges in gaining access to the great food produce in the Salinas Valley and on the Central Coast," he says.
That is a guiding principle behind the mission of Everyone's Harvest, which was begun in 2002 as a capstone project by Iris Peppard when she was a CSU Monterey Bay student.
Ryan Bigelow
Senior Program Manager of Monterey Bay Aquarium's Seafood Watch
The Aquarium's Seafood Watch list (and app) has done as much as anything else to transform the way diners, chefs and restaurants think about, purchase and consume seafood, and to promote options that are more sustainable for the oceans.
So it's no surprise that Bigelow states, "Personally, I approach 'ethical eating' as considering the environmental impacts of my food choices. That might mean considering the carbon footprint of my meal and having less dairy, for example, or asking questions about my seafood and choosing a Seafood Watch-recommended item."
And, again, maybe not surprising, he encourages people to first consume information in order to make better decisions about the foods they consume. He concedes that information isn't always easy to get or to pin down (should sea urchin be harvested and eaten by humans more to protect the kelp forests that the echinoderms feed on?).
But he says that by simply asking questions, consumers can sway businesses and, ultimately, improve the health of ocean stocks. Specifically, he encourages local folks to favor rockfish, sand dabs and other local species. But if the ethical choices are not clear or available, he offers an easy out.
"If you don't know what you're buying, consider a vegetarian option before defaulting to meat."
Like some of the other respondents, he places responsibility into the hands of those who have the means to act on ethical concerns.
"For many people around the world, unequal food access and poverty make [sustainable decisions] difficult or impossible," he says. "For those of us lucky enough to have the relative wealth and information necessary to improve the sustainability of our diets, it is doubly important that we strive for more ethical and sustainable diets."
Forrest Melton
Senior Research Scientist at CSU Monterey Bay and Executive Director of its Agricultural Center for Education and Research
"To me, ethical eating means trying to learn and be informed about my choices, and using what I know to pick the most nourishing and sustainable options for myself and my family," Forrest Melton says.
That's easy for him to say. He's a scientist. With NASA's Ames Research Center, no less. But he simplifies it into easily digestible terms: "Eating one meal a day that is mostly legumes, vegetables, fruits and grains is a great way to start."
And he says that living in the abundant Monterey County makes it easier (if economic barriers don't exist) to check a bunch of ethical eating boxes, including eating locally grown foods, choosing foods low on the food chain, or those that are sustainably grown or harvested.
In his own life, when it comes to supporting local companies he says are improving sustainable practices ("I like to think of the money we spend as a family on food as votes in the economy"), he's not above a little name dropping.
"Companies like D'Arrigo Bros. (Andy Boy), Driscoll's, Scheid Vineyards, Huntington Farms, Rio Farms and others are making real efforts to measure and efficiently manage their irrigation and fertilizer and/or reduce their greenhouse gas emissions," he says. "Other companies, like Tanimura & Antle, are investing in affordable housing for their workforce, and many others make a point of giving back to their community (e.g., Mann Packing, Giannini Farms)."
At home, they eat pretty low on the food chain, buy local when they can, make low-waste lunches, and minimize food waste. And just so this doesn't intimidate people, he adds, "But we are definitely far from perfect, and feel that making a start is the most important thing."
And, because ethical eating includes drinking, a word about water.
"One of the biggest issues locally is ensuring that we leave enough water for future generations of farmers. A number of local agricultural companies are working hard on water efficiency, and hopefully the development of the groundwater sustainability plan for the Salinas Valley Basin will accelerate this trend."