Mankind has changed the planet so profoundly in the last few centuries that many scientists believe we have entered a new geologic epoch – the "Anthropocene," the age of man.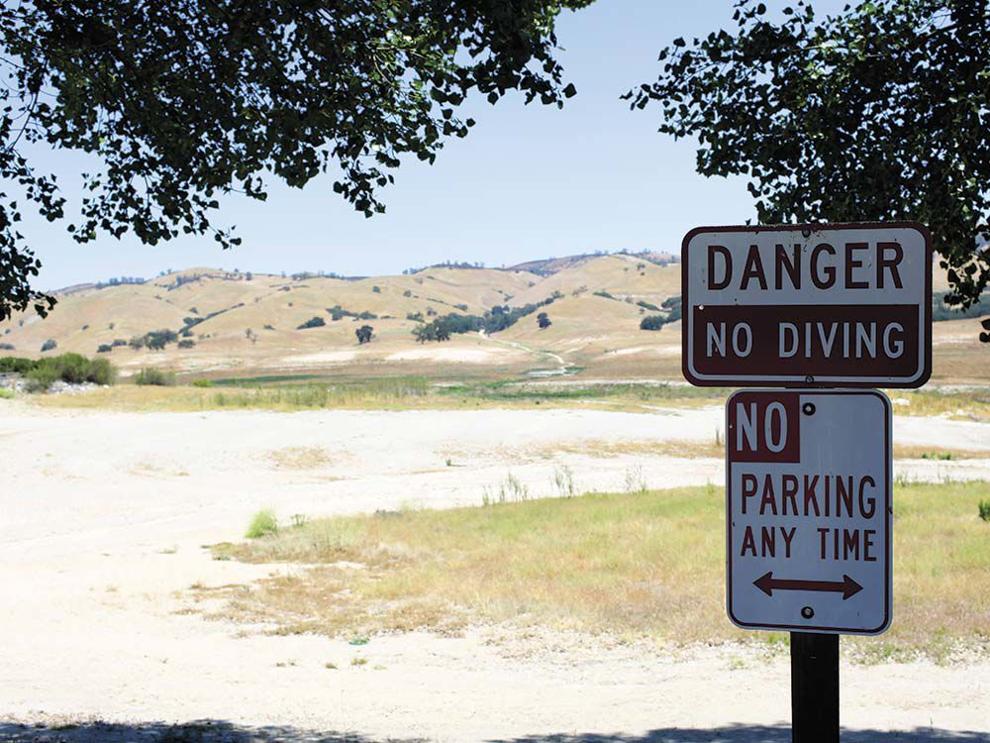 It's an academic debate, ultimately, and not an important one.
But the subtext for the debate is important: Humans are transforming the Earth in ways that pose an existential threat to our civilization, and many of the other creatures we share this planet with.
Central to that transformation is climate change, which is being driven by greenhouse gas emissions – whether from cars, planes, factories or power plants – that are warming the planet.
The essential facts about climate change have long been known, but more recently, the evidence of it has been harder to ignore: The five warmest years on record – going back to 1895 – have all occurred since 2010. The top three have occurred since 2015.
And there's a lot more evidence.
This is not a good thing. As recent reports from scientists across the world, and the U.S. federal government, have illuminated, climate change will increasingly disrupt life on Earth as we know it, with more droughts, deluge, hurricanes and wildfires. Also, due to melting ice in the poles and the fact that water expands as it warms, the sea is going to rise, a lot – in some places, perhaps more than 3 feet by 2100.
The question facing government agencies – in Monterey County and everywhere in the world – is what to do about it.
Locally, the primary impacts of climate change on people can broadly be broken into four categories: sea level rise, drought, flood and wildfire.
The good news is, work and planning are already well underway to mitigate impacts, though it's hard to say how much of an effect the measures will have, and how much those agencies – and their constituents – will be willing to spend on them.
But this much is clear: Local, state and federal agencies are taking climate change seriously, and treating it like the potentially existential threat that it is.
Wet Works
In December 1861 and January 1862, the sky opened up in the West, dumping so much rain and snow the storm season became known as the Great Flood of 1862, perhaps the worst in state history.
A lake covering as much as 6,000 square miles formed in the Central Valley, and Sacramento was underwater for 60 days.
Then came drought.
According to UC Santa Cruz earth scientist Gary Griggs, in his recently published book Between Paradise and Peril: The Natural Disaster History of the Monterey Bay Region, the latter refers to the drought of 1862-64, which "had some of the greatest impacts of any [drought] in the 19th and 20th centuries."
Expect similar back-to-back deluge and drought events – or vice versa, like in 2012-2017 – to increase in frequency with climate change. Scientists already have a term for it: precipitation whiplash.
In a paper that was published in April 2018 in Nature Climate Change, the authors, using climate modeling simulations, argue that in the 21st century, there will be more than a threefold increase in the frequency of 200-year events like the Great Flood of 1862, "despite only modest changes in mean precipitation."
Just one such season of deluge, the paper suggests, "would probably lead to considerable loss of life and economic damages approaching a trillion dollars."
The two primary areas of flood risk in Monterey County are along the Salinas and Carmel rivers, and there are plans in the works that could mitigate the risks for both – maybe.
Near the mouth of the Carmel River, on a patch of fallow farmland east of Highway 1 known as Odello East, the Big Sur Land Trust is spearheading a project called Carmel River FREE (Floodplain Restoration and Environmental Enhancement) that aims to restore the river's historic floodplain which, in times of high water, will allow flows to move across the land and reach the sea after passing through proposed new causeways under Highway 1.
Theoretically, it could prevent the type of high flows that, in 1995, caused the Highway 1 bridge to be swept out to sea, or that in 2017 led to the evacuation of some parts of lower Carmel Valley.
The project is what is called "green infrastructure." BSLT Director of Conservation Rachel Saunders told the Weekly in 2015 that it "marries community benefits with ecology."
Then there's the Salinas River, which drains an area of 4,160 square miles (compared to the Carmel's 255-square-mile watershed) and presents a bigger challenge.
The Nacimiento and San Antonio dams were built in the 1950s and '60s, respectively, to serve two primary functions: create reservoirs that would store water to recharge the Salinas Valley's aquifers, and to provide protection against flooding.
Yet there have still been multiple floods along the Salinas River since, including in 1969, 1978 and 1995.
The Monterey County Water Resources Agency has a project that, hopefully, can reduce the risk for even more catastrophic floods in the future: the Interlake Tunnel, which was proposed in 1991 and is only now under environmental review, would connect Lake Nacimiento with Lake San Antonio, which fills considerably slower than Lake Nacimiento. The project would also raise the San Antonio Dam's spillway, increasing the lake's storage capacity by about 40,000 acre-feet (to about 390,000 acre-feet), further decreasing the likelihood of flood control releases.
Because in a future of droughts intensified by climate change, increasing storage is critical – and more challenging.
Drying Up
Though rainfall records only go back about 150 years, nature keeps a record that can go back thousands – and it's not exactly cause for optimism.
Griggs writes that dendrochronology – tree ring studies – in the Sierra Nevada shows that in the 20th century, California experienced its wettest period in 2,000 years.
"This climate history does not bode well for California's future and our water dependence."
Daniel Swain, a researcher at UCLA's Institute of the Environment and Sustainability and a co-author of the paper on drought and deluge whiplash, says it's not clear if there will be slightly more or less total precipitation in the decades to come.
But, he says, focusing on that metric is missing the point.
The purpose of the study, he says, was to show the effects of a warmer climate over time on precipitation patterns, and that the modeling shows an increase in years-long dry periods as well as really wet storms.
In a warming climate, Swain adds, the vegetation is still drier even in wet years, evaporation rates are higher, and paradoxically, reservoirs might not be able to hold as much water because they might have to be maintained at lower levels due to concerns about flooding.
"In a coastal regime," Swain says, "it really just means it's harder to capture that water. Not all of that water is going to make it into the aquifer."
Howard Franklin, senior hydrologist for the Monterey County Water Resources Agency, says a sophisticated tool to plan for that future is already in the works. For about two years, the agency, along with the San Luis Obispo Water Resources Agency, Monterey Peninsula Water Management District and Monterey One Water, have been working with the U.S. Bureau of Reclamation to examine the water supply impacts to the Salinas River and Carmel River basins out to the year 2100.
Concurrently, MCWRA is also working with the U.S. Geological Survey to map a historical model of the groundwater resources of the Salinas Valley Groundwater Basin going back from 1967 – when both the county's reservoirs were online – to either 2017 or 2018. The idea is to see how the groundwater reacted to various water supply projects that have since gone online, coupled with data like precipitation and stream flows to get a better understanding of the basin's behavior over time.
Even better, that model, coupled with work being done in the study by the U.S. Bureau of Reclamation, will facilitate the creation of a predictive "operational" model, Franklin says, that will – in a 12-hour computation on a bank of computers – be able to predict how a specific project could impact the basin in years to come.
"It's going to be an incredible planning tool," Franklin says, adding the model will likely come online late this year or early in 2020. "These things are monsters."
The Monterey Peninsula, which gets the majority of its water from the Carmel River, will be in far better shape regardless of drought, if California American Water's proposed desalination plant in Marina – which the California Public Utilities Commission approved last fall – survives the gauntlet of bureaucratic and legal hurdles it will face in the coming months and perhaps years.
If that happens, then not only will the Peninsula have a drought-proof component of its water supply portfolio, it will also have the opportunity for long-term water storage.
Currently, the Water Management District's aquifer storage and recovery project in the Seaside Basin injects excess Carmel River winter flows that are piped over the hill to Seaside. But because of the state's 2009 cease-and-desist order against Cal Am's illegal overpumping of the Carmel River, the district is required to annually pull all the river water out of storage that they put in each year.
When, or if, the cease-and-desist order is lifted, MPWMD General Manager Dave Stoldt says the project would finally be able to work as intended and create an underground reservoir. In an average year, he says, the district can inject about 1,700 to 2,000 acre-feet of Carmel River water into storage (the Peninsula's current annual water demand is about 10,000 acre-feet).
But a warming planet – and intensified droughts – also exacerbates another risk factor that's even harder mitigate: fire.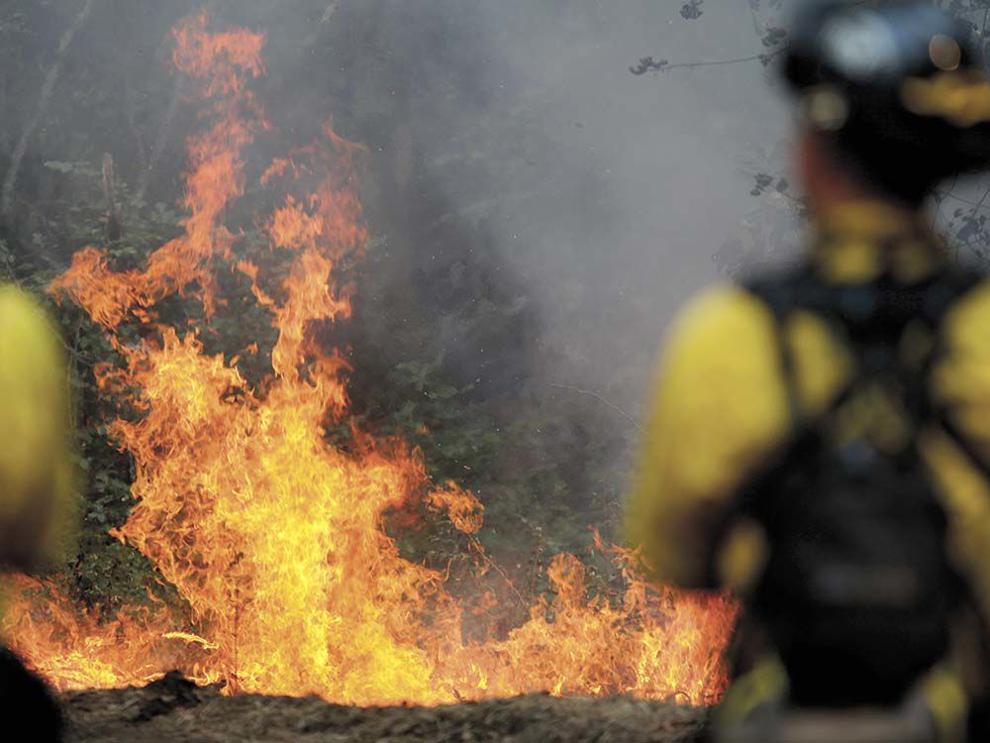 State of Fire
On Dec. 11 of last year, in the wake of the Camp Fire that devastated Paradise and the Woolsey Fire that burned in the Santa Monica Mountains near Malibu, the Associated Press ran a story quoting Ken Pimlott, who was then Cal Fire's top ranking official (he retired Dec. 14), saying land-use agencies should consider outright prohibition of construction in fire-prone areas.
"Pimlott said 'we owe it' to homeowners, firefighters and communities 'so that they don't have to keep going through what we're going through,'" the story reads, later quoting Pimlott as saying: "Folks can say what they want to say, but firefighters are living climate change. It's staring them in the face every day."
That same day, Dec. 11, the Los Angeles County Board of Supervisors voted 4-1 to approve a 19,300-unit housing project in Tejon Ranch, an area along the Grapevine of Route 5, about 70 miles north of Los Angeles, that had been in the works for years but that to the end faced vehement opposition from some L.A. County residents who criticized approving homes so far away from a job center, and alongside mountains that are dry, windy and prone to wildfire.
UCLA's Swain, like Pimlott, thinks these are the types of land-use decisions where, going forward, it is increasingly important to consider wildfire risk, because for local government agencies, it is an avenue – unlike global climate change – where they can exert more influence, and prevent the expansion of homes into the urban-wildland interface.
"Managing forests, and designing communities that are more resilient to fire, those interventions are actually more tractable [than solving climate change]," Swain says, "even if climate change is driving that risk."
Los Angeles-area native Mike Davis, a former meat-cutter and truck driver who went on to become a celebrated author and win a MacArthur Fellowship – aka the "Genius Grant" – made a similar argument in his seminal 1998 book Ecology of Fear, in a chapter titled "The Case for Letting Malibu Burn."
The thesis of the chapter, essentially, is that because Malibu's chaparral-covered hills are so prone to wildfires – Davis calls it the "wildfire capital of North America" – it should have never been developed like it was, and it is foolhardy and unjust to expend so much treasure protecting it. By contrast, Davis shows, fatal tenement fires in downtown L.A. killed 119 people from 1947-1993, which he attributes to slumlords and lax regulation of building standards.
"If enormous resources have been allocated, quixotically, to fight irresistible forces of nature on the Malibu coast, then scandalously little attention has been paid to the man-made and remediable fire crisis of the inner city."
Monterey County does not face a comparable dichotomy, but there is a parallel between Malibu and Big Sur, the latter of which is also increasingly primed to burn as the planet warms, and where much treasure – $260 million for the 2016 Soberanes Fire alone – has been expended to protect human life and homes.
And while homesteaders in Big Sur used to do prescribed burns when the conditions were right to clear out fuel, Jonathan Pangburn, a forester with Cal Fire, says that's no longer possible.
"People have built homes in pretty precarious locations," Pangburn says, "and introducing fire into that area now, for the most part, would not be a safe option for firefighters and the homes that are there."
What's worse, Pangburn says, is that Big Sur "is a highly flammable location with a fire-dependent ecosystem that has had fire exclusion for a long time."
He adds there's a lot of thick brushland in the coastal zone that hasn't burned in recorded history – scientists can't take core samples from brush like they can from trees, so it's impossible to know when they last burned – "which means they're ready to burn," Pangburn says.
"Fire season is no longer a season," he continues. "We have year-round fires. That's the reality we have to live with."
Aside from land-use decisions, the other most feasible option to help prevent fires is what firefighters call manual fuel reduction – clearing brush and lower limbs of trees near homes and roads – but for homeowners, the permitting process with the county, which is understaffed, can be arduous.
So Cal Fire and the county are conducting a pilot project in Carmel Highlands – a high-risk fire area with equally high property values – where a Cal Fire official, working with property owners, processes permits for tree and brush removal with Monterey County (instead of the property owners) to expedite the process, and the county waives fees for permits.
The Resource Conservation District of Monterey County, with $150,000 the county allocated to it for the current fiscal year, is working on maps for four different communities – it hasn't yet been decided where – for first responders. The maps would have accurate information about things like road locations and water resources in disaster-prone areas.
Going forward, RCD Executive Director Paul Robins says, the plan is to develop such maps for all the communities that can benefit from them.
And the nonprofit Fire Safe Council for Monterey County is more aggressively applying for grants to increase the fuel reduction work it carries out annually, which Michael Emmett, president of the Fire Safe Council board, says is paramount with or without climate change.
"The climate doesn't start fires, or provide fuels, it just makes conditions to start the fires much more likely," Emmett says.
That separates wildfires from another local challenge related to climate change: sea level rise, which is almost entirely being driven by a warming climate, and as such, is inexorable.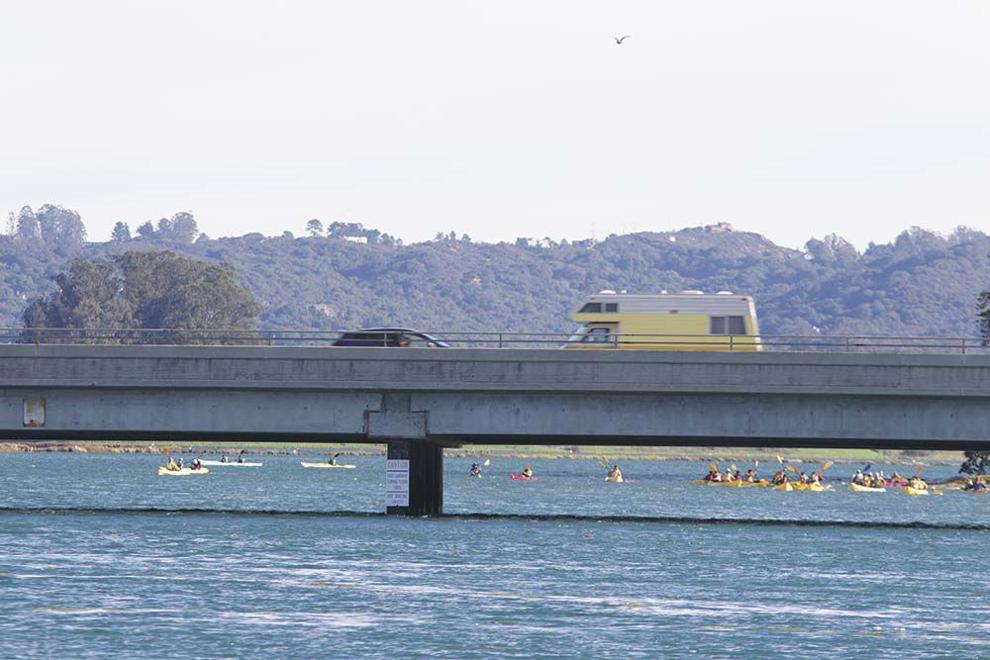 Sea Change
In the "higher scenario" in the federal government's National Climate Assessment released Nov. 23 – Black Friday – local seas could rise between 7 and 13 inches by 2050, and 19 to 41 inches by 2100.
To repeat the highest given scenario: 3 feet and 9 inches, in the next 80 years.
There are also two things are worth noting about the recent assessment: Past sea level rise projections have proven overly conservative, mainly because the melting ice in the poles – which is partly what's driving the sea to rise – has been unpredictable, but so far has been melting faster than was foreseen.
The two sections of Monterey County's coast – which stretches about 100 miles – that are most threatened by sea level rise are important to the region's economy and infrastructure.
One is Monterey's waterfront. Particularly vulnerable are the beach and condos east of Wharf 2, where the sandy beach is narrow, and where rising tides in the future threaten to flood Del Monte Avenue and the Lighthouse Tunnel.
It is that road, which is a vitally important artery taking tourists, residents and workers in and out of the city of Monterey, that the city needs to be most worried about.
And the city is worried: In February, through a Caltrans grant, Monterey will be awarding a contract for a two-year study for ways to adapt Del Monte, and traffic flows, in the face of rising seas.
Monterey planner Fernanda Roveri says various ideas have been floated thus far, including making the road into a causeway – a raised road, essentially – or instead, rerouting traffic through North Fremont Street, which is further inland.
Things are just as complicated at Moss Landing – the other part of Monterey County's coastline most impacted by sea level rise – where there is a commercially vibrant fishing harbor, as well as marine research laboratories and restaurants.
John Dugan, the county's deputy director of land use and community development, says right now a plan is in the works, based on the county's 2017 sea level rise analysis for the Moss Landing region, for how to move forward, but he's wary of planning for the most dire sea level rise projections – "it's anyone's guess," he says. The push now is to armor the island to protect it as long as possible without retreating landward from its current position, though he concedes that would require Coastal Commission approval – he's hoping for an exception for the commission's stated preference of retreat – and that eventually, retreat is inevitable.
The working plan, Dugan says, is to "protect as much as you can until you can't."
Highway 1 over the Elkhorn Slough may not have the luxury of time – it's a low bridge over tidal waters, and thousands of cars pass over it daily.
To that end, the Association of Monterey Bay Area Governments, through a grant from Caltrans, is working on a plan in partnership with a nonprofit, The Nature Conservancy – which is focused on protecting the vital wetland habitat of the Elkhorn Slough – and the Middlebury Institute of International Studies at Monterey's Center for the Blue Economy, which is crunching the cost-benefit analysis of different scenarios for the roadway: Raise the elevation of the bridge? Move the road further east, disrupting the commutes of thousands daily?
These are all questions on the table.
Like climate change, what will ultimately become Monterey County's climate adaptation strategies remain somewhat of an unknown, as key studies remain in progress.
But for residents, there's not much more that needs to be understood: Climate change will get worse – a lot worse – and tragedies are bound to unfold because of it.
Our future may not depend so much on how we respond to those inevitable disasters, but on how we respond beforehand.
If those who are reporting back on the studies ask us to jump, we need to ask: How high?