It's a Saturday, the sun is out and Fisherman's Wharf is all bustle.
Dozens of whale watchers crowd into a queue, their faces giddy as they ready to board the Princess Monterey, which will take them out on the bay to see humpbacks, dolphins and maybe gray whales and orcas. Just past them, a young man models for a caricature artist while his friends stand by, laughing as the portrait takes shape.
From the northernmost point of the wharf, at Rappa's Harbor View Restaurant, all the way to its southern end at the Custom House, a sea of pedestrians shuffles by chowder joints, candy stores and gift shops. They have come to eat seafood, buy trinkets and smell the salt air.
The wharf's businesses raked in about $38 million in receipts last year, according to Monterey Housing and Property Manager Rick Marvin. It's a hefty sum for little Monterey, home to fewer than 30,000 residents.
But the city, which owns the wharf and leases its concessions, received just over $1.3 million in rent from those businesses.
For years, some gadflies have questioned the fairness of those leases, roughly half or one-third below market rent. But no one has ever convinced Monterey city staff, or City Council, to veer from a course they've held for decades.
Until now.
~ ~ ~
Bill McCrone first came to wharf leases as a matter of chance. The Monterey planning commissioner served on a waterfront subcommittee in early 2010 and asked for an inventory of the city's waterfront leases and rent rolls.
The city wouldn't give him the rent info, citing this exemption from Government Code section 6254(i): "information to other persons would result in unfair competitive disadvantage." (Officials denied the Weekly's requests for the same reason.)
But McCrone was able to obtain the rent rolls from a confidential source – numbers the Weekly was able to verify as credible. And what he found in the rolls, and the leases, disturbed him.
"I thought I had discovered something that would be a boon to City Hall, because it clearly showed theseleases were all illegal, and well under market rate," he says.
McCrone, a local business and real estate attorney, has been battling the city on the leases ever since. "It just really pisses me off to see the public ripped off," he says. "I can't stand still for it."
In March 2011, McCrone gave a presentation to the Monterey City Council on the subject of wharf leases. His slideshow threw down the gauntlet almost immediately, showing excerpts from the city's 1939 master plan.
"Fisherman's Wharf is to be removed," the plan reads. "We recognize that this is a highly controversial matter and make no recommendations as to when it shall be done."
He also included an excerpt that addresses parking on the waterfront: "No parking of cars… should be permitted anywhere on the shoreward side of the Southern Pacific Railroad tracks."
That archaic plan was still in effect, McCrone says, when city officials renegotiated a host of wharf leases in 1991. Several of those went on to become 50-year leases.
McCrone isn't saying the wharf should be torn down. He's just trying to show that when it comes to the wharf, the city hasn't played by its own rules.
By his thinking, city officials squandered a mountain of money by signing those long-term leases in 1991. Because they were nowhere near fair-market rent, he reasons, they violated the city's charter and should be considered illegal.
"It was unethical," McCrone says. "Overnight, the city made those tenants millionaires."
Since that 2011 meeting, McCrone has spent the last four years trying to convince city staff and councilmembers. Monterey City Council has considered the issue more than a half dozen times, only to send it back to staff for more study, more information.
"OVERNIGHT, THE CITY MADE THOSE TENANTS MILLIONAIRES."
But on March 17, the council finally acted, making unprecedented policy changes. The new rules mean longtime wharf leaseholders, families who have been in business there for decades, could be edged out by new operators.
They also mean that if Monterey can follow its own rules, the city stands to reap millions more in rent, possibly tripling what it makes now.
Given the city's past performance in real estate negotiations, that's a big "if."
~ ~ ~
To understand the DNA of Monterey's current wharf leases, one must first understand who and what birthed them.
Fisherman's Wharf first became a tourist attraction in the late 1800s, during the heyday of the Del Monte Hotel – then a luxury resort, now a historic building on the Naval Postgraduate School campus.
With the advent of World War I, the sardine industry boomed. The city bought the wharf in 1913 in order to lease it for profit.
Some of the operators doing business on the wharf can trace their family's involvement there to the early 1900s. Looking through old headlines in the Monterey Public Library's California History Room, a few themes emerge.
One, wharf rents have been hotly contested for decades.
Two, past city staff may have not been leasing it with competence, which is neatly summed up by a 1958 article in The Monterey Peninsula Herald:
"The city of Monterey is an unusual landlord," it reads. "It collects $28,275.72 a year in rentals from the Fisherman's Wharf and still apparently doesn't know how the rents are assessed."
The article goes on to say three city officials – the city collector, city attorney and assistant city manager – all agreed on one point: "They do not know the formula on which the rentals for concessions are calculated."
Such was the landscape Monterey native Peter Coniglio, who went on to become mayor in 1973, walked into when he joined a local law firm in 1958 and began representing several operators on the wharf. Every single wharf lease bears Coniglio's mark, which was a profound break from the past.
"They only had five-year leases at that time," Coniglio says. "They couldn't get financing to repair, rebuild or refurbish their properties."
Coniglio set about creating the Fisherman's Wharf Association, and by the early '60s he succeeded in negotiating 25-year leases for the wharf concessions, an achievement he concedes would be more difficult today.
"We didn't have the Brown Act in those days," Coniglio says. "We were able to meet with [city officials] out of a public meeting."
Still, he maintains, everything was above board.
"They were only sweetheart deals in the sense that the city wanted to help the concessionaires to get the wharf revitalized," he says. "Other than the military, it was the only economic engine in the city for 50 years."
He says outside mediators were extensively involved in the negotiations. "The mediators went all [up] the coast, all the way to the Oregon border," he says. "Monterey was the only case where the concessions are responsible for maintaining all of the improvements they have on the wharf, all of the pilings."
He offers an example: Chris Shake, who owns Fisherman's Grotto and a host of other top-grossing restaurants on the Peninsula, spent up to $400,000 to replace the pilings under one of his businesses, an expense he says would be tough to bear on a short-term lease. (Shake declined to comment on either the cost of pilings or the city's leasing policies). Another leaseholder, Mary Alice Fettis, has publicly stated it costs $29,000 to replace just one piling.
Marvin, Monterey's property and housing manager, confirms the estimate.
"That's an expense the city does not have to bear, and it's almost tantamount to extra rent," Coniglio says. "I don't know whether [McCrone has] taken that into consideration."
McCrone says he has. "It's expensive to operate down there, but the tradeoff is, you have a tremendous amount of foot traffic," he says. "If you have a good product, it's a gold mine."
He also says the current long-term leases have allowed some leaseholders to pay cheaper rent under the premise they maintain the pilings below them. But not every concession, he adds, maintains them to the level required.
Marvin won't specifically name any concessions that may be falling short in maintenance, but the city is currently assessing the pilings of three concessions on month-to-month leases.
"The condition of those concessions varies," he says.
Asked if that means some are not maintaining them to the level their lease requires, Marvin says yes: "They are supposed to be maintained in top form."
~ ~ ~
Under the wharf, the scene can resemble a drunken forest. One piling leans this way, another leans that way. Decayed railroad irons, which held up the wharf ages ago, poke out of the water like the rusty tips of old harpoons. Random electrical wires hang down from the rafters, their exposed ends submerged underwater.
Sounds echo eerily, like the inside of a cave. When water rushes out of a nearby pipe, the surprise – if one's atop a stand-up paddleboard, as this reporter was – can nearly send one hurtling into Monterey Bay.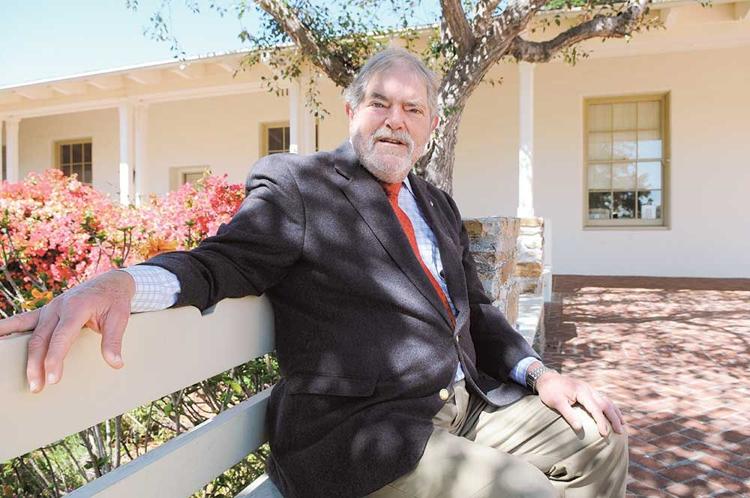 Each section of the chaotic mishmash under the wharf tells a different story, one reflective of the businesses above. But with the exception of pilings down the middle of the wharf, which the city owns and maintains, there is one story they all share: Thanks to Coniglio, they are owned by the businesses above them.
"In the leases I negotiated, there was a provision that when the lease terminated, the concessionaire had the option to remove the improvements within 90 days," he says. "That's a little different than your standard [ground] lease, where when your lease is up, that building is owned by the landlord."
The provision, he says, was to give leaseholders "a little leverage when their lease terminated."
"THEY'RE GOING TO HAVE TO TAKE ME OUT OF HERE IN A CASKET."
A ground lease, where the leaseholder owns the building until the lease expires and enjoys reduced rent, is typically given out to those building new structures or making major financial investments in existing structures. In the '60s, Coniglio successfully argued that in maintaining the pilings, wharf businesses were doing just that, in perpetuity.
As a result, all the wharf's leaseholders secured long-term ground leases that hold up to this day.
What gets McCrone worked up isn't that the city gave out ground leases in the first place. It's that common real estate practice says when a ground lease expires, the landlord owns the building.
But the city, in the past, has renewed the leases instead of taking over control of the buildings to assess fair-market rent.
Attorney Tony Lombardo, speaking on behalf of Shake, thinks McCrone's views are misguided.
"The city gets paid the value of its lease. They don't own those buildings," he says. "Chris rents 3,800 square feet of mud."
McCrone disagrees. The provision by which wharf leaseholders could remove their structures if their leases were terminated – a provision that's hindered city negotiators for years – has been nullified by a legal decision in Santa Barbara, he says. No structures can be removed from the Coastal Zone without first getting a development permit from the California Coastal Commission.
Lombardo takes a different view. "The Coastal Commission would, I suspect, feel quite pleased about removing private development from the tidelands," he says.
McCrone has been trying to convince city staff of his interpretation for years. It seems he has finally succeeded.
Asked if leaseholders could really remove their buildings, Rick Marvin loops back to the provision saying they can only demo their structural improvements within three months of the lease expiration. "The ability to get those types of approvals doesn't fit very well within the 90-day timeframe," he says.
That view increases the city's leverage. A new, hardball stance emerged in the city's leasing policies staff report for the Feb. 17 City Council meeting.
Suddenly, McCrone's tone also changed.
"With few exceptions," he wrote in a letter to the city before the meeting, "I agree with the recommendations of staff."
He would have to wait to do his victory dance; City Council tabled the issue for further discussion. But not before he spoke during public comment.
"I feel like I've been struggling with the Flat Earth Society for the last five years," he said. "You cannot extend a ground lease without defrauding the public."
~ ~ ~
As the March City Council meeting approached, no one, not even McCrone, was quite sure how the night would play out. But there was a sense the meeting would be historic.
"I think it's the biggest decision we'll make in my tenure as a councilwoman," Councilmember Libby Downey, said a day before the meeting.
And then, just after 9pm March 17, it happened: In surprisingly rapid succession, the Monterey City Council narrowly approved sweeping policy changes to the city's leasing policies, diving headlong into controversial issues that have dogged past councils for years.
First on the agenda was the question of renewing ground leases.
"What makes [this decision] difficult is that people have put their blood, sweat and tears into running their business," said Councilmember Timothy Barrett. "But I think the date is coming due."
The council voted 3-2 to pass this item: "All improvements transfer to city upon ground lease termination." In other words, the city owns everything, from the sand to the sky, and can start charging rent to reflect that. Mayor Clyde Roberson and Councilmember Ed Smith dissented, as they wanted the language to read: "All improvements may transfer to the city." (Emphasis added.)
The council next addressed subleasing, with staff recommending allowing it with the "ability to retain up to 90 percent of sublease profits." This means that if a master leaseholder subleases their space, the city could take nearly all rent, effectively cutting out the middleman.
Smith introduced a change in language, striking "up to 90 percent" in favor of "a portion."
Downey was the one voice of dissent. "If you're comfortable giving away taxpayers' money, so be it," Downey said. "I'm not."
That motion passed 4-1.
A few minutes later, the council came to the "length of term" policy. Given that past councils signed off on several wharf leases that amounted to 50-year terms, the issue has been every bit as contested as renewing ground leases.
Staff recommended terms of three, five or 10 years. After a motion by Roberson to increase the term to 20 years failed, the staff recommendation passed with only slight amendments.
And just like that, in a matter of about two hours, the culmination of McCrone's four-plus years of dogging city officials came to an end.
But city staff had at least one more surprise coming.
~ ~ ~
In the days after March 17, a state of shock and dismay rippled through Fisherman's Wharf. Chris Arcoleo stood uneasily behind the counter of one his concessions, Chris' Fishing Trips, and said he wasn't sure he wanted to comment.
Arcoleo, along with Fred and Carolyn Mountford, subleases another concession out to Monterey Bay Whale Watching, and that pier's lease has been month-to-month since last October.
"It's going to be extremely tough on individuals who have to put a tremendous amount of money into a pier, and then have to pay the city double the rent," Arcoleo says. The whale-watching business has talked about moving to Moss Landing due to the uncertainty, he adds: "If you're going to put in a million dollars, you've got to make a profit."
Sitting across the wharf at Cafe Fina, a host of other concession owners echo Arcoleo and add their own thoughts.
"One thing I will not do in a new lease is to have it revert to the city," says Sam Balesteri, whose concession at the entrance of the wharf includes Balesteri's Wharf Front gift shop. His subleases to Coffee House, Crepes of Brittany and Paluca Trattoria also went month-to-month last October. "I will not sign it."
Balesteri built his business in 1966 and is one of a handful of the leaseholders whose families have been on the wharf since the 1930s.
Also at the table are Sally Elves, owner of the Harbor House gift shop, and her daughter, Sherri Tuioti. The lease for Harbor House expires in 2021.
"It was like getting hit in the gut," Elves says of the council's decision.
Her daughter follows with her opinion about the 10-year term limits. "That's not a legacy, that's a job," she says.
"We want to stay," Elves adds. "We're fourth-generation now. They're going to have to take me out of here in a casket."
~ ~ ~
If Hollywood swung through Monterey on a casting call for a hero, it's highly unlikely they'd ring up Bill McCrone. When he speaks at public meetings, he's cantankerous and blunt. Even some of his friends refer to him as "McGruff."
Others have labeled him anti-business, a charge he summarily brushes aside. "Having represented businessmen for 35 years, it's tough to say I'm anti-business," he says.
After the March 17 meeting, McCrone said his friends had offered him several Champagne toasts. But he said his work was not done yet. He would keep beating his drum if he sensed impropriety.
The wait was not long.
When the April 7 City Council agenda was released April 3, it contained an item on the consent agenda – which doesn't require a council discussion – to give a new lease to Surfside Enterprises at the Marina Facilities Building at the foot of Wharf II, the commercial wharf next to Fisherman's Wharf.
The building is currently home to London Bridge Pub and Sapporo Steakhouse, both subtenants. Surfside's lease is set to expire in 2018.
Ted Balestreri co-founded Surfside in 1963. It shares an office with The Cannery Row Company in Monterey. Some of the same players, including Balestreri, Mike Zimmerman and Frank Donangelo, are involved in both businesses.
The item's inclusion on the consent agenda had McCrone riled even before he read the staff report.
"I don't think they're going to act on their new policy," he said the day the agenda came out. "[Surfside has] offered to sweeten the deal because it's a ground lease, and the city is not getting nearly what it should be in rent."
The ground lease, McCrone adds, was given a 30-yearextension in 1988, despite the fact that there was no water beneath the building and no pilings in need of replacement.
Since the negotiations began in 2012, the staff report states, and the previous council all but signed off on the terms, they should be honored:
"The negotiations began prior to consideration of the new leasing policies. They were conducted in good faith over an extended period of time."
On the following Monday, McCrone sent a letter to city staff, councilmembers and various members of the media, requesting the item be taken off the consent agenda. It also spelled out his considerable discontent.
Surfside's offer was to increase the base rent from $45,000 annually to $84,000. McCrone, crunching numbers from Monterey's 2010 rent rolls, wrote that the two restaurants' rent to the city – at 4 percent of their revenue, well below the standard market rate of 8-10 percent – equalled $105,491.
"Do your negotiators think the public is stupid?" he wrote. "In what sense is an increase of minimum rent to $84,000 an improvement over the current lease?"
McCrone followed up with public comment at the April 7 meeting.
"In my estimation, Surfside is getting 67 percent of the revenue from this building," he said. "This is in my view the most outrageous giveaway of public funds I've ever seen."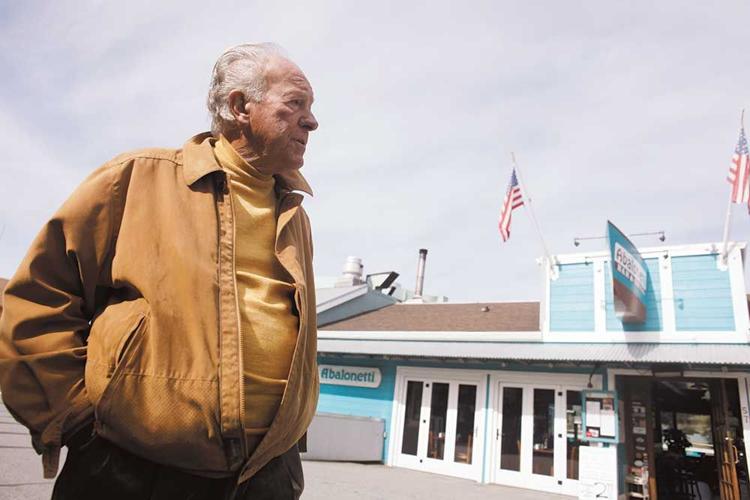 Donangelo and Zimmerman followed McCrone on the microphone, saying they've had an excellent relationship with the city, and Surfside has ensured the building's been filled with successful tenants. They also spoke to the financial risks of letting the building go vacant.
"There are a number of assumptions that are wrong, and [McCrone] jumps to conclusions that are incorrect, including downplaying the downside, and how the profit would be split," Zimmerman said. "In no circumstance will Surfside ever net more than the city on this lease."
After a break for closed session and recess, the council revisited the matter at 7pm. It quickly became clear the item wouldn't be decided that night, and it was moved to a closed-session discussion at an unknown later date.
Before that happened, the councilmembers shared some thoughts.
Smith said that in light of the recent leasing policy discussions, given the ineptitude of the city's past real estate mismanagement, perhaps the city should leave these issues up to professional landlords. "Maybe we shouldn't be in the business of holding so much property," Smith said.
Haffa responded that once upon a time, he felt the same way. But he has since come around to a different view.
"It's more complicated than just saying we're not good at it. Politics has a way of influencing [us]," Haffa said. "I looked at [our leasing decisions] as, 'Our city is going to approach these decisions the same way the private sector will.' We need to manage this sector of the city like a business.
"Interestingly," Haffa added, "since we've taken our approach, some of our business friends see it differently."
A few days after the meeting, Zimmerman and Donangelo declined to comment to the Weekly, citing ongoing negotiations with the city.
~ ~ ~
The impact of Monterey's new leasing policies will extend far beyond the wharf. The city leases 86 properties, for which it received $5.1 million in rent in 2014. Many are long-term ground leases for major buildings like the Bubba Gump's, which expires in 2025, or the Intercontinental Hotel, which expires in 2072.
The reasons the wharf leases are so important goes beyond the low rents (see sidebar, center) or the decades of mismanagement by the city.
It's that right now, they present an opportunity. Fisherman's Wharf likely generates the highest foot traffic in the city. Three leases on the wharf are currently month-to-month, with eight more expiring in 2021. (Most of the rest expire in 2041.)
Which is why McCrone's says he's been fighting so hard. He knows the cost of not playing hardball now will be felt for years to come, amounting to millions in lost taxpayer dollars that could fix streets without the need for new taxes.
For him, there's another reason. "I'm not going to be around in 2041," he says.
In a small town like Monterey, impartial opinions from the private sector can be hard to come by. When everybody knows everybody, there's a lot of history. And history can be hard to change.