If you turn on a tap in Marina, or anywhere in the former Fort Ord, some of the water coming out is thought to be more than 20,000 years old, from a time when mastodons and saber-toothed tigers roamed the land.
That water comes from what is called the deep aquifer, which resides in geologic formations millions of years old.
There are no clear estimates as to how much water can feasibly be pumped from the deep aquifer, or how long that water will last before seawater marches in.
For years, the deep aquifer was thought of as a backup water supply, one to turn to in times of emergency. Yet presently, due to increasing saltwater intrusion, it has become the primary water supply for the Marina Coast Water District, which plans on using it for thousands of new houses, in addition to existing homes and businesses.
What should be Plan C has instead become Plan A.
~ ~ ~
The Army knew it had a water problem on Fort Ord.
An 86-page, 1986 report from the U.S. Army Corps of Engineers, titled "Long-range water supply development for Fort Ord, California," begins by stating that Fort Ord gets all its water from the local groundwater basin, which holds water that percolates into the ground through rainfall, rivers or lakes. That is in contrast to most populated areas of the state – Los Angeles and the Bay Area, for instance – which rely on surface water, i.e. water from rivers and reservoirs.
The report outlines how increased groundwater pumping near the coast draws seawater inland, a phenomenon called seawater intrusion. It's a problem that's plagued the lower Salinas Valley for more than 70 years, and that fouled some of the Army's wells.
Most of the Army's wells that were contaminated were located in the shallow 180-foot aquifer – named for its depth. Because of this intrusion of seawater, the 1986 report states, a well field was constructed further inland.
"The installation realizes that this an interim measure and the Army needs to eliminate the reliance on local groundwater for other than backup supplies," the introduction of the report reads.
A neighboring city comes up early in the report.
"Marina's water problems are very similar," it reads.
Thirteen pages in, the report comes to the deep aquifer, aka the 900-foot aquifer, describing it as "not well known."
Citing a 1984 study, the reports states that pumping from the deep aquifer could induce conditions "favorable to causing seawater intrusion."
The report then lays out some options for replacing the water supply through other projects, one of which involved Marina Coast buying into the Nacimiento and San Antonio reservoirs.
It also stated that if the Army stayed on its current path – accelerating seawater intrusion into nearby agricultural wells – litigation from farmers who rely on that water was certain, and would have "an unknown outcome."
Instead of trying to solve its water supply problem on Fort Ord, the Army walked away from it, and shut down the base less than a decade later.
That closure is foreshadowed on page 24 of the report, which states that unless another water supply comes online, the base's mission would likely to have to shift to less water-intensive uses.
"As a worst case," the report reads, "this concept could include abandoning the installation altogether."
~ ~ ~
Over the years since, the facts about Fort Ord's water supply – and the agreements associated with it – have been forgotten, or in some cases, perhaps, intentionally swept under the rug.
But those facts emerge in documents that environmental attorney Molly Erickson, and her firm Stamp Erickson, have been digging up over the last five years in an effort to stop Monterey Downs, a proposed mega-development on the former Fort Ord that now seems doomed (see story, p. 17). Erickson's client Michael Salerno, co-founder of Keep Fort Ord Wild, has also been relentless in his research.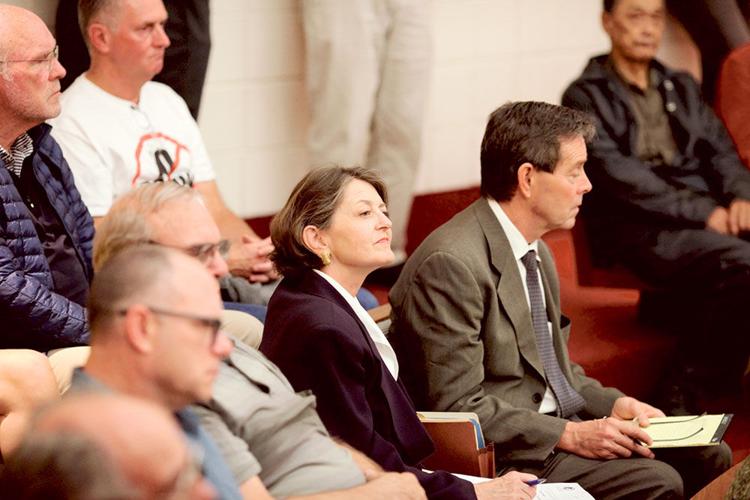 Among the documents they delved into was a 1993 agreement between the United States of America and the Monterey County Water Resources Agency. Another: a 1996 annexation agreement that outlines how Marina Coast Water District will take over water service in Fort Ord lands.
In the '93 agreement, the U.S. government states that continued pumping on Fort Ord is not sustainable, and that a future water supply project was essential for Fort Ord. The project's goal would be to provide at least 6,600 acre-feet of potable water annually to Fort Ord. (The primary project being studied at the time was putting wells along the Salinas River that would capture "excess" runoff from the Arroyo Seco River.)
Once such a project was completed, the agreement states that all Fort Ord wells must "shut down except during emergencies."
The number 6,600 acre-feet – the amount of water Marina Coast can pump from Fort Ord, per the agreements – is not based on a historical average.
Rather, it reflects the highest amount of water pumped annually in Fort Ord between the years 1973 and 1992, when the Army pumped 6,604 acre-feet in 1984. As detailed in the '86 Army Corps report, the Army's average groundwater pumping from 1973 to 1984 period was 5,446 acre-feet annually.
The 1993 agreement states that without a new water supply project, Fort Ord's remaining wells would be contaminated by seawater. The continued pumping of 6,600 acre-feet annually, it states, is only permissible until a new water supply becomes available.
Yet officials at Marina Coast Water District and the Fort Ord Reuse Authority believe that Marina Coast can pump 6,600 acre-feet of Fort Ord groundwater every year, in perpetuity. There is no longer talk of a "project" to replace the pumping.
Furthermore, if a project were to come along, those same officials believe the pumping of Fort Ord groundwater can continue unabated.
Michael Houlemard, executive officer of FORA, is among them. He says if any new water supplies come online for Fort Ord, that water will be added to the allocated 6,600 acre-feet, as opposed to decreasing a corresponding amount of groundwater pumping.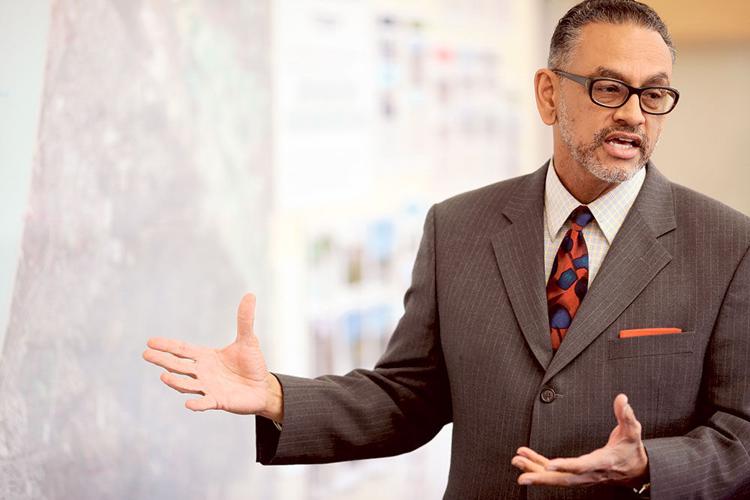 Most FORA board members – elected officials from local municipalities who rotate on and off of the board over the years­ – share Houlemard's belief.
Both agreements also make mention of the deep aquifer, but only the '96 agreement sets pumping restrictions for how much Marina Coast can pump from it: "[MCWD's] deep wells may be used to provide up to 1,400 [acre-feet annually] of water already allocated to Fort Ord."
Though that language is precise, the narrative somehow gets muddied in the years that follow.
A 2011 Marina Coast study, done by Monterey-based consulting firm Denise Duffy & Associates, shows just how much.
"Another interpretation is… that unlimited withdrawals are allowed from the deep aquifer up to… 6,600 [acre-feet per year]."
That is the understanding Marina Coast General Manager Keith Van Der Maaten has of the agreements.
In an email, he writes, "Both agreements provide for 6,600 [acre-feet annually] for Fort Ord use, all of which may come from the deep aquifer."
~ ~ ~
A raindrop falls from the skies above South Monterey County, into a hillside rivulet.
That rivulet eventually joins a stream that flows into the Nacimiento River, which ultimately joins the Salinas River.
As the river flows north up the valley, toward King City, some of that water percolates into the riverbed, and keeps migrating down and toward the coast in a process called underflow.
It is in this way that both the 180 – and 400-foot aquifers – the primary water supply for lower Salinas Valley growers – get recharged.
In the absence of groundwater pumping, some of that groundwater would flow into Monterey Bay.
But due to excessive groundwater pumping, that process has reversed, and underground seawater is moving landward to balance the water table.
Seawater intrusion was first observed on the county's coast in the early 1930s, and it has plagued Marina's shallower wells for decades.
As a result, Marina Coast has had to drill deeper, into an aquifer with minimal recharge. Put another way, the district is essentially mining water from a finite source.
While Marina Coast drilled deeper, the district was also moving east, drilling new wells in the 180 – and 400-foot aquifers in Fort Ord, outside the city limits.
Of Marina Coast's eight wells, four pump from the deep aquifer. According to the district's latest numbers, those deep wells provide about 60 percent of its water supply.
The most recent and most comprehensive study of the deep aquifer is referred to as "the WRIME report," a 2003 deep aquifer investigative study commissioned by Marina Coast, and carried out by the firm Water Resources & Information Management Engineering (WRIME).
The deep aquifer, as the report details, is actually two series of connected aquifers from 900 to about 1,600 feet deep. For context, the Empire State Building – including the tip – is 1,454-feet tall.
The deep water is held in three different formations, the Paso Robles, the Purisima and the Santa Margarita. The deepest of those three – the Santa Margarita – is comprised of layers up to 23 million years old. And while there is understanding of the geology of the layers, there is little understanding about how much water they hold.
"The available data set for the deep aquifers is scanty," the WRIME report states. "Much of the available data raises questions that cannot be adequately answered, or even speculated upon."
The primary recharge mechanism for the deep aquifer, the report states, is leakage from the overlying 180 – and 400-foot aquifers. How much leakage occurs, and how long it takes to reach the deep aquifer, is not known.
The estimated age of the deep aquifer water, according to a 2002 study by the U.S. Geological Survey, is between 21,000-29,000 years old. (The study does add there is considerable uncertainty in those estimates.)
The WRIME report states that the amount of water in storage in the lowest part of the deep aquifer is "small," and "increased production would likely come from increased leakage."
In other words, most of the water coming into the deep aquifer – and how much water is leaking in is still an unknown – comes from shallower aquifers, which are already impacted by seawater intrusion.
The report also states additional increases in deep aquifer pumping could decrease groundwater levels – and further induce seawater intrusion – in the 180 – and 400-foot aquifers above.
Increasing groundwater pumping inland, the WRIME report concludes, has a "much lesser impact" on groundwater levels, and therefore, on seawater intrusion.
~ ~ ~
On a recent afternoon, Erickson arrives at the Weekly in a dark green Toyota Tacoma pickup truck. A Keep Fort Ord Wild sticker is affixed to the rear bumper.
It's not the type of vehicle one might expect an attorney to drive, but she says her firm uses it for site visits, and in this case, she has offered to give a from-the-car-window tour of Marina Coast's wells on Reservation Road.
As she drives east down Imjim Parkway, working a stick-shift with the flow of traffic, she points out Marina Heights – a development that was recently rebranded "Sea Haven" – to her left, which has several new homes springing up.
"They are going to be sucking up a lot of water," she says, adding that FORA has already approved thousands of homes that have yet to be built.
According to FORA, that number is currently just over 4,000 units.
When Erickson gets to Reservation, and passes south of Blanco Road, she points out the first of the wells, which is east of the road. There's not much to see, just a beige, windowless structure.
"That's one right there. See that little shed?"
Continuing on, after passing by a few more wells in the couple of minutes, the Salinas Valley opens up to the east.
"And you can see why these wells are right here, because there's the Salinas River right there," she says, pointing to the northeast. "They're trying to get as close as possible."
After passing the East Garrison housing development, Erickson steers the truck around a bend, and the road descends toward the valley floor. A shed-like structure comes into view on the right.
"This is Watkins Gate," she says, referring to the name of a Marina Coast well.
After turning into the driveway, Erickson stops and pulls out a map.
"You can see Marina Coast is marching inland," she says. "It's kind of like going up to your neighbor's fence-line, and an apple tree's fully on their property, and you stand under it and pull off all the apples you can.
"They're trying to dip their toe into whatever the Salinas Valley has," she continues. "The majority of the FORA board has not recognized the problem, believing that 6,600 acre-feet is, I don't know, set in stone? Somehow God-given?"
~ ~ ~
Lou Calcagno is a dairy farmer, but from 1999 through 2014, he served on the County Board of Supervisors, where he became known as a man who does not mince words.
The district Calcagno represented, District 2, contains the agricultural land most immediately impacted by seawater intrusion, and Calcagno was a staunch advocate for the growers' water supply for decades.
His opinions about development on Fort Ord, and the impacts it has on growers, were on full display at the February 2014 meeting of the FORA board, on which Calcagno served at the time.
"There's not enough water to supply Fort Ord growth in the future until we develop a new supply," Calcagno said.
The FORA board was considering whether the 2010 Monterey County General Plan was consistent with the 1997 Base Reuse Plan, and the subject turned to how FORA, and Marina Coast, treat water.
"There's not water in that basin to sustain this type of growth," Calcagno said. "If this body thinks that Marina Coast is going to get water for them, it's gotta come from desal, it's not going to come from the ground. And you gotta understand that."
Not understanding that, he said, is spoiling for a showdown.
"The Salinas Valley's going to fight like hell if Marina Coast goes another mile into the valley, and digs another well to bring water to FORA for growth," he said. "There is no more water. If there's going to be growth, you need a water project, and you need it fast. You don't need brain science to figure it out.
"Marina Coast keeps moving up, moving up, and they're moving up the Salinas Valley. Your next damn well will be in Spreckels."
~ ~ ~
Two years later, in February 2016, Howard Franklin, a senior hydrologist with the Monterey County Water Resources Agency, readies for a presentation to the agency's board about the deep aquifer.
After stepping to the podium, Franklin begins summarizing everything that is known about it, and it doesn't take him long to get to the WRIME report.
"The data suggest recharge has not occurred into the deep aquifer in what they call 'current climate conditions,'" Franklin says. "Certainly not within the last 10,000 years."
Essentially, Franklin points out, the deep aquifer is a finite resource, one that hasn't recharged since before humans invented agriculture.
"Since about 2002, we've seen a pretty steady decline in groundwater levels in the deep aquifer," he continues, adding that the number of wells pumping from the deep aquifer is now around 20, and has been steadily increasing.
Franklin says much work still needs to be done, but that modeling suggests all of the lower Salinas Valley aquifers could be impacted by pumping from the deep aquifer.
After the presentation, Claude Hoover, an MCWRA board member, says it doesn't sound like the deep aquifer is a sustainable water source, and he asks if there are limitations on permits to deep aquifer wells; Franklin says no.
Hoover goes on to say that how the aquifer is managed going forward is an important question.
"It's just as important as the other aquifers," he says.
In mid-November, Franklin sits down in a conference room at the county water resources agency's office in Salinas to talk about the deep aquifer. He is joined by Amy Woodrow and Peter Kwiek, also hydrologists with the county. Franklin says he knows and respects the hydrologists who authored the WRIME report, but he's not 100-percent convinced of their conclusions.
But he adds a better understanding of the deep aquifer is coming: MCWRA has embarked on five-year study of the local groundwater basin, he says, in partnership with the U.S. Geological Survey. It began in 2014, and will produce initial results early next year. That report, Franklin says, will bring more clarity about all the valley's underground water.
And though the number of wells pumping from the deep aquifer have been steadily increasing, due to seawater intrusion, Franklin says the cost of drilling has limited that growth.
"You've really got to want a well in the deep aquifer if you're an ag producer," Franklin says, estimating that it costs growers $1 million-$1.5 million to drill into it.
As to whether the deep aquifer should be reserved as a backup water supply, Franklin says he is "somewhat" in agreement with that recommendation.
"There's just too much uncertainty right now with regard to the deep aquifer," he says.
On the subject of seawater intrusion in the deep aquifer, Woodrow says it would likely take decades, if not centuries, of seawater advancing underground.
Yet Franklin concedes that a different method of intrusion – leakage of salty water from overlying aquifers – is theoretically possible.
~ ~ ~
Hydrogeologist Martin Feeney might know more about the deep aquifer than anybody.
Feeney was a co-author of the WRIME report – although he takes issue with its modeling, which he had no part in – and has been working in Monterey County for decades.
Feeney agrees with Franklin and Woodrow in their assessment of the seawater intrusion risk to the deep aquifer, and says if it occurred by leakage, it would be "relatively diffuse."
If it were to enter from the sea, he says, it would take generations.
Feeney says he got a lot of pushback for his findings in the WRIME report, and that people did not want to hear it.
Mainly, he says, they did not want to hear his assessment that taking water from the deep aquifer was either "mining" a limited resource or taking leakage from overlying aquifers­. The latter is essentially "stealing" from another aquifer, because the deep aquifer has "no recharge," he says.
"I told them the emperor has no clothes," he says. "How do you write an EIR if it's based on leakage or mining?"
He adds that the idea there could be a "sustainable yield" from the deep aquifer is "nonsense," he says.
Erickson calls the 6,600 acre-feet at Fort Ord "paper water"; Feeney calls it "phantom water."
At best, Feeney says, the deep aquifer should be a bridge, something to use until a desalination plant is built.
It's advice that sounds very much like the '93 agreement, the spirit of which has been lost on decision-makers.
"When I started 35 years ago in this business, water was thought of as a sustainable resource," he says. "But over that 35 years, we've started to treat it like oil, and kick the problem down the road to our grandchildren."
~ ~ ~
When the FORA board considers proposed projects – Monterey Downs, for instance – they must vote on whether it is consistent with the Base Reuse Plan.
FORA planner Jonathan Brinkmann, who makes recommendations on water and base reuse to the board, says he has never heard of the WRIME report.
Ideally, FORA officials would be in communication with experts like Feeney and well-versed in the report – the most comprehensive study on Fort Ord's principal water supply – although admittedly, it's a pretty dry read.
But since Brinkmann hasn't read it, the board will not likely be informed as to whether there is an actual long-term water supply for Fort Ord.
They will only be presented with whatever water credits exist on paper.
Feeney may have said it best at a February 2014 Marina City Council meeting, where the council was deciding whether to allow California American Water the ability to drill bore samples for their test slant well.
At the meeting, Feeney leaned over to Weekly Interim Editor Sara Rubin, whispering, "I've been practicing hydrogeology for 30 years in Monterey County, and it's never about the science."